This article may contain affiliate links; if you click on a shopping link and make a purchase I may receive a commission. As an Amazon Associate, I earn from qualifying purchases. 
We're grown-ass women who know better than to slather on baby oil, cover a record album with tin foil and bake in the sunshine for a deep dark tan. Hopefully we all know that though a sunkissed face looks pretty now, it will just add wrinkles and pigmentation and possibly cancer in the future. Celebrities like Anne Hathaway, Cate Blanchett, and Nicole Kidman prove that pale, sun-protected skin can be beautiful and fashionable but for those of us who still crave a bit of color in the summer there's brilliant ways to achieve it without the sun's rays.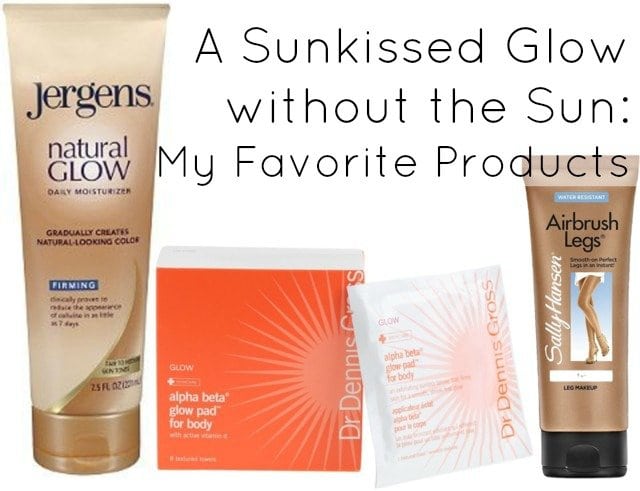 While I was a tanaholic in the past (seriously, check out this Throwback Thursday pic I shared on Instagram, yep that's me in the green!), I've learned that tanning is incredibly dangerous and damaging. Now I like to have a subtle glow, just enough to hide veins and get away with a bit less makeup. Here's the products I use to get an artificial glow that looks natural:
I love me some Beauty.com; cash back from Ebates and cash back on future purchases on their site (and they're the same site as Drugstore.com so I can get a box delivered to my door with Greenies for Cindy, laundry detergent, Claritin, a lipstick from Revlon and one from NARS!). All that and free samples with purchases. Well one free sample I received was one of these wipes from Dr. Dennis Gross. I took it on vacation (the best time to play with beauty samples) thinking it was just an Alpha Beta peel. Wiped it on my face and neck before bedtime and woke up tan!
But not a weird orange tan, or a dark tan that didn't match the rest of my body. Just that glow I used to get back when I wouldn't wear sunscreen on my face and spend a spring day at the park. Afraid it was actual sun or that next time I'd end up with a streaky orange face, I ordered another sample with my next Beauty.com order. Tried again at home… again a subtle natural looking tan that faded nicely into my pale body. So I bought a box of these pads and use one a week on the weekend so I don't show up to the office Tuesday pale and Wednesday sunkissed. I also have found it best to put on while wearing a dark bra or tank so when you wipe onto your décolleté you have an ending point and don't end up with streaks near an armpit or one shoulder tan and the other pale. The product can work anywhere; there's always leftover product so if you're skilled you can use it elsewhere on your body.
This stuff is so good, I can do it with just my left hand. Since I'm dealing with just my left hand and a cast, I stick to putting it on just my legs, but it gives a very natural and gradual glow, doesn't smell horrible, and doesn't streak. I apply a dime-size amount to my lower leg and begin wiping it up and down my leg and rubbing like crazy. I do most of my wiping up over my knee to my thighs, very little on my feet, and keep wiping up and in until it's completely dry. Leave any places lotiony and they will end up darker; try to tan your feet and they will end up darker. My goal (and the final result) is a slightly tan leg from above the knee to below the ankle and a subtle fade to natural pale above and below that point. It doesn't look false, even with a bathing suit or low-vamp shoes.
I find Jergens Natural Glow works far better on dry skin than damp, and also works best with a regular exfoliation routine in place (for me it's dry brushing). I use the Light to Medium, apply every other day and it gives enough color to feel confident in dresses and shorts in broad daylight.
I reviewed the spray before, didn't like it no matter what tips and tricks I learned from you folks or on the web. It was messy, streaky, dark, and just too complicated. Ain't nobody got time for that! So when I saw the liquid version I decided to try it. And I love it.
Just like the Jergens lotion, I rub rub rub like a fiend with a wide palm until it's fully absorbed, starting at the front of my leg below my knee and then wiping up and back and around to cover all places. The color shows immediately, and it's very natural. You can also build up for a darker color. I chose the Leg Makeup in Fair, and the color is equal to regular application of the Jergens lotion but airbrushed. The same effect as sheer hose but without the layer and weird webbed toes.  The more layers you apply, the more airbrushing/coverage you get. It stays on really well; go ahead and sweat, take a dip in the pool, go to the beach. Some will fade but not in a weird splotchy way. I only apply it for special occasions and only lightly, and I can't feel it on the skin. Get a dark washcloth to scrub it off, though I'll be honest I usually let it stay on, wash normally and let it fade with time. Again, haven't tried it anywhere but my legs so no advice on using it elsewhere.
Do you sunless tan?  What are your favorite products for achieving a natural glow without the sun?