This article may contain affiliate links; if you click on a shopping link and make a purchase I may receive a commission. As an Amazon Associate, I earn from qualifying purchases. 
I'm slowly filling in holes in my wardrobe. Though I lost some weight from Whole30 I am still not the same shape and size I was last winter so I need to do a bit of purchasing. I'm also noticing how some of my "classic" items aren't all that classic. For example, Monday morning I was wearing a cream sweater (see below) with cream trousers and thought brown shoes would be perfect. I went up on a shelf in my closet to pull out my "classic" brown suede booties and realized they have a hidden platform, a weird chunky toe that points up a bit, and the brown is very reddish (these are the booties I'm describing). Yep, they'll be on eBay before the month is through! Anyway, below are items I have recently tried, some I have loved and kept and others that didn't make the cut: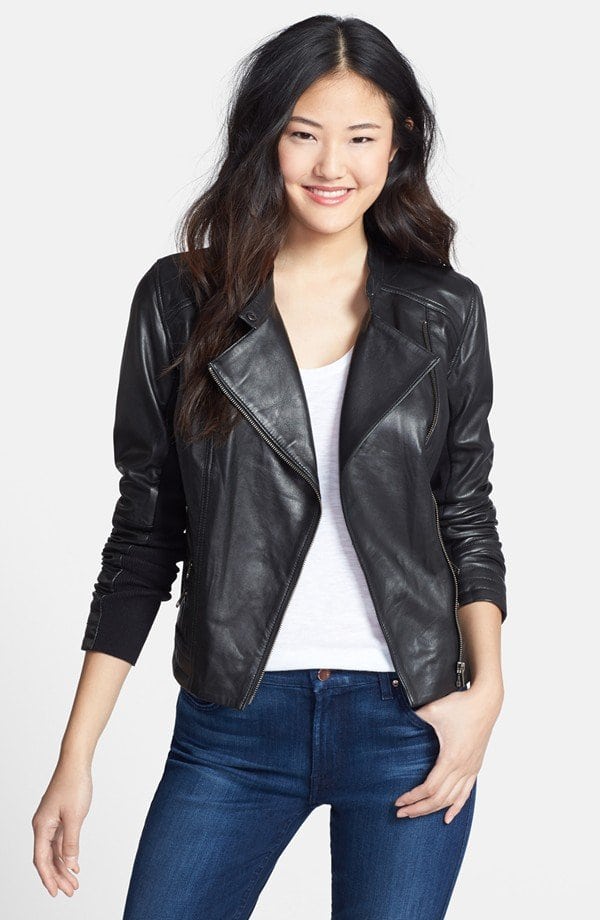 I have a green leather jacket, a blue leather jacket, and a fake leather jacket but I really want a black leather one that is a classic fit, classic cut, and can be something I wear for a long time. In high school I had a black biker jacket, I wore it all four years and into college. I still have it, but it's a very dated silhouette and I'd like a simpler version. This jacket from Halogen appealed to me because there weren't any funky details, it's under $300 for real leather, and it comes in petite. A big issue with previously purchased jackets is the sleeves are too long (or with the faux leather, it has bracelet sleeves which makes it hard to wear with long sleeved clothes, and well, faux leather isn't very warm).
The jacket is well made, and like all the other Halogen leather pieces I own, very soft. This isn't a classic biker jacket with the notched collar, but with a moto snap collar and then the wide placket to be able to zip up the jacket. The details are subtle so it's a piece that will stand the test of time. A petite large fit me nicely, and I am usually a generous 12 or slim 14 in coats and need bust space. The sleeves weren't too tight with a lightweight sweater, and the lining was soft against bare skin.
But I returned it. I didn't LOVE it, and honestly, it looks so similar to my green leather jacket. It's a little too polished for what I want; right now I want something that can wear a bit, dress up maybe with a midi skirt, but mainly be what I throw on with a tee shirt and jeans. While this is a great price for a high quality leather jacket, I am still looking for the right one for me.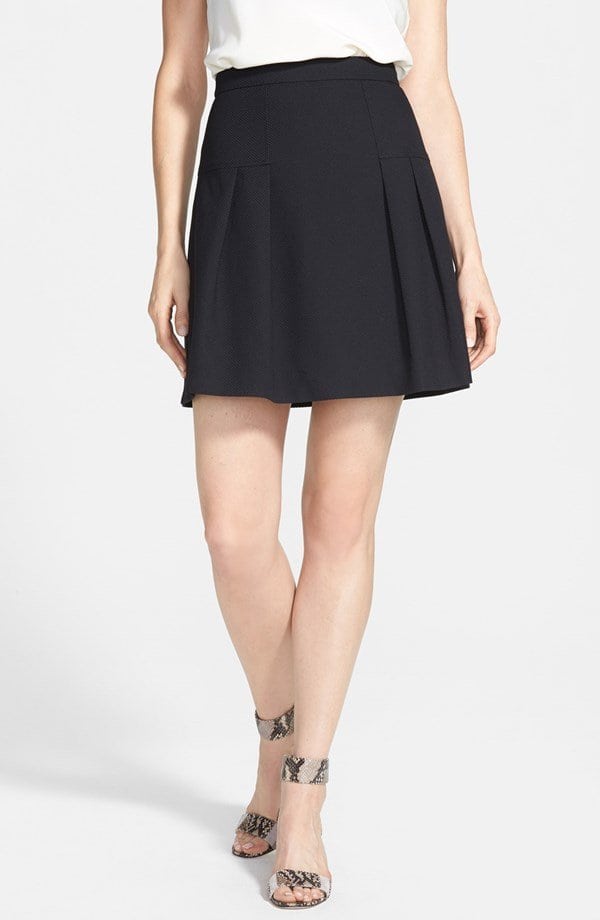 During the Nordstrom Anniversary I purchased this skirt to replace this skirt from Hinge that I wore to DEATH last winter. Yeah, no. The skirt emphasized everything I'd like not emphasized and I realized it's because the flare is right from the waist. So I returned it and decided to try this skirt from Halogen; the pleats start lower and are better managed (no belly pleating).
This skirt runs small. I purchased a 12 (my normal size in Halogen) and regular (more length for work) and I could hardly pull it over my rear and I couldn't zip it more than an inch. Oh, and the description doesn't mention that it's textured, like a mini waffle weave.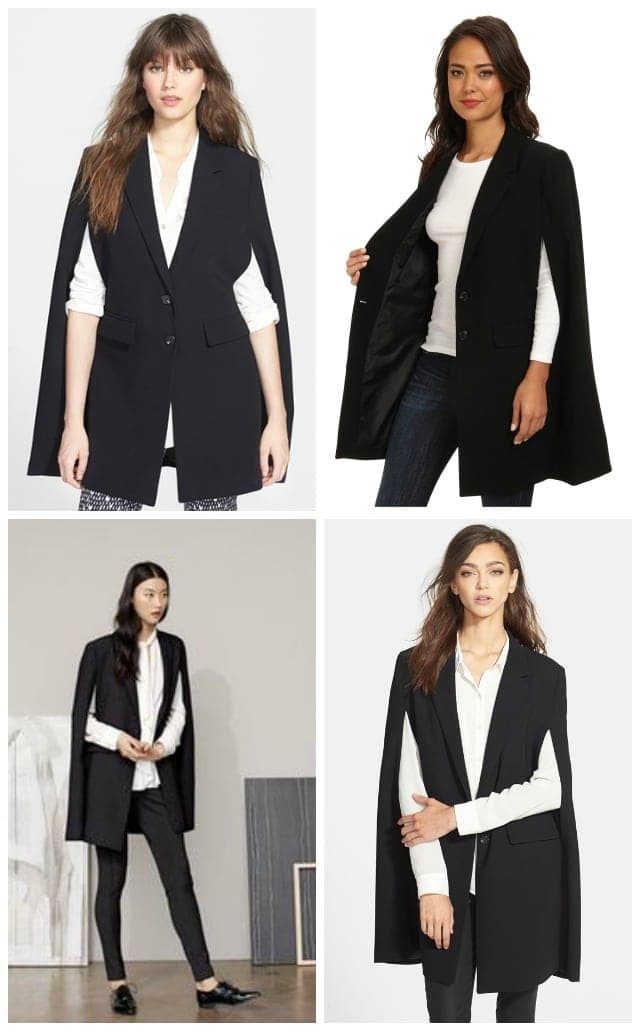 I briefly mentioned this cape in this post, but think it deserves a proper review, especially since I wrote a review over a week ago on Nordstrom and it has yet to be published, and because other Wardrobe Oxygen readers mentioned the same issue with it.
While I own a lot of Vince Camuto and think they're a great choice to wear runway-inspired trends without spending a ton, they sometimes go too cheap or get a trend completely wrong. This is one of those times. The cape is made out of a suiting-like material (and a cheap scratchy suit at that) and lined only in acetate; this isn't outerwear but more like a weirdly shaped blazer. And it is weirdly shaped; I ordered a Large and it was huge on me, I looked as though I was in the Talking Heads. On the models the button seems to be near their navels, on me it was closer to my crotch; buttoned the collar gaped and looked cheap and unbuttoned it tented out. The armholes were very low down, I couldn't get my hands out unless my arms were bent, and then only the first half of my forearms. No way could I reach the pockets. Mega fail.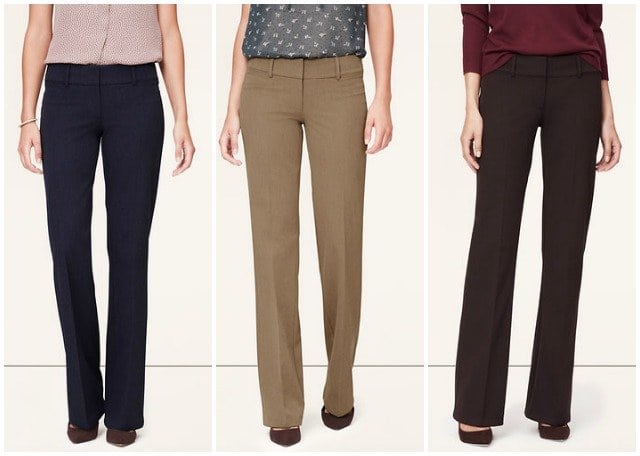 I now own two pairs of these pants. I wore them here in black, and now I also own navy. These pants are the perfect work pant. You can machine wash them (I line dry, I hang by the legs, making a crease and a clean look by matching the seams to one another and using the weight of the pant to make the legs taut), they're stretchy, yet hold their shape all day and through multiple wears, look professional/pair nicely with blazers, and the lack of lining does make them not as polished but more comfortable for business casual offices. Though they have belt loops, the waistband is very flat so it doesn't look bulky under fitted knits. The pockets are ridiculous, I can't even fit a credit card in them but again, no bulk. I purchased the 14 petite and they are a comfortable fit and comfortable length with mid-height heels. The Marisa Fit is best for me because while I have a booty, I don't have a very hourglass shape. The Julie Fit of these pants is better for curvy frames, and the Zoe Fit is great for straight shapes with smaller booties; they all come in Regular, Petite, and Tall. All this and under $80 (and then LOFT is always having some sort of promotion!).

I thought I ordered a Large, I ordered a Medium. It fit, but it fit too well to the point of looking dated.  I think if I exchanged it for Large Petite I'd like it better.  This sweater is very soft, perfect for those who can't deal with wool and scratchier fabrics. The knit is tight so no need for an under layer for modesty. It looks expensive and elegant, a classic. This sweater would look nice with jeans, but I think can dress up and look quite lovely with a button-front shirt underneath, or paired with a pencil skirt or work trousers. However, I mentioned this sweater in my post where I was looking for a fisherman sweater and this sweater is NOT that. This is a tailored, ladylike sweater. A great sweater, but you won't be mistaken for Ernest Hemingway in it for sure!

Gotta love it when the sale item is the one you like best! I cheated a bit with this sweater, I had borrowed the lavender version of it from Gwynnie Bee this summer. From Gwynnie Bee, I ordered a Large and it was a bit too heavy and boxy for me. However, in cream I thought a Large would be quite Hemingway-esque. But like the other Lands' End sweater I seemed to flake out and ordered a Medium (what I wear in Lands' End for most knits and dresses). When it first came I thought it was too fitted to accomplish my goal, but I tried it with different items in my wardrobe and decided this size is more flattering and versatile. I wore it this weekend sightseeing with my Gap Real Straights rolled like boyfriend jeans and my Converse Shorelines and as mentioned above, wore it to work with cream tropical wool trousers and booties. I've styled this sweater at home with my pleated leather skirt and also like it over a denim shirt. It has a boatneck and gold buttons in back which makes it look a bit more expensive and special than a traditional cable, but may limit your styling. At the time of writing this, there were still lots of sizes available in Petite, Regular, and Plus.

This is not something I needed, but per my post Wednesday, something I bought to hopefully wear to a wedding.  I really wanted this in blue but it was out of stock so I ordered it in black, 12 Petite. I ordered for the wedding, but thought the fabric and style would make it year-round wearable and versatile enough to dress up and down.  Glad I ordered petite because this dress is LONG! Like even in petite I'd need to wear heels to not have a train long. And that's not where the fail ended for me. The sleeves are a weird length (longer on me than in the photo) that look too casual for the rest of the dress (and tight too), the neckline was so low I'd have to pin to hide my bra, and the wrapping in the middle added bulk instead of flattering my curves.  A plus is that it fit nicely in the torso and over my hips and rear; the fabric is opaque and heavy enough to not cling.  I'm glad I didn't get the blue because I may have fallen in love so much with the color I would ignore the faults in the dress.  I think this dress would look far better on someone who is taller, and I think it's made for a woman with her curves below the waist; some hips would really make the skirt flow nicely.
So now I want to hear from you, have you purchased anything lately that is phenomenal? Anything so awful fellow readers should get a warning? I learn so much from all of you, I'd love to know what's on your radar!