This article may contain affiliate links; if you click on a shopping link and make a purchase I may receive a commission. As an Amazon Associate, I earn from qualifying purchases. 
Recently I have done some shopping.
In stores.
Seriously, I never go shopping in person any more. Having Emerson and a full time job and a husband who I adore and love hanging out with (and who hates shopping), my life is planned on the Internet. Everything except groceries is bought online.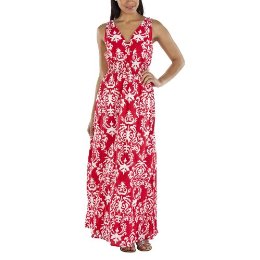 Well Saturday I had to buy a birthday present for a friend's kid so I headed to Target. While there, I saw this fantastic dress. I had to try it on, and the Large fit me perfectly. A hair too long, but I was able to walk just fine in my stacked J. Crew flip flops. I wore it that very day to the birthday party with flip flops, air-dried beachy hair, silver cuff and hoops, a silver bead necklace from H&M and bronzer. Very fun beachy look. The dress washed and dried great (I did not follow the instructions to air dry while twisting it for the crinkle look – I was hoping to shrink it some).
I personally like it better non-crinkly (especially since the crinkling falls out with wear). The dress is fully lined, completely covered the boobs (maybe not work appropriate but great for anywhere else). I think this dress is great for barbecues with flip flops, but would also be lovely for a summer wedding if the flops were switched out with proper heeled sandals. I got a bunch of compliments and my husband said I looked gorgeous. Win!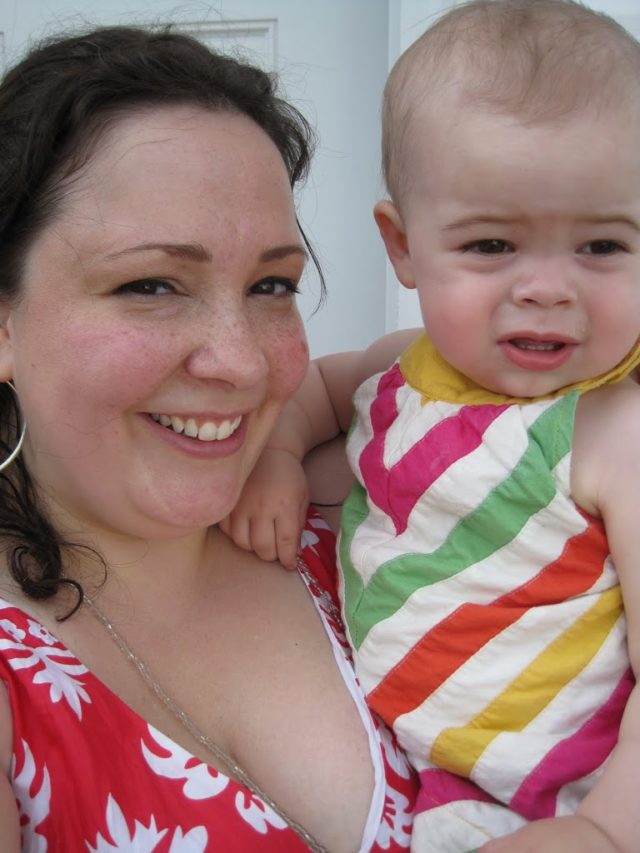 Do know the bodice lining is showing due to a baby pressed against my bust, not due to poor construction of the dress. And sorry, only pic I have of me in the dress from the day…
Monday I was supposed to go to traffic court but my conscience got the better of me. See, less than a week after my birthday I got pulled over at 6:00am for running a stop sign in a Metro parking lot. When the Transit Cop (yeah, not regular cop) took my license, he realized that my license expired on my birthday. Fabulous. So I got almost $200 worth of tickets for a 3-day expired license and running a stop sign in a virtually empty parking lot.
Well I decided to go to court, hoping the cop wouldn't show up. As time went by, I got notification on the ticket for the stop sign, but never for the expired license (I went two days later and got it renewed). I checked online, they only had record of the stop sign ticket. And well… I DID run that stop sign (well I slowed down…). So the date of my court hearing was coming and I chickened out. I couldn't go and lie to a judge, and what if the cop DID show up – Metro is hurting for money. So I paid it. But I still had the day off work. So I went shopping.
I finally got Emerson's baby announcement custom framed (it came with an 11″x17″ poster version of the announcement). I bought some frames to work on decorating the master bedroom. I looked in various stores for a mirror that would look right in the nursery. And, I looked for clothes for me.
I wasn't looking for day-to-day clothes, but proper attire for the Bonnaroo Music Festival. I know before I mentioned that I found THE ULTIMATE ROO DRESS at Old Navy. Well, notsomuch. The XL was humongous on me. By time the Large was back in stock and I received it, I realized the dress is ridiculously sheer. Like so sheer you could see my belly button through the dark purple one. Boo. So I have been freaking out for Roo clothes. In a panic, I got the ivory version of my navy maxi dress from Gap. I look like butt in off-white, and this dress doesn't seem to fit quite as well as the navy one but I felt desperate. I took two dresses from '08 Bonnaroo that don't fit in the bust and cut off the straps to make them skirts. Not a good look on me (tank and full skirt) but I figured it was better than nothing and I couldn't afford or justify spending a lot of money on Roo attire.
Well Monday I went to Ross and wow. Seriously, if you are looking for some cute sundresses head thee to Ross! I tried on 27 dresses, and most of them were at least halfway decent on me. I was thisclose to buying two super cute matte jersey maxi dresses – one was a gorgeous shade of purple and had a silhouette similar to the one from Target that I wore Saturday. Another was a red and black zebra print that actually was wearable sans bra thanks to padded inserts in the bodice. The thing was… I don't have a life to wear sexy matte jersey maxi dresses. They weren't work appropriate, I don't have any weddings or bachelorette parties or Girls Night Outs on the books. And if I did, I could wear my new dress from Tarjay or my LBD from Ann Taylor that I bought last year.
But I did get a cute blue print maxi dress from She's Cool that I can wear sans bra and rock at Bonnaroo. I also got a gauzy black calf-length sundress that has straps just wide enough to cover my bra straps (don't remember brand). The dresses were only $12.99 each. Rock on! I think I may return the off-white Gap maxi dress now, and I may keep trolling Ross to see if I can get another dress just like the blue one but in a different print (I need an XL and I found shorter ones in XL that weren't quite right, or the longer version in L or 1X).
So it's kind of exciting to have a nice pile growing for Bonnaroo and a few new pieces in my closet. Also I have lost a bit more weight recently so the 14 regular white Gap pants from last year are snug but work and the 16s are loose, but good casual pants with a fitted top. And best thing – neither are too short any more. Wow, this crazy ever-changing postpartum bod!
Oh yeah, other outfits from recent…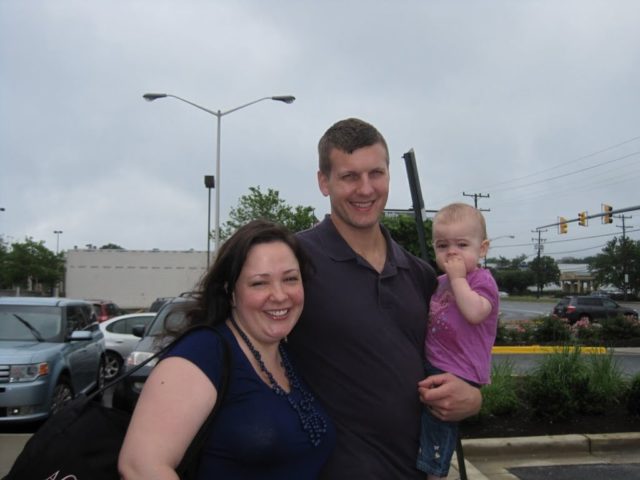 Sunday I went to breakfast with the fam and my mom. I wore a deep indigo top from Banana Republic Outlet with the white Gap pants mentioned and a navy bead necklace from J. Crew. Not a great pic, but nice to see all three of us together.
Monday I wore the new Tarjay dress when shopping. Yeah I heart it that much.
Tuesday I was back to work and I wore my turquoise dolman top from Kenneth Cole with winter white trousers from Talbots and a turquoise multi-strand necklace from a boutique in Rehoboth Beach.
Today I am wearing a purple print blouson-sleeve shift dress from Ann Taylor Loft with my Duo boots and turquoise necklace.