This article may contain affiliate links; if you click on a shopping link and make a purchase I may receive a commission. As an Amazon Associate, I earn from qualifying purchases.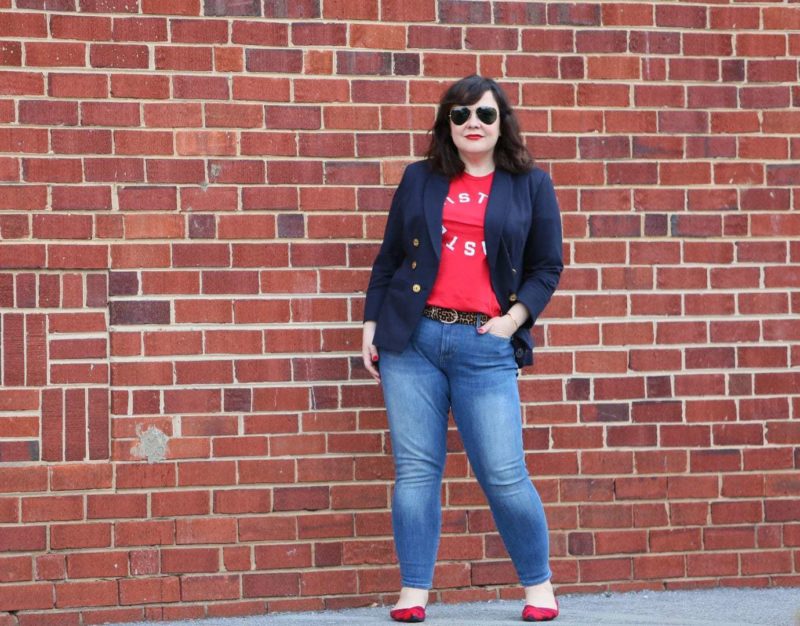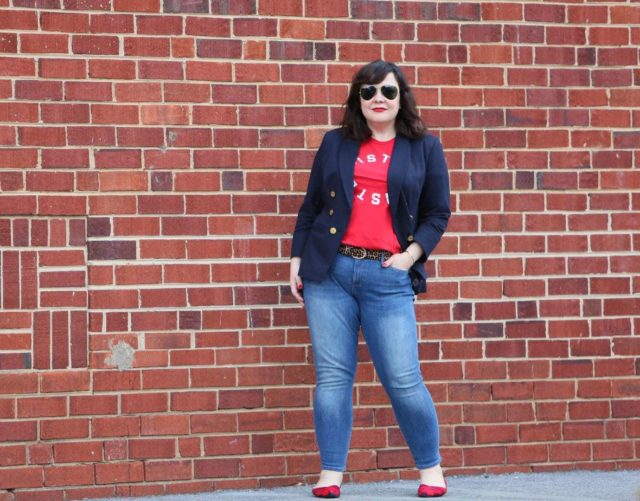 Saturday was the March for our Lives. I would have loved to be there. I am agast at how our government is worried more about money than the lives of its residents and wished to be one of the hundreds of thousands who protested that day. But my daughter had her karate tournament, and her participation determined whether she could move up a belt at her next test. After the tournament I ran a few errands, and then she and I headed to her (belated) Girl Scout World Thinking Day. While I couldn't be in DC, I could be there in spirit and show it.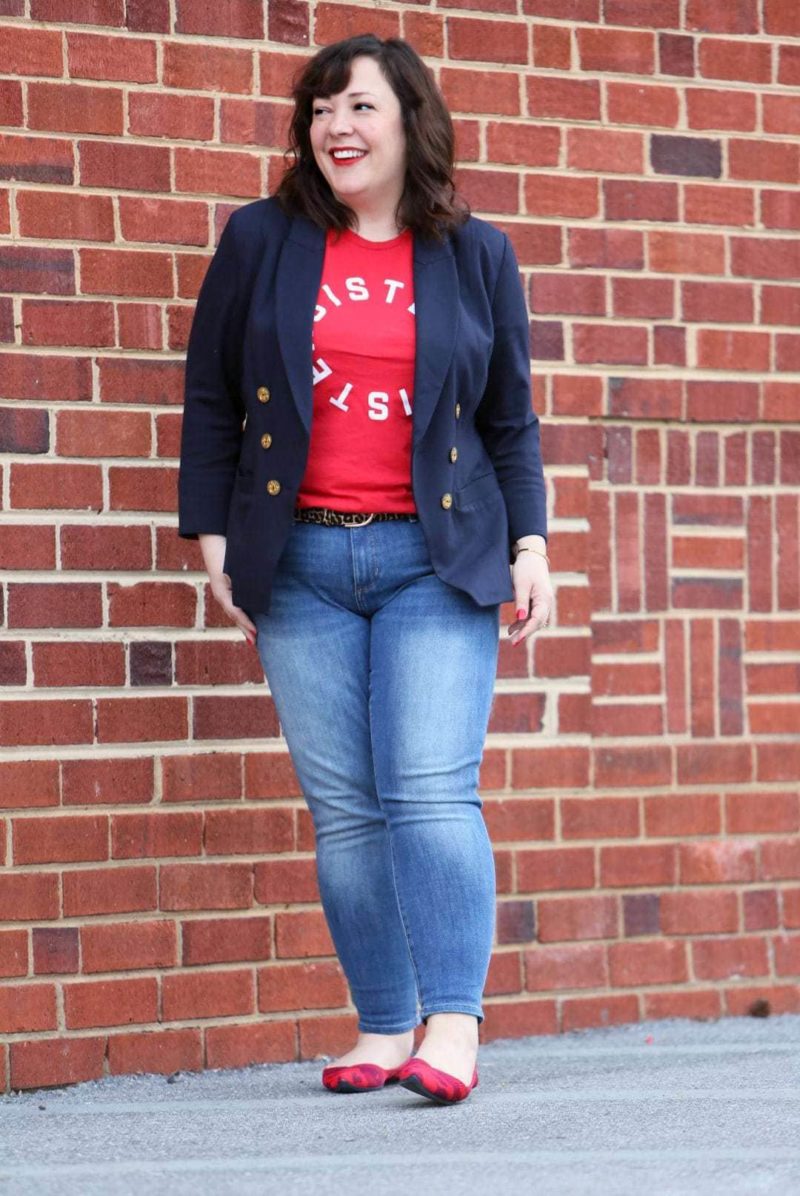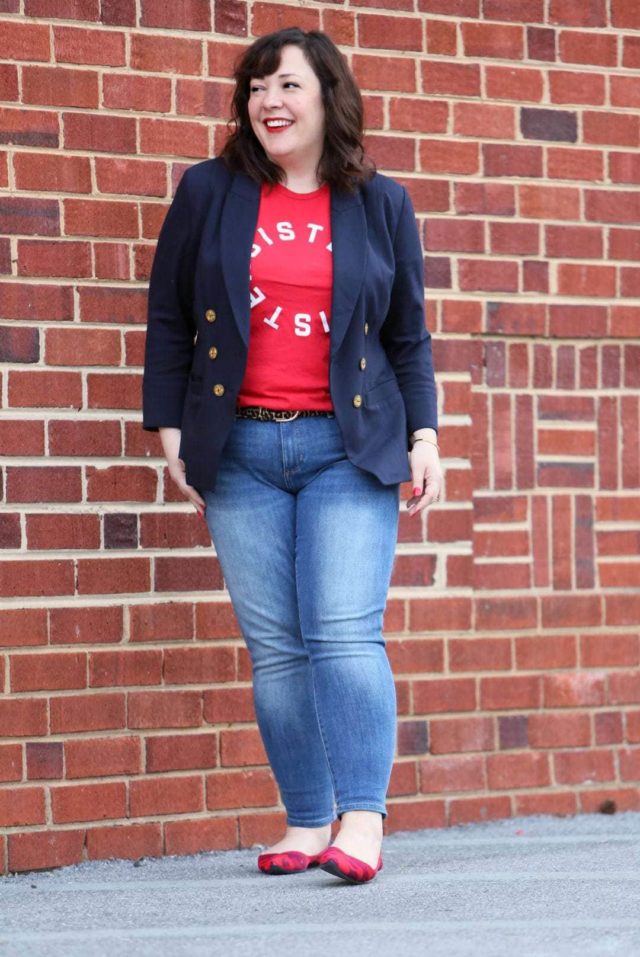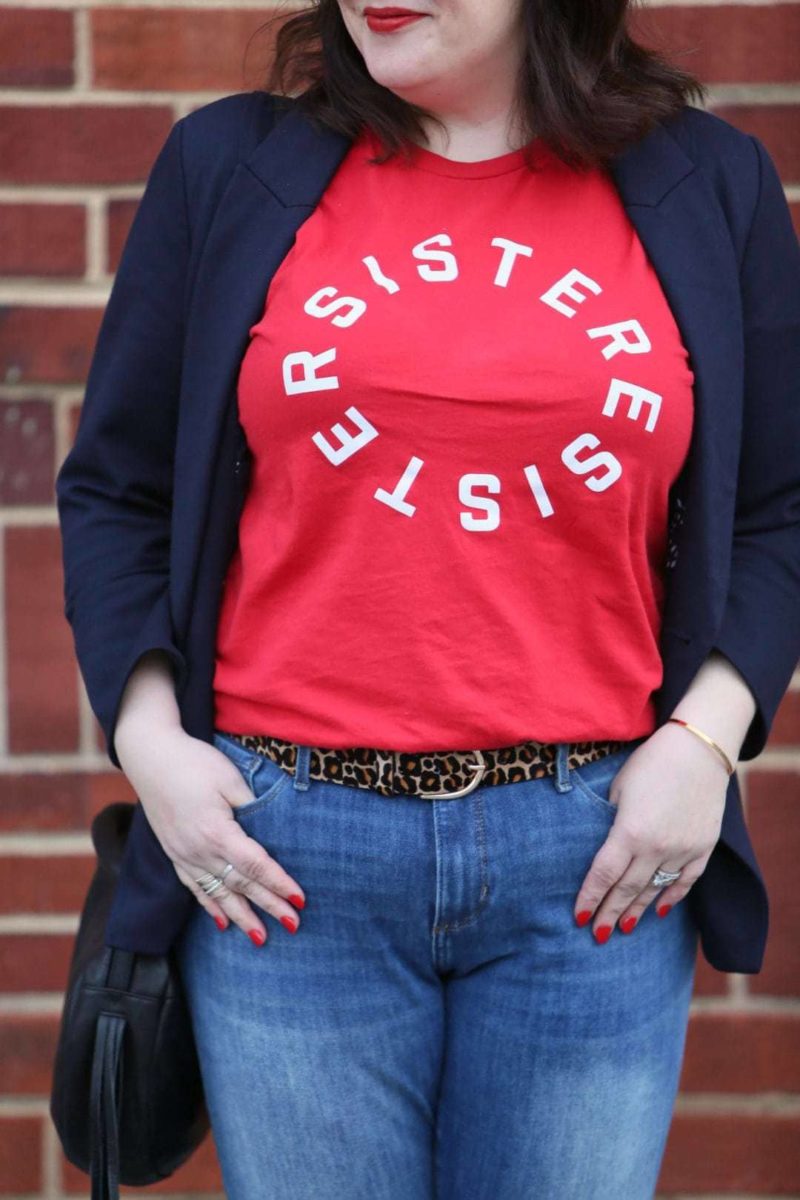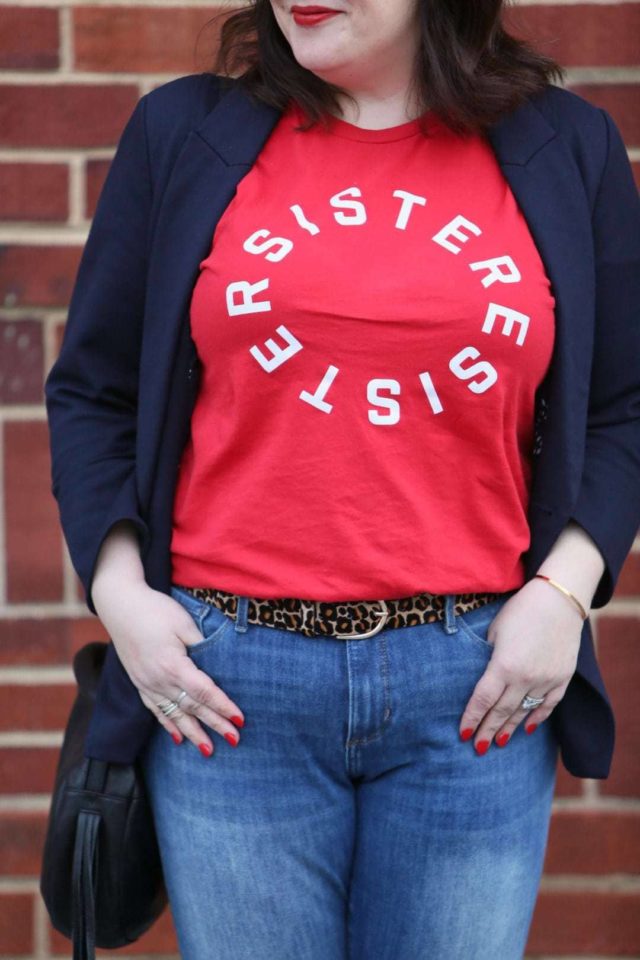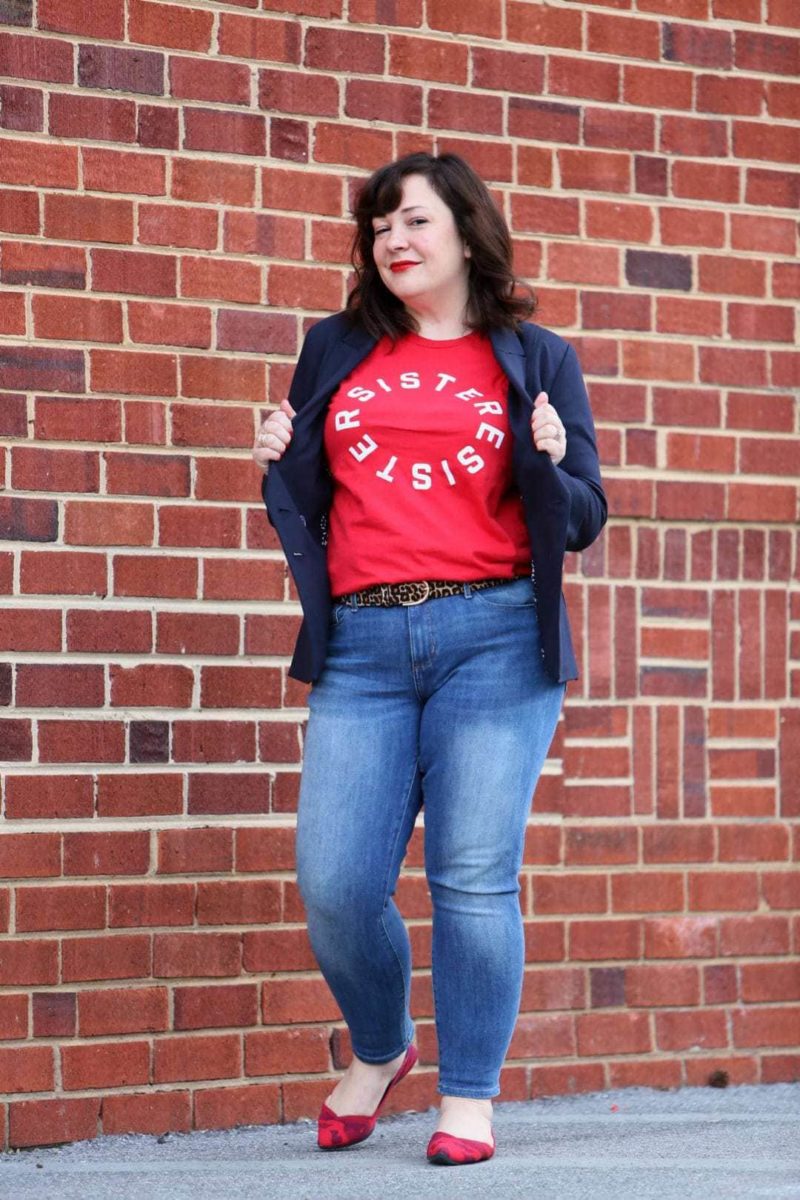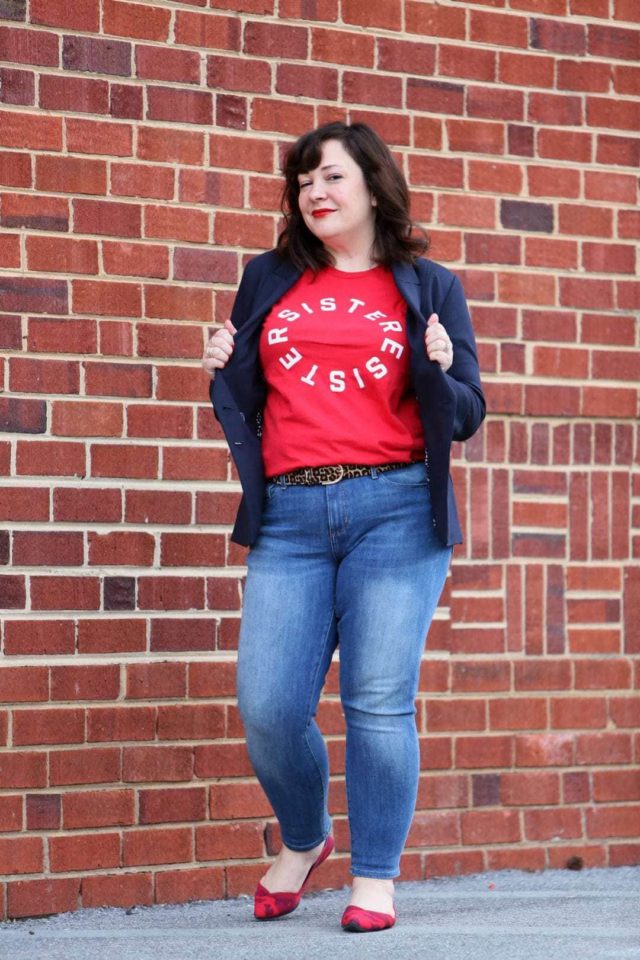 Shirt: Otherwild (L) | Blazer: c/o cabi (14 and from last year; similar, plus size option) | Jeans: Banana Republic (32S) | Belt: Ann Taylor (XL) | Shoes: Rothy's | Bag: Hobo | Sunglasses: Ray-Ban | bracelet: Metal Marvels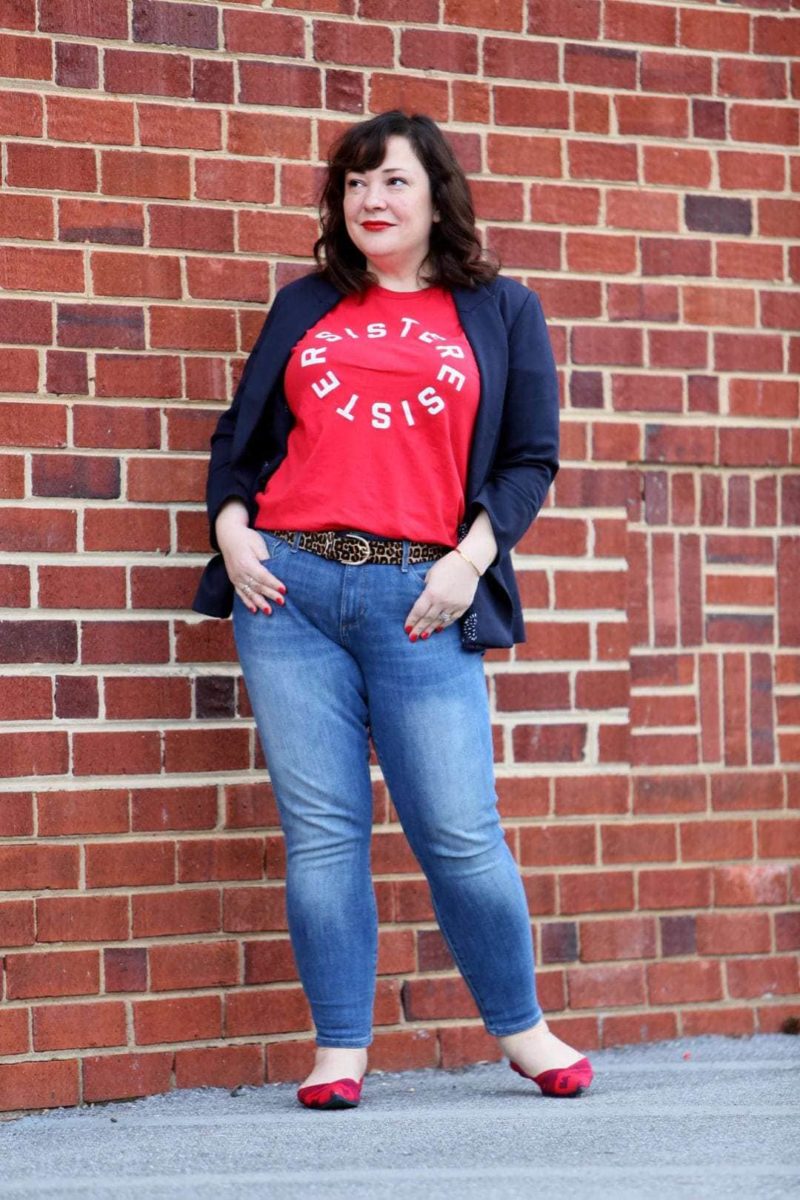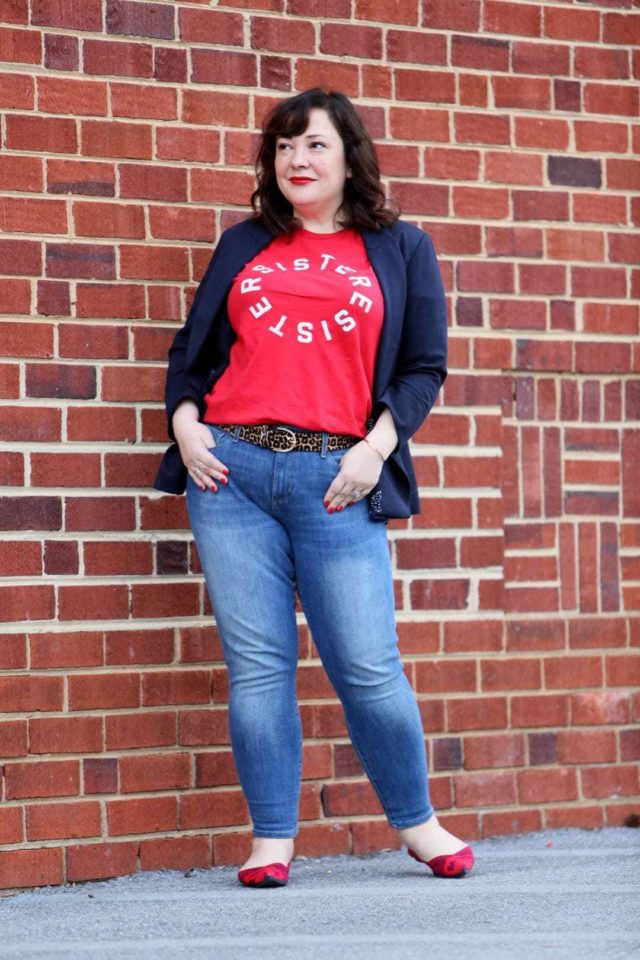 In this blog post's comments, reader Tara shared this t-shirt from Otherwild and I fell in love. I ordered one for me, and one for my sister, a fellow resister. I also got this shirt for Emerson, which was recently seen on Instagram. I love that a portion of these shirts goes to charities I support like the ACLU and Planned Parenthood. While I wear plenty of my political t-shirts to the gym, they can also be dressed up for the weekend. Adding a stretchy ponte blazer and stretchy pointed-toe flats provides polish without sacrificing comfort. Jeans regularly stretch out on me throughout the day; wearing a belt helps them stay up and stay the right shape. I swear by a Beltaway under tops, but when tucked in I like a bit of a statement. I got this belt from Ann Taylor a few months ago, and I'm not ashamed to admit I have a handful of animal printed calfhair belts in various prints and widths with different metal hardware. One look through my archives can show all the varieties I have! Leopard is a neutral, right? The calfhair means it coordinates with leather, suede, and other material shoes and bags, and adds texture and interest.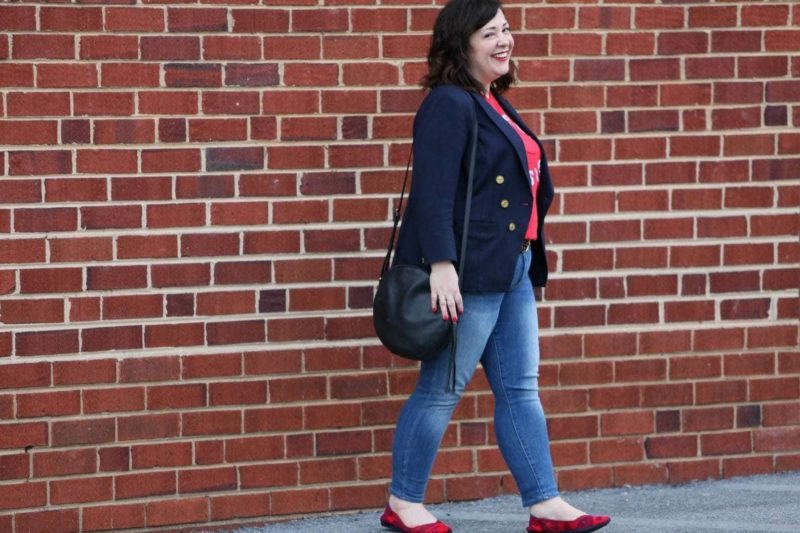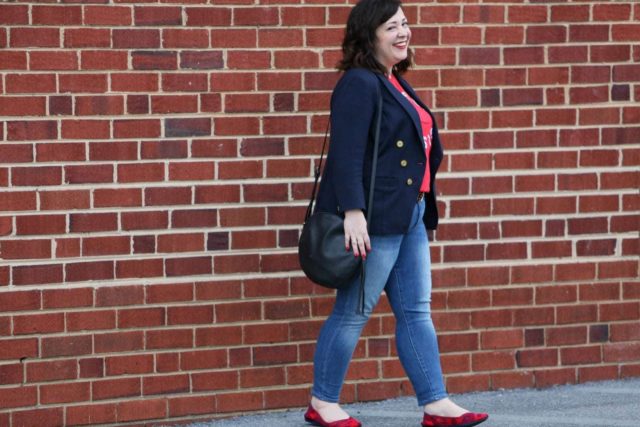 I was thrilled to encounter so many people throughout my day who commented on my shirt and how it started many important conversations. There's nothing more stylish than speaking up for what you believe in.
A portion of the profits made from Wardrobe Oxygen has been donated to Everytown for Gun Safety.