This article may contain affiliate links; if you click on a shopping link and make a purchase I may receive a commission. As an Amazon Associate, I earn from qualifying purchases. 
I've just had my ankle fused which means no more high heels for me EVER. I don't have to stick to flat flats but a 1 inch heels is about the highest I can go. I'm finding this particularly tough because as a short (5ft 2) round person, I've relied on heels to elongate my frame (I love how my legs look in heels!) and finish off outfits my entire life. I feel like I can't quite get the "polish" I need with the flats that I'm now forced to wear. I almost feel like I need to modulate my wardrobe toward a more masculine style of dress that goes with the oxfords and loafers that are available currently. I really like this on other people, but as someone who is very definitely an hourglass, find difficult to wear myself. If you were in this position, how would you tackle it? I feel so lost just right now!
I love the look of flat shoes like oxfords and loafers. I drool over those who make them look so chic with menswear, or pair them unexpectedly but so well with pleated midi skirts and floaty frocks. When I try to recreate the mix of the masculine shoe with the feminine look, it doesn't look the same on my short, round frame.  However, that doesn't mean women shaped like us can't wear such shoes or any type of flat shoes and not maintain our current personal style.  Below I'll share how to style different on trend styles of flat shoes in a way that is feminine, has polish, and flatters a curvy figure.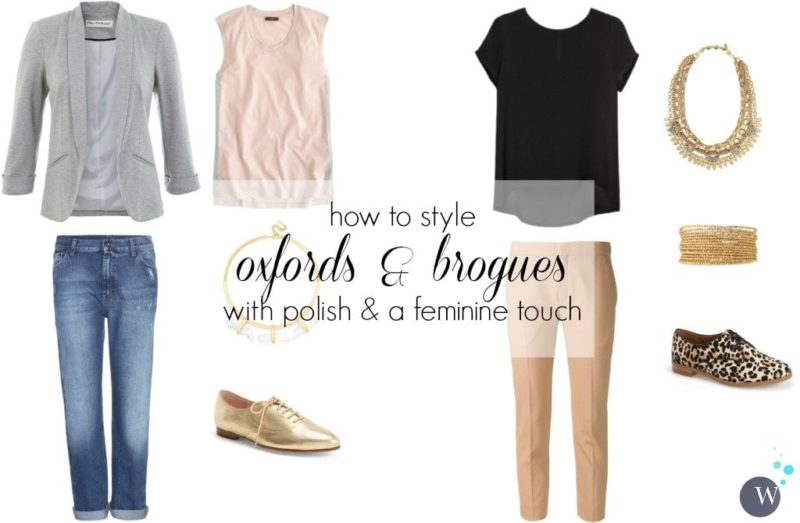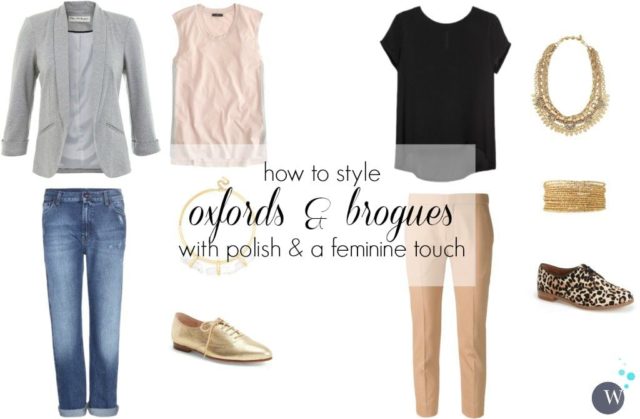 Shop the Look:
blazer | pink shell | boyfriend jeans | gold necklace | gold oxfords
silk tee | camel pant | necklace | bracelet | leopard oxfords

When you're short and curvy, proportion matters a lot. I've found a cropped pant or jean cropped or rolled to show the ankle adds that bit of slenderness and femininity to make an oxford or loafer look right on my frame. A crisp flat front trouser or a pair of jeans works with the oxford as it has masculine elements, but the garment isn't too masculine to fit in with the rest of my wardrobe. On top, I try to incorporate a more feminine or polished look to balance it out. I'm a big fan of silk and metallic tees, which have better drape and more polish than a standard knit. Wear under a blazer to get the polish you desire, or wear on its own, possibly doing a half-tuck to show the figure better, with a statement necklace to amp up the femininity.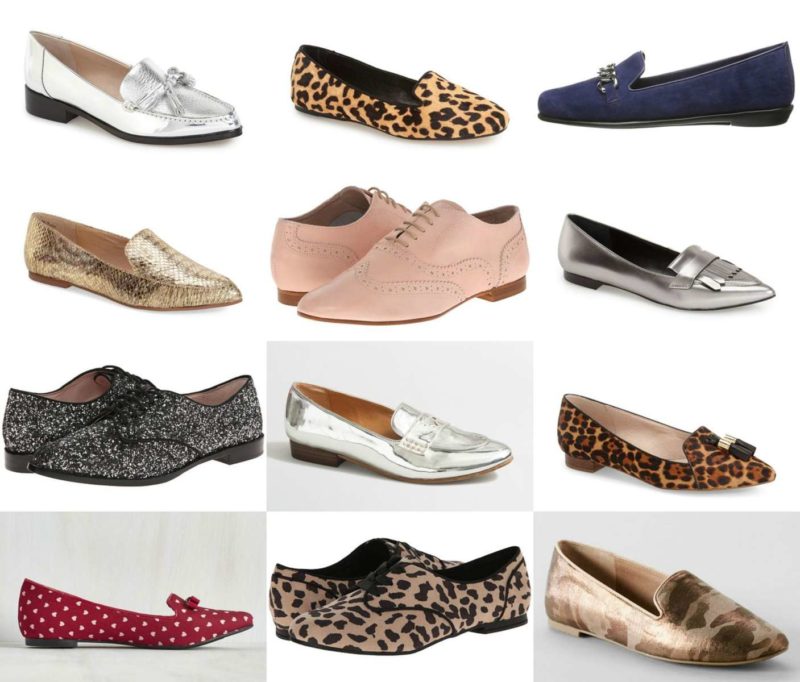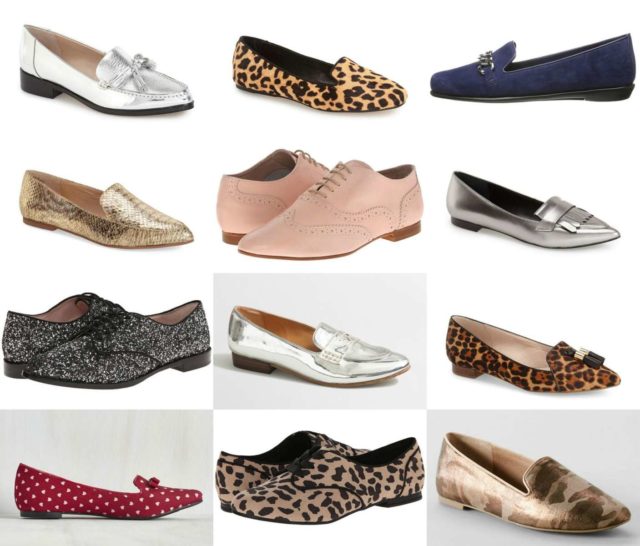 silver tassel loafer | leopard smoking loafer | blue suede loafer | gold snakeskin loafer | blush pink oxfords | pewter tassel loafer |  black glitter oxfords | mirror loafer | leopard tassel loafer | red loafer | leopard oxfords | gold camo loafers

Your choice of loafer or oxford also matters. I recommend getting crazy with them; leopard calfhair, shiny mirror finish, croco-embossed or another finish or in your signature color. Also check the silhouette; some have more streamlined of cuts than others (though I adore them and wore them to death in the '90s, Doc Martens aren't the best for short curvy frames because of the bulk). Leather soles, almond or tapered toes, very low heel, not a lot of hardware, less contrast between shoe and laces or shoe and sole. Details matter, and going sleek, slim, and trendy will reduce the masculine feel and better work with your personal style.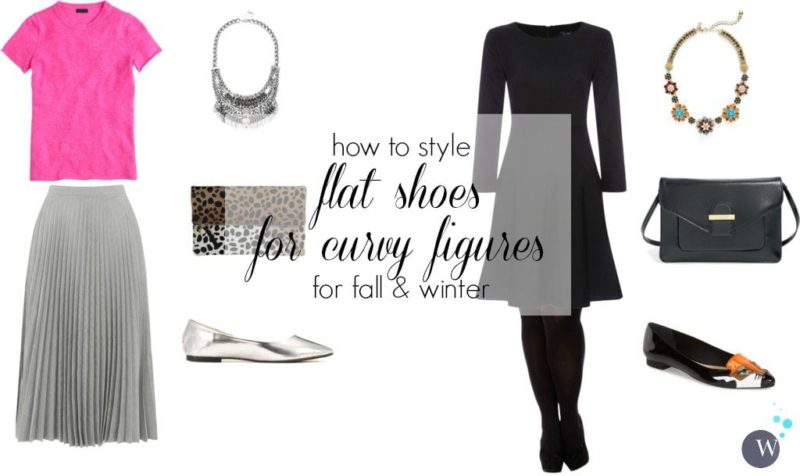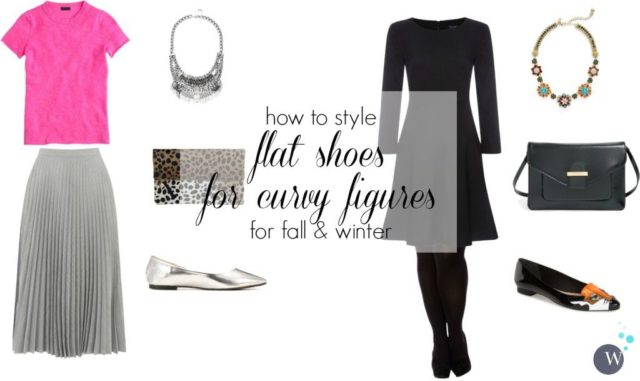 Shop the Look:
gray midi skirt | pink cashmere tee | necklace | clutch | silver flats
black dress | tights | necklace | bag | fox flats
With traditional flats, there's more than ballet styles out there. While a rounded ballet flat can make a short curvy person feel even shorter and squatter, a structured flat with a pointed or almond toe and low vamp can provide leg-lengthening benefits like their heeled counterparts. Not only that, structured flats with elongated toes look more polished and dressy and better pair with skirts, dresses, and trousers.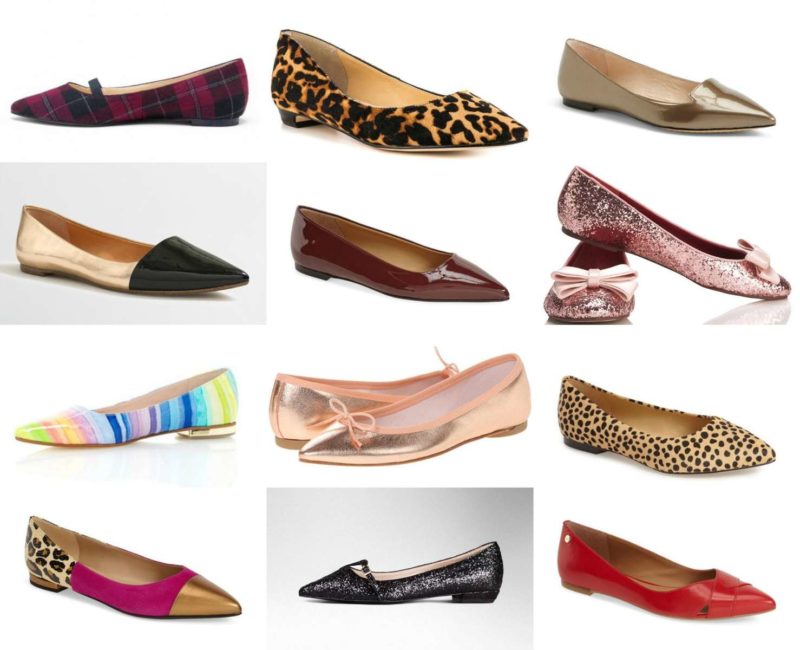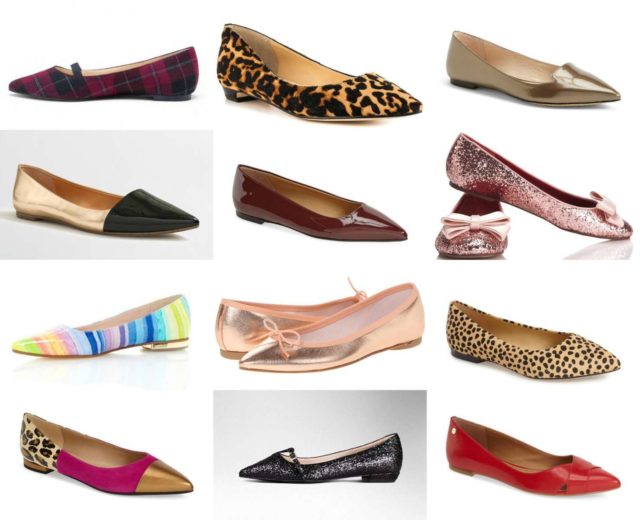 plaid flat | leopard calfhair flat | soft gold mirror flat | black and gold flat | burgundy patent flat | pink glitter bow flat | rainbow stripe flat | rose gold flat | cheetah print flat | pink, leopard, and gold flat |  black glitter flat | red cross-front flat 
A color close to your leg (tights, trousers, or bare skin) will better elongate the leg and make you feel taller. Again as with the oxfords and loafers, showing a bit of skin at the ankle can add a feminine touch; be sure the trouser or jeans are slim so it doesn't make you look shorter. And as with the oxfords and loafers, this is a great time to incorporate a fun color, print or finish to put your personality on the look and reduce the frumpy feel. Kate Spade is a perfect example of a brand that is feminine, polished, yet regularly shows their looks with flats.  I'm personally a fan of metallic which immediately add polish to a look and have people notice the shoe more than how the shoe flatters your figure.  Also a metallic better blends with bare legs, elongating your figure.
Boots are also a great option.  From shoeties (lower vamp more like shoes) to ankle boots, this season's higher shaft boot that hits up on the ankle and low shin, to knee-high and over the knee boots; boots this season are sleek, modern, polished, and very many of them are flat.  Keep the same ideas as with the other types of flat shoes – choose ones that are trim and streamlined, preferably with an almond or longer toebox, have the color match your trousers or tights.  However with boots, polish comes from the quality of the material and an elegant boot is less likely to have adornment.  Steer clear of too much hardware, unique finished, mixes of materials, or funky soles.  Keep it classic, clean, and lean.