This article may contain affiliate links; if you click on a shopping link and make a purchase I may receive a commission. As an Amazon Associate, I earn from qualifying purchases.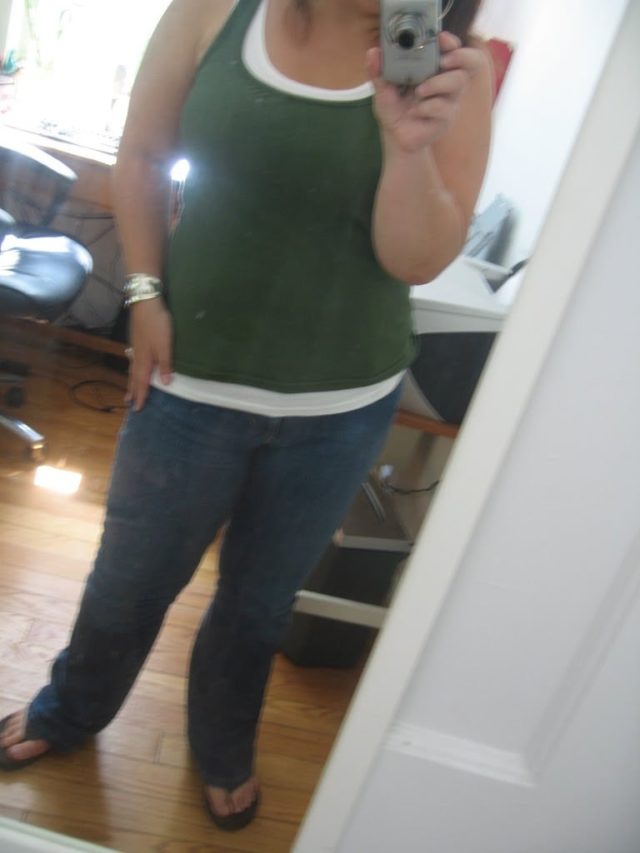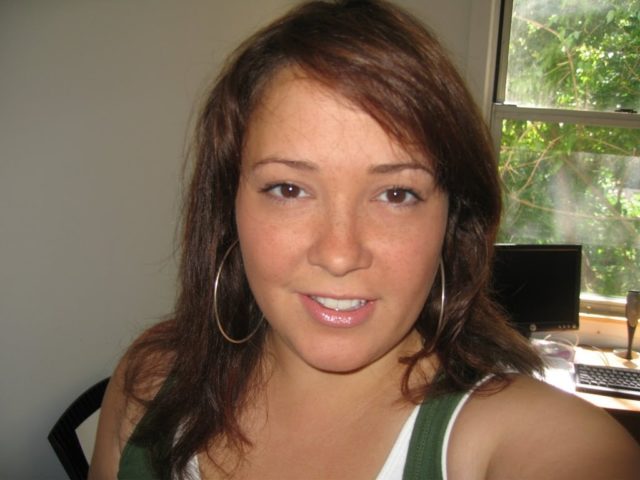 In the morning, I ran to get my hair cut and colored in the nearby town, and then run a few errands. Olive ribbed tank from J. Crew, white ribbed tank from Old Navy, Joe's Jeans in "Provacateur," brown stacked flops from J. Crew, silver hoops from The Icing, silver cuff.
Hair was brushed out but on the second day; blew the bangs straight.
Makeup was Body Shop bronzing powder in Light as face color, Max Factor Lash Perfection mascara on curled lashes, Revlon Super Lustrous Lip Gloss in Pink Afterglow.
Kathleen did her magic – all I told her is that I wanted to go darker and that I wanted heavier bangs. I trust her, and was not disappointed. Choppy layers that can work straight, wavy or curly, fun sideswept bangs, and a very rich multi-tonal color of dark brown that looks closer to what I was born with.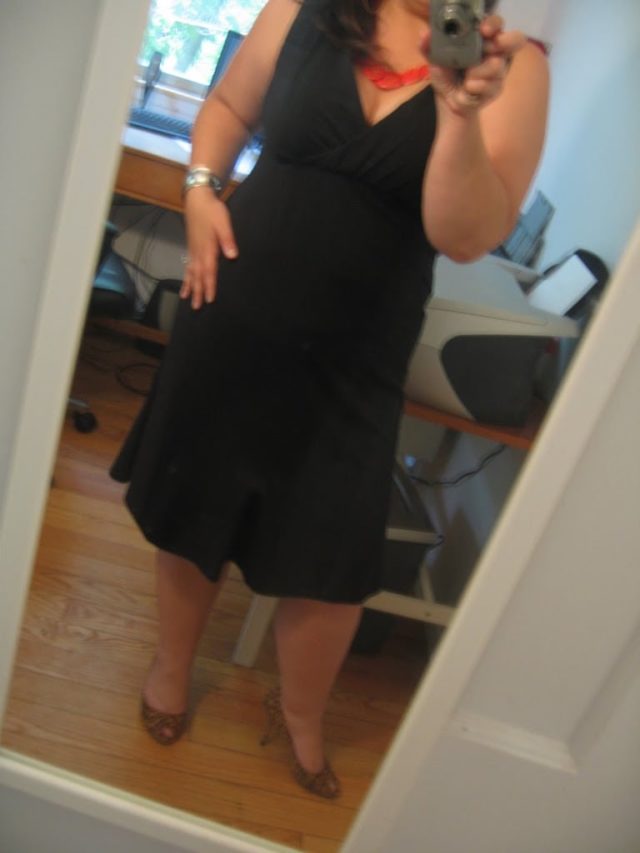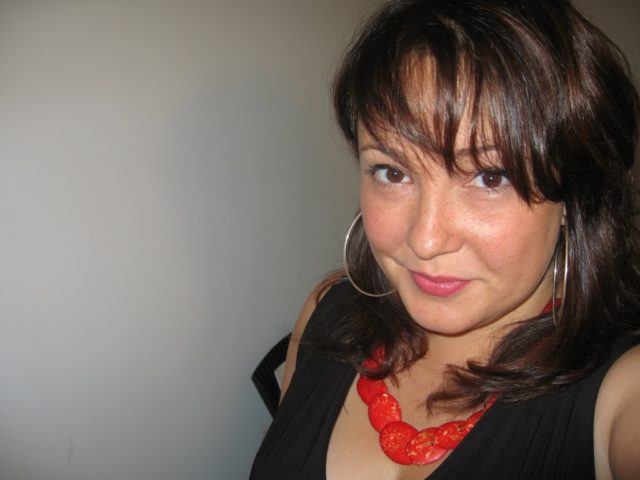 Got home and had to dash to get dressed. Friday night I had a friend over so I didn't have time to play dress-up and figure out my theater outfit. Thank you soooo much to everyone who wrote in suggestions, you guys are awesome and have good ideas! For the one who suggested my Old Navy dress… I completely forgot about it. I had set to wear my black cashmere tank from Banana Republic and my orange-red shantung full skirt also from Banana (seen here), but when I saw how spiffy and sleek my husband looked (flat front gray tropical wool trousers from J. Crew, white tailored shirt from some brand sold at Mens Wearhouse, black blazer from… J. crew? Not sure…, black slip-on sleek shoes from Ecco) I decided my outfit may look a bit like a costume. I tried a few different skirts, but settled on the black matte jersey dress from Old Navy, my red stone necklace, my leopard peep-toe heels from BCBgirls,silver hoops from The Icing, and silver cuff natch. 🙂
Didn't have to do my hair since it was done by Kathleen my talented stylist. She used the Pureology line on me, and swears by it for protecting color. I bought the shampoo and conditioner and once I can wash my hair (was told to go as long as humanely possible without washing) I will be using it and let you k now how it is.
Same makeup as earlier, just a re-touch of the bronzing powder, a bit of Smashbox Soft Lights in Tint on my cheekbones, a medium line of Maybelline Ultra Liner in black on the top lash line, a quick swipe of Maybelline Great Lash waterproof mascara in black over existing mascara, Body Shop Lip and Cheek Tint with Revlon Super Lustrous Lip Gloss in Pink Afterglow over it.
We took the Metro and it was not even a block to the little restaurant (I don't know if there are even 20 tables in the place). The menu seemed different from the one online and the only entrees that were vegetarian were spaghetti with tomato sauce (yawn) and a risotto with corn and truffle shavings. My husband and I chose the risotto, we shared a bottle of Pinot Grigio (not sure the label, our friend chose the wine) and had a nice, yet not inspiring or overwhelmingly unique meal. We then walked not even three blacks to the Kennedy Center where my friend and I sidestepped grates in our heels (she too wore a black sheath and heels) while the men tromped over everything and got there in time to marvel at the acre-sized curtains in the lobby and get a cocktail in the Terrace Bar prior to the performance.
The performance was great! As I said, I had never seen The Phantom of the Opera other than the movie. Back story – 1992, for Christmas I got my first boom box with a CD player in it, and with it two CDs – Les Miserables and Phantom of the Opera. For several months until I got my high school arsenal of REM, Depeche Mode, Pearl Jam and Nirvana, I listened solely to these two soundtracks. Come 2007, I am silently singing along to this performance and even a tear came down my cheek at finally seeing live what I had in my head 15 years ago. I think also seeing Shakespeare in Love the night prior made the theater experience that more intense.
Our friends live in Virginia and parked at the theater; it was a gorgeous night and declined their offer to drive us to the Metro and decided to hoof it. All in all a lovely evening!