This article may contain affiliate links; if you click on a shopping link and make a purchase I may receive a commission. As an Amazon Associate, I earn from qualifying purchases.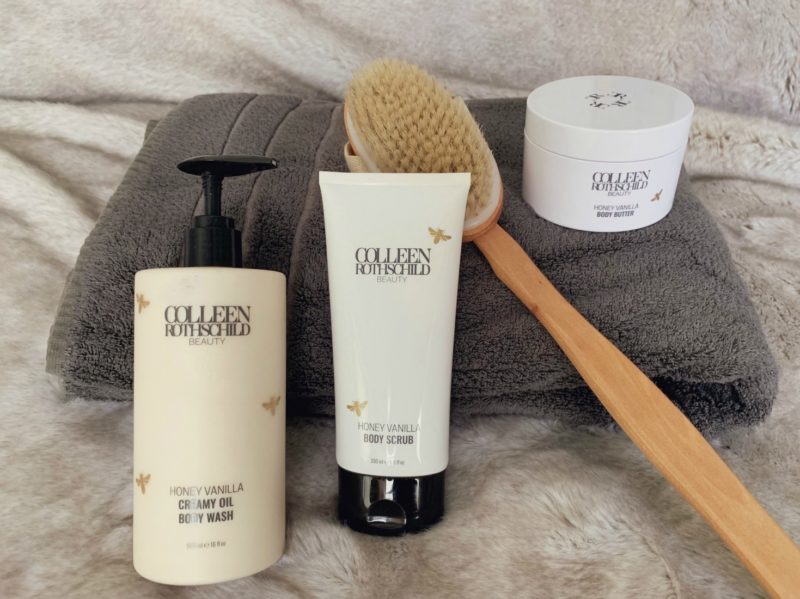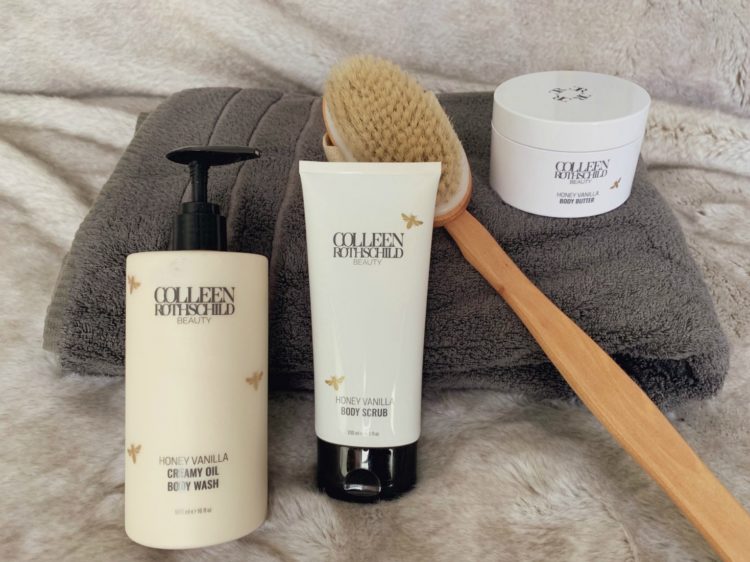 Winter skin, we all deal with it. When the temps drop, humidity levels also drop, dehydrating our skin. Add to that heated internal air which is also dry and you're left with skin that looks dull, may be flaky, bumpy, sensitive, and even crack. In partnership with Colleen Rothschild, I am sharing my tips for battling winter skin to make your body feel and look soft and happy all year long.
This post is sponsored by Colleen Rothschild
In the warmer months when there is more humidity in the air, you can slap some lotion on after your shower and go on your way. However, in the winter, a bit more effort will provide a great deal of reward. As the temps drop, I switch out my body products for ones that are more hydrating, but I also make sure to exfoliate.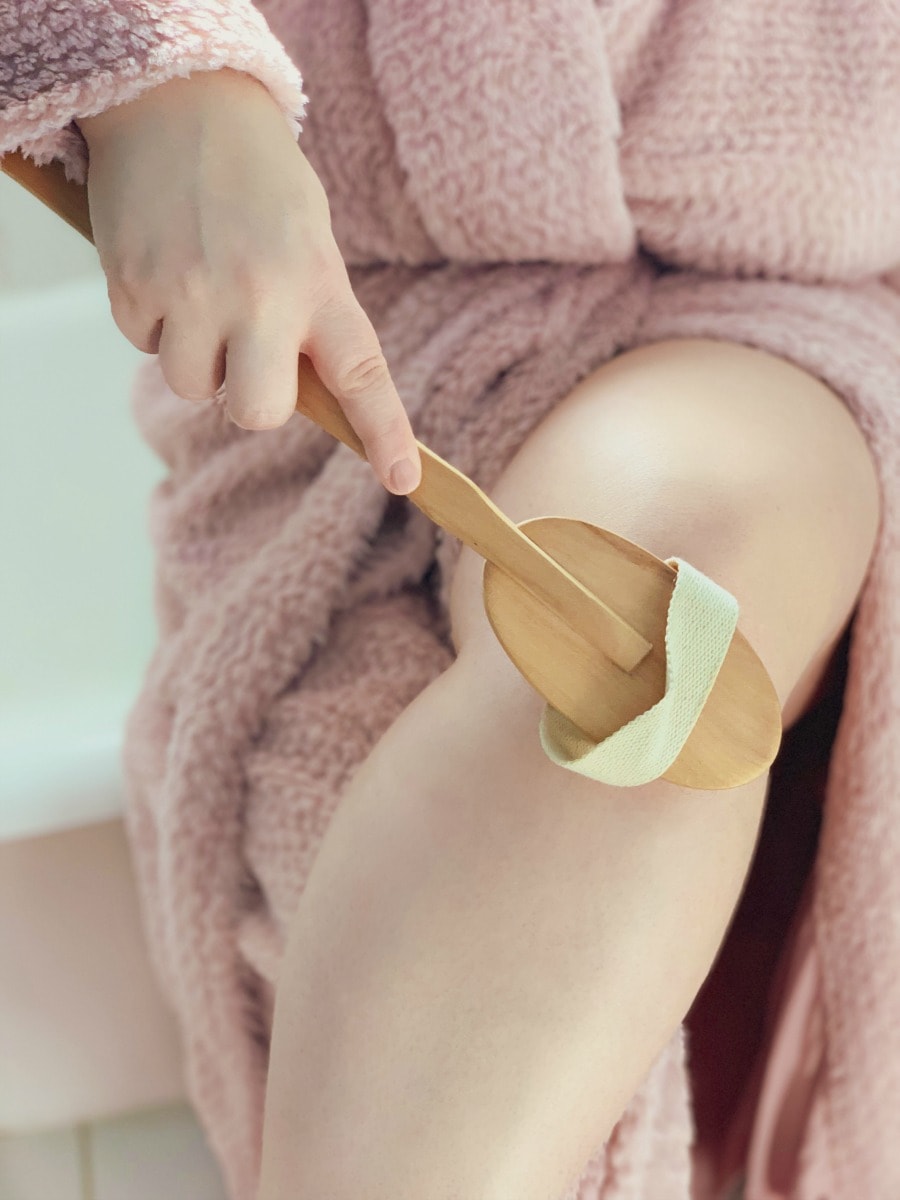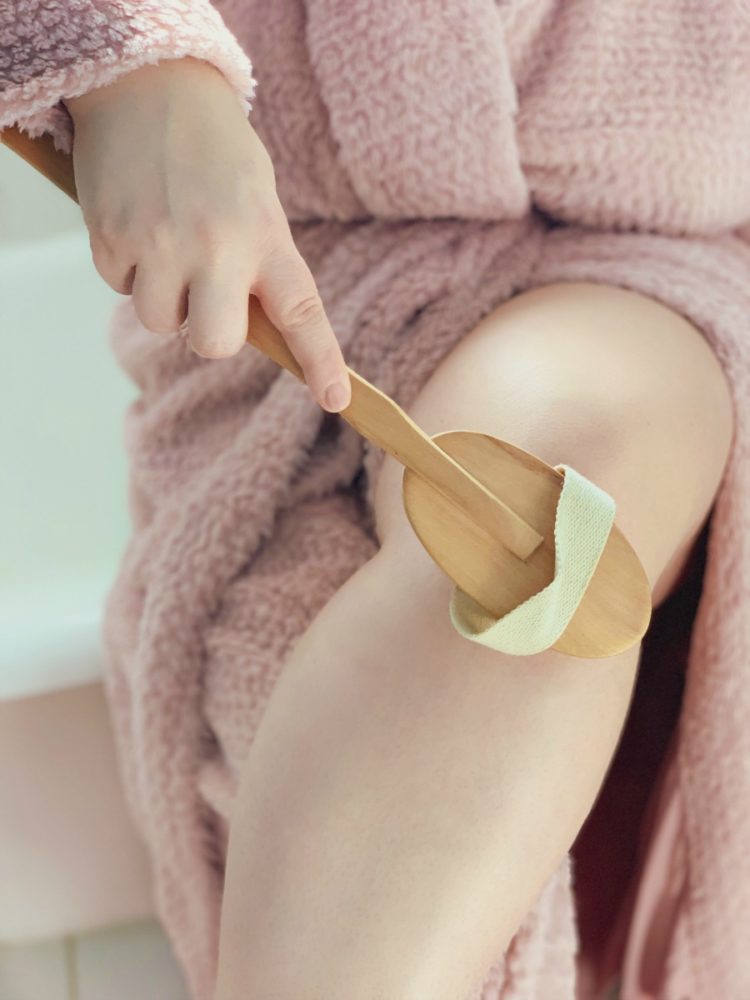 Step One for Battling Winter Skin: Exfoliation
Not only does dry skin look dull and feel uncomfortable, but it's also not good for your body. Dehydrated skin is more prone to irritation, damage, and wrinkles. During the colder months, dead skin cells can build up resulting in skin that looks dry and flaky and can feel rough and tight. Exfoliating removes dead skin cells which prevent moisture from reaching deeper layers of the skin. Each morning I begin my day with dry brushing. I've written about the benefits of dry brushing before but it's such a gamechanger I have to write about it again. Gently brushing the body all over with strokes toward the heart increases circulation but also sloughs off dead skin cells. Dry brushing has improved the texture and tone of my skin all over, has reduced the little bumps on the back of my upper arms, and is a pick me up like a half cup of coffee to get me ready for the day.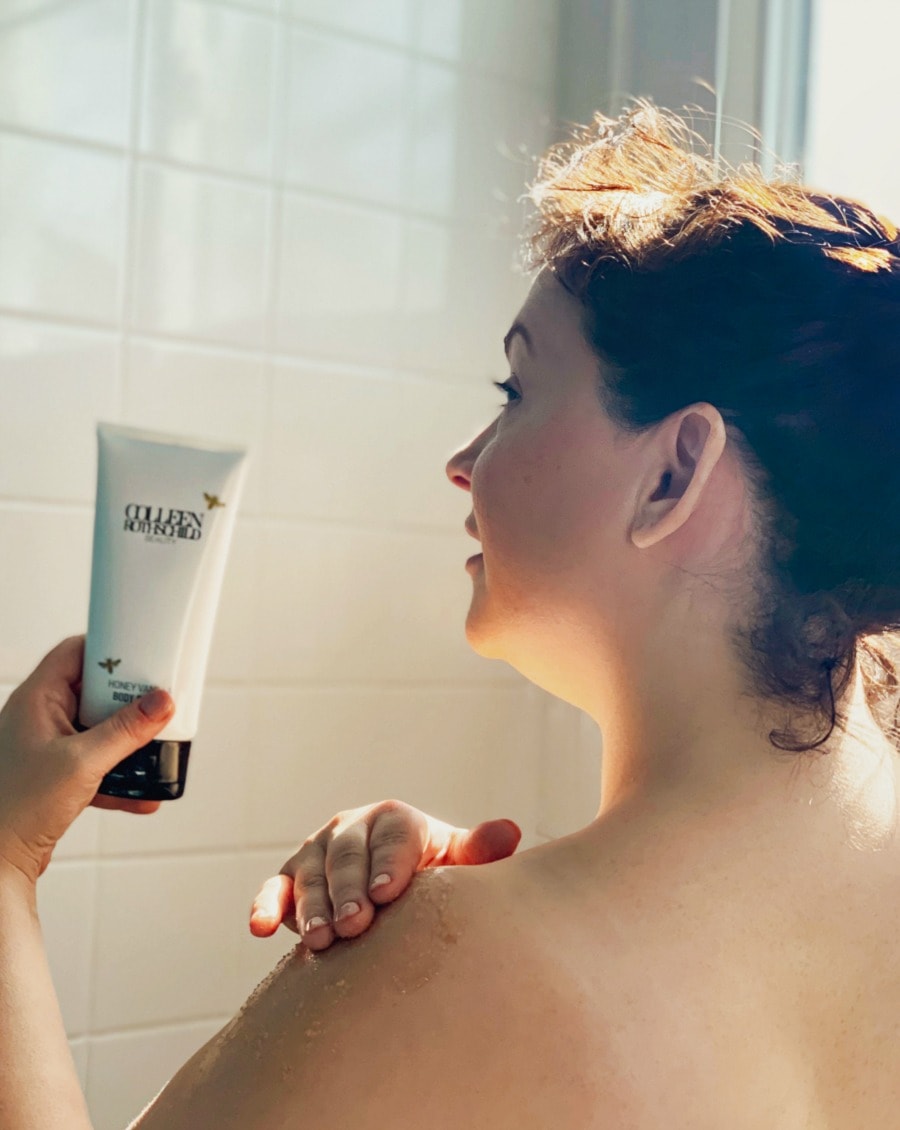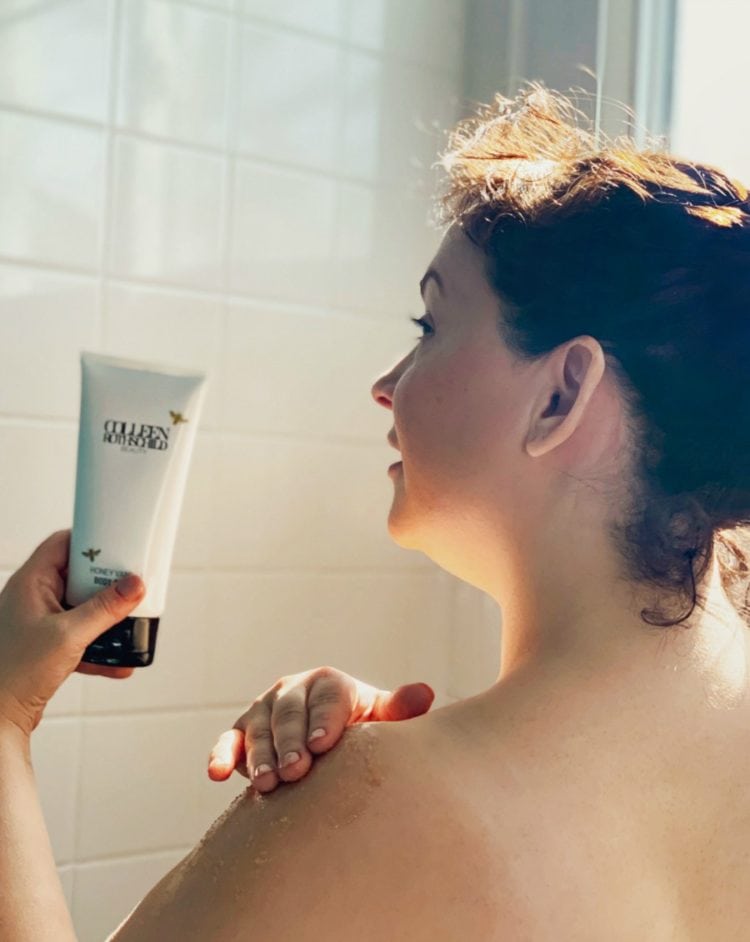 However, this is not the only exfoliation I do. Especially in the winter, I exfoliate in the shower. I replace my pouf with a skin towel, and I also use a physical exfoliant that also provides moisture. My latest obsession is the new Body Scrub from Colleen Rothschild. I've been a fan of this beauty line for many years (click here to read all my posts over the years about the brand) so when they came out with a body brand I knew it would be awesome. This scrub is fantastic. The scrub is a mix of pink Himalayan salt crystals and finely milled bamboo, pomegranate, and cranberry. The scrub is suspended in a hydrating gel made from kukui nut oil, borage oil, jojoba oil, coconut oil, and buriti oil and it has a beautiful natural not cloying scent of vanilla and honey. It doesn't scratch the skin, just gently scrubs and rinses easily (no greasy bottom of the tub like many oily sugar and salt scrubs!). Your skin is left feeling super soft and silky.
Step Two for Battling Winter Skin: Hard-working Hydrators
My battle against winter skin continues in the shower. I switch out my regular body washes for ones with hydrating properties so I can clean and moisturize at the same time. The Colleen Rothschild Creamy Oil Body Wash is perfection. The formula isn't too thick but is chock full of hydrating ingredients like shea butter, kukui nut oil, sweet almond oil, buriti oil, and coconut oil. Like the Body Scrub, this Body Wash smells like natural vanilla and honey. And like the body scrub, this rinses away easily just leaving your skin feeling amazing.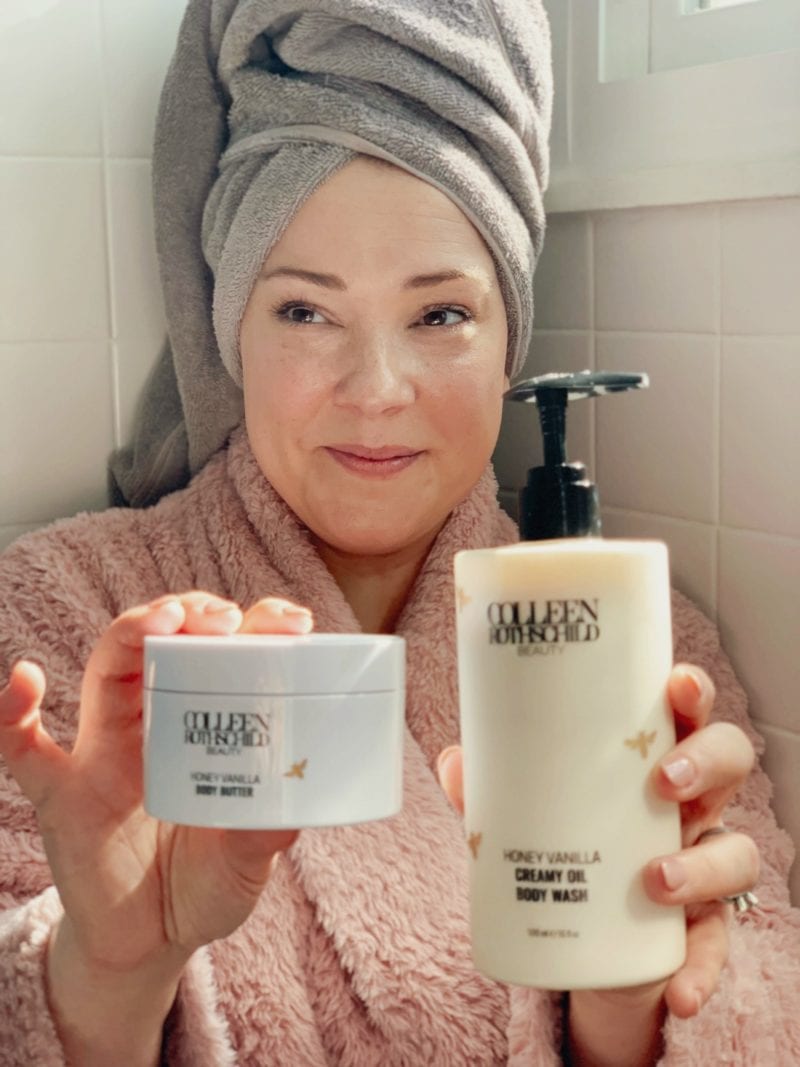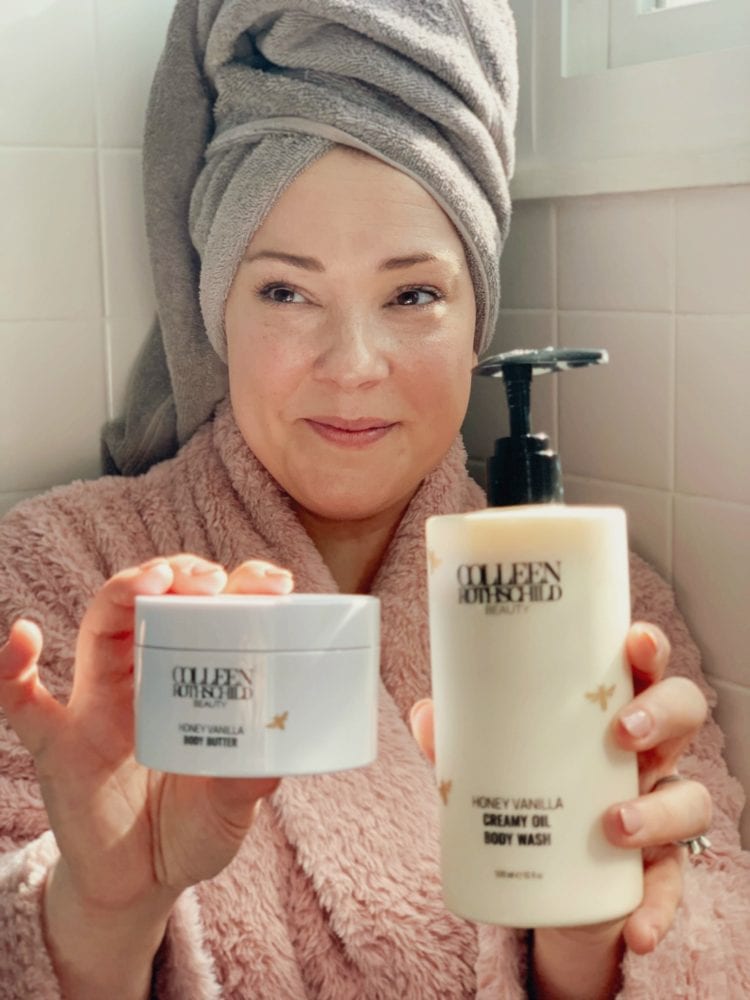 Even though this duo makes my skin look and feel fab, a final post-shower moisturizer is paramount to seal in the hydration and protect the skin from the elements. I've shared before that in the winter I switch from my favorite body oil to a body butter to better tackle dry and scaly skin. The Colleen Rothschild Body Butter is a perfect choice. Made with Brazilian murumuru and bacuri butters, it melts into skin (beauty tip: moisturizers with nut butters absorb much better on skin warmed from a bath or shower). This butter is unique in that it not only is hydrating thanks to nut butters, it also gives the skin an energizing boost with Arabica coffee seed and delivers a luminous glow thanks to Polynesian mother of pearl. While the Body Butter is also scented Vanilla Honey, like the other products it's not heavy or cloying and won't compete with your favorite perfume.
Colleen Rothschild Body Care Review
I know a lot of you roll your eyes when you see a post is sponsored. However, I partner with Colleen Rothschild and continue to do so over and over because I truly love the products. Every night I use the Colleen Rothschild Cleansing Balm and Retinol Oil, at least once a week (more in the winter) I'm slathering on their cult-favorite hydration mask, at my desk is the brand's hand cream and face mist to keep me hydrated all day. So many of you have shared with me over the years that you tried Colleen Rothschild Beauty after you heard of it from me (here are all my posts about the brand) and you too are now a fan.
When I heard about the new Luxury Honey Vanilla Body Collection line I HAD to try it out, and after trying it out I HAD to review it for all of you. Just be glad you don't know me IRL because after my first day using it I kept saying to my husband, "Dude, touch my elbow! Touch my knee!" because I felt so soft without a trace of winter skin. So while this may be a sponsored post, it's a completely honest rave about some really high quality and high performing products.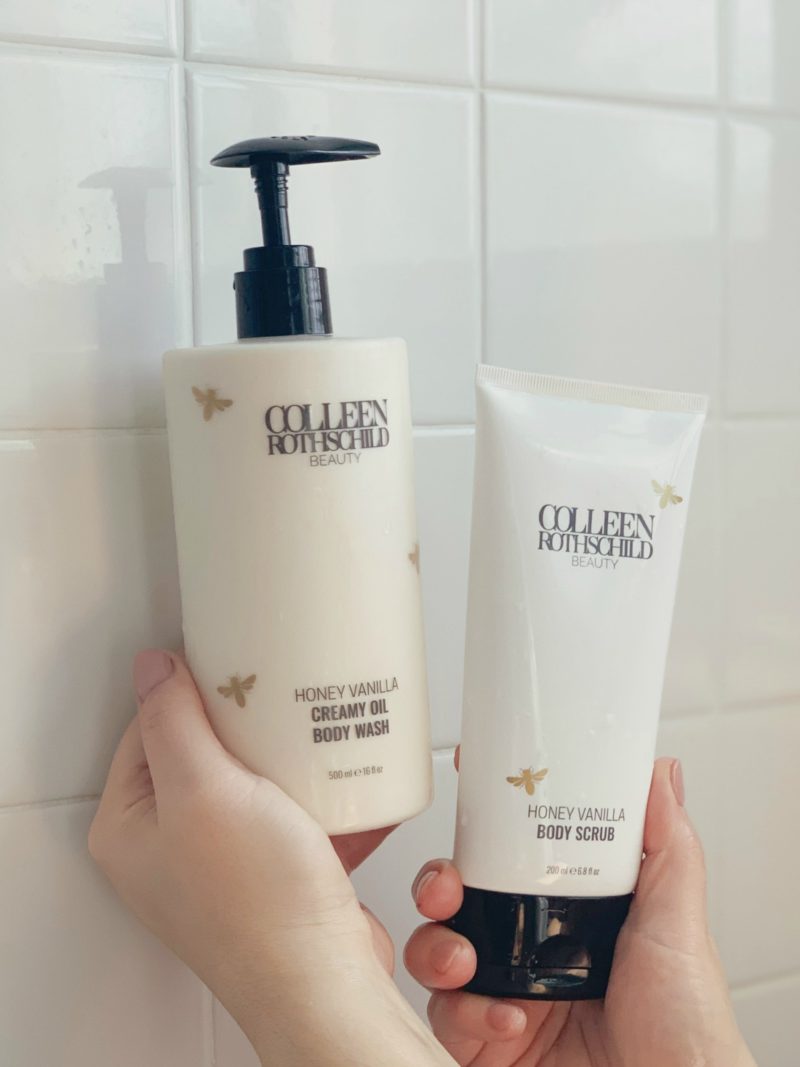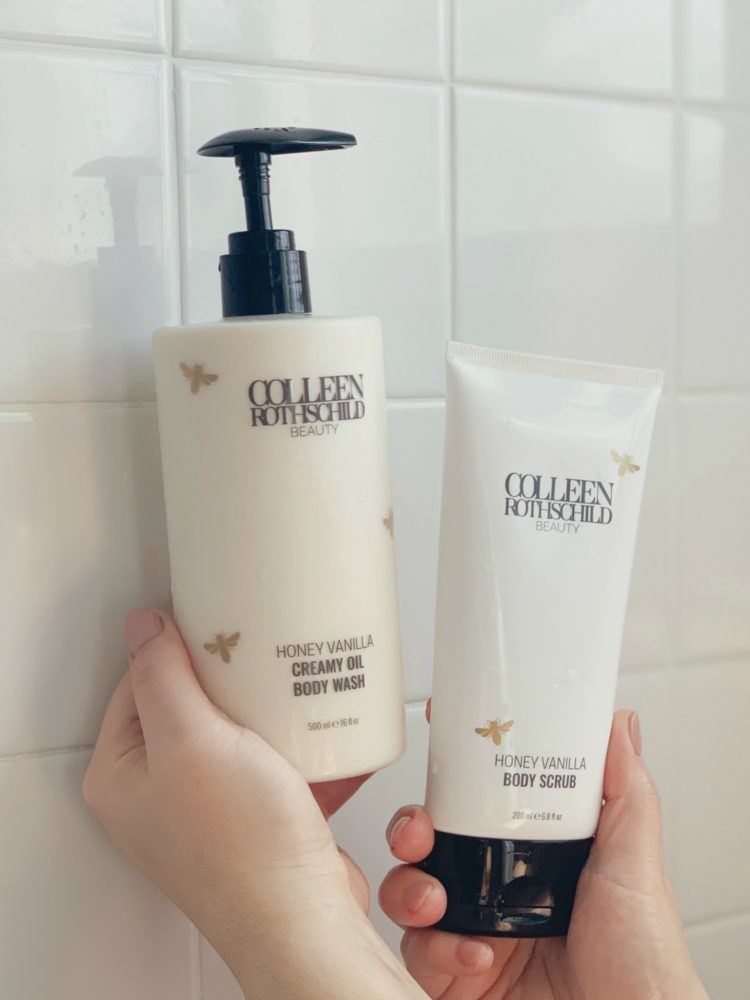 Colleen Rothschild Body Collection Offer
Through February 28th, 2019, while supplies last, Colleen Rothschild is offering a sweet deal. Purchase all three of these products for $79. This is a deal as individually the products would total $110. Offers cannot be combined with other discounts, sales, or promotions. As always, if you have questions do ask them in the comments below and I will answer honestly.
My Colleen Rothschild Faves: