This article may contain affiliate links; if you click on a shopping link and make a purchase I may receive a commission. As an Amazon Associate, I earn from qualifying purchases. 
Now that the cast is off and the swelling has gone down, I can finally get into the spring fashion spirit! Here's a few things I have recently purchased and like very much: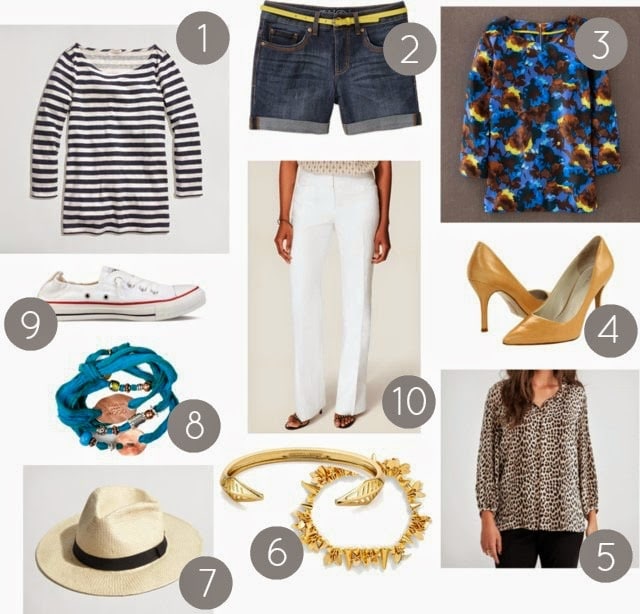 1. Well all know my adoration for stripes; when I saw this shirt at J. Crew Factory was only $21 I had to try it. I love the fit, the shape, the fabric, everything. It's tempting to get it in gray as well!
2. I don't ever shop Walmart, but I was on vacation in a small town where it was the only place to go to get a pair of shorts for Emerson. While there, I found these shorts by Faded Glory for $12.94 and I must say they're pretty great. Good length that is comfortable yet not dowdy, a bit of stretch so they're flexible but also keep their shape, and a nice non-dorky wash. Totally got rid of the cheesy neon skinny belt and will likely do an at-home distressing on them, but not too shabby. As with any shorts, I went a size up for a better fit.
3. I don't own this EXACT shirt from Boden, but unfortunately the one I got is no longer on the site. This shirt featured is the Eliza Top, and I own the Eliza, but in a cerulean and navy stripe (yep MORE stripes!). I absolutely positively LOVE this shirt; I love silk but hate washing it (this shirt is machine washable); I like ¾ and bracelet-length sleeves now to protect my scar but stay breezy (this shirt has it), and I love a top that is casual like a tee but can dress up for work (wearing it right now with a pair of trousers and pumps, looks great tucked into a pencil skirt, and this weekend wore with boyfriend jeans). The Eliza Top from Boden is a regular in their collection and a great addition to many wardrobes!
4. I now own five pairs of Nine West's Flax pump (black, natural, silver, peacock print, red and black spotted haircalf). I know that seems a bit insane, but it's a pretty perfect shoe. Single sole, pointed toe, walkable heel height, and a nice price. I've been wanting a "nude" leather pointed toe pump for over a year, but find each pair is too pale, too dark, too pink, too something for me. The Flax's Natural Leather is a pretty perfect shade for me, and I love having a shoe that looks great with both pants and skirts.
5. Another silky shirt with an in-between sleeve length! This is the Sophie Blouse from Dobbin Clothing, and while it has the same basics I like from the Boden Eliza Top, it gives a completely different effect thanks to the details. Slightly crinkled silk, gold buttons down the front, and blousy sleeves. The color makes it work with black, brown, ivory, and denim quite nicely. I often wear this blouse untucked with dark wash narrow jeans, but also wear to work tucked into ivory tropical wool trousers.
6. I mentioned my desire for delicate gold this spring, and I am still loving my Rebecca Minkoff cuff; I also picked up this dangly but not too jingly bracelet from Nordstrom for $24; it doesn't look cheapy, it's stretchy and doesn't get in the way when I type.
7. This Panama hat is only $17 from J. Crew Factory. Runs a bit wide, but I like that because I can twist up my hair and tuck it in the brim to keep my neck cool (or hide bad hair).
8. Me and my Lifetherapy bracelets – it's an addiction! I love turquoise, I have a few bracelets from the company in blue (see here) so it brightens up my current collection, and this one has an Aquarius symbol! I like that these bracelets are just one long cord; I've been known to also wear them as a long necklace with tanks in the summer!
9. Seriously, the Converse Shorelines are my jam! I've missed having casual tennis shoes for spring and summer, and these are so easy to slip on, no heel blisters, and no looking as though I'm wearing shoeboxes on my already chubby feet.
10. Linen always looks like such a mess on me.  Well this spring I've given up being crisp, and have embraced the casual wrinkled-ness of linen.  My J.Jill white linen big shirt is great knotted over distressed jeans, and these pants (the Julie fit from LOFT) I love with a simple cotton knit sweater, silk blouse, or with a denim shirt.
***
Outfit posts have been few and far between because it was slow and difficult getting dressed with the arm, and honestly pretty depressing. I gained weight and lost muscle being so sedentary during my time on disability, and just putting on a tee shirt could leave me in tears. And then, much of my wardrobe didn't work with the cast, only having one arm to put myself together after using the bathroom, the stiff swollen arm and all that jazz. But I feel SO much better, have much more flexibility and less swelling and am feeling like myself again. So stay tuned, for actual posts of me wearing these new pieces!
Follow Me | Twitter | Facebook | Instagram