This article may contain affiliate links; if you click on a shopping link and make a purchase I may receive a commission. As an Amazon Associate, I earn from qualifying purchases. 
I don't like looking like a mess. Because usually… I am a mess. I'm the gal with coffee spilled on her shirt and her hem held up with safety pins so when I have the ability to control the situation… I do. I buy wrinkle-free button front shirts and still iron them, I have a repair kit in my purse with a Tide to Go pen, fashion tape and plenty of safety pins, and I usually choose a stretchy knit over something crisp that can be creased before I get to the office.
But messes happen, and with time I've learned to accept them and make them work. When I think about this evolution, I think of this brilliant series of commercials by the diaper company Luvs. My favorite of the bunch:
Life happens. Messes happen. You can restrict yourself until the cows come home to prevent a mess, or you can accept them, learn from them, and improve. With my experience I've learned that it's okay to have a wrinkle or two, and this year I FINALLY embraced linen.
I have J.Jill to thank; when I was part of their Linen in a Whole New Light promotion this spring, I realized that some linen looks pretty good even when it's rumpled. My white Big Shirt from them was something I chose because it fit over the cast, but has become a summer staple (see me wearing it on Instagram) because it protects me from the sun and is actually more comfortable in the heat than a stretchy tank top. I bought a pair of lined linen trousers from LOFT earlier this year; they're machine washable which gives them an all-over purposeful wrinkled look straight from the dryer that looks cool with cotton voile tops and simple tanks and makes the creases from sitting less noticeable.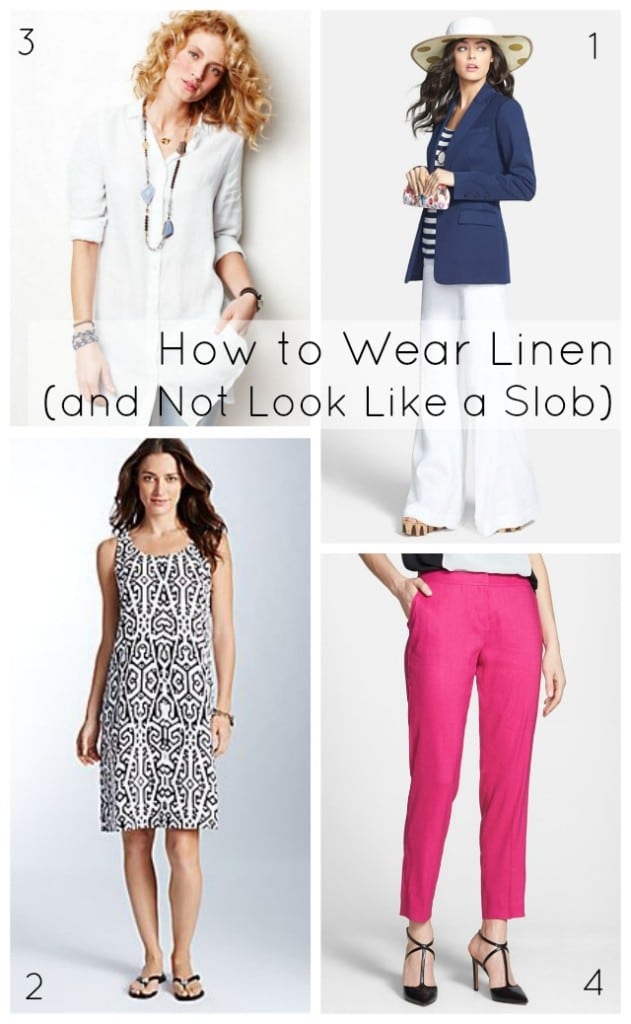 By incorporating linen I've learned some ways to wear it without looking like a messy paper bag:
Go White. White linen for some reason looks crisper than colors, and fresher than beige. The sun also reflects, hiding the wrinkles. Pair with a print that has white in it so the eye notices that more than any creases. These trousers from NYDJ (1) come in regular and petite lengths (and a few colors in plus) and are a classic cut that can dress up and down with ease. Choose a longer blouse or sweater to hide the jean-inspired pockets to dress up, or wear with a simple striped tank and sandals for the weekend.
Choose a Print. Prints take focus and disguise wrinkles. A print with lines and sharp angles really help hide creases, and one with a white ground reflects more light, diffusing lines. I'm loving this Ikat print dress from J.Jill (2), it comes in petite, tall and women sizes and has pockets deep enough to replace a purse for trips to the farmers market or a wine festival. Add a cardigan and pumps for the office, strappy heels for a shower or fundraiser, and casual sandals for the weekend.
Get Slouchy. If it's oversized or slouchy, the wrinkles are part of its charm. I love this relaxed linen tunic from Garnet Hill (3); the rolled sleeves and longer look will be even more chic with a rumpled finish. Pair with ankle pants and pointed toe flats for a casual office, wear with denim shorts and sandals for running errands, even take on your beach vacation and let it work double duty as your beach coverup!
Choose a Blend. Linen blended with another fabric isn't as prone to wrinkles. If you choose cotton, silk or another breathable fabric you can still keep cool in the summer heat. I've worn the "Taylor" fit of trousers from Halogen and find them quite flattering; this cropped version (4) has the slouchy vibe that's hot this season without being passé by next summer. Available in regular and petite lengths and up to a size 16 (the line runs generous, if you're between sizes you likely can go down), these can dress up for work with a blouse and pumps or be chic for drinks with a boxy linen tank and strappy heels.
It's ridiculous to suffer for fashion rules. It's hot out there, you'll look far more stylish if you're happy and comfortable with a few creases than restricted and sweating for the sake of style!