This article may contain affiliate links; if you click on a shopping link and make a purchase I may receive a commission. As an Amazon Associate, I earn from qualifying purchases.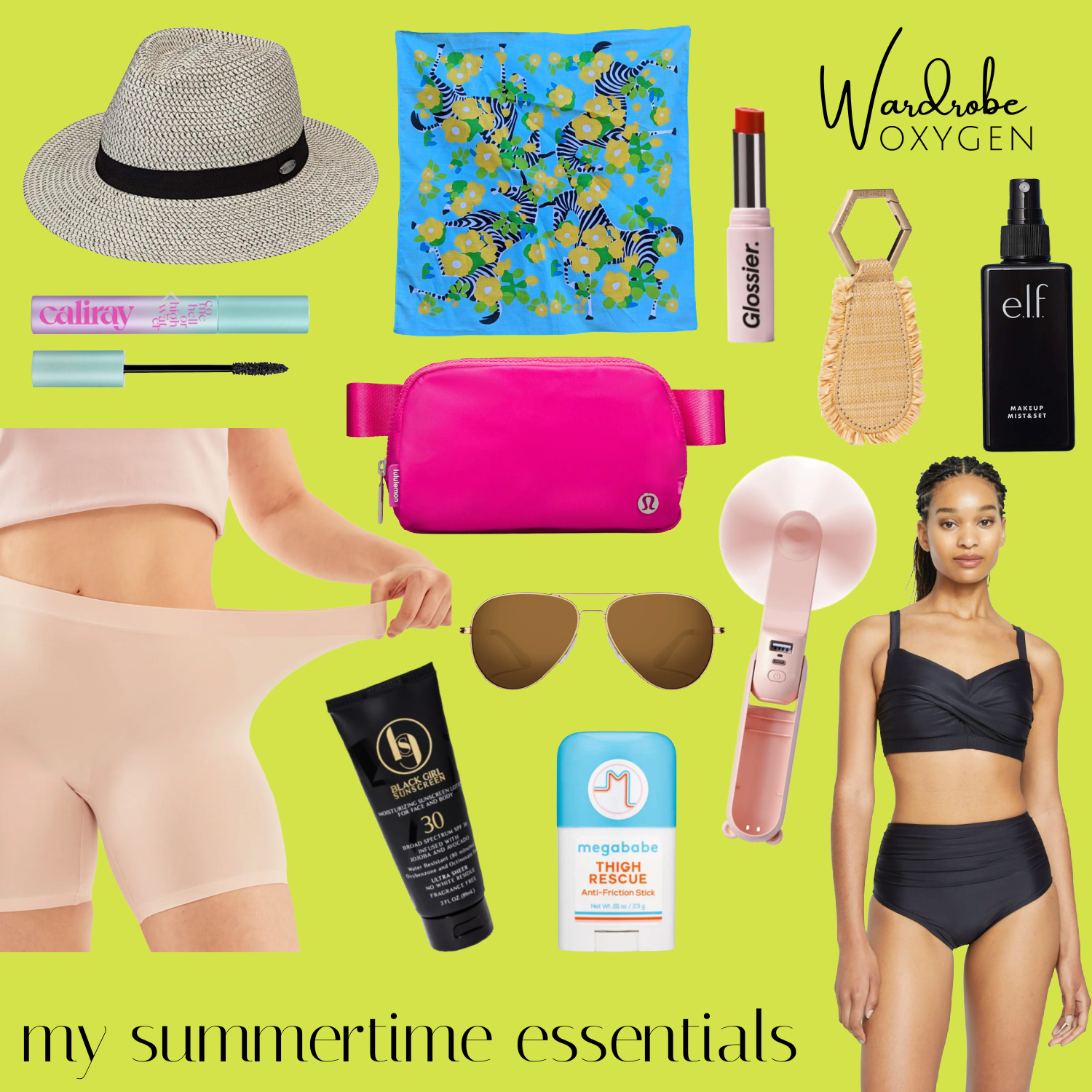 As I prepare for my summer vacation, I can't help but think about essentials that keep me feeling and looking great. From must-pack items to everyday favorites, I've got you covered, even on the hottest, most humid days. Check out my updated list of summertime essentials for beating the heat (also watch out for those pesky bug bites). Let's make this season stylish and bite-free!
This post was originally published in 2022; while most of the items are still the same some are out of stock or no longer available so I have updated it accordingly.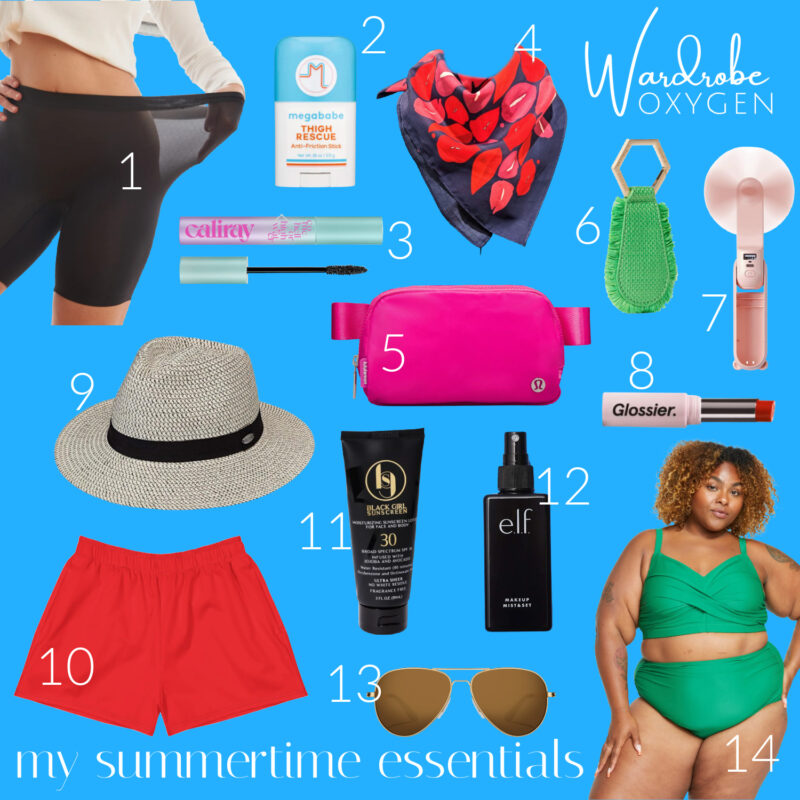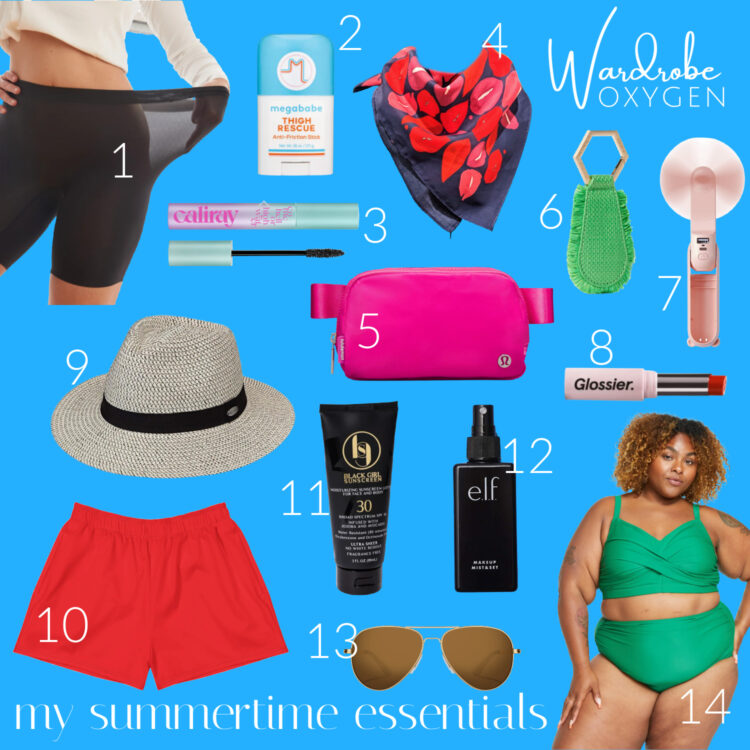 1 | 2 | 3 | 4 | 5 | 6 | 7 | 8 | 9 | 10 | 11 | 12 | 13 | 14

My Summertime Essentials
This is my third summer rocking these cooling slip shorts from Thigh Society, a woman-owned Canadian company that ships to the US. Available in four lengths, 11 colors, and sizes XS-6XL, these shorts feel like nothing on, don't roll up or down, launder beautifully, and keep my thighs from rubbing together while offering modesty on a windy day. Use WO215 to save 15% on your purchase!
For outfits when a pair of Thigh Society cooling shorts aren't appropriate, I am glad for my little purse-sized stick of Megababe Thigh Rescue. Great with shorts and swimsuits, Thigh Rescue goes on clear and reduces friction. Megababe was started by Katie Sturino, an influencer that focuses on body confidence and size inclusivity.
I am a fan of tubing mascara and the best one I've tried lately is this one from Caliray, a sustainable clean beauty brand based in California. It stays put, isn't goopy, and easily washes off with warm water at the end of the day. Sweat, tears, and allergic eyes are no match, and your lashes will look so lush too. A perk – this link also has a trial size so you can test before you invest!
Mop your brow, tie cowboy style to protect your chest or upper back in the sun, wet it and tie it around the neck to cool off, tie kerchief style to protect the scalp, and it also is a cute accessory on a ponytail or at the throat. I always carry a bandana, especially during the summer. All Very Goods is a Black woman-owned company based in Washington DC that has several other gorgeous bandanas to choose from.
I love a belt bag for its versatility. You can clasp it around your waist and wear it in the front (I love this for a flight to store my lip balm, eye drops, etc.), wear it in the back (great for hiking and canoeing), or as a crossbody (my regular go-to).
This summer I got the Lululemon Everywhere Belt Bag 1L and I get the hype. At first, I didn't love it, but it's so lightweight and it's not huge but can hold my cardholder wallet, sunglasses, reading glasses, keys, lip products, eye drops, and a pack of gum comfortably with a nice back pocket big enough for my iPhone Max. Check resale sites like Poshmark where you can find like new versions of this bag for less.
I bought my first Toptote in 2021 and wish I had done it sooner. This high-quality bag tag looks stylish and cool but hides two high-powered magnets. Pull them apart and let them clamp your hat when indoors or traveling. I love that it looks decorative when not in use, is easy to move from bag to bag, and holds your hat securely without damaging it. It's not just a must on trips; I carry it almost daily since sun protection is always smart! Toptote has several different styles to work with almost any personal style aesthetic.
I bought one of these at the beginning of the summer and I am so glad I did! This is super small but super powerful. Tuck it in your bag and keep yourself cool in stadiums and lines. It can also prop up on your desk or airplane tray table to stay cool hands-free, and it's great to whip out when dining outdoors to help keep flies and mosquitoes away.
Personally, I think the best summer makeup look is fresh skin, some mascara, and bright lipstick. I love red most of the year, but come summer I really dig bright pink, coral, or orange. Glossier's Ultralip is like a lip balm and a lipstick had a love child; it's hydrating but lasts well and looks juicy. You can also build up color from a wash to a powerful pout. My personal favorite is Coupe, a very wearable reddish-orange that instantly makes my skin look sunkissed.
Last year I shared a fedora I owned for years and loved. Well, the fedora finally bit the dust after accidentally getting crushed. I replaced it with this packable fedora from Wallaroo which is almost the same shape/style but UPF50 and can be rolled and tucked into a bag.
I've raved about these Universal Standard shorts before. I know they're not for everyone, but they are for me. With a wide elastic band, quick-dry non-clinging fabric, deep pockets, and angled hem to reduce thigh friction, these shorts are my go-to over a swimsuit, for a walk on the beach, or curling up on the screened-in porch enjoying a book and iced coffee. I now own these in red, black, green, neon yellow, and a blue and white Shibori print. If in doubt, size. up.
I love this sunscreen from Black Girl Sunscreen. Free of phthalates, parabens, oxybenzone, and octinoxate, this SPF 30 sunscreen from a Black-owned company works on the face and body without leaving a white cast. It also plays nice with makeup. It is fragrance-free,
I reduce the amount of makeup I wear in the summer, but sometimes I want a "done" face and to have it last through heat, sweat, and tears. I have been using this budget-friendly setting spray for years and love how it is effective without causing breakouts. My daughter now is a fan and has her own bottle!
I was a Ray-Ban aviator person for over a decade, loving the classic style. But then my husband got a pair from ROKA and I became a convert. Same classic style, but half the weight, far more durable, high contrast and polarization, and they stay on my face even if I am sweaty, even if I bend over and I don't feel them on my nose. If aviators aren't your style, you should still check out ROKA, the sunglasses are amazing and durable. They even have prescription options!
Last year, I shared the Lands' End Tugless Tank suit as my must-pack swimwear for summer vacations. This year, it's the Twist Bikini Top and Bikini Bottom from Universal Standard that I packed for my getaways. I have a large bust and soft curves; I usually have to buy cup-sized swimwear for the support I desire and need a lot of straps and contraptions for security when wearing a swimsuit for activities. This suit works for volleyball, swimming laps, bodysurfing, and kayaking, and is supportive and comfortable enough to wear under clothes.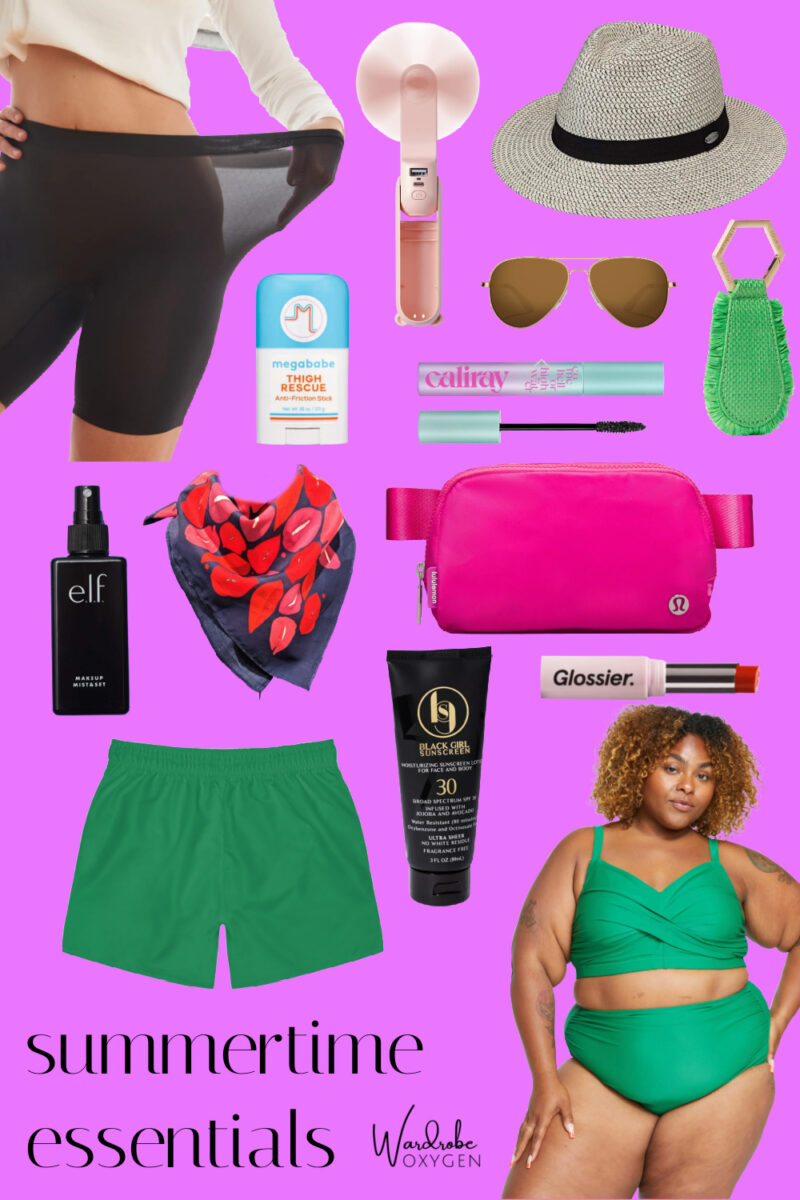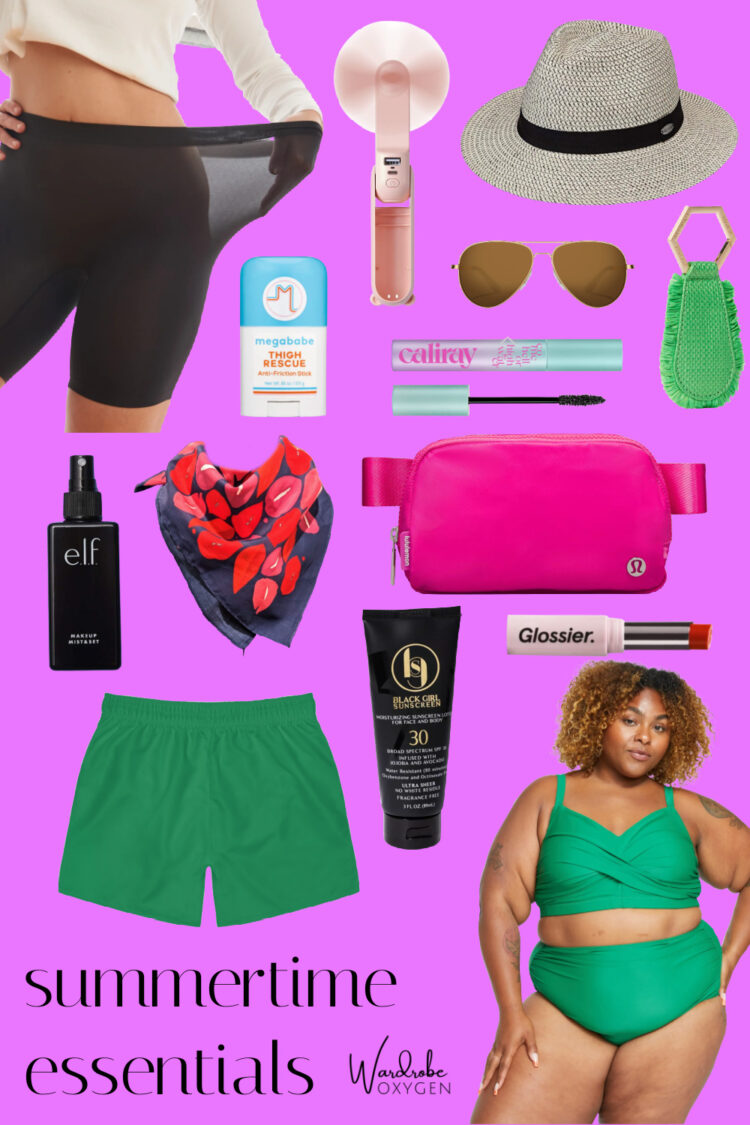 Original Posted: 06/22/2022
Updated: 07/30/2023