This article may contain affiliate links; if you click on a shopping link and make a purchase I may receive a commission. As an Amazon Associate, I earn from qualifying purchases.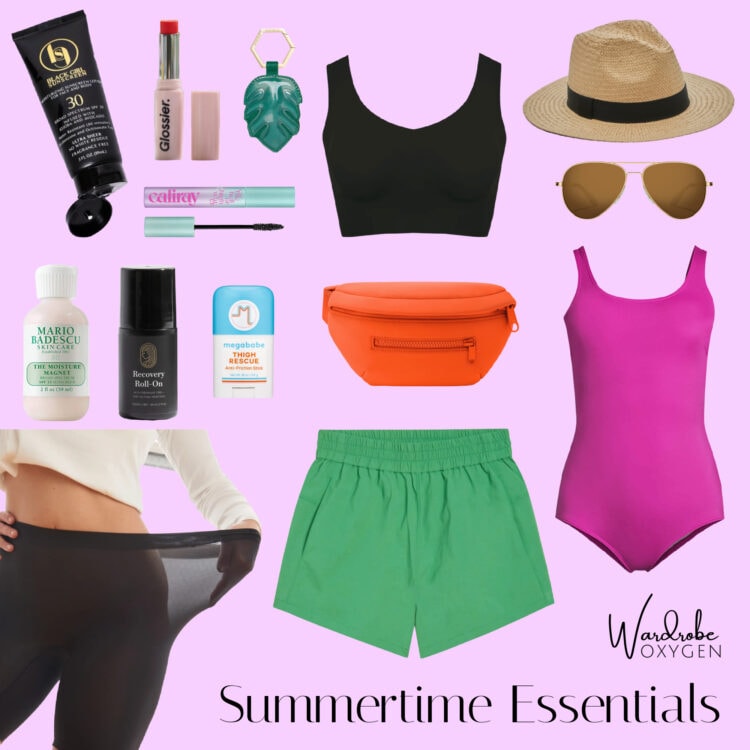 Planning for my various summer vacations, I was thinking about what are my essentials – the things I always pack, the items I use on the daily when at home this season. Below I share some of my summertime essentials for feeling and looking great even on the hottest and most humid days.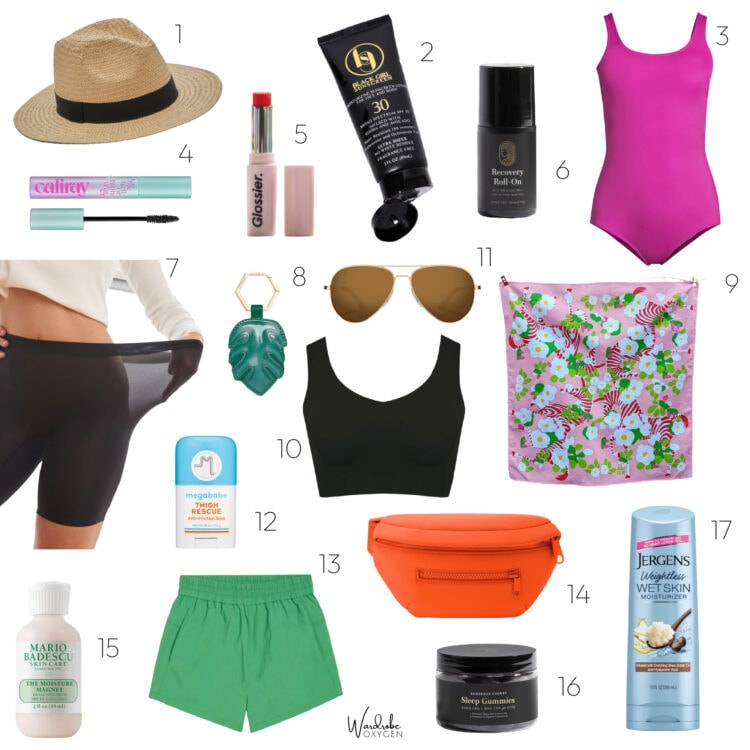 My Summertime Essentials:
1 | 2 | 3 | 4 | 5 | 6 | 7 | 8 | 9 | 10 | 11 | 12 | 13 | 14 | 15 | 16 | 17

My Favorite Fedora: This hat from Banana Republic comes in three sizes (great for those of us with a larger or smaller head) and a few different colors. I've had this hat for years and it holds up great! Stylish sun protection and breezy too. I also find it stays on well even in the wind.
Safe and Effective Sunscreen: I love this sunscreen from Black Girl Sunscreen. Free of phthalates, parabens, oxybenzone, and octinoxate, this SPF 30 sunscreen from a Black-owned company works on face and body without leaving a white cast. It also plays nice with makeup. It is fragrance-free,
The Perfect Swimsuit: I've written before about how the Lands' End Tugless Tank is IMO the best swimsuit but I have to rave again. I can't tell you how many times I have shoved this in a purse or the corner of a suitcase just in case and have been glad to have it for a cookout that ends up having a pool, going to brunch and ending up at a friend's house with a hot tub or even a kiddie pool on the patio, a hotel that I didn't think had a pool but did, etc. It's fade-resistant, UPF 50, and a chic classic cut that isn't frumpy but will let you swim laps and do flip turns without worry. I have pink here but it comes in so many great solid colors and prints, petite, long, plus size, and different cup sizes too all for less than $60 (and usually on sale for less than that!).
Volumizing Mascara That Stays Put: I am a fan of tubing mascara and the best one I've tried lately is this one from Caliray, a sustainable clean beauty brand based in California. It stays put, it isn't goopy, and easily washes off with warm water at the end of the day. Sweat, tears, and allergy eyes are no match, and your lashes will look so lush too. A perk – this link also has a trial size so you can test before you invest!
A Pop of Color Pout: Personally, I think the best summer makeup look is fresh skin, some mascara, and a bright lipstick. I love red most of the year, but come summer I really dig a bright pink, coral, or orange. Glossier's Ultralip is like a lipbalm and a lipstick had a love child; it's hydrating but lasts well and looks juicy. You can also build up color from a wash to a powerful pout. My personal favorite is Coupe, a very wearable reddish-orange that instantly makes my skin look sunkissed.
Jack of All Trades Pain Relief: Dancing in heels all night long. Sleeping weird on an Airbnb bed. Mosquito bites. The day after a day of kayaking. There are a lot of aches and pains that happen in summer and I find this new roll-on CBD product from Equilibria manages it all with no mess. It travels well, doesn't change in the heat, and is extremely effective. Use WARDROBEOXYGEN at checkout for 15% off your entire order (June 21-23 this code will give 15% off even if you are a past or current EQ customer, usually the code is only for new customers).
Cooling Slip Shorts for Chafe Prevention: This is my third summer rocking these cooling slip shorts from Thigh Society, a woman-owned Canadian company that ships to the US. Available in four lengths, several colors, and sizes XS-6XL, these shorts feel like nothing on, don't roll up or down, launder beautifully, and keep my thighs from rubbing together while also offering modesty on a windy day. Use WARDROBEOXYGEN15 to save 15% on your purchase!
Carry Your Hat Hands-Free: I bought my first Toptote last spring and wish I had done it sooner. This high-quality bag tag looks stylish and cool, but hides two high-powered magnets. Pull them apart and let them clamp your hat when indoors or traveling. I love that it just looks decorative when not in use, is easy to move from bag to bag, and holds your hat securely without damaging it. It's not just a must on trips but I carry it almost every day since sun protection is always smart! While I feature a palm leaf style of Toptote, the company has several different styles to work with most any personal style aesthetic.
A Cotton Bandana: Mop your brow, tie cowboy style to protect your chest or upper back in the sun, wet it and tie around the neck to cool off, tie kerchief style to protect the scalp, and it also is a cute accessory on a ponytail or at the throat. I always carry a bandana, especially during the summer. This specific bandana is from All Very Goods, a Black woman-owned company based in Washington DC. It showcases the zebras that escaped and were running around our county as well as the cherry blossoms, which the DC-area is known for. However, All Very Goods has several other gorgeous bandanas to choose from.
A Wire-free Bra for Larger Busts: I've raved before about this bra with my Evelyn & Bobbie review but at the time I didn't realize how much I would love this bra for summer! It looks like a cropped tank or sports bra and I often wear it solo with shorts for fitness and outdoor activities, wear it under an open linen shirt, have it be the layer under an open-weave top or sweater. The pads are removable, the fabric doesn't shift even when I am sweaty and moving a lot, and the fabric dries quickly. I have them in XL and L, I prefer the Defy bra on me (size 14 with 36 F chest) in size XL. I've had my first Evelyn & Bobbie Defy Bra for a year, it has been washed so many times and still looks and performs great, I have since purchased a few more.
High-Performance Aviators: I was a Ray-Ban aviator person for over a decade, loving the classic style. But then my husband got a pair from ROKA and I became a convert. Same classic style, but half the weight, far more durable, high contrast and polarization, and they stay on my face even if I am sweaty, even if I bend over and I don't feel them on my nose. If aviators aren't your style, you should still check out ROKA, the sunglasses are amazing and so durable. They even have prescription options!
Purse-sized Chafe Protection: For outfits when a pair of Thigh Society cooling shorts aren't appropriate, I am glad for my little purse-sized stick of Megababe Thigh Rescue. Great with shorts and swimsuits, Thigh Rescue goes on clear and reduces friction. Megababe was started by Katie Sturino, an influencer that focuses on body confidence and size inclusivity.
Go Anywhere Shorts: I've raved about these Universal Standard shorts before. I know they're not for everyone, but they are for me. With a wide elastic band, quick-dry non-clinging fabric, deep pockets, and angled hem to reduce thigh friction, these shorts are my go-to over a swimsuit, for a walk on the beach, or curling up on the screened-in porch enjoying a book and iced coffee. I have them in red and black, but I'm seriously considering getting the green pair too!
A Summery Belt Bag: I love a belt bag for its versatility. You can clasp it around your waist and wear it in the front (I love this for a flight to store my lip balm, eye drops, etc.), wear it in the back (great for hiking and canoeing), or as a crossbody (my regular go-to). I love the Ace belt bag from Dagne Dover because it's from a neoprene that is water-resistant and protects small electronics and phones, doesn't get me sweaty, has lots of little pockets for organization, no metal against the body (so painful in the heat), and comes in fantastic colors. I own Violet and Heather Gray but am so tempted to also get Goji!
Keep Your Makeup in Place without Breakouts: I reduce the amount of makeup I wear in the summer, but sometimes I want a "done" face and to have it last through heat, sweat, and tears. However, a lot of the primers and setting sprays on the market make me breakout and often irritate my eyes. This lotion from Mario Badescu has SPF 15 and will sort of mattify my face without drying it out. Makeup clings to it without pilling or being weird. It won't make your makeup stick like glue, but it holds far longer than solo or with a traditional primer and my skin has no negative reactions to it. It's also great alone if you just want your face to get less greasy on a hot day.
Non-groggy Quality Sleep: Staying in a hotel or Airbnb with a strange bed and a noisy or no A/C. Partying neighbors. Sleeping with the windows open. Active days and maybe a cocktail too close to bedtime. Perimenopause. There are a lot of reasons why your sleep may suffer during the summer and I SWEAR by these sleep gummies from Equilibria. I just need one for a great night of sleep regardless of the conditions. And as I mentioned above, use WARDROBEOXYGEN at checkout for 15% off your order!
Quick and Sticky-Free Moisturizer: Ugh, I hate the feeling of lotion on damp skin in the summertime. It's sticky and icky and doesn't dry fast enough to get dressed in time. I've done Neutrogena Body Oil but looking for something more hydrating for my daughter who also has sensory issues about lotion, I found this in-shower moisturizer from Jergens and we are both big fans. We have the Coconut version and it's a subtle summery smell that dissipates. You put it on in the shower after you turned off the water and then can pat dry and it really hydrates without being greasy or heavy or feeling weird on a humid day. I'll be honest, the ingredient list isn't the best so if you know of an alternative please share in the comments!