This article may contain affiliate links; if you click on a shopping link and make a purchase I may receive a commission. As an Amazon Associate, I earn from qualifying purchases.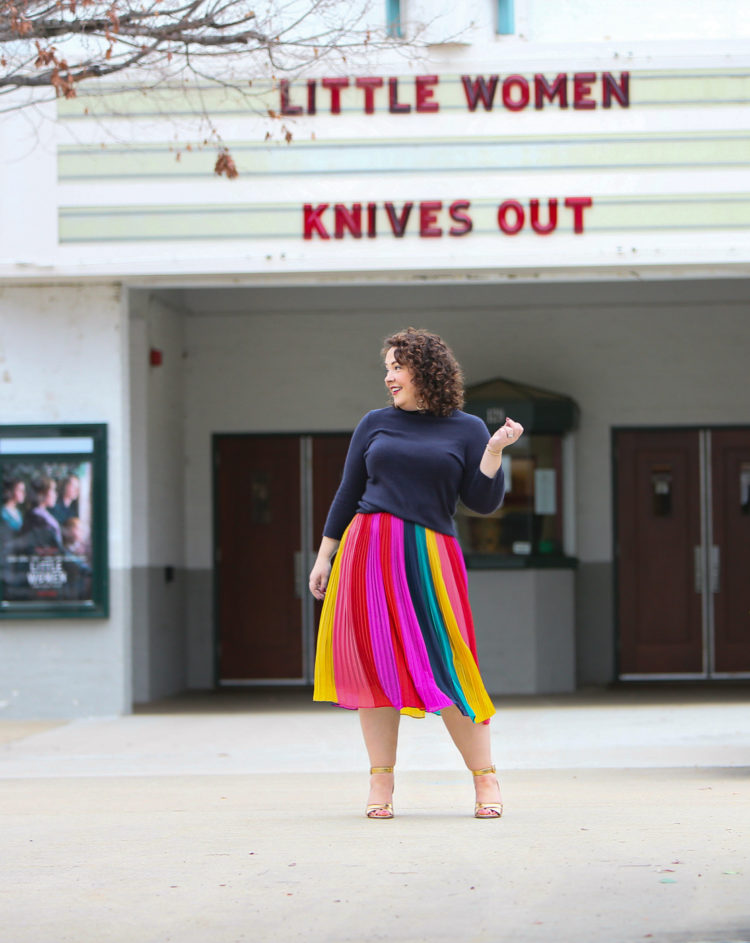 I am of the mindset that you wear whatever makes you feel good.  Period.  However, those of you who read this blog care about fashion and style and usually desire some advice.  Recently in the Wardrobe Oxygen community, a member asked about this puffin sweater and if it was acceptable to wear as a grown-ass woman.  It sparked a good discussion, with most members, myself included, saying it was a great sweater and she should wear it with happiness and pride.  However, I mentioned some ways to "adultify" the sweater without ruining the whimsy.  A puffin sweater with skinny jeans, white sneakers, and a ponytail may be too youthful (unless that is your signature style).  A puffin sweater with darker denim, a red lip, a pair of booties, or even some fun faux leather leggings can add sophistication.  I thought about this advice I provided when this rainbow striped midi skirt arrived in my latest Rent the Runway Unlimited delivery.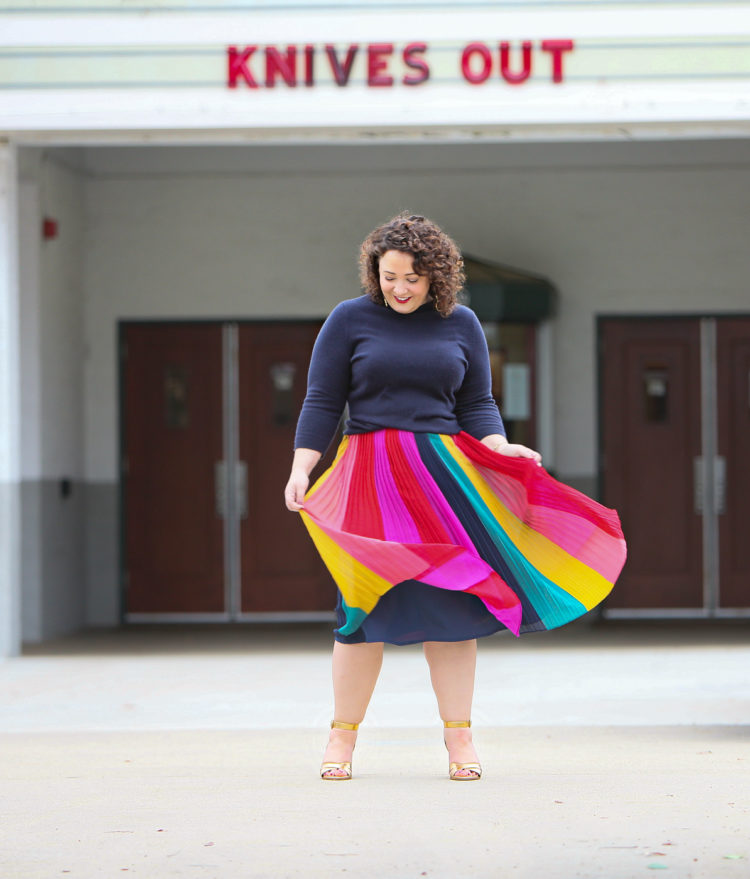 sweater | skirt | shoes | bracelet | earrings | ring | lipstick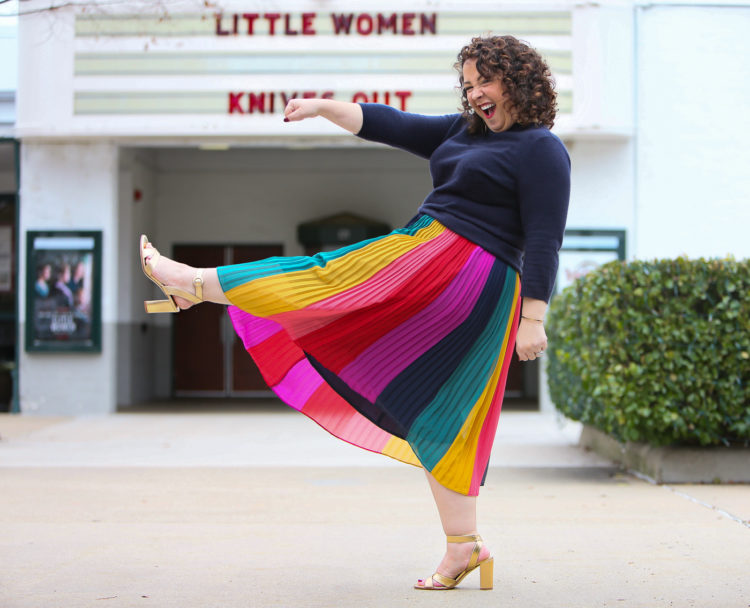 Sweater: Audrey Cashmere Sweater c/o Talbots (Large and on sale!) | Skirt: J. Crew via Rent the Runway Unlimited (new customers can use the code RTRDC22F051 for $100 off your first month) (14; on sale at J. Crew!) | Shoes: Margaux | Bracelet: Metal Marvels | Ring: Empress Insignia Luxe Ring c/o REALM | Earrings: Jenny Bird (discontinued; similar concept) | Lipstick: L'Oreal in 'Eva's Red'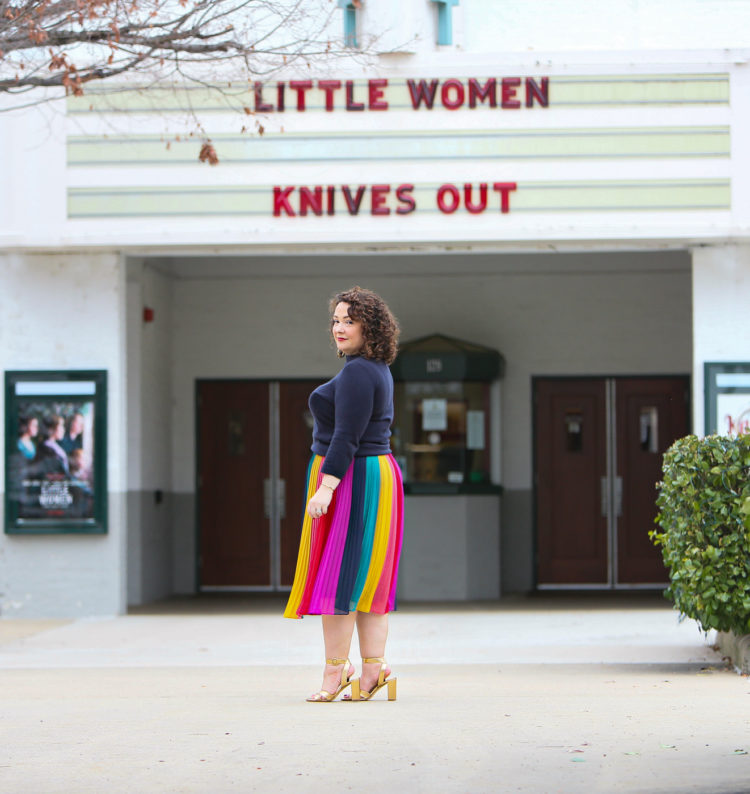 My advice I realized when receiving this skirt, isn't just age-specific but trend-specific.  For a decade ago if I received this skirt, I would pair it with a graphic tee, a denim jacket with the sleeves rolled up, and a pair of leopard print pumps.  And now that just feels a bit too try-hard.  Trends have changed, and it's most obvious when it comes to novelty pieces like puffin sweaters and rainbow-striped chiffon midi skirts.  To make such a piece feel sophisticated and not only appropriate but comfortable on a grown-ass woman, there needs to be a tempering to let the piece be the highight, not one of many highlights.  A contrast of dressy with casual, crisp with relaxed, stiff with soft, polished with a bit rumpled.  Your outfit will say, "Oh this?  This is a favorite piece, I just love wearing it."  In the past, we'd wear pieces like this and our outfits would say, "Omigawd I LOOOOOVE this skirt!  And this shirt!  And this jacket!  And aren't these shoes fun?  I love fun I AM fun!"  It's not taking out the fun, it's having fun be a given instead of something you're shouting from the rooftops.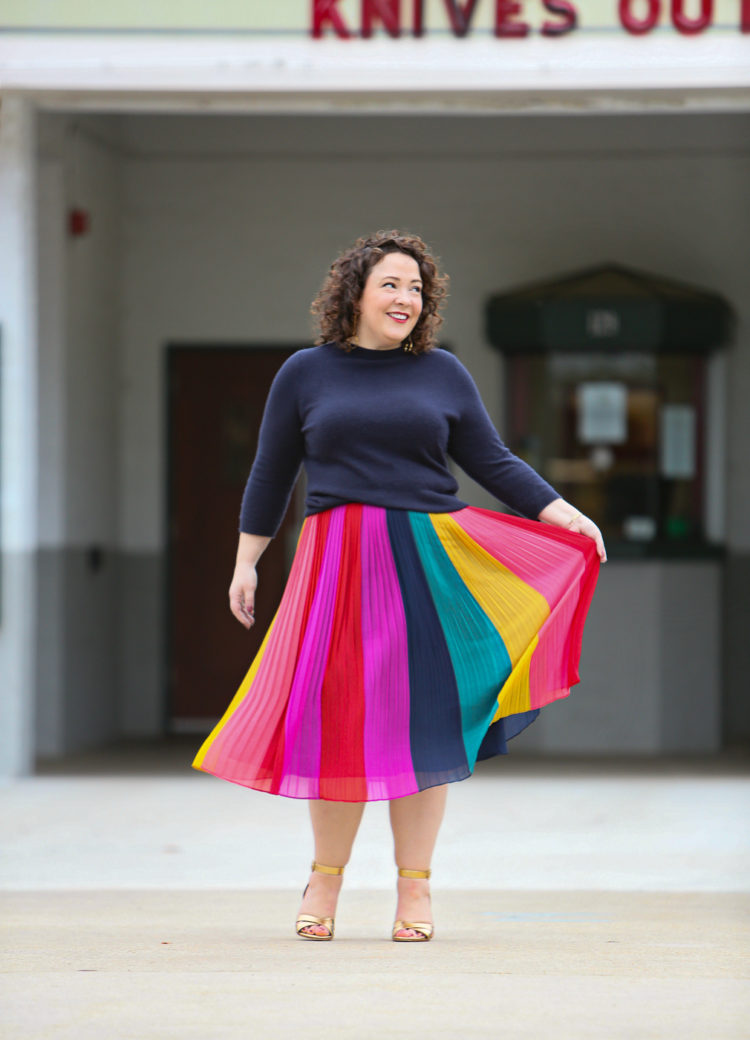 J. Crew styled this skirt with a slightly rumpled white button-front shirt which looked chic and very "Oh this old thing?"  But the model at J. Crew and I couldn't be more different and when I tried this with a white shirt I looked hella tryhard and hella uncomfortable.  I tried a white graphic tee and it looked too 2000s.  I tried a black t-shirt and a black turtleneck and it was just too stark of a contrast, making the skirt look a bit like a circus tent.  A red sweater was also too circus-like.  Then I remembered my navy cashmere sweater (previously seen in this 2018 post).  Not as stark as black but still a neutral, it can skew dressy or casual depending on shoes.  A gray turtleneck sweater would also be a nice alternative.  I'd be down for denim, but my faded jean jacket seemed dated; a dark denim shirt or jacket I think would look fresher and tone down black enough to make it complement the skirt far better.  Unfortunately, this sweater got mixed with some other knits and came out of the wash a bit fuzzy and worse for wear; I plan on taking a sweater shaver to it this week to make it look fresher for its next wear.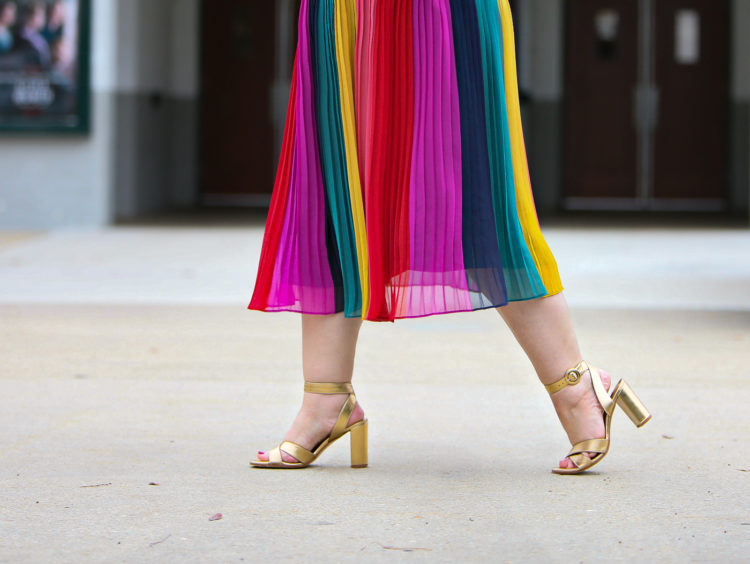 And for this look, I decided to wear my Margaux Uptown Sandals (read my Margaux shoes review) but could have easily switched them out for a pair of white low-profile sneakers like my Cariumas and still look cute, but more relaxed.  I do think a whimsical skirt like this needs a modern shoe to make it work.  A ballet flat or pump would feel dated.  A leopard print would work, but would be best if the shoe had some unique, quirky, or modern detail (pointed toe, ankle strap, mixed materials, etc.).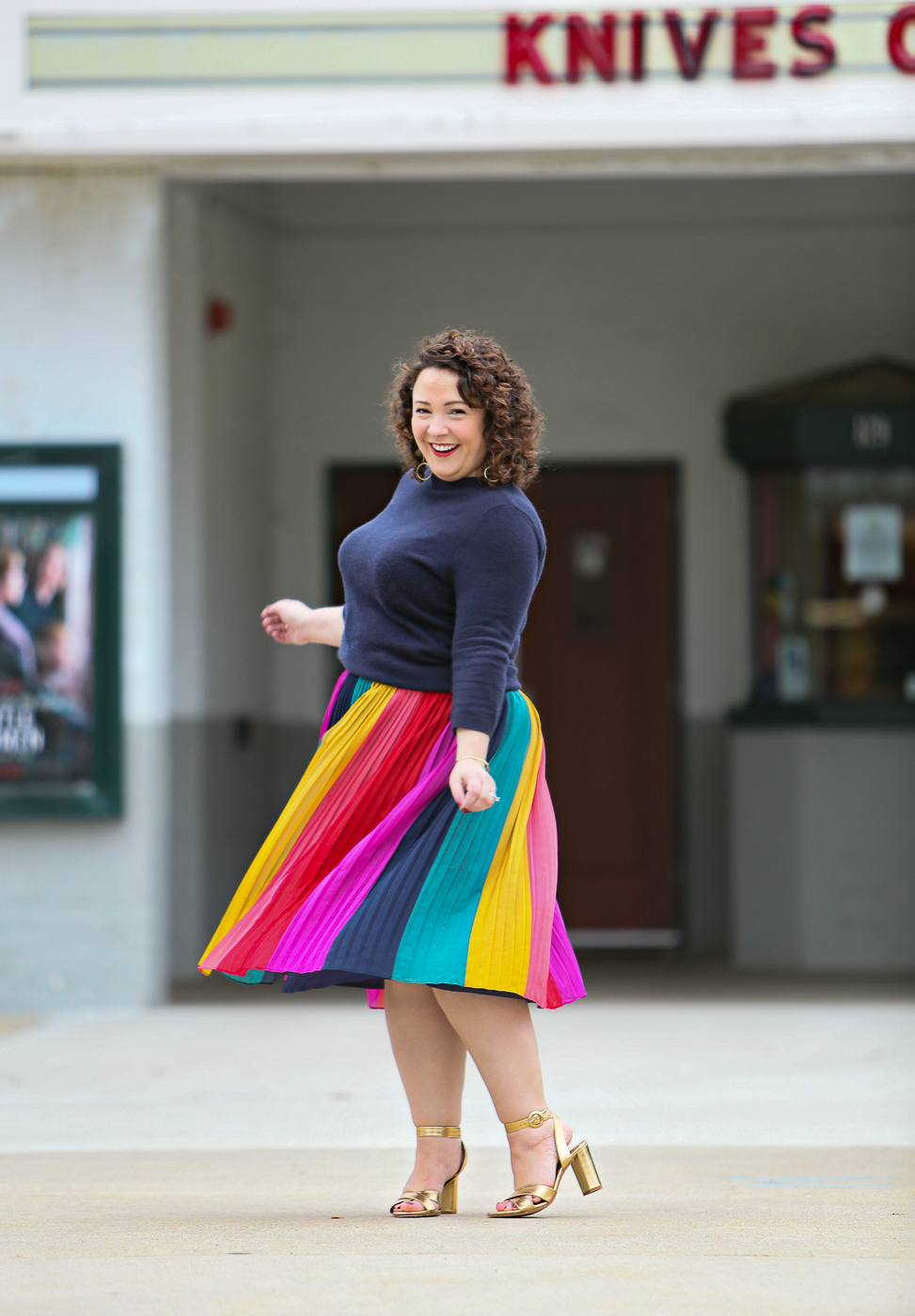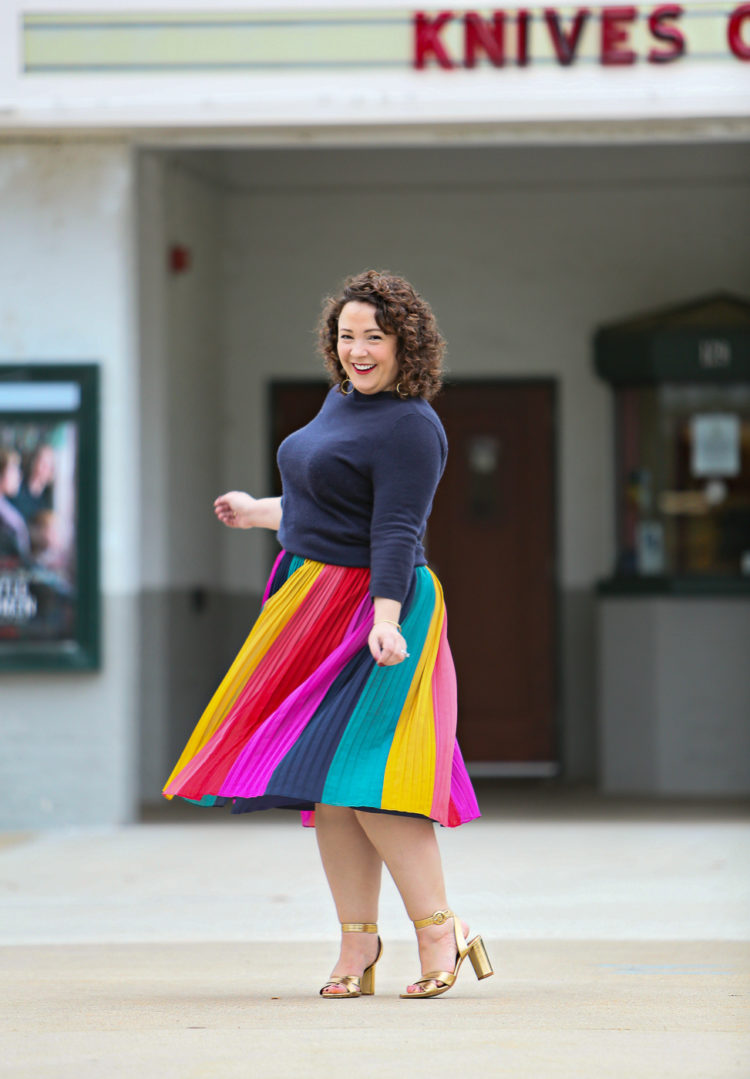 My advice is just a suggestion, not gospel.  Many women could rock the heck out of a rainbow-striped midi skirt with a brightly colored top or even another print.  They could style it the same way I would have styled it a decade ago and look fresh and modern. But if you have some bold, whimsical, or novelty pieces in your closet and are looking for ways to add sophistication to them, I hope my ideas help!
Shop the Look: