This article may contain affiliate links; if you click on a shopping link and make a purchase I may receive a commission. As an Amazon Associate, I earn from qualifying purchases.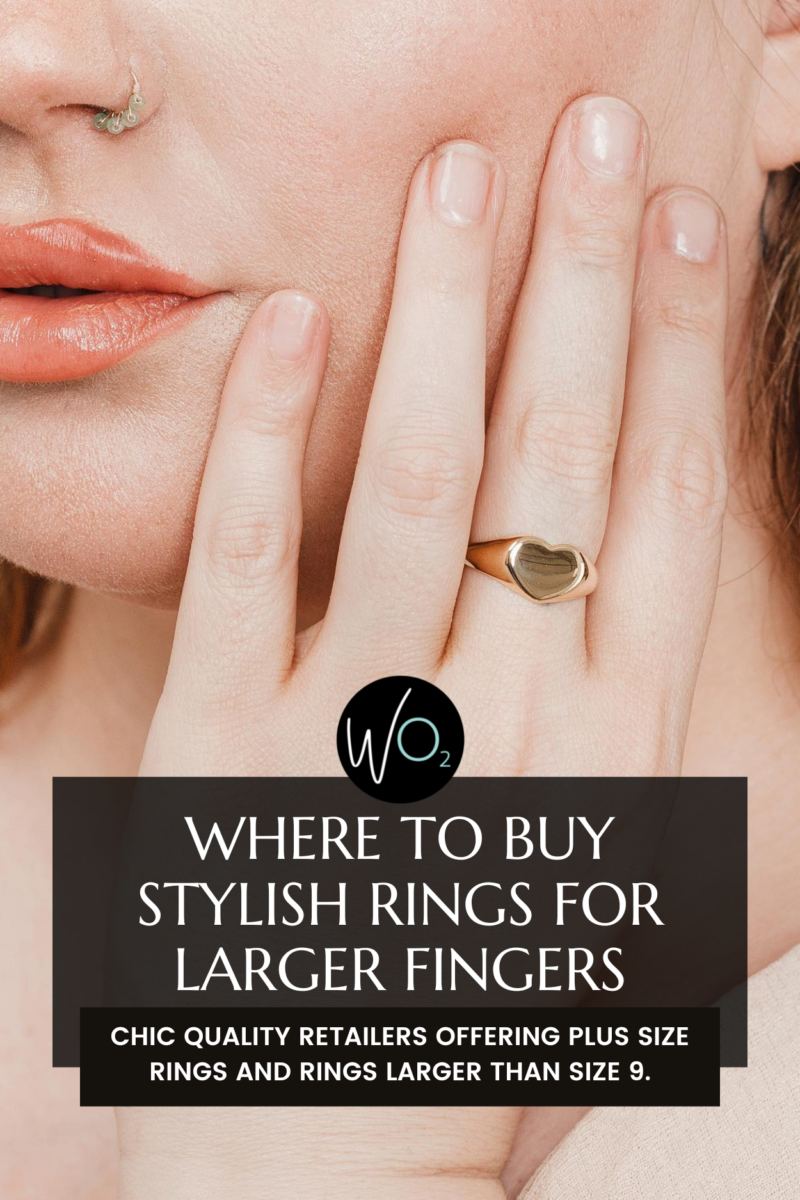 If you're like me, your curves aren't just on your torso. I'm short and solid and so are my fingers and I struggle to find stylish rings for larger fingers. I figured I'd share with you what I have found when searching for stylish and quality rings to fit my fingers which are larger than the sizes most jewelry retailers carry in stock. If you're larger than a size 8 ring, this may help you too!
Where to Shop For Stylish Rings for Larger Fingers
Wardrobe Oxygen offers real-life style for grown-ass women. That means this collection of stylish rings for larger fingers will be choices that will be worth your time and your money. We who don't fit into standard sizing have dealt with poor quality and terrible style for most of our grown-ass lives; I'm not going to add to that frustration.
That being said, this is a collection of stylish rings for bigger fingers that should have something for every budget. This list will share a bit about each company, the ring size range they offer, and the average price for their rings.
Automic Gold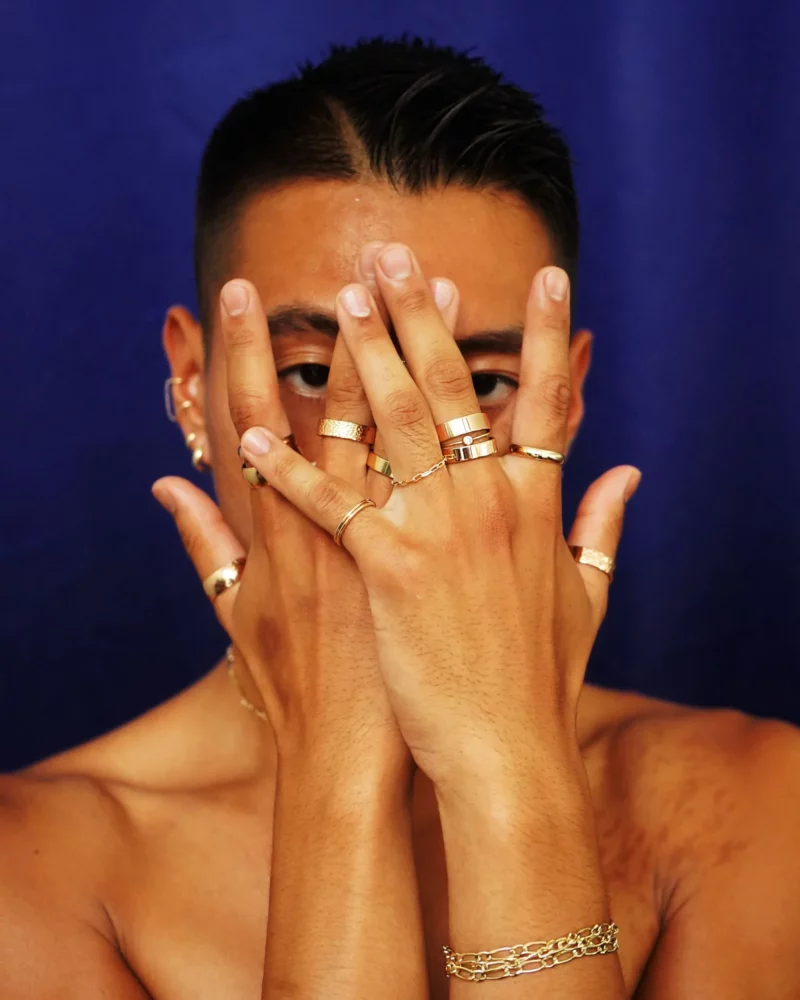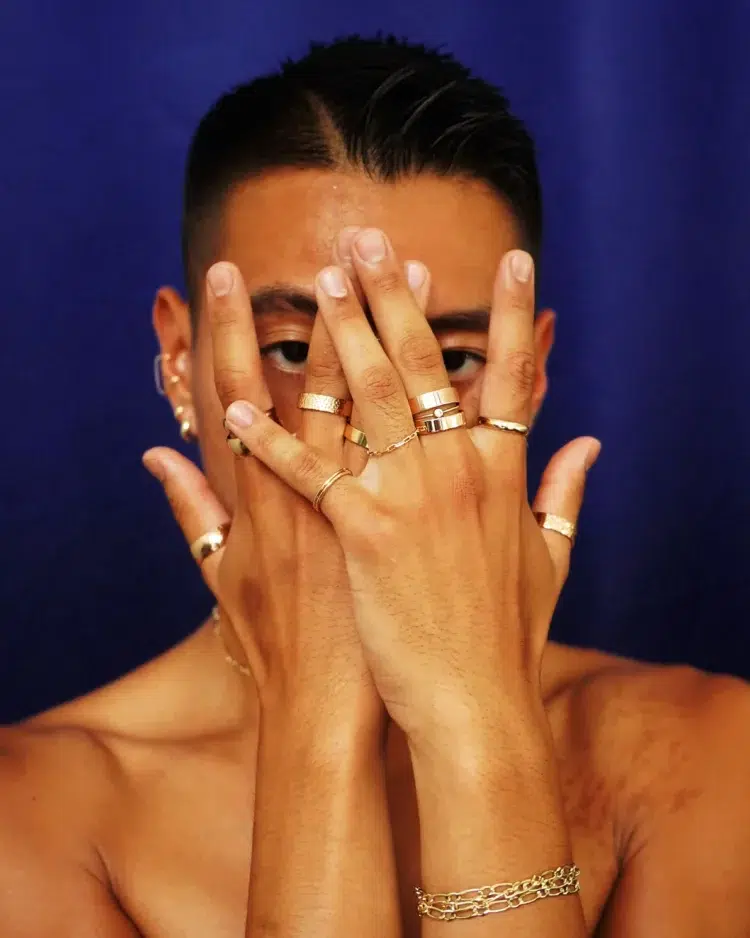 Automic Gold is a queer-owned, self-funded jewelry brand. All pieces are made from reclaimed gold, and arrive in a packaging that is recyclable. Rings are available in sizes 2-16 and come in your choice of 14K white, yellow, champagne, and rose gold. Automic Gold is a US-based company that offers free shipping and returns.
Automic Gold is the perfect retailer if you are looking for smaller everyday rings that will last. If you're looking to upgrade from those delicate rings from the plus size fashion retailer at the mall that have tarnished, chipped, or broken, Automic Gold has the quality and the style that you will want to wear and never take off.
If you are looking for something unique, Automic Gold does custom orders. This link shares the details and past work (there are some badass rings that Automic Gold has made for customers, lots of inspiration on this page!). Beyond rings, Automic Gold carries all categories of fine jewelry from necklaces and earrings to charms and body jewelry.
Poirier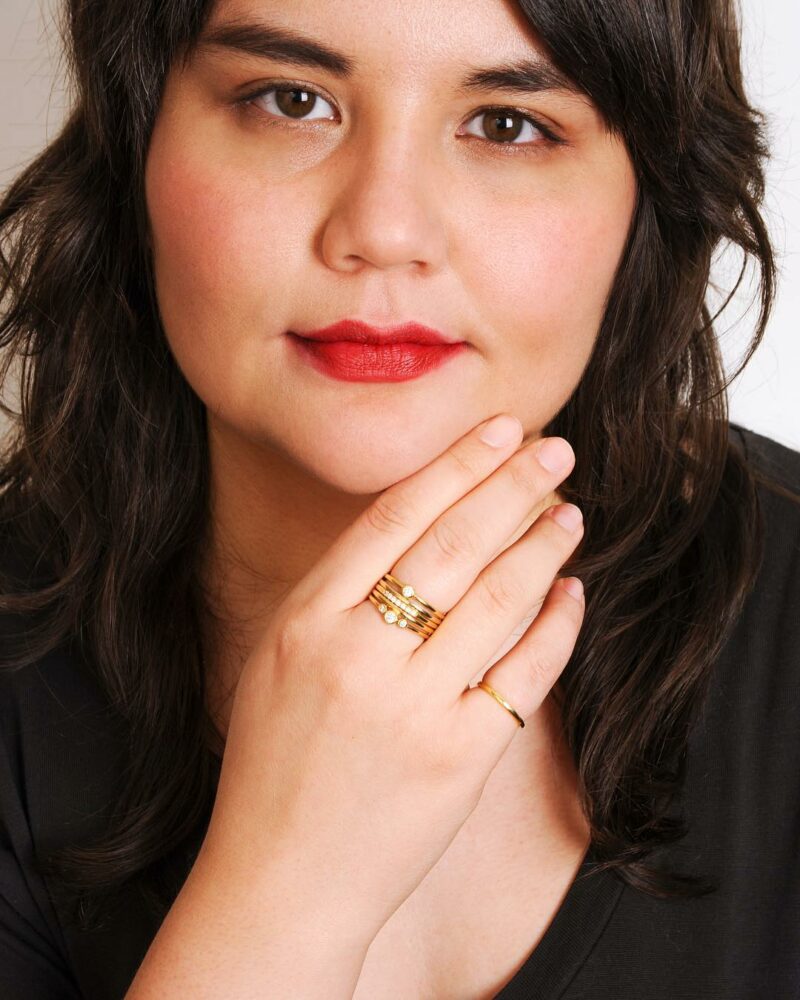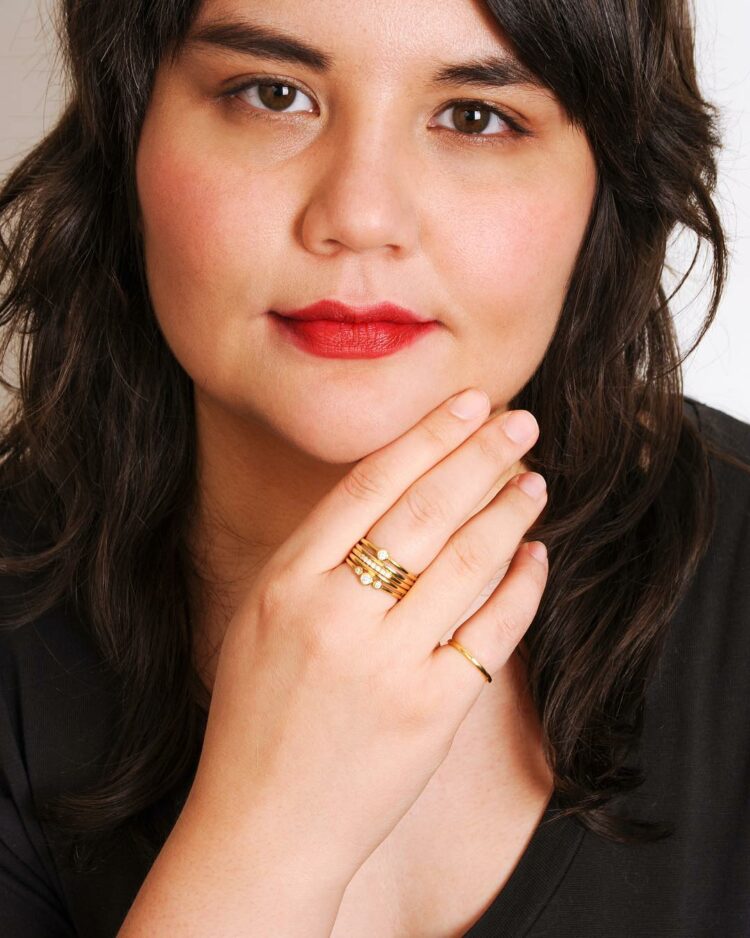 "I have been a size 26 and a size 12. I know how hard it is to find beautiful, well-made things. We have made some strides in fashion but none in jewelry and accessories. We deserve better. This is about jewelry, but this is about much more than jewelry. This is about visibility and representation. This is about sense-of-self. This is about choice. This is about self-expression without compromise." This is a quote from Ashley Poirier, the woman behind Poirier, a line of size-inclusive demi-fine jewelry line with rings in sizes 5-13.
Made from 14K gold vermeil over Sterling silver or 925 Sterling silver with stones that are prong-set AAA quality cubic zirconia, Poirier's rings are classic, elegant, and delicate enough to stack but stylish enough to stand on their own. Every style of ring is under $100 with most under $50.
Beyond rings, Poirier carries chain necklaces and bracelets that are offered in different sizes/lengths and the occasional on-trend earrings available in gold fill, 14K gold vermeil, and 925 Sterling silver. Poirier offers free shipping on orders over $100 and 30-day returns with a $6.95 label fee.
Miranda Frye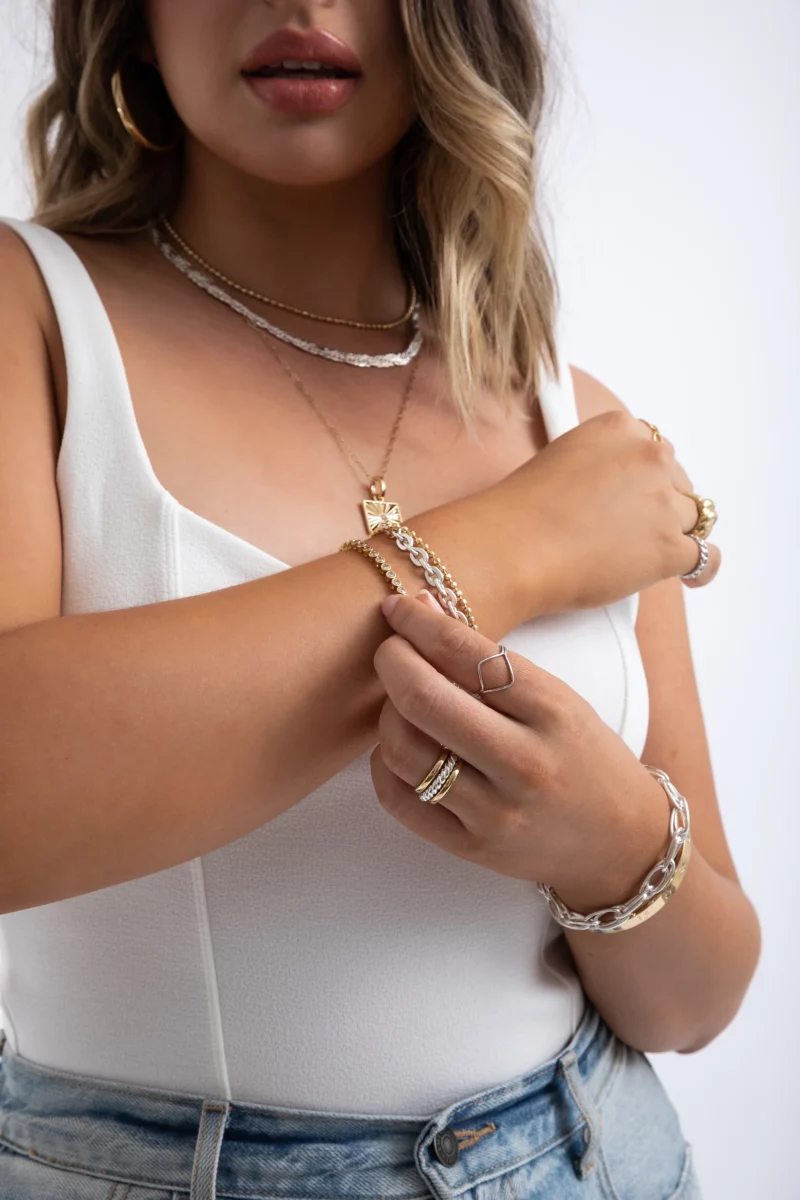 When I first published this list of where to buy rings for larger fingers, a commenter suggested Miranda Frye. I couldn't believe I didn't include Miranda Frye as I had been following the jewelry brand on Instagram for quite a while! Miranda Frye (yes a real person), "believes that every person deserves to feel confident, valued and seen and to have the opportunity for self-expression through their individual style. Her vision is to create unique, high-quality jewelry collections that inspire creativity and celebrate the positive impact each of us holds in being uniquely ourselves."
Offering a range of jewelry that is gold plated, gold filled, Sterling silver, and anti-tarnish Sterling silver, Miranda Frye offers rings up to size 12. I was so inspired I purchased this ring from Miranda Frye and have been wearing it almost daily ever since. It has gotten wet, got a bit of hand lotion on it, and normal wear and tear and looks amazing, still shiny with no tarnish, flaking, or issue with finish or quality. And it runs true to size.
Miranda Frye also lets you shop necklaces by length, from 14″ to 28″ and offers bracelets in sizes XS-XL and lengths 6.5″ through 8″. I feel confident recommending Miranda Frye to those desiring any sort of jewelry for a bigger body.
BaubleBar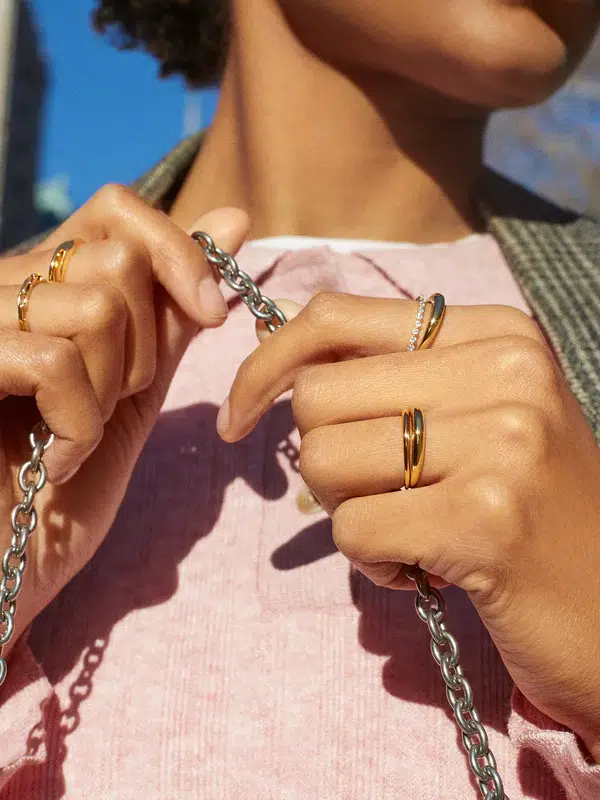 I have been a fan of BaubleBar for quality on-trend costume jewelry, but more recently, BaubleBar launched a Fine collection with 14K and 18K gold pieces… and within their Fine collection, the majority of the rings (at time of writing, 21 of the 30 styles) are available up to size 11! This collection offers personalized rings with names as well as delicate bands and stacking sets.
I purchased the Pavé Hera Ring from BaubleBar and it is so beautiful and well-crafted too. no rough edges, plenty of sparkle with the Cubic zirconia stones and 18K gold plated sterling silver. And the ring runs true to size. If you have purchased costume-quality rings from BaubleBar before, expect to be pleasantly surprised by this elevated craftmanship, comfort, and quality.
Mejuri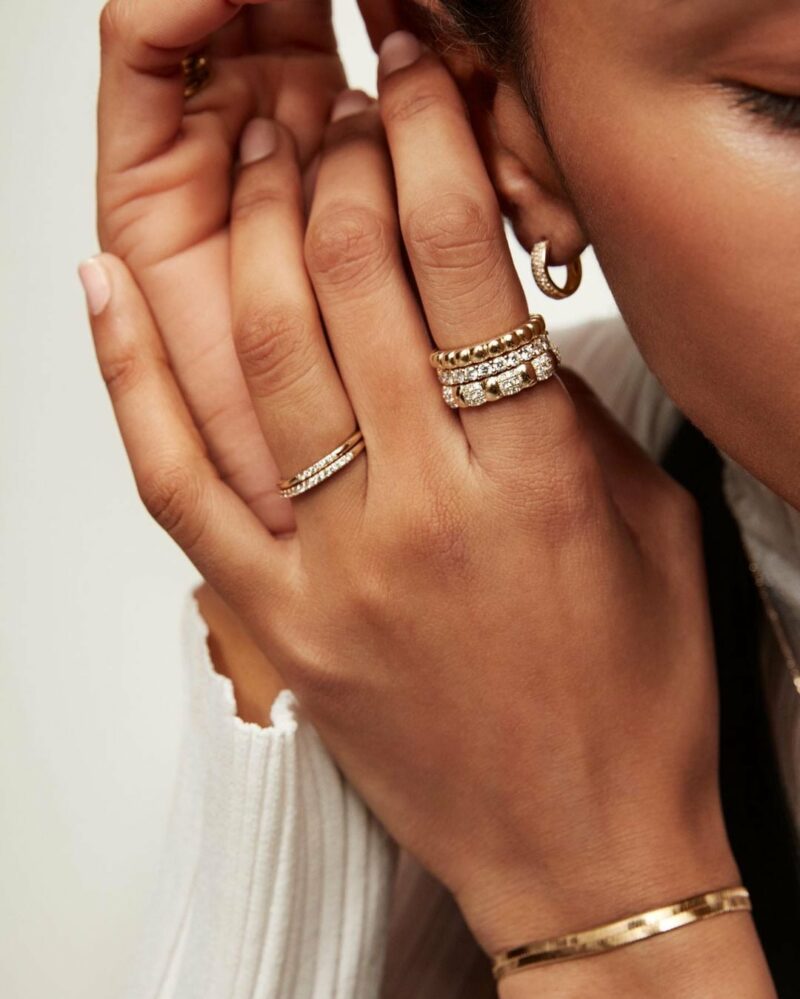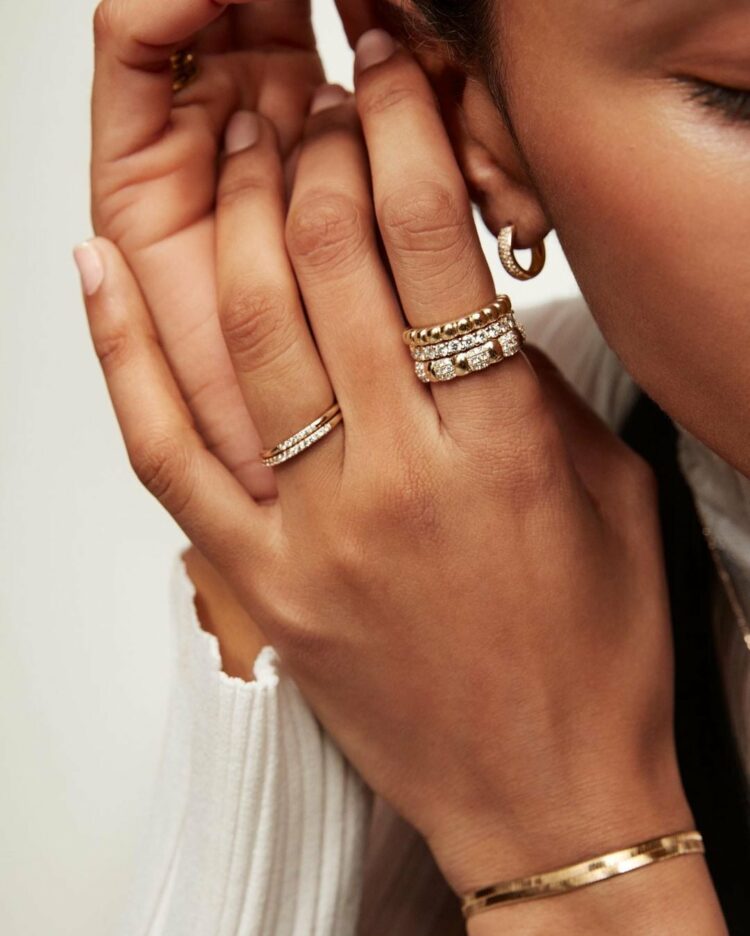 Mejuri is a woman-owned sustainable jewelry brand. 80% of Mejuri's gold is from recycled sources, they are fully transparent and traceable and strive to work with RJC-certified producers. All this and Mejuri offers rings in sizes 3-13 in 14k solid white gold and 18k gold vermeil starting at $38.
Unlike the previously mentioned retailers, Mejuri carries larger and more statement-making rings as well as delicate pieces and stackables. Because Mejuri uses quality materials and strives for transparent and sustainable manufacturing, these are not cheap pieces. However, Mejuri prices still rival retailers that do not offer such a good size range or good ethics.
Note not every ring at Mejuri is available in the full size range, however every style is at least available in sizes 4-10. Mejuri's site also has customer reviews so you can get a better gauge on quality, fit, and design.
MAIVE on Etsy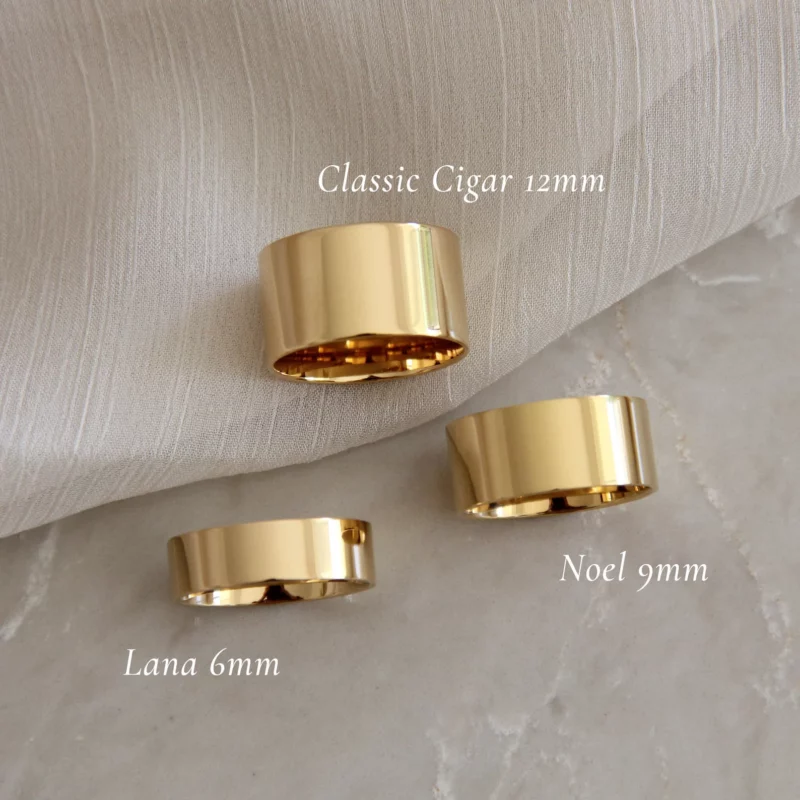 When looking through my collection of higher-quality rings larger than a size 8, I realized one of my favorite rings, a bold gold cigar band, was several years old and from the California-based Etsy shop MAIVE and available up to size 12. I checked out MAIVE's ring selection and several styles are available larger than a size 8 with many up to a size 11 or 12.
MAIVE's rings are primarily gold-plated surgical steel. I have purchased such jewelry before on Etsy and found the plating to wear off quickly, the gold color to look more yellow or copper, and the pieces with rough edges. This ring is the same color as the rest of my gold rings, has been worn when washing hands, cooking, putting on lotion, doing chores and handiwork, and while the polished finish is now scratched, there is no silver showing through, no tarnishing, chipping, or fading. And the edges are smooth and the ring true to size
I have not purchased additional rings from MAIVE, but knowing how inconsistent jewelry at Etsy can be, especially when searching for stylish rings for larger fingers, I wanted to share my personal positive experience shopping from this particular vendor.
Mabel & Main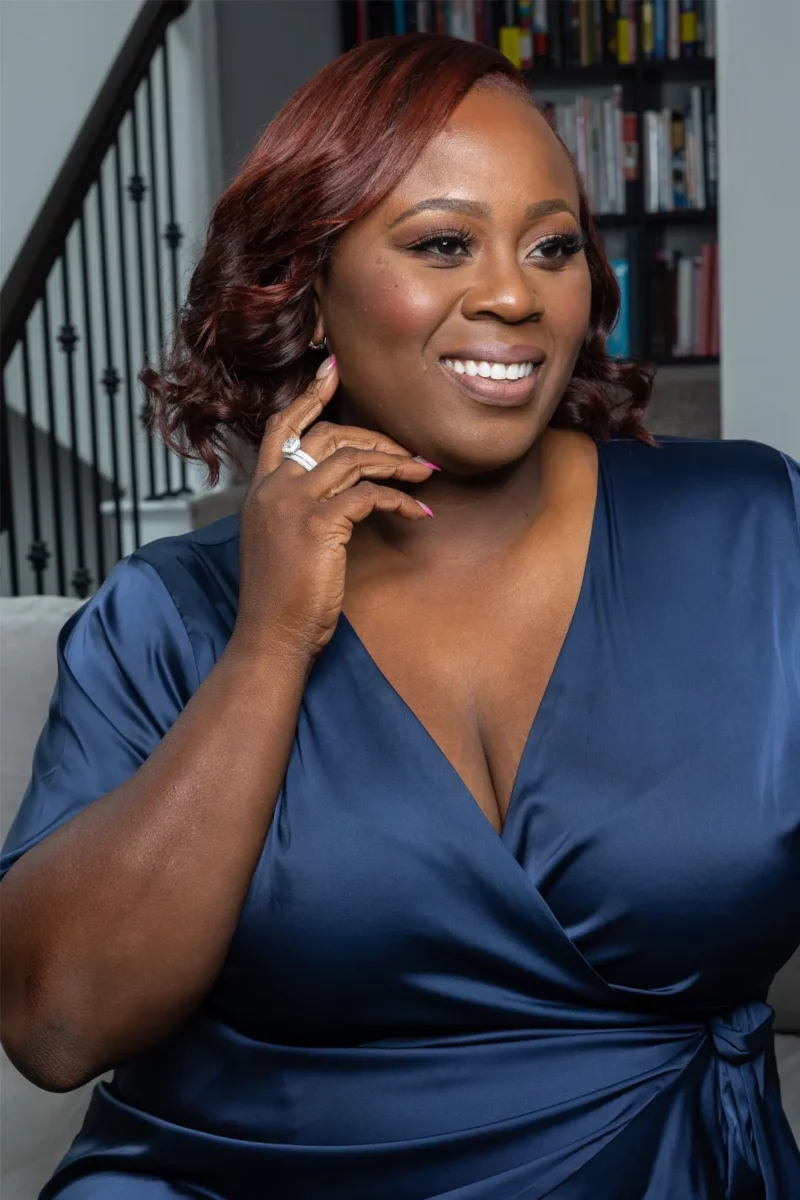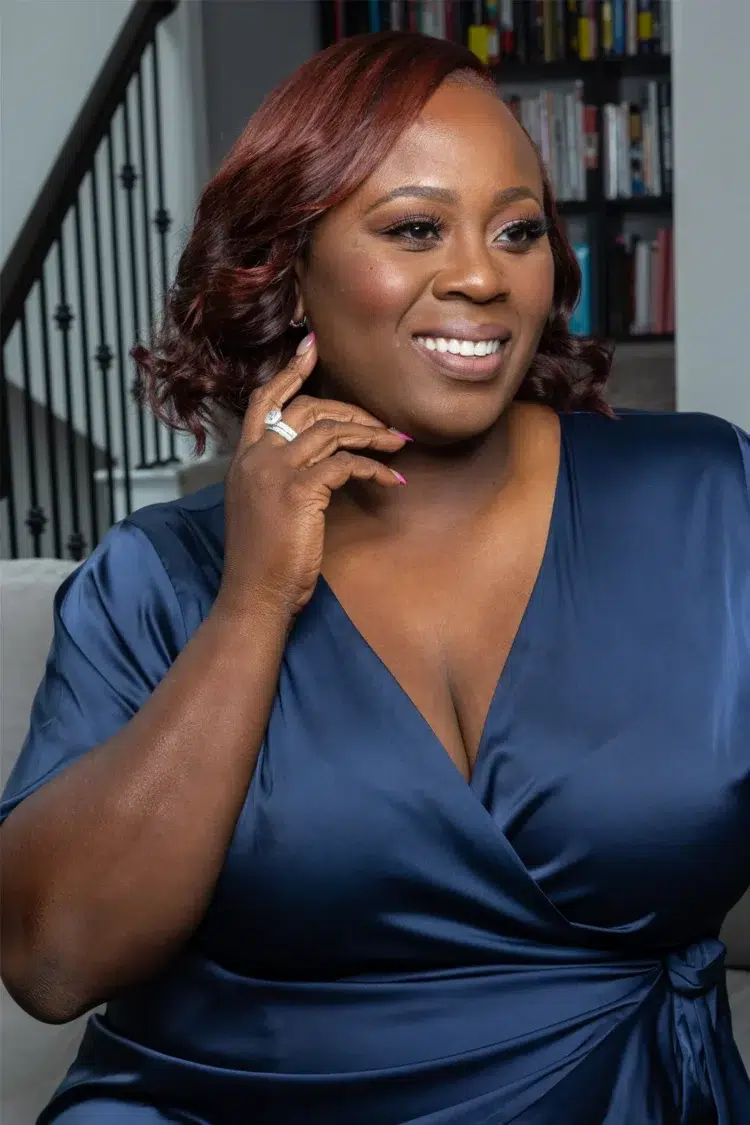 If you are looking for a wedding or engagement ring and are frustrated by styles that look weird on your fingers, or are being charged to have rings sized to fit your fingers, you need to check out Mabel & Main. A company that focuses specifically on wedding jewelry for plus size couples, Mabel & Main jewelry is crafted with authentic conflict-free diamonds, GIA certified, set in nickel and lead-free metals.
Unlike many jewelry designers who focus on sizes 5-7 and grade up, Mabel & Main designs all of their rings from a size 12 base, to ensure they not only fit a larger finger but look beautiful and proportional. Prices are appropriate to rings made with metals like gold and platinum.
While Mabel & Main focuses on wedding rings, it is a great place if you are looking for a conflict-free diamond or lab-grown sapphire stackable bands made with quality metals. Many of Mabel & Main's vintage-inspired engagement rings could also make for elegant and elevated plus size cocktail rings.
Glamoristic on Etsy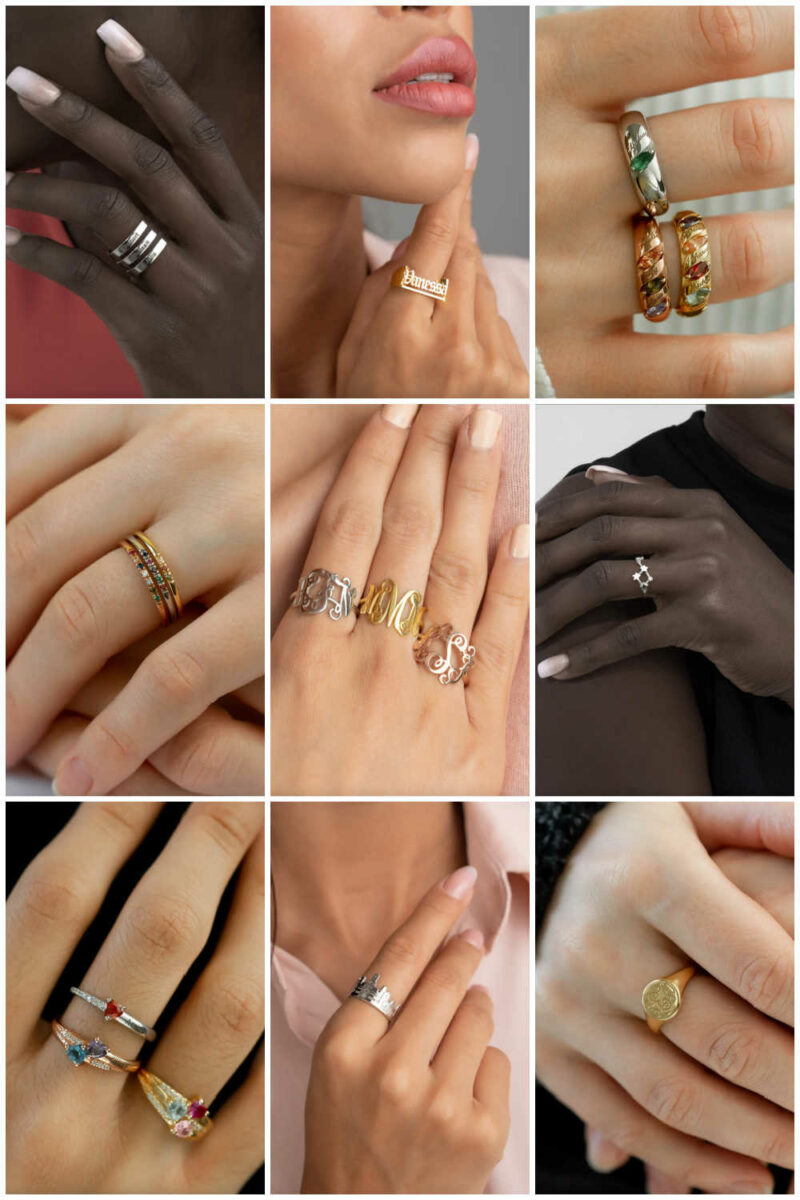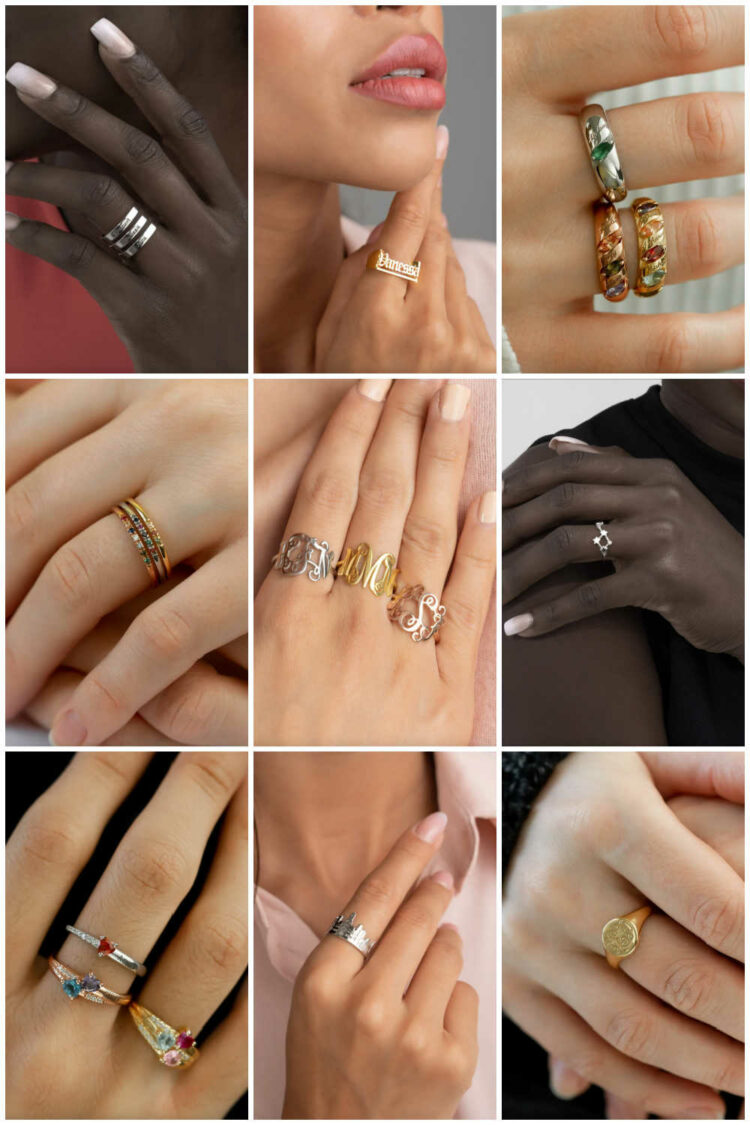 Etsy is one of my favorite places to find stylish rings for larger fingers, but not all retailers are created equal. Glamoristic is based in Texas and offers personalized jewelry including rings and all their rings are available in sizes 3-13. With over 31,000 sales and an average of 4.8/5 stars, I feel confident recommending this shop.
If you are looking for birthstone rings, family rings, monogram rings, and name rings but can't find them in your ring size, Glamoristic likely carries them. Offering 14K gold as well as Sterling silver and more budget-friendly gold-filled options, Glamoristic has styles starting around $30 and going up to around $300 for 14K.
REALM Fine + Fashion Jewelry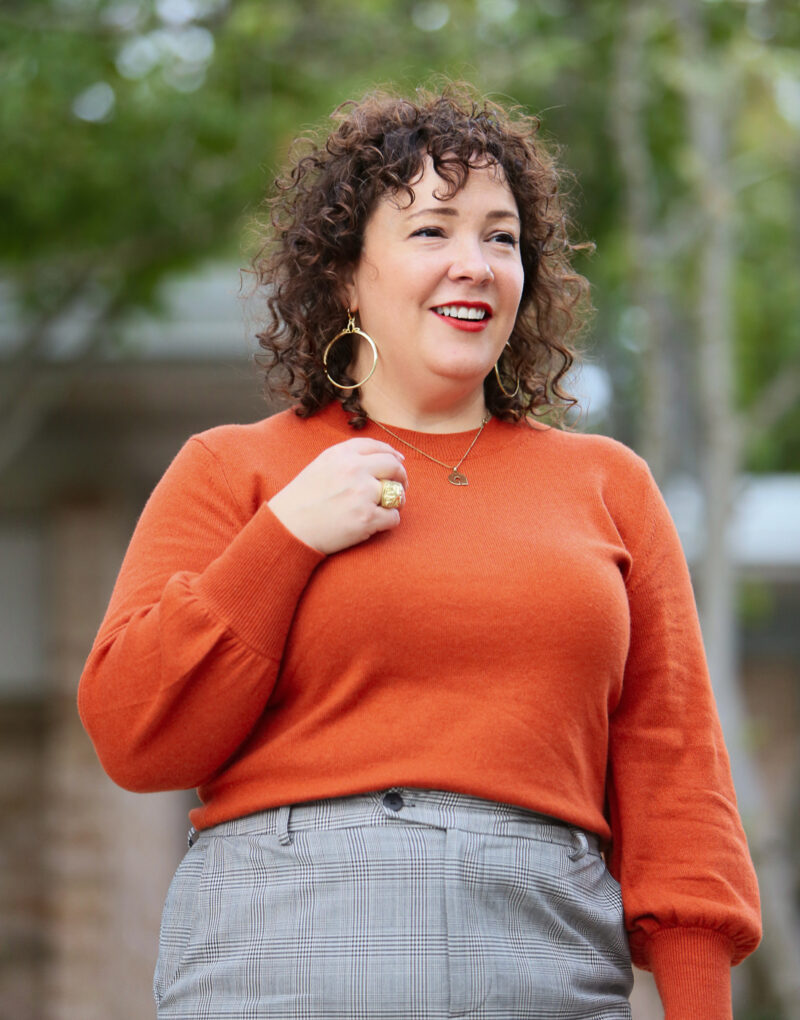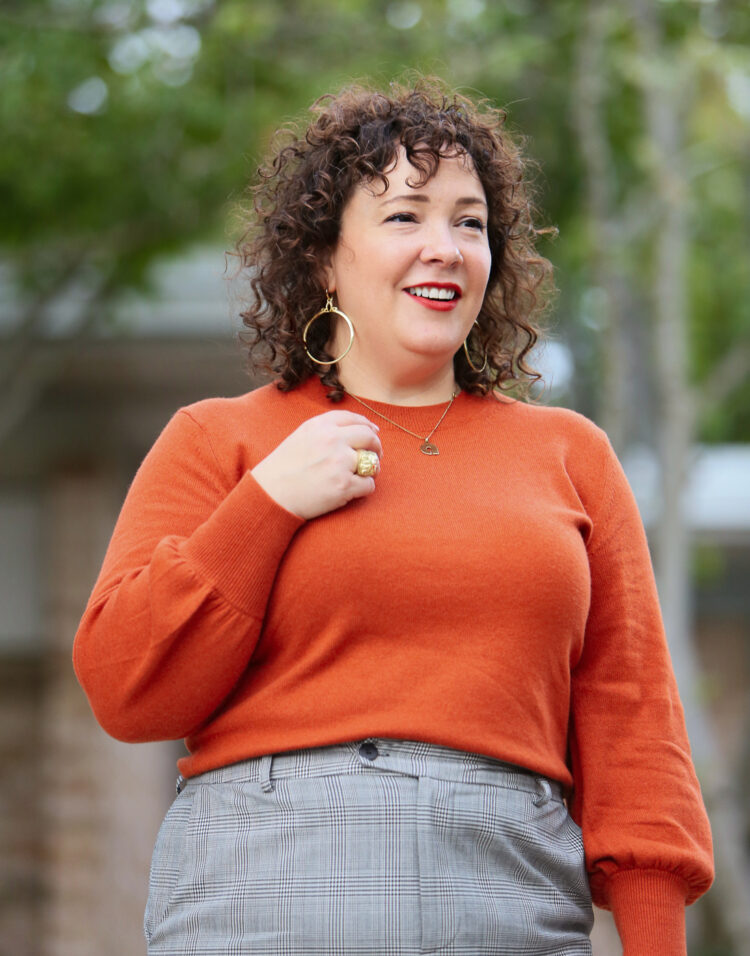 If you have been reading Wardrobe Oxygen for a while you know I am a fan of REALM Fine + Fashion Jewelry. Designed by Ann King Lagos, REALM is a Philadelphia-based jewelry brand that creates beautiful pieces that transcend trends. When I visited the REALM studio a few years ago, I mentioned to Ann that her rings didn't fit my thicker fingers. She began carrying some of REALM's styles of rings up to a size 11.
All REALM jewelry is a base of Sterling silver with options for 18K gold and rose gold vermeil and Black Ruthenium, a platinum alloy. I have showered, hand laundered garments, gone in the pool, and dipped in the ocean wearing REALM and while I don't recommend any of these my rings still look like new years later.
The large version of REALM's Empress Insignia ring (of which I have and wear quite often) is available up to size 11. A few combinations of the Ever Pavé Stack ring are available up to size 10. I find these rings run true to size. Sometimes a size 8 runs snug on my ring finger; these are quite comfortable.