This article may contain affiliate links; if you click on a shopping link and make a purchase I may receive a commission. As an Amazon Associate, I earn from qualifying purchases.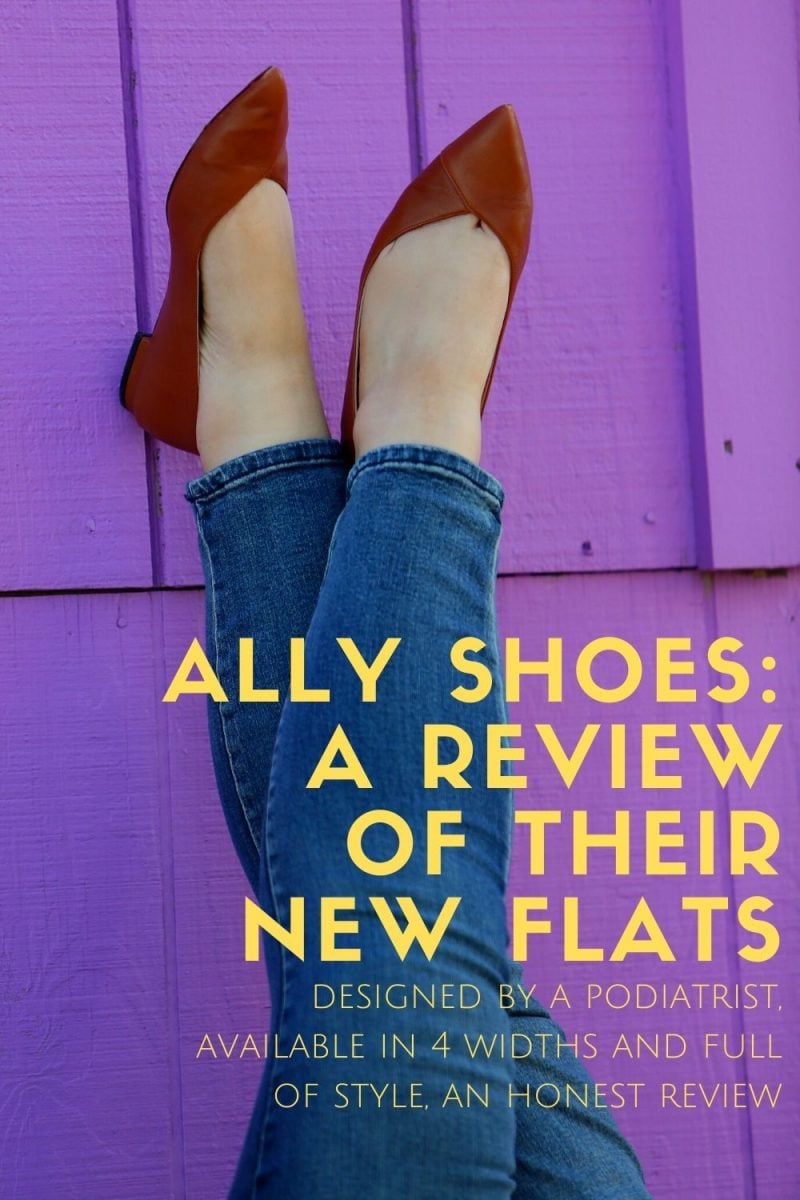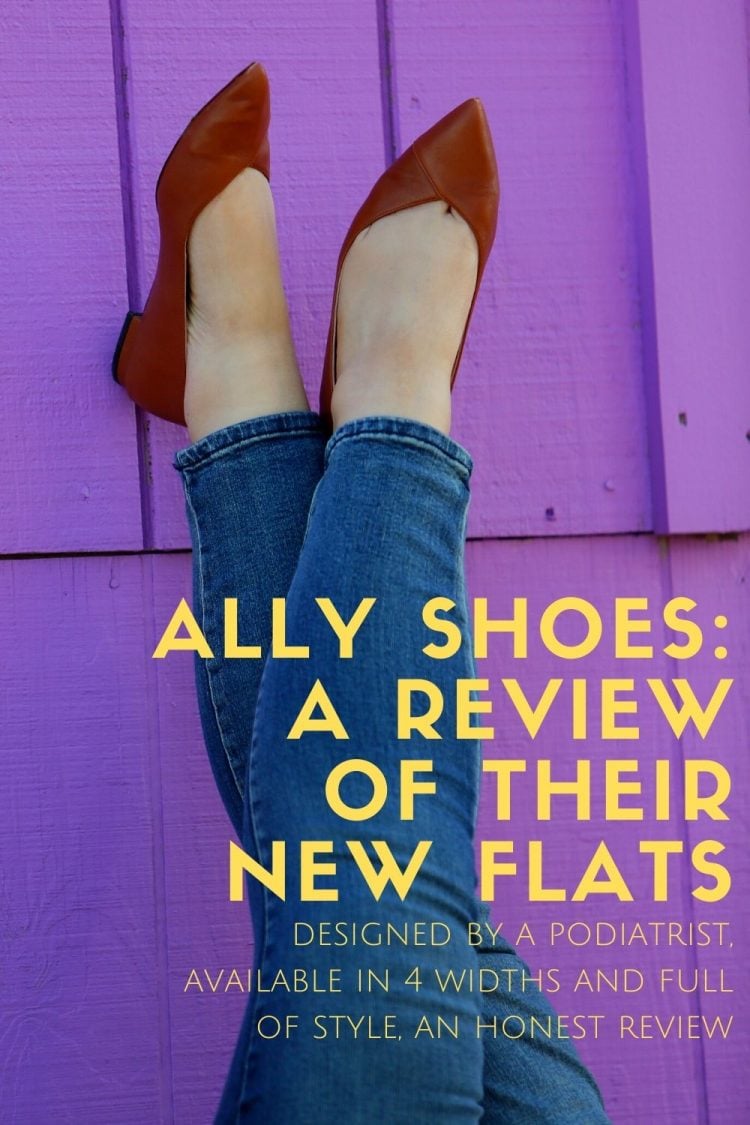 Earlier this year I reviewed ALLY Shoes' pumps and how I love how they are available in a variety of skintones as well as widths. Well-crafted and comfortable, I mentioned how I wished they also offered a flat. Well, my wish came true, ALLY Shoes now carries a stylish pointed toe flat with all the same benefits of quality, support, comfort, and widths available in their original pumps.
ALLY Shoes was kind enough to let me get a pair of their new flats for free in the color and size of my choice. Knowing how many of you liked the idea of their shoes but desired a flatter option, I decided to do a full  ALLY Shoes Forever Flats review.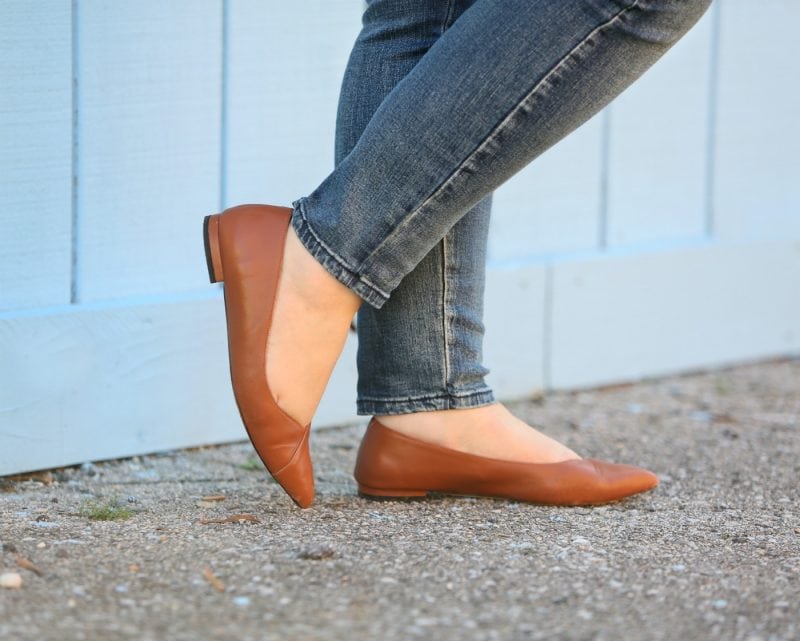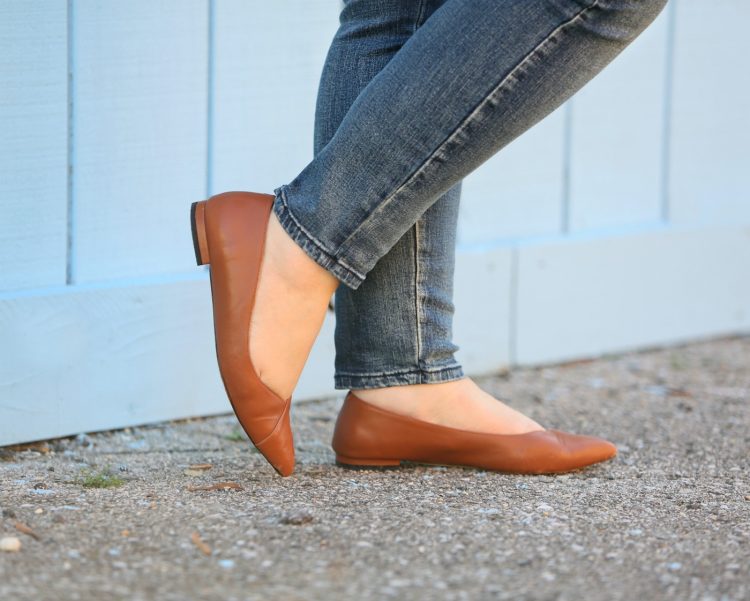 ALLY Shoes Forever Flats Review
ALLY Shoes had plans for flats, but with the change to how we dress, they made them top priority to come out this year. While flats, in general, are more comfortable than heels, we've all dealt with flats that offer no structure or support and end up being uncomfortable. If they do offer the support we desire, they usually lack style or polish.
ALLY Shoes went with a classic pointed-toe look for their flats that are consistent with their pumps. The layered v-shaped vamp adds style but also better hugs your feet for a more secure fit.
Dr. Roxann Clarke, ALLY Shoes' Chief Scientist and a podiatric surgeon, added an ergonomically-designed insole with built-in metatarsal and arch support, providing the right level of support for hours of wear.
By using soft suede lining for the entire inside, the risk of blisters when breaking into the shoe is minimized. A 0.6" heel was chosen because it is more comfortable and healthier than a true flat and adds style and polish to the shoe.
The Forever Flat and all shoes from ALLY are available in half sizes and four different widths. To ensure you get the right fit, Ally offers a measuring kit as well as an online fit finder quiz.
I have wide, high-volume feel with short toes and non-wide heels. This combination causes me to stretch out flats in the wrong places, making my feet slip and slide and often have a pinky escape out of the vamp. Also with a fallen arch and plantar fasciitis, I find the lack of height and the way most flats are completely flat without arch support to make my feet hurt after just a couple of hours.
When I have found flats that are supportive and comfortable, the style does not mesh with my wardrobe. I loved the idea of the ALLY flat as it had structure and style and would fit seamlessly into my wardrobe and personal style aesthetic.
The ALLY Forever Flat is available in nine colors; I chose Courageous Caramel leather, thinking it would be a good neutral that would work year-round. I went with the same size as the ALLY pumps I already own but was skeptical about them fitting well.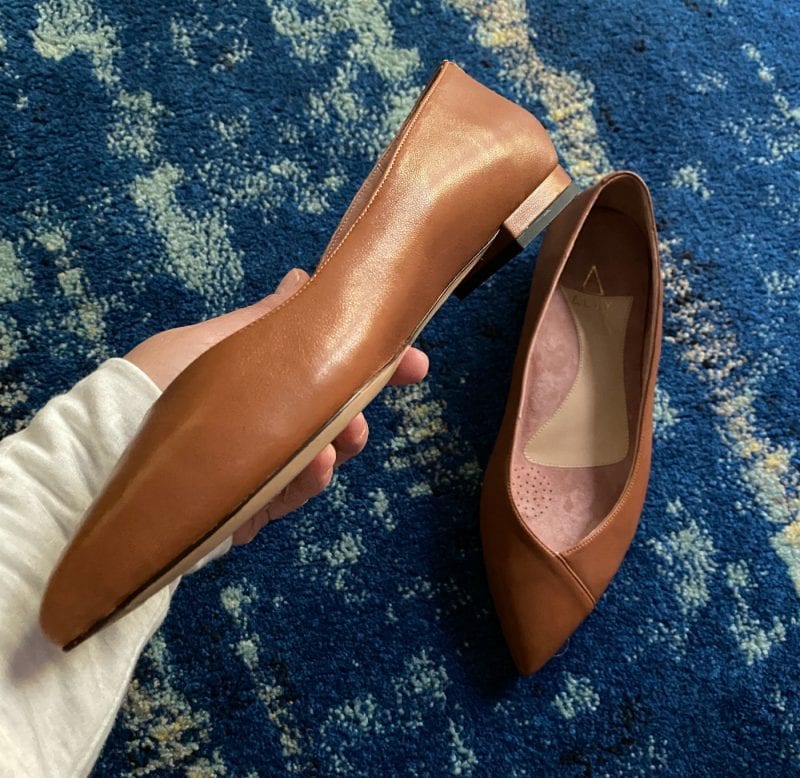 When I received them, I was highly impressed by the quality. They are of high-quality leather (and smell amazing), a beautiful sole, a suede interior with visible arch support and cushioning throughout.
The shoes are sent in a beautiful box and each shoe in its own canvas drawstring bag. The soles are covered with a sticker to protect them as you try them on at home.
I tried them on… and they were tight. Like maybe I should have sized up a half size tight. Ugh, I don't want to have to go through the process of returning them. I decided I'd wear them a bit around the house that night and if they were miserable, I'd return them. I kept the stickers on the soles but also put a sock over them to ensure I didn't damage them.
I wore them off and on, since they weren't super comfy, and I worried about sweating in them. They remained snug.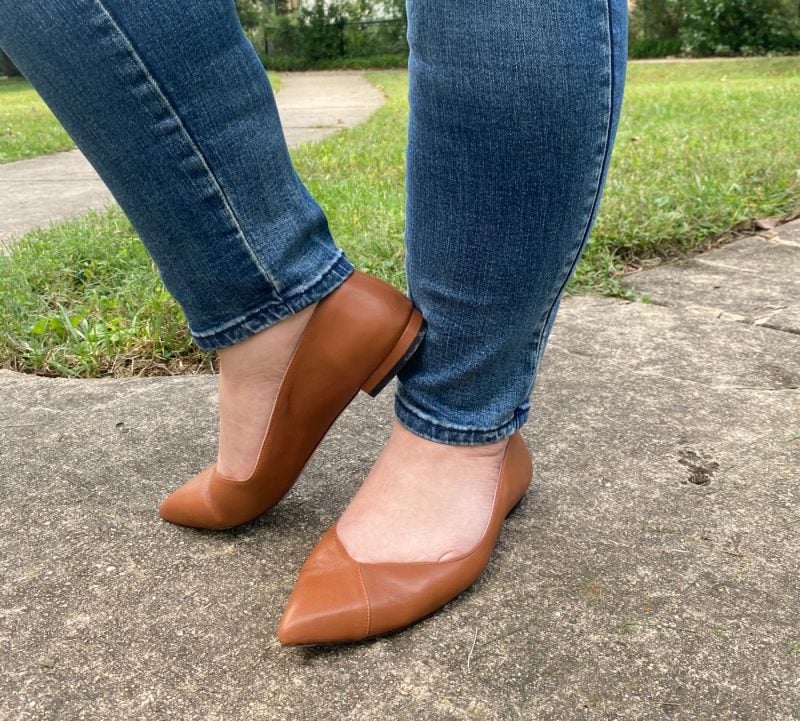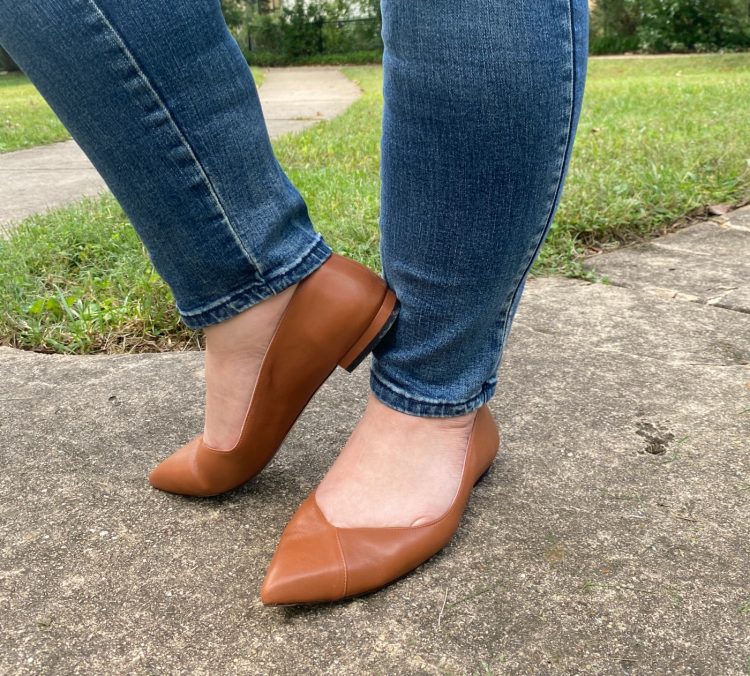 The next morning, I was surprised to see no blisters or hot spots on my feet. I went to slip them on… and they fit! A hint snug, but way more comfortable everywhere.
I decided to keep them and wore them sans socks that day. By the end of the day, it was like the shoes had molded to my feet. Not snug, no blisters or hot spots, no stretching out so my feet are slipping and sliding, no toe cleavage or escaping pinkies.
The next day I wore them as I ran errands. I walked in stores and on concrete, I drove, I lived a normal several-hour existence and not only were they comfortable the whole time, unlike my trendy sneakers they supported my arches and my feet felt great.
The moral of the story is don't immediately assume the flats are too snug if you get them; give them some time. Let the leather do its thing and you will be well rewarded.
I can't think of another pair of flats I have owned that I choose to wear. Okay, I have loved my Rothy's flats because they are comfy and easy and machine washable… but they're not shaped like my feet. My feet are wider than the footbed and it only works because the shoes are stretchy. And if I wear them on a warm day, my feet will slip around and I have had a pinky toe escape.
ALLY Shoes' Forever Flats have a stylish v-shaped vamp but it's strategically designed so no toe cleavage. And because there are structure and padding in the shoe, even when my feet have gotten sweaty they don't have the ability to slip around, everything stays in place looking and feeling good.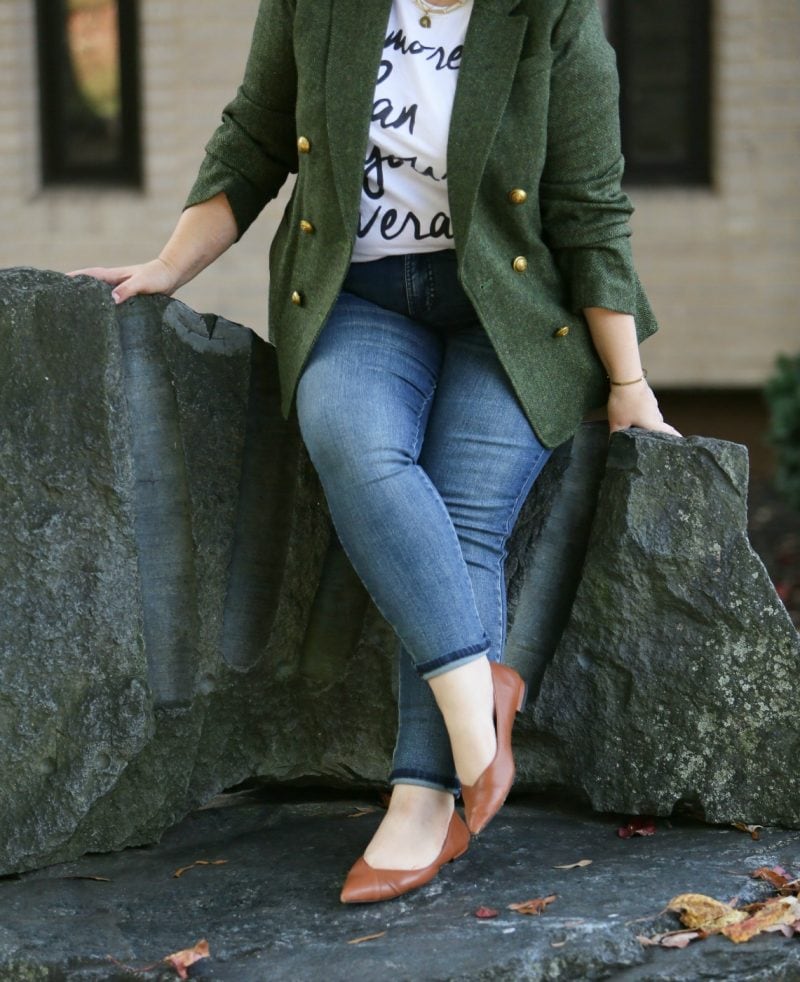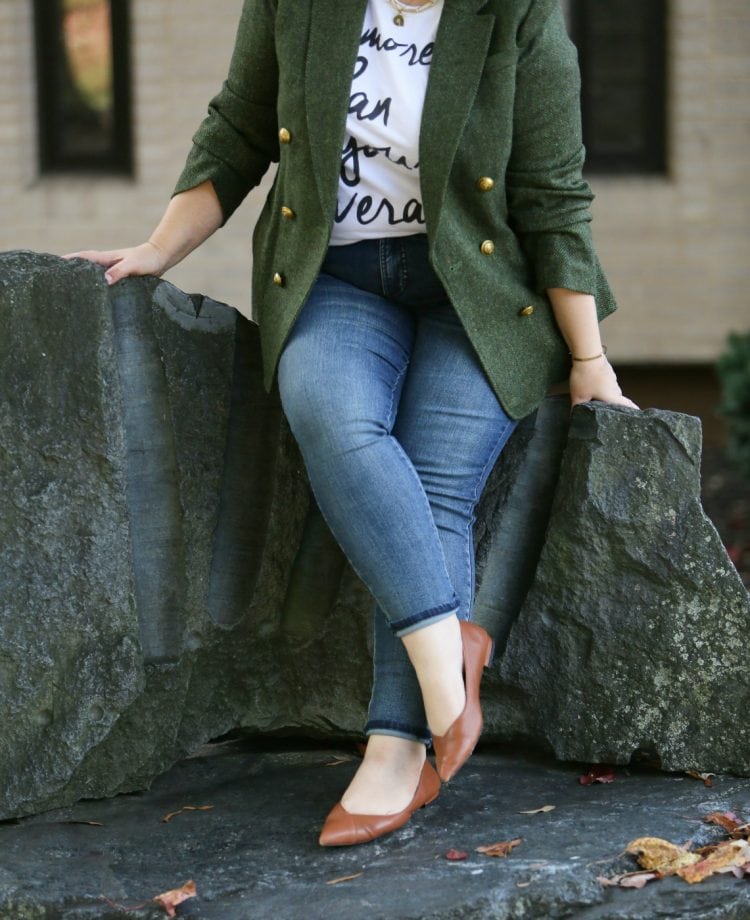 These are not cheap flats and shouldn't be treated like those beater shoes you throw on the bottom of your closet and fish out when heading to the grocery store. They're not the shoes you wear when taking your dog for a walk, especially through grass and puddles.
Because they are made of high-end materials with a leather sole, they are a bit more delicate and can easily scuff. I have worn mine at least a dozen different times and they still look lovely but I put them away on a shelf after wear and have a day between wear so the shoe can dry and cool off and maintain its shape and condition.
These are the kind of flats that if you properly are for them, they will give you many years of stylish wear.
ALLY Shoes Promo Code
ALLY Shoes has provided Wardrobe Oxygen readers 10% off your purchase of their Forever Flats with promo code WO2FLATS at checkout. If you're interested in their heels use WO2HEELS at checkout for $40 off.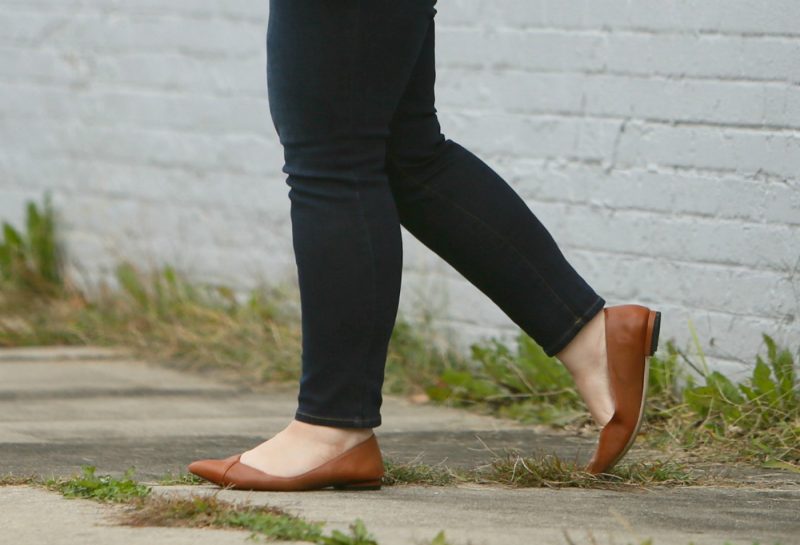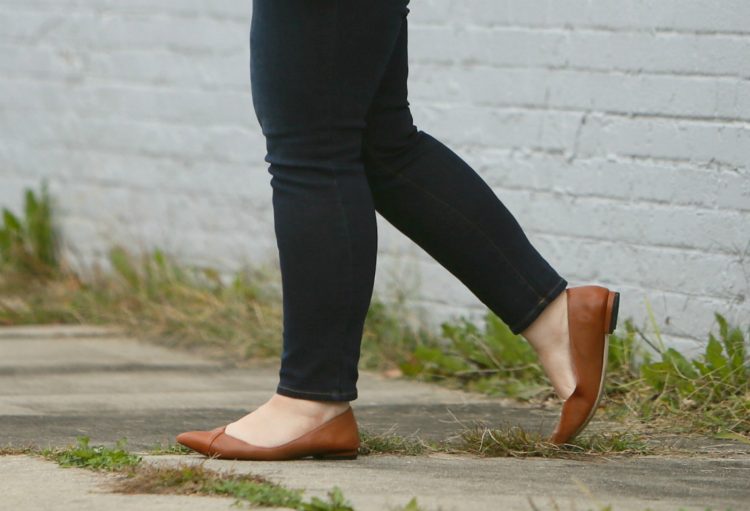 FAQ about ALLY Shoes
Since previously writing about ALLY Shoes, I have had several questions raised by the Wardrobe Oxygen community. I hope to answer them below:
What is the Return Policy for ALLY Shoes?
You have 14 days to try your ALLY Shoes at home before you exchange or return them. The shoes need to be in new condition, so as I did, wear them on carpet, keep the stickers on the soles, and even consider slipping a pair of no-see socks or peds over them so they don't get damaged.
Returns and exchanges are free, just email hello@ally,nyc to let them know you need to send them back and they'll send you a shipping label.
ALLY Shoes has an at-home trial where you can try before you buy, but at this time is only for their pumps. Learn more about this trial at this link.
What Sizes are Available in ALLY Shoes?
ALLY Shoes come in sizes 4-12 with four different widths. They have the UK and US sizing listed on the site so it's easy to shop depending on what you are most familiar with. I highly recommend taking their Fit Finder Quiz before placing an order.
What Other Styles of ALLY Shoes are Available?
ALLY Shoes carries a 3" classic pump, the flat I review in this post, a 3" Mary Jane pump, and a 3" block heel pump. They offer a variety of colors, fabrics, and prints with even bridal- and formal-appropriate fabrications.
Why are Some ALLY Shoes in Suede and Others in Leather?
Just like any company, ALLY Shoes makes design decisions that fit their brand aesthetic. They are a small business and do not have the capability to offer dozens of different colors and fabrics.
However, the more popular they become, the more likely they will extend their range. In fact, between the time I started writing this review and finishing it, ALLY came out with two more color options for the Forever Flats.
Does ALLY Ship Internationally?
ALLY currently ships to Mexico, Switzerland, Singapore, UK, Australia, New Zealand, HK, Macao, China, Canada, and the UAE. International customers will need to pay for shipping, duty, and return shipping. ALLY worked to get very competitive rates for shipping (usually under $30), and will show duty at check-out.
If you have additional questions about these shoes or about ALLY ask them in the comments and I will answer as honestly as possible!