This article may contain affiliate links; if you click on a shopping link and make a purchase I may receive a commission. As an Amazon Associate, I earn from qualifying purchases.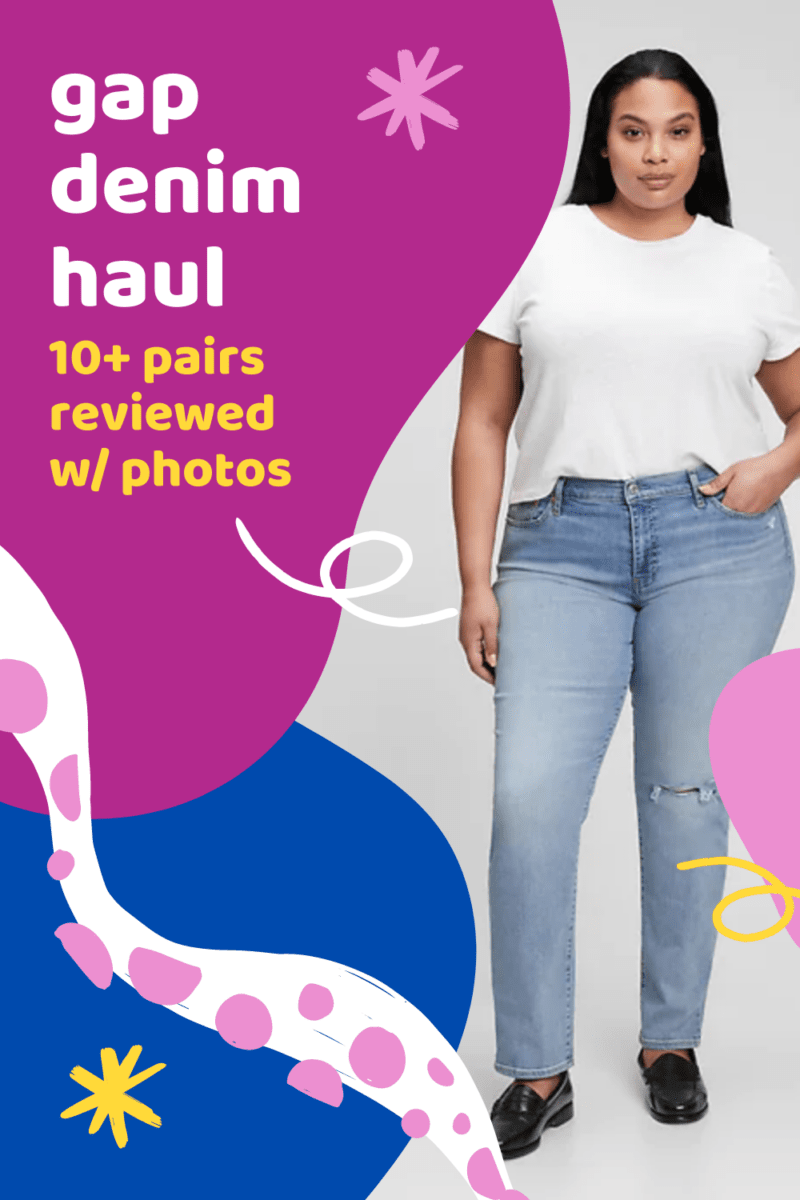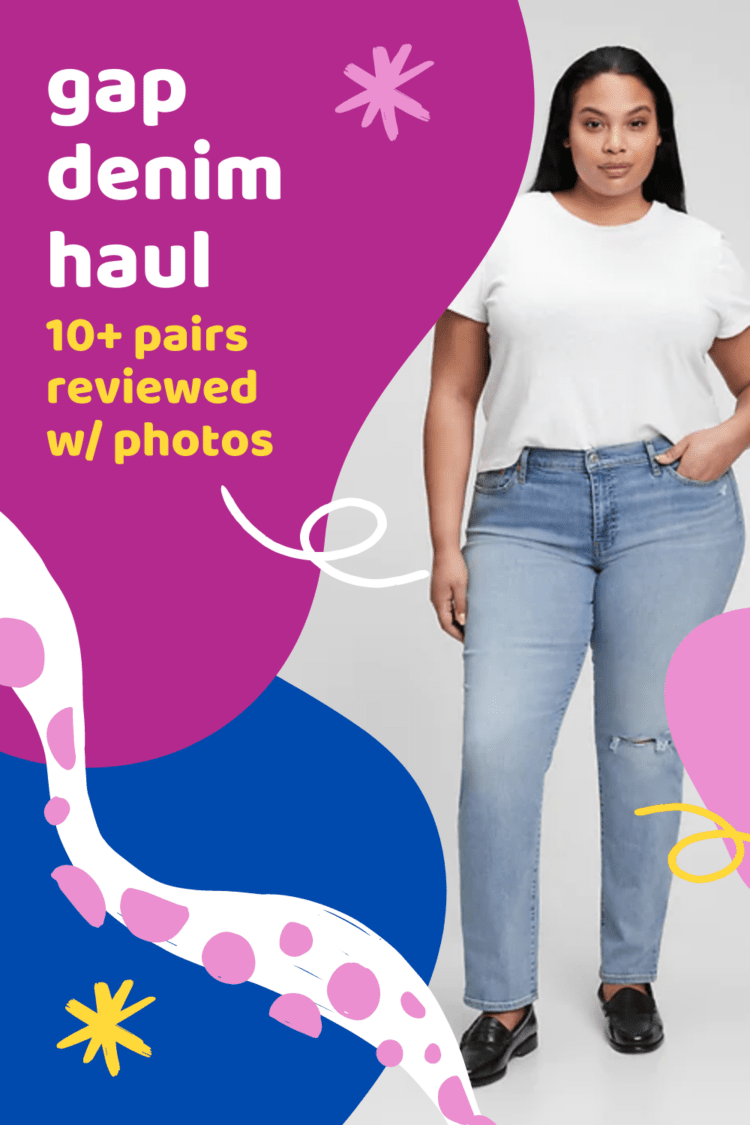 Several members of the Wardrobe Oxygen community have shared that they have found success at Gap this spring for jeans. The fit is better than it was in the past, the washes and cuts what they're looking for. I decided to have my annual spring denim haul be Gap. My Gap denim haul was as many pairs of jeans they had available in styles I'd actually wear that had my size in stock. I ended up ordering 11 pairs of jeans in sizes 32/14 short and 33/16 short, one being the same style and size of Gap jeans I bought last year to compare fit.
What Size I Wear in Jeans
I am 47 years old, 5'3″ tall, and most of the time I am a size 14 or 32 in jeans. If petite is available, I usually take it, but often choose the "short" option instead because it sometimes better fits my curves. I don't have much curve in my hips, but I have a lower belly and a round rear and jeans don't always accommodate both curves.
For reference, some of the best fitting jeans in my closet are the Chico's Girlfriend Jeans in size 2, the Universal Standard Seine High Rise Skinny in size 10, the Universal Standard Joni High Rise Curve Slim Leg Jean in size 12, and the Talbots Slim Ankle Jean in 14 petite.
Based on what jeans fit me through the winter, how the Gap jeans I own currently fit, and previous try-ons from other denim retailers for campaigns, I chose to order my usual size 32 for most of the jeans in this Gap denim haul, and a few in size 33. I would have ordered more in size 33 if they were available but they were often sold out. I actually would have ordered more jeans but the larger sizes were sold out in many styles. Hint hint Gap, maybe it's time to extend your size range?
Why Gap Jeans for This Denim Haul?
I have been a Gap fan for years. Growing up there was a Super Gap in the strip mall closest to my home and my first day of school looks often came from there. The first pair of jeans I remember being obsessed with was the Gap Long and Lean; they fit me so perfectly, while also fitting my friends and family members who had different body shapes.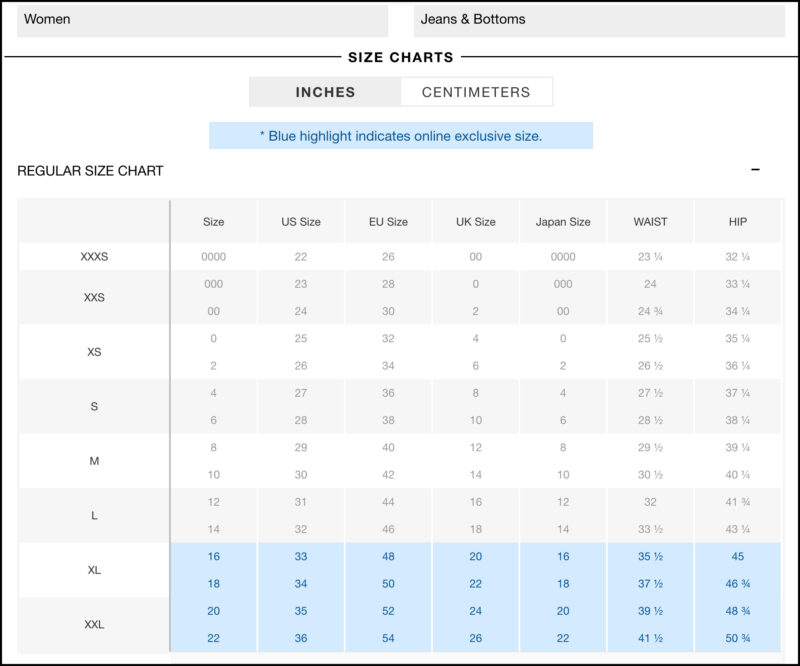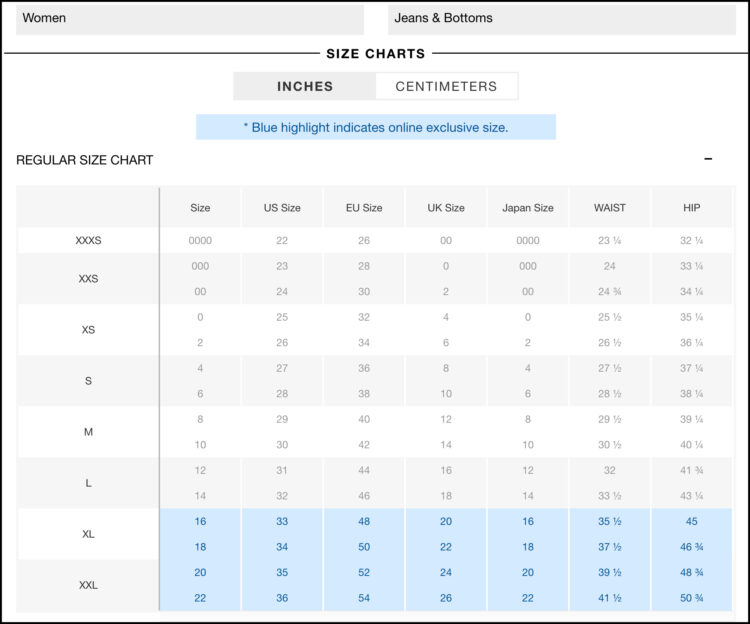 I appreciate the reasonable pricepoint (every pair I tried for this denim haul was under $80) and while their size range should extend like their sister companies Old Navy and Athleta (Gap only goes up to size 20/22) they at least have a range of lengths with petite, short, regular, tall, long, and extra long.
And I have been rooting for Gap for YEARS. When crafting this Gap denim haul post, I went through my archives to see previous times I have worn Gap jeans. And I found this open letter I wrote to Gap back in 2007. After being astonished at how much my writing voice has changed in the past 15 years, I was also astonished that for 15 years I have been wishing for Gap to be what it used to be – a reliable retailer for basic staples like jeans.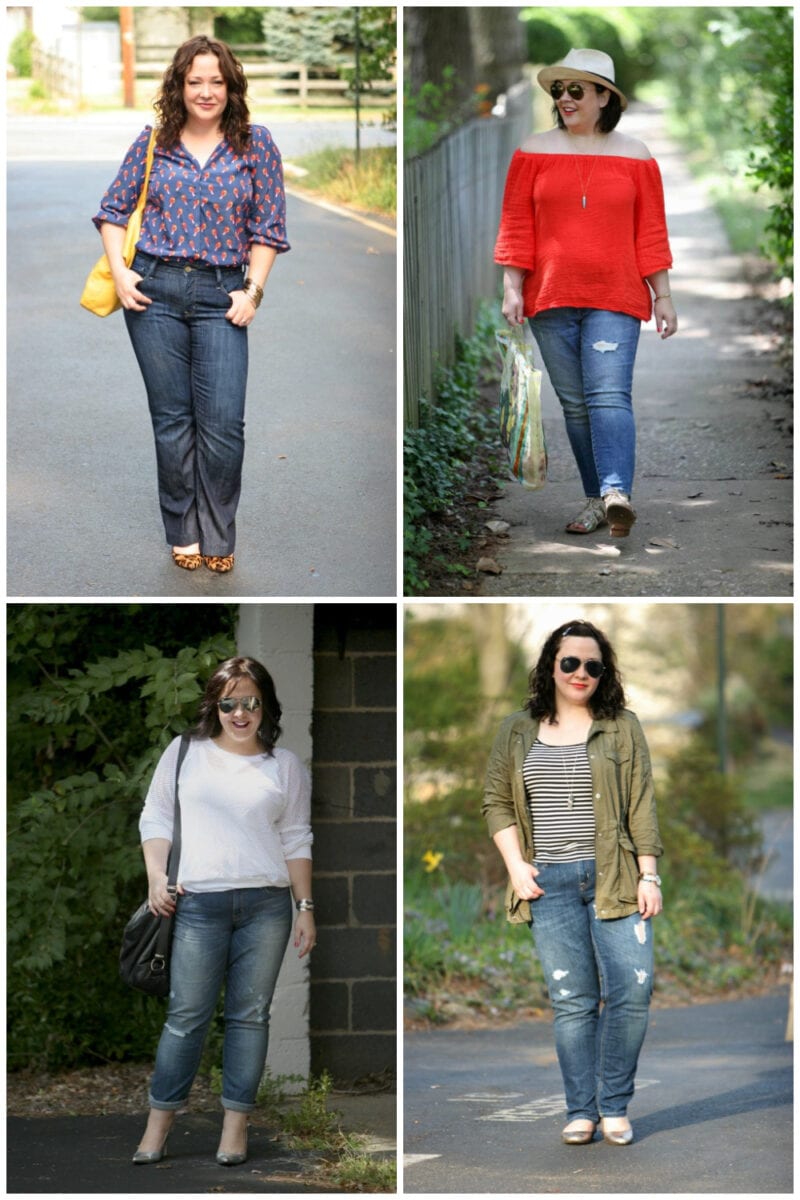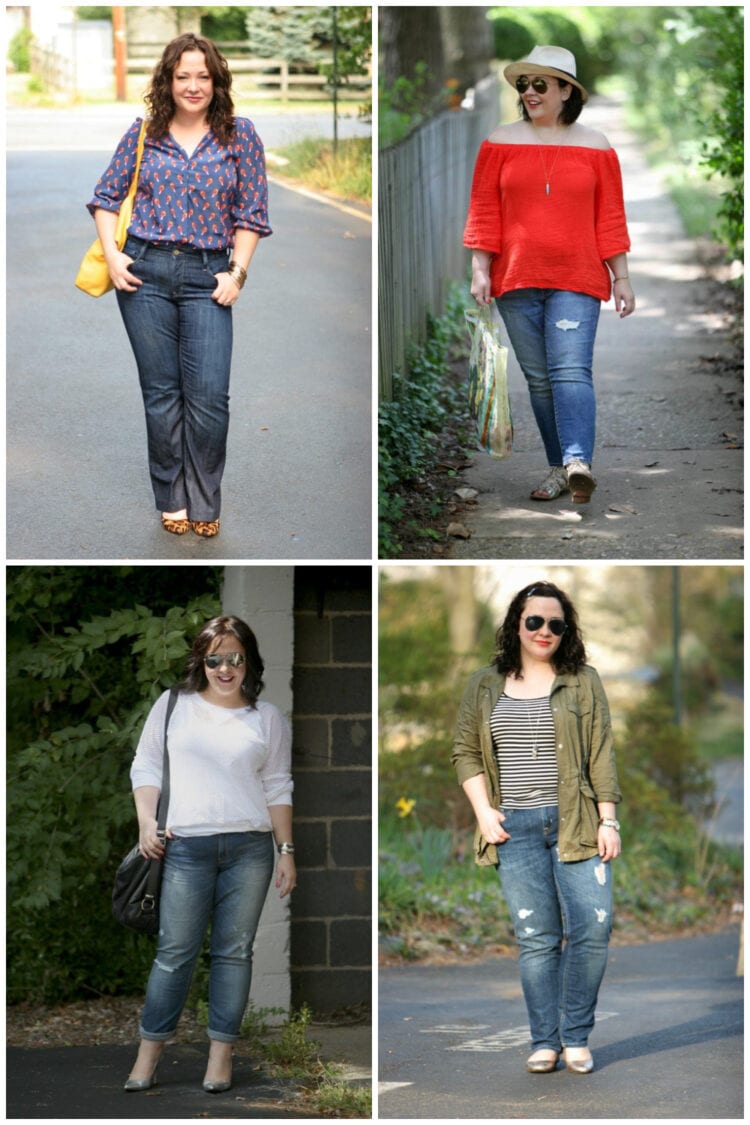 I have tried over the years. In 2006 it was all about the Gap Long and Lean jeans. In 2012 I was again wearing Long and Leans; this time a pair my mom was going to donate. In 2014 I was a big fan of the Gap Real Straight jeans; in 2016 the Gap Girlfriend jeans were a favorite. But more often than not, I would try Gap jeans and either find them not fit in the fitting room, or fail me a few hours into my first wear.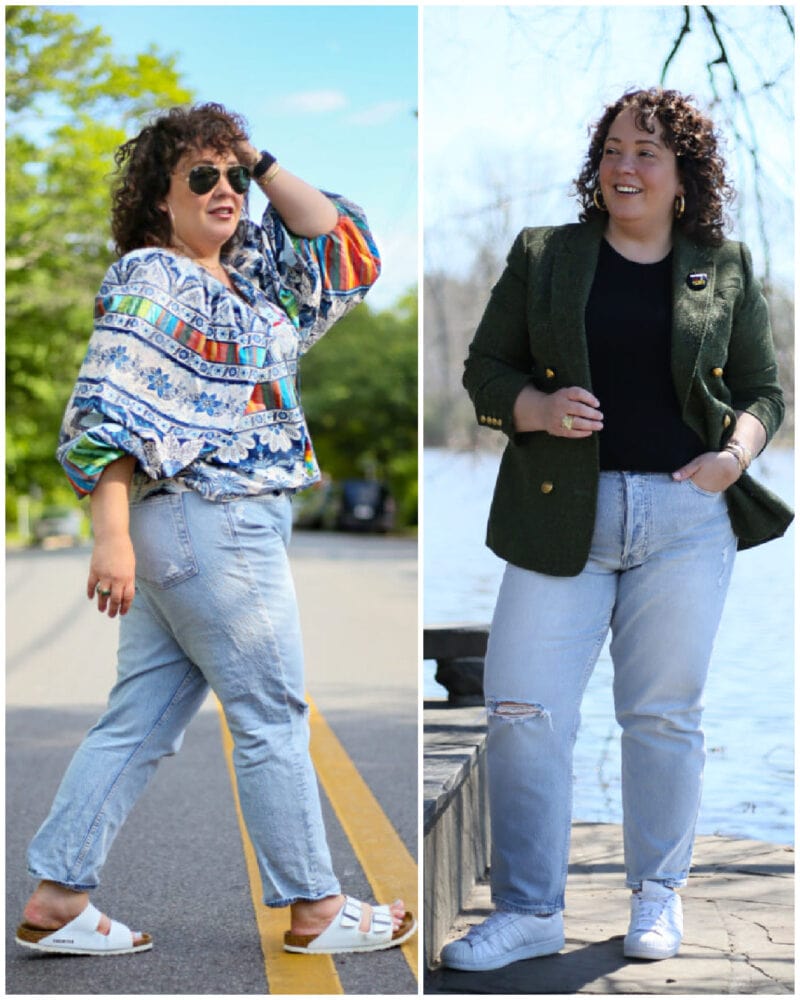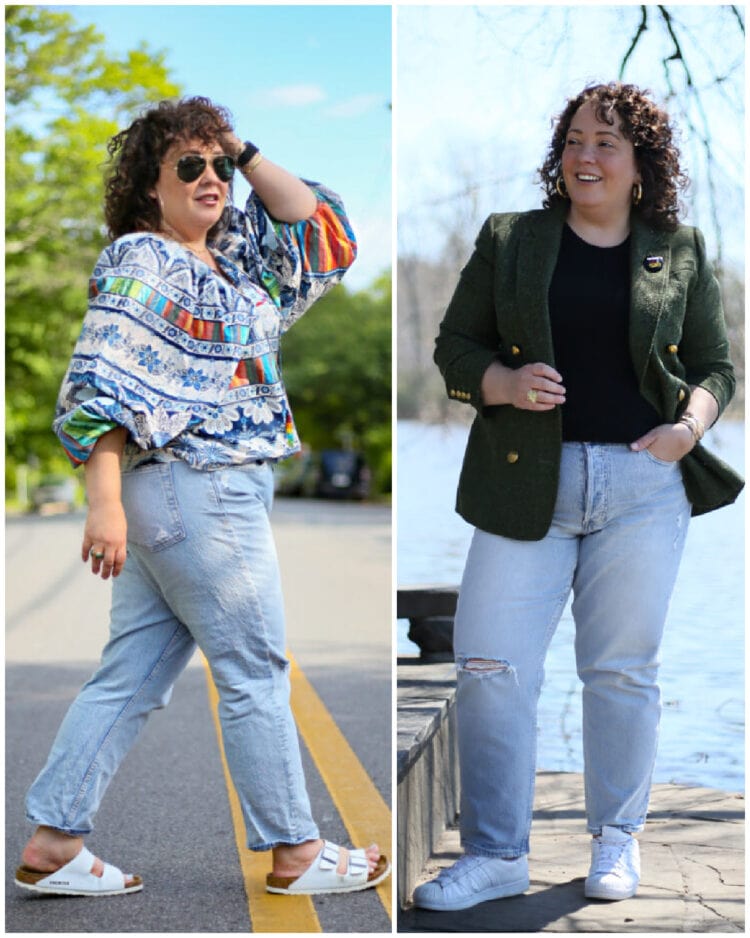 Last spring, when looking for an alternative to my collection of skinny jeans, I found a pair of Gap Cheeky Straight Jeans that fit the bill. After my disappointing Madewell denim haul from last spring, these Gap jeans were like a breath of fresh air and I wore them a lot (you can also see the jeans in this blog post).
I want Gap to succeed; motivated by these jeans I loved over the years and a few positive comments on the new Gap jeans, knowing that Gap is pretty accessible online and in stores, and appreciating the variety of lengths (I see you, my tall readers and fellow shorties), I chose Gap for my annual spring denim haul.
What Jeans I Ordered from Gap
Spring denim to me is lighter in color and often in weight. I was looking for a non-skinny jean that would look great with a t-shirt as well as a blouse or blazer. I like a bit of distressing to achieve a vintage effect.
As for silhouette, I was down for most anything; denim trends have been changing the past few seasons and looks are more relaxed and more creative. I used this Gap denim haul as a chance to try a range of cuts I may not normally try to see how they worked on my short curvy frame.
I ended up ordering:
As previously mentioned, at the time of my order I would have gotten more in size 16/33 for comparison but the sizes were not in stock (though at the time of writing this there was much more denim in stock at Gap). I was not looking for a skinny jean and did not desire any darker washes of denim for spring.
Gap Denim Haul: Sizes 32-33 on a Size 14 Body
I really wish there were more jeans available in my size for this review; I think a few styles may have worked in a larger size, and I bet a few other Gap denim styles would have been a better choice for my shape. But we're all used to going to shop for jeans and struggling to find the size, wash, and cut we desire. So like how we all do when buying jeans, I gritted my teeth and did what I could do with what was available. In the carousel below I have the jeans I ordered:
All of the jeans were photographed on me within the same hour on the same day. The shirt I am wearing is a now-discontinued tee from Universal Standard. The lipstick is Flyte.70 Lip Lacquer in "Relax".
Gap High-Rise Wide Leg Jeans Review
Figure flattery be damned, this short curvy body loves rocking a wide-leg pant and jean. I liked that the Gap High-Rise Wide Leg jeans were soft, stretchy, and a faded color. I didn't love the hem, but I knew that it would be easy to modify them, assuming that they'd be a bit long even choosing the short option. Reviews said these ran a bit big so I went with 32/size 14 short.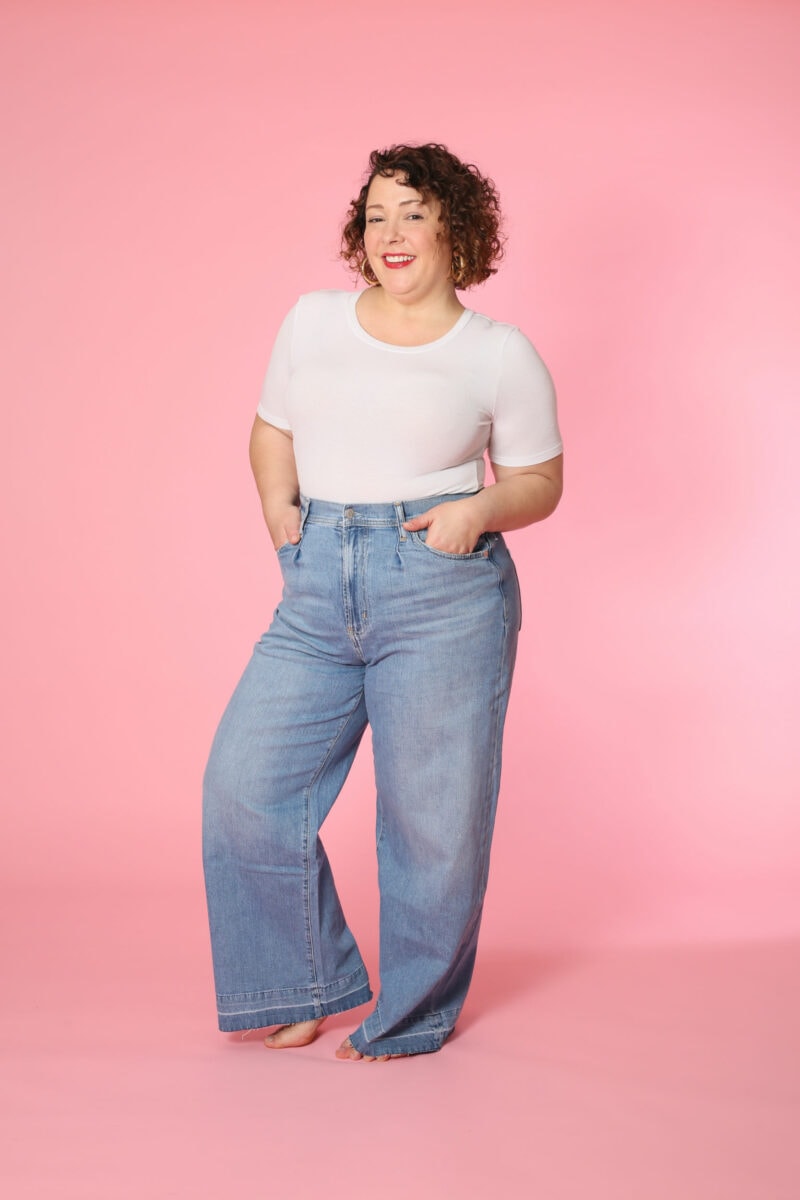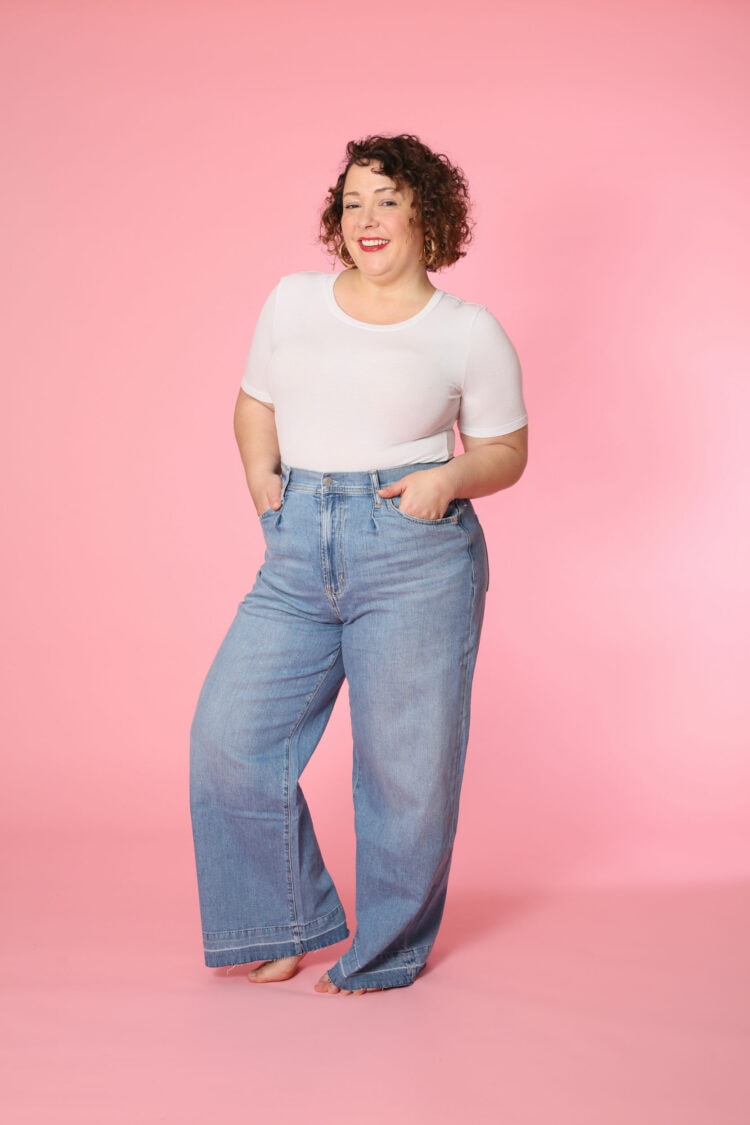 This is a situation where I really needed petite. The short option for these jeans made the length right, but the rise was too high on me. They almost felt like they scooped down in back, likely because my bum was taking up fabric. The pockets weren't cute, and the faded wash was a weird color – too blue, a bit grey, and the hem looked cheesy. Unfortunately, Gap is one of the many retailers who stops their petite offerings at a size 10.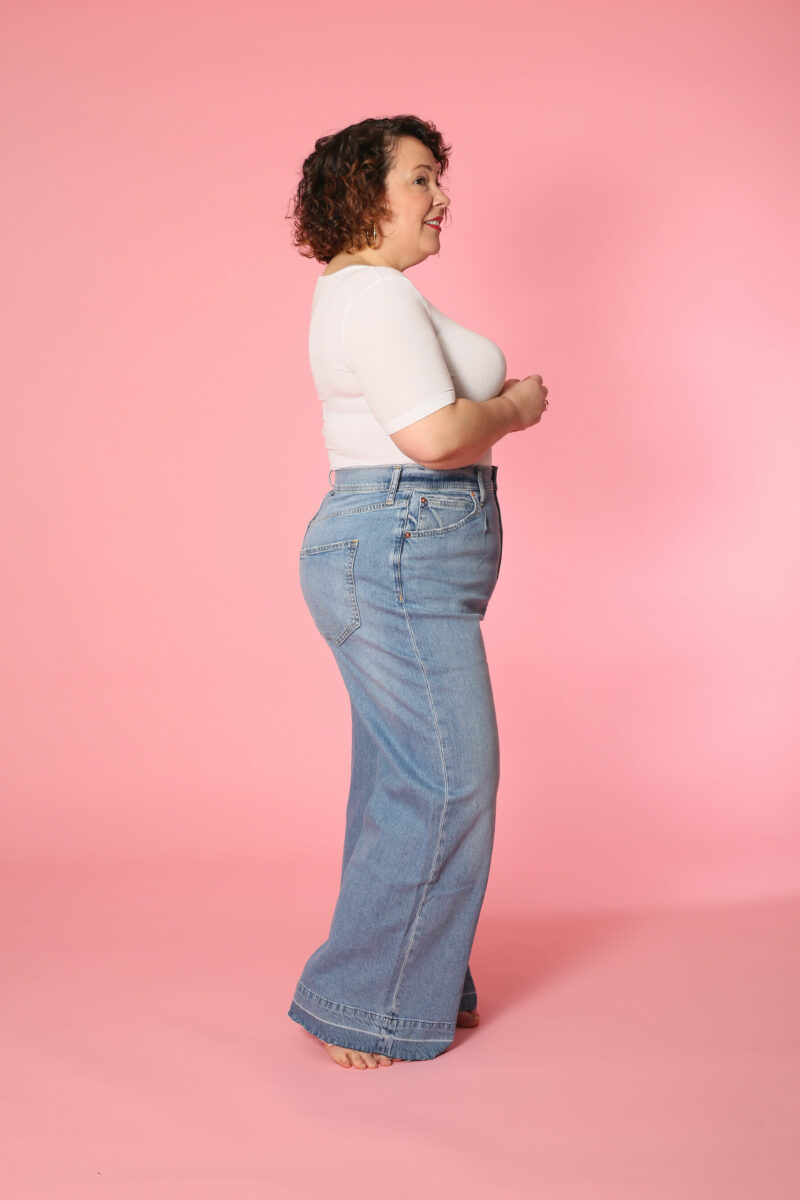 Details like this are why some jeans are $35 and some are $350. Originally $79.95 and on sale for $55, these jeans looked like $45-$50 jeans. I could see a teenager rocking the heck out of them, but the missing details were what made them a bad choice for a grown-ass woman.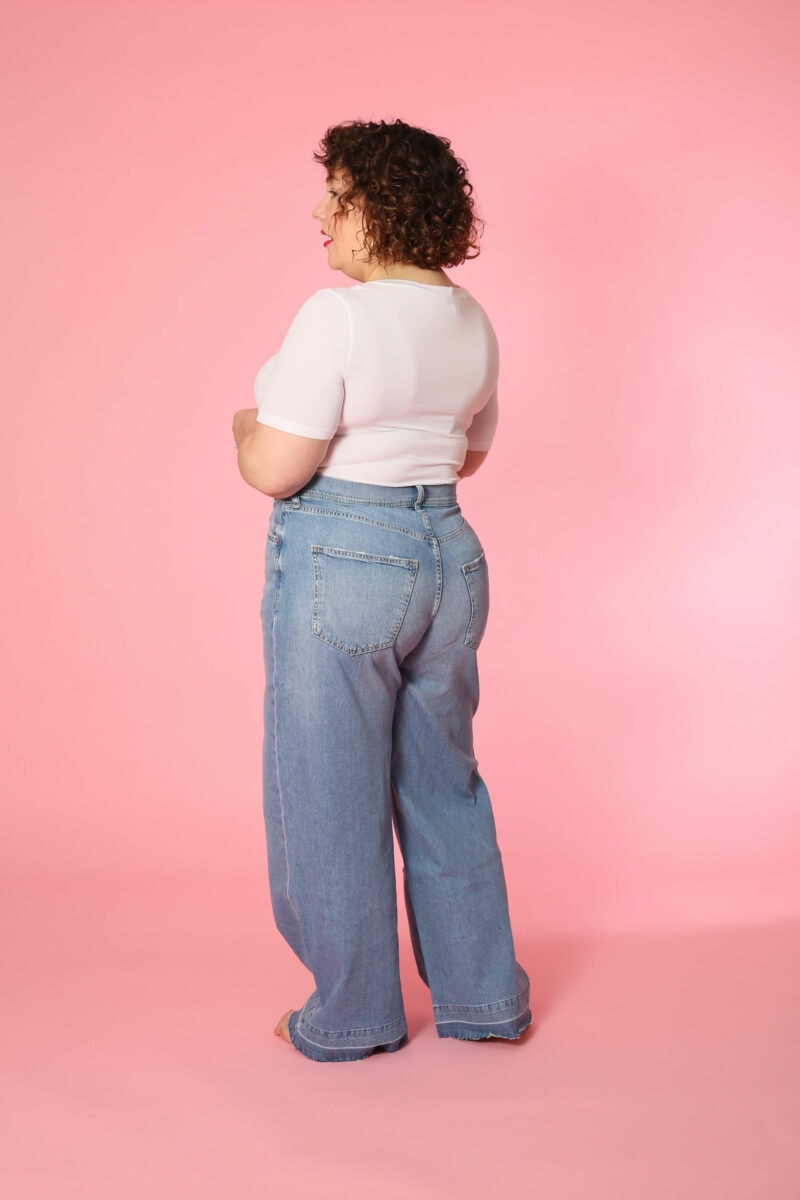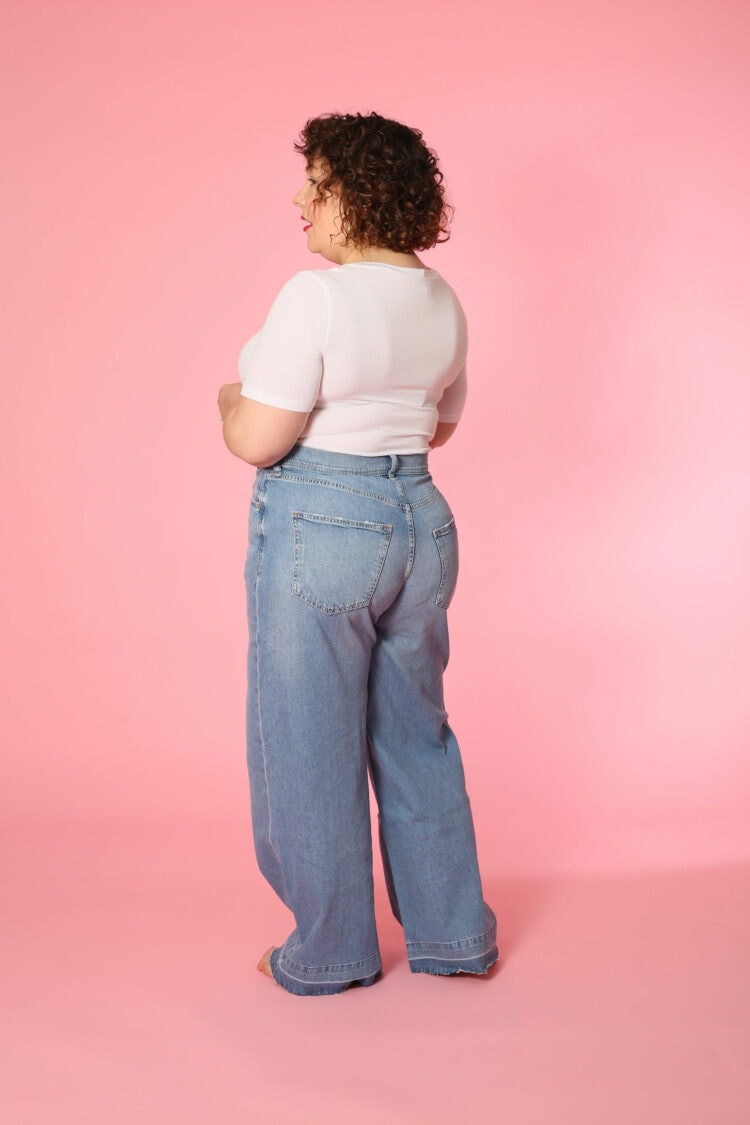 If they were more distressed, the blue a bit more washed out, the hem a proper hem but frayed a bit, the pockets a bit smaller and placed higher. Or if they are a darker wash, crisper details, again with better pockets. Gap has the same jeans in a different wash with finished hem, but at least with the online photo, I thought these looked even more cheesy.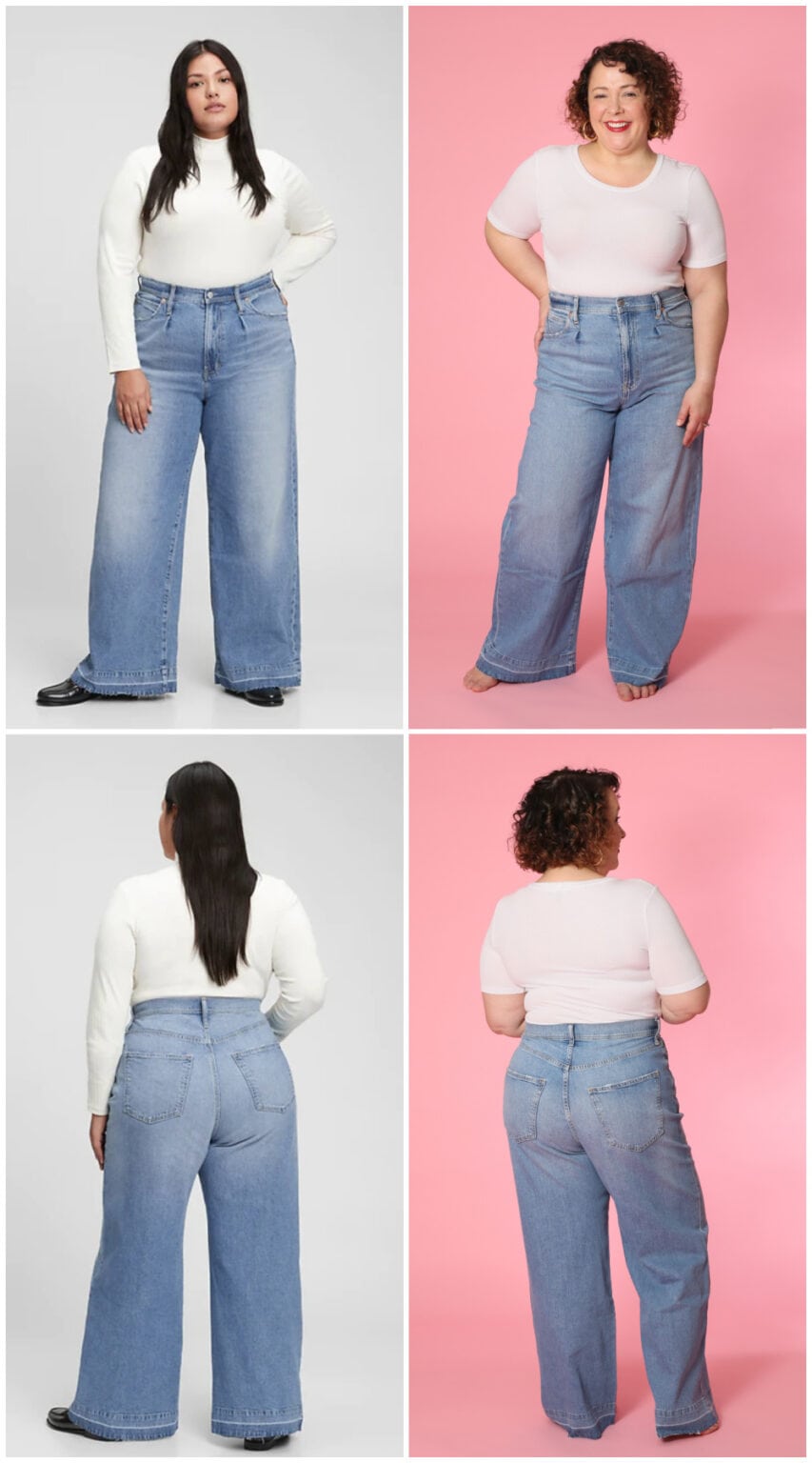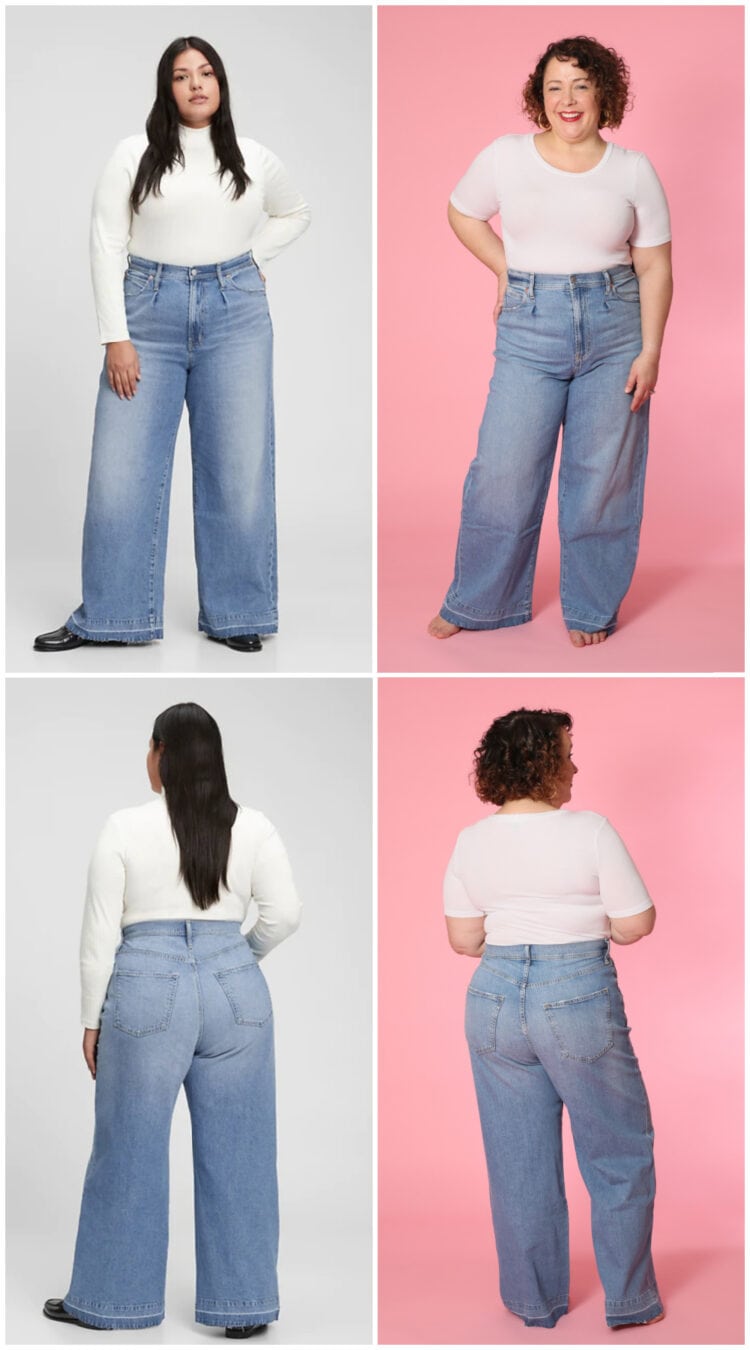 I think if I were slimmer and taller, these jeans could work. A smaller rear and a flatter stomach could carry off the pockets and hem, could make these jeans look cool with a simple tank and boots. But I feel in general, these jeans look like they're from the Juniors department. As a grown-ass woman, I'd prefer to go more vintage, or else more crisp. This middle ground just looks try-hard and sad.
Gap Classic Straight Leg High Rise Jeans Review
"A five-pocket classic with an old-school fit" is how Gap describes their Classic Straight Leg High Rise jeans. This style is high stretch, fitted through the hip and thigh with a straight leg. Having great success with high-waisted jeans from Universal Standard and high-rise jeans from Everlane, I thought these jeans in a high rise may be just what I was looking for. I ordered both 32 and 33 in the "Faded Indigo" color.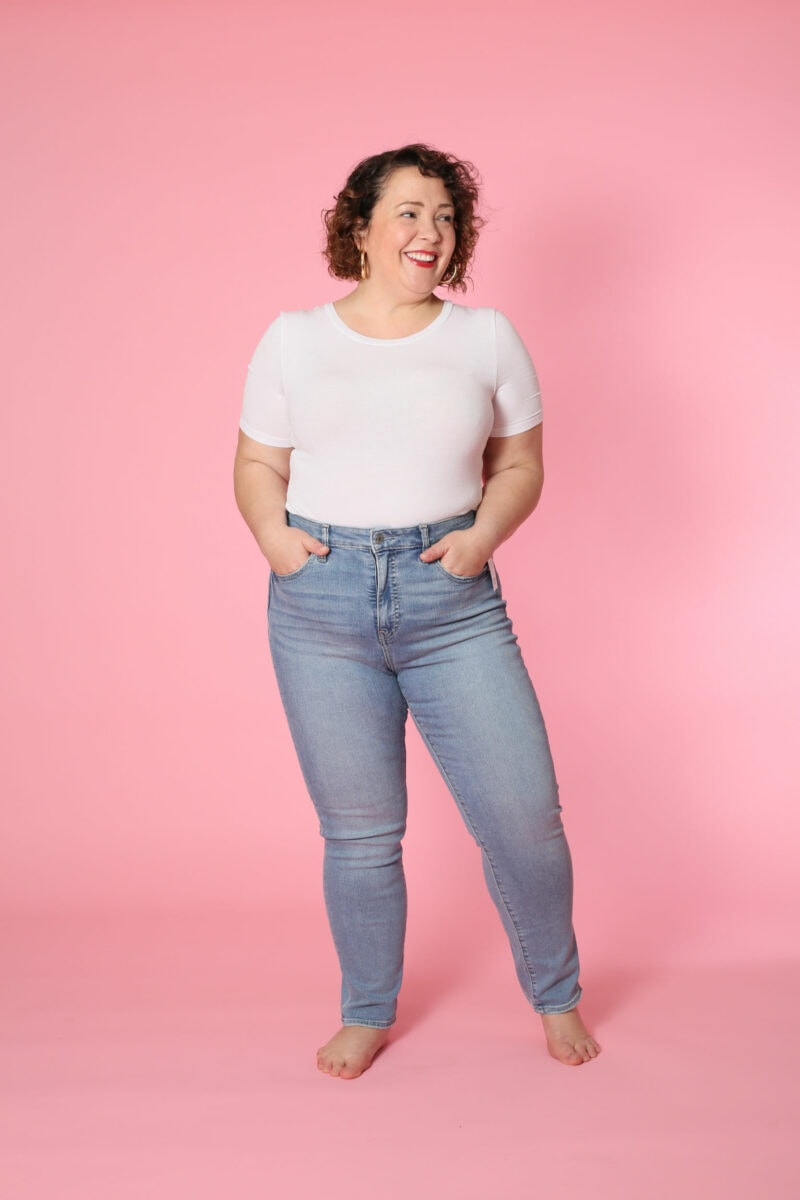 First, let's check out size 32 short in the Gap Classic Straight Leg High Rise jeans. When I was putting them on, it was tough at first to get over my large calves and I was thinking, "These jeans are a definite no." But then I got them on and looked at my reflection and thought, "They're not half bad."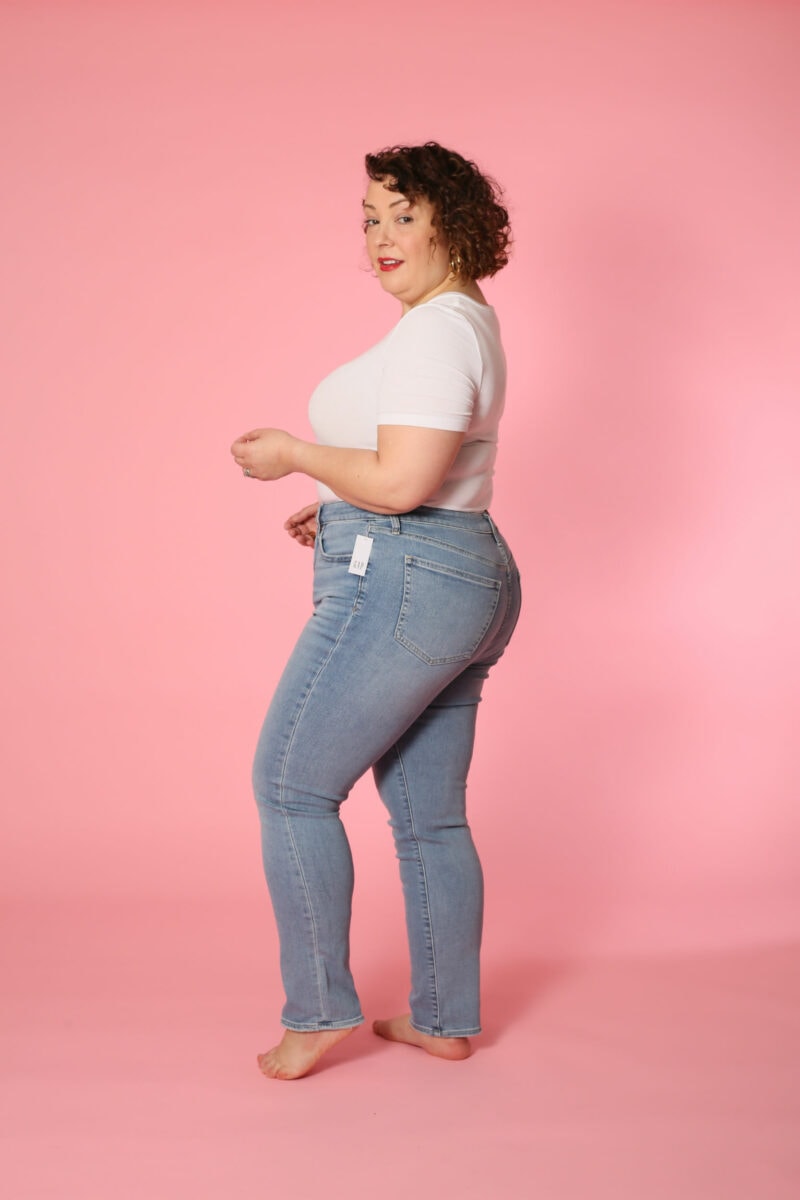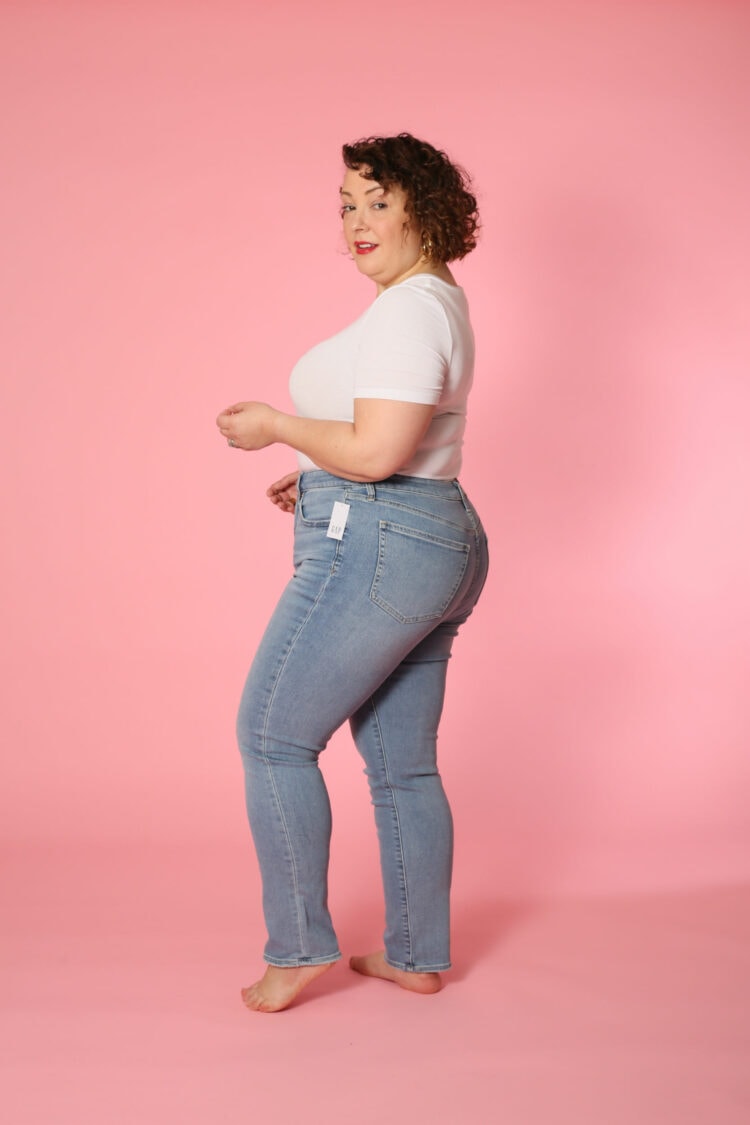 The denim is super stretchy, and immediately molded to my figure. The size 32 in these jeans was more snug than I was comfortable with though. It's the fit I would have worn two years ago as a skinny jean with sweatshirts and sweaters, but now I want something looser to wear with shorter and tucked-in tops.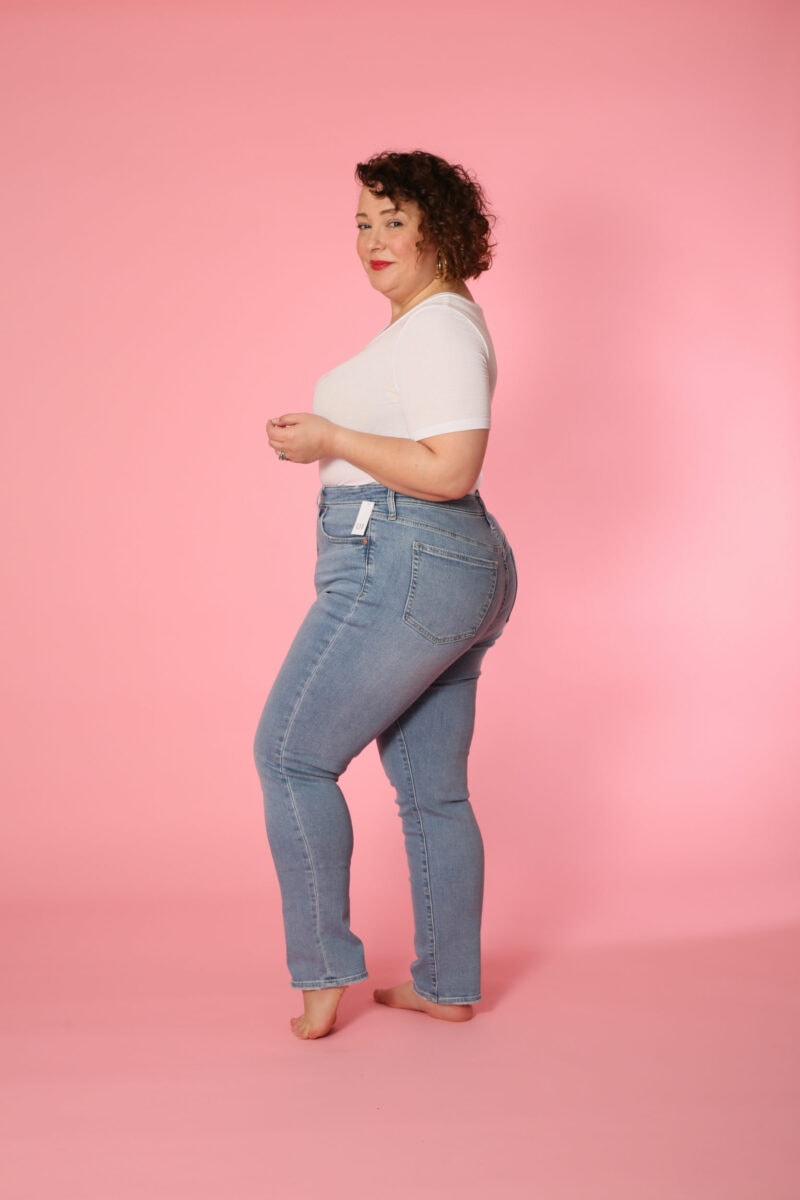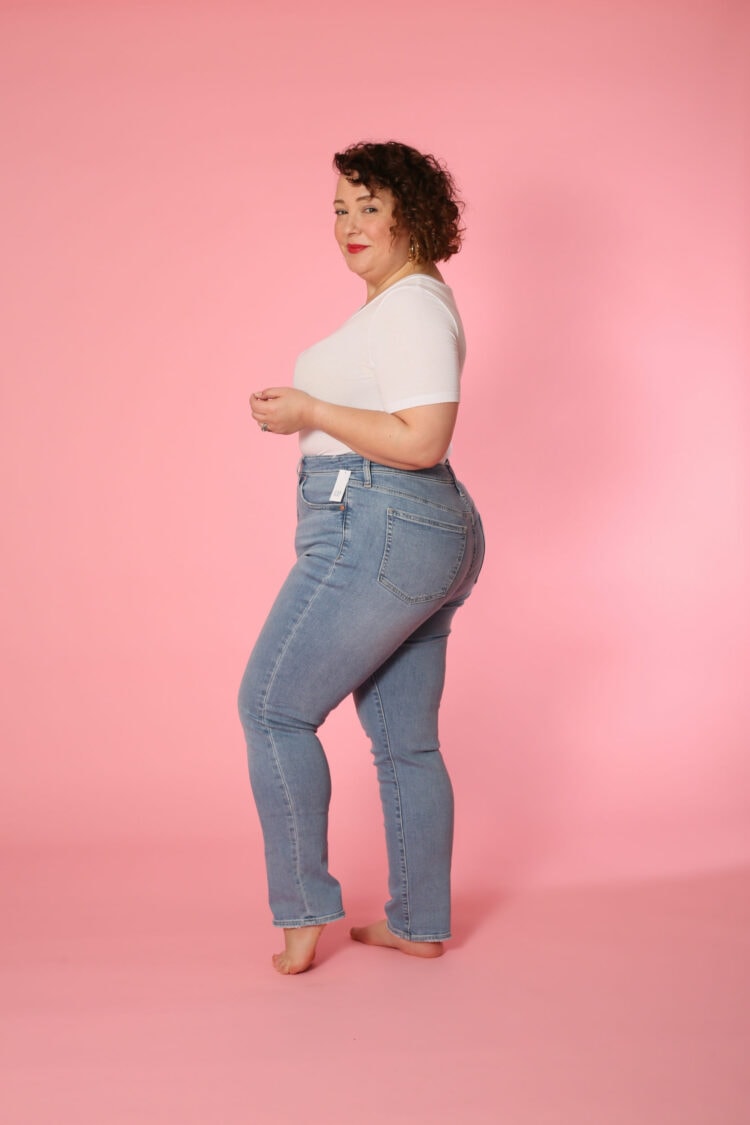 I am glad I got the 33 so I could compare the two. The 33 in the Classic Straight Leg High Rise was far more comfortable and the fit I desired but the back of the waistband seemed to slope down to where if I bent over and didn't have a tucked in top, you'd be seeing my underwear. I found it weird that this didn't happen with the size 32. Maybe this jean was cut a bit more narrow in the bum, and my curve there was causing the jean to pull down?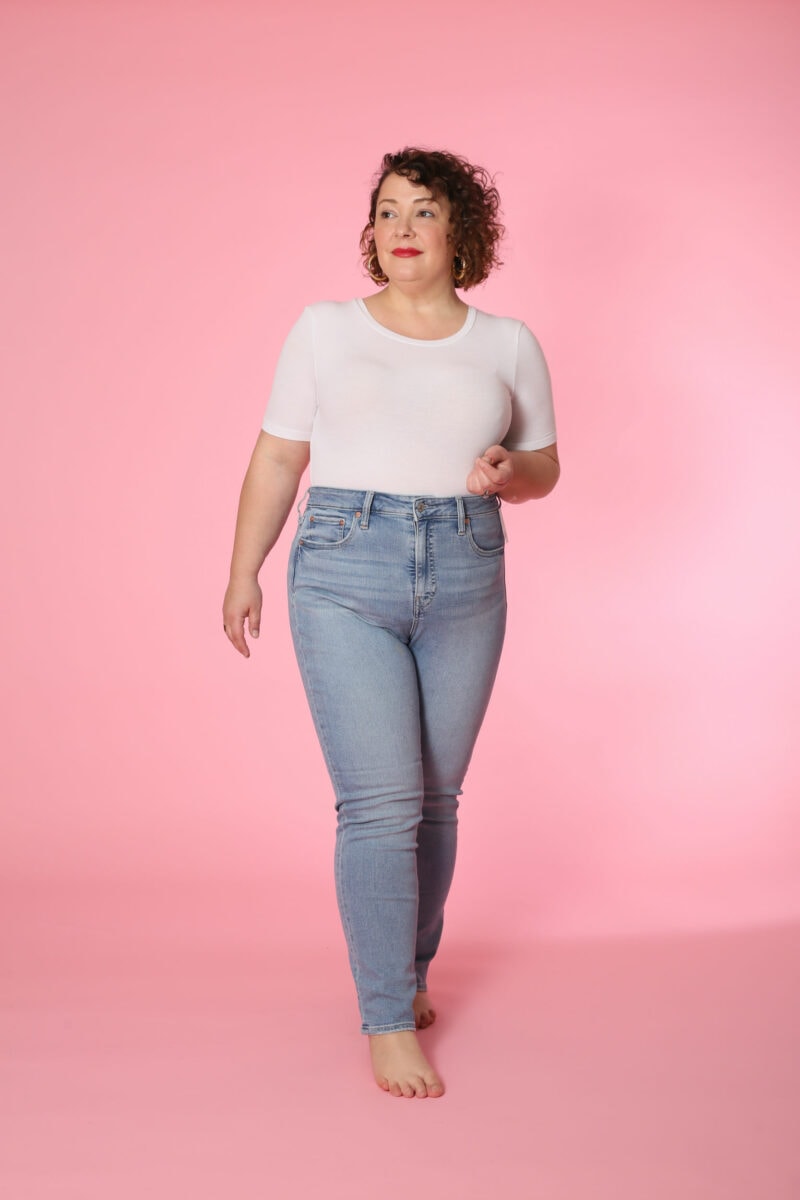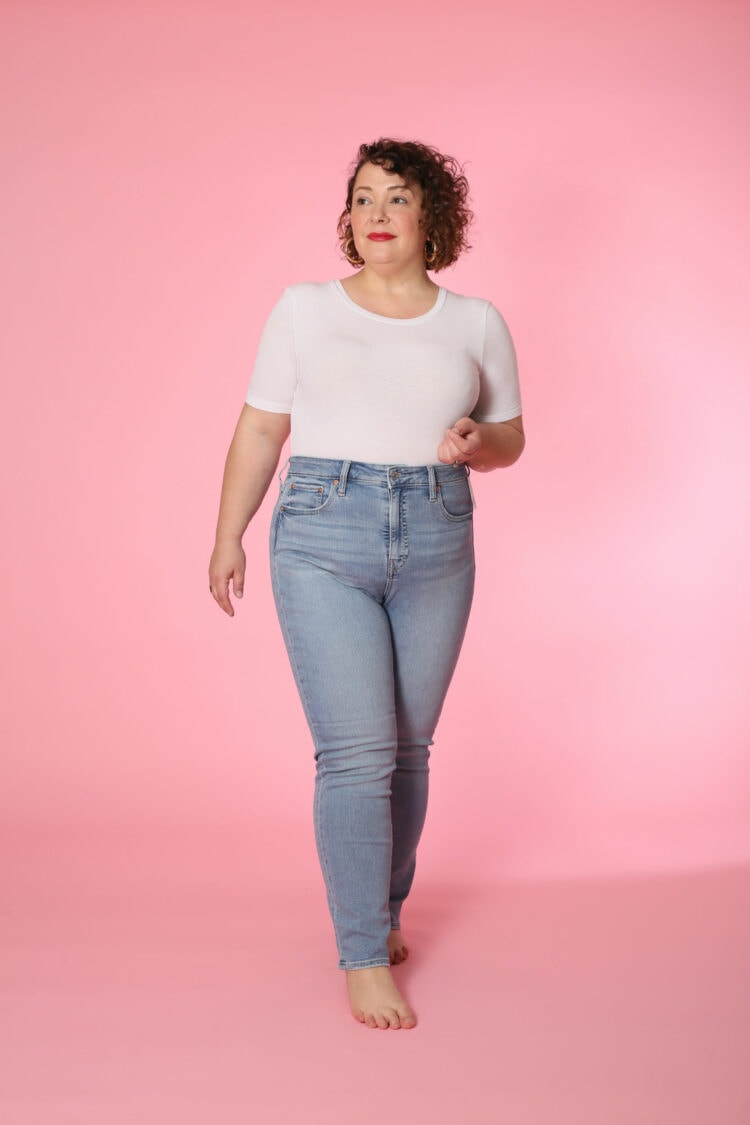 I liked the weight of these jeans – not too thin, but not thick. These jeans are 81% Cotton, 13% Recycled Cotton, 4% Elasterrell, and 2% Elastane and were what I'd say is a warm weather jean. Enough to cover lumps and bumps but not so heavy you'll be sweating in the middle of May. The jeans were slim, but not skinny, making them look great with a range of shoes and tops.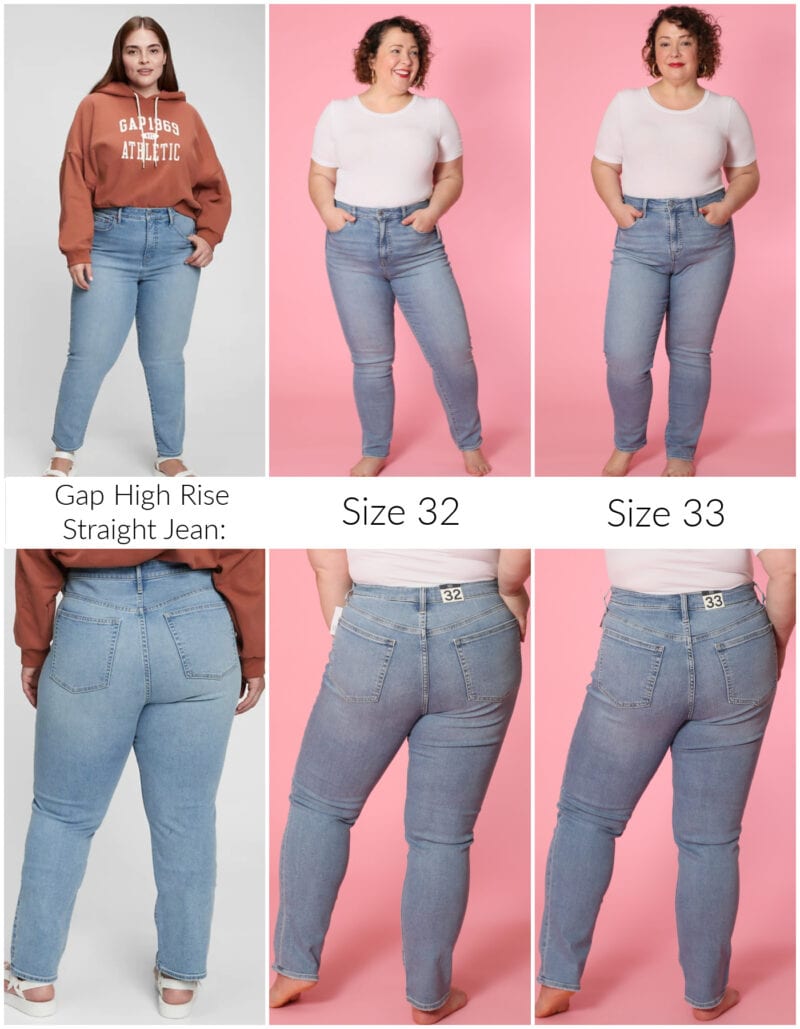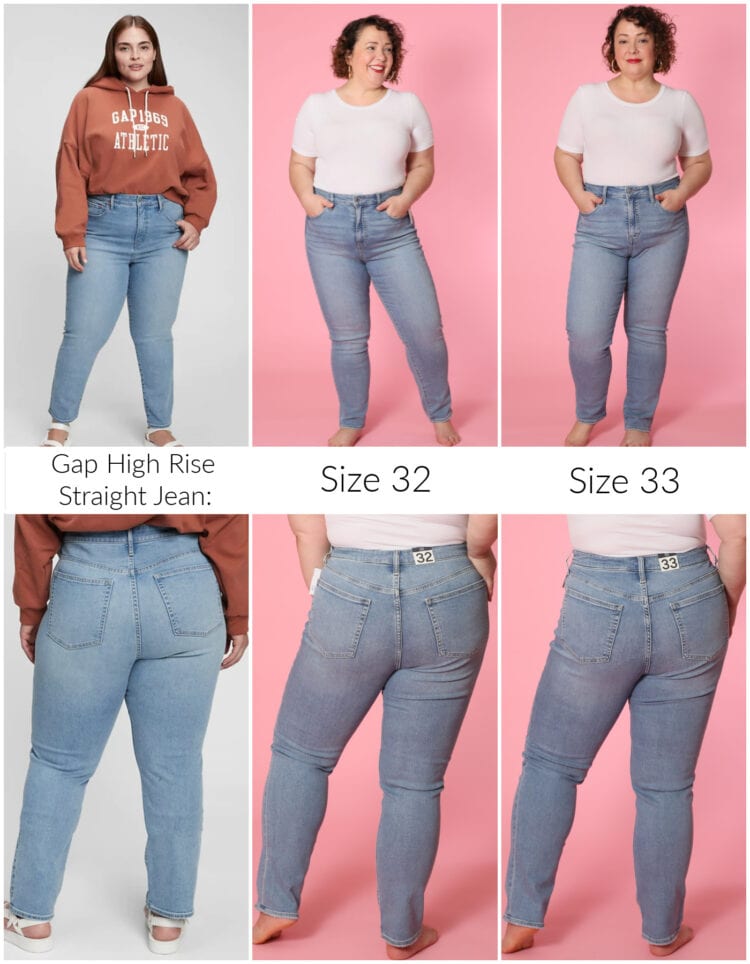 As I wore the 33s, I again wished that Gap offered petites. These jeans fit, but not well. The rise was a hair too high and those who have experienced this know that if it doesn't hit at the right spot the jeans end up sliding down. Just walking down the stairs for the shoot I had to hike them up.
And if you're thinking that midrise would do the trick… then the next jeans from this Gap denim haul will provide that answer!
Gap Classic Straight Leg Mid Rise Jeans Review
While I find a high rise better on my soft curves (mid rise usually hits right where I end up with a muffin top), since Gap doesn't offer petites over a size 30, I decided to try their Classic Straight Leg jeans in a midrise. Again, I ordered these jeans in both a 32 short and a 33 short.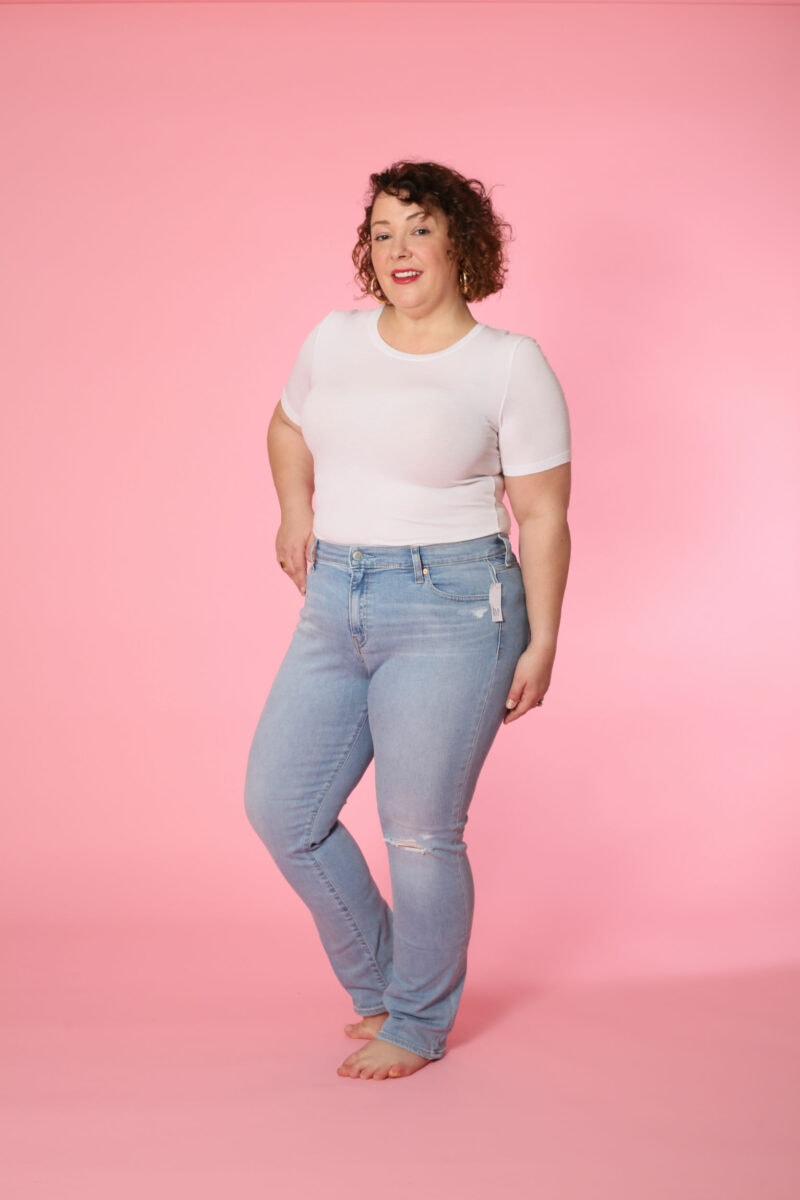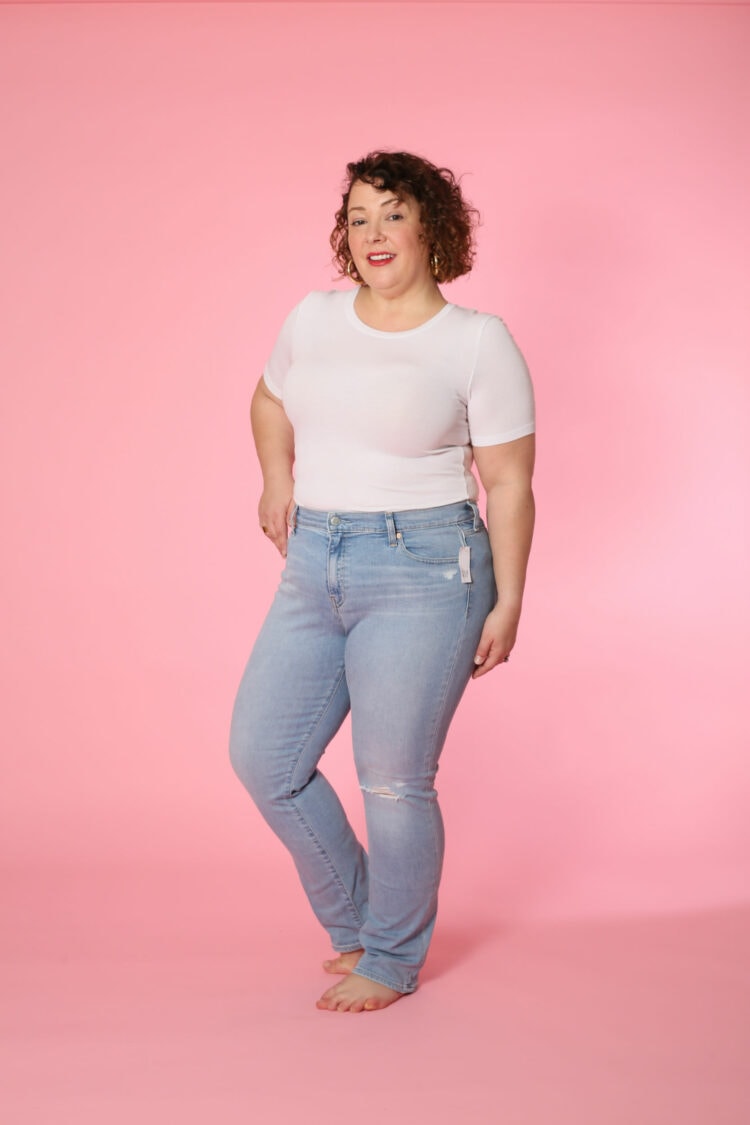 I can't even believe these are considered the same style of jeans, just with a different rise. They're made with 81% Cotton, 13% Recycled Cotton, 4% Elasterrell, and 2% Elastane like the high rise, but are thinner and softer.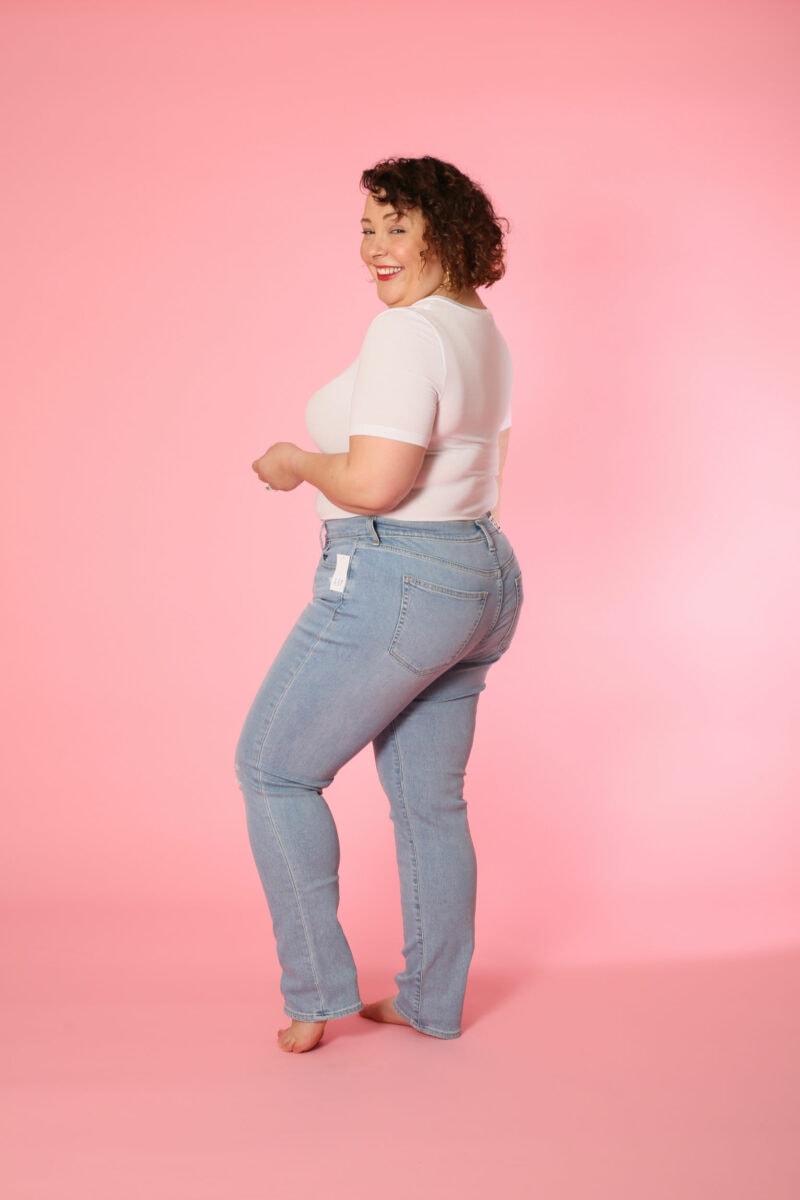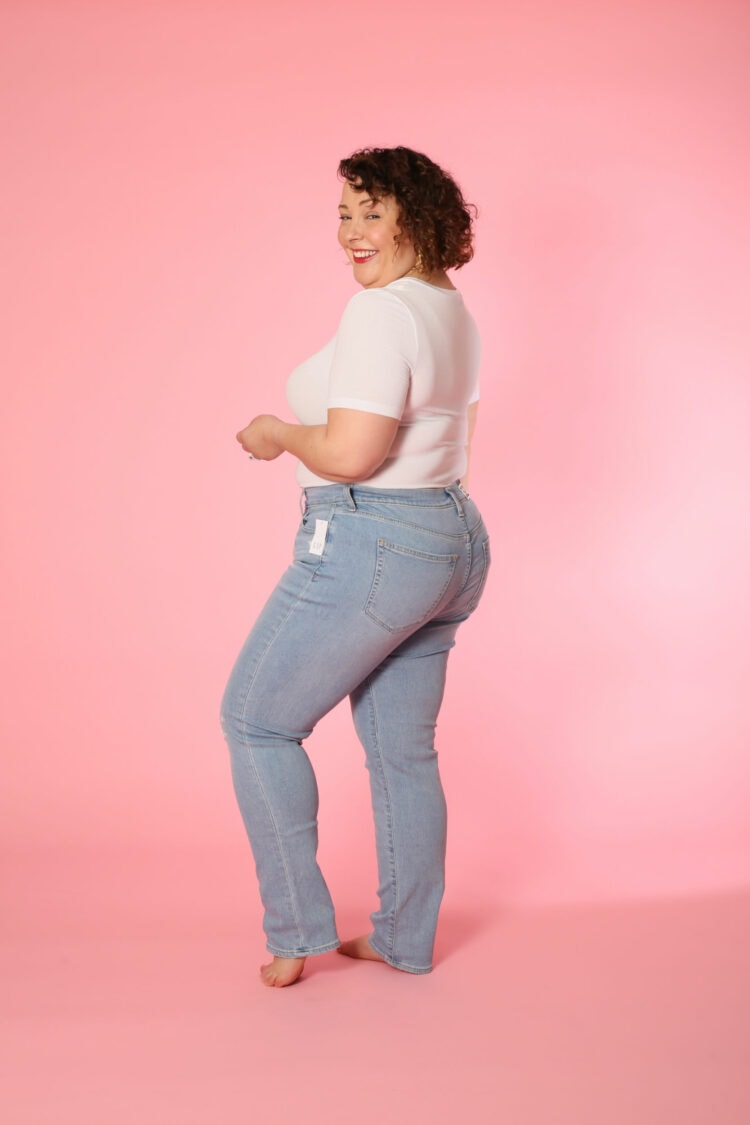 This may appeal to some because it did make for comfier jeans, but I like my jeans to have some heft to them to sort of hold everything in place, and these didn't do any holding. And then with the midrise of these jeans hitting right at my belly button, I felt like a popped can of biscuits spilling out everywhere. Again this is a Juniors vs. Grown-Ass Woman difference.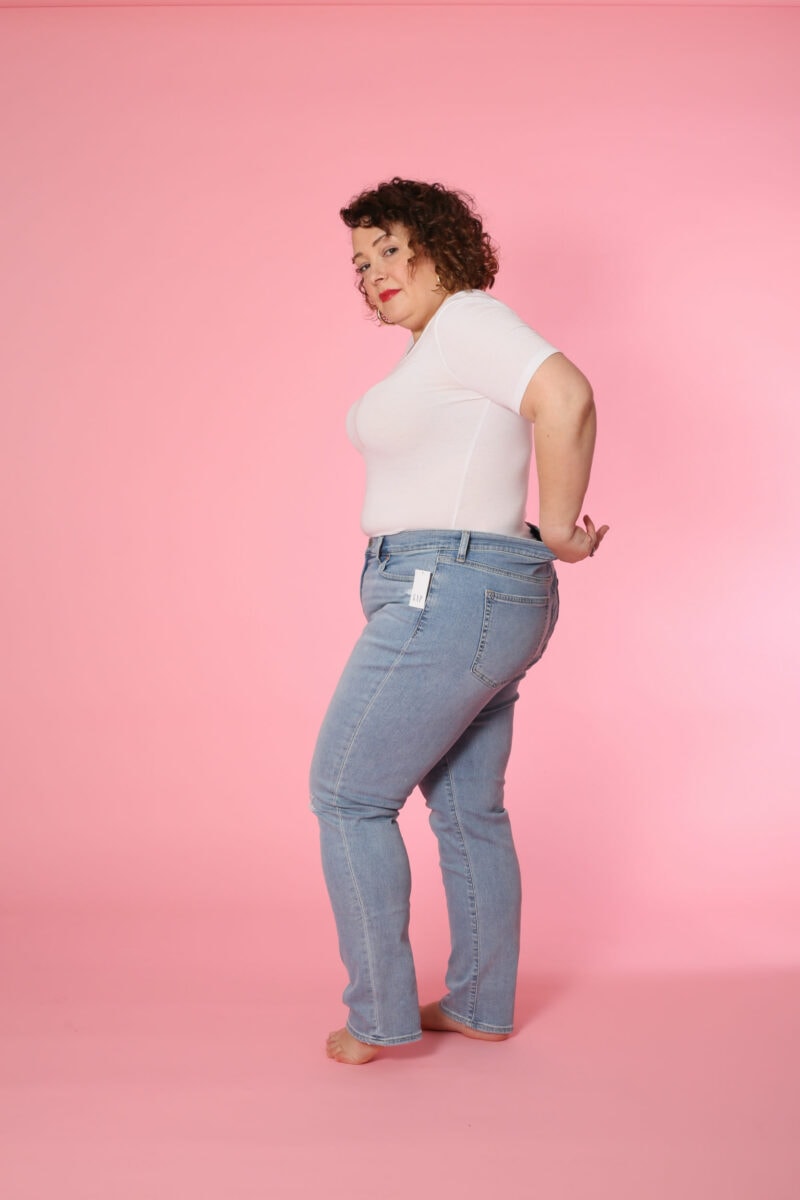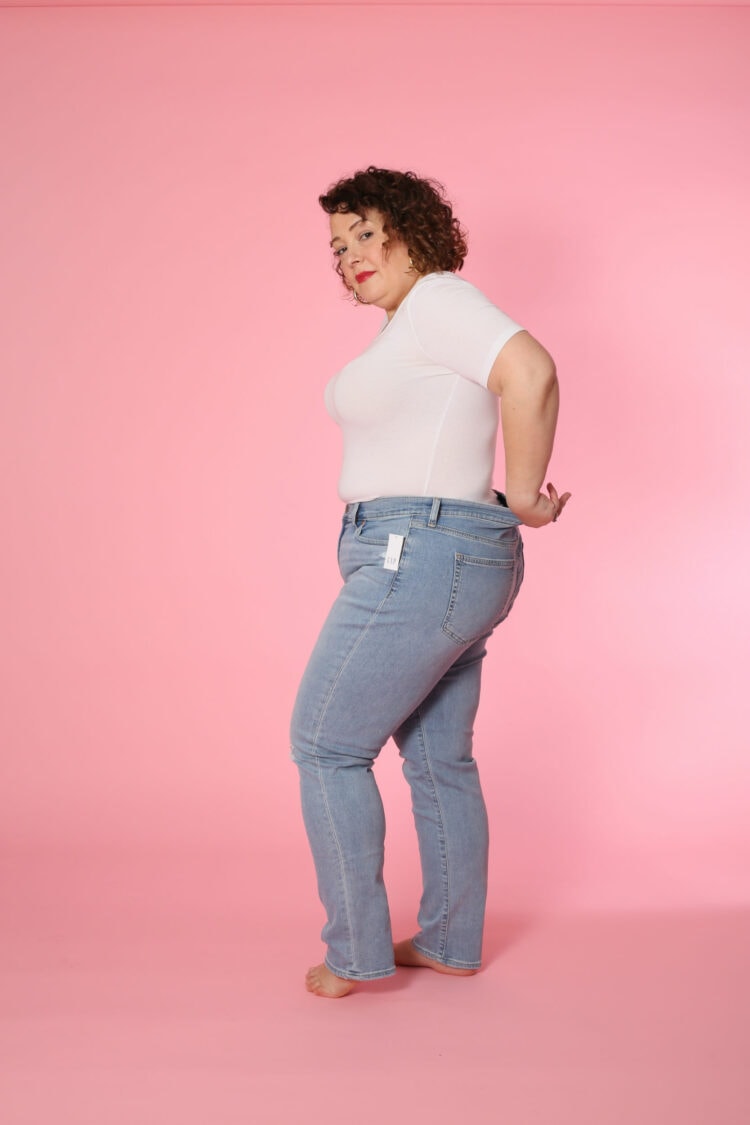 I love a soft jean if it's a looser cut, but a soft jean that is this fitted for me is uncomfortable because it's doing my body no favors. I have muffin top, lumps from buttons and beltloops, usually too small of pockets to be functional, and everything is just sloshing around. I've learned in situations when I want soft and comfy jeans to just wear leggings or joggers. But maybe a larger size in these jeans wouldn't be so disappointing? Newp.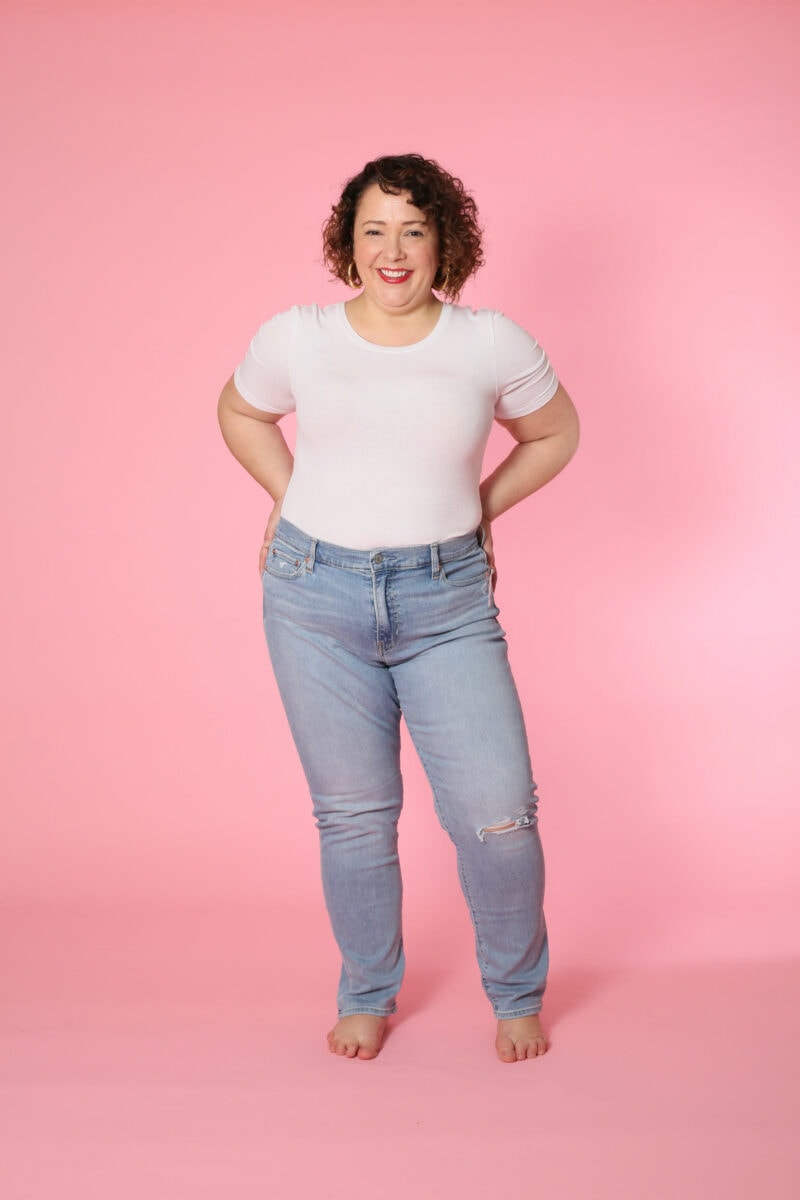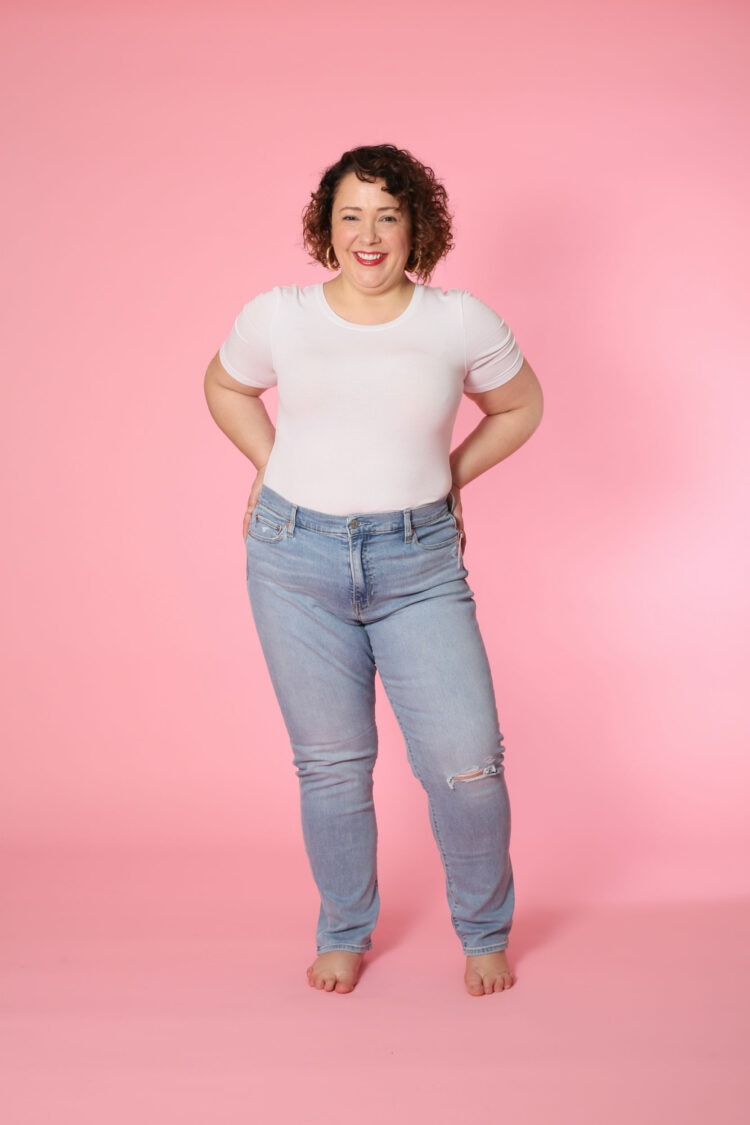 This is the 33 short in the Classic Straight Leg Mid Rise jean. It's even softer than the 32 shorts, and they're much longer while not doing my body any favors. And while the hips and thighs fit, the waist is way too big.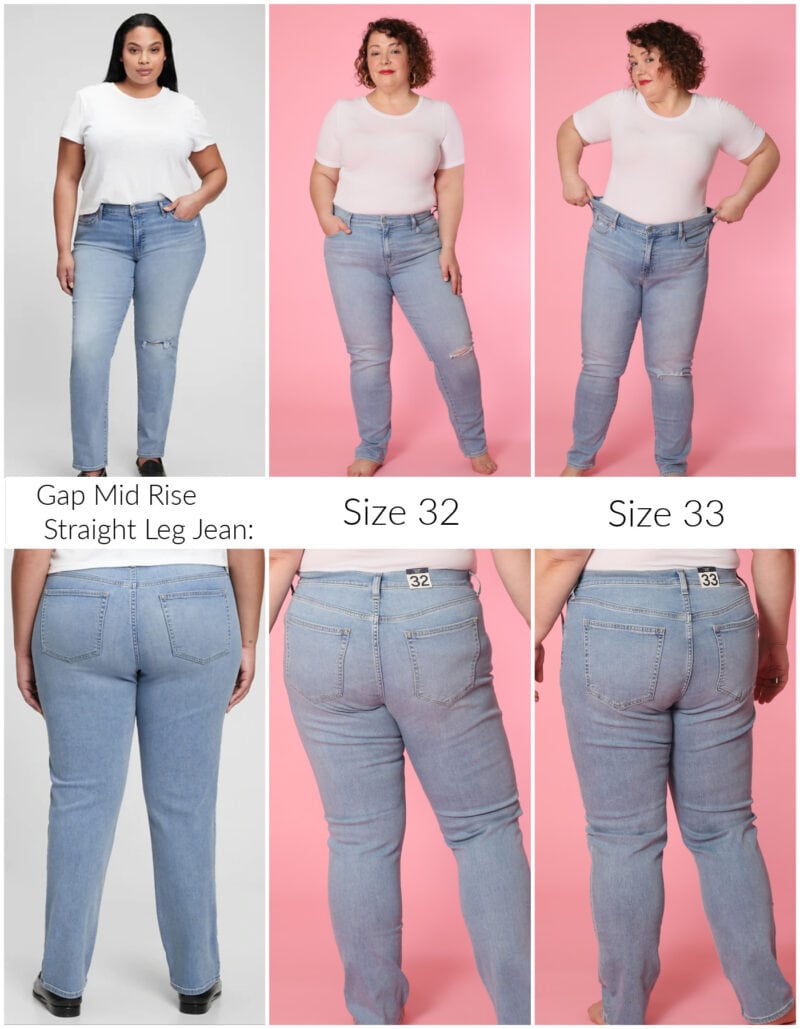 Please use this example of these jeans to remind yourself that it's not your body that is the problem, it's the clothes. To have the jeans such different fabrics, different fits, different everything is common with pretty much any mass retailer sold in a department store or the mall. It's not your fault, your body isn't bad.
Gap High Rise Barrel Jean Review
I have loved the look of a barrel jean since it became popular last spring. I've tried a few brands and found that the rigid denim and lack of petites makes me look ridiculous in them. But knowing Gap in general has lighterweight denim and the offering of a short length, I took a chance and ordered Gap's high waisted barrel jean in this wash in 32 short and 33 short.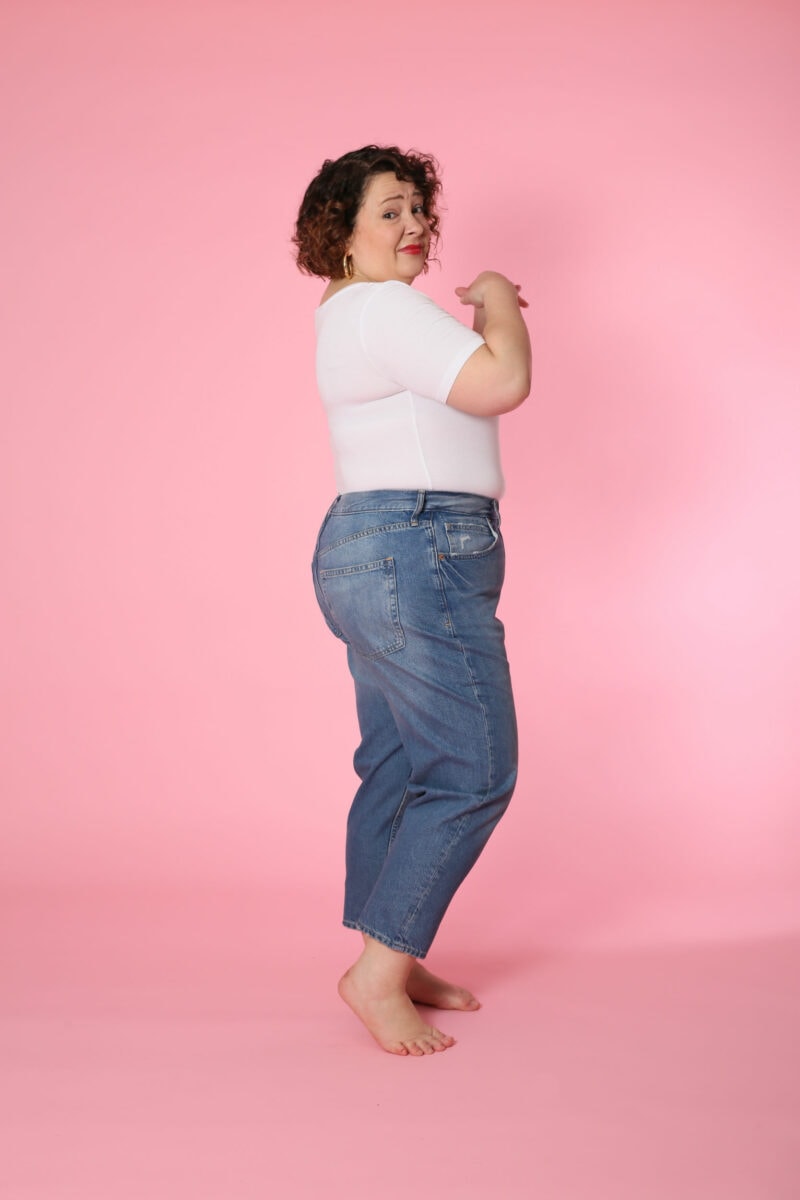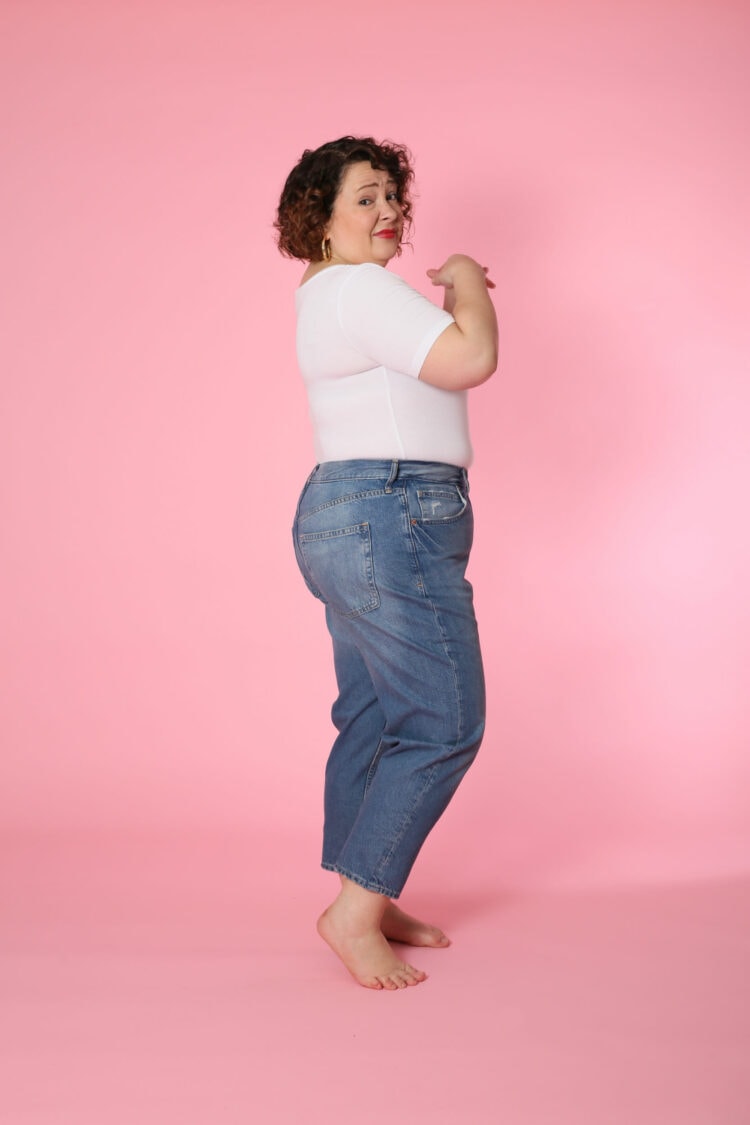 I don't know on what planet such jeans could be considered high rise. Especially considering previous high rise styles from Gap I tried were brushing my ribcage, it seems ludicrous to have these jeans barely reaching the belly button of my short-torsoed self.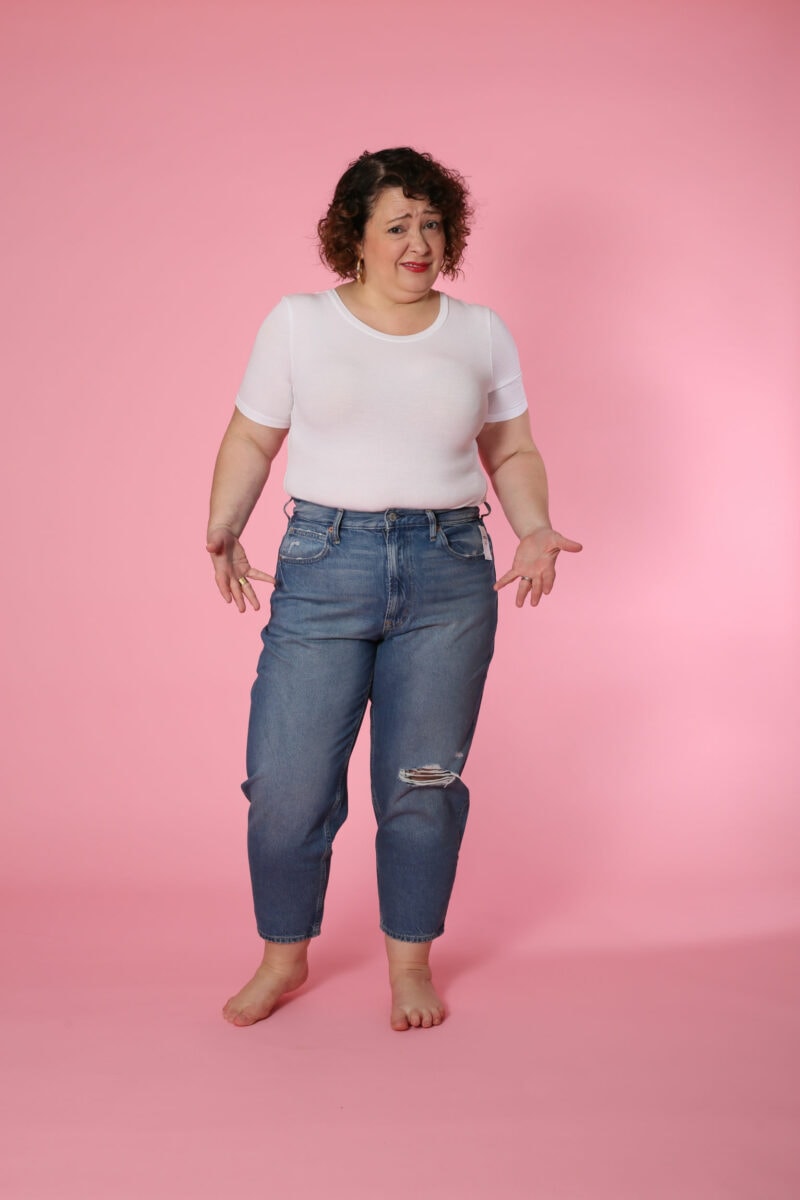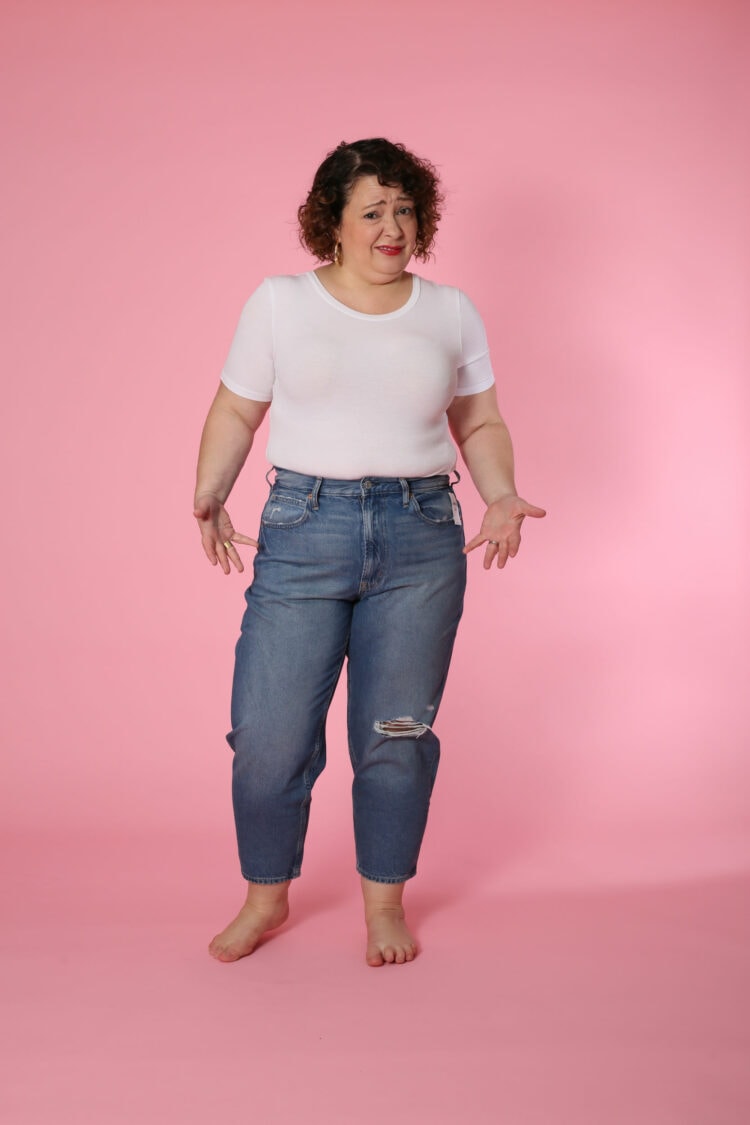 The 32 had no tags on it at all, likely a return because someone else got them and thought, what the heck are these jeans? They're so tight, so low rise, so weird! One plus… I liked the wash. I went a bit darker with this style since the faded option was sold out in both of my sizes.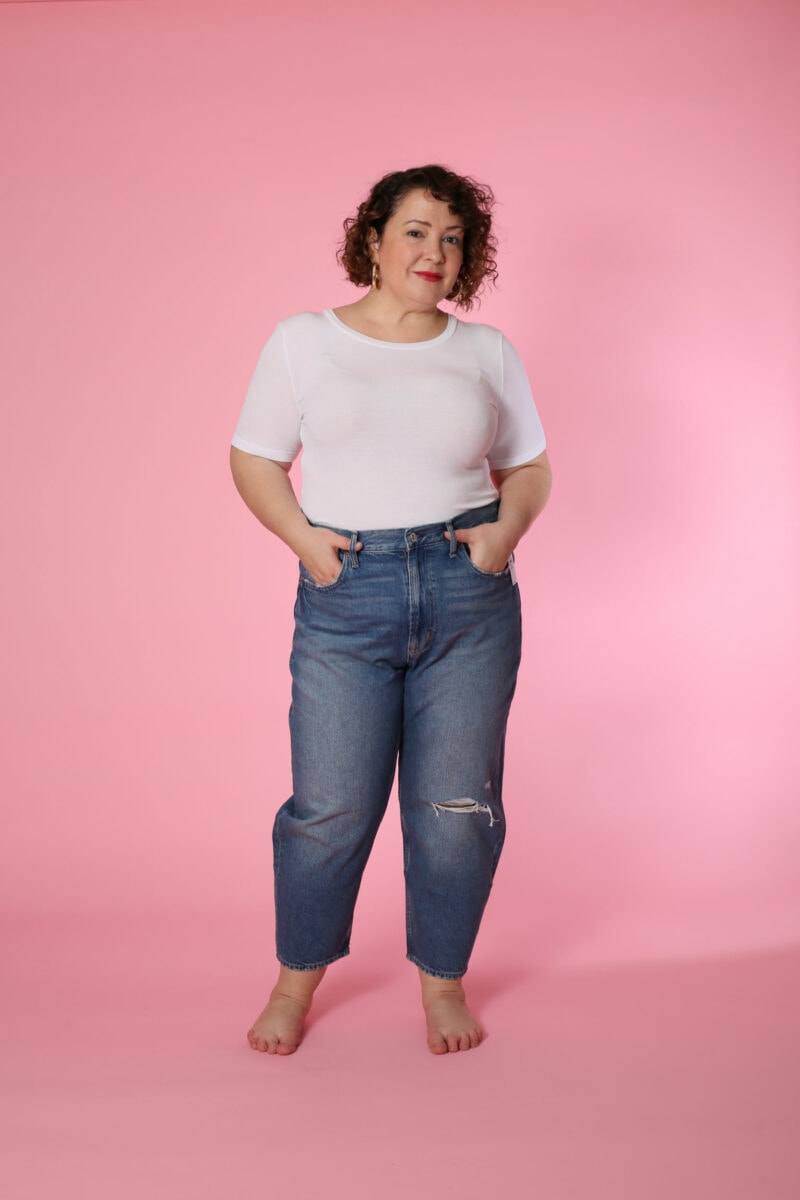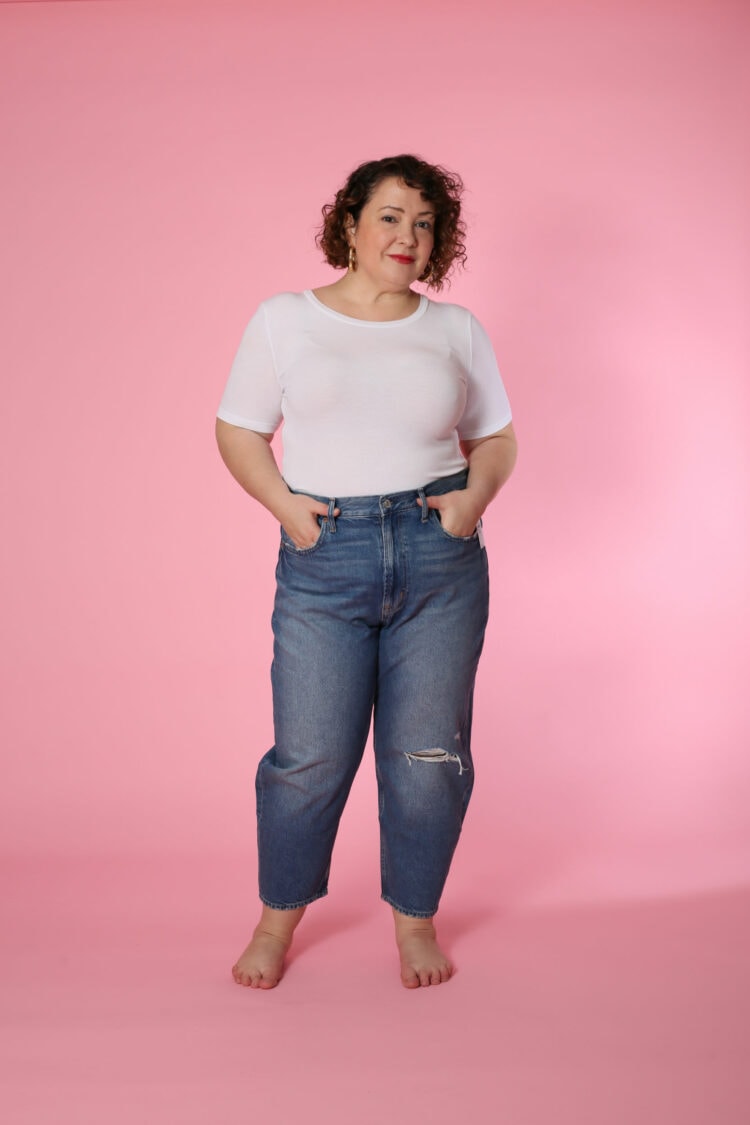 I knew the 33s had to be better, right? Well… they do fit better at the waist. However, they are really narrow through the hips and bum and I could feel the denim pressing down on my butt. They were a longer rise, but because of this narrowness I couldn't get them where they were supposed to be and had drop crotch.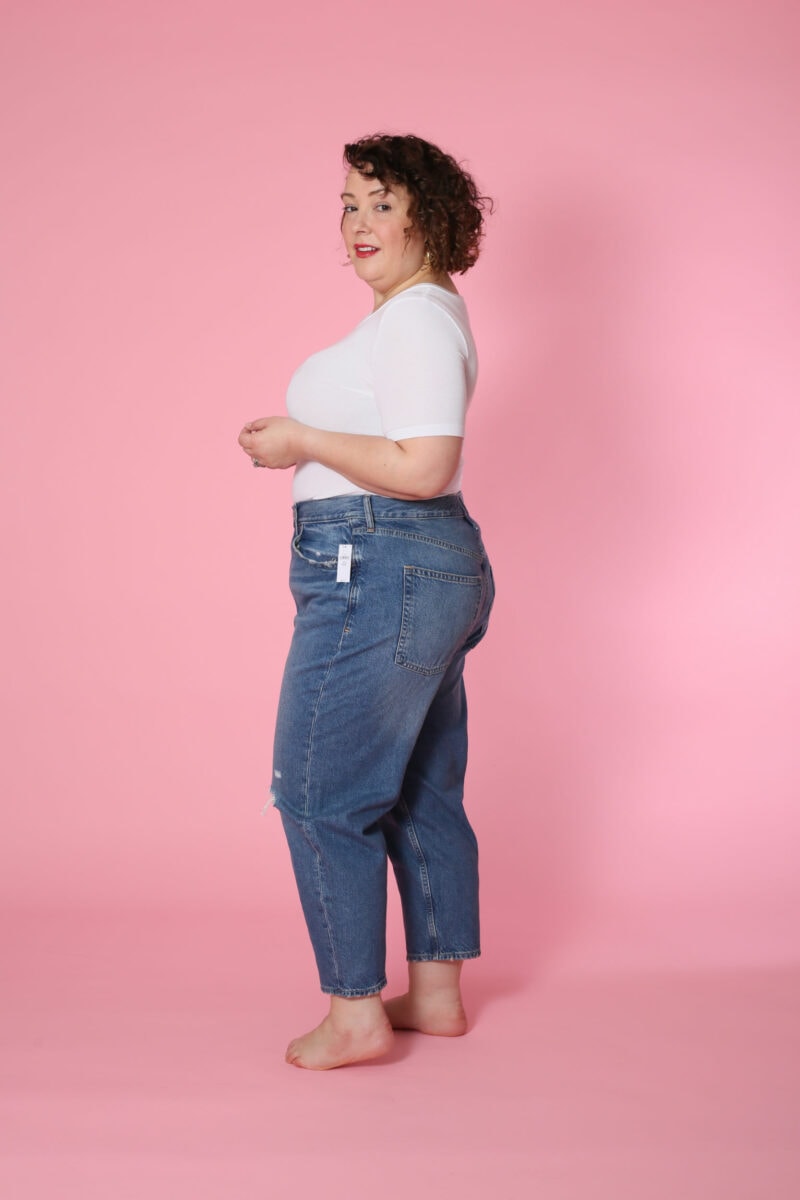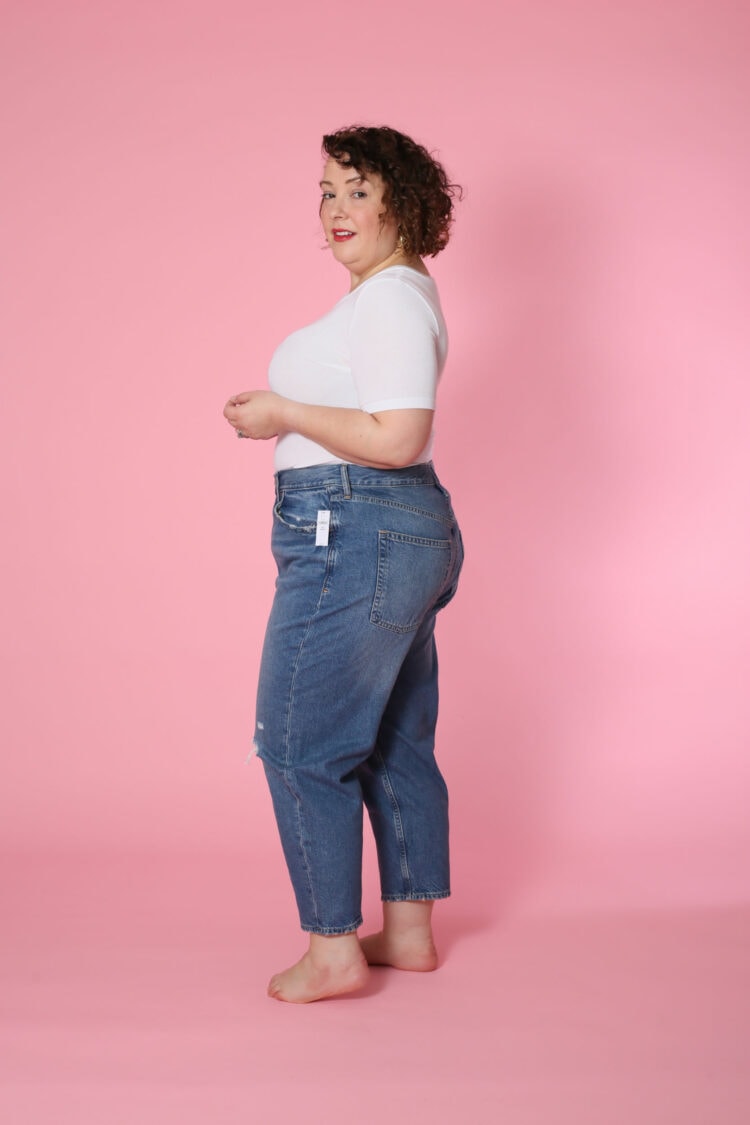 One leg of these jeans was more narrow than another, there was a weird divot in the bum, and the legs bowed out strange at the knees. One pocket was deeper than another, it was like this pair was at the bottom of the pile for the cutting machine and everything was just off. Think the shirt Denise made for Theo.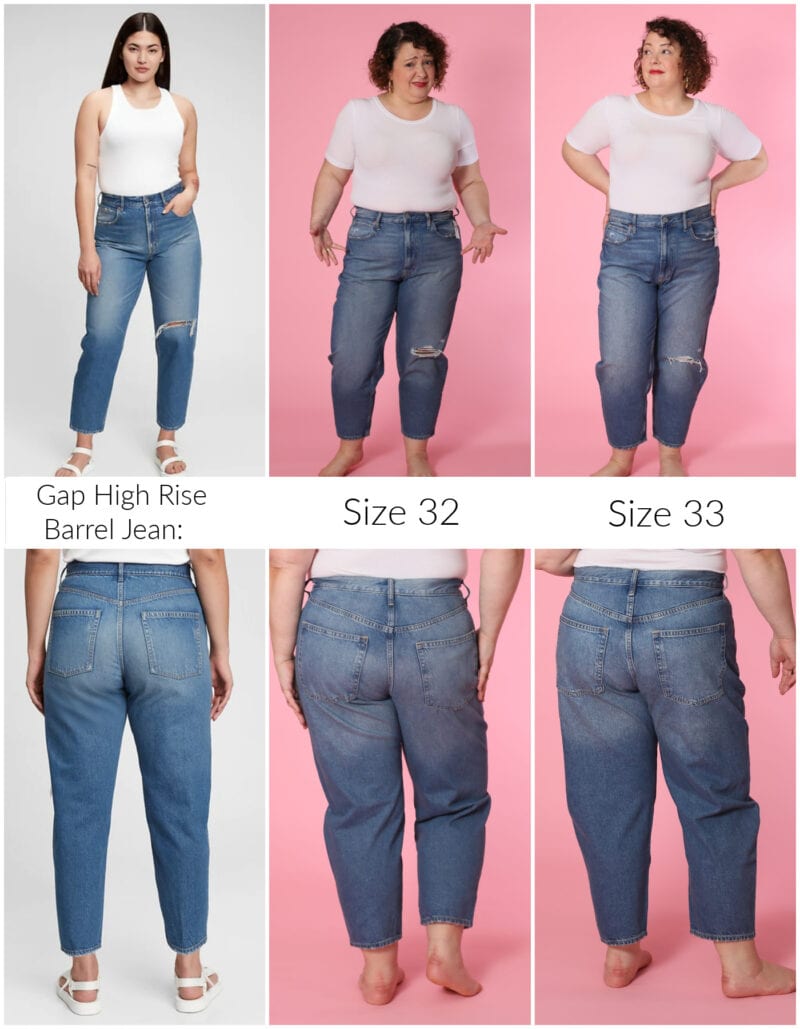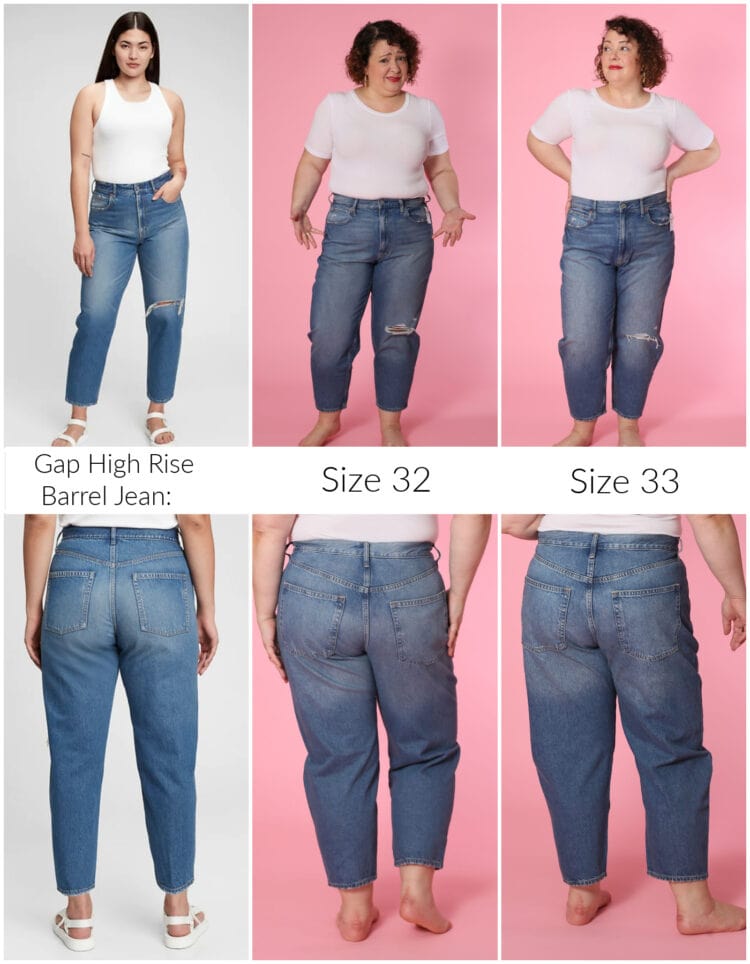 I don't know, these jeans didn't fit me like the model at all, but if they were cut correctly, I think I could have liked the 33 short in these. But how can one know when you're wearing such horribly manufactured denim?
Gap Kick Fit High Rise Jean
I have never been a fan of the kick flare style. As someone with thicker legs and ankles and being short, the combination just doesn't look fun or flippy but like my cropped jeans have a weird hem. But hey, I'm going to take one for the team and gosh knows, maybe these would look cool? I ordered a 32 Short in the Gap Kick Fit High Rise Jean.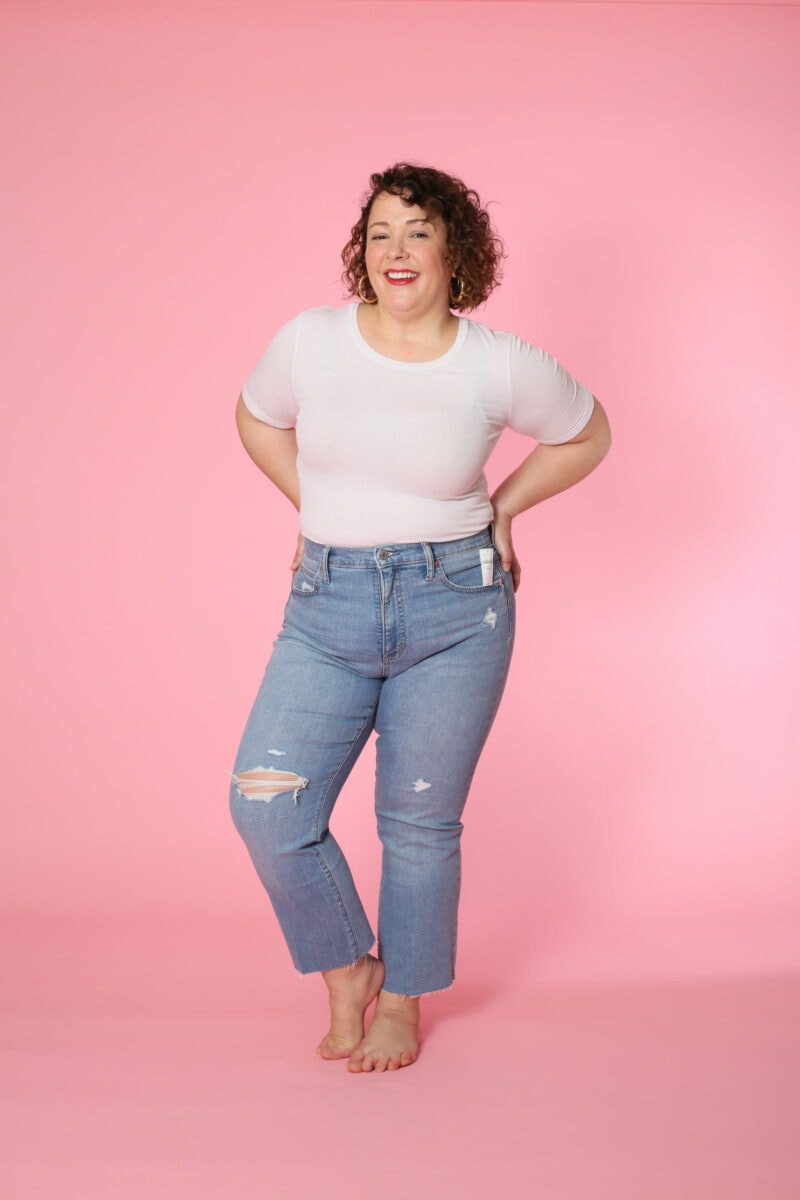 When I do these reviews, I write in my journal initial thoughts on the jeans, along with the number they were in the order of photography. These jeans were the 8th jeans photographed and about them I wrote, "Gape in back, stupid hem, lazy jeans."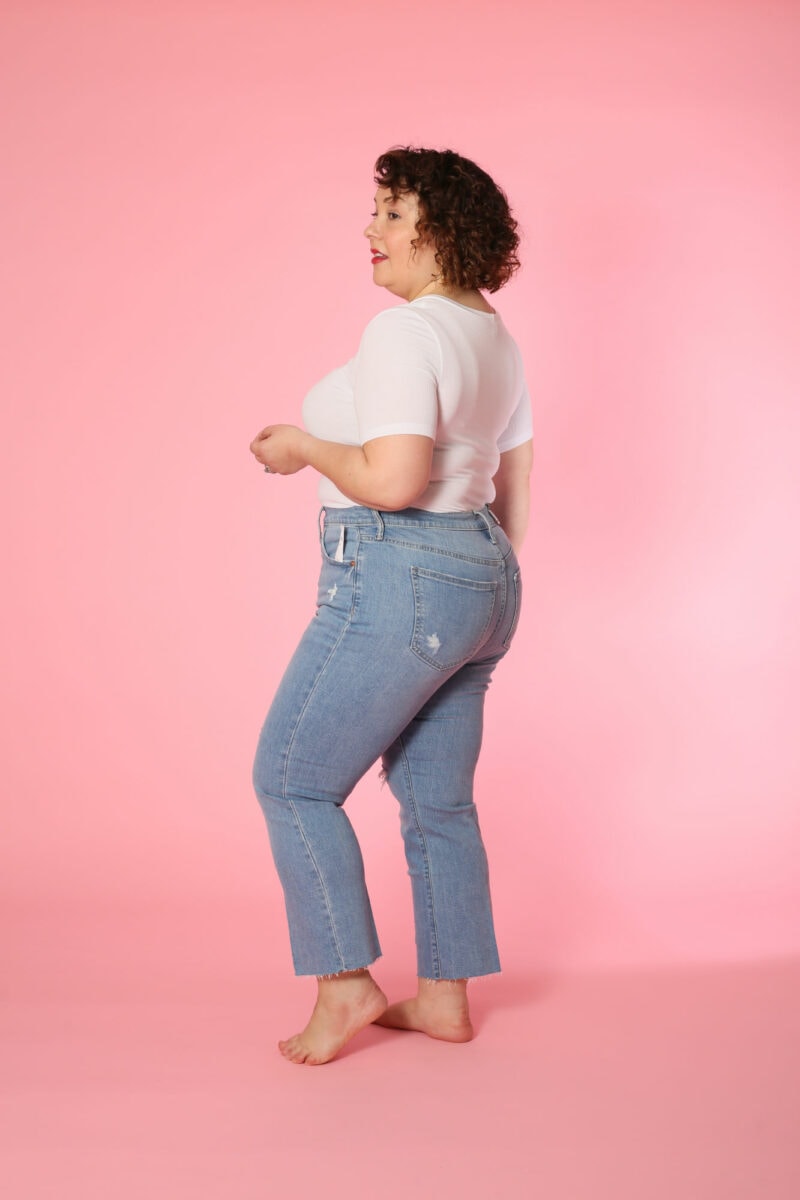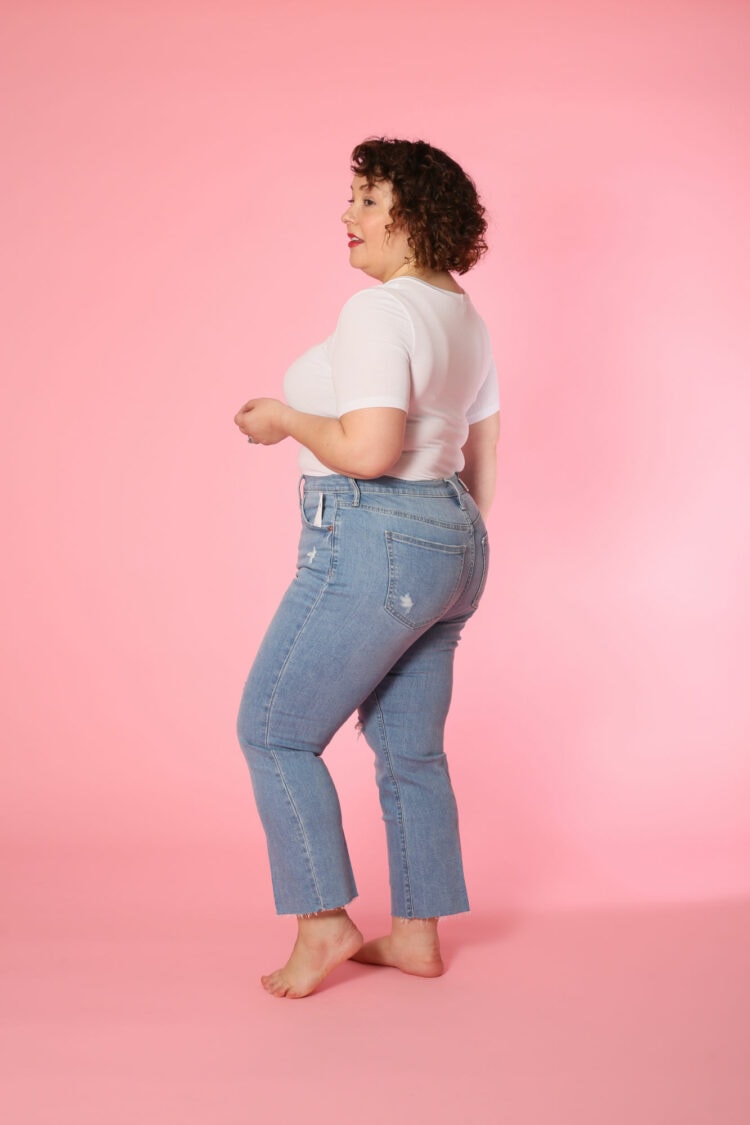 These jeans feel like another style didn't sell so they hacked off the hem, and didn't even do a very good job of it. The denim is thin like the mid rise classics above, the wash is dorky, the fit sucks… these feel like a pair of flared jeans you bought at a discount mart and hacked off the bottom with a pair of kitchen shears. The quality of the denim, the wash, the styling… these are some lazy discount jeans.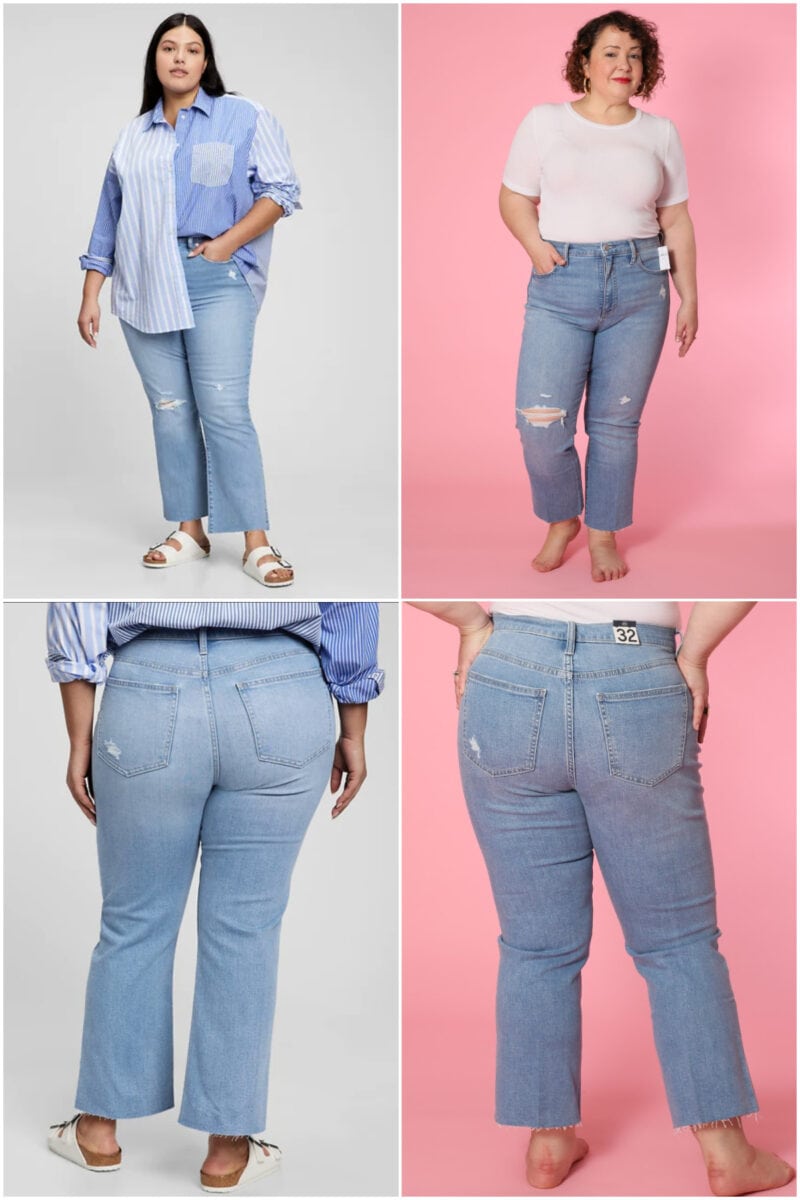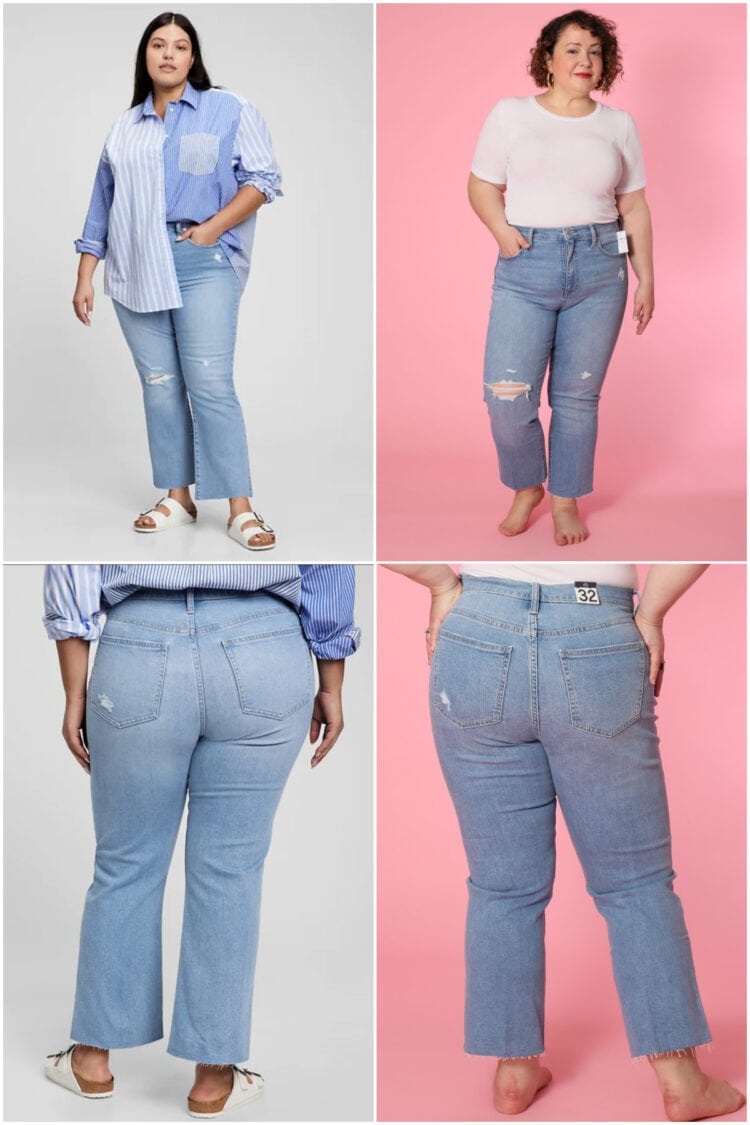 I gotta say, the jeans fit pretty well, though they were of the kind of denim that meant I was hiking them up just after walking down the stairs and they're not especially high rise. These are a 32 short too, and the only 32's from the entire lot that fit me. They look far better in photos than IRL. I just think these are some lazy dumb jeans aren't even worth buying on the clearance rack.
Gap Girlfriend Mid Rise Jean Review
Going through my Gap archives, I saw how much I loved the Gap Girlfriend jean in the past. I figured they may work for me now, especially with so many positive reviews. At the time they didn't have 33 short so I only ordered the Girlfriend Mid Rise Jeans in 32 short.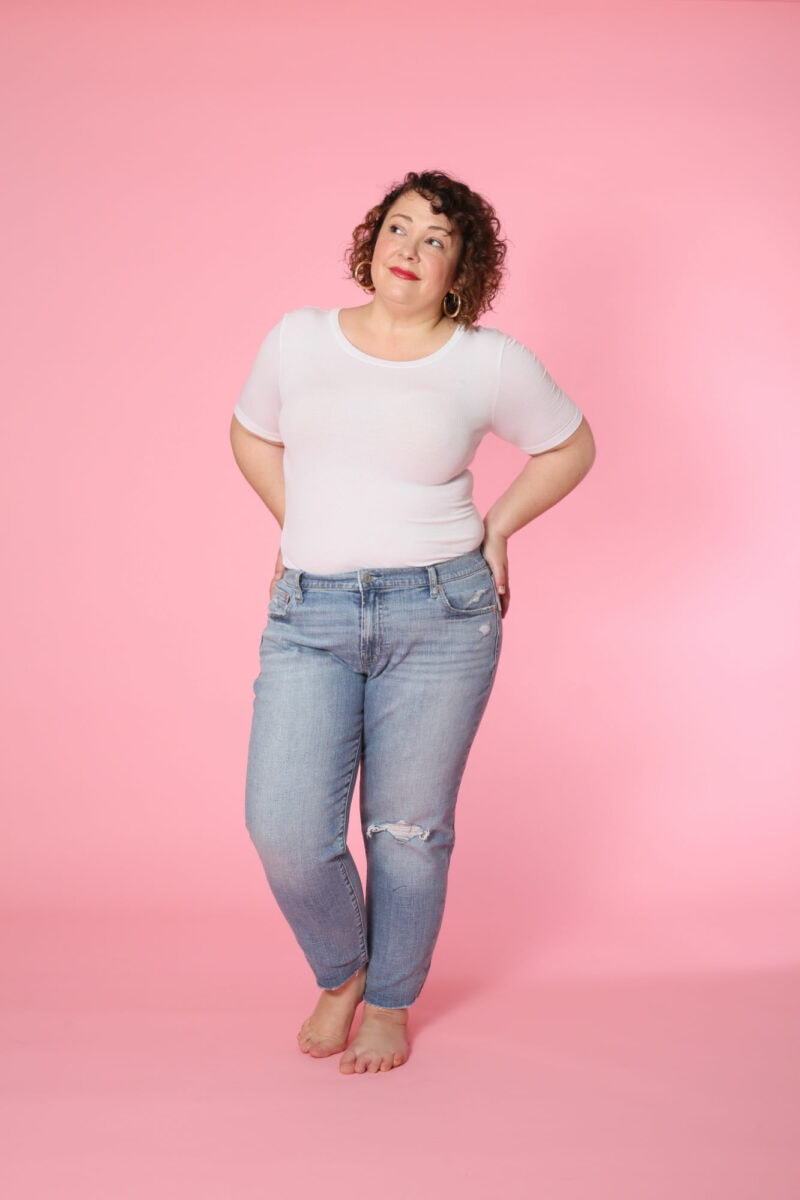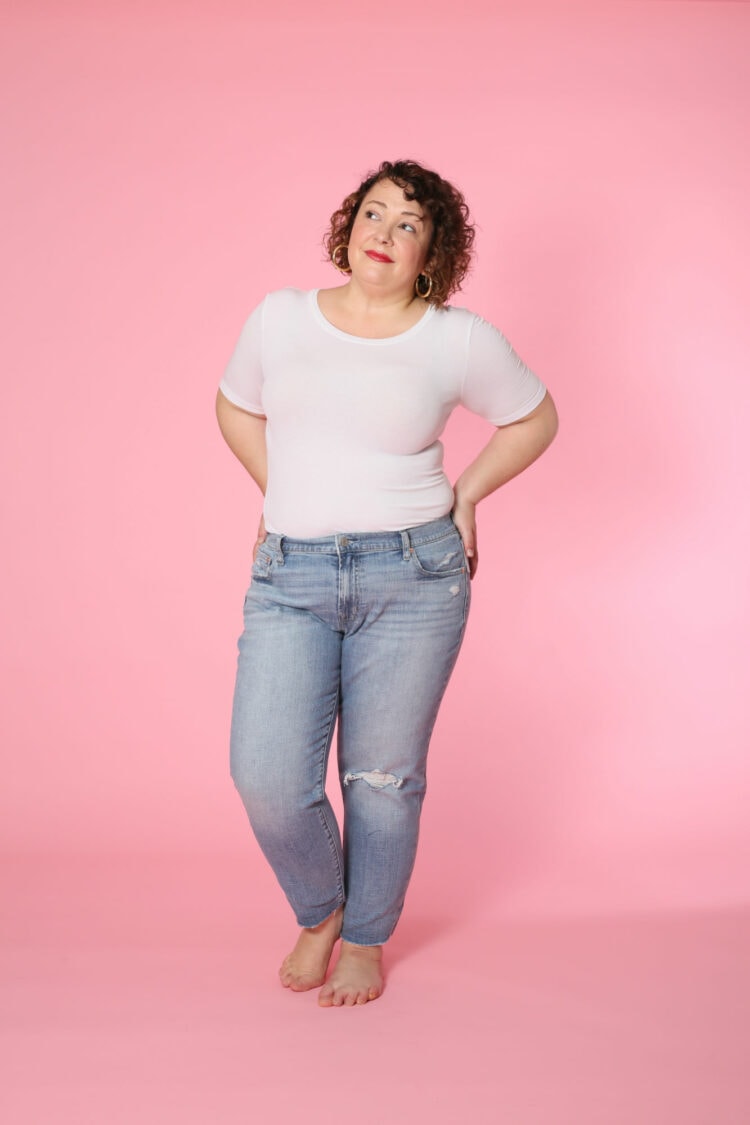 These were the 10th jeans I photographed and my notes say, "Bellow belly button if this is midrise what was Britney wearing?" I double-checked the labels sewn inside to be sure I didn't get a different style of jean but nope, they too said this was a mid rise girlfriend jean in size 32/14 short. Huh.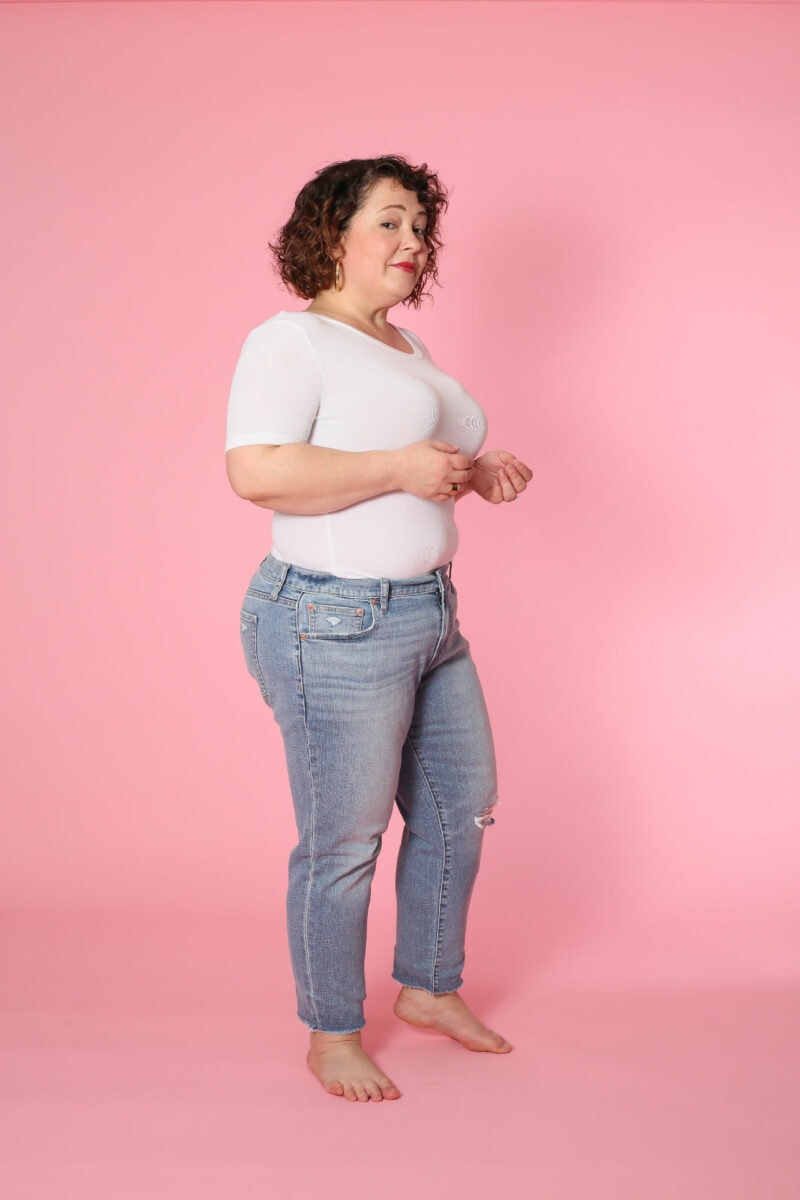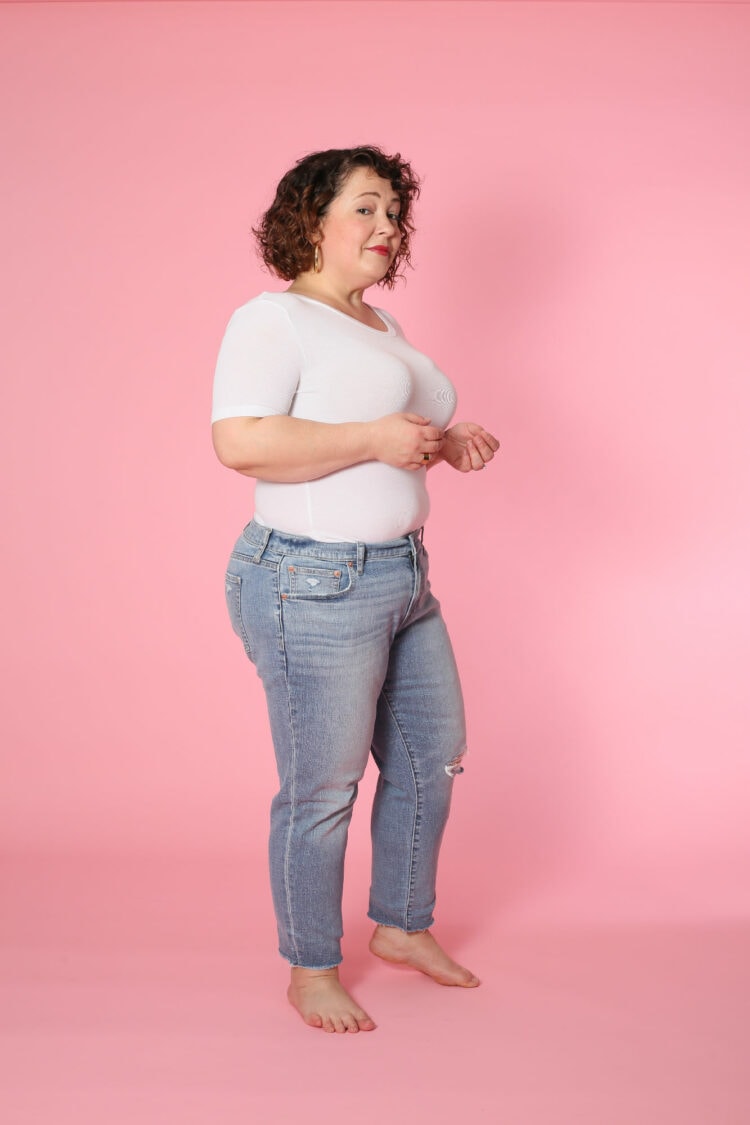 These jeans were so low, my underwear was higher than the jean's waistband. I may not wear string bikinis anymore, but I can't think of a single pair of jeans or pants I have purchased in the past decade that were so low I had to consider which underwear I would wear with them. For reference, I was wearing these from Soma, a perennial favorite.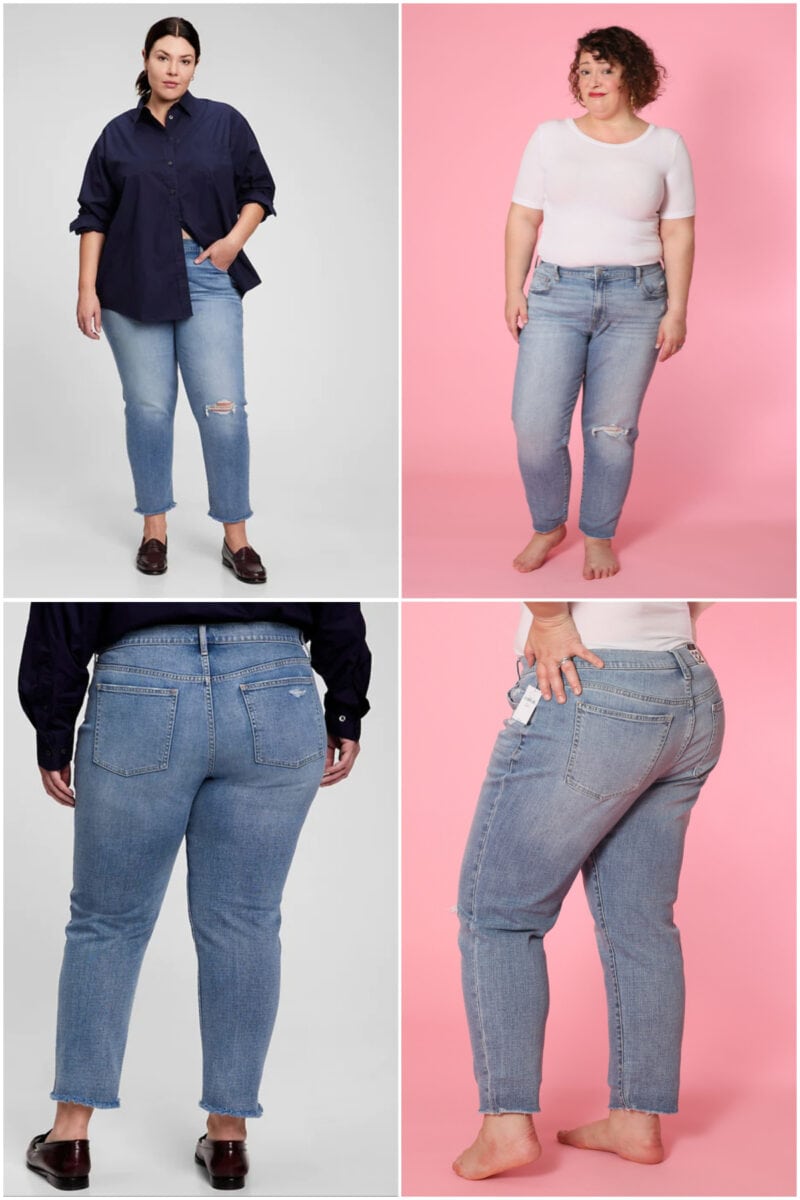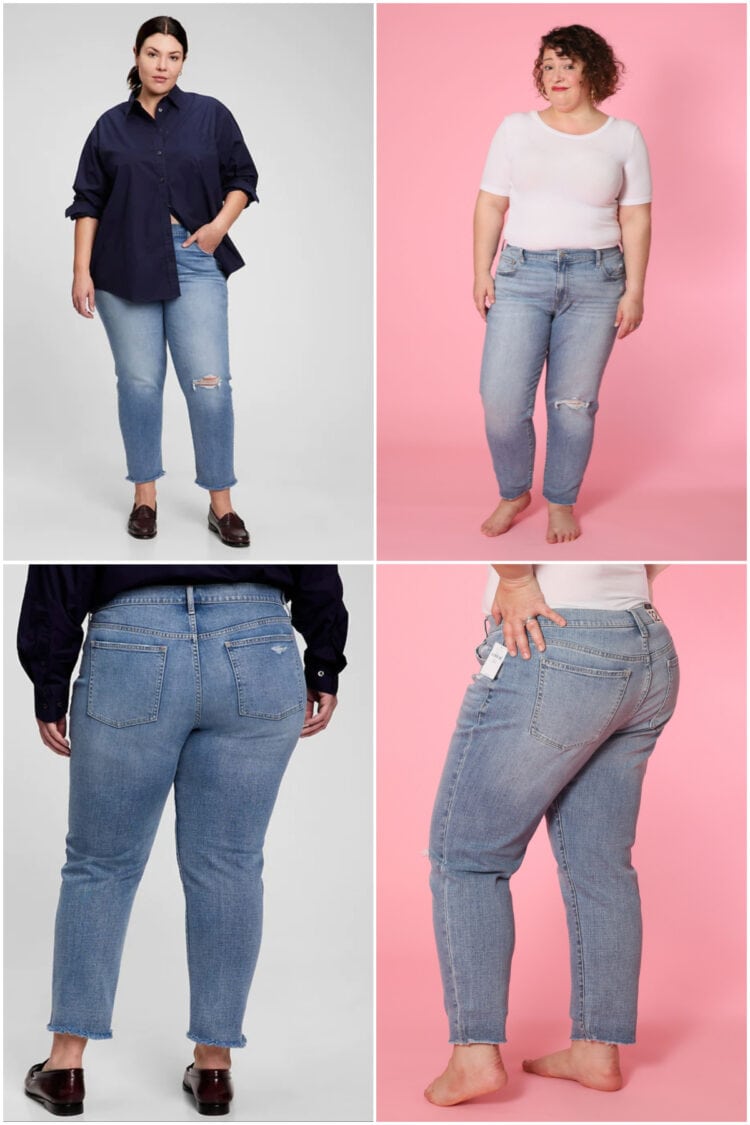 And these jeans were snug below the waistband, but the waistband itself was too big and gaped. These felt a bit like "Theo's shirt" jeans as well, like something went wrong at the factory and there wasn't any quality control. The only plus is I liked the weight of the denim as well as the wash/distressing. If they were cut properly and truly were a midrise, I think these would be nice jeans.
Gap Vintage Slim Mid Rise Jean Review
I am a sucker for the word vintage when describing jeans. Other than when I want a pair of nice rinse jeans, I want jeans that look as though they've been owned and loved for years. I like a frayed hem, a bit of distressing, some faded spots on the thighs. And since these slim mid rise jeans were described as vintage, I ordered a pair in 32 short. I wish I had also ordered a 33… I don't recall if they even had them at the time.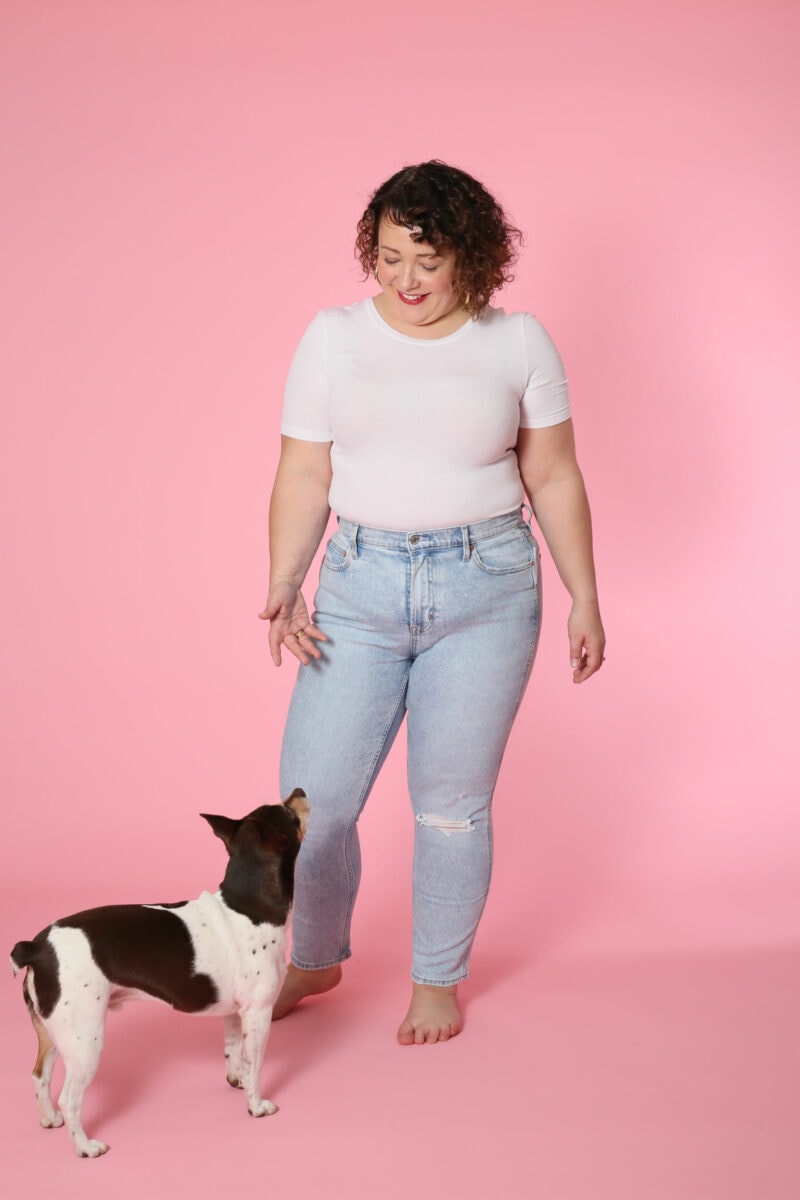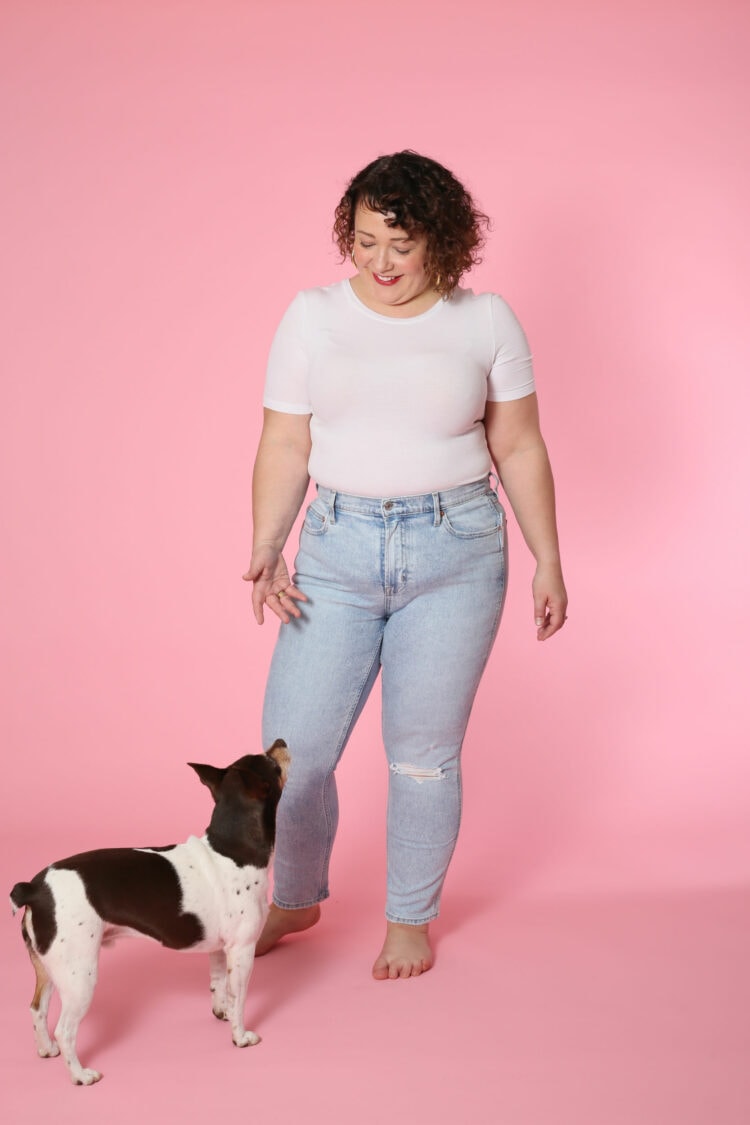 These jeans are too small. They're 86% Cotton, 7% Recycled Cotton, 6% Recycled Polyester, and 1% Elastane and some of the heaviest weight jeans in the mix, but also stretchy. I really liked this denim, I liked how they would hold things in without causing gas pains… that is if they were the right size.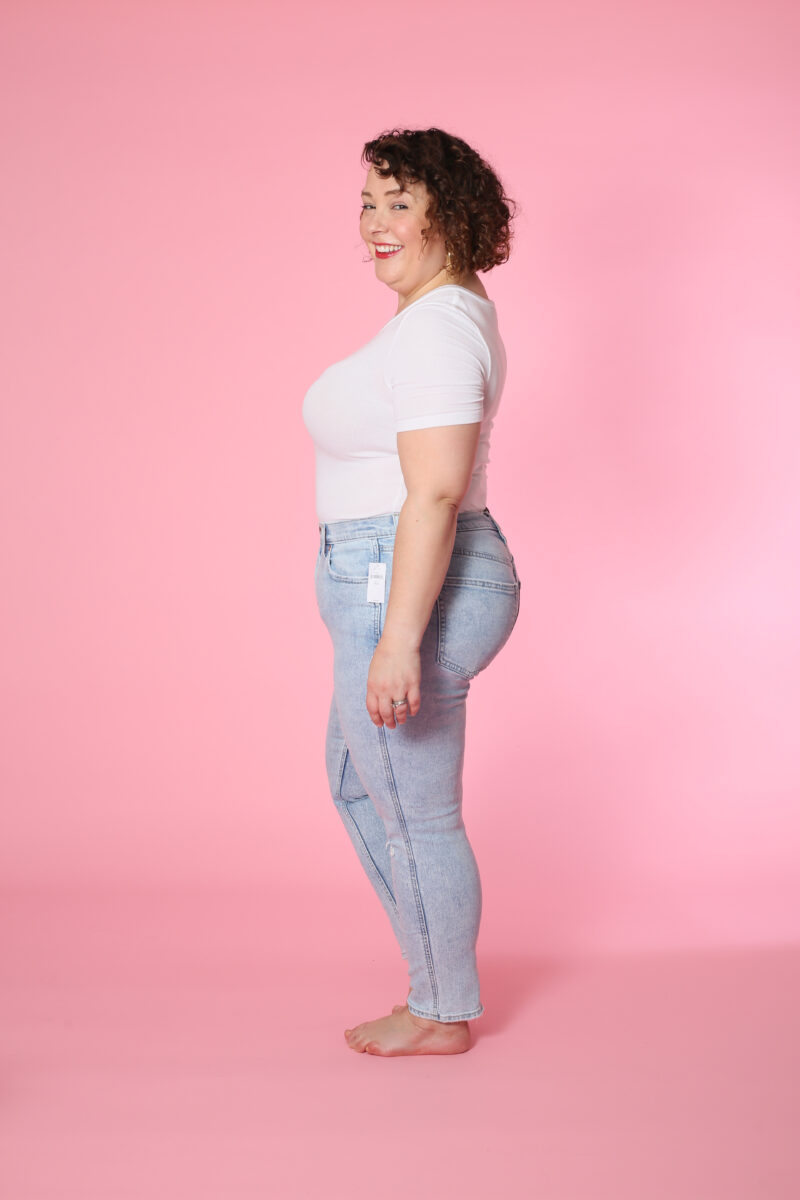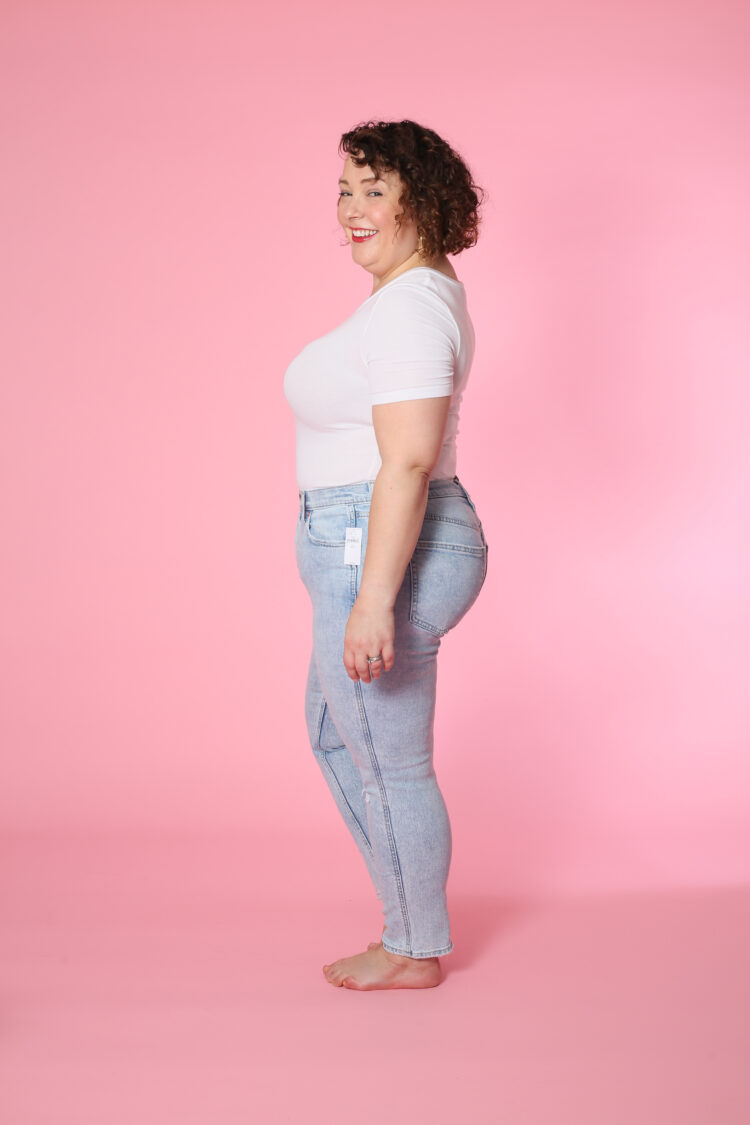 And these jeans were a struggle to close. And the "vintage" wash feels a bit too much like when I was in middle school and listening to Whitesnake and Poison. Like a hint of acid and while acid wash has come back, there's no way I could wear them in such a literal sense. Like, I feel I owned these jeans in the late '80s, but they likely had a Guess triangle on the back pocket.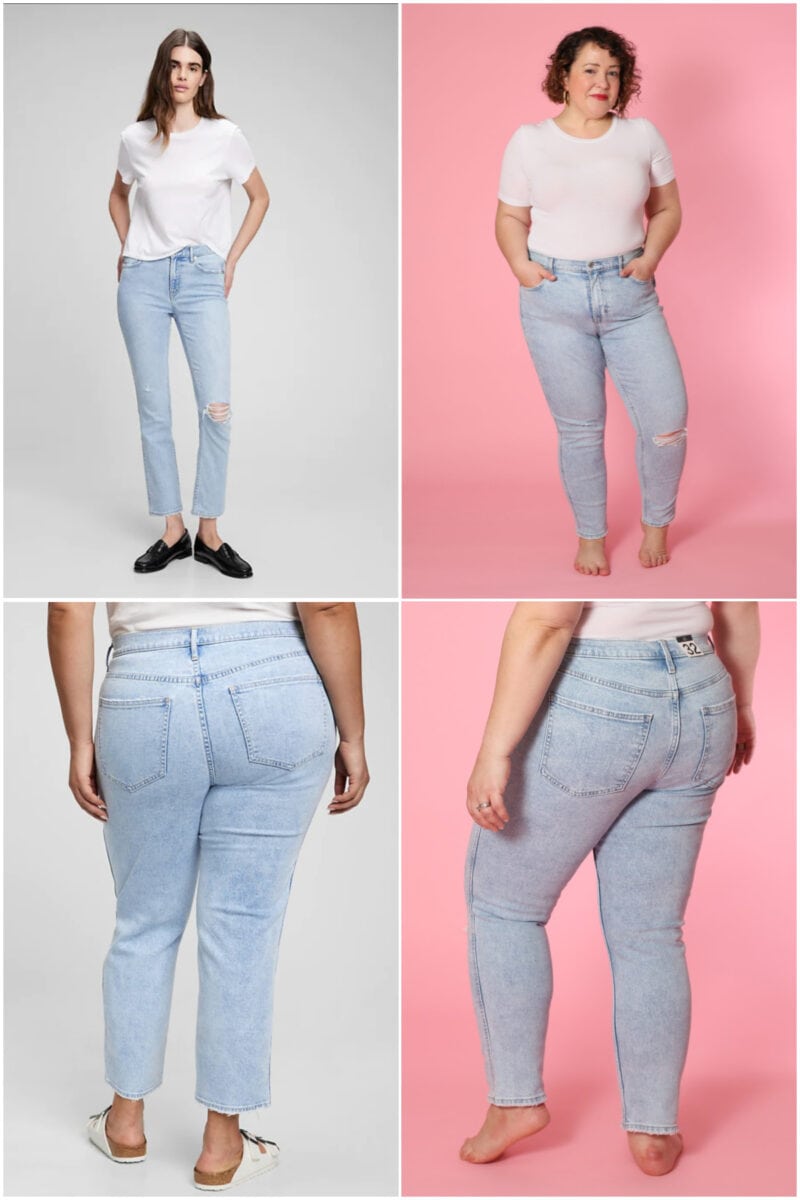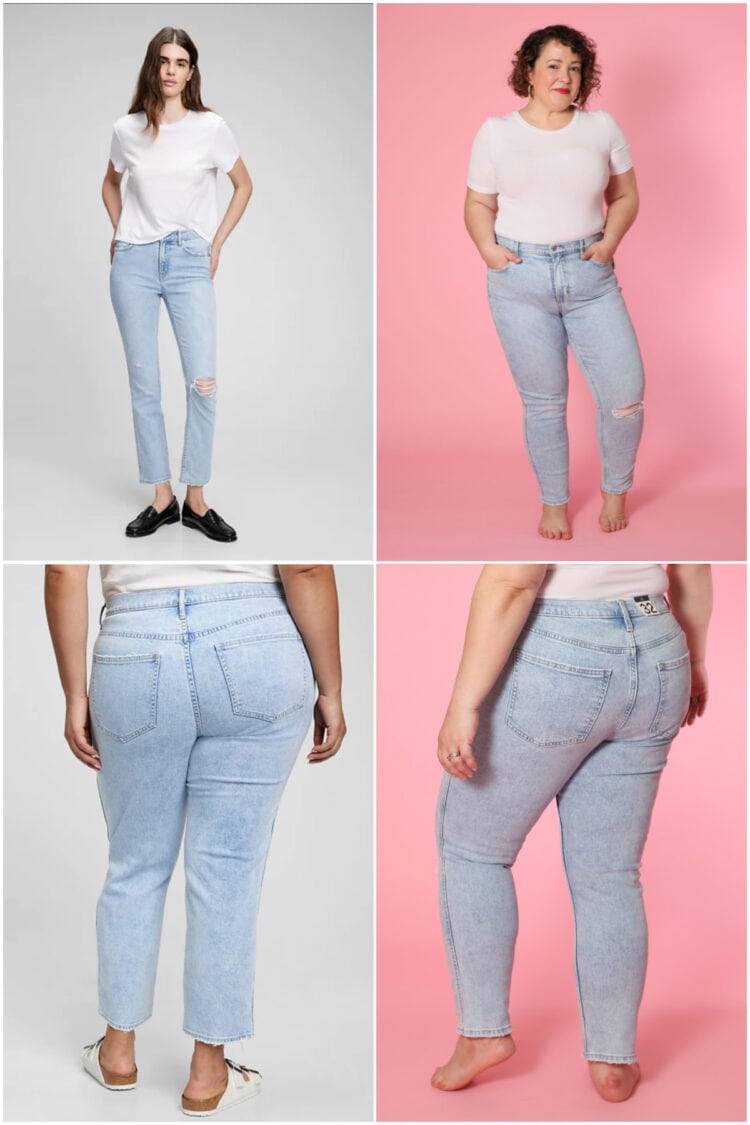 But I liked these jeans and would consider trying them in a larger size. They remind me of my Universal Standard Joni's which are a go-to pair of jeans for me. Luckily they come in other washes, though none are the color I need at this moment. But I may try them again in the fall.
Gap Cheeky Straight High Rise Jean Review
When I ordered these Cheeky Straight High Rise jeans I didn't realize that these jeans in my closet were the same jeans. Same style, same size, same wash. I didn't even realize it when trying them on and realizing that the same size, a 32 short, was so tight I couldn't button them.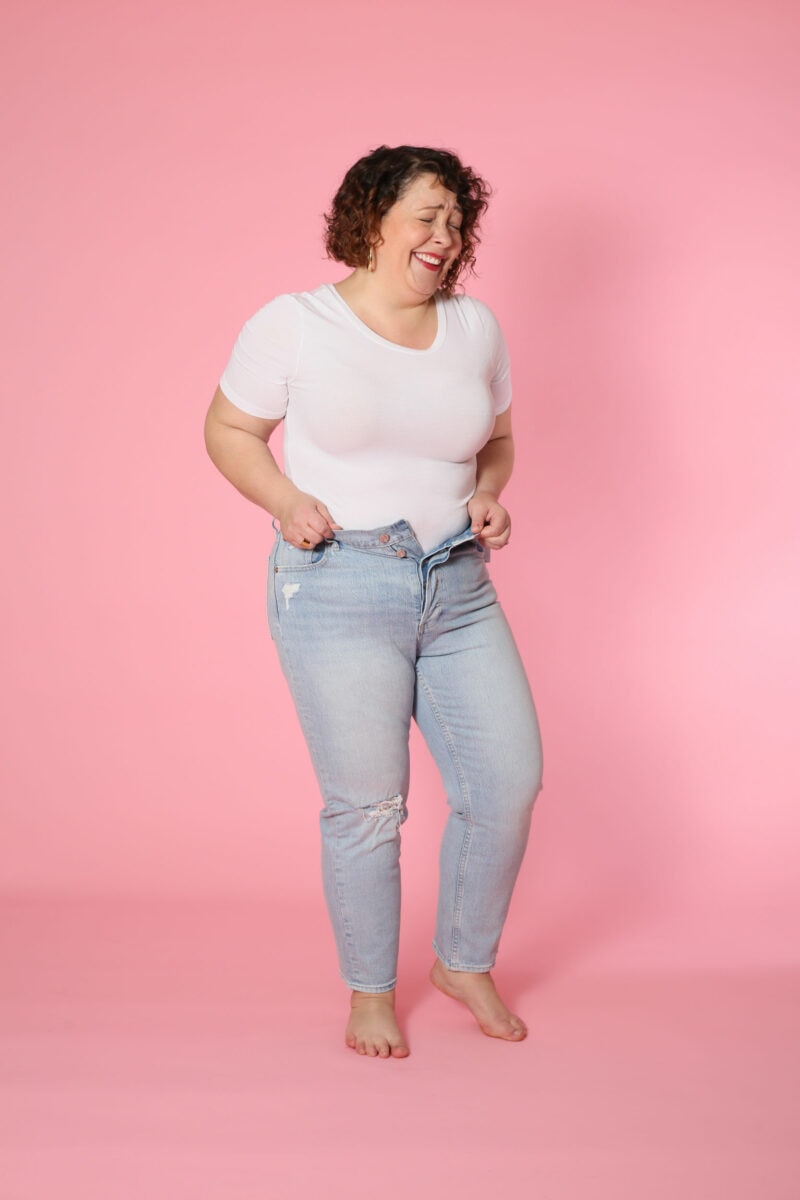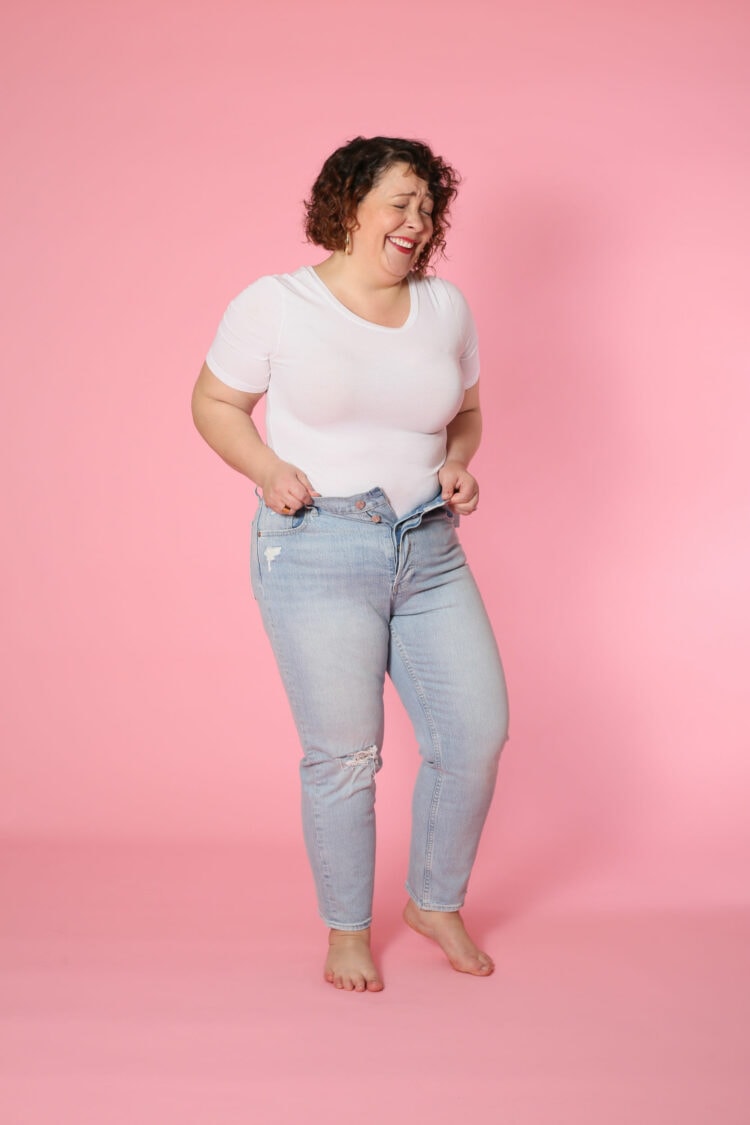 I didn't realize until the end of the shoot when I wanted to make some video to create an Instagram Reel and went to put on the pair of Gap jeans in my closet for it and realized they were the same damn jeans.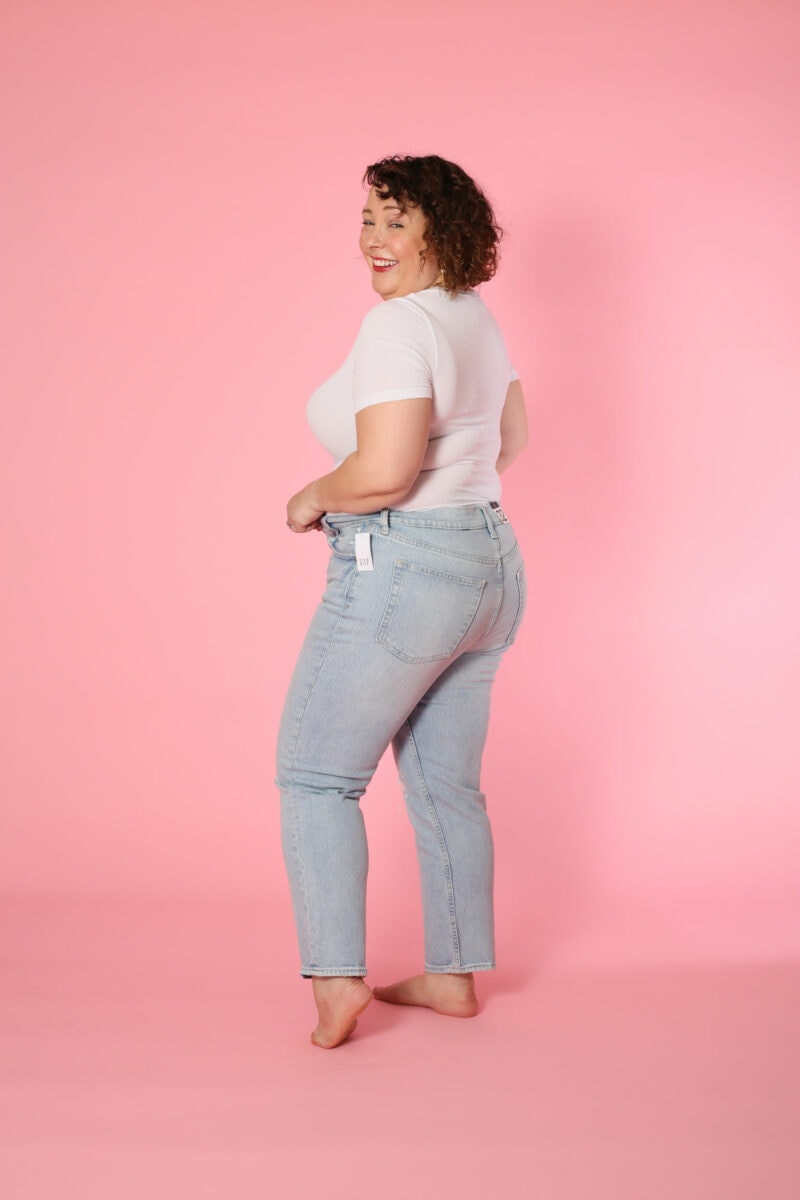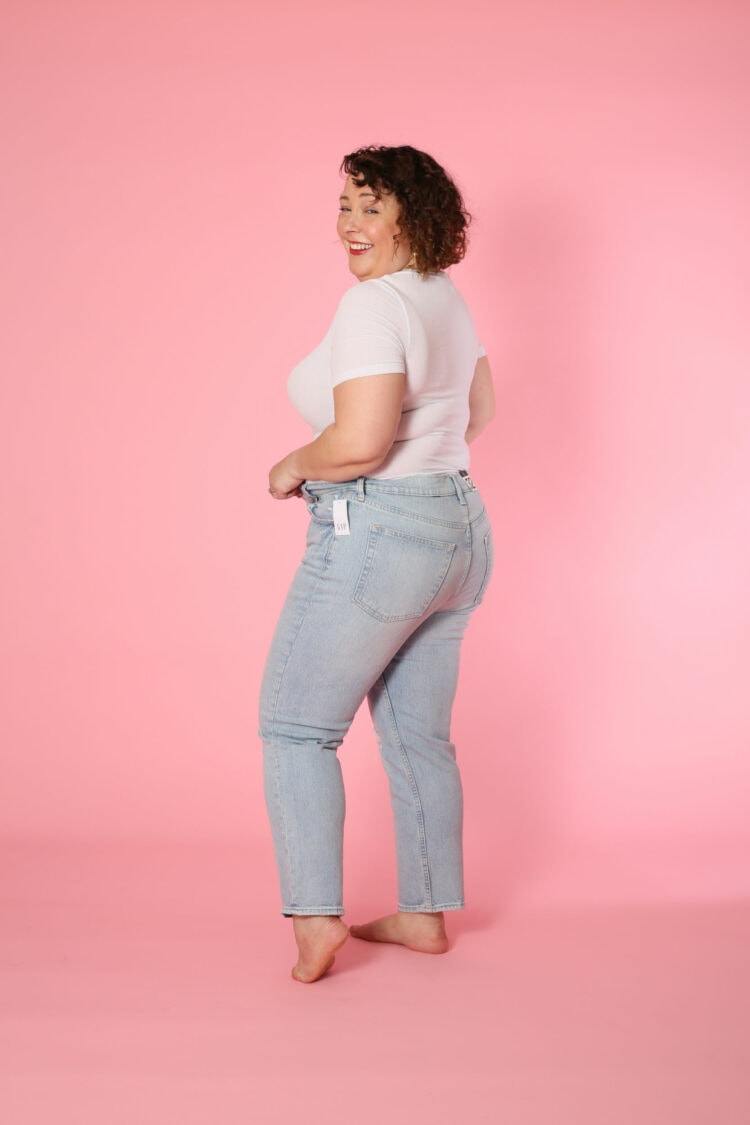 Here you go again, another example of how it's not you, it's the clothes. I literally own these jeans, they still fit (though a tad more snug than last year but that's not important) and these I could hardly get over my rear and could not button the last two buttons. That's not my jeans stretching out over time, that's the new jeans being cut wrong.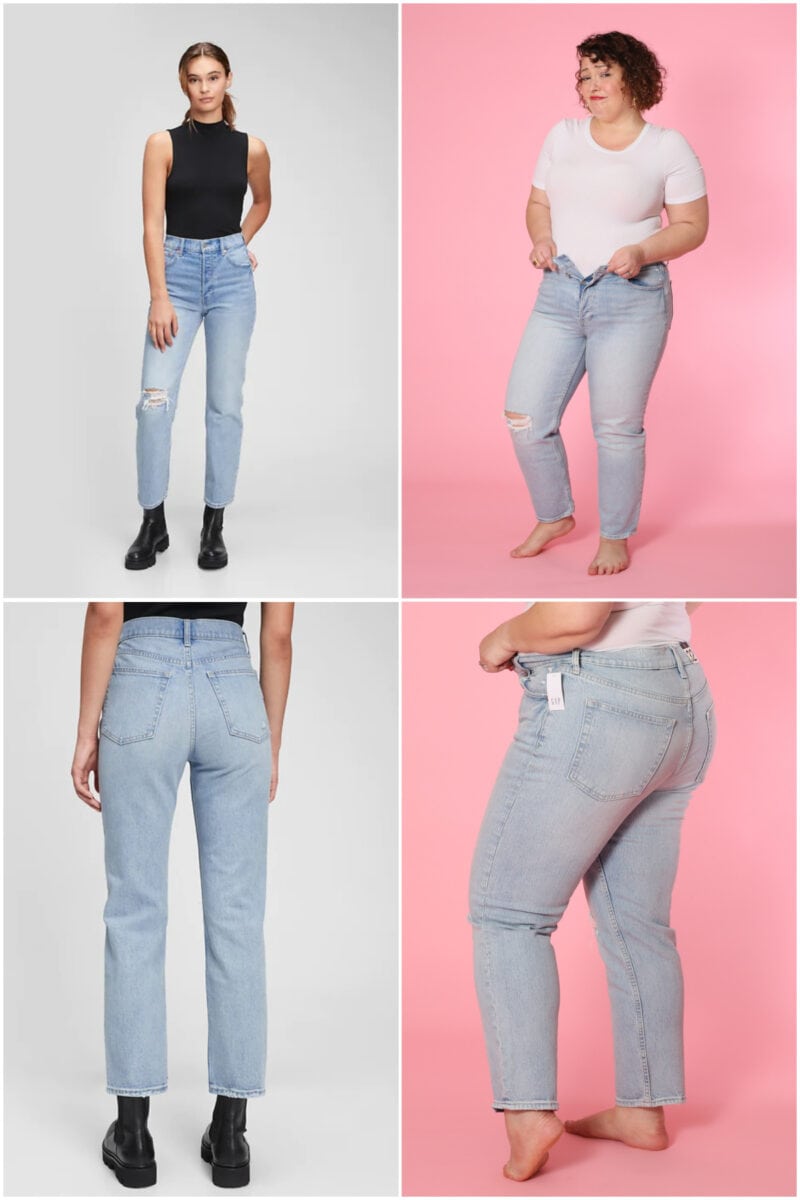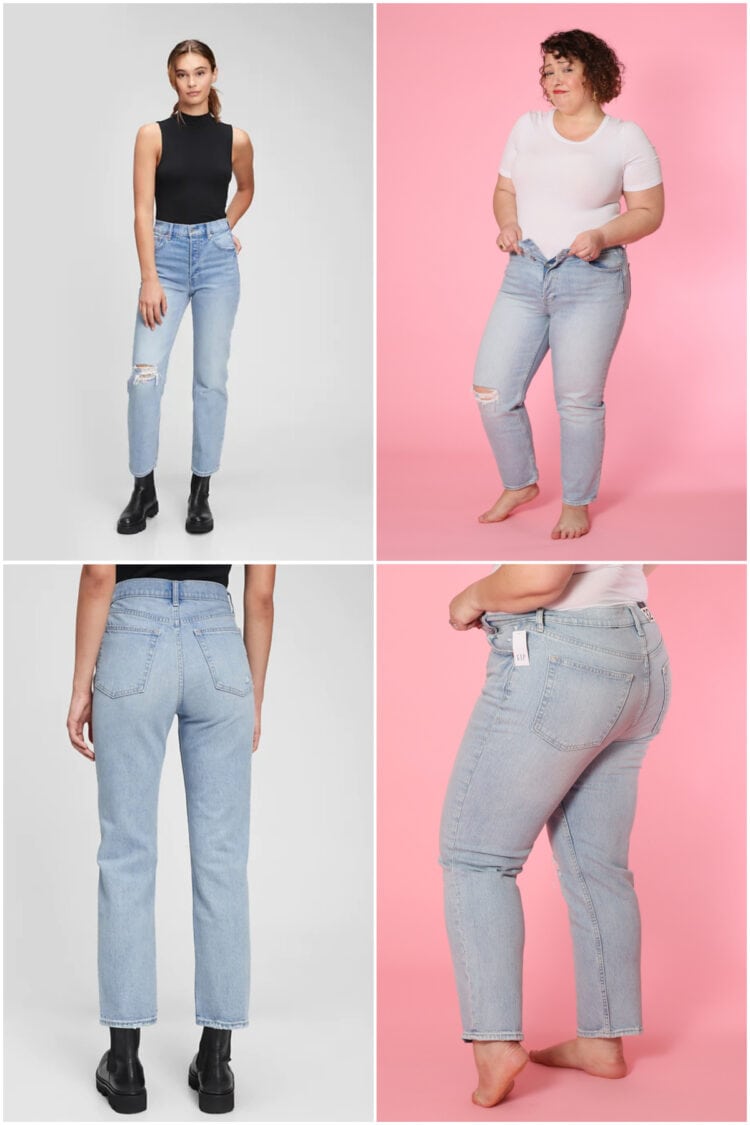 I can't think of a pair of jeans more fitting to end this Gap denim haul review with than these jeans which are a perfect example of the disappointing denim available at this retailer.
Come ON Gap, you have ONE JOB. Gap, since 1969, has been known for denim (though their own label of jeans didn't start until 1974). We don't need designer collaborations, we don't need you to make trendy tops or fake Birkenstocks. I'd even give up your holiday Crazy Stripe pieces if you'd just focus on making halfway decent denim again.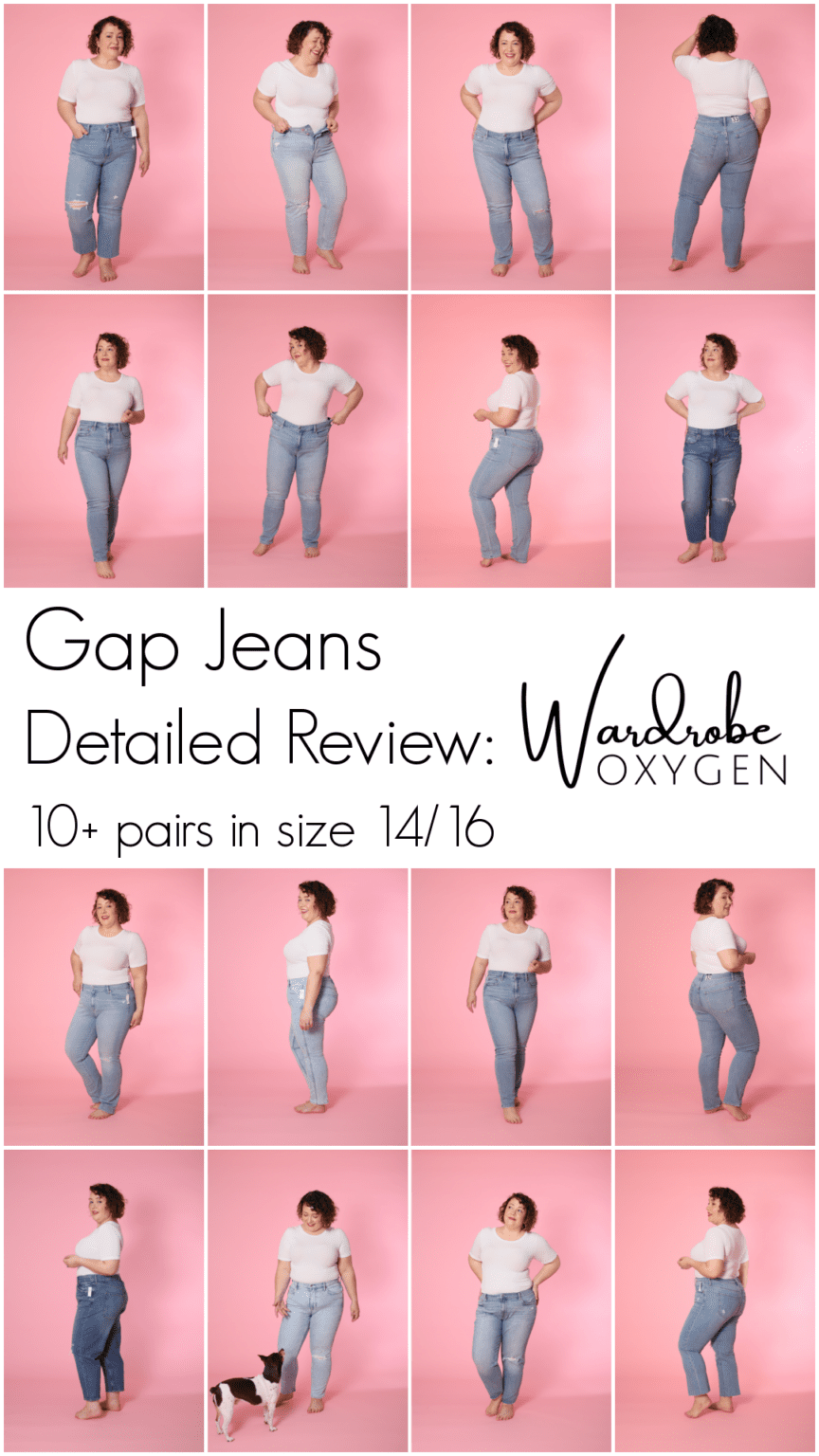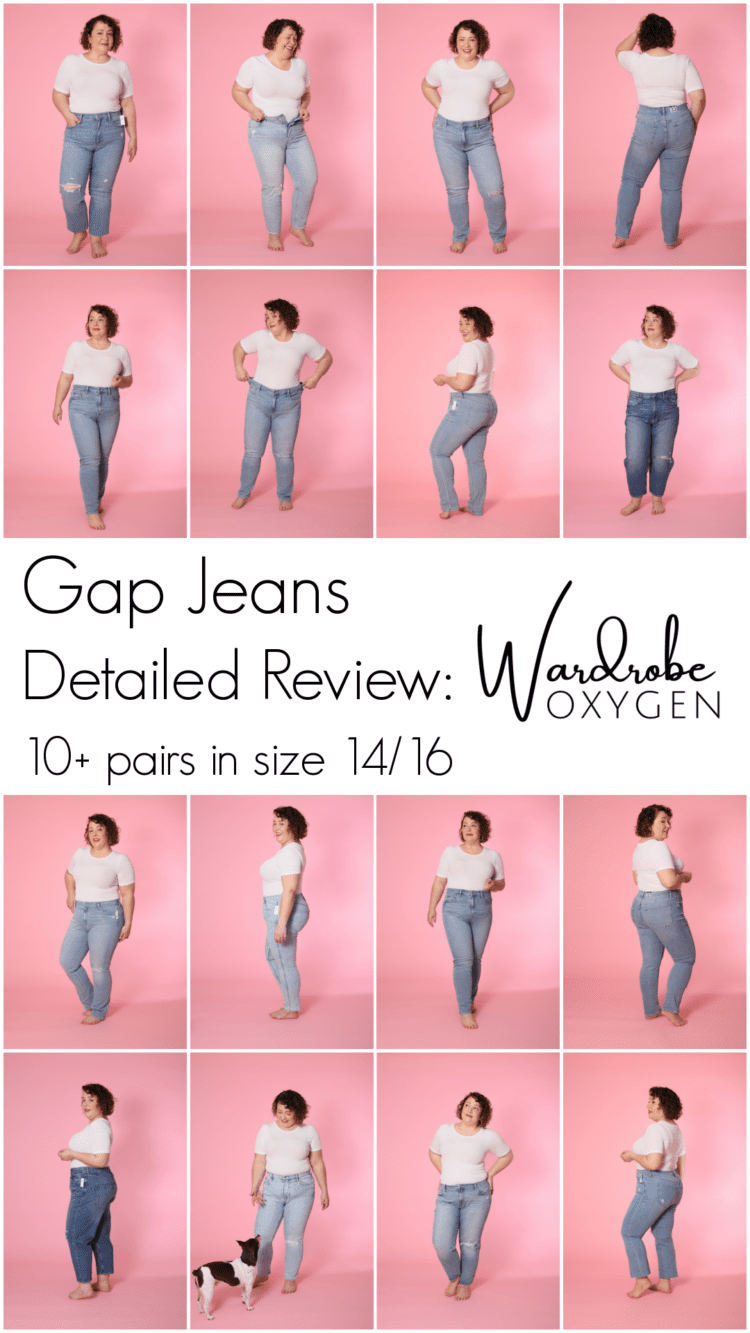 And it's not like I am some trend predictor or brand consultant, but I think if you stuck to the basics you may be able to survive. Because the past years haven't been kind to you Gap. Make jeans, make some jean jackets and other denim things, have a couple basic t-shirts, and instead on focusing on the rest, perfect these things. And with that extra funding you're giving folks like Kanye, consider extending your size range.
That being said, not all these jeans were bad. And I know my body and tastes are different than many of you. My fails may be wins for you and vice versa. I hope this Gap denim review proves helpful in some manner. And I hope for my next denim haul to find a brand that is equally as reasonably priced, accessible, but has a broader size range.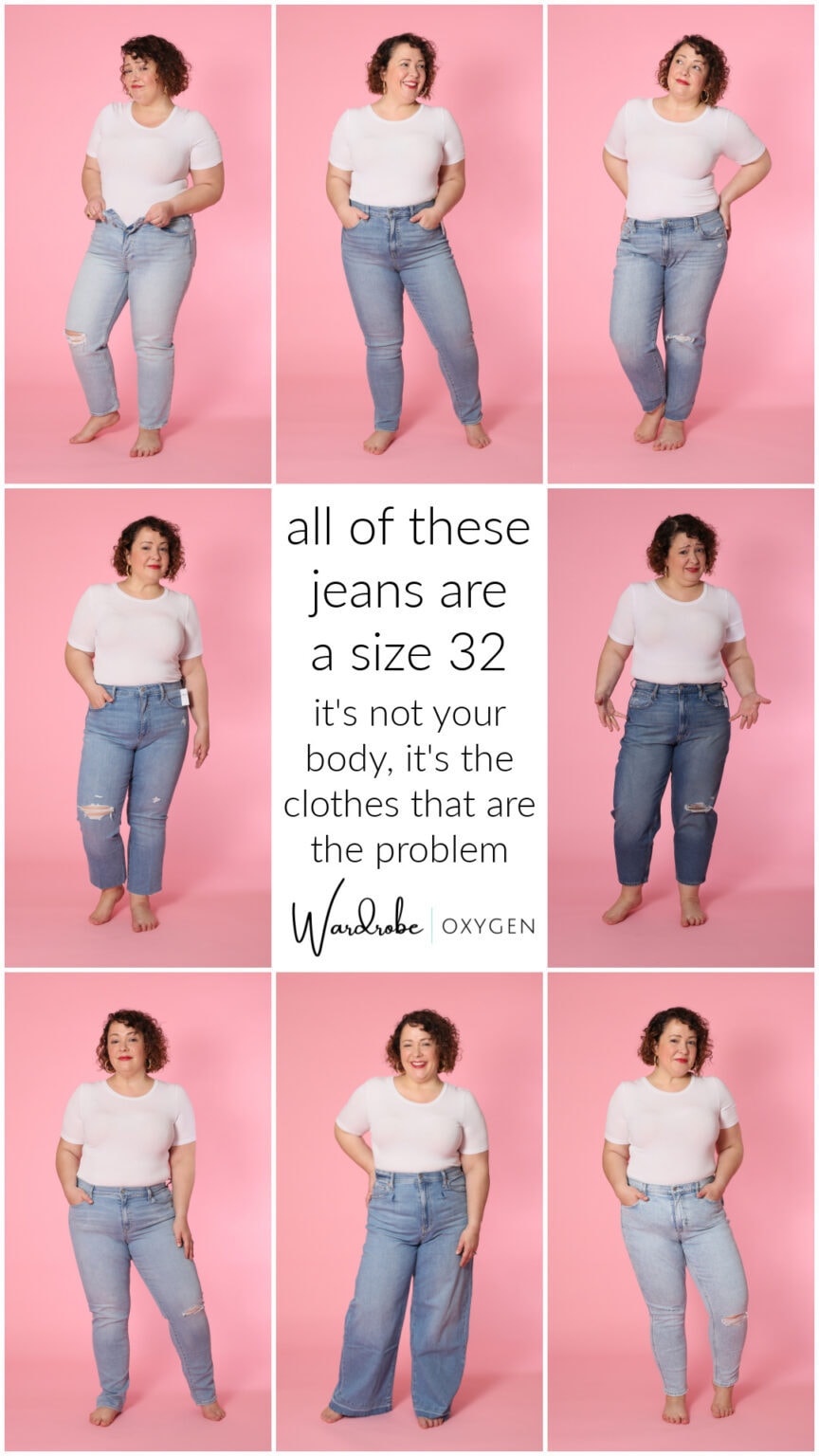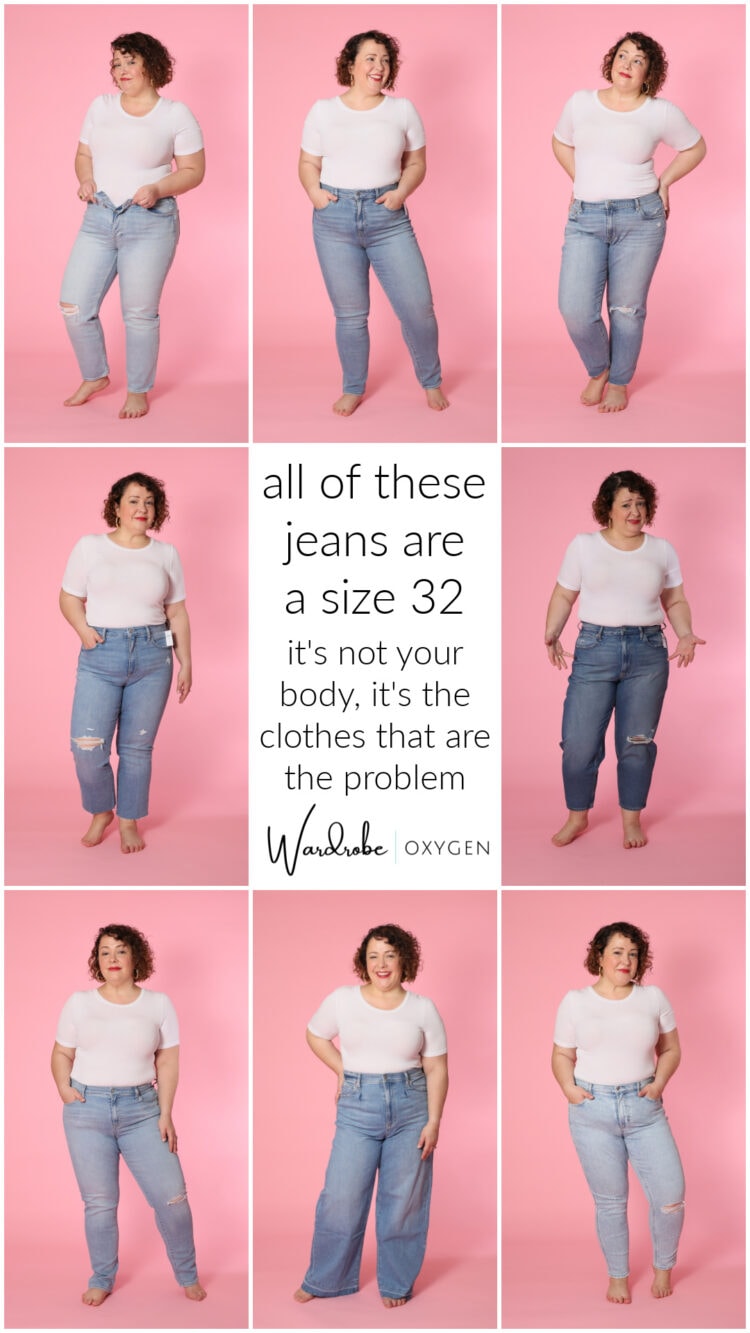 And now I need to hear from those of you who HAVE had success with Gap jeans. What styles have worked for you? What tips do you offer for shopping Gap jeans? And even if it isn't Gap, where have you found really great jeans lately that don't break the bank? Share in the comments and help a fellow member of the Wardrobe Oxygen community. And who knows, your recommendation may be the brand I choose for my next denim haul!