This article may contain affiliate links; if you click on a shopping link and make a purchase I may receive a commission. As an Amazon Associate, I earn from qualifying purchases.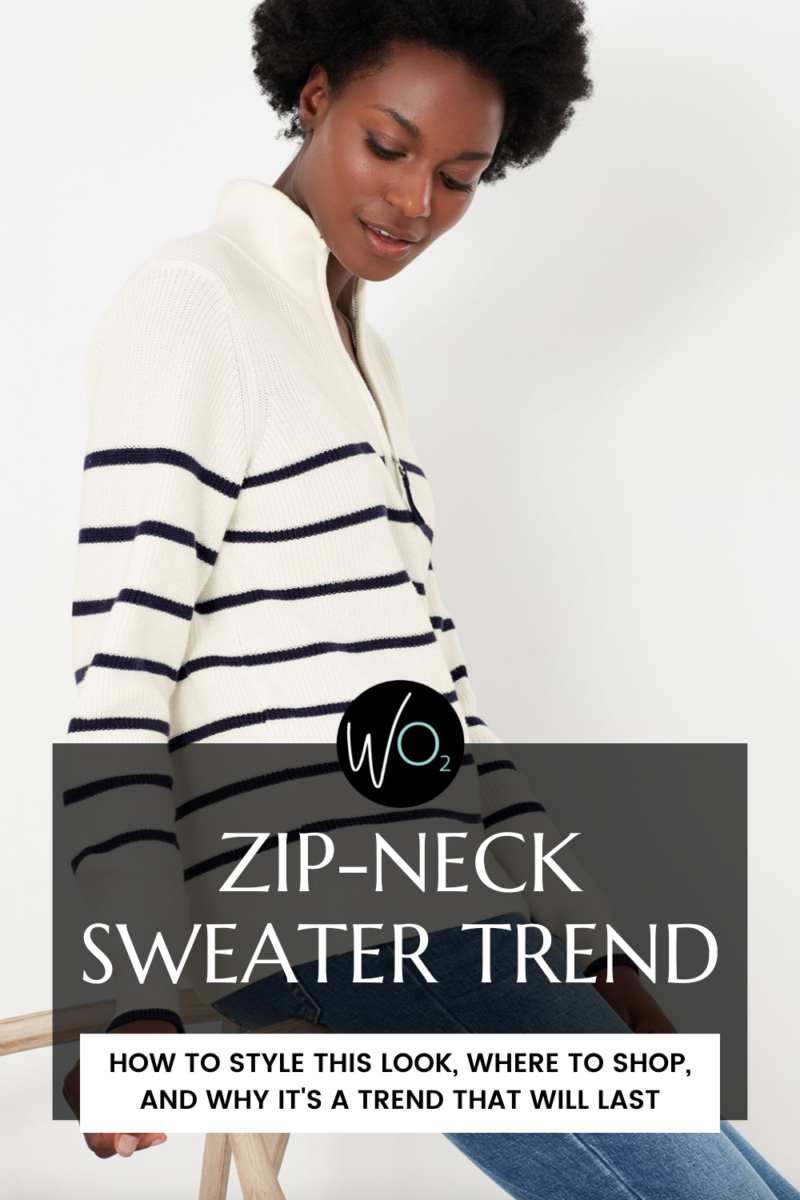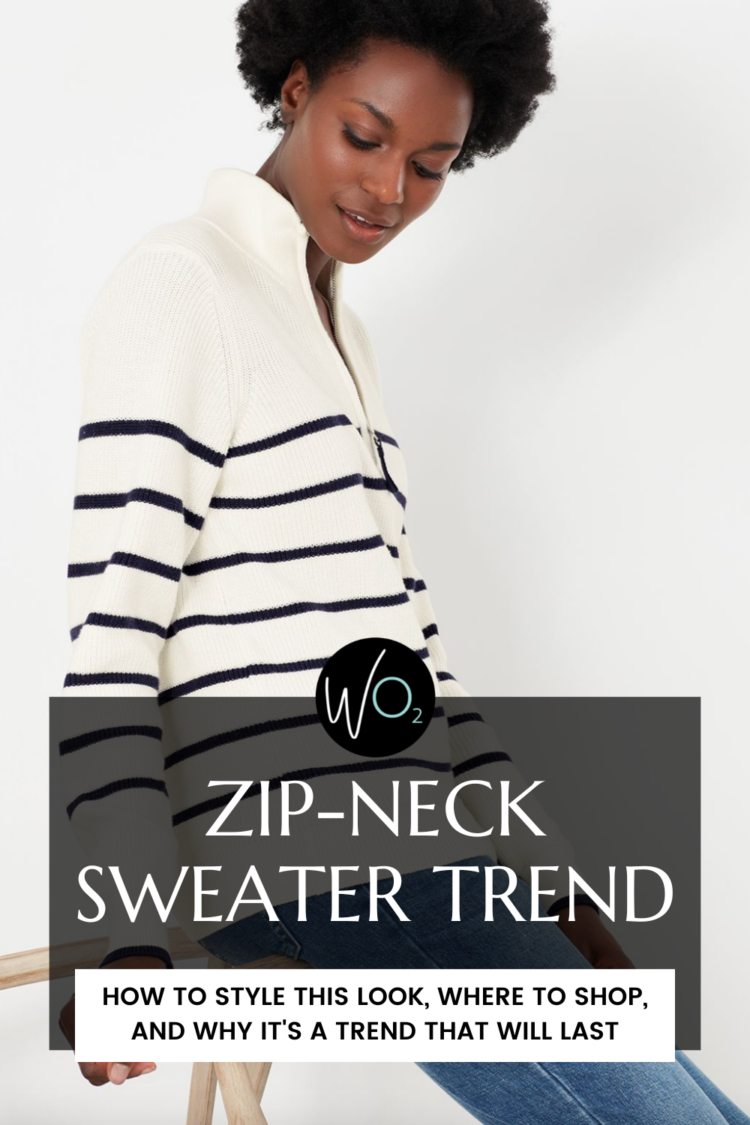 Gosh I love it when a classic fashion piece becomes trendy. Go up in the attic, head to the thrift store, and finally shop for the size, fabric, and color you always wanted! Well the zip-neck sweater is back, baby and it's a great trend. Get your nautical vibe on, get cabin cozy, or elevate your classic half-zip fleece style with a sweater knit.
When you search for zip-neck sweaters this fall, you'll find they're called mock necks (which they are when fully zipped), quarter zips, half zips, and a few retailers have gotten really creative calling them all sorts of other things (open neck, adjustable neck, polo collar, shawl, collar… it's hella confusing).
Because it's sort of hard to search for this fall trend of zip-neck sweaters I did the work for you! These are the best zip-neck sweaters I found on the internet in a range of sizes, yarns (for those who only wear natural fibers or don't wear wool or want a certain effect), and pricepoints!
Stick around past the collages, I have a discussion about trends that last and why, and how we can take part in making fashion more democratic and accessible. I have thoughts…
Striped Zip-Neck Sweaters for Fall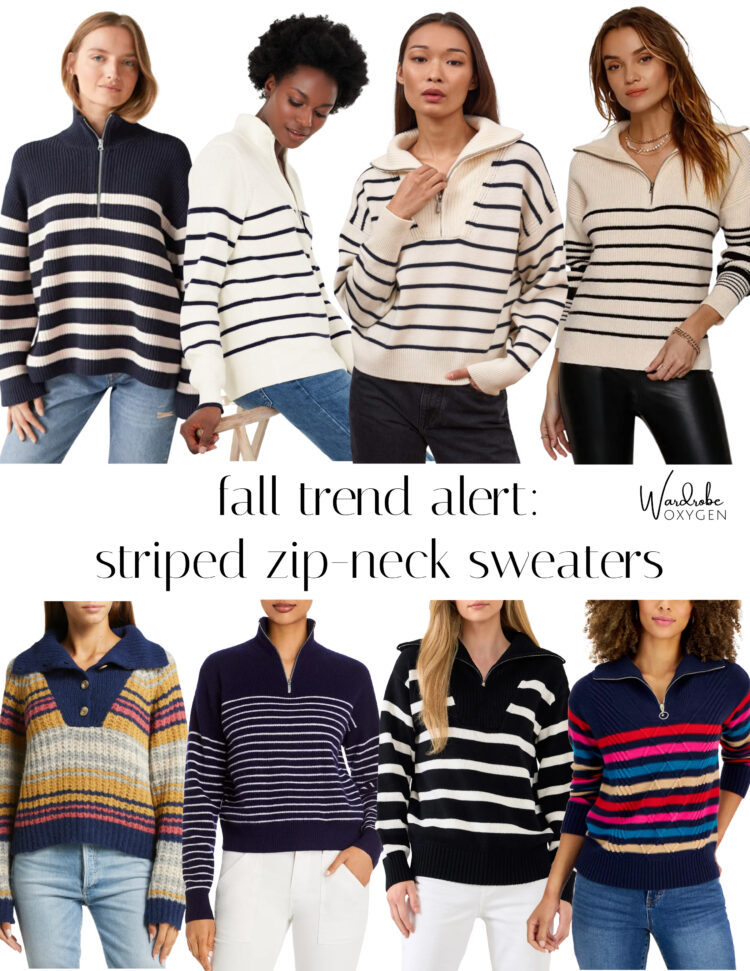 Top row: one (recycled polyamide; 3 colors, XS-L) | two (cotton; 2-16) | three (merino; 3 colors, XS-XL) | four (poly blend; S-L)
Bottom row: one (alpaca blend; XS-XL) | two (cashmere; 2 colors, XS-L) | three (cotton; XS-L) | four (cotton blend; 2 colors, PXS-PXL)
No surprise, your stripes-loving friend Alison is really into the striped version of this fall trend. It's classic, and something that can be rocked with well-worn denim, cozy cords, your favorite jersey joggers, or even luxe leather. Glam it up with suiting trousers for the office or jeans for the weekend, this look won't be passe in a season's time.

Solid Colored Zip-Neck Sweaters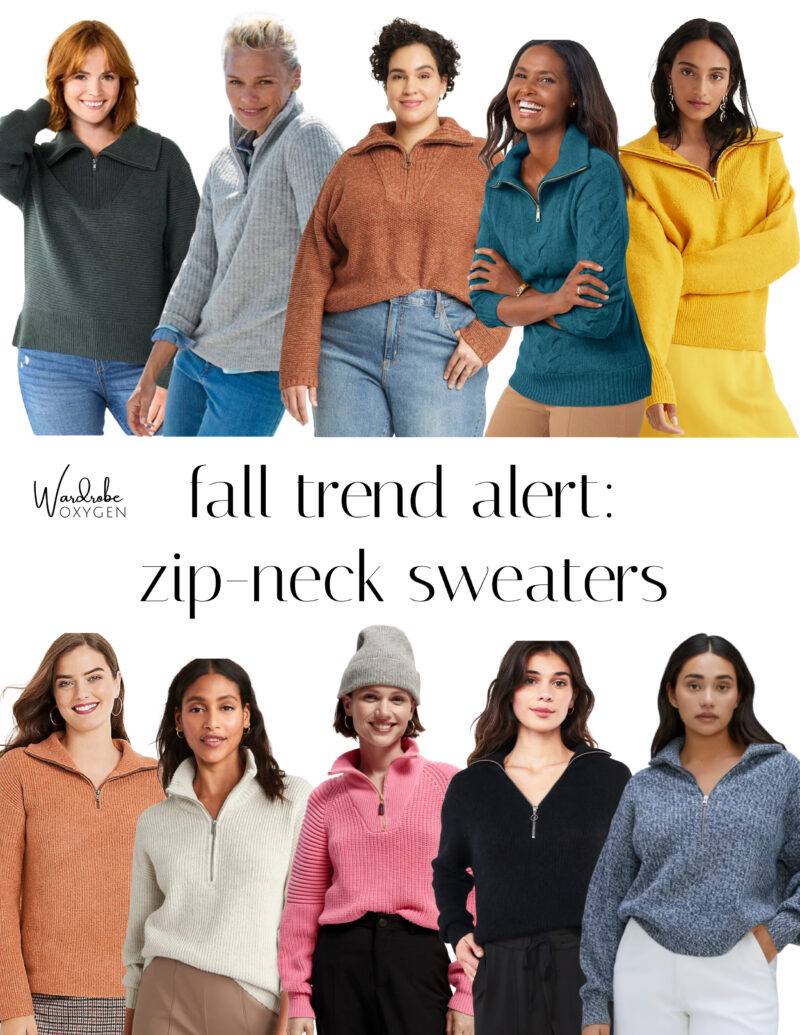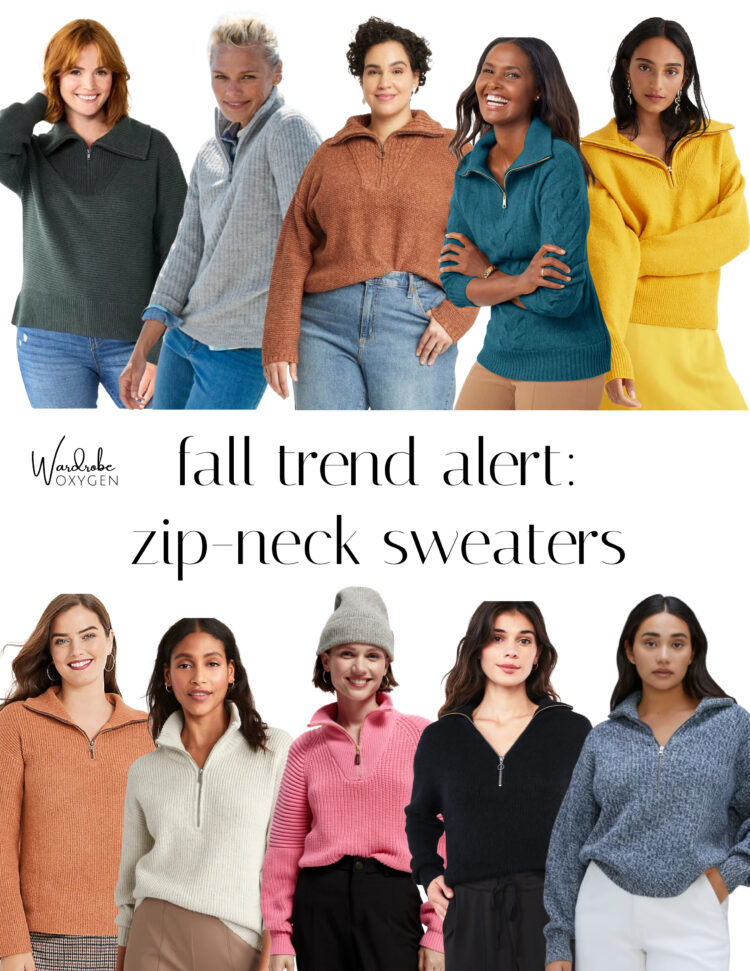 Top row: one (cotton blend, 6 colors, XS-XXL) | two (wool blend, 5 colors, XS-3X + petite)| three (cotton blend, 4 colors; XS-4X) | four (cashmere; XS-3X + petite) | five (wool blend, 4 colors, XXS-3X)
Bottom row: one (poly blend, 3 colors, XS-XXL) | two (cotton blend; 3 colors, XS-4X) | three (organic cotton blend; XS-XL) | four (alpaca blend, 4 colors, XS-XL) | five (merino, 5 colors, XXS-XL)
While you will find plenty of zip-neck sweaters in soft neutrals like cream and khaki, this fall I'm seeing a nice range of other colors too. Plenty of autumnal shades of pumpkin and pine, but occasionally you'll find a brighter color or interesting intarsia print.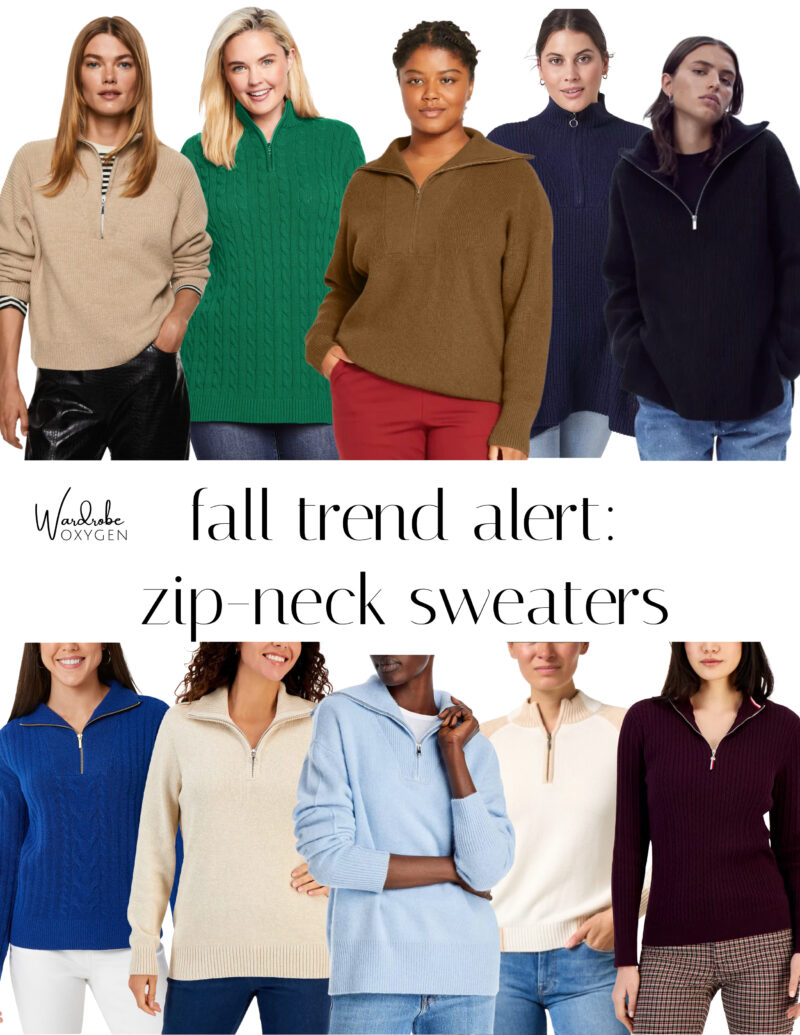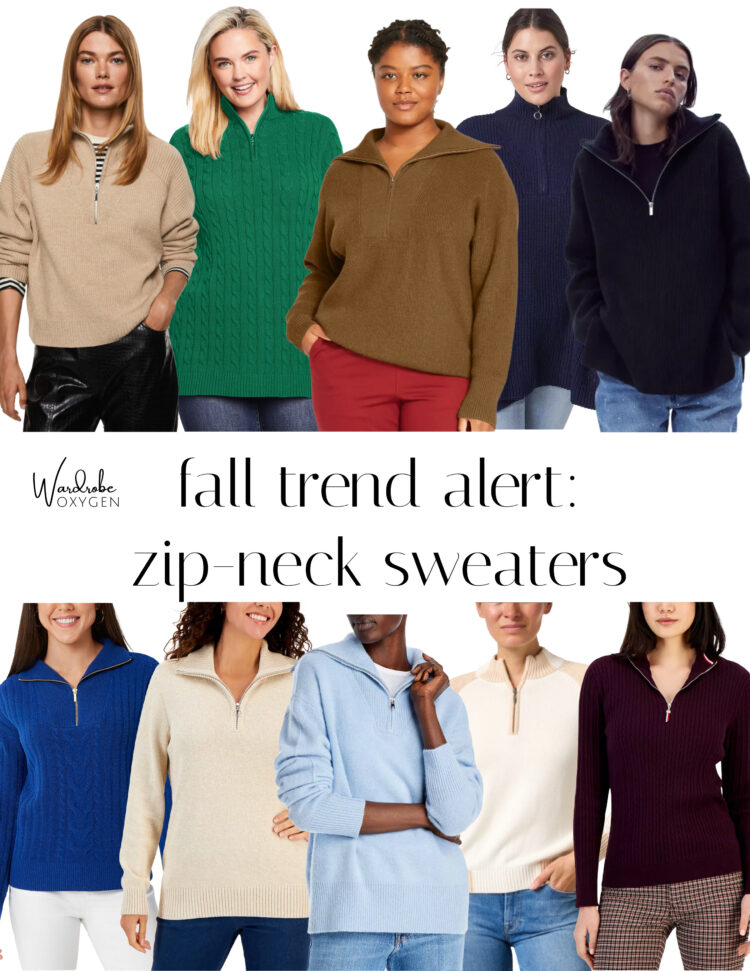 Top row: one (viscose blend; XXS-XXL) | two (8 colors, 14/16-38/40)| three (viscose blend; 2 colors, XXS-4XL) | four (acrylic; 3 colors, 14-28)| five (wool blend; XS-XXL)
Bottom row: one (poly blend; 5 colors, XS-XXL) | two (cotton; 7 colors, XS-XXL) | three (cashmere; 3 colors, XS-XXL) | four (cotton; XS-L) | five (cotton; 7 colors, XS-XXL)
While most zip-neck sweaters are hip length, you will also find tunics and interesting silhouettes (batwing sleeves, ponchos, etc.). As the season continues you will find more selection in color and silhouette, but already you will find plenty of size range.

Button-Neck Sweaters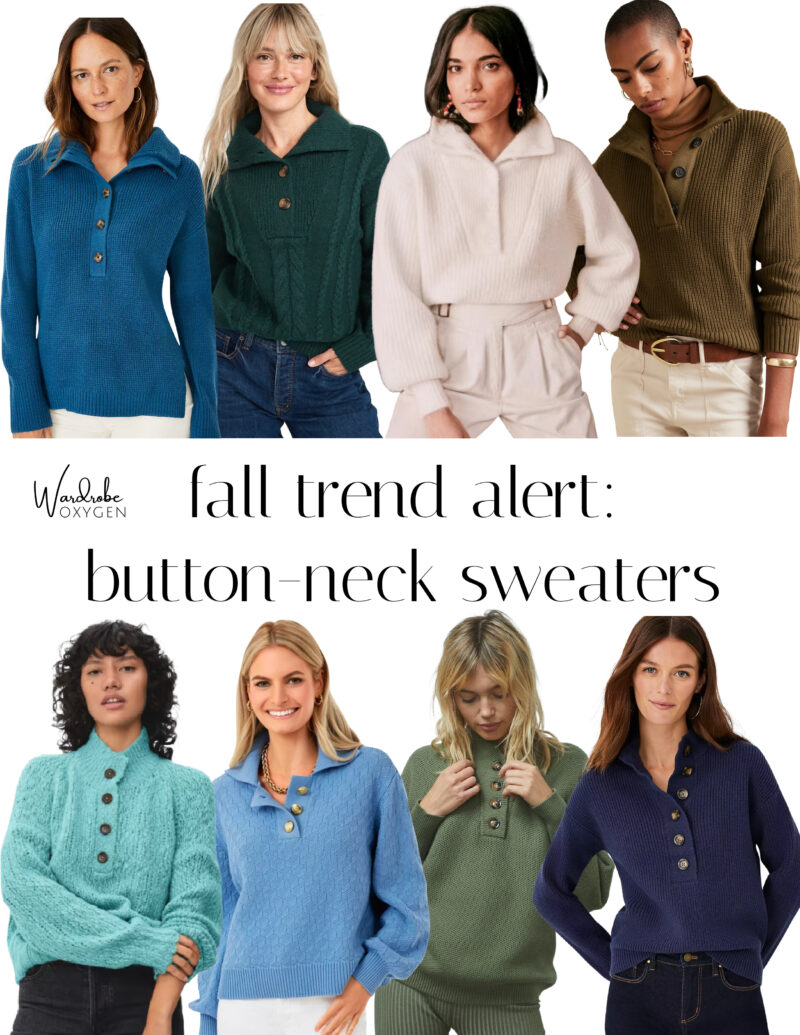 Top row: one (acrylic blend; 3 colors, XXS-XXL + petite) | two (recycled poly blend; XS-4X + petite) | three (mohair blend; two colors, XXS-3X) | four (acrylic blend; 3 colors, XXS-XXL)
Bottom row: one (wool blend; XXS-XL) | two (cotton; 2 colors, XS-3X)| three (cotton blend; 9 colors, XS/S-L/XL) | four (acrylic blend; 2 colors, XS-XXL)
Like the concept of a zip-neck sweater but prefer a different aesthetic? Don't like hardware on your knitwear? There are also several sweaters in the same concept as the zip-neck sweater but instead use buttons.

Why I Predict/Hope the Zip-Neck Sweater Trend Will Continue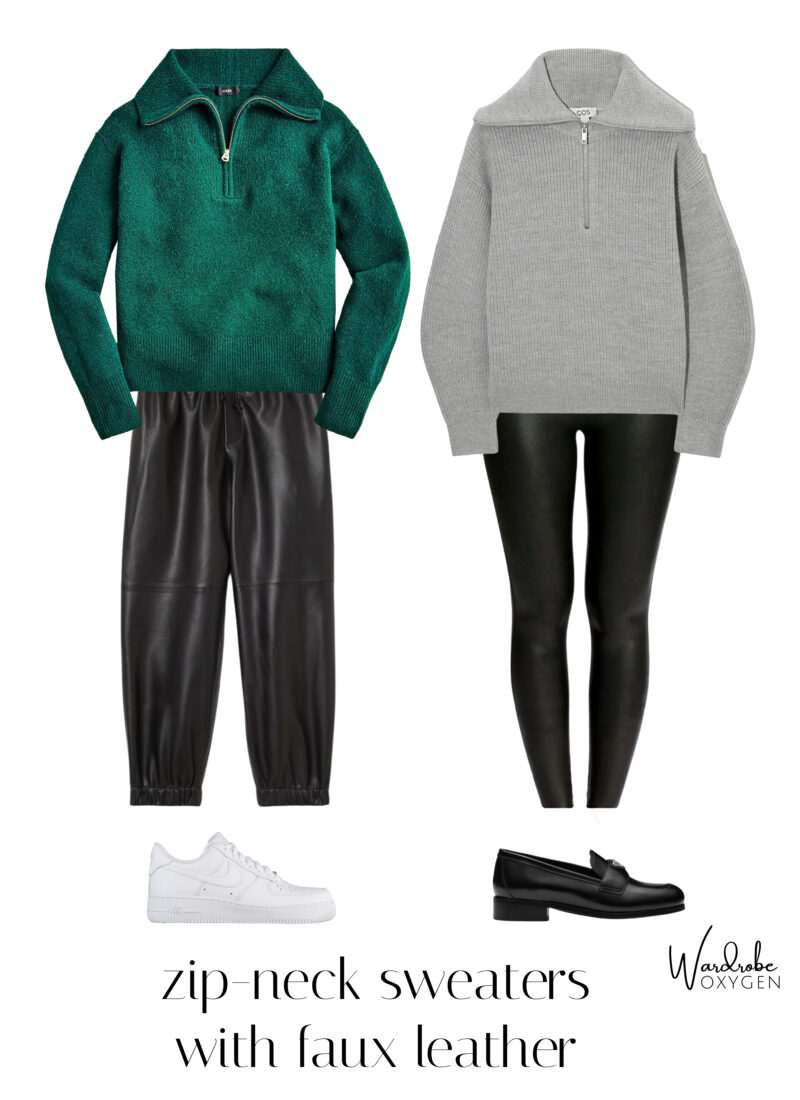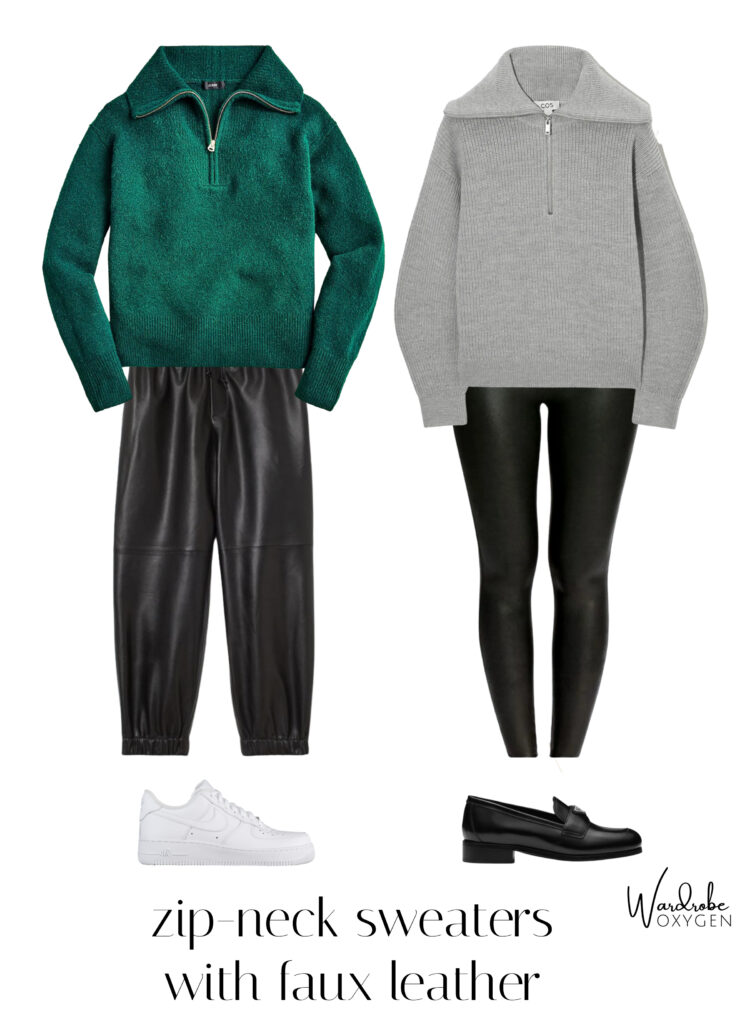 I predict/hope this zip-sweater trend will continue and you will start to see more zip-neck sweaters in colors like fuschia, ink, emerald, and goldenrod and zippers occasionally becoming a statement in itself (heavy duty, contrast color, zipper pull like jewelry). This is the kind of trend that can transcend personal style aesthetics, genders, and size. Want proof?
One can rock a silk knit or merino one with menswear-inspired trousers and block heel loafers. Add a small gold pendant at the throat; a charm that has some personal meaning. (FYI if you struggle to find such necklaces in a length you like or that fits, head to Etsy. It's where I go to get my necklaces. And in case you aren't sure what size to get, for me, I find 20″ is how 16″ is usually advertised as looking; 22″ is more like an 18″ appears on website models.)
One could pair a chunkier cotton knit one with a heavyweight zipper (maybe gold?) French tuck it into faux leather joggers and a pair of Nikes or faux leather leggings and booties. Either would work, depending on what you enjoy wearing.
A lofty striped zip-neck sweater in cotton or cashmere or wool. It's slightly oversized and untucked over your favorite vintage jeans, with high-top Chucks, your favorite socks peeking out.
A chunky cotton one that hits just below the waistband of leather jeans, which taper to pointed-toe boots. Bronzer or a smoky eye, but not both. That ridiculous Amazon handbag you bought after seeing it carried by a dozen different influencers.
Marled, the colors of denim, paired with indigo straight-leg jeans and a pair of suede loafers in that pop of color that is becoming more prevalent in your closet as it gets further into fall.
A metallic knit zip-neck sweater for the holidays, paired with velvet trousers and smoking slippers.
A zip-neck, your favorite color of fall: pine, pumpkin, wine, berry, mustard, chocolate, all of them work. Pair with some cords or chinos in a similar color… or a completely different direction. With such a classic style of sweater and trouser, you can get a little more wild with the color combination. The same holds true for the shoes. Go super classic with a penny loafer or canvas sneaker, or choose a shoe in a bold color or an of-the-moment sneaker.
A black tunic-length one with a statement-making zipper paired with black ponte leggings. A bag, a pair of earrings, or shoes connect to the zipper in regard to color or finish. Maybe you'd also connect this theme to your choice of eyeshadow or lipstick and having anything additional also black to let those tell the story.
Go full-out Coastal Grandmother/Star of a Nancy Meyers movie aesthetic with a soft neutral monochromatic look. Choose a soft zip-neck sweater in cashmere, merino, or cotton and pants to match. Menswear-inspired, or ankle length, or even a pair of relaxed chinos. A pair of sneakers, or Chelsea boots, or lug-soled granny boots in the same color and maybe a hat or beanie to finish the look.
French tuck one into a micropleated midi skirt, which is swishing over a pair of boots. As for the boots, they could be sleek knee-high heeled boots or combat boots, Chelsea boots or cowboy boots. Add a pair of gold hoops and if it's a dressier event, add a bright lip.
I'm just getting warmed up… I could keep going showing how this trend can work with most any personal style aesthetic.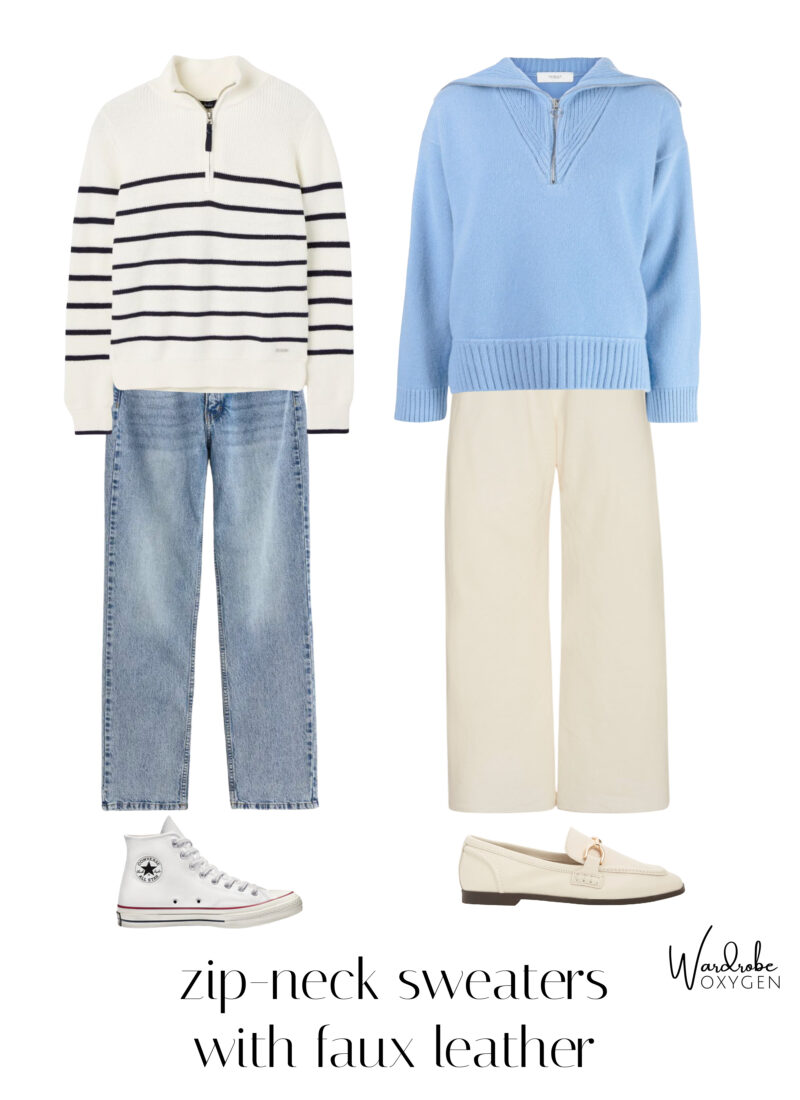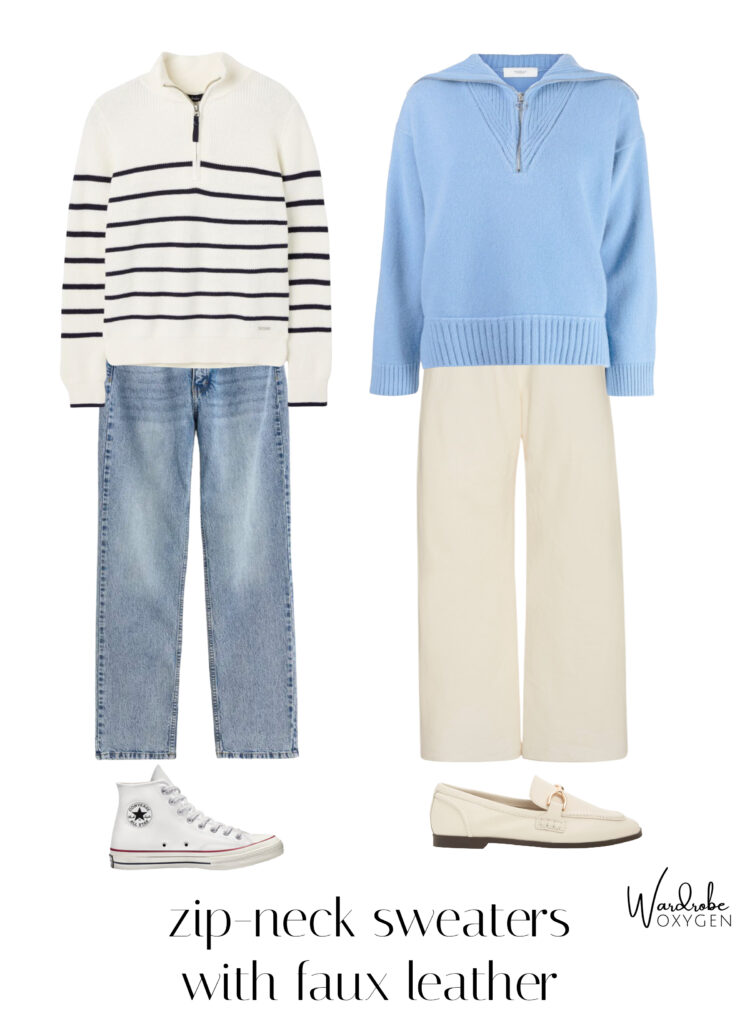 Why Do Some Trends Stick Around Longer than Others?
A continuing theme with Wardrobe Oxygen, since I started this blog in 2005, is choosing which trends are worth your time. Honestly, any trend that catches your fancy is worth your time, but if you're looking for longevity in style, I try to focus on those.
I remember standing on a busy street corner in DC, it was fall, that time of year where some folks are without coats, some are wearing them, but everyone has transitioned to fall and you're starting to see trends emerge. It probably was October. I saw so many women walking past me in dark denim bootcut jeans and peasant tops. Women younger than me, women older than me. Women larger than I, women smaller than I. Women who looked as though they were farther down the career ladder than I, women who looked as though they could buy the company I worked at tomorrow.
I looked down, as I too was wearing a peasant top with Gap Long and Leans, my darkest wash. I think it was 2006. After that, I saw how trends that overstayed their welcome were ones that could be easily replicated in different prices and different sizes. I could almost predict which ones could stick around and which would be a flash in the pan.
What I realized was these were trends that A) could be replicated at a range of pricepoints and B) could easily be graded up for larger sizes. Extra points if C) the look "flattered" a range of body shapes and could dress up or down with a change of textile.
The peasant top for example, was popular for so long (and will return) because it was so versatile and accessible. It could be a dark floral paired with black bootcut pants and worn to the office, it could be white gauze paired with denim cutoffs and worn to a music festival. It could be a designer brand, paired with designer jeans, worn to a fancy bar. It could be of silk with matching pants, worn by ladies who lunch. It was something other than a t-shirt you could put on with jeans and wear to the mall. It could have a low neck or high neck, long sleeves or short, it looked interesting and it didn't draw attention to the midsection.
Taking those criteria, think of other trends that have survived longer than others. The skinny jean, the waterfall cardigan, the fit and flare knit dress, the suede ankle bootie, the moto jacket, the denim jacket, the jogger, the tiered cotton sundress. These have been styles that were, at least for a moment, relatively democratic.
How Fast Fashion is NOT Democratic
Fast fashion was originally seen as democratic: get the look for less (though I have my own thoughts on the look for less). But it turned into a quick-turnover way to get any look for less. Get what some Kardashian wore last week today for only $13! Have a new look for every single event, never wear the same outfit twice and only spend $100 for all of them! It doesn't matter if they're poorly made, dangerous for our health, destroying the environment, and made with child/slave/emprisoned labor, it's the look for less and it's available immediately.
Non-fast fashion felt the need to keep up, and we stopped having seasons of fashion and popular retailers were spitting out new looks every month. Prices were kept low to compete, which meant corners were cut (fabric, quality of construction, ethics of the factory, etc.). And then the pandemic happened putting every apparel brand into a tailspin.
You used to be able to buy a blouse in the Pantone color of the year, get maybe a new boot with the new heel or toe shape, consider a variation of the current "It" bag and be able to update your closet. Trends would stick around: daytime sequins, peplums, zipper ankles, statement necklaces, long enough to feel you got your money's worth.
The best way to turn this ship around is with your wallet. Buy trends that will last from retailers you want to survive and thrive. Notice that some folks are telling you that you MUST buy this or that to be chic, but others are rewearing the same things over and over and looking hella stylish. Try some new to you retailers; if you feel there isn't anything out there for you it may be because you're sticking to the same retailers.
Walking the Talk
This fall I am trying to walk that talk. I will be discussing trends, but the ones I think will stick around, the ones I think will work whether you're a 22-year-old size 12, a 42-year-old 5'6″ size 22, or a 72-year-old 5'2″ size 2.
I am branching out from my go-to retailers, offering a mix in these compilation posts (and I am always interested in learning about new quality brands, with a focus on those that offer at a minimum up to size 20 with reasonable shipping/return policies). I hope this will help you make fewer, slower, and better shopping decisions.
I will begin sharing some details on size and when appropriate, fabric composition, before you click a link to an item. I hope this will help narrow down and simplify your shopping experience. Know that blends usually mean a synthetic/polyester/acrylic is included. I am focusing on the fabrics that I have learned over the years with Wardrobe Oxygen mean the most to you in regard to comfort and finish.
A zip-neck sweater isn't instantly my aesthetic, but I appreciate how it is democratic, accessible, classic, and also very current. I couldn't not feature it, and help you see how in the sea of musts and needs there is some reason, some classic style, and maybe some looks that are already in your closet. Don't believe the hype; you don't need more to be more.
ORIGINAL POST: 10/03/2022
UPDATED: 10/01/2023