This article may contain affiliate links; if you click on a shopping link and make a purchase I may receive a commission. As an Amazon Associate, I earn from qualifying purchases.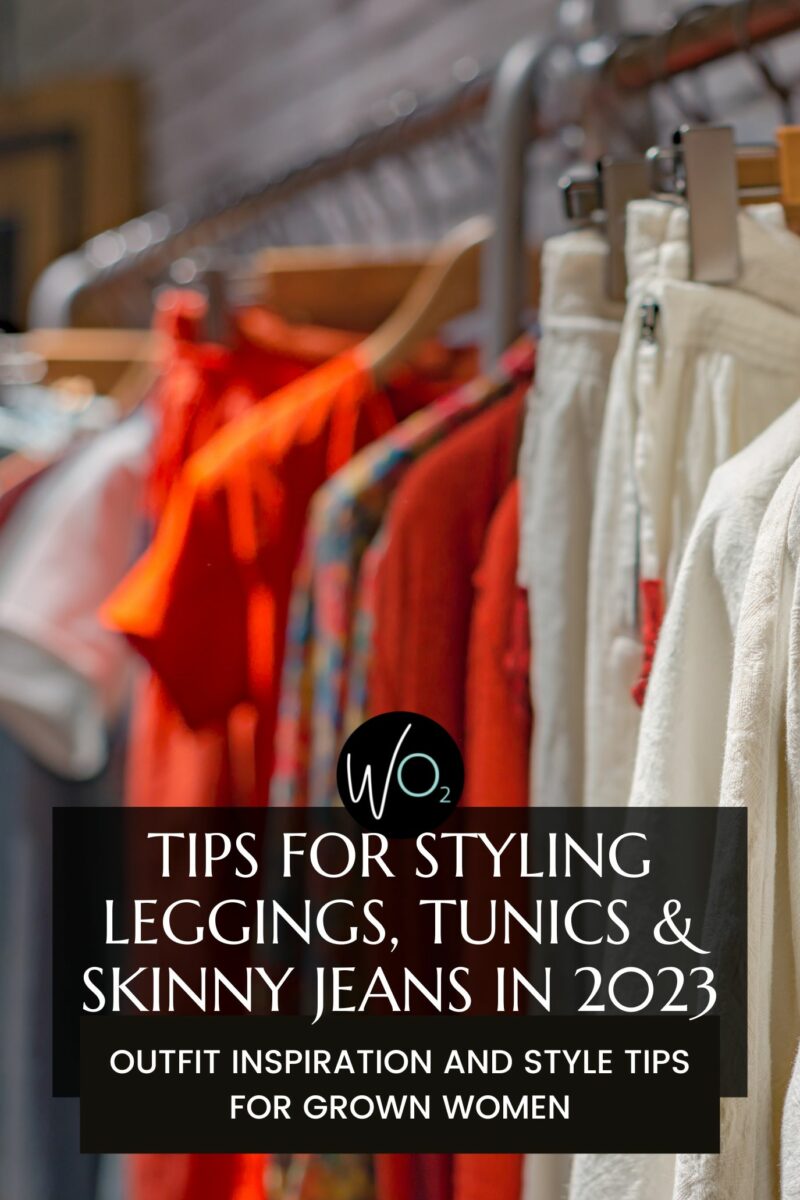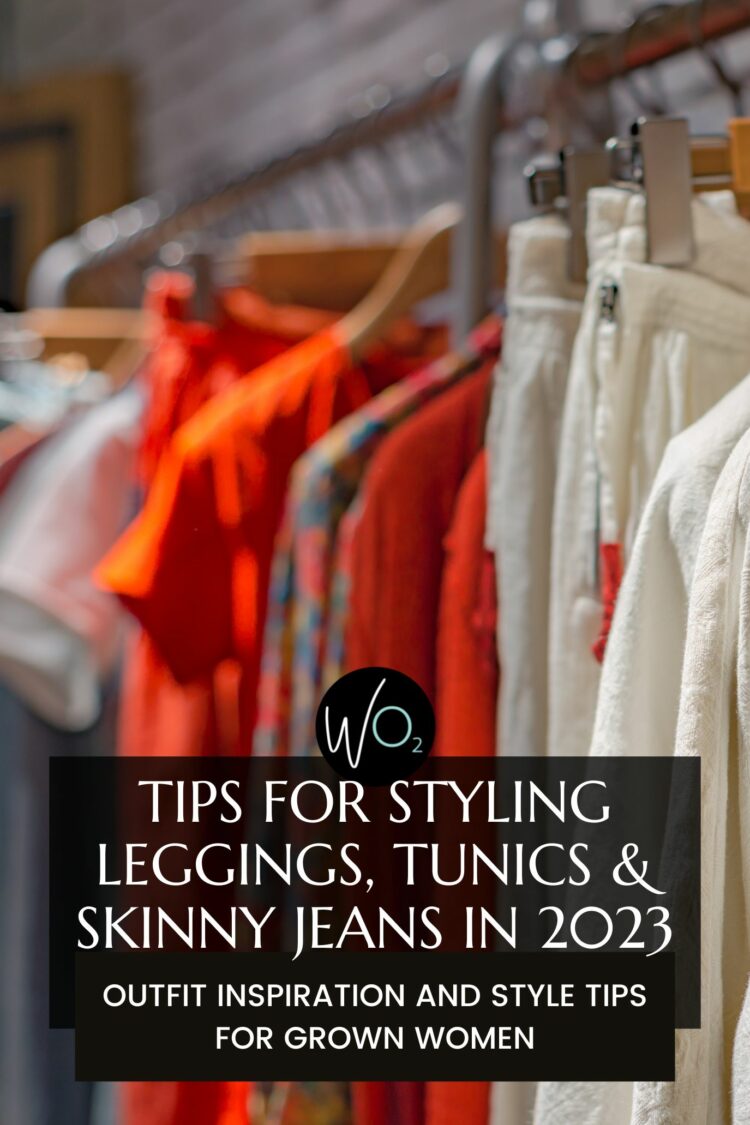 I hear you my friends, you will NOT embrace the wide leg pant trend, you will NOT give up your skinny jeans, and you will NOT tuck in a top. I won't preach to you in this article, instead, I am going to help. Here are some tips on how to style leggings, skinny jeans, tunics, and longer tops in a way that feels modern and cool while still remaining comfortable and offering the coverage and silhouette you desire.
How to Style Leggings & Skinny Jeans in 2023 with Untucked Tops and Tunics
No need to buy a new wardrobe or change your personal style; these tips will work with your existing closet to provide a modern update to leggings, skinny jeans, and untucked tops and tunics. Stay comfortable while looking chic!
Switch Out Your Cardigan for a Blazer
A super easy way to modernize skinny jeans is to replace that long cardigan with a blazer. This season, blazers are relaxed, oversized, "boyfriend" style, and double-breasted, which means they will have the length you desire. Depending on your comfort level, this blazer can be styled with a fitted tank, a slim-fitting graphic t-shirt, a loose-fitting hip-length striped top, or as I have here, a tunic-length tank.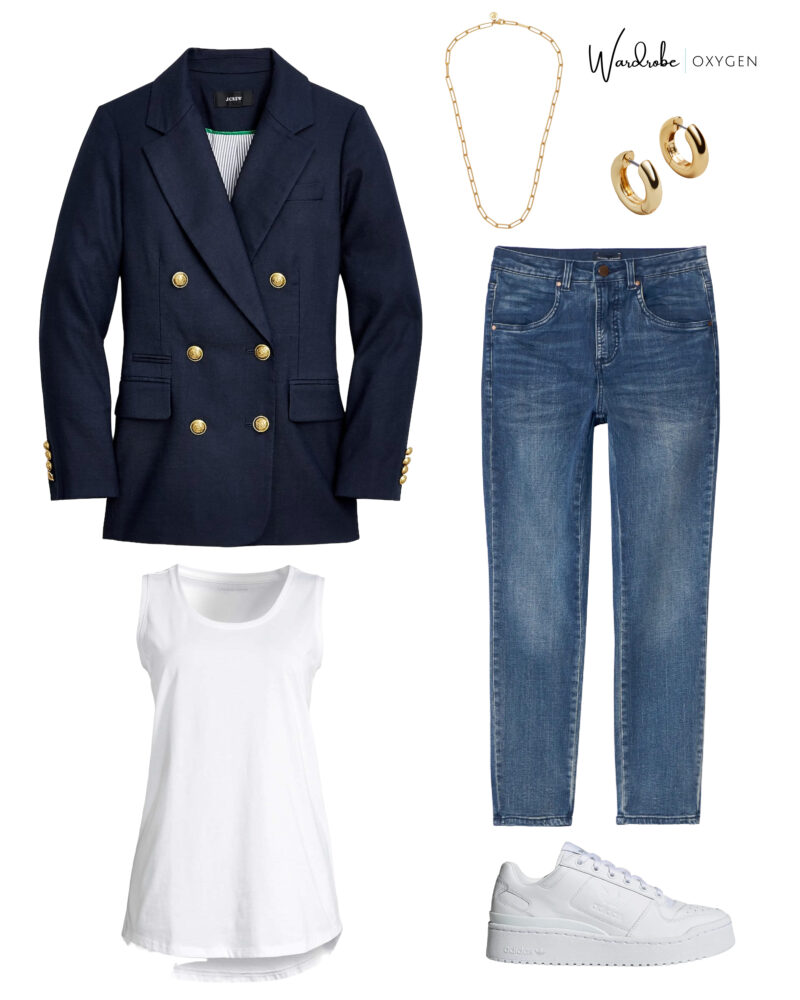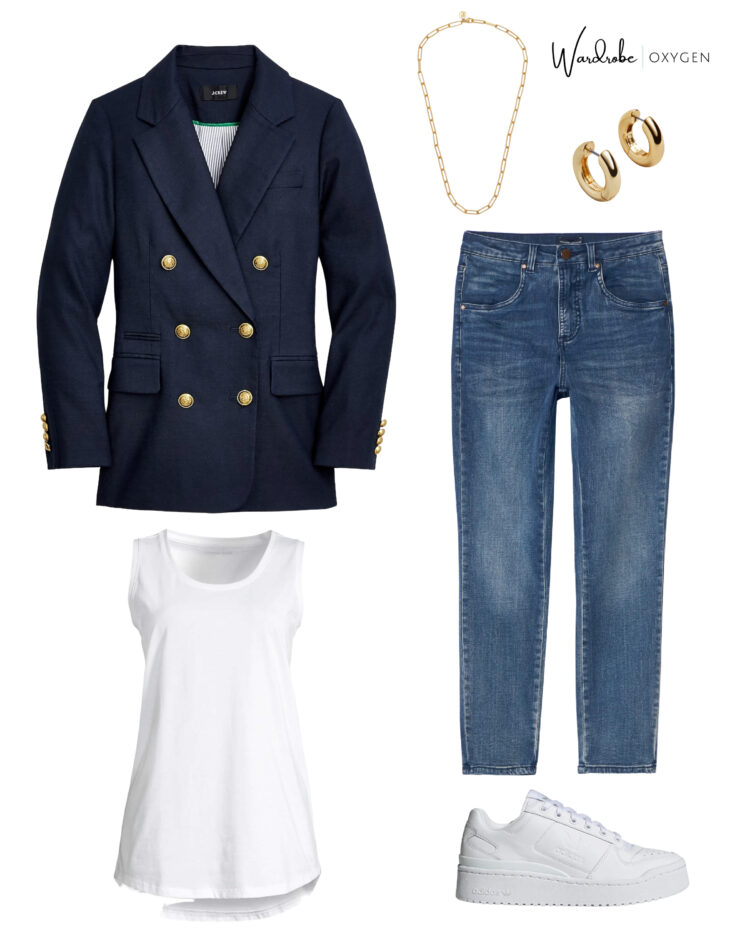 blazer (sizes 00-24 w/ petite & tall) | tunic tank (XS-XL w/ petite & tall; link for plus sizes) | jeans (00-40 w/ lengths & petite) | necklace | earrings | sneakers

To keep it feeling modern, choose sneakers that are a bit more chunky or solid. I own these exact sneakers from Adidas, and as I type this I am wearing them with an old blazer from J. Crew that I believe is the same style as the one in this collage, just in a different fabric and color. It is over one of these bodysuits, so it's effectively the same concept of blazer over skinny and I think the chunky sneakers are what make it look 2023.
For jewelry, I chose gold to connect the gold buttons, and pieces that are very on trend but not so trendy that they'll look dated after a season. I own a larger size of these hoops and have found they hold up great and are comfortable. As for the necklace, this Etsy seller carries the link in a range of lengths. For me, I find a 20″ length hits me where 16-18″ length necklaces hit on models and slim influencers.
Try a Flared Legging
Remember traditional yoga pants which were ponte or athletic fabric and had a bootcut or flared hem? Well, they're back baby and by switching out your skinny leggings for ones with a flare you instantly look hip with the trends. This is an easy way to update your existing longer tops and tunics.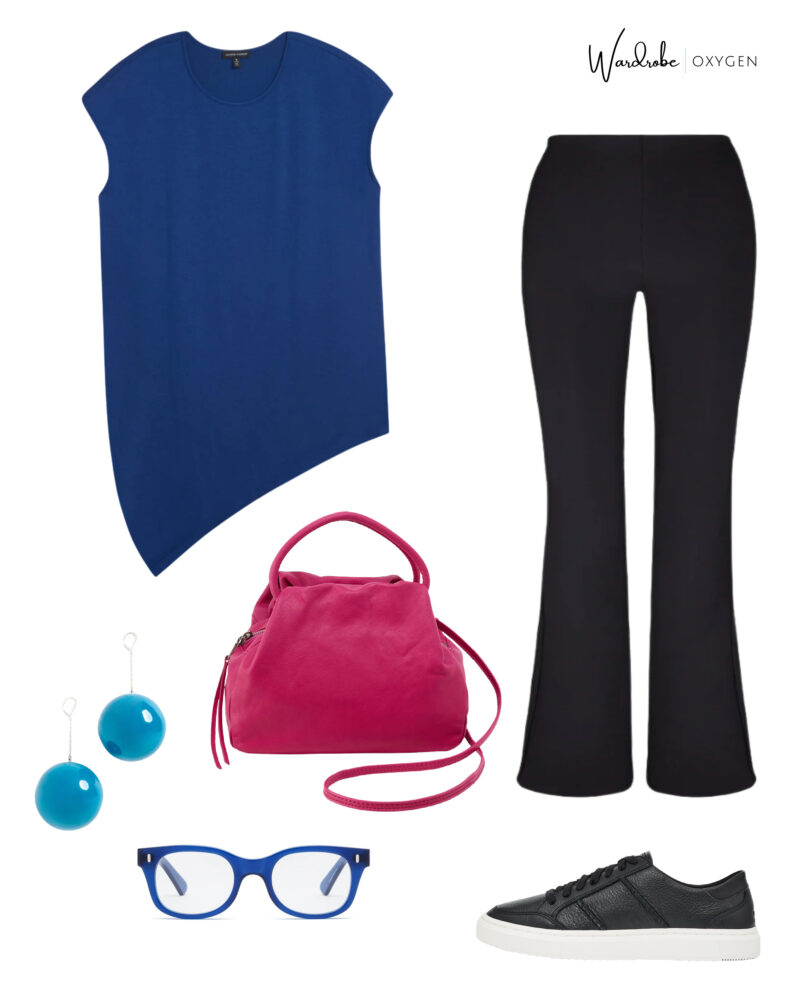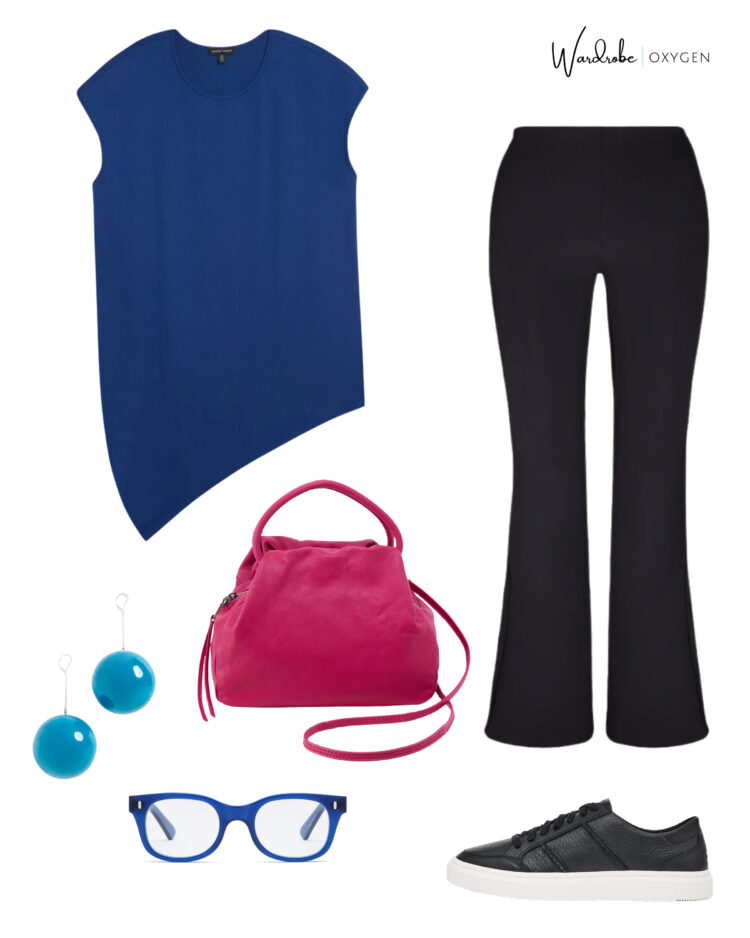 tunic (sizes 00-40) | flared leggings (XXS-3X w/ petite & tall) | earrings | bag | reading glasses | sneakers

I chose this tunic top because I felt the asymmetric hemline looked cool and transcended trends. It also gives a modern effect with flared leggings. Faux wrap style tunics would also look great with flared leggings. A solid color will look more modern than most prints.
To have some fun with this look, I chose some awesome statement earrings, a colorful bag with a cool silhouette, and reading glasses that pick up the color of the tunic. A pair of sneakers with white walls continue the leg line but has a contemporary feel.
Try White Instead of Black
We often default to black leggings and skinny pants because we have been taught that black recesses, make things look smaller. The thing is black doesn't really do that unless you're standing still in a photo. In life, black, can just look… boring. Basic. And quite wintry. Consider trying a pair of stretchy white skinny pants with your tunics, it gives a Jackie O on vacation vibe. Choose an ankle or cropped style for that retro feel.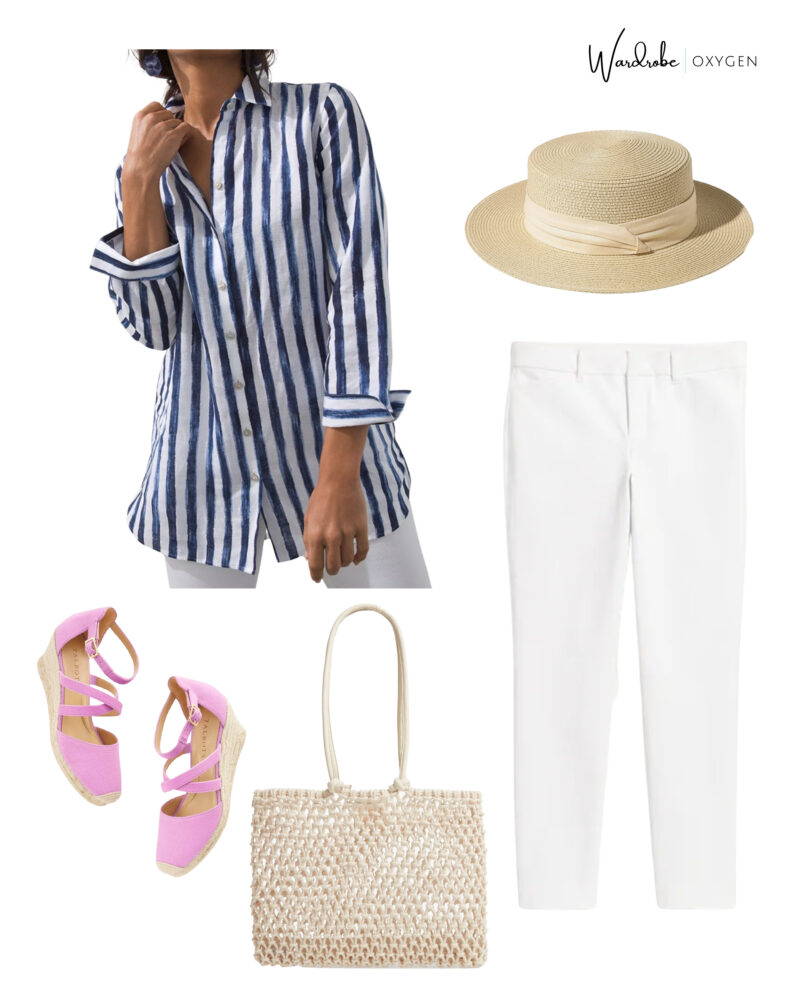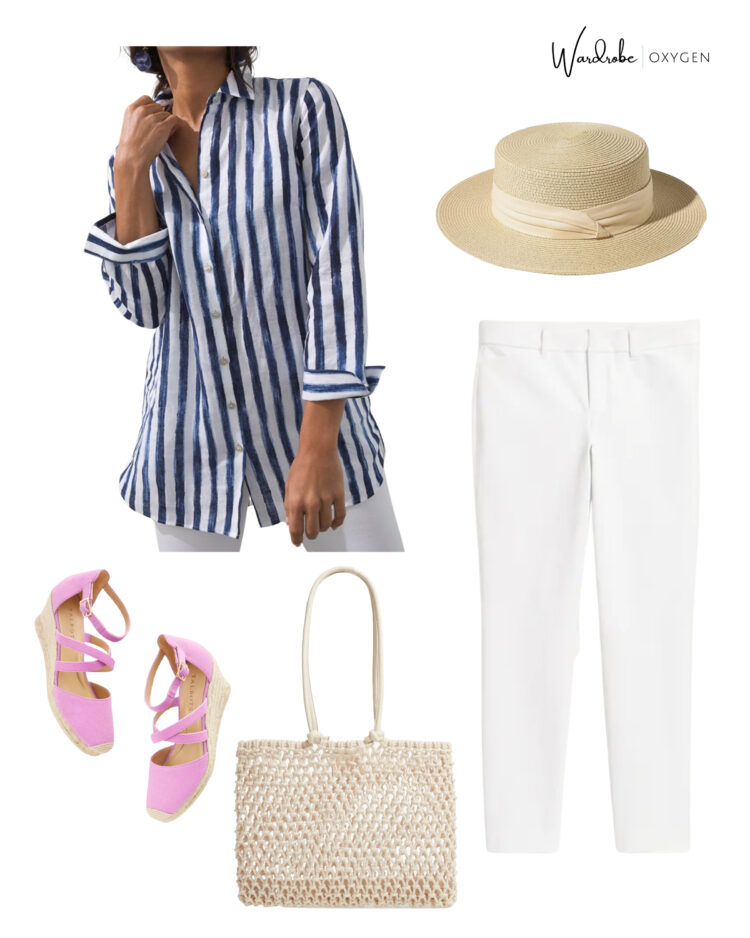 striped tunic (sizes 0/2-20/22) | skinny ankle pants (sizes 0-30 w/ petite & tall) | espadrilles | hat | bag

Here, I went Coastal Chic by styling white skinny ankle pants with a button-front tunic in blue and white stripes. Unbutton two buttons on top and one to two on the bottom. Roll up the sleeves, and if you so desire, pop the collar. Simple changes to the top give it a relaxed chic effect. If stripes aren't your jam, any tunic-length shirt that isn't too stiff will accomplish the effect. Look for poplin, cotton voile, linen, or rayon.

Add espadrilles, and while white or beige is always nice, consider having fun with the color (love this orchid color). A straw hat and bag keep the "Jackie O on Vacation" concept while also being lightweight and sun-friendly.
Go Denim on Denim
Denim on denim is a hot trend this year, and it's such an easy way to update your skinny jeans. If you find classic denim shirts to be too stiff and heavy, try chambray, Tencel, or look for terms like "garment washed" and "soft". There are no real rules about what wash is on trend, though right now a lot of fashionistas are keeping the denim pieces low contrast (stonewashed with stonewashed, faded with faded) and keeping to one color (blue with blue, not mixed with white, black, or another color). Look for tunic or "boyfriend" fits which will be purposefully roomy and longer in length.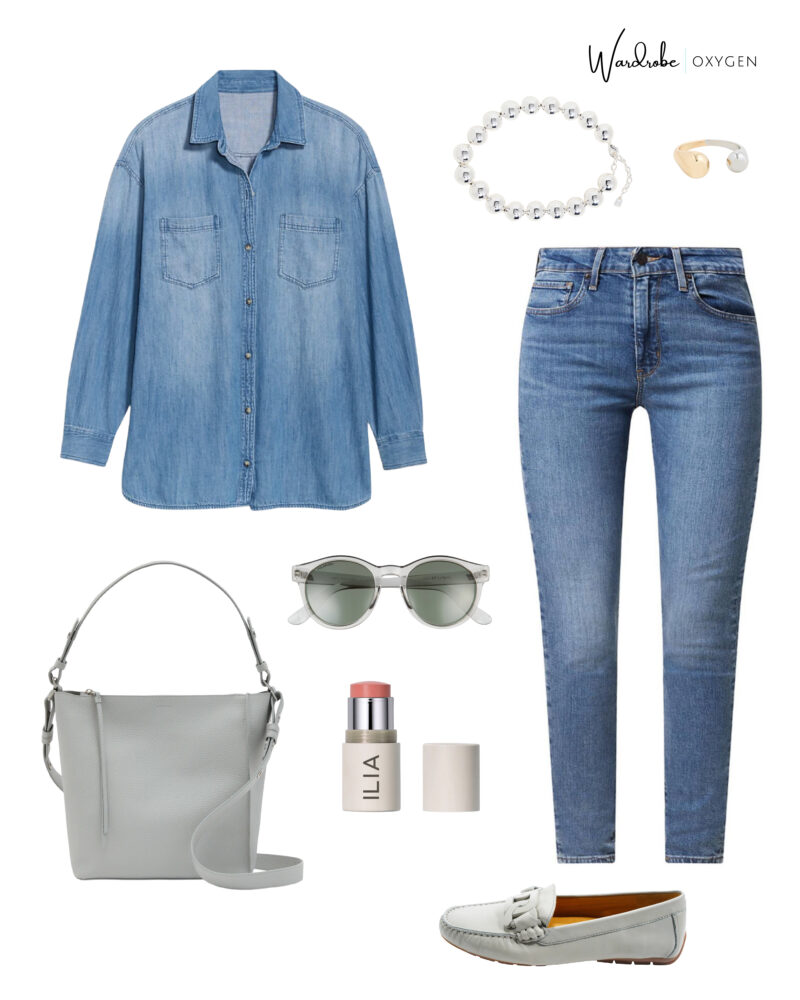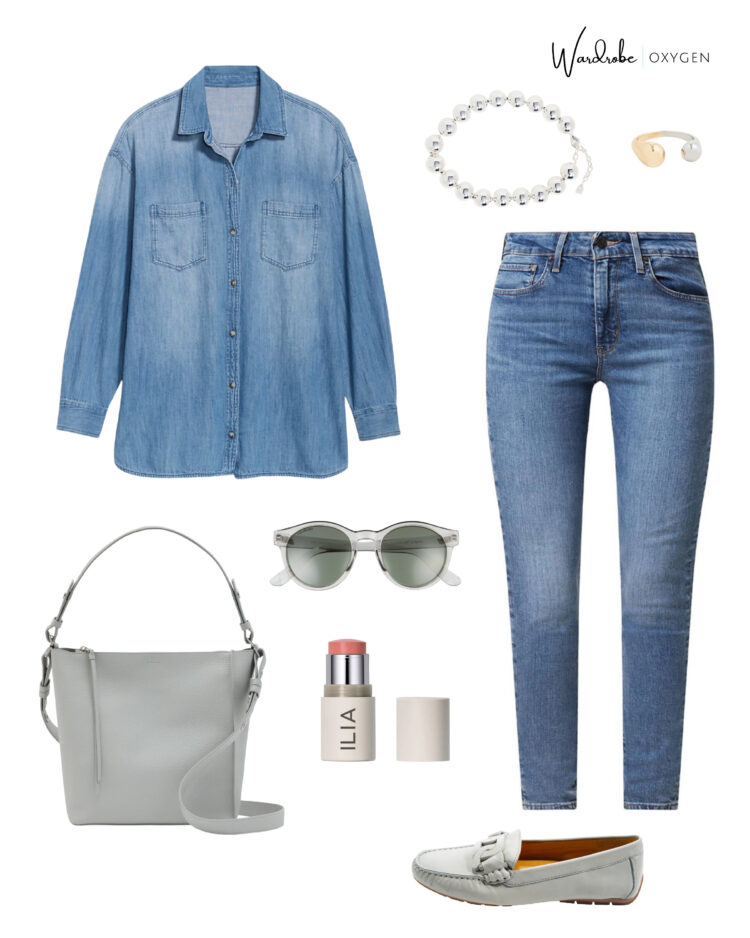 shirt (sizes XS-XXL w/ petite & tall) | jeans (sizes 16W-26W; link for misses sizes with short & long) | necklace | ring | shoes (come in widths) | bag | sunglasses | all-over face color (multiple shades available)

Like the shirt above, unbutton two buttons, roll up the sleeves, unbutton the last button, give it a lived-in look. An alternative is unbuttoning another button or so to have a camisole or tank underneath peek out. You can also wear the shirt open over a simple ribbed tank (a shade of blue, heather gray, white, or black is always chic).
A denim shirt and skinny jeans looks chic with an oversized blazer on top. Choose a light color like cream, ivory, white, camel, lavender, or baby blue for a fresh take this season.

Trade Your Tunic for a Short Dress
The '90s and YK2 are back and in some ways it may be making us cringe, but in other ways we can celebrate. Remember wearing dresses over leggings and fitted jeans? Well a variation of that trend is back and dresses can be stylishly worn over leggings. My favorite version is a shirtdress.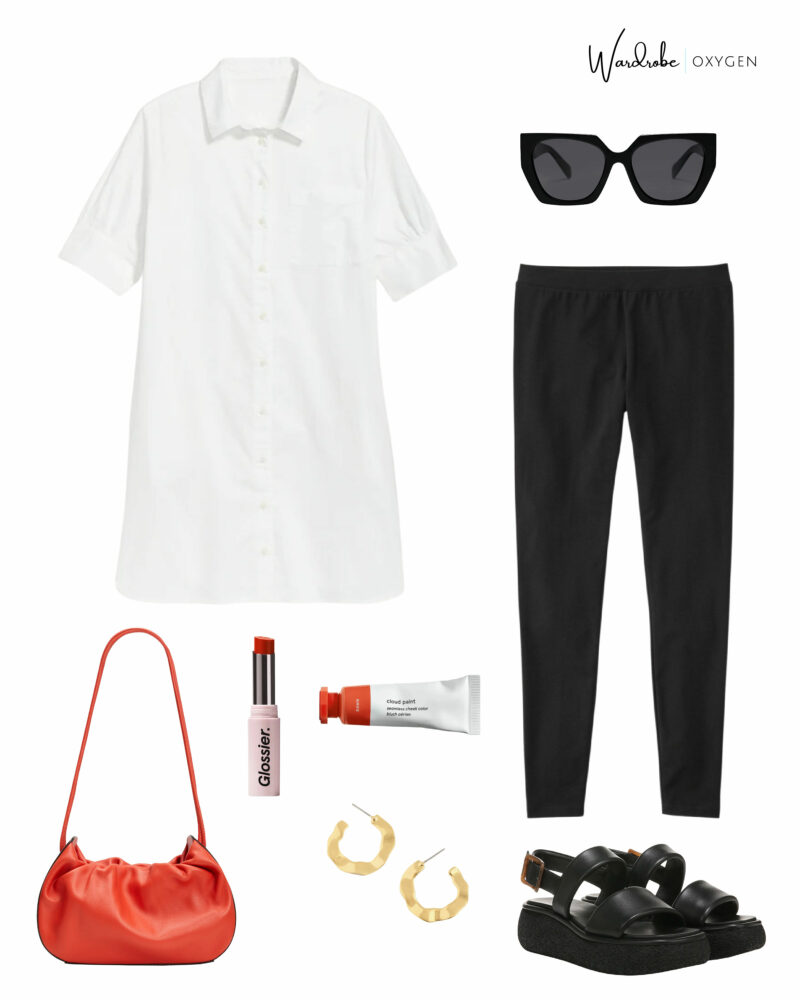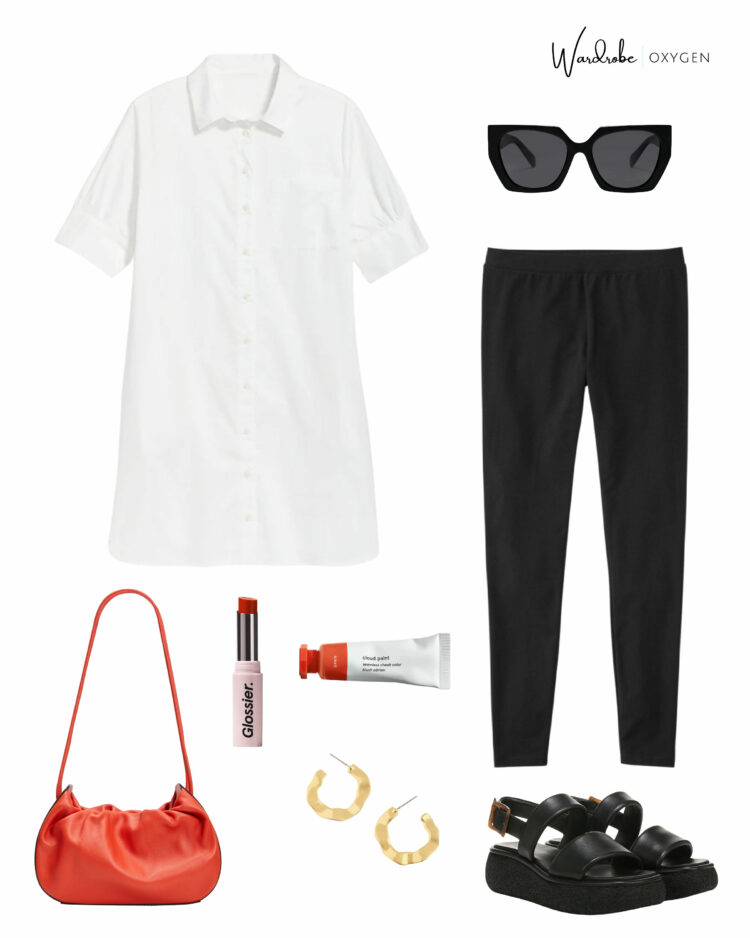 shirtdress (sizes XS-3X w/ petite & tall) | leggings (sizes XS-3X & petite) | sandals | bag | lipcolor | cheek color | sunglasses | earrings

You will see plenty of shorter dresses this season, ones that seem too short to be worn on their own. If they have a looser design, they make for a great topper with leggings. Look for soft fabrics like rayon, silk, linen, and crepe. A floral may feel too on the nose from the past; instead, look for a solid color. White, shades of blue and aqua, and pretty much any shade of pink are great choices that make black leggings look seasonally appropriate and you'll find plenty of dresses in those solid colors at a range of retailers.
Black sandals are a "thing" this year, which makes a great pairing with black leggings. If your top is white or black with black leggings, you can also consider a pop of color with the fun sandals available this year. Keep that color going on top not with typical statement earrings or necklace, but try with an expected colorful lip and flushed cheeks.