This article may contain affiliate links; if you click on a shopping link and make a purchase I may receive a commission. As an Amazon Associate, I earn from qualifying purchases. 
A pair of black trousers in a seasonless fabric is a necessity to any woman's wardrobe. What deems a fabric "seasonless?" This means the pants are not wool, they are not cotton. They are most likely a blend of fabrics, usually a good portion synthetic. Ann Taylor has a seasonless fabric they call Triacetate. Express' seasonless fabric is called Microtwill. J.Crew (and many other brands) calls their version Gabardine. All different fabrics, all seasonless. Maintains it's shape, often has a bit of stretch, has a slight texture or sheen (great for dressing up and dressing down!), and sort of blends into the background. Not only should these tousers be seasonless, they should be eventless (if that is a word). You want trousers that can go from work to a happy hour to a cocktail party to an interview, to a night club. What cut achieves this? A bootcut leg, not tight, but not Palazzo pants (those pants that look like a skirt on each leg). A tab waist if often a good choice. You never need to worry about a belt, it lies flat under fitted, untucked shirts, yet looks smart with a tucked in oxford. Due to a tab-wait trouser having a wider waistband, it is less likely to cut into the torso, creating a spare tire above the waistline. Very flattering on women with hips, bellies, rears, or straight shapes.
These trousers should not have front pockets. I do not care what your body shape is, front pockets ruin a smooth line and make trousers look more casual and less versatile. These pockets often bow out, wrinkle under the tousers, and look messy. They can make Kate Moss look like Kathy Bates. Back pockets are okay, as long as they are small besom pockets, and not patch pockets (again, detroy the versatility and make the trouser more dated and casual).
Examples of good trousers: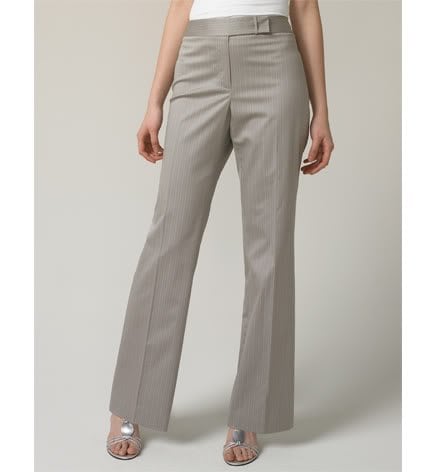 Yes, I said these trousers should be black, but I chose a lighter color so you could see the detail. The bootcut leg adds a modern look to the pant, elongates and slims the leg. This is an example of a tab waist. See how it is a wider waistband, less likely to cut into the middle. The lack of pleats, seaming and pockets in the front minimizes a belly and gives a smooth line. The strong crease down the front elongates the leg and gives a long, lean look. See how you could see these pants with an oxford and matching blazer with pumps for work, a beaded camisole and pointy toed heels for a night club, a cotton v-neck sweater sweater and some boots for a jaunt to the mall. These pants are from Ann Taylor, and are a cotton/rayon/spandex blend (rayon gives it the seasonless fabric, strech gives it the smooth fit wear after wear).
Here is a great example from Lane Bryant: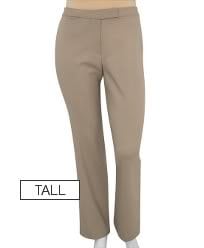 These pants are a seasonless nylon/rayon/spandex blend. They are cut just below the waist (reduces the look of tummy bulge), have a bootcut leg, and smooth lower torso. These pants would look great with strappy heels, a beaded shell and matching jacket for a cocktail party, or a merino turtleneck and some crocodile pointy boots for lunch with the girls. At the time of writing this, these trousers are on sale for $20, regularly $45. You really can find stylish classic pieces for a steal at your local mall. I cannot stress this point enough.
The point is that with the right black trousers, you can dress for almost any event. I have black trousers I purchased five years ago, and still wear weekly. They do not have to cost a lot, most of the trousers I buy on sale and get for less than $50.00. Do keep in mind that though a bargain is always great, black trousers is one thing you do not want to look cheap. They will be worn more than most anything else in your wardrobe, so don't settle for a chintzy fabric with a cheap sheen, a pair that wrinkles easily, isn't lined, isn't the right length, the right cut, the right anything. I do believe in buying in bulk. If you find the trousers of your dreams, you may wish to invest in a second pair in black, and possibly a third pair in another versatile color (gray, brown, tan, white). Consider this especially if you buy the matching suit jacket. I purchased a pair of amazing trousers and the matching jacket at Ann Taylor four years ago. I often wore the trousers without the jacket. One day my dog jumped up to greet me as I returned home from work, his claw got caught in the fabric and ended up snagging and tearing the thigh of these coveted trousers. Ann Taylor no longer makes pieces in this same fabric, so I have a lovely well-fitting jacket and no trousers to match. Since then, I always buy two pairs of pants for every suit jacket, allowing one pair for every day wear, and one pair to preserve to wear with the jacket or for special occasions.
As for care of these pants. I will let you know ahead of time that often these pants say "Dry Clean Only." I DESPISE spending money on dry cleaning. I end up taking my clothes to the cleaners and forget to pick them up for two weeks. Most of the knits and sweaters I purchase I ignore this "Dry Clean Only" label and wash in Woolite on the gentle cycle of my machine and hang to dry. I have tried this with trousers, and rarely have had good luck. They end up wrinkled, losing that nice front crease and long line. They look cheaper, they often get tighter, the legs shorter (often leaving the lining the same length, which is NOT a good look!), the threads weaken, leaving the potential for an embarrassment the next time you sit down. I have a stain remover I actually purchased in the lingerie department of a department store. I spot treat with that or a Shout! Wipe (always have 5 or 6 in my purse – available at your grocery store in the detergent aisle) and then take them to the local discount dry cleaners. Every so often, they get a better cleaning at the higher end dry cleaners. This may seem like a pain, especially if you have children, a busy schedule, a tight budget. I must tell you this is an investment. If you take care of your clothes correctly, they will take care of you in return, looking gorgeous and lasting for years. Though it may be more appealing to buy all clothing that can take a tumble in the washer and dryer, you lose that polished look, that classic look, the look that shows you care what you look like and others should as well. If you can't go beyond Tumble Dry Low, you will have a hard time following the closet rules of this book.