This article may contain affiliate links; if you click on a shopping link and make a purchase I may receive a commission. As an Amazon Associate, I earn from qualifying purchases.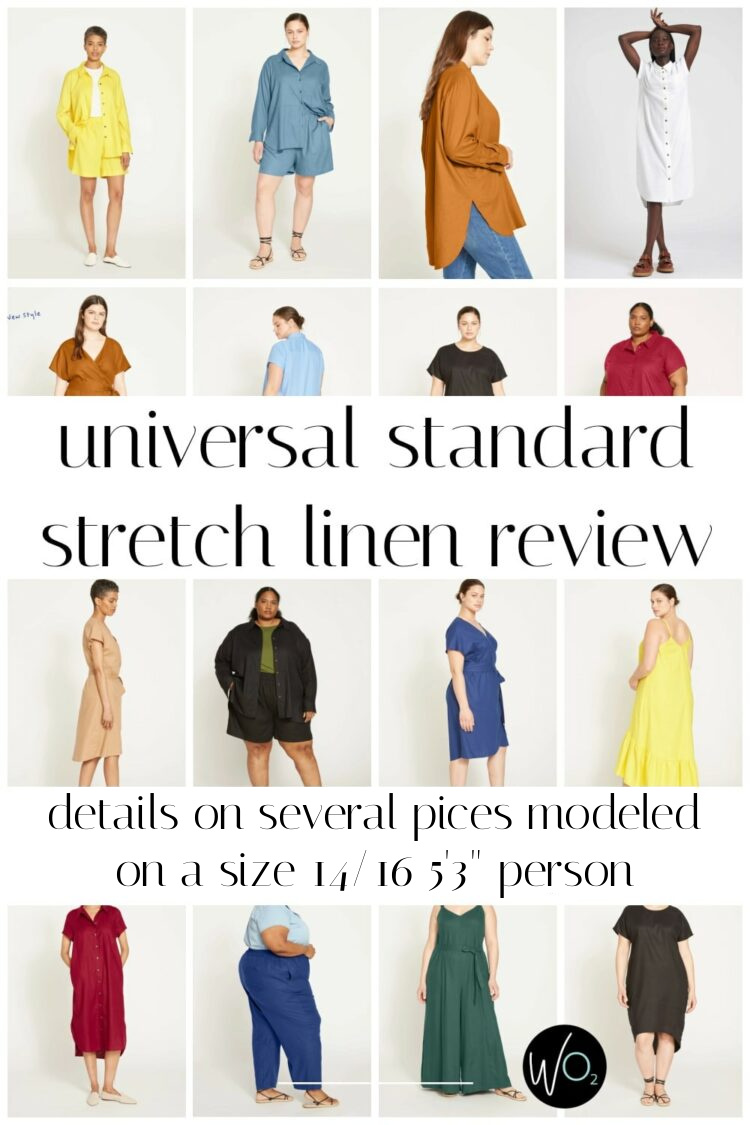 Last summer, Universal Standard launched their stretch linen collection and I was lucky enough to be gifted several pieces to showcase and review for you. I shared a positive review because I truly felt the fabric and quality was great. But the styles weren't really me. I gifted the pants, shorts, and tunic to another. I kept the jumpsuit and dress, but mid-summer realizing I had yet wear the jumpsuit beyond my bedroom, I donated it. I kept the dress, but didn't wear it often because while I loved the whole concept, the color was NOT for me.
Universal Standard relaunched stretch linen this summer, bringing back some past styles, adding a few new styles, and updating the color choices. Universal Standard offered to send me the Dawn linen tunic; I asked if I could also have this year's version of the Dune dress and they agreed so I decided to do an updated Universal Standard stretch linen review.
I wanted to know how different the fit and sizing of the original Dune versus current seasons of Dune would be, if the fabric was the same, and if it all was the same I wanted it in black because dang if I had the Dune in black last summer I would have been wearing it every week. And while I didn't keep my linen tunic from last summer, I remember it enough (and have photos of me wearing it) to give a decent comparison review.
Universal Standard Stretch Linen Review
The first thing to know about Universal Standard's linen is it is a linen blend. Made from 55% Linen, 42% Rayon, and 3% Elastane this linen is a tight weave, lightweight, soft, malleable, slightly stretchy, and less prone to wrinkling. Some folks aren't down with a linen blend; I think these pieces are still quite comfortable in the super humid and hot Washington DC area, where I live.
The Universal Standard linen says machine wash, lay flat to dry, but my sage green Dune linen shirt dress from last summer I washed in the machine and put on a hanger or just threw over a curtain rod to dry and it turned out great. I have not found a need to iron or steam Universal Standard linen after laundering. I also haven't found it to shrink, and a linen dress from another brand I regularly feature I washed on cold and line dried and it turned into a tunic. So yeah, I dig Universal Standard linen.
Universal Standard's linen collection consists of eight pieces – four dresses, one jumpsuit, a pair of pull-on pants, a pair of pull-on shorts, and a long-sleeved button-front tunic with a high-low hem. Comparing last year's Universal Standard linen to this year's, it seems they used the same patterns (for the items they continued from last year), and the fabric is the same weight and composition.
The Universal Standard linen collection is available in the same size as everything else from this brand – sizes 00-40, or in letter sizing, 4XS-4XL. I am 5'3″ tall and usually a size 14 in other brands; with Universal Standard, I am almost always an XS.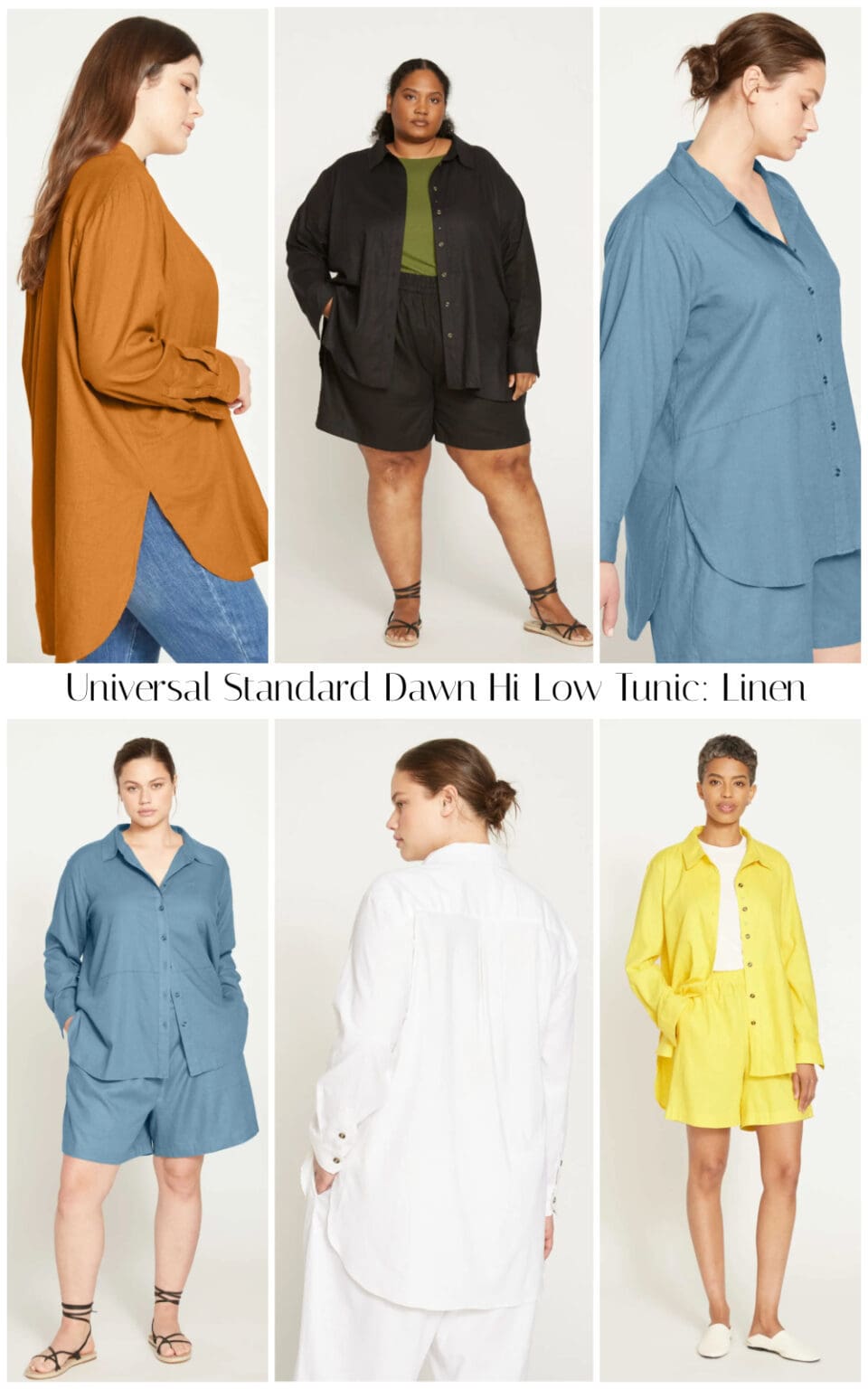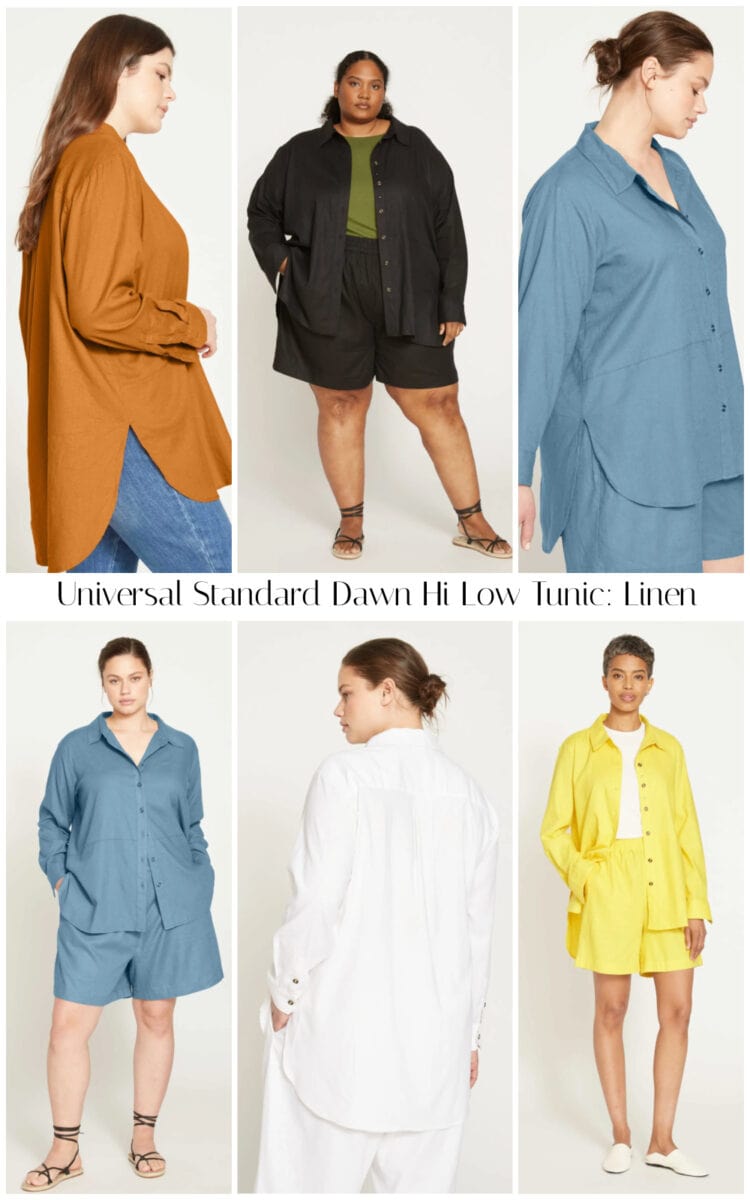 Universal Standard Dawn Linen Hi Low Tunic Review
I dream of being the kind of person who stands on a shore in an oversized linen shirt, a pair of perfectly worn slouchy denim shorts, a scarf expertly tied over my hair, wearing aviators that do not slide down my sweaty nose as I enjoy the ocean breeze with plenty of free time (and I suppose a beach house?). Anyway, I buy pieces of linen and I always look messy, not effortlessly chic.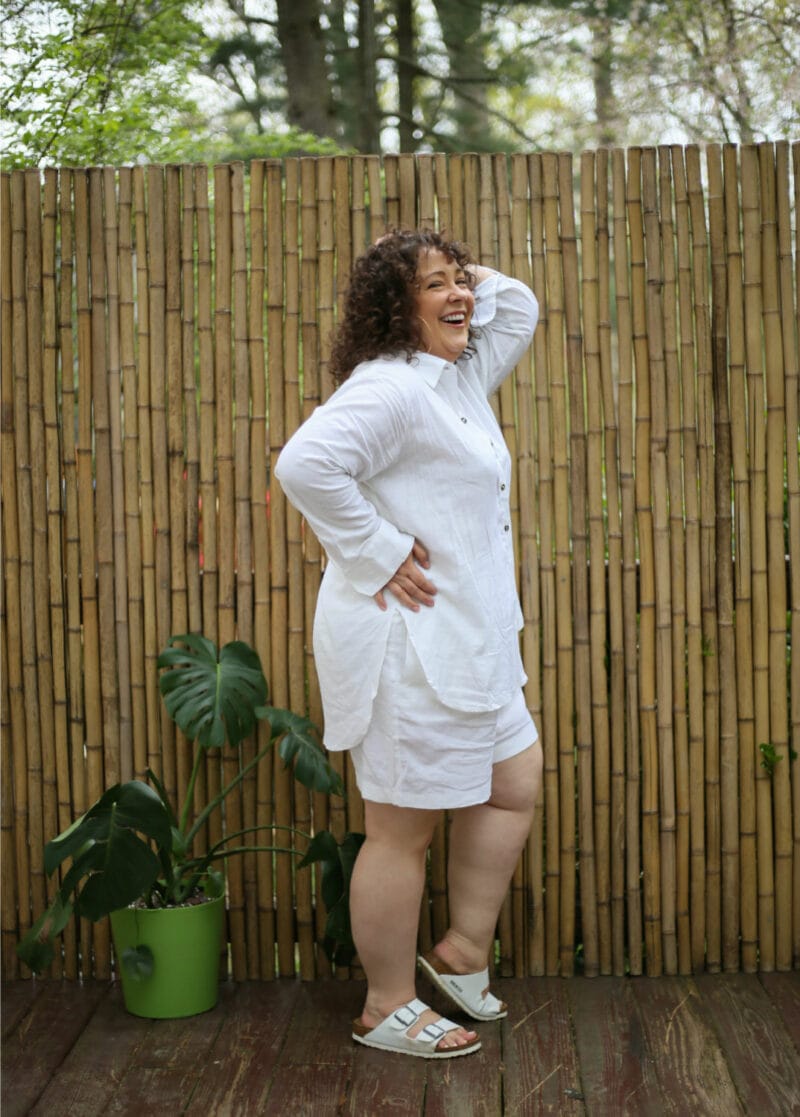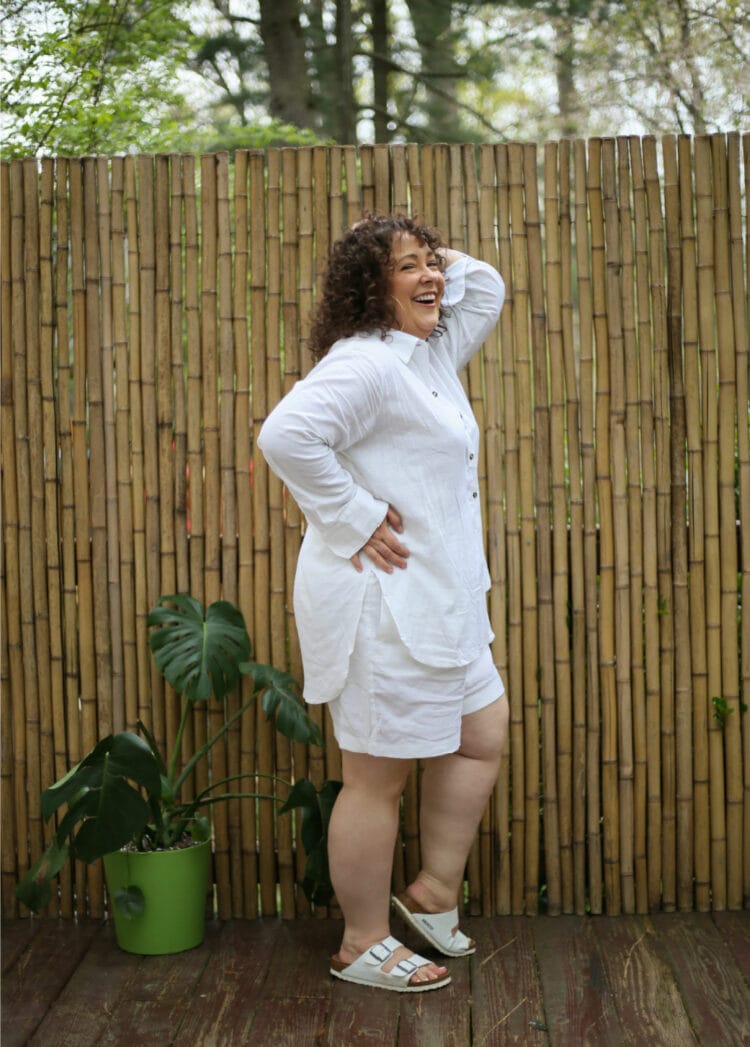 Last year with the white Dawn linen tunic, I put the shirt on feeling very sipping coffee on my Fire Island beach house deck at sunrise but then I saw the photos and the white just looked like an oversized not remarkable shirt, not slouchy oversized "oh this thing." I felt it would be better on someone else.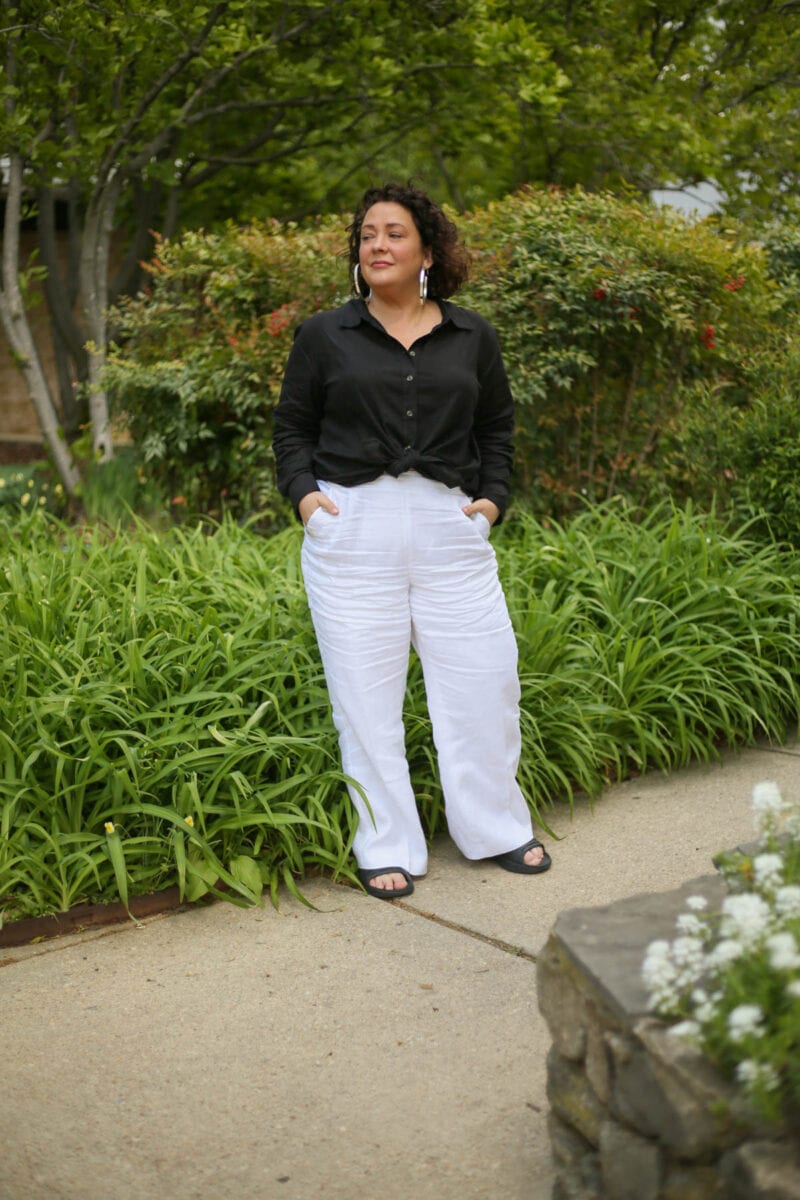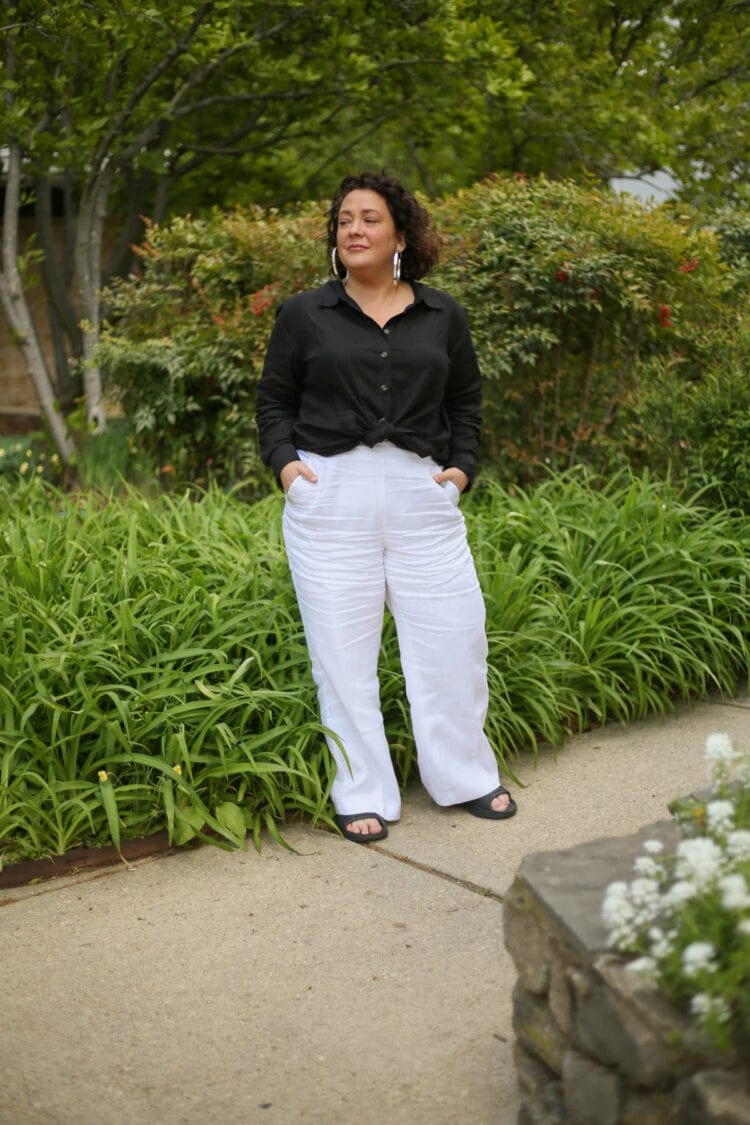 When Universal Standard offered the Dawn hi low linen tunic to me, I looked at the colors (I don't remember last year's options beyond white) and was really meh-ed out. The caramel isn't bad, but the others weren't doing it for me so I asked for black. And I am so glad I did.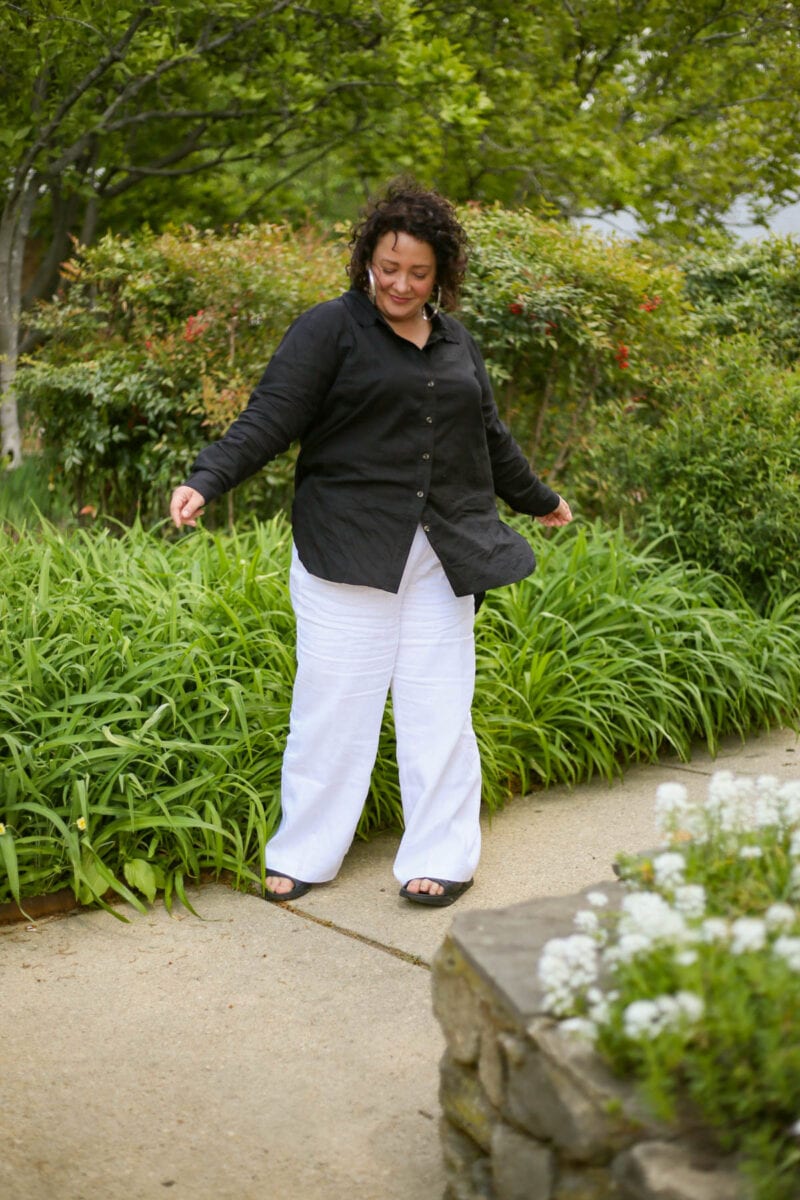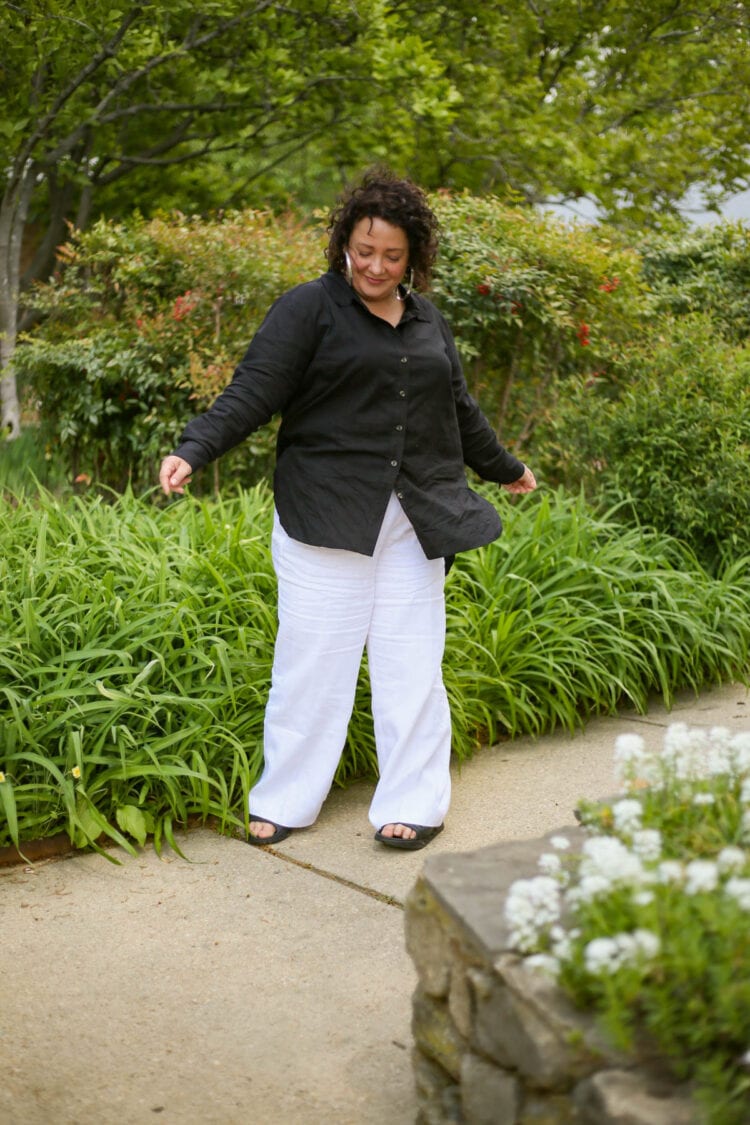 I would not normally choose a black linen shirt. I think of my light blue one from Chico's I will be wearing into my third spring, the white linen pants from Talbots I've been wearing on repeat this season, I think of linen as light and cool and breezy and black isn't very breezy.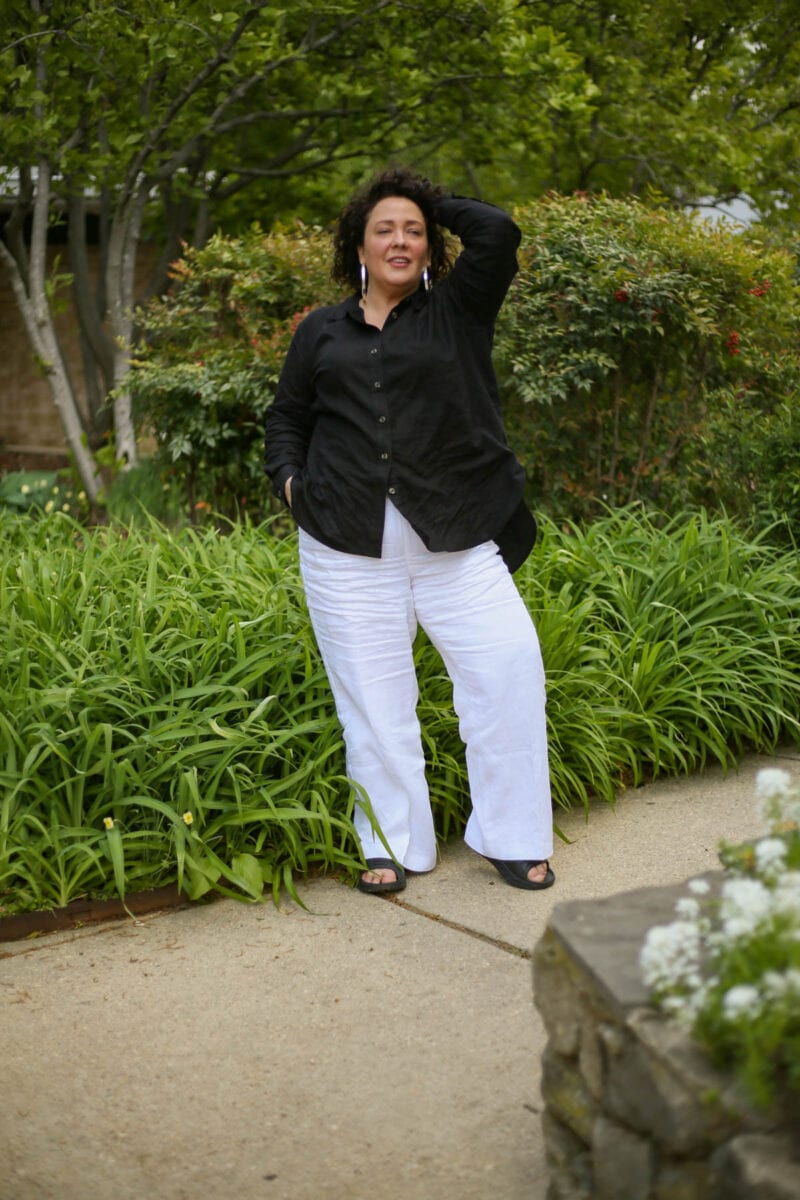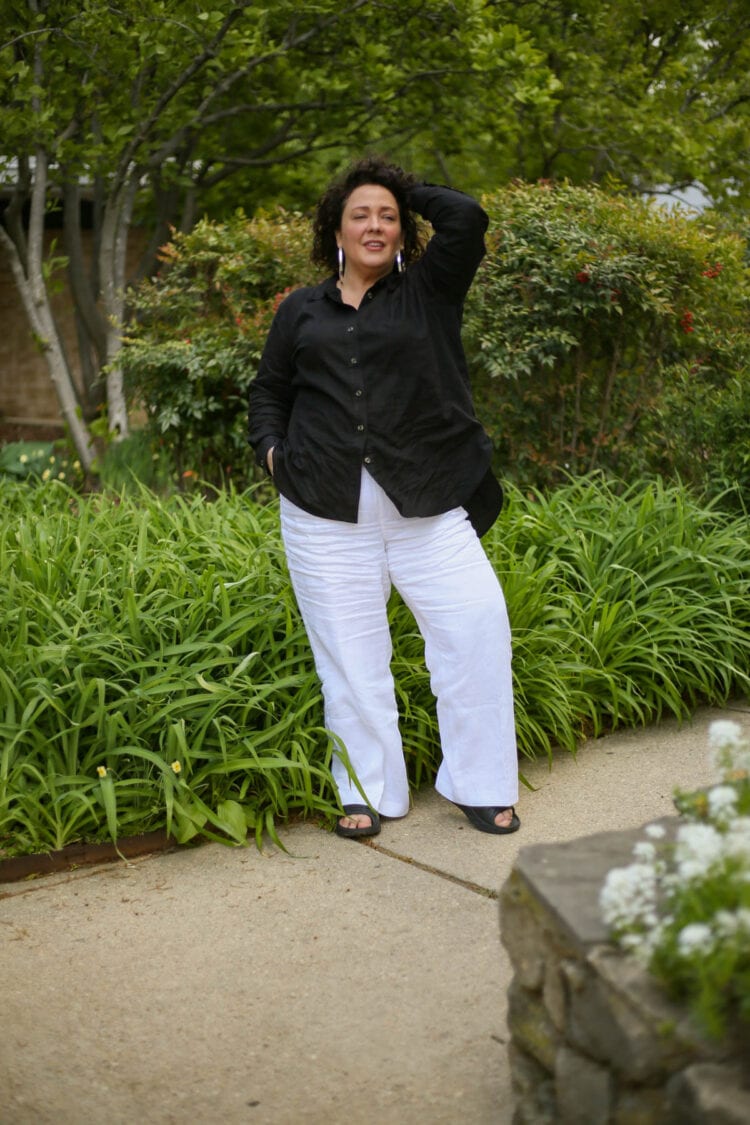 But black can be elegant, and in the same size XS as the tunic I got last year in white, the black feels right, not oversized. It feels cool like the angsty BFF of Coastal Grandmother. (link to Southern Living) It feels more me with white linen pants, and this voluminous top seems to work with full pants, while light colors look as though I got caught in the clothesline on a windy day.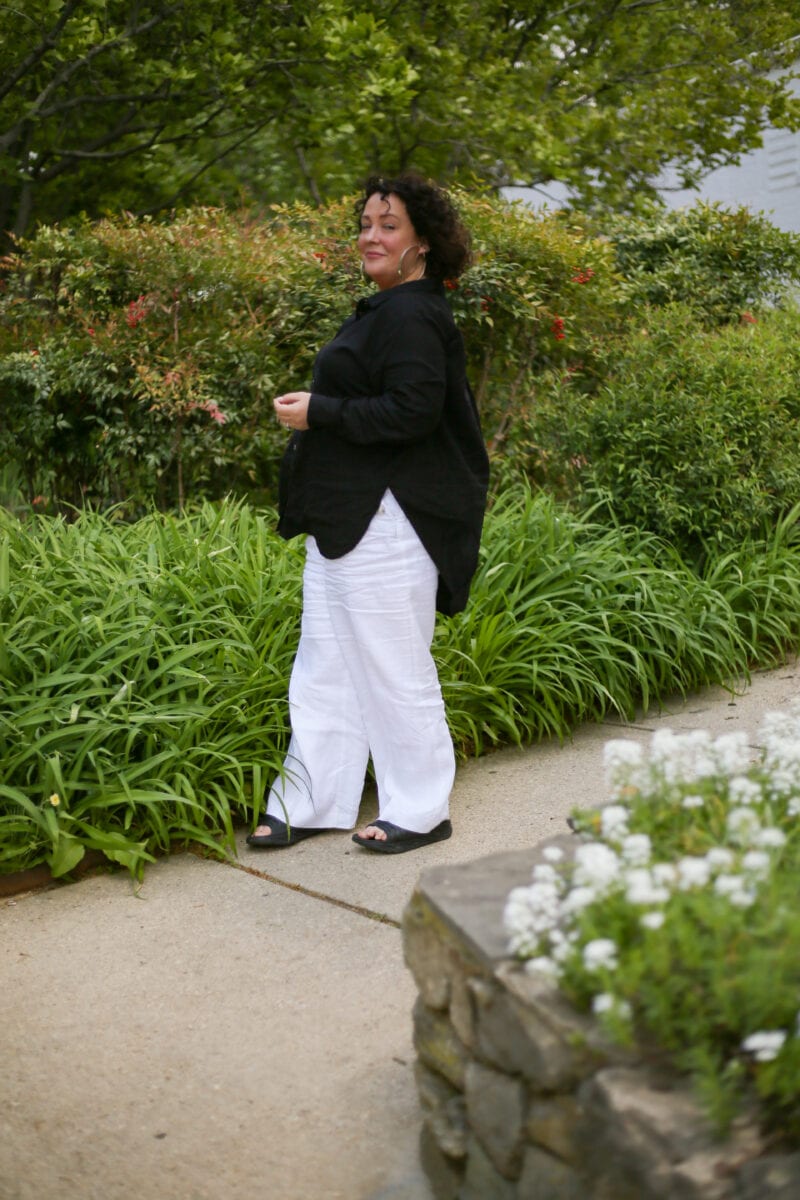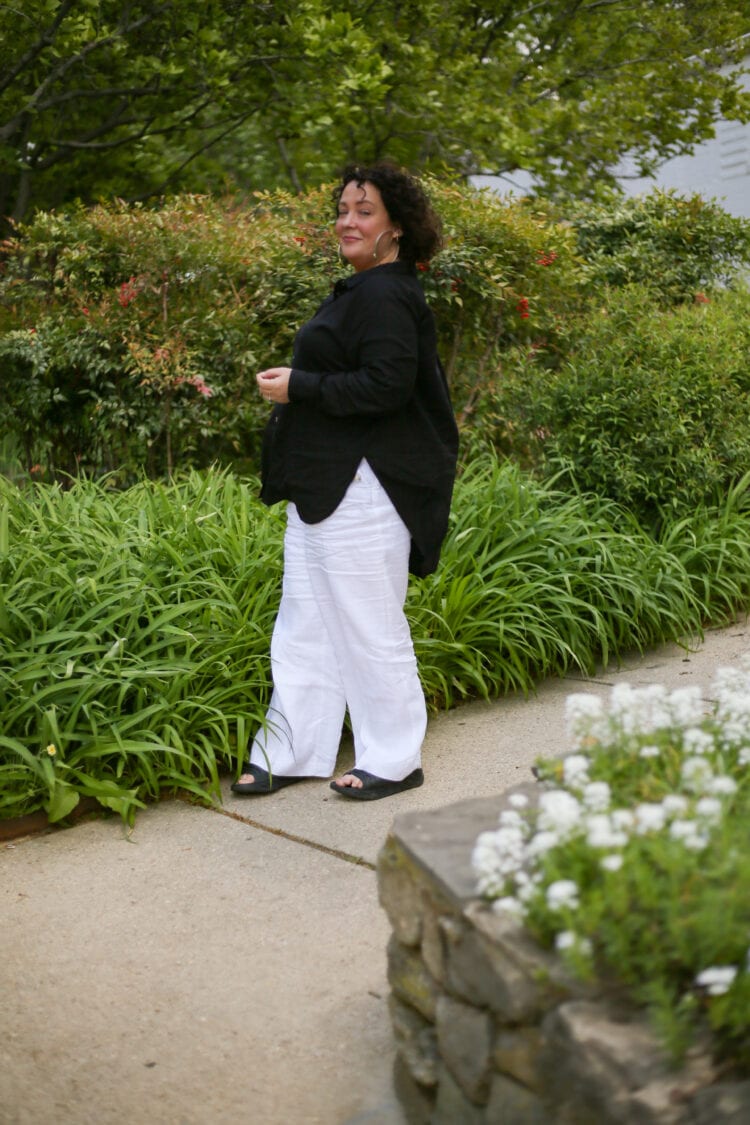 This length can be untucked or tied or left open. At my height it's a length that can work as a swim coverup. The sleeves are too long, but I plan to wear it in that "oh this thing" manner so that works. If that bothers you, the sleeves are full enough you could have a tailor trim them to a different length (I think cutting off the cuff to have a straight hem at the length you desire is a great option).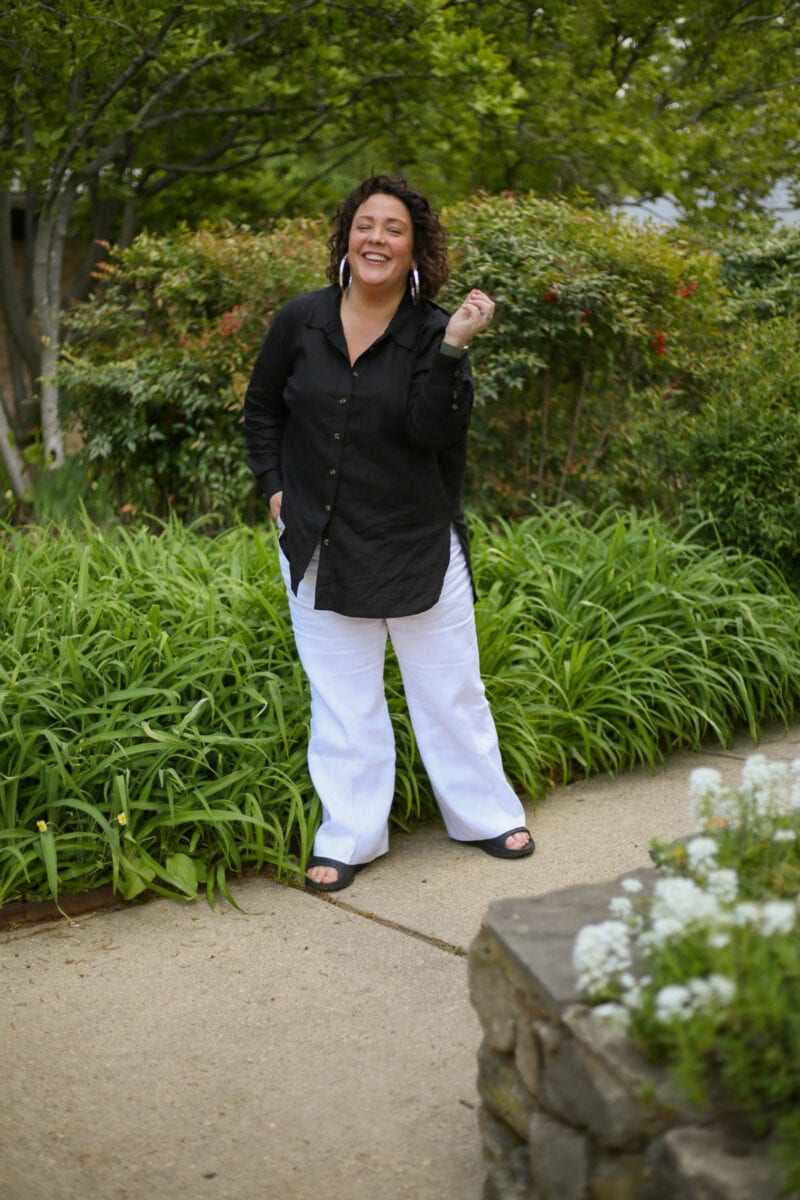 The Dawn Hi Low Linen Tunic from Universal Standard retails for $98. It is available in sizes 4XS-4XL and in four colors. It has horn buttons and a subtle horizontal seam at bottom half of the torso. This detail gives weight to the tunic so it falls nicely from the bust instead of tenting out. It is far less visible on the black version of this shirt than the white one I had last year.
Universal Standard Dune Linen Dress Review
Last year, Universal Standard didn't let me pick the pieces, they just confirmed my size and send items for my review. I received the Dune dress in a sage green color, the same exact color as my dining room. A gorgeous color, but not an Alison color. I received it in size XS and even though it was not a color I would normally wear, I wore that dress quite a lot over the summer, and even packed it for some travel.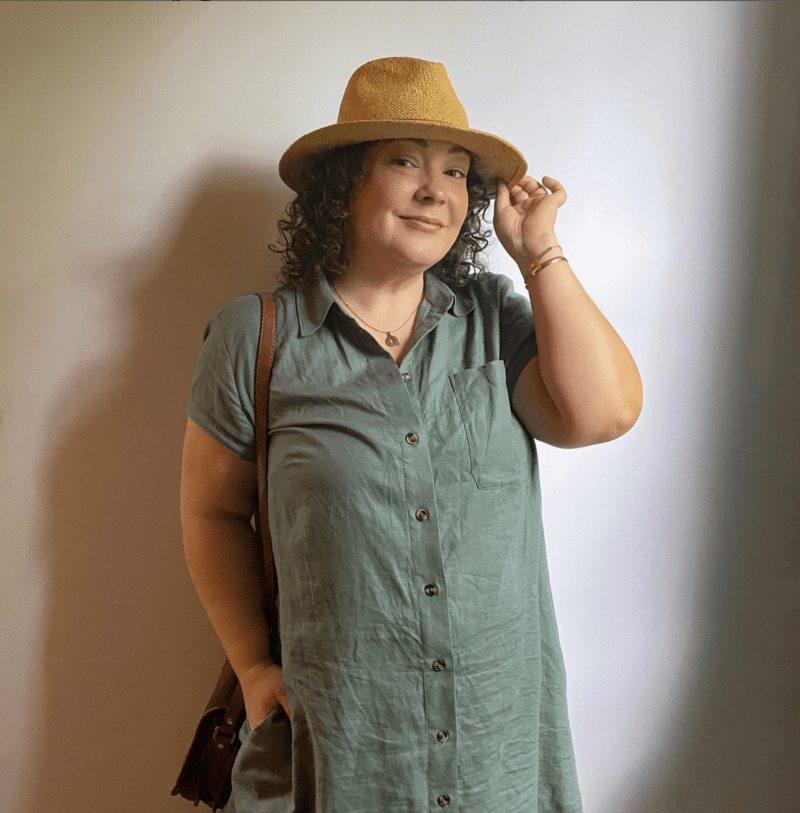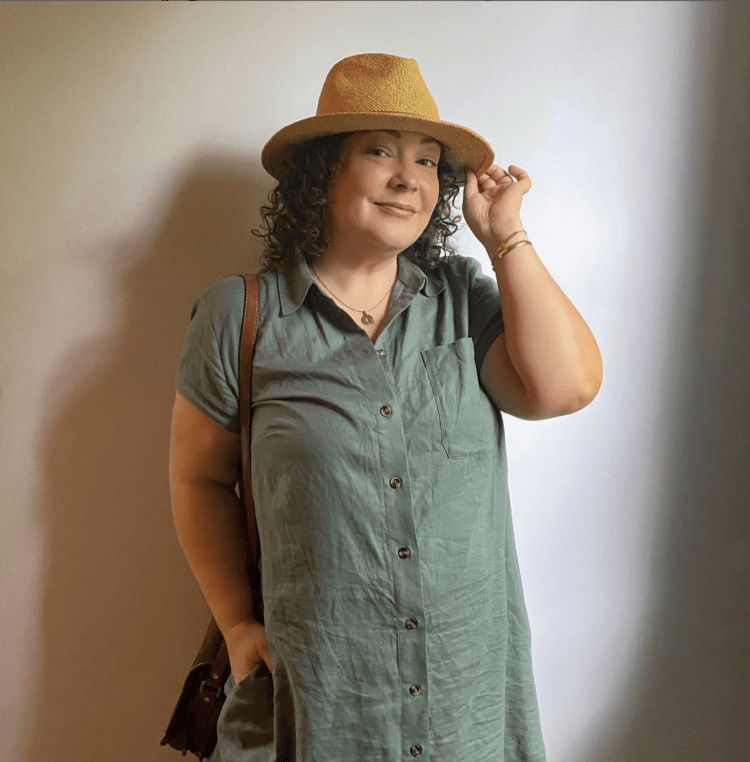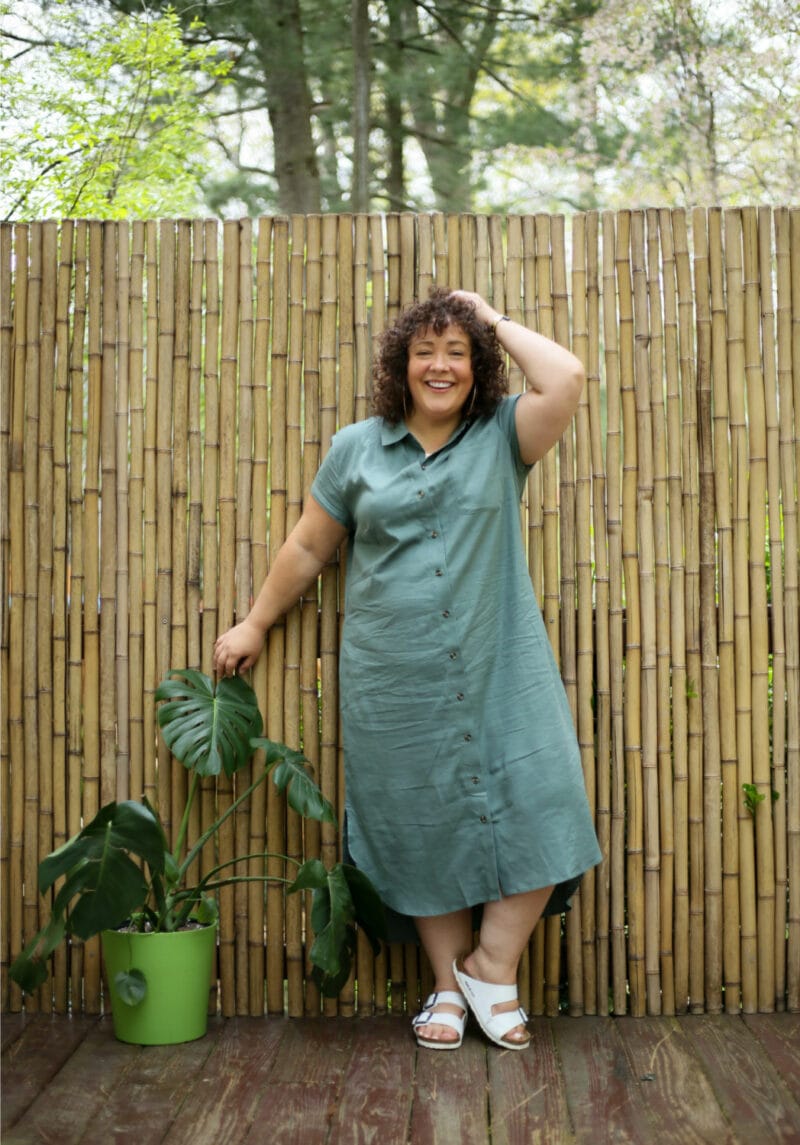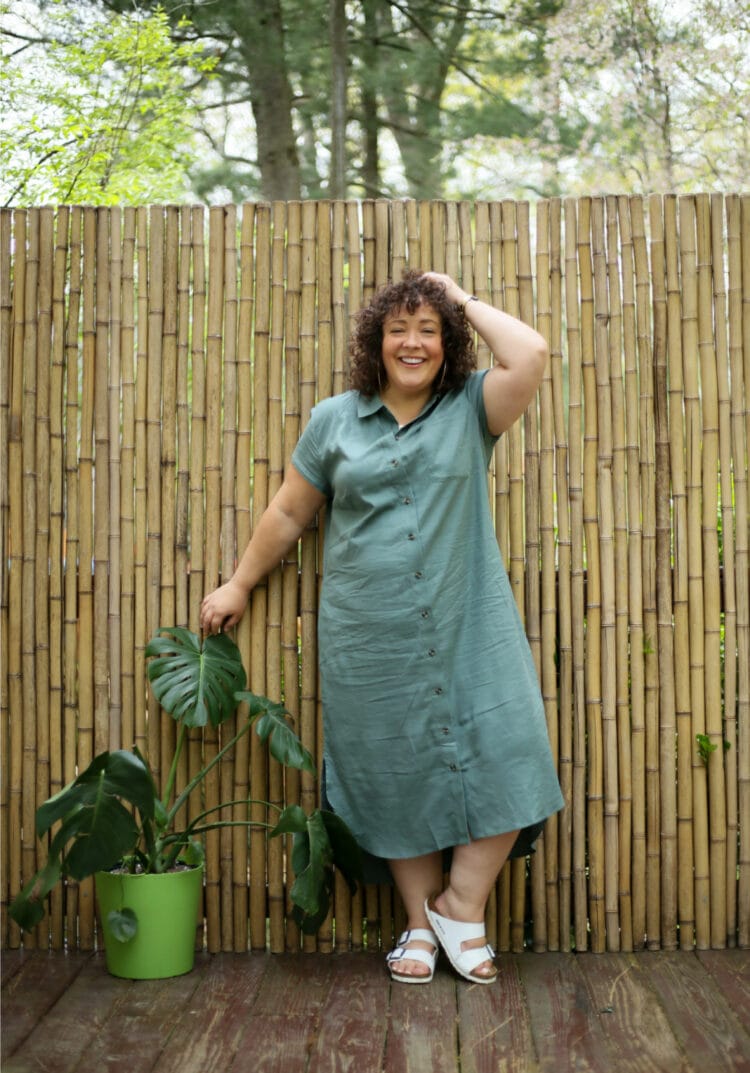 The Dune shirt dress was worn with espadrilles and a cute crocheted bag, it was worn with Birkenstocks and a straw hat, it was worn with my Cariuma sneakers and a baseball cap, it doubled as a swim coverup and was often a house dress. I even wore it as a duster over my NTN bodysuit. And the true test of a fashion influencer's closet… it was kept even when no longer available for sale to enjoy wearing the following summer.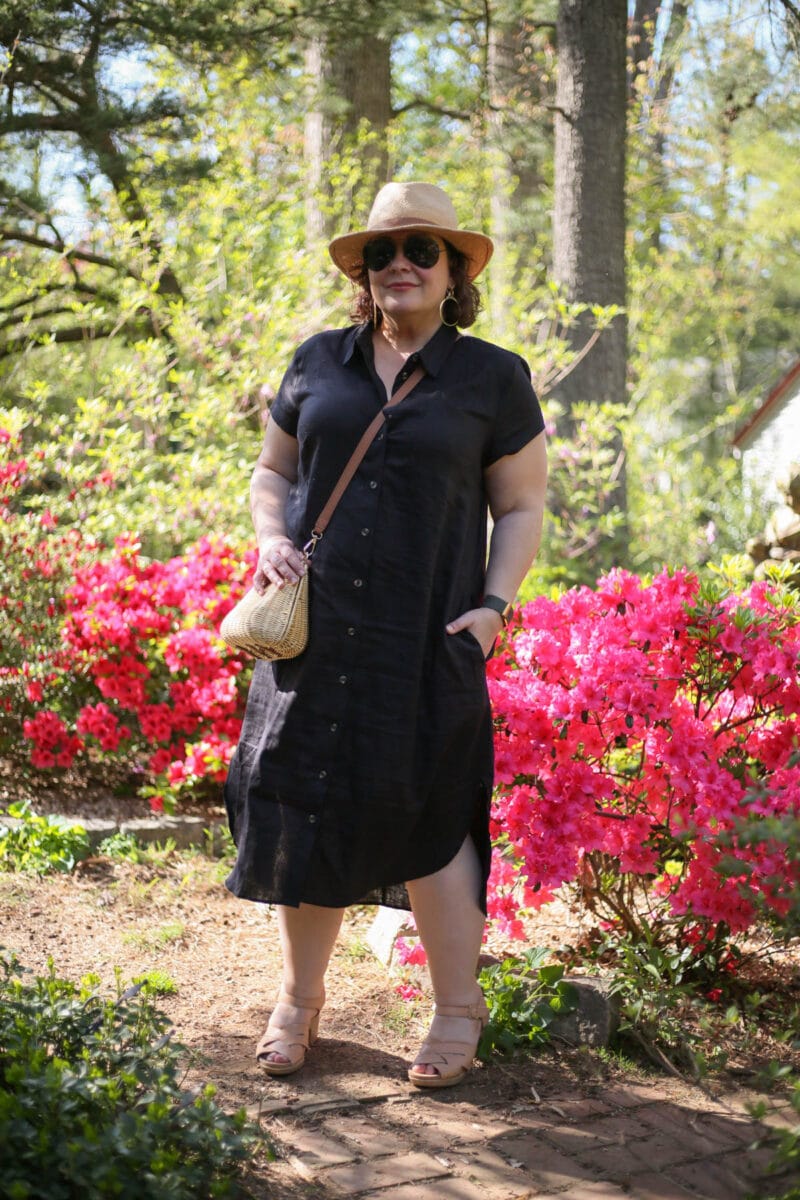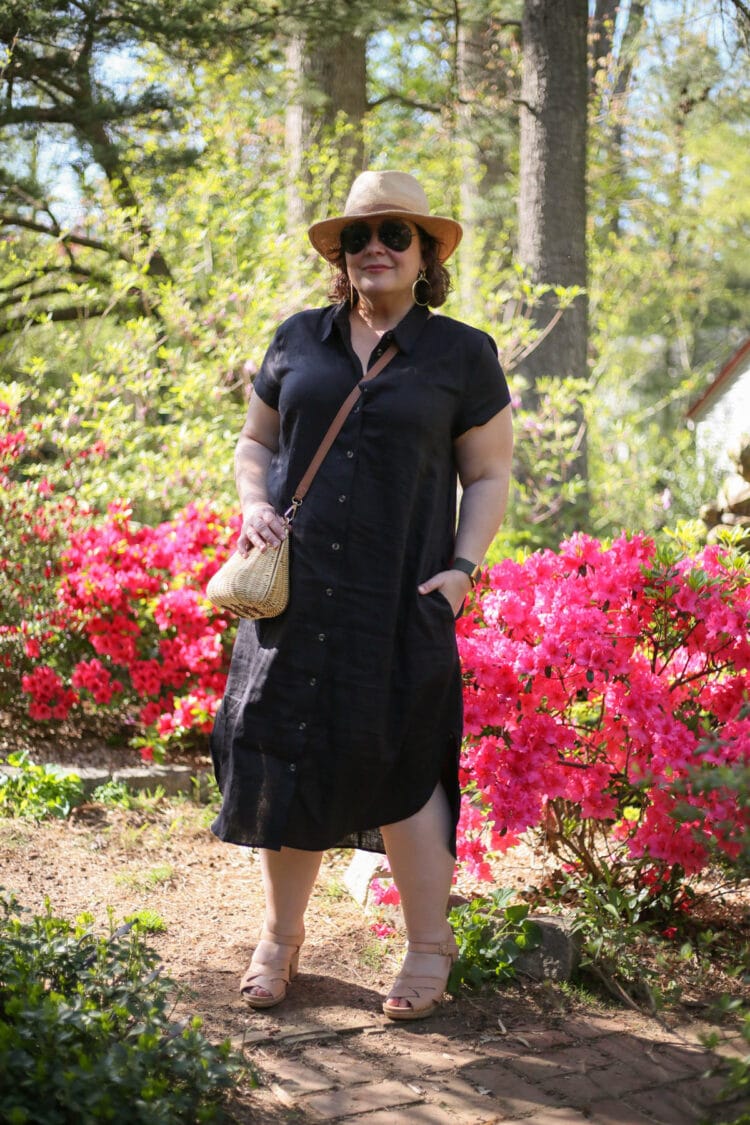 So when Universal Standard offered the tunic in the color of my choice (black, like my heart… har har), I also asked for the Dune dress in black. And I am happy to say the fit is the same, the fabric is the same, the cut is the same, the quality is the same. And dang I wish Universal Standard would be more adventurous with their colors.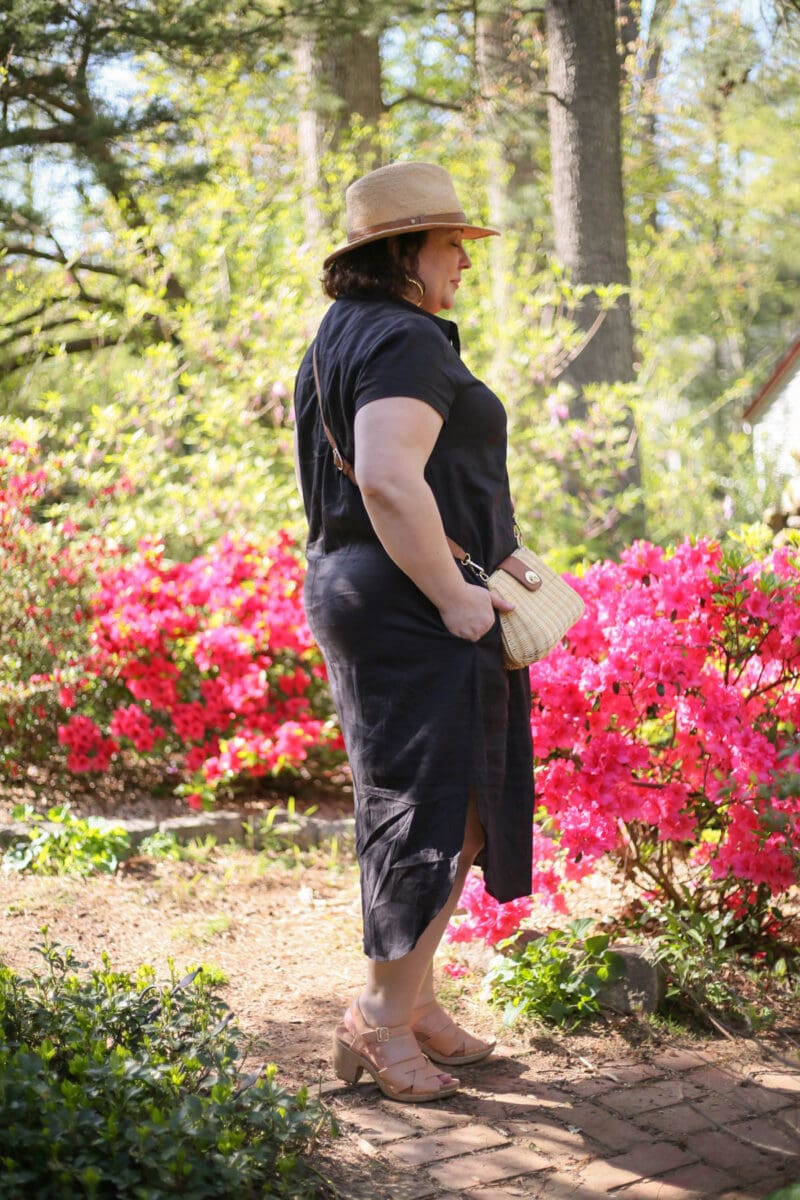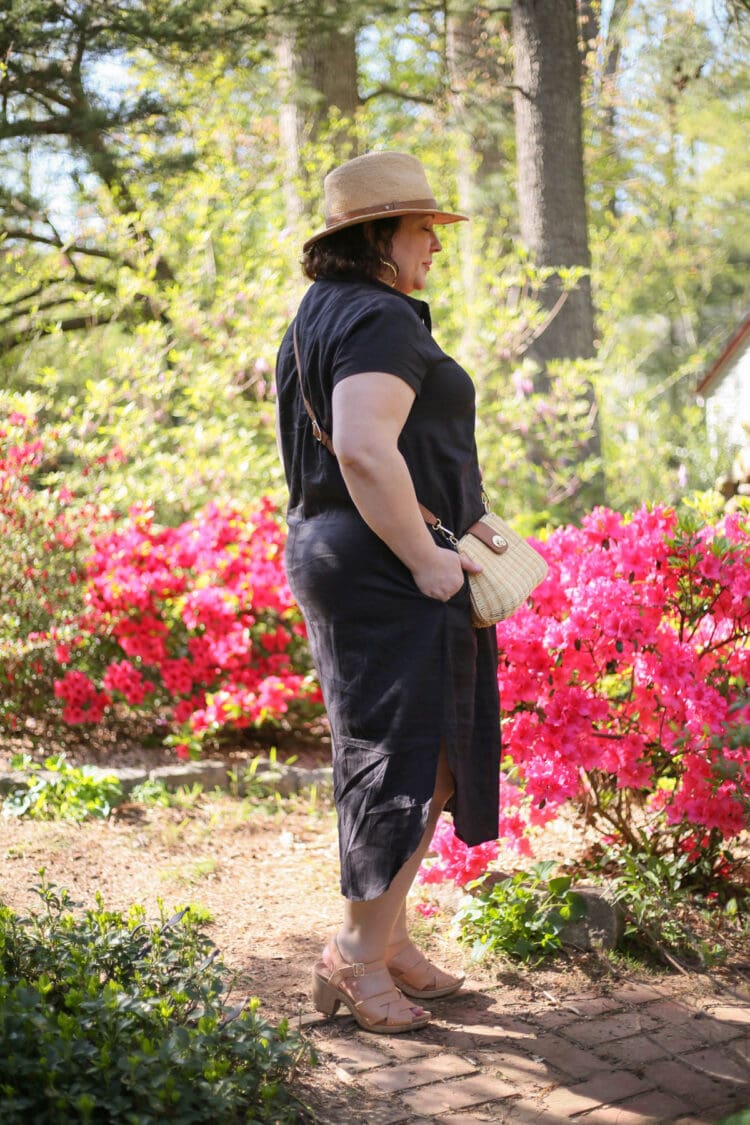 I mean, black is chic. This year's Sea Moss is a richer, deeper color than last year's green, and the Cabernet is lovely. But where is the rust/copper sort of color that makes so many people look all summery and glowy? How about a really fantastic fuschia that would rock with black or white, but also brown and olive and mustard? And a rich navy linen is always timeless. While I love the black for the tunic, I wish I had more joyful a color in the Dune linen shirt dress.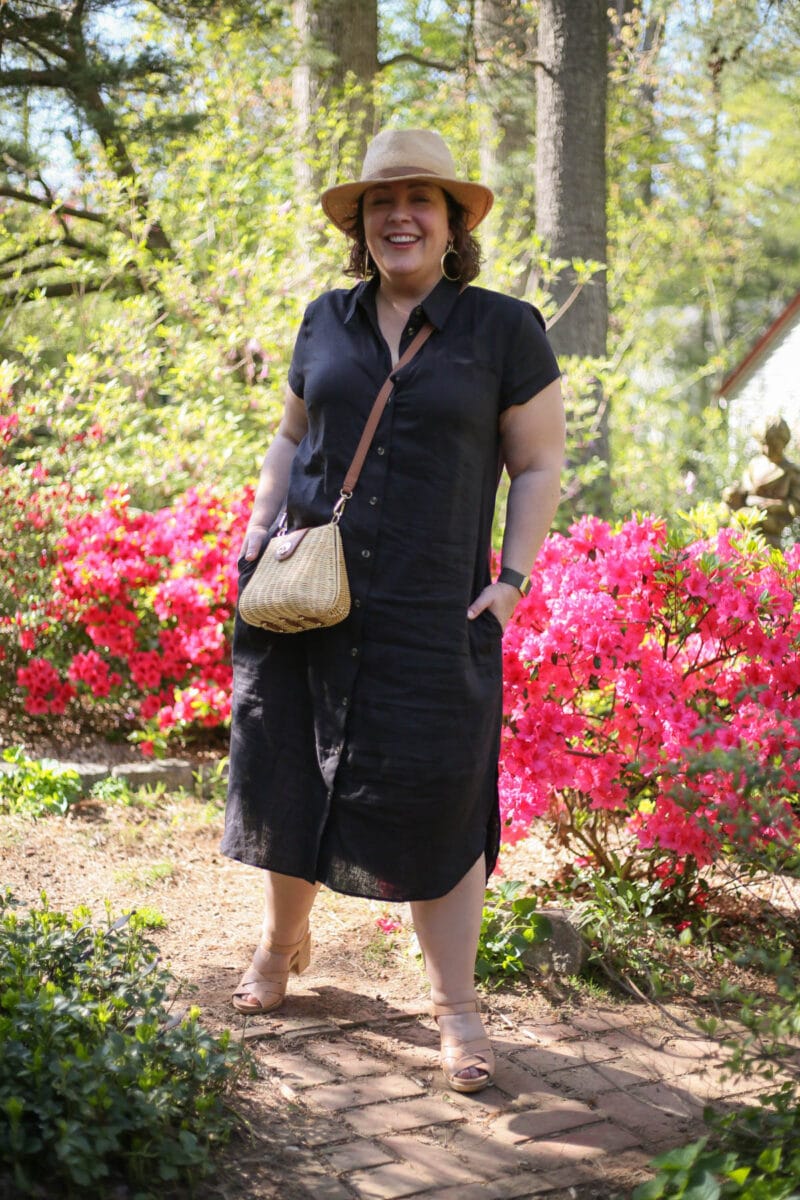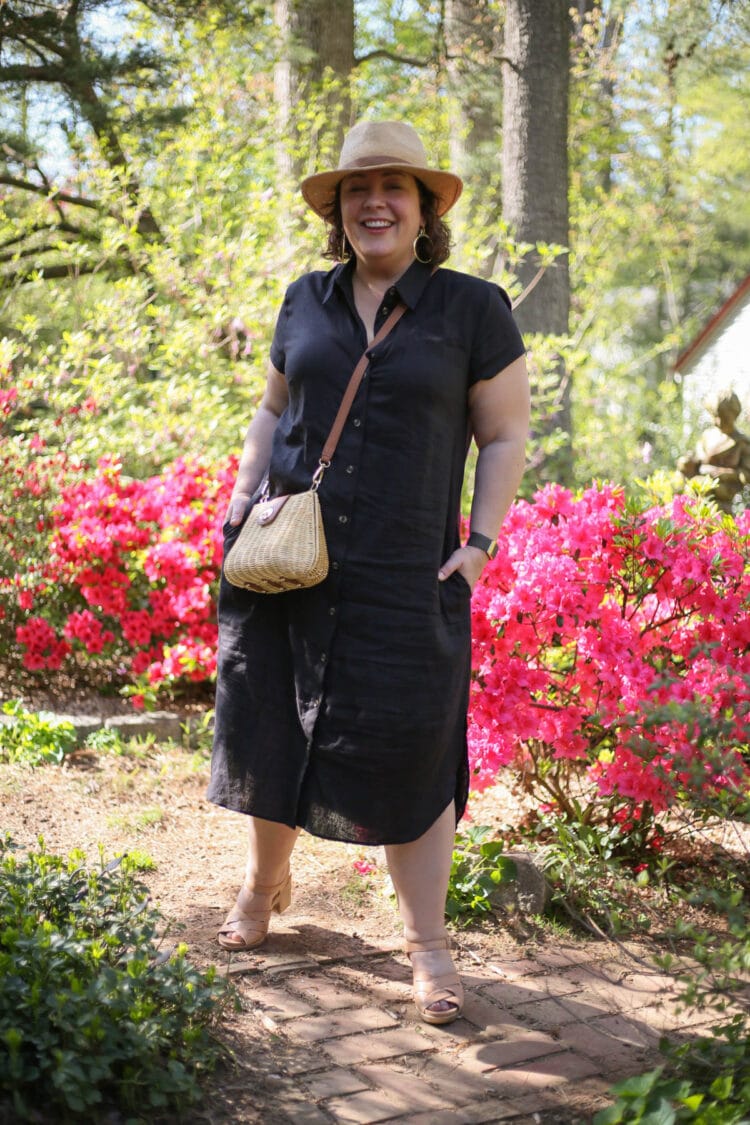 That doesn't mean I won't be wearing the HECK out of this dress all summer long. I have already worn it on three occasions. When I went for election judge training on a rainy day, I wore it with a statement necklace from Chico's and beige clog-inspired sandals (these are similar). I sat for hours in that classroom yet at the end didn't look like a paper bag. It's a good summer dress.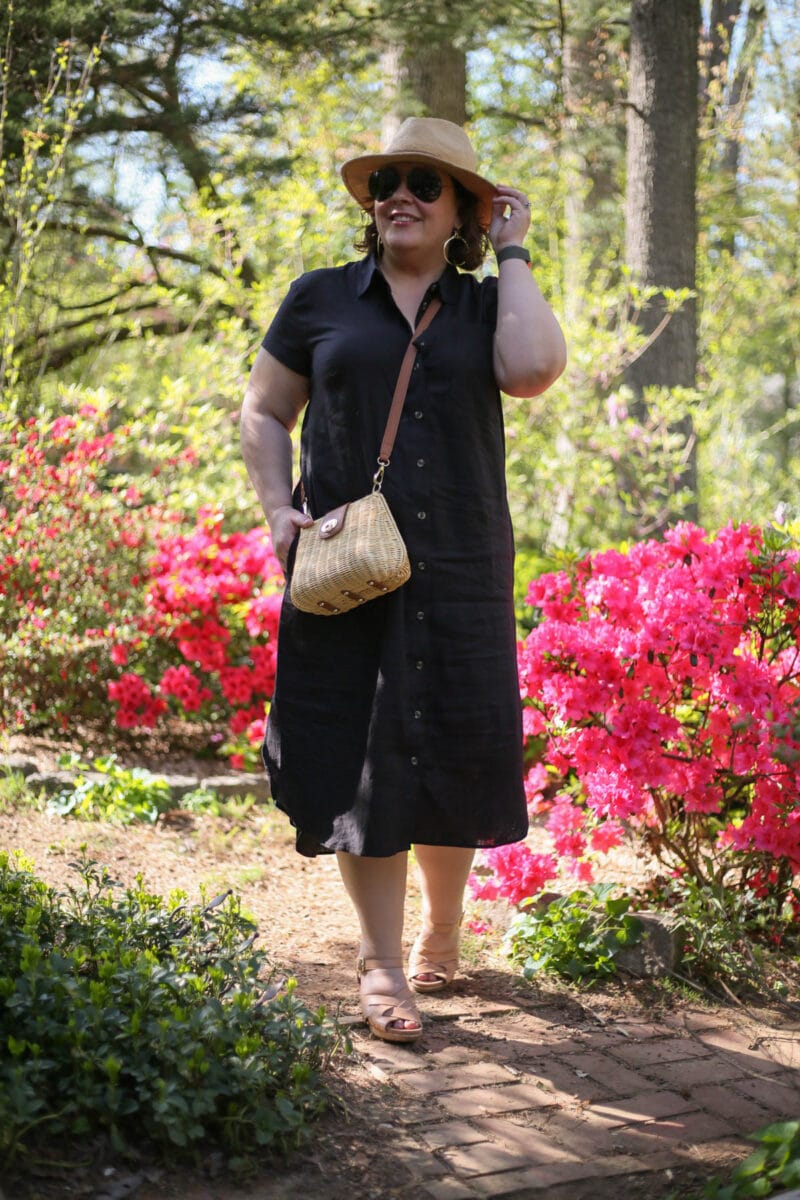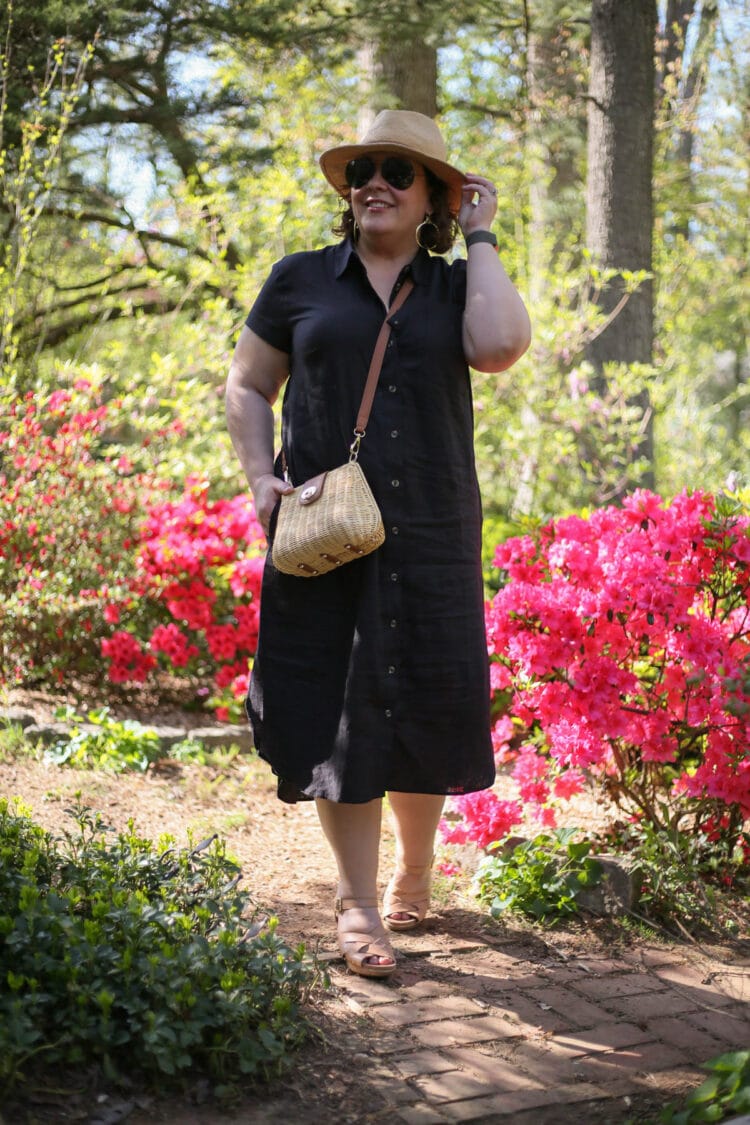 The Dune Linen Shirt Dress from Universal Standard retails for $124, It is available in sizes 4XS-4XL and in five colors. It has side pockets as well as breast pockets. There is a hidden snap at the bust to keep it closed. The buttons are horn. It is unlined.
My Thoughts on Universal Standard's Stretch Linen Collection
And it makes me look at the Universal Standard stretch linen collection with fresh eyes. When Universal Standard relaunched their linen this season, I didn't even take a look because I was so underwhelmed by last year's collection. But after wearing that Dune dress and trying this year's pieces, I see the value of this collection.
I am especially intrigued by the Promenade jumpsuit, which has a much fuller leg than last year's linen jumpsuit. This means it will be less likely to bag out in the bum and will have a dressier effect. And with the adjustable straps it likely will have a better fit on a rage of heights and shapes. I was chatting with a friend and she was thinking of wearing it for upcoming graduations and I think it could be a good choice for such events.
I love Universal Standard, I think it's clear. I just wish they would take a few more risks like they did in the past. The occasional interesting detail, and colors that feel more modern, joyful, and elevated. A piece doesn't have to be the color of a dining room to be a wardrobe staple, and folks of all clothing sizes deserve to have joyful options in breathable fabrics.
While Universal Standard gifted me these two pieces of linen, this is not a paid review nor was this written for compensation or in exchange for the gift. However, I have used affiliate links in this piece. If you click on a link and make a purchase, I may make a commission. This is the way I prefer to make income from this site because it means I am paid only if I make smart choices for this community, write quality reviews, and remain honest with you. If you'd like to know more about the business of blogging you may click this link.