This article may contain affiliate links; if you click on a shopping link and make a purchase I may receive a commission. As an Amazon Associate, I earn from qualifying purchases. 
I can't believe that in June, Karl and I will have been married nine years. Nine years! Where does the time go? I've been thinking about our wedding a lot since the cicadas are set to return this summer and they were here for our wedding. I decided to take a walk down wedding dress memory lane for today's Throwback Thursday.
Though I South Beached most of my engagement, I was still a size 10/12, which makes dress shopping hard. Most boutiques only carry sample sizes, which are in the single digits; no matter how many binder clips they use to attach that dress to your bra, you can't get a good feeling for how it will actually look when the dress is several sizes smaller than you need. So my first stop in dress shopping was David's Bridal, where I knew they would have all the popular silhouettes and also have many dresses in my size. I went, and thought I found THE ONE on the first visit. Came back a second time, took pictures and realized that while the dress did flatter, it wasn't quite right. However, that trip to David's helped me narrow down silhouettes and know what styles flattered my figure and fit my sense of style.
I ended up with a very similar gown I remember it was called the "Temara." I tried on at a boutique in Baltimore, but found it for almost half the price online (thank you Bridal Bargains!). It had the a-line skirt and wrapped waist I found flattering on me, but was ivory silk shantung (always been a sucker for shantung) and Swarovski crystals along the top. Lace-up back so alterations were minimal (which was a good thing because I somehow LOST weight on my Bachelorette weekend of debauchery in Dewey Beach). I had my seamstress make my veil, the week before the wedding I decided I HAD to have a tiara and ordered one online. It was small yet sparkly and I must admit I still pull it out from time to time to wear around the house. My shoes were hot pink and found for almost nothing at the now-defunct department store Hecht's. I went to a Chanel counter to have my makeup done; the artist was going to do my makeup that day but cancelled short notice so I did it myself.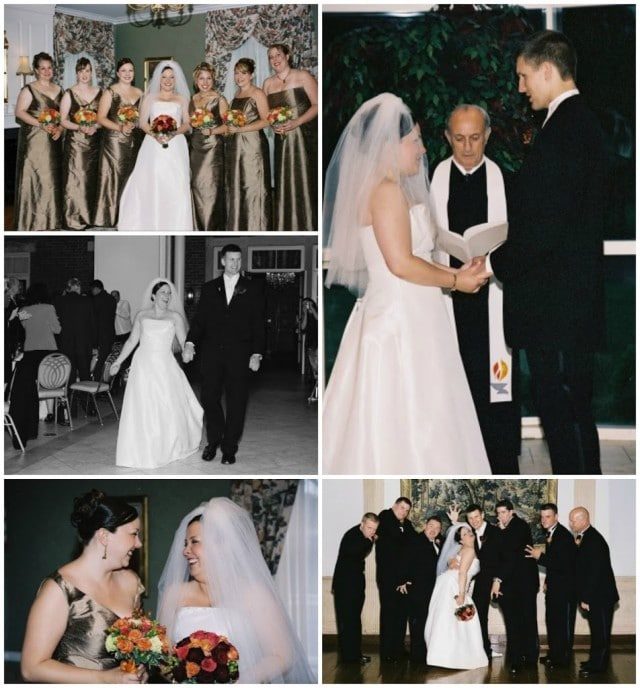 My favorite color was and still is orange. We had orange invitations, orange flowers for the ceremony and centerpieces, the boutiques were predominately orange (with Kermit green flowers to represent my dad Kermit). Tables were named after places we had traveled to as a couple, written on shades of orange and pink paper; that same paper was used for the programs and cardstock in the same shades was used for placecards. We even had an orange signature drink – the Orange Crush that I had enjoyed many times with my friends during our Dewey Beach adventures. I wanted my bridesmaids to wear orange tea-length dresses but they vetoed me and wore a much wearable shade of bronze.
Our wedding was at an historical mansion that was just a few miles from where the two of us grew up. The plan was to have the ceremony outside on the terrace. The cicadas were in full force and we were considering all sorts of ways to deal with them (have catering sweep up the carcasses 10 minutes before people were to arrive, have the minister ask the audience to do a round of applause before we walked out to shush them long enough for the ceremony). Even though the farmer's almanac said it would be fair weather, it rained all day and evening so the whole event was inside and cicada-free.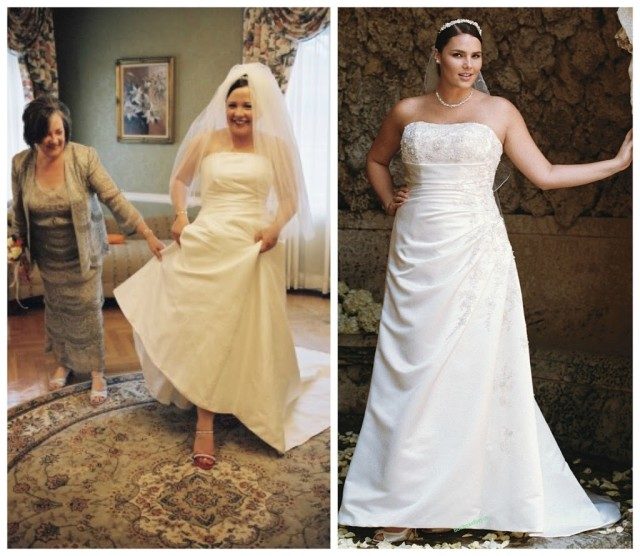 Looking back, I think the most dated parts of my look were the cosmetic ones – the shimmery silver shadow, the deep maroon lips, the very slicked-back updo. The dress still holds its own; in fact I went to the David's Bridal site to look at their current dresses and found almost the same dress that I almost got (though the one I tried had a solid skirt and was a dark ivory/candlelight color). Like wrap dresses, pointed-toe pumps and dark straight jeans – some trends just don't disappear because they are so figure flattering. I think my wedding dress could be rocked now, though I would likely replace the lace-up back with buttons, wear my hair down and cut down my makeup by a million. And the shoes? Oh I would still totally rock those shoes!
Follow Me | Twitter | Facebook | Instagram