This article may contain affiliate links; if you click on a shopping link and make a purchase I may receive a commission. As an Amazon Associate, I earn from qualifying purchases.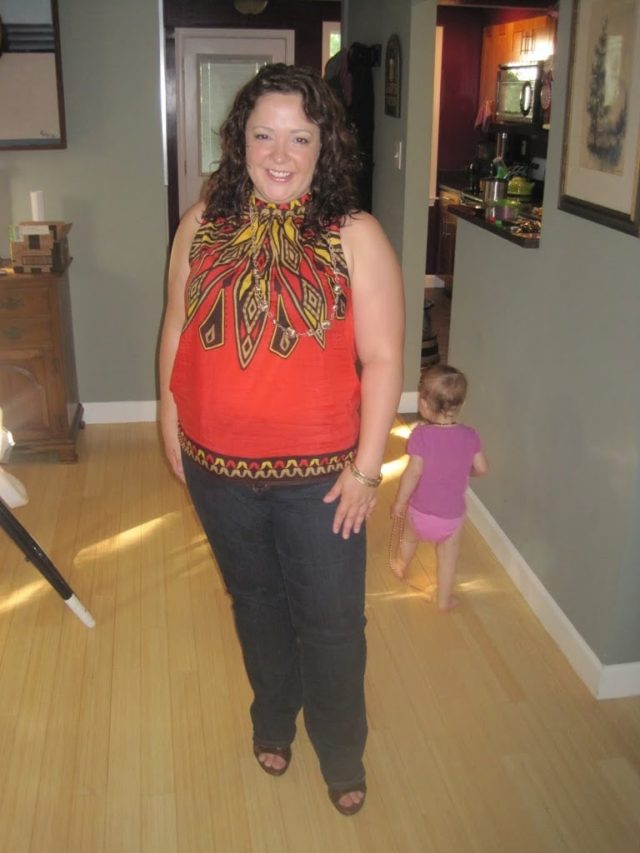 I must remember to lift my chin for photos.
I must remember to lift my chin for photos.
I must remember to lift my chin for photos.
I still love this top from Jones New York. You know it may not be what one would choose for my figure – it hides any narrowness to my waist, it has a high neck, and it has wide armholes which make my upper arms look even wider. But the print is fantastic, and in the hot DC summers, it is AWESOME to have such a lightweight top (cotton voile) that is work- and play-friendly! The top says dry clean only, but I washed it on gentle, let it air dry and did a quick swipe with the iron to keep the interfacing inside the armholes and nat have it look as though I pulled it out from the hamper and it was good to go.
I was going to wear it with my brown trousers from Semantiks, but those pants… are too big. I have only worn them twice. I don't know if it is removing weight (my WW leader says you don't lose weight because that sounds as though you want to find it again. Instead you REMOVE weight), or because my body is eternally changing and morphing post-pregnancy. Anyway, they look as though they are a size too big and sag in the crotch area and look dumpy. Sigh.
So I am totally breaking work dress code and wearing my straight-legged jeans from NYDJ. I totally heart these jeans – the higher rise prevents muffin top and doesn't dig into me when I sit. The stretch doesn't look goofy – the denim has a great tight weave and deep dark rinse which makes them look far more refined than many stretchy jeans. The jeans are supposed to take 10 pounds off, but they don't really suck in a ton. I personally am happy for that because control garments like Spanx make me look like a stuffed sausage and TMI, but give me major gas if worn for a long period of time. These jeans from NYDJ hold a bit in, but are comfy to wear all day. And I am one of "those people" who throws her jeans in the dryer. You wouldn't be able to tell with these jeans, they are just as dark as they were the day I bought them. So since they are a nice crisp dark indigo, I feel they are a bit more work-worthy than say my distressed bootcuts from Seven.
Top – Jones New York
Jeans – Not Your Daughter's Jeans (NYDJ)
Necklace and Bracelet – Ann Taylor
Shoes – Sofft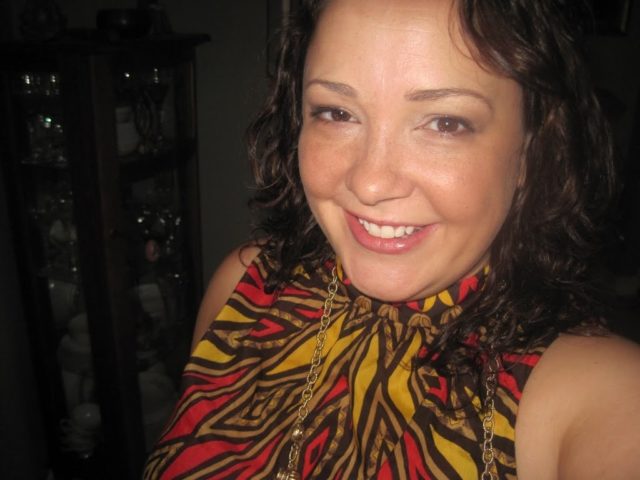 Hair was washed and conditioned with Pureology
, added Frederic Fekkai's Luscious Curls
, scrunched and let air dry. Still damp in these photos. Makeup is my standard – Almay Smart Shade makeup in Light/Medium
, Tarte bronzer
, Revlon ColorStay shadow quad in Neutral Khakis
, DiorShow mascara
, Bare Escentuals Buxom lip gloss in Dolly
.