This article may contain affiliate links; if you click on a shopping link and make a purchase I may receive a commission. As an Amazon Associate, I earn from qualifying purchases.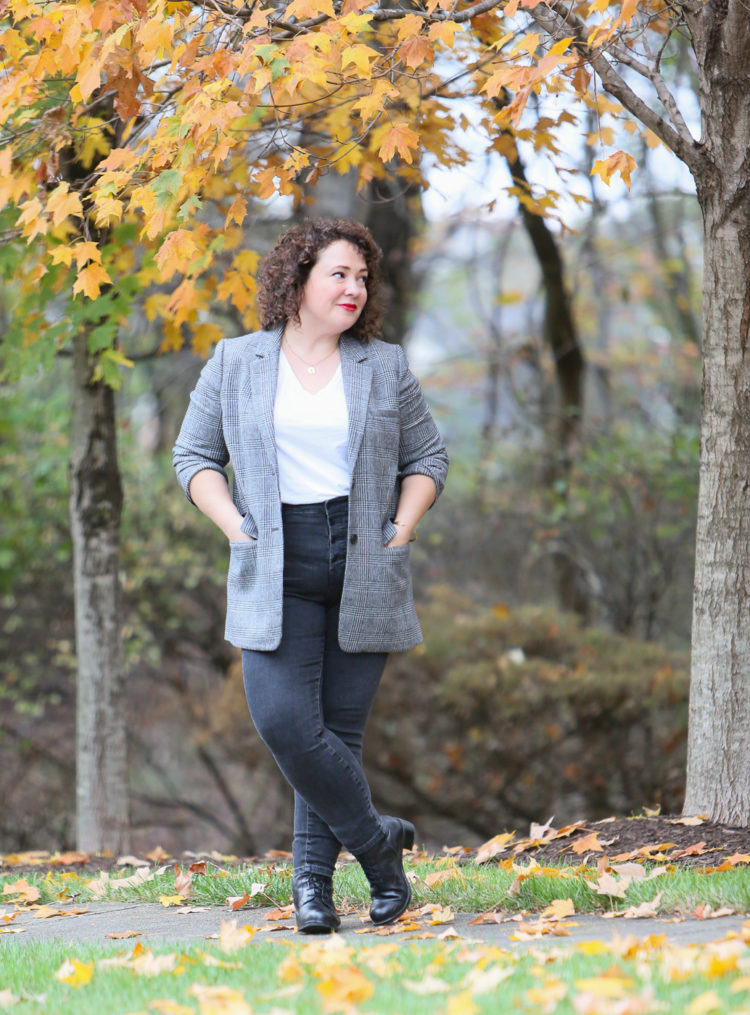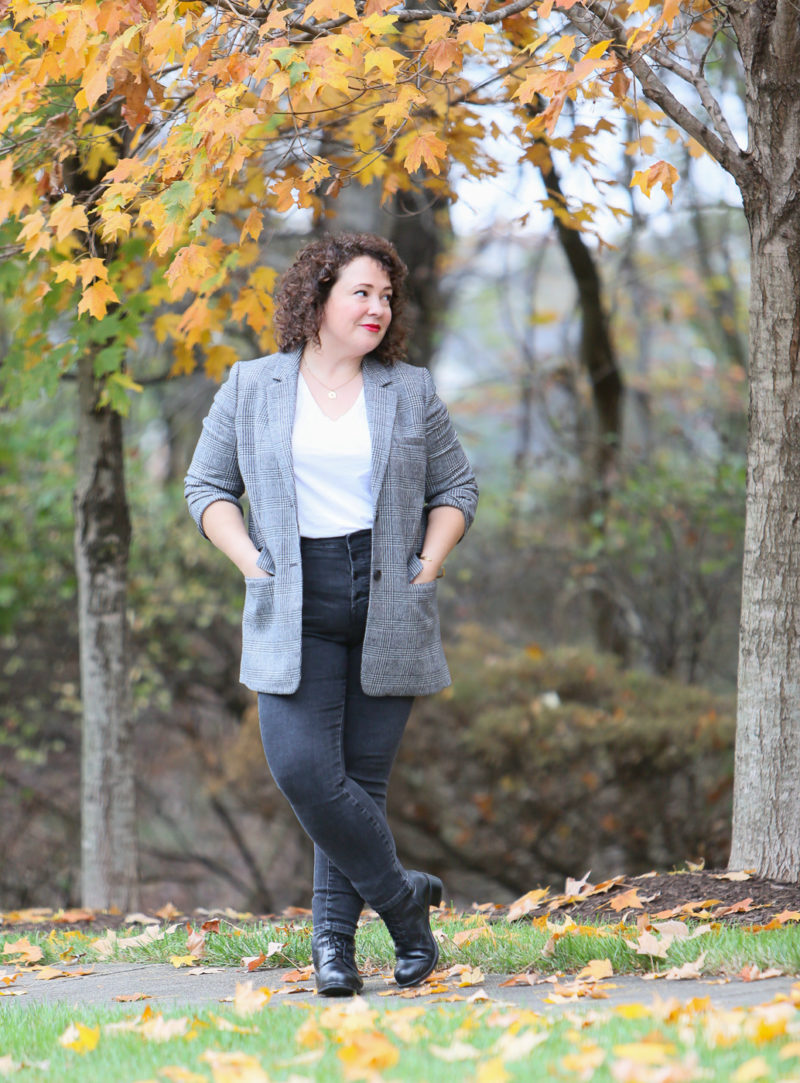 Without much fanfare or press, Everlane extended their size range to 16 on most pieces and up to a 35 waist on several styles of denim. I never understand why brands don't hype up extended sizes, especially when it's a brand that people have been begging for years to do it. I've reviewed Everlane Denim for a size 14, and have worn several Everlane pieces such as the Everlane cashmere crew and cashmere lantern sleeve sweater and the Japanese GoWeave Short Wrap Dress. I hadn't tried any jackets or blazers from Everlane and asked if they would send me their Oversized Blazer to review.  How is the fit, especially in the arms, shoulders, and bust for a petite curvy body?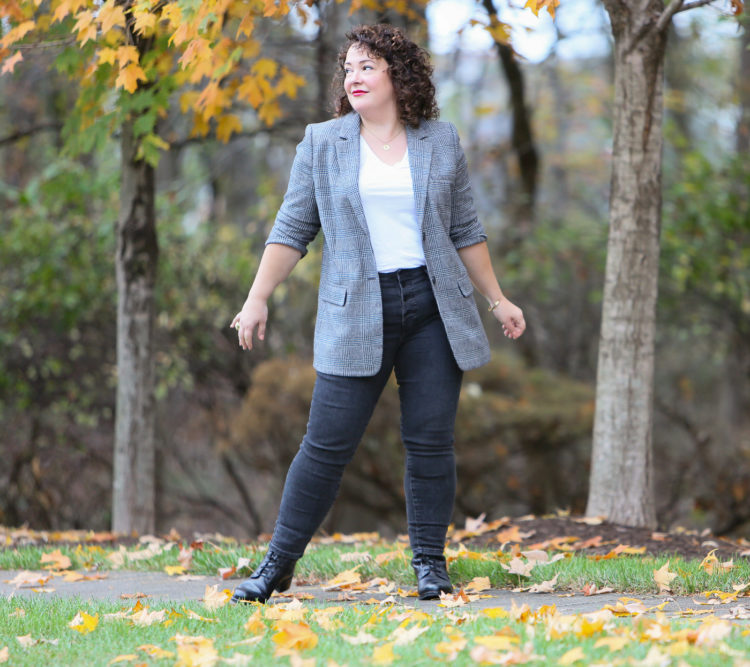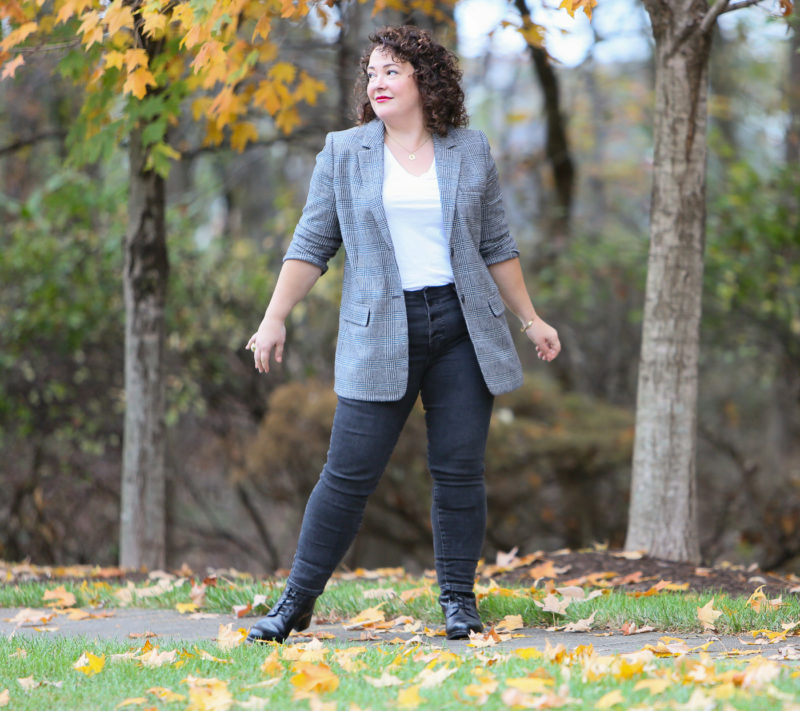 t-shirt | blazer | jeans | boots | ring | necklace | bracelet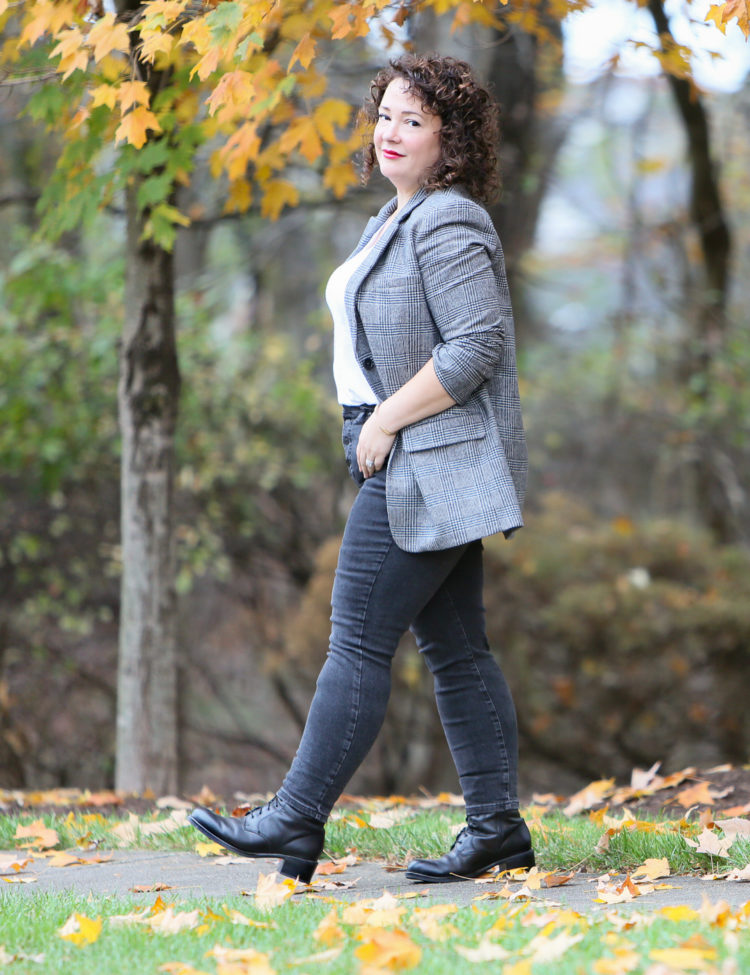 T-Shirt: The Cotton V-Neck c/o Everlane (XL) | Blazer: Oversized Blazer c/o Everlane (14) | Jeans: Authentic Stretch High-Rise Skinny Button Fly c/o Everlane (32 Short) | Boots: La Canadienne | Ring: Empress Insignia Luxe Ring c/o REALM | Necklace: Modernist Monogram Pendant c/o Jenny Bird | Bracelet: old; similar
The Everlane Oversized Blazer is purposefully oversized, made from 63% recycled Italian wool and 37% nylon.  The nylon makes the fabric softer and has a hint of stretch. The body is lined in a mix of 57% cupro and 33% cotton; the sleeves lined in 100% polyester. It has a double-breasted front and four working buttons on each cuff, two front flap pockets, a welted breast pocket, and an interior chest pocket. There is no back vent.  The blazer is available in two colors up to size 16; there are no petite, short, long, or tall options. This blazer retails for $180.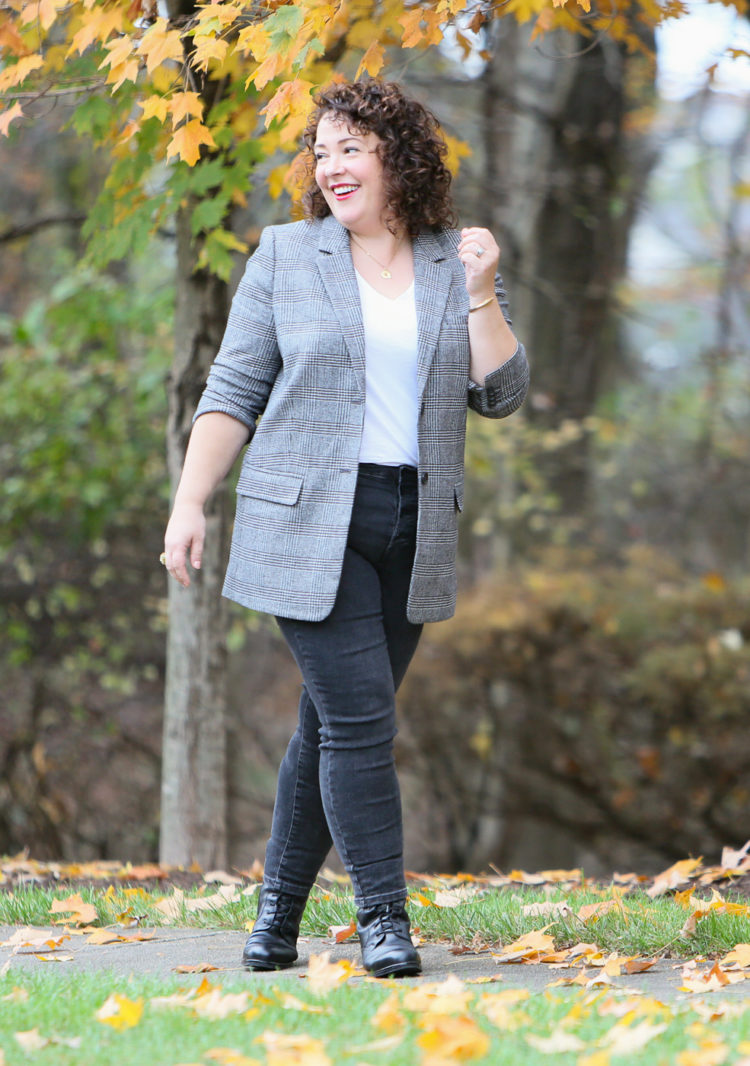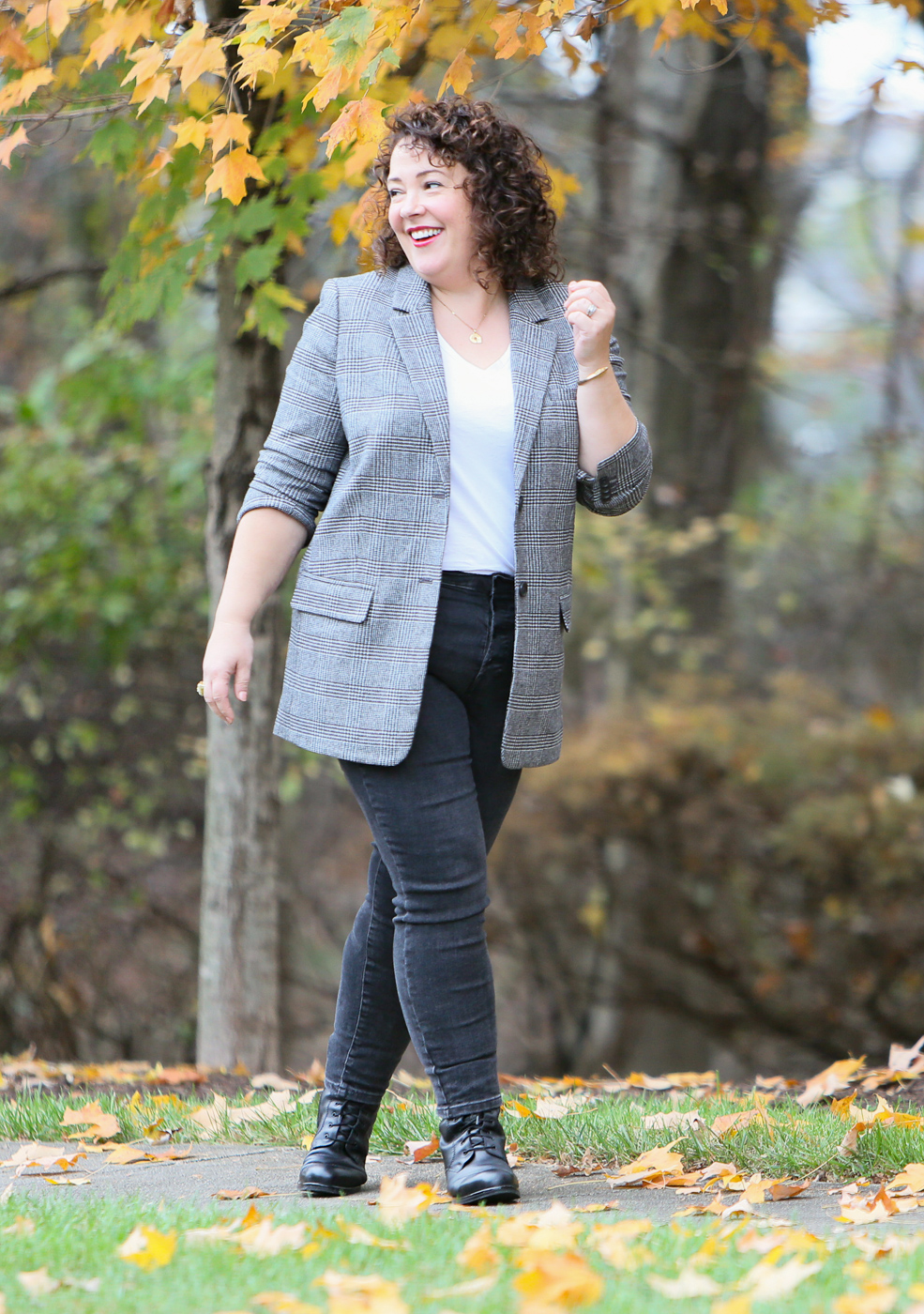 I am wearing a 14 in this blazer, my usual size in most brands. I think it was the right choice; a smaller size would be too snug across the back and in the shoulders. I would benefit from a petite offering; the sleeves are too long but I like pushing up my blazer sleeves anyway.  The coat is a bit long, but it goes with the oversized boxy trend of this season and once the season ends, will make this a nice fall topper/lightweight coat alternative.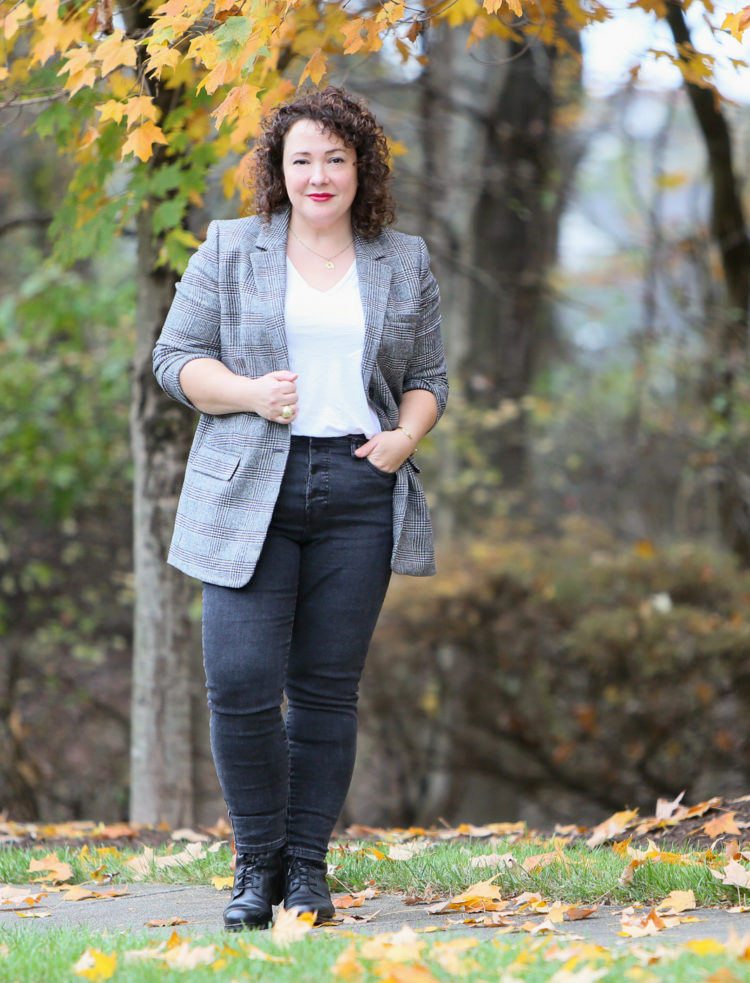 This blazer is exactly on trend this season; almost every retailer is carrying a variation of the oversized glen plaid or tweed blazer.  I have ordered a few sticking under $200 and I find most are polyester blends, lighter in weight, and most are too snug on my arms to wear anything other than a thin t-shirt.  I am pleased to find this blazer from Everlane roomy enough that I could wear a merino or cashmere turtleneck under it without feeling like the Michelin Man. However, because it is roomier and a heavier fabric, it does have a boxier shape.  I am okay with that, I wanted the look of a professor's blazer thrown over more fitted pieces.  If this is the effect you're looking for, this is a good choice at a reasonable pricepoint for the fabric and construction.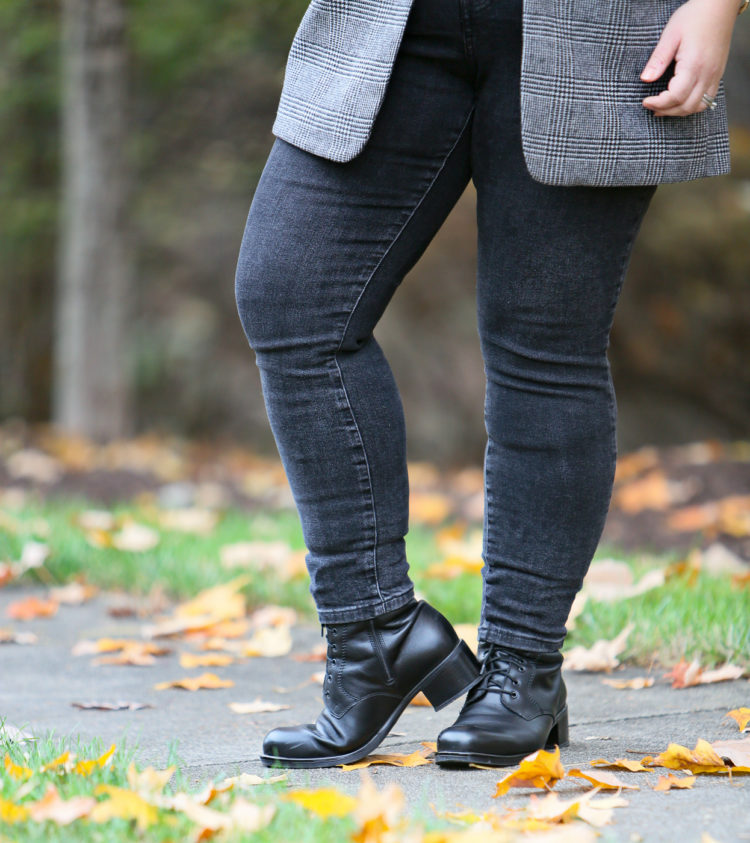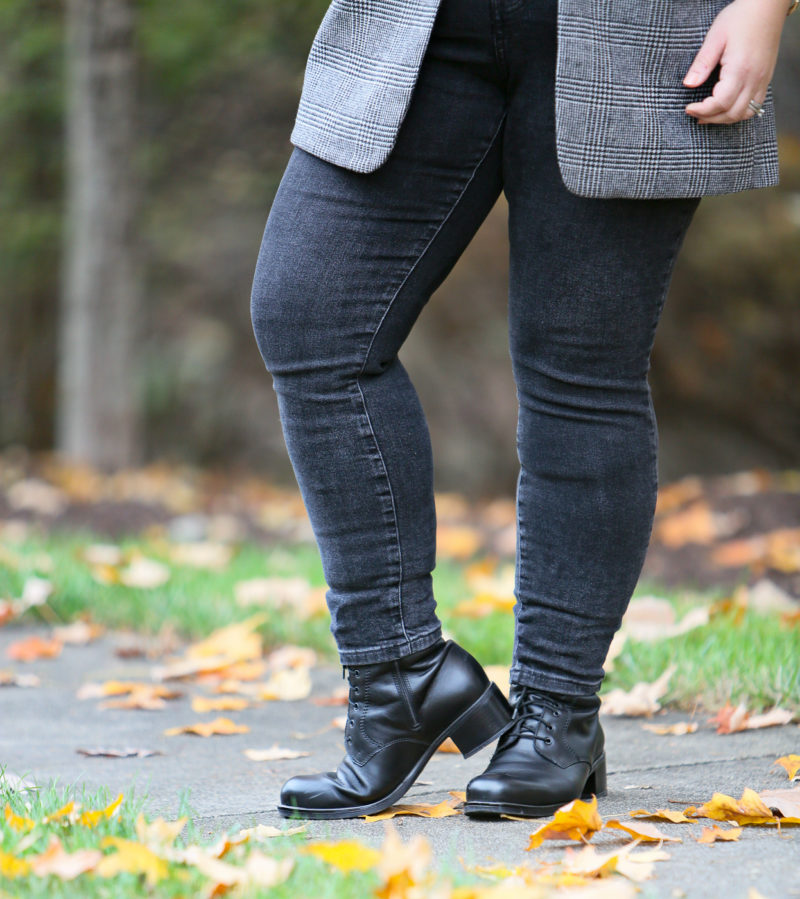 Since I was reviewing the Everlane Oversized Blazer, I decided to style it with more Everlane.  I reviewed these jeans before in this Everlane denim review post, and this post where I show a lot of views of the jeans on my body.  I have washed and dried these jeans dozens of times.  It has made the denim a bit thinner and the fit not as perfect, but these jeans have not been babied.  If I had kept them out of the dryer they likely would still fit the same as when I first got them.   The t-shirt is… fine.  It is a very square fit, the neckline is quite utilitarian, and in general, this feels like something I could get in a plastic package from the men's undershirt department at Target.  I wonder if I would find it as miraculous as the reviews if I was a slim and small-busted woman. I know many who love these shirts, but none of them have my figure. One perk is that this t-shirt didn't shrink after getting bleached on hot and thrown in the dryer.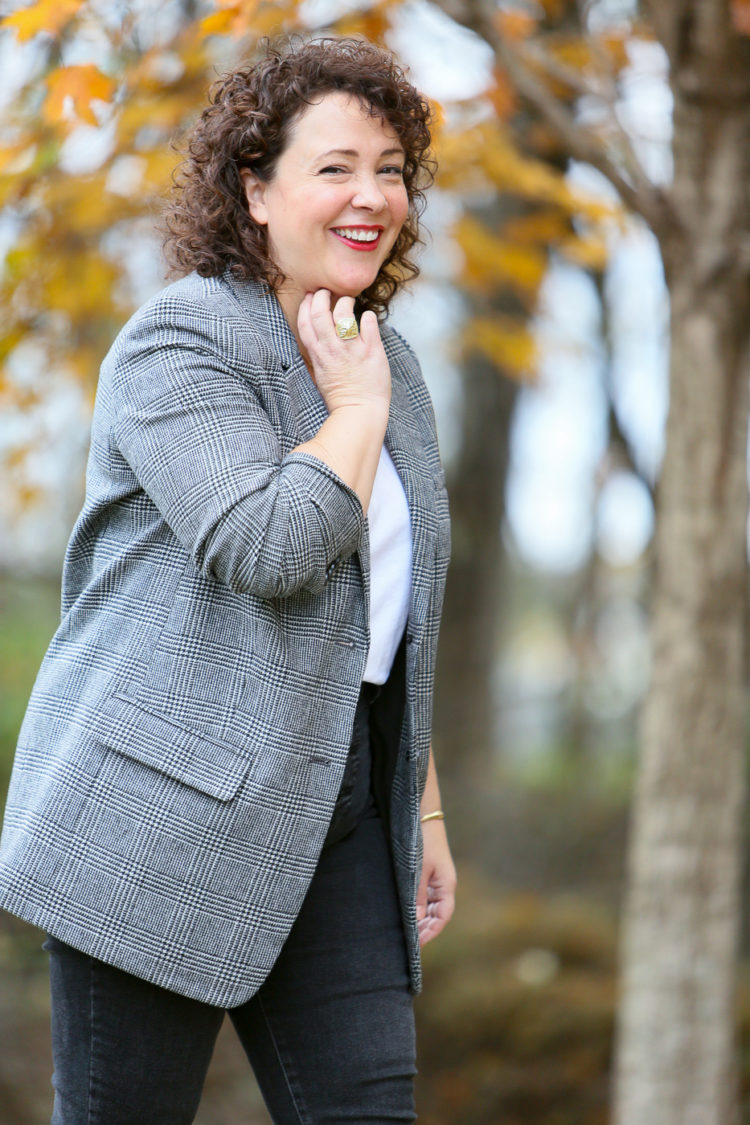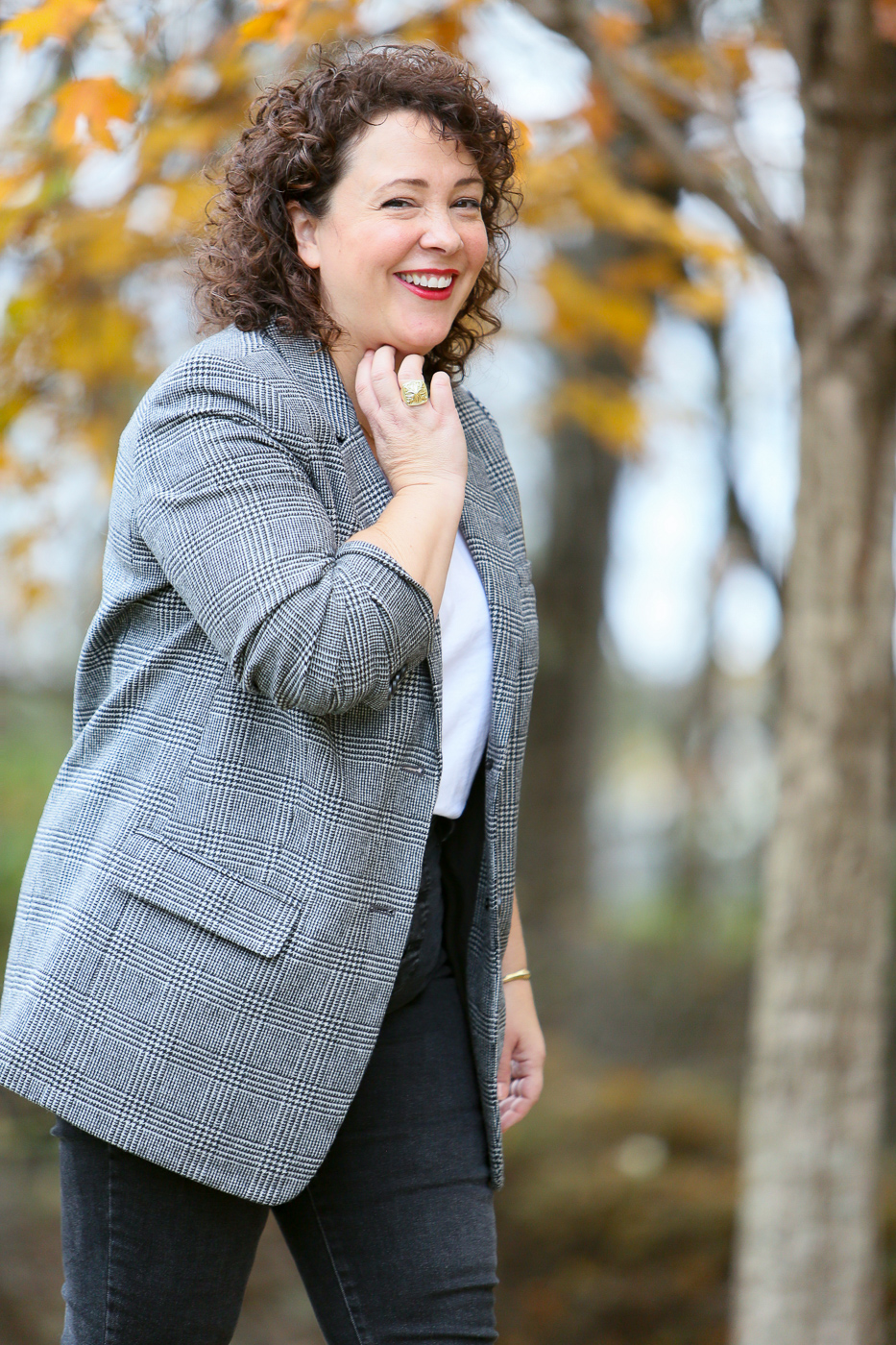 As always, I'm happy to answer any questions honestly about the clothing I wear – my size, how it laundered, the quality… whether or not it is gifted by the brand.  While I did receive the t-shirt, jeans, and blazer free from Everlane, I was not paid to write this review nor did I have to guarantee coverage of the items in exchange for receiving them.  There are affiliate links in this and almost every post on this site; if you click on them and make a purchase I may earn a small commission.
Shop the Look: