This article may contain affiliate links; if you click on a shopping link and make a purchase I may receive a commission. As an Amazon Associate, I earn from qualifying purchases.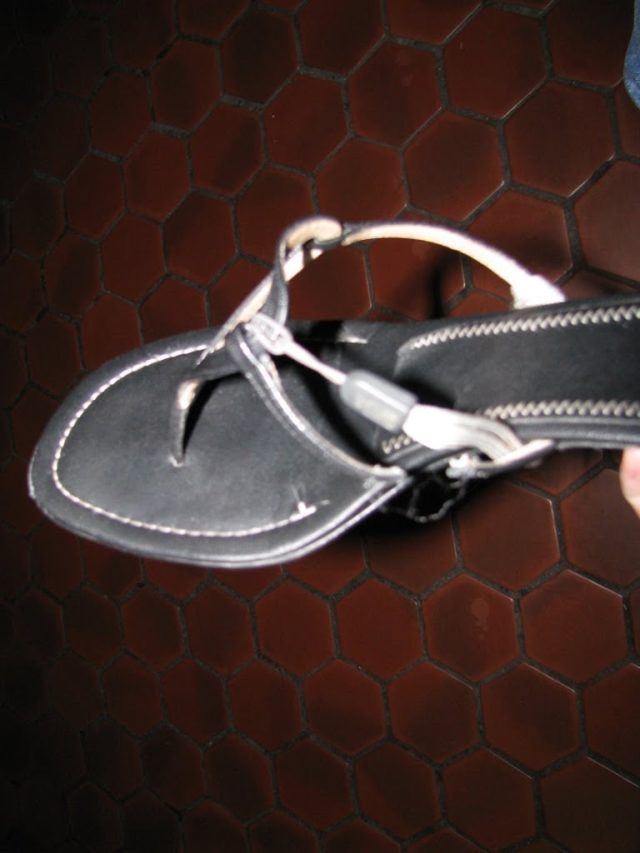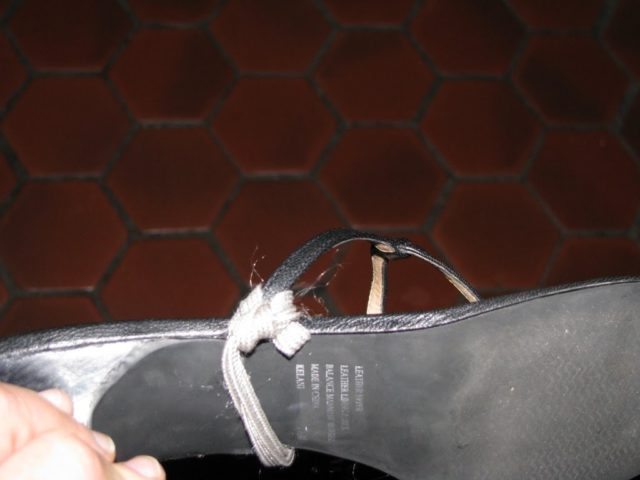 Oh, I am so MacGyver! Yesterday was a tough day – got all the way to the Metro from my office and realized I left my cell phone. Did this by digging through my purse, having someone bump into me from behind and end up spilling the contents of my bag. By picking everything up I realized my phone was NOT in the mess. This sucks a LOT because my husband broke his Blackberry and is awaiting his replacement and our home phone is having war with Verizon (not working).
Get on the escalator for the Metro, get to the bottom and my heel gets stuck in a grate. I try to wiggle it out, hoping to not lose the heel cap; it was saved but the strap of my shoe broke. I tried to limp to the train but due to the construction of the shoe if wasn't happening. Arrrrgh! What can I do to tie this together? Hair elastic? Nah, that's too short. Safety pin? Don't have any on me. Aha… my camera strap!
Wasn't the most comfortable getup but it did get me through transferring trains and walking a few blocks to my car! Husband was also impressed with the on-the-spot ingenuity! 🙂
Anyway, today's look!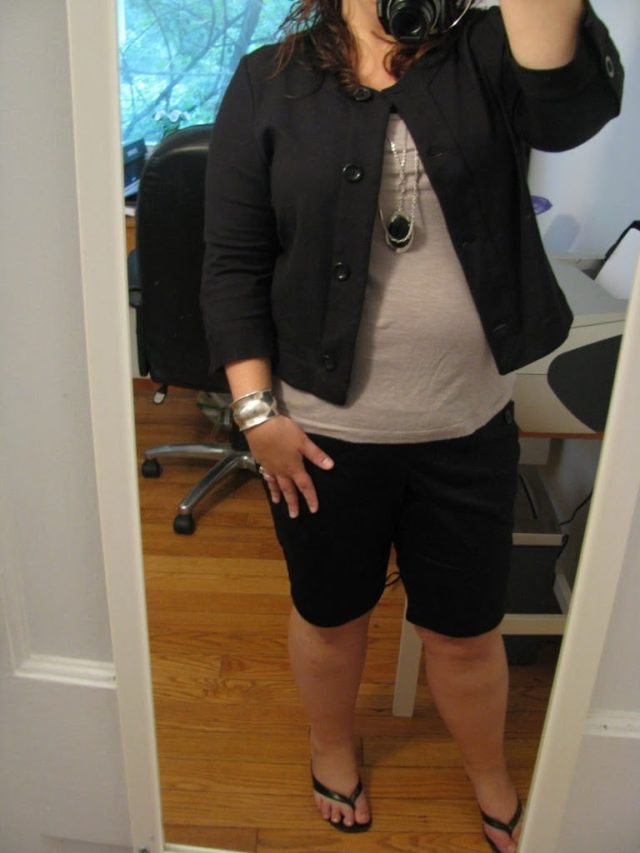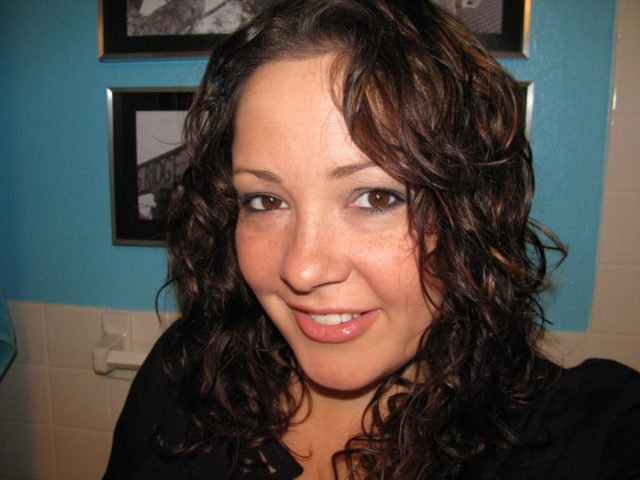 Attire:
Old Navy: Gray puff sleeves slub tee
Banana Republic Outlet: Black ponte collarless jacket
Gap Maternity: Black Bermuda shorts
Nordstrom: Silver and black stone necklace
Mossimo: Black leather heeled thongs (that DID lose a heel cap and was planning to toss but glad I havn't yet…)
Silver cuff and hoops, silver necklace from Renaissance Festival
Hair:
Washed and conditioned with Pureology
Matrix Curl.Life Conditioning Milk
Let air dry (70% dry in this picture, by time I got to the Metro it was fully dry and had more volume)
Beauty:
L'Oreal: True Match foundation in C3 as concealer and spot coverage
Cargo: Matte BeachBlush in Tenerife as powder
Nars: Blush in Orgasm
Revlon: Super Lustrous Lip Gloss in Glossy Rose
Maybelline: Brow powder in Dark Brown, shadow quad in Mocha Motion – the darkest gray on lid
Body Shop: Eye Color in Soft Black in crease and along lash lines
Avon: Luxury eye liner in Black
Imju Fiberwig
Burberry London
This weekend we have a wedding to shoot on tomorrow and we are going to see the Black Crowes and Grace Potter & The Nocturnals at Wolf Trap on Sunday. Pretty excited because going with friends I haven't seen in a bit, and it's my first concert since Bonnaroo!