This article may contain affiliate links; if you click on a shopping link and make a purchase I may receive a commission. As an Amazon Associate, I earn from qualifying purchases.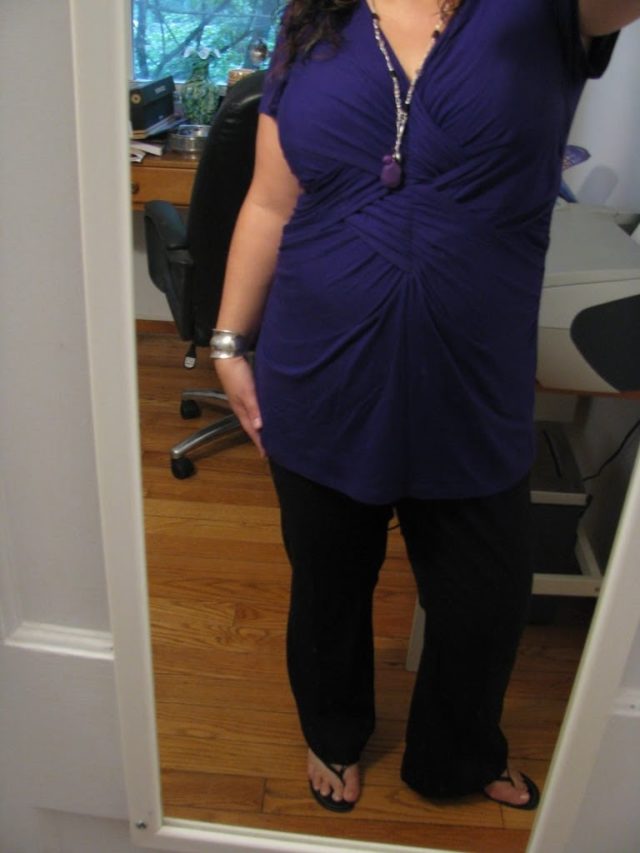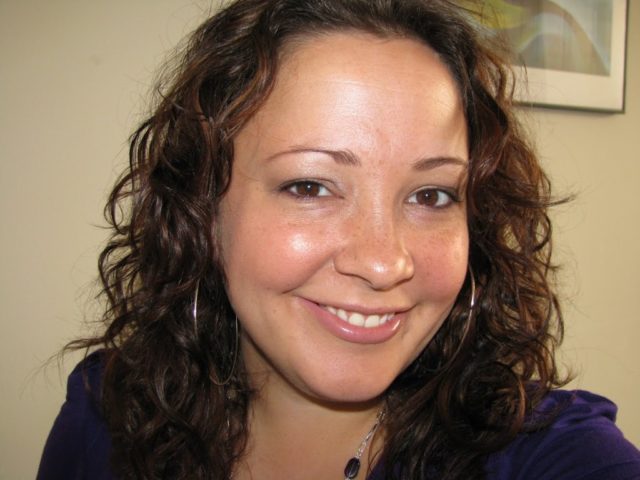 Today we are having clients in the office so we were asked to dressed "appropriately." With my current shape, I thought this was the most appropriate "slightly nicer than business casual but no need for a suit" look that I owned while being comfortable in the muggy DC heat.
Attire:
Kenar – Purple jersey woven top
Liz Lange for Target – Same pants I wore Monday
B.P. for Nordstrom – Black leather heeled sandals
Limited – Silver and purple necklace
Silver hoops and cuff
Hair:
Washed and conditioned
Matrix Curl.Life Conditioning Milk
Let hair air dry (photo of face/hair done just now at work to show final result)
Beauty:
L'Oreal – True Match foundation in C3 as concealer
Nars – Blush in Orgasm
Clinique – Black mascara, shadow duo in Mink
Stila – Lip Glaze in Berry (after drinking tea and eating a plum)
Avon – Luxury eye liner in Eggplant
Maybelline – Brow powder in Dark Brown
In my personal life – very excited because we are signing a contract to put an addition on our current house tonight. We have been flip-flopping between doing this or purchasing a new home. We adore the community we live in – the proximity to our families, the Metro and my husband's yoga studio. We also have lived here almost a decade and see our community as family. It seemed more sensible financially to add to a house we already know to be in good condition and in a great location than to purchase a new home, increase our monthly bills and not know if the roof, refrigerator, basement, etc. will need to be replaced as soon as we move in. We currently live in an historic rowhome that is the size of most traditional two-bedroom apartments, just on two floors. We will be adding a family room, a third bedroom (so one for us, one for Baby and one as my husband's home office) and a half bath on the main floor. Also will be remodeling the kitchen which excites me to no end!
I LOVE to cook and being a vegetarian these past two years has made it even more fun. In our matchbox of a home (my husband calls it the Geico house- remember that ad they had where they mimicked a reality show in a shrunken house?) we have a smaller-than usual range (three small burners and one large and an oven that cannot hold a traditionally-sized cookie sheet or roasting pan), a very small sink, teensy dishwasher and a smaller-than-usual fridge (not dorm size, but small enough that it's a constant game of Tetris every time we go to market). Slight adjustments and a bit of a bump out means I will have a full-sized range and fridge (can live with the small dishwasher and sink) and more storage space (means I don't have to store the juicer and food processor in the laundry closet!). The addition of the family room means we will be able to upgrade to a full-sized dining table (currently making do with the IKEA round table and four chairs set I bought right out of college – you know the one they offer for like $199 at the back of every catalog). I don't care if this all happens two weeks before the Baby is due – I am sooo having some sort of dinner party. Even if it's pot luck or I have a loved one do the cooking – this new expanded space WILL be used and celebrated! 🙂
So next week is my next Baby appointment. I am not discussing baby details here because A) many of you have been reading for years and you aren't here for a baby blog, but a style blog. I know I would be annoyed if the theme of a blog suddenly changed on me; and B) pregnancy, childbirth and child rearing is a very personal and sensitive topic. I do not discuss most of my religious or political beliefs on here and I will not go into detail regarding Baby stuff because well… the beauty of the Internet and America is that we all can believe whatever we want to believe. My beliefs may be drastically different from yours, but that doesn't mean mine are necessarily better, or yours are wrong. So in general, mums about the Baby details except to loved ones. However…
After much consideration, we have decided to find out the sex of the Baby. I was going to have the sonogram next Wednesday at my appointment but my husband has a photo shoot that he just can't get out of. We want to be there together, so we will hopefully get a chance to go within a week of next Wednesday. When I find out, I will let you all know. 🙂