This article may contain affiliate links; if you click on a shopping link and make a purchase I may receive a commission. As an Amazon Associate, I earn from qualifying purchases. 
Wednesday we drove from DC to Bristol, TN to stay overnight with relatives of my friend.
Thursday we arrived at Bonnaroo, a four-day music festival where we camped.
No running water except well water in troughs.
Porta-potties
No A/C
No electricity
Drought situation in Tennessee creating an INSANE amount of dust
Every day hot and dry and no shade to be had
This does not make for a fashionable time, though i saw many women attempting to sport heels, foundation, hair styles and cute looks.
Not me, I didn't look at my reflection until we stopped at a Cracker Barrel for late breakfast on the drive home on Monday.
Anyway, in regard to what I wore:
Wednesday – on the ride down I sported my camo cargo shorts from Old Navy, a white ribbed tank from Old Navy and an aqua tissue-weight long-sleeved hoodie tee also from Old Navy. On my feet were Reef Sandy flops in black. Hair was allowed to air dry, just a bit of lip gloss and mascara. On neck the whole trip is a jade and other stone necklace my husband got me when he was in Mexico.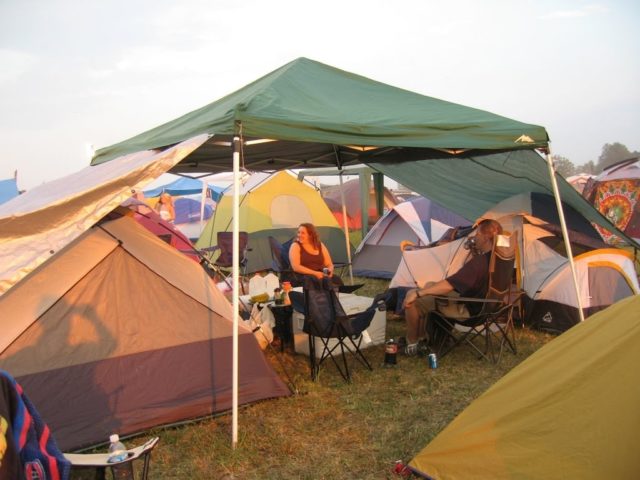 Thursday
– The ride down. We planned to arrive around noon, but got stuck in line until dinner time. Wore a green surplice-top tank from Victoria's Secret, denim cutoffs that were Gap gauchos last summer, Reef Sandy flops, hair air-dried, mascara and lip gloss. That night I slipped on a hoodie from Gap in the shade of hibiscus.
Here is a picture of our awesome campsite after being set up. Thanks to a message board I found about Bonnaroo, we were well prepared with tarps, coolers, ice and chairs. Our neighbors (yellow tent beyond our camp) didn't have shade or ice and ended up being camp mates most of the trip.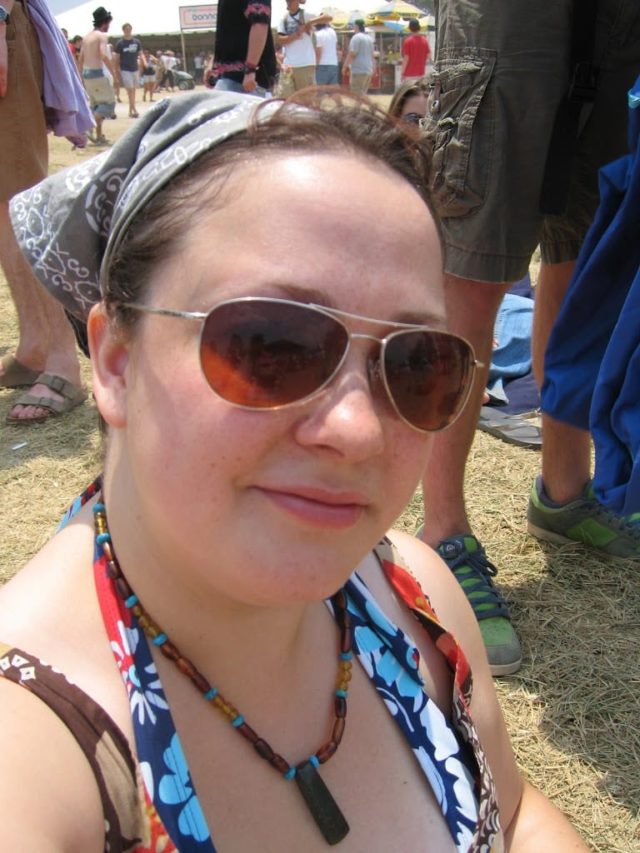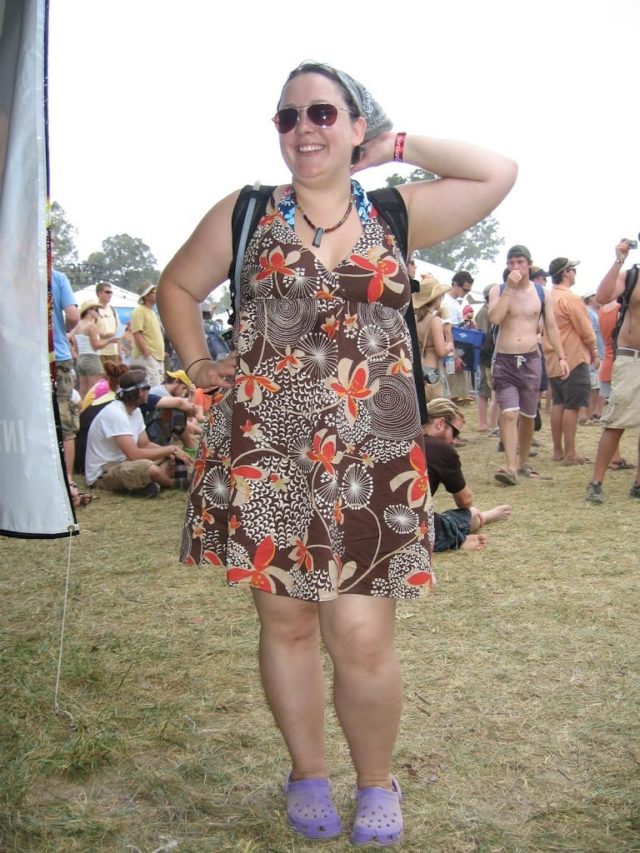 Friday
– Brown cotton babydoll sundress from Old Navy with an ivory and orange floral pattern. Under it I wore a bikini top and wicking bike shorts from KMart (whoever recommended these is WONDERFUL! These were short enough to hide under short dresses, they made chafing a thing of the past, they weren't sweaty, I could sit cross-legged without embarrassment… they ROCK! I will be wearing them all summer). on feet were purple Crocs. I wore my hair down after washing it at a trough of well-water but it was too hot so it went up in two pigtails and I protected my scalp with a white bandanna. The cherry on top were my cheap aviator sunglasses and my yellow Camelbak. Stylin' and profilin'!
Friday night got cool, I hung out at the campsite with black yoga pants under my dress and the same hoodie over it.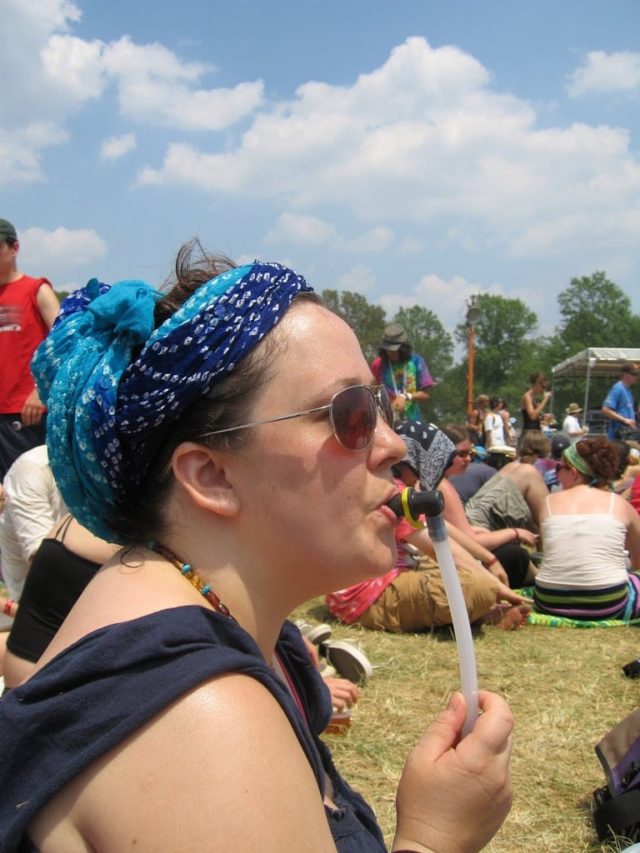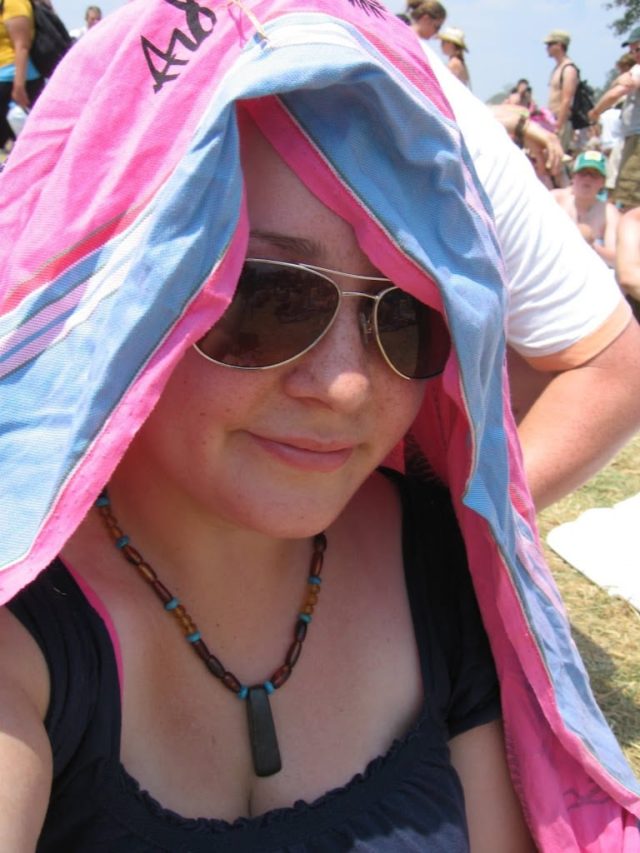 Saturday
– Another hot day. Navy jersey babydoll dress (or is it supposed to be a beach coverup?) from Old Navy, same Crocs, and fresh pair of bike shorts. my hair was held up with a turquoise and royal gauzy print shawl/scarf with mirrors that I got many moons ago in some boutique. later in the day it was used as a sun protector, and when it got cool at the campsite, became a shawl. When it got too hot, I wet the scarf and wrapped around my head or over my legs while sitting, and used a cotton… something that my mom got me in Africa as a sun shade (the Africa blanket also worked as a nice ground cover, sun shade at camp and probably would have been a cute sarong).
That night got cool, I put on a vintage tee I got from some guy, and some camo cargo cropped pants with embroidery on the leg from Express circa like 2000.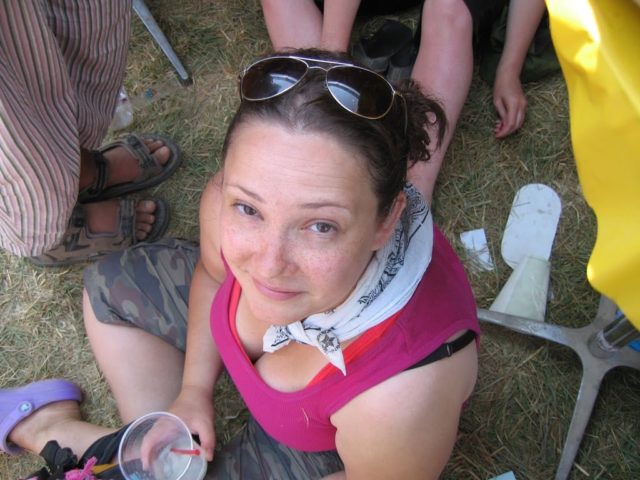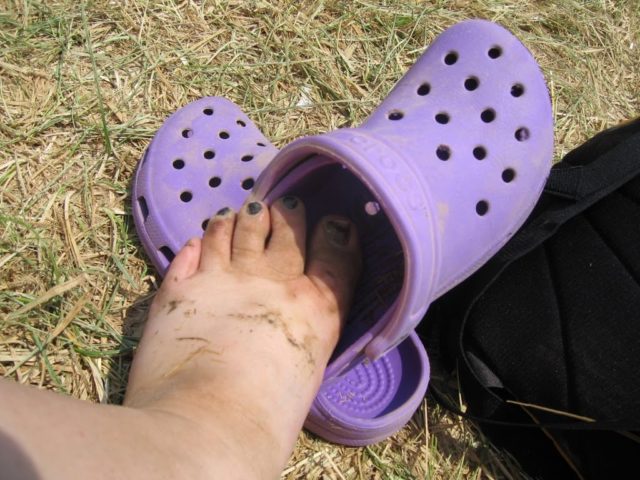 Sunday
– Last day of music. My camo cargo shorts from the ride down, coral ribbed tank from Old Navy, berry ribbed tank from Old Navy, Crocs and bandannas. This day the bandanna was mainly over my face to prevent inhaling any more dust. When it wasn't there it was protecting the weird fist-sized spot of sunburn I got on my neck the day prior. We slathered ourselves in SPF 50 and then SPF 30 the whole time and none of us got a bad burn. Funny thing – spray sunscreen ate away our plastic wristband for the festival. The writing went from white to tan and then the glitter started coming off onto my arm.
That night, I just slipped on my hoodie to stay warm.
Must say the Crocs were PERFECT. They didn't cause blisters, my feet didn't royally hurt until Sunday, sprinkle a bit of Gold Bond powder overnight and they didn't get wet or sticky. Also easy to slip off an dance around during performances!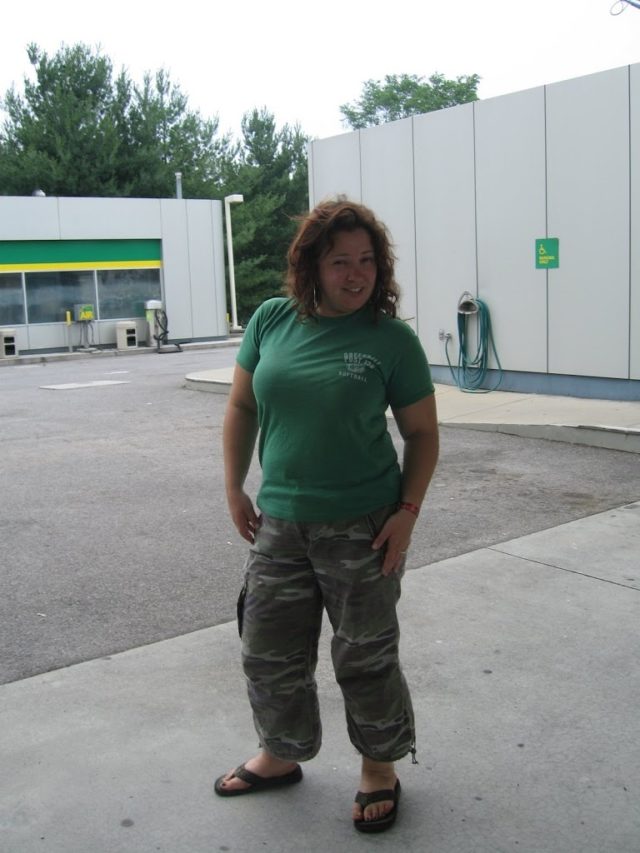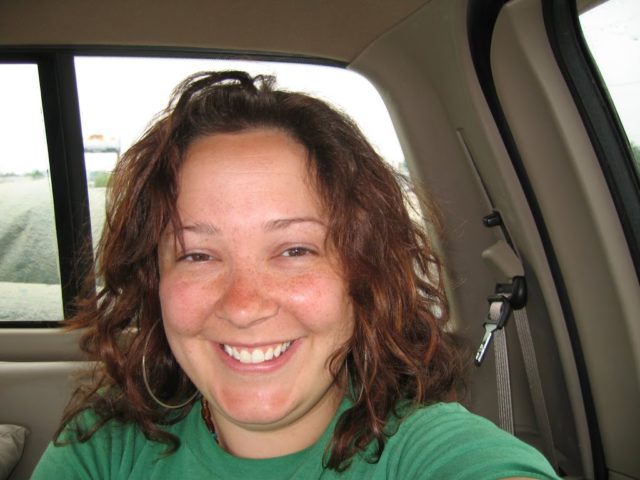 Monday
– Ride home. Had outfits, but put on the vintage tee and camo pants because it's as comfy as pajamas and we had a long car ride in front of us. Again washed my hair via trough and let it air-dry. this was the beautiful result. I thought it looked beachy, and then caught my reflection and saw it looked more like greasy dreads. Nice.
When I got home I took an hour-long shower. I shaved everywhere, washed twice and exfoliated head to toe. Boy that was the best shower EVER! I realized I wasn't as tan as I thought, it was all dirt!
What I learned:
There is no "right" outfit unless it's comfortable, can handle being dirty and sweaty.
Cotton is my best friend. And this is not cotton jersey, but the stiff traditional type. That non-flattering brown babydoll was the BEST outfit I took the whole trip.
After 24 hours in this situation, anyone who still cares about their appearance is NOT having fun.
You can never have enough bandannas – for your head to cover dirty hair or protect your scalp, as a dust mask, wet it to cool your brown or neck, tie around neck to prevent sunburn, even tie things together and use it to find people in a crowd.
I overpack, even when I am camping.
Product Reviews:
Certain Dri – if you have a sweating issue, BUY THIS STUFF. I sweat like a pig all year round and bought this stuff for my wedding day, but stopped using it when the bottle ran out. I started using this again about a month ago and it's wonderful. No fear of sweat marks, smelling, feeling sticky or icky. you can find it at Target or CVS, usually on the bottom shelf of the deodorants. After four days with only quick washing at a trough, I didn't stink of BO thanks to Certain Dri.
Victoria's Secret Too Sexy Nourishing Shampoo – I got a sample with a gift set this year and took it as my shampoo because it was small, smelled nice and had a sturdy bottle that wouldn't pop open all over my luggage. It smelled a bit too nice – I felt like a walking Victoria's Secret store, all their perfumes jumbled into one. the smell actually made me a bit ill in the heat. I didn't use a conditioner because of the circumstances, it did a decent job of detangling on it's own. However, this should be left to long flowing sun-kissed Gisele tresses, not greasy dreads of Bonnaroo.
Body Shop's Tea Tree Cleansing Wipes – Gosh these were awesome. Tea Tree is an antiseptic and deodorizer and not too drying, so these were a perfect choice for quick cleaning. In the nether regions they kept things fresh, they cleansed my face without overdrying, I rubbed them on mosquito bites to soothe the itch, and used them to wash my hands and even feet throughout the trip. No rinsing necessary, these are a great go-to item!