This article may contain affiliate links; if you click on a shopping link and make a purchase I may receive a commission. As an Amazon Associate, I earn from qualifying purchases. 
I can't believe Thanksgiving in the U.S. is NEXT WEEK! It feels as though just last week I was enjoying the Labor Day Festival in our town. But yes, the holidays are upon us and from now until the beginning of January it will be time with family, mall crowds, crazy traffic… and crazy blogs.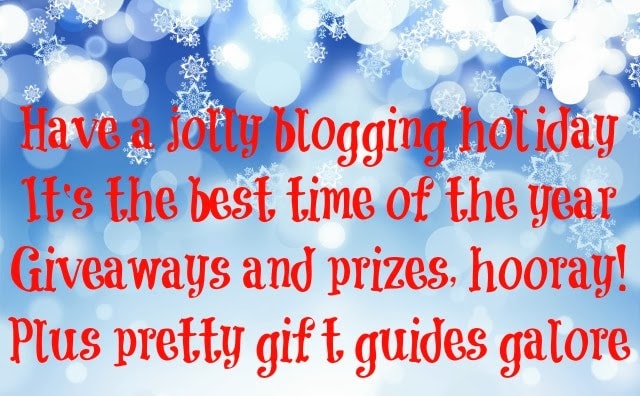 'Tis the season to be jolly, but it is also the season for gift guides, sponsored posts, and giveaways. I don't do gift guides – other blogs do them extremely well and I just don't like posts that are filled to the brim with affiliate links. However, I will be having giveaways within the next month… and I want to give you the heads up that there will be a bunch of them before Thanksgiving. If you hate giveaways, feel free to ignore my blog for the next week or so, I won't be offended.
But for those who do like giveaways, I've chosen to only partner with really awesome brands who will offer really awesome prizes. No piddly tee shirt or rinky-dink costume jewelry. No need to follow 50 different social media accounts and promise me your first born. These are companies I respect, products I use, and prizes that I would want to win if I could enter. I do hope you enjoy them, and I hope you win (I do not promote my giveaways on giveaways sites – just my blog's social media improving the chances for loyal blog readers).
And I promise to balance a week or so of giveaways with some good content. 'Tis also the season for me to think about shopping, want versus need, and gutting out the closet (a Black Friday tradition for me). I'll be sharing my thoughts and my outfits quite a lot this holiday season, and I look forward to your comments and thoughts!
Follow Me | Twitter | Facebook | Instagram