This article may contain affiliate links; if you click on a shopping link and make a purchase I may receive a commission. As an Amazon Associate, I earn from qualifying purchases.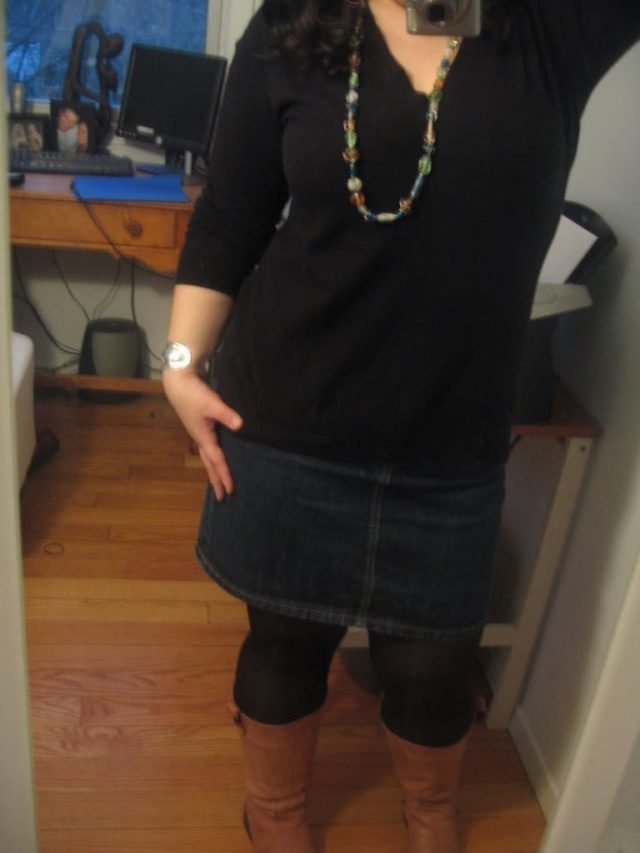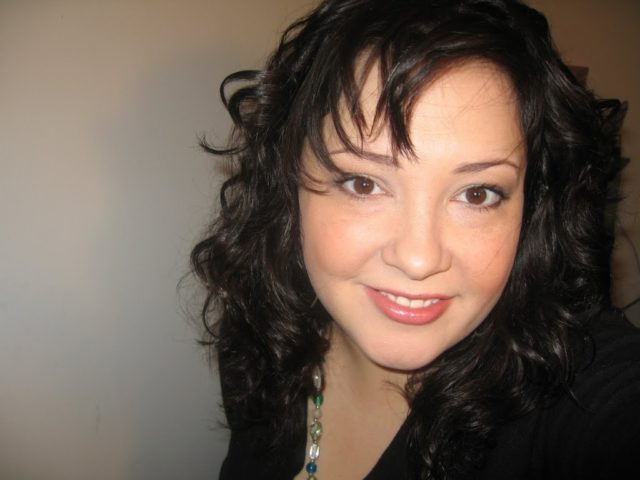 Black stretchy cotton v-neck sweater from Banana Republic, denim skirt from Gap, black tights from Target, tan Bern boots from Duo, sea glass and silver necklace from Ross, silver cuff and hoops.
Hair was washed and allowed to air dry, then a bit of Jonathan Silky Dirt was added, twirled around pieces. Then I hit the still frizzy pieces with a curling iron and used the iron to smooth my bangs as well.
Makeup is L'Oreal True Match concealer in W1-3, philosophy The Supernatural in Beige, Cargo Matte BeachBlush in Tenerife, Revlon ColorStay shadow quad in Neutral Khakis – khakii on lid, chocolate in crease and along lash line. On lips is Maybelline Shine Seduction Glossy Lipcolor in Blushed Bass, though application throughout the day was Revlon Super Lustrous lip gloss in Glossy Rose because I left the Blushed Bass at home.
Today was a bit icky – spotty rain and drizzle and cold again. Wore the new quilted down coat from Lands End with my green pashmina and woke up feeling a bit fashion-uninspired. It doesn't help that I am in desperate need of doing laundry, going to the cleaners AND Mr. Allie left this morning for a boys weekend in Jamaica at a music festival.
We had our office holiday luncheon and I won a $50 gift card to Macy's from the raffle (tickets were purchased with the money going to help Toys for Tots). After work I headed to Rockville on the Metro and met my good friend at the Tower Oaks Lodge for some happy hour nosh and spirits. We had Afternoon Delight – for those not from the DC area, the song Afternoon Delight was inspired by the happy hour menu at Clyde's restaurant in Georgetown. The Tower Oaks Lodge is part of the Clyde's family of restaurants and was a nice place to catch up. We think we may make it a monthly ritual!
Oh, bad news. Come to find out, it is not the monitor on the PC in the office that blew, but something with the PC itself. It will turn on – you see the lights and hear it hum but nothing comes on the screen. Not really sure what to do and it sucks royally because that computer has all my music on it AND the holiday Christmas card list! I have collected a few addresses from my planner, emails, return address labels on cards I already received but am seriously lacking most of the info that I need. Of COURSE I had do get all new millennium and transfer my card file of addresses from my wedding invites to an Excel worksheet… 🙁 So friends and family, if you don't get a card this year, don't take it personally!