This article may contain affiliate links; if you click on a shopping link and make a purchase I may receive a commission. As an Amazon Associate, I earn from qualifying purchases. 
I often am asked how I get the inspiration for my capsule wardrobes. I think how I figure out these capsule wardrobes may also help you create simpler wardrobes for yourself and benefit you when packing for a trip. Below I share how I create capsule wardrobes (while sharing some of the most popular ones I have made), and how you can use this to help in creating your own capsule wardrobes.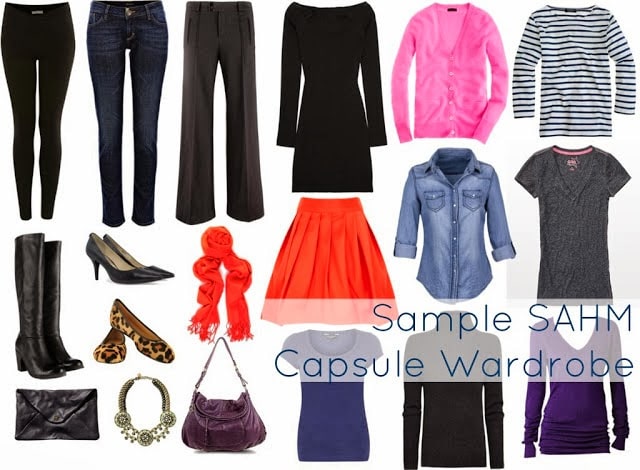 Ask Allie: Stay at Home Mom Capsule Wardrobe
Imagine the Person
When creating capsule wardrobes for yourself, imagine how another would see you. In my head, I am taller and slimmer and smaller busted than I am in real life. When planning for myself, I describe myself as someone else would describe me. It not only helps me put my figure into perspective but also my lifestyle and personal style. If this is hard to do, ask a close friend to describe you. Significant others often provide the most accurate descriptions of us, but I don't recommend asking them because it can hit a bit too close to home and what they find to be adorable you may find to be a flaw. Save the relationship, ask your bestie!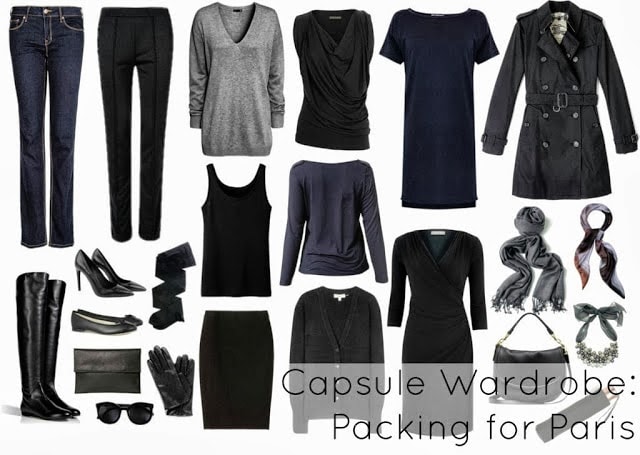 Ask Allie: What to Wear to Paris
Imagine the Week
Be it a trip to Paris or the first few days at a new job, I work with dressing for a week. Most of us hate wearing the same look in one week but don't feel as weird wearing the same combination on Tuesday of Week 1 and then Friday of Week 2. Within that week, I think of what may take place – a networking event after business hours, a board meeting, drinks with a client, you make friends at a museum and they invite you to their party that evening.
I think about my own experiences. With my recent capsule wardrobe for Paris, I thought of my own trip to Paris and the items I wish I had packed. I remembered my longer trip to Italy and how varied my days and nights were and the pieces that got the most mileage (and how many were the same piece I wore the most when visiting Paris a year later). With work wardrobes, I remember changing from retail to a desk job and how I had to overhaul my whole closet. I think of my last job where I traveled on business on a regular basis and would have to pack for a hole in the wall barbecue joint, a fancy five-star restaurant, three client meetings, and a bowling networking event in one carry-on.
Whether it is a family cruise or a business trip, you likely have a general idea of how each day will be laid out. Prepare for the unexpected, but be realistic and know you likely won't be invited to the White House or take part in a triathlon. Do a bit of research online and see what the hot spots are in your destination, how people dress in your field, what excursions are available at your resort.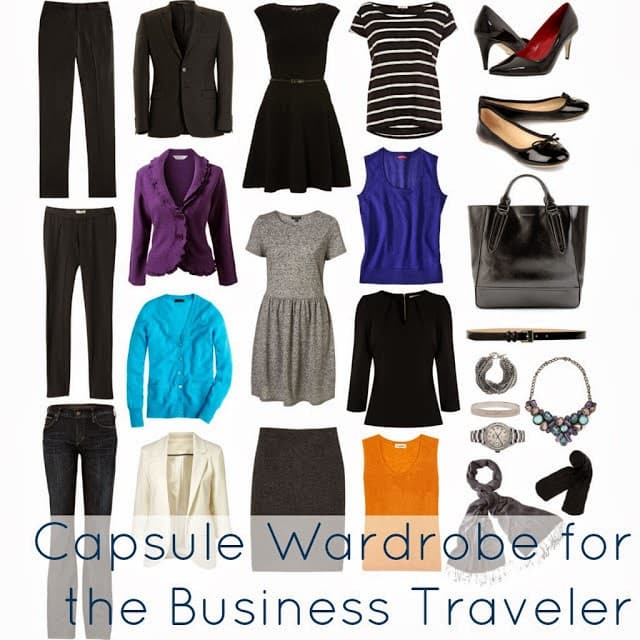 Ask Allie: Capsule Wardrobe for Business Travel
Start With the Star
So you're going on a business trip, what's the most important event of the trip? Usually, it's the first client meeting, so I start with that. For a trip, it's usually an outfit to go sightseeing that first day. I try to make that be something my imaginary woman would already have in her wardrobe. Simple black pantsuit, pair of jeans and a lightweight jacket, LBD, that sort of thing.
Then I think of ways of incorporating that star into other situations. Can the jacket be worn with jeans or over a dress? Can the LBD be dressed down with flats and a cardigan? Considering pants can be worn at least twice over a week, what can be worn with them that travels well and could pair with something else?
Never buy a whole new wardrobe for a trip. Always start with pieces you already own, know, and love. Save the money for the excursions and events. Heck, the main purpose of a capsule wardrobe is to buy less and choose quality versatile items over quantity!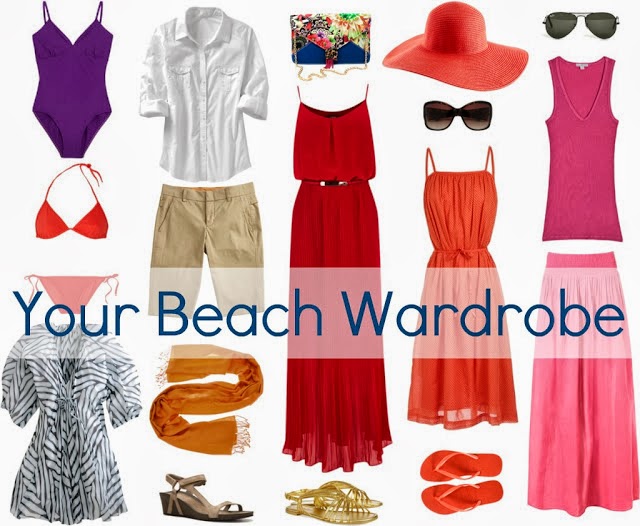 Ask Allie: What to Pack for Vacation
Stick to a Color Story
Don't focus on just your actual body shape and size, what do you love and gravitate towards? What is your favorite color? Do you work for a white-shoe law firm or a start-up? Do you have a short dark pixie or long blonde waves? Do shoulder pads make you feel fierce or does a chiffon overlay skirt that swishes when you walk? Look in your closet, you likely already have a color theme as well as a style theme.
If it's hard to see it, begin listing items you regularly wear in a journal. The term, "can't see the forest for the trees" really fits with many of our closets. Writing down the items you wear can show you your personal style. You will see you likely already have a bit of a color story that you wear on a regular basis. This isn't about what you love, but what you currently own and wear. Successful capsule wardrobes aren't made from buying all new things. Work with what you have, and build from there.
Consider the Shoes
When creating a capsule wardrobe, I look for shoes that are versatile in that they look good with pants and skirts, can be worn to a business meeting and a cocktail party, can be worn for hours walking on cobblestone streets but also be smart with a business outfit. I try to never have more than three pairs of shoes because shoes add the most weight and take the most space in a suitcase, and be the most expensive part of a wardrobe.
Style Tip: A straight ankle-length pant works with heels and flats. If you're building a capsule wardrobe, consider such a pant which is not only modern but makes all the shoes in your wardrobe more versatile.
When shopping for new shoes, consider the wardrobe you already have. If they don't work with at least three different pieces (and I don't mean three pencil skirts or three pairs of skinny jeans), they don't deserve to be in your capsule. It's better to keep your shoes neutral and add interest with other accessories.
If it Doesn't Hit Ten, Do it Again
If I can't break ten REAL outfits (no turning a top backward and wearing a bulky dress under a sweater to pretend it's a skirt and making a scarf into a blouse), I keep working. Sometimes it's just removing one piece, sometimes I save it and come back the next day and start from scratch.
Final Tips on How to Build Capsule Wardrobes
Never buy anything if it doesn't go with at least three other pieces. If you can't sit in that fitting room and envision it working with a bunch of pieces in your closet, leave it at the store. The point of a capsule is to have versatility. If you shop thoughtfully, slowly, and carefully you will find that you can have fewer garments and build even more ensembles! I hope these tips on how to build capsule wardrobes benefit you on your journey towards more style with fewer clothes!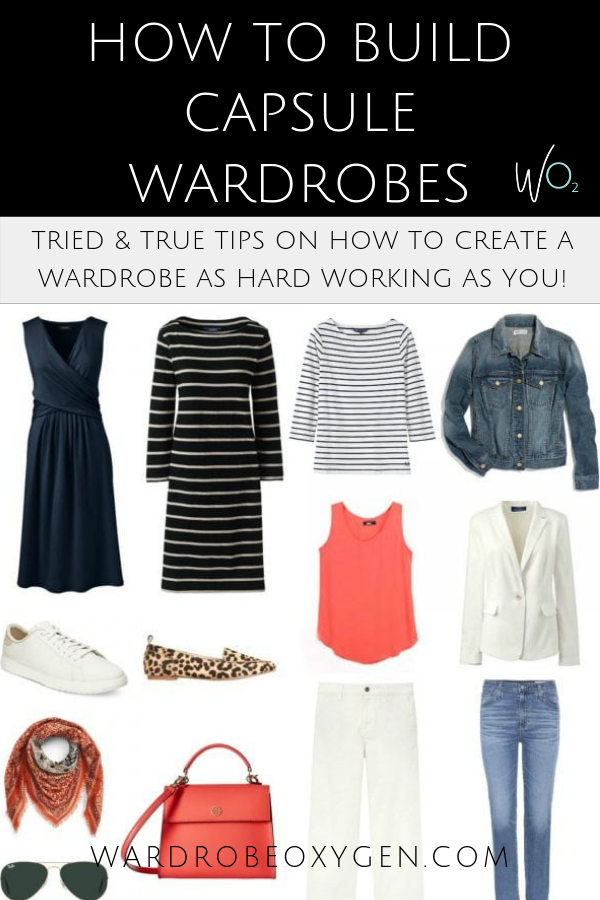 This post was originally published in 2013 and updated for 2019.