This article may contain affiliate links; if you click on a shopping link and make a purchase I may receive a commission. As an Amazon Associate, I earn from qualifying purchases. 
I bought this dress as a final sale from Banana Republic.  I think it cost me something like $20.  I bought it while pregnant, thinking it would be the right size postpartum.  I got it… and realized it was too big.  It's an XL, even though I may be XL in some places, I obviously am not for this dress.  I think next time I may wear it with a belt.  If that doesn't look good, I will have to donate this to a taller, larger-boned friend.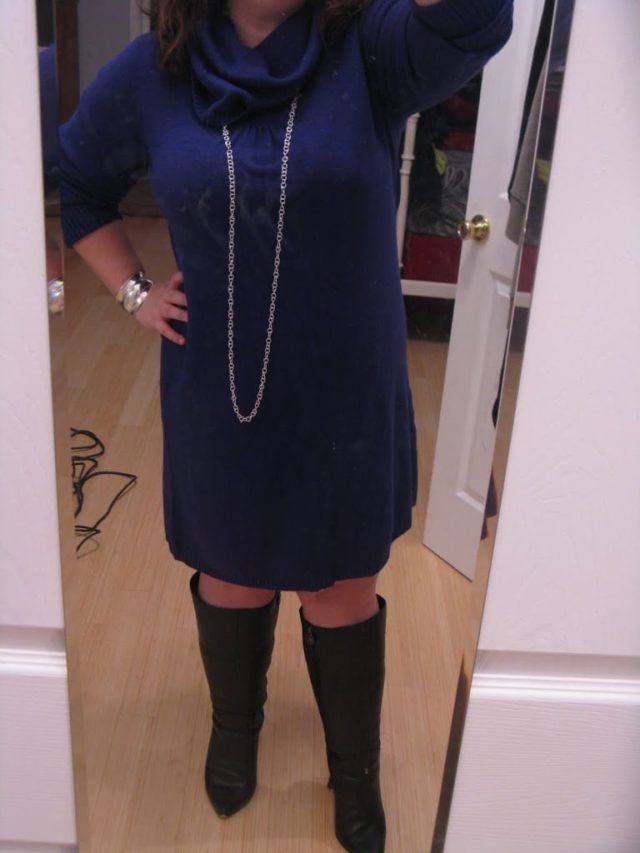 But the dress is the most gorgeous shade of ultraviolet and a super soft merino.  And what a lovely floppy neck!  It's rainy and ucky out, and I feel just as cozy in this as I did this morning padding around in my pink leopard-print pajama pants!  With it are my black leather boots from Ros Hamerson, silver chain from Ralph Lauren, silver hoops and cuff.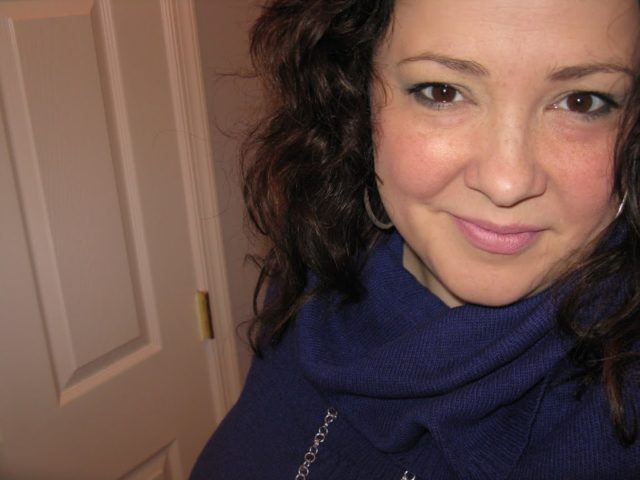 I don't know if this happens to any other woman.  You put on your lipstick, and then you put it in your purse for touchups later in the day.  Then the next day you're rushing to get ready and you realize that because you have been putting your lip product in your bag all week, you now have no lipsticks or glosses in your makeup case!  Well this happened to me this morning, so you see a chalky pink pencil that I put on to help my Laura Mercier Pink Champagne adhere longer.  Pink Champagne was applied in the car once I parked at the Metro, before hopping on the train.
As for the rest of my makeup, it's Estee Lauder Doublewear Light foundation, Laura Mercier Secret Camouflage concealer, Nars blush in Orgasm, Pop beauty shadow palette for brown eyes – the celadon on lids, the black in crease and along lash lines.  A bit of Avon Luxury liner in black, and Tarte's Lights, Camera, Lashes! mascara in black.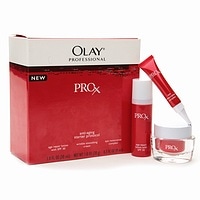 I have tried a ton of new products lately and have been quite the slacker on reviews.  However I do have to mention one product I have recently used that I adore.  For the past month I have been using the
Olay Professional Pro-X Anti-Aging Starter Kit
.  This kit has a night cream, eye cream and SPF 30 day moisturizer.
I have been using it almost every night (yes, I must admit I sometimes pass out before taking off my makeup) and every morning and have seen a big change in my skin.  Compare my skin above to my skin here, a month prior.  You can see that the wrinkles in my forehead and around my eyes are less pronounced, my age spot on my cheek is a bit fainter, and even the little bumps I always have on my chin are clearning up.  I bet the change will be more obvious in another month.  I am known to have reactions to harsh chemicals and salycitic acid, but I haven't had a single reaction to this line and the eye cream doesn't irritate my allergy-prone, contacts-wearing eyes.
The kit isn't cheap, but it has been a month and I still have 1/3 of the day and eye creams and probably half of the night cream. This kit is worthy of repurchase in the full-size containers.