This article may contain affiliate links; if you click on a shopping link and make a purchase I may receive a commission. As an Amazon Associate, I earn from qualifying purchases. 
I was tempted to not post about this because I felt it may be controversial. But then I wondered WHY it would be controversial. The audience of this blog is predominately women, and predominately women who are between the ages of 18 and 50. This means the majority of you reading this are having a monthly period. As that a post about periods may be relevant to more of you than say wide-calf boots or petite trousers, I have decided to proceed with this topic.
I have been a tampon sort of gal since I got my period at age 13. It was the summertime and I was on a swim team. I remember a big meet was that Saturday and I was freaking out because I couldn't get a tampon in. My (male, cute) swim coach asked my mom what was up, as that I was one of the top 13 & 14 year old female swimmers on the team and they couldn't have me miss the match. She had to explain that I couldn't get in a tampon. My coach suggested these super slender plastic-applicator tampons, telling my mom that he "recommends them to all his female swimmers." At the time I was so embarrassed I almost dropped the team. Now as an adult I think how embarrassed this young college guy must have been, dealing with all these hormonal preteens and becoming a tampon expert.
I moved on from the skinny pink plastic applicators to the basic cardboard applicators (cheaper and biodegradable). By high school I was a fan of o.b. tampons because they were so tiny (and didn't have the noisy rustling wrapper), I could hide it in the palm of my hand when having to head to the girls room. No need for proclaiming to the entire class that I had my period (come on, any girl who headed to the bathroom with her purse was telling the whole world she has her Aunt Flo…).
Speaking of which, women don't like to speak about their periods. We may use it to explain our grumpy behavior, but we don't like to discuss period paraphernalia. Be you a tampon gal or a pad lady, you have to admit you are creating a lot of landfill waste each month. Not only that, but it's waste that is… well a bit grody. Even if you use o.b. or cardboard-applicator tampons, there is still waste that is cleaned out of the sewage system and wrappers/applicators that go right into that trash can.
When researching ways to cut waste in 2009 without cutting comfort and convenience, I learned about the Diva Cup. The DivaCup is a latex, BPA and plastic-free non-absorbent menstrual cup that collects menstrual flow. It is inserted in the vagina and sits at the lower base of the vaginal canal (not up near your cervix). It is worn internally, yet because it is soft and smooth, it cannot be felt nor will it leak when inserted properly. It can be worn for up to 12 hours at a time (so it's great for overnight), and because it doesn't absorb like tampons, there isn't such a risk of Toxic Shock Syndrome. It can be worn for any activity including swimming.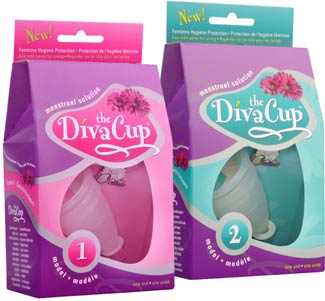 From the
Diva Cup Web site
:
Women, on average, experience a lifetime menstruation span of 41 years (11-52). From use of disposable feminine hygiene, an estimated 12 billion sanitary pads and 7 billion tampons are dumped into the North American environment each year (1998). More than 170,000 tampon applicators were collected along U.S. coastal areas between 1998 and 1999. Our revolutionary, reusable product is a modern, viable alternative to disposable tampons and pads.

Most tampons and pads contain surfactants, adhesives and additives. In addition, most pads contain polyethylene plastic whose production is a pollutant. Also, dioxin, a known carcinogen, is a by-product of the bleaching process of tampons containing rayon. In landfills, many of these substances can leach into the environment (groundwater, streams and lakes) causing serious pollution and health concerns.

Although not all women can afford to purchase an energy-efficient hybrid car or convert their home to solar energy, they can reduce dangerous landfill waste by choosing to use a reusable, silicone menstrual cup. When considering the pollution and volume of waste that is inherent in the use of disposable tampons and pads, replacing one's feminine hygiene with The DivaCup makes good environmental sense and manifests in a positive eco-footprint every month!

Because many women have become accustom to purchasing disposable feminine hygiene products, they consider the expenditure "necessary". Most women spend $150-200 U.S. a year on disposable tampons and pads. The purchase of The DivaCup results in significant savings. The cost of The DivaCup is equivalent to a moderately-priced blouse or dinner out, yet saves you money!

Considering all this, I figured it wouldn't hurt to try out the Diva Cup. I got mine from drugstore.com, because they offer free shipping for purchases over $50 and you get cash back with ebates. This made the DivaCup a hair over $30 – I have spent that much on a stupid dress from Target that has only been worn once before it fell apart.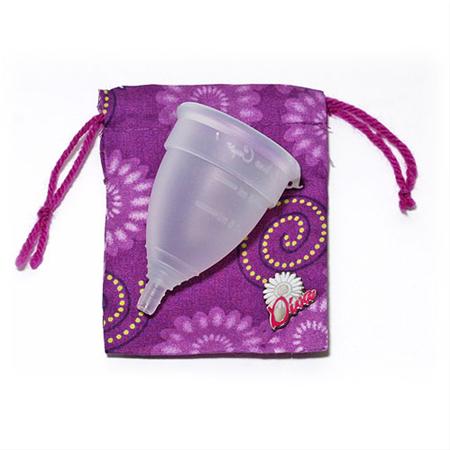 Since I was pregnant and breast feeding, I didn't have a chance to use a DivaCup until recently. I tried it out this past cycle… and I have to say I am a convert. I chose Size 2 because I am over 30 and had a child. Being an ex-o.b. user I am not one to be skeeved out by her body. I found the DivaCup very easy to insert, especially when still wet from washing it. Speaking of washing, the emptying/cleaning of the DivaCup is not as grody as you may imagine. When at home, it's easy to rinse out and re-insert. At work or away from home, you can wash your hands, remove it, wipe it out with some toilet paper and re-insert without having to leave the confines of your stall. The thing is the DivaCup holds so much, most women can go an entire workday without having to empty it. I really haven't felt it at all – it is more comfortable than a tampon, holds more than even a super tampon, and is more reliable (never have had a leak, even overnight). Also I personally find the measuring marks fascinating – when using pads or tampons you really don't know how much flow you have.
And no, I didn't get paid by DivaCup, and I didn't get a free DivaCup from this company. I chose to write about this because I don't think a lot of women know about menstrual cups, and are a bit concerned about them – they may leak, they may hurt, they may be gross or a PITA. I know there are many other products on the market that work in essentially the same manner, but I chose the DivaCup because it was so easily accessible at local stores and online shops.
I think the DivaCup is such an easy way to make a difference with the environment while being kind to your body and not adding burden or discomfort to your life!