This article may contain affiliate links; if you click on a shopping link and make a purchase I may receive a commission. As an Amazon Associate, I earn from qualifying purchases.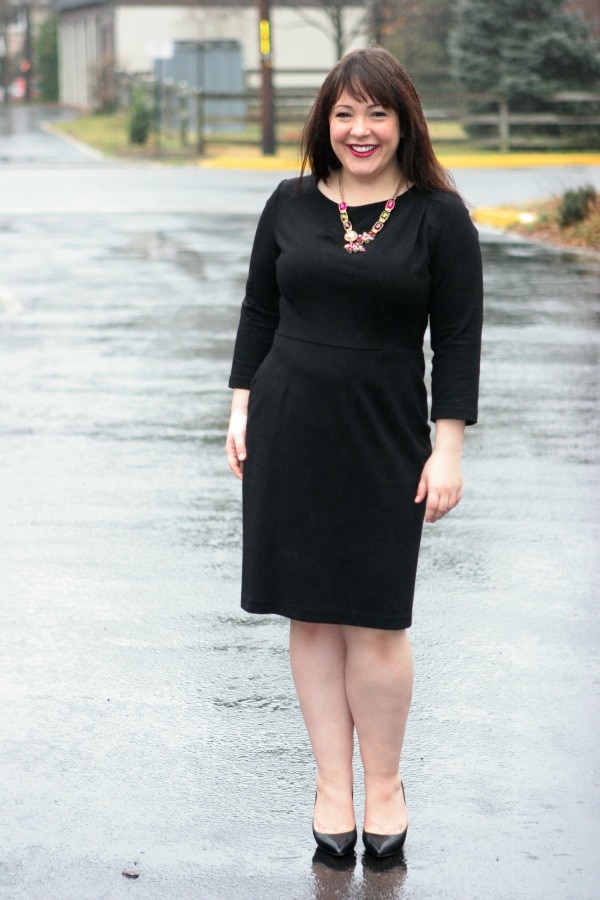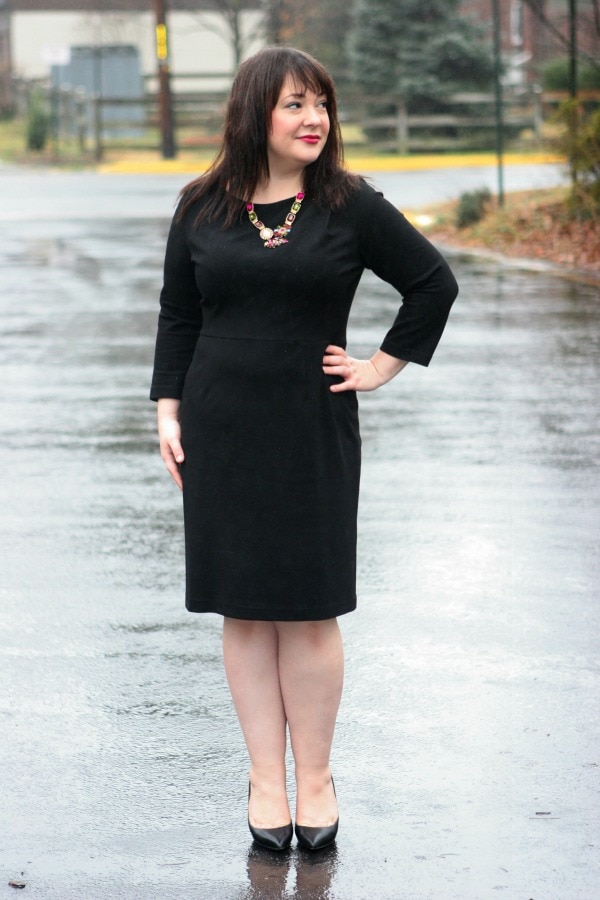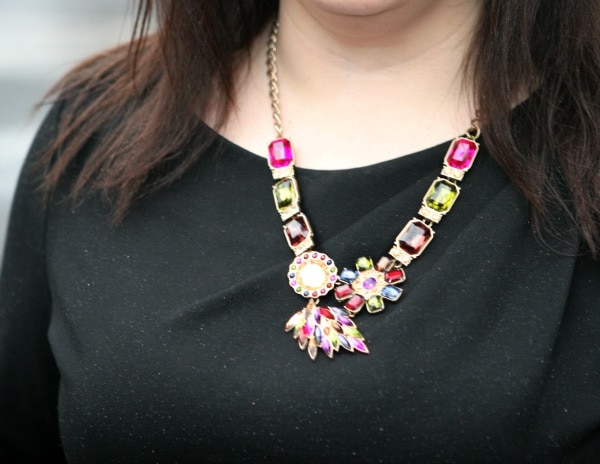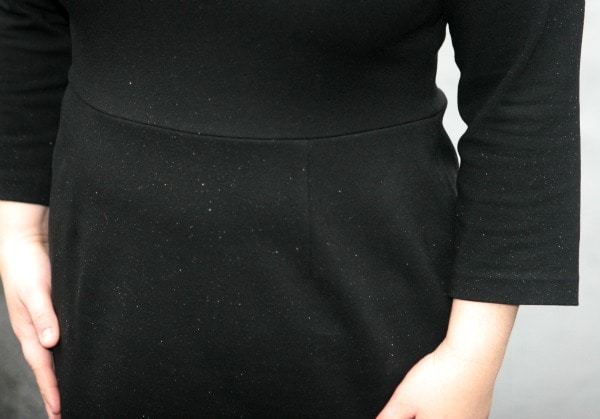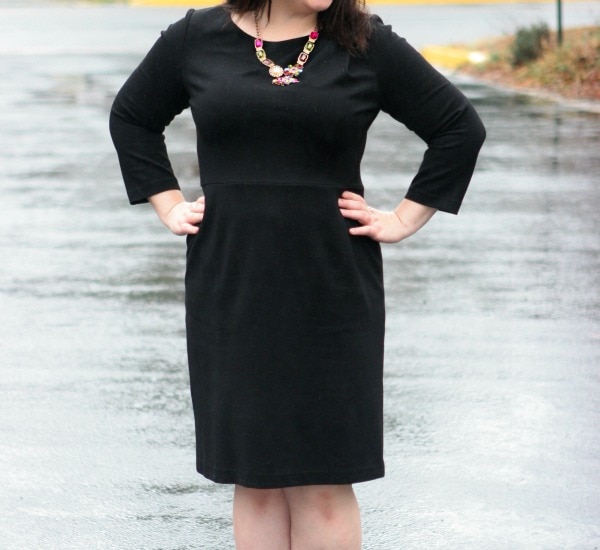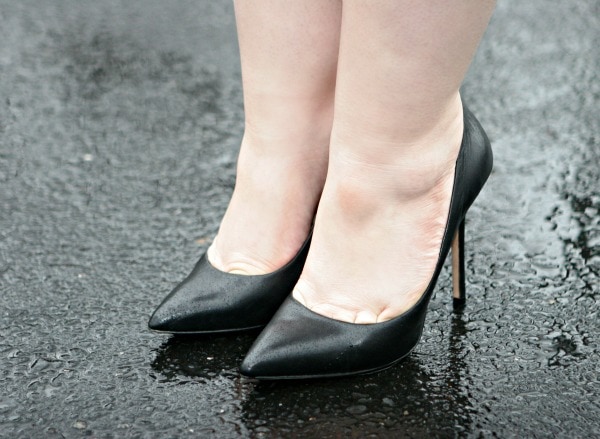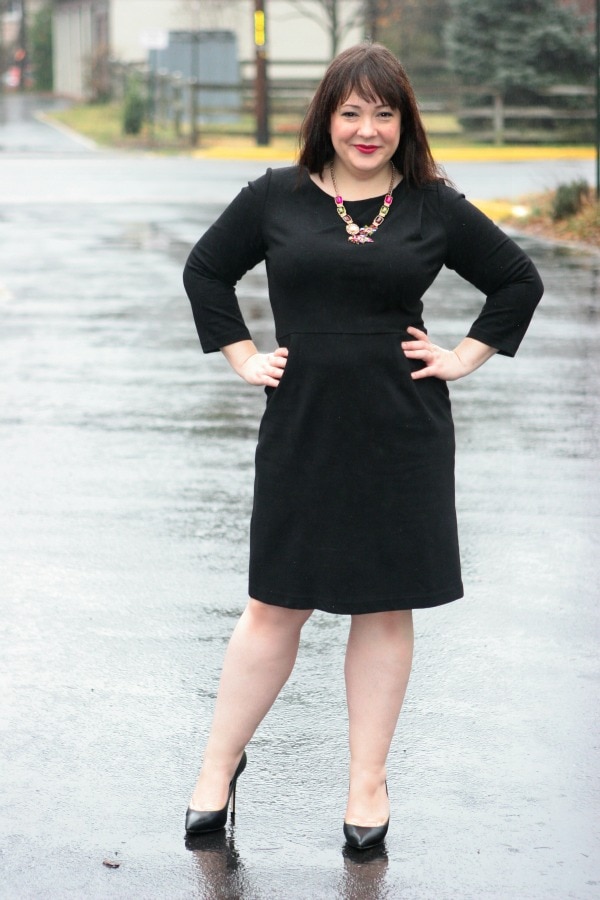 I can't believe this is the first time I have worn this fabulous dress on the blog. I have shared it on Instagram and worn it several times, but just not on here. I even wore it to speak on a panel of journalists because it looks so great, so sophisticated, and still so comfortable. Well this dress totally deserves a moment in the sun, even though it was photographed on a drizzly day. The dress is the "Belle" from Dobbin Clothing, and it's one piece from their amazing collection of well-crafted wardrobe workhorses. Dobbin Clothing specializes in clothing that works as hard as you do – flattering fits, primarily washable clothing, and designer quality. This dress is from ponte knit and has seaming that makes my body look phenomenal. This is a size 12 and it fits great. Right now this dress is on sale, Dobbin Clothing offers free shipping both ways, and right now if you use the code FIRSTTIMEVISITOR you get 20% off your entire order! Oh, did I mention that Dobbin Clothing is made in the USA right in New York's Garment District?
With such a great dress, I kept things pretty simple. This is a favorite necklace of mine that hasn't gotten much play lately; I decided to amp it up with bold lips and high heels but keep everything else simple. Oh yeah, and a lovely addition of rain beads on my hair and dress!  Rain drops keep falling on my head… during photo shoots!
I love when a great company also makes a great product, and that's what I experience with Dobbin Clothing. I know this sounds like a hard sell, do know they sent me the dress without any expectations. All that I wrote here is because I honestly feel it and didn't get paid to state it, I just really dig this dress and the company.
Follow Me | Twitter | Facebook