This article may contain affiliate links; if you click on a shopping link and make a purchase I may receive a commission. As an Amazon Associate, I earn from qualifying purchases.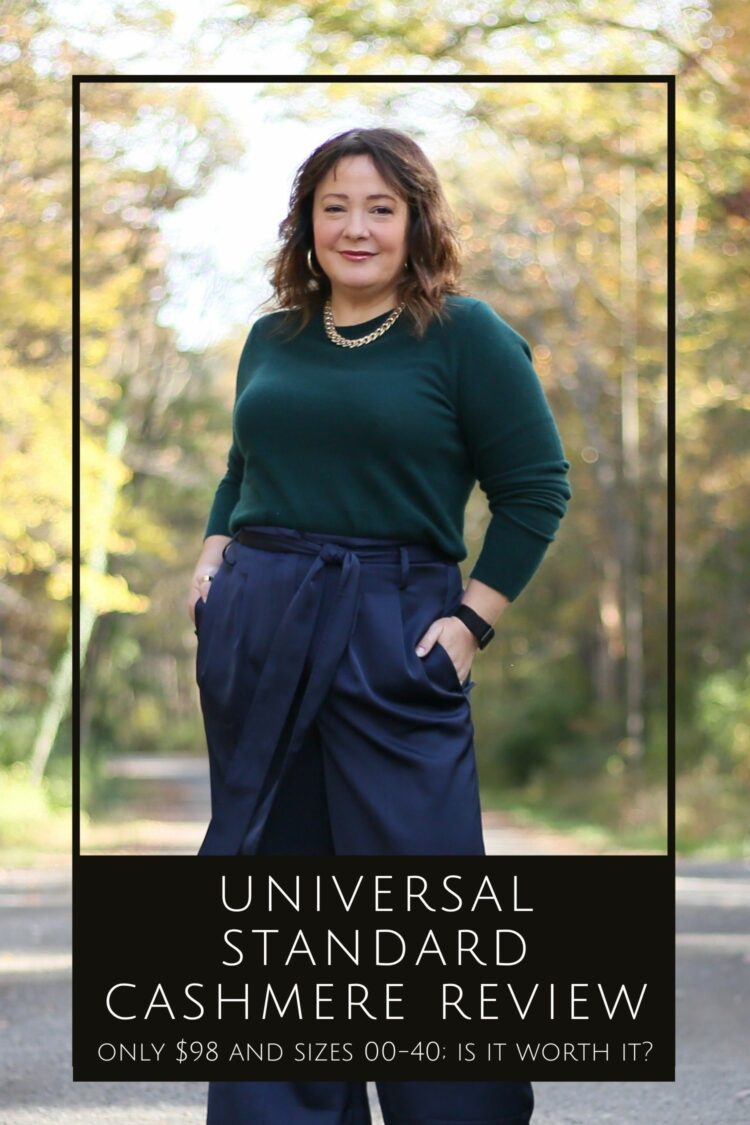 A couple of weeks ago I received a box in the mail from Universal Standard containing this dark green cashmere sweater. Universal Standard has sent me product before but this looked different. When did Universal Standard start selling 100% cashmere sweaters? I went to the site, the product wasn't listed. A week later I was notified that on November 8th, Universal Standard was launching a collection of size-inclusive cashmere under $100 ($98 to be specific) and I was sent a piece to do a proper Universal Standard cashmere review.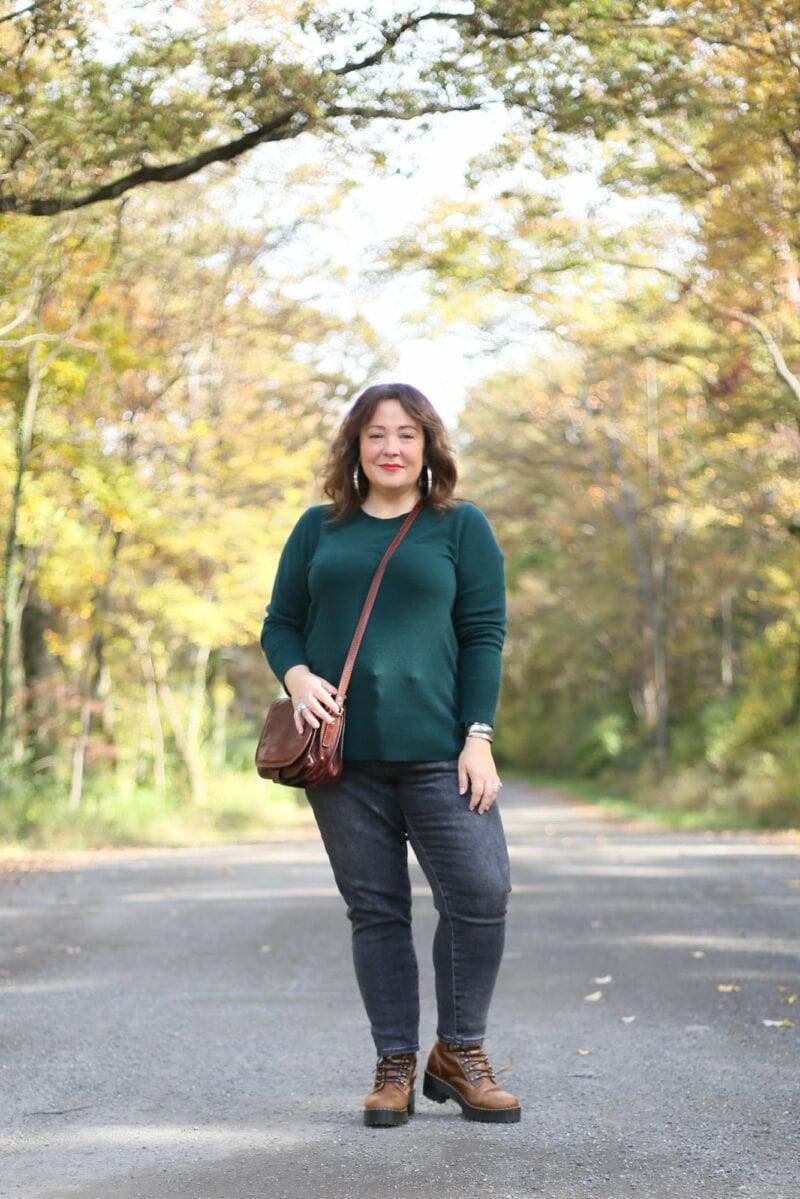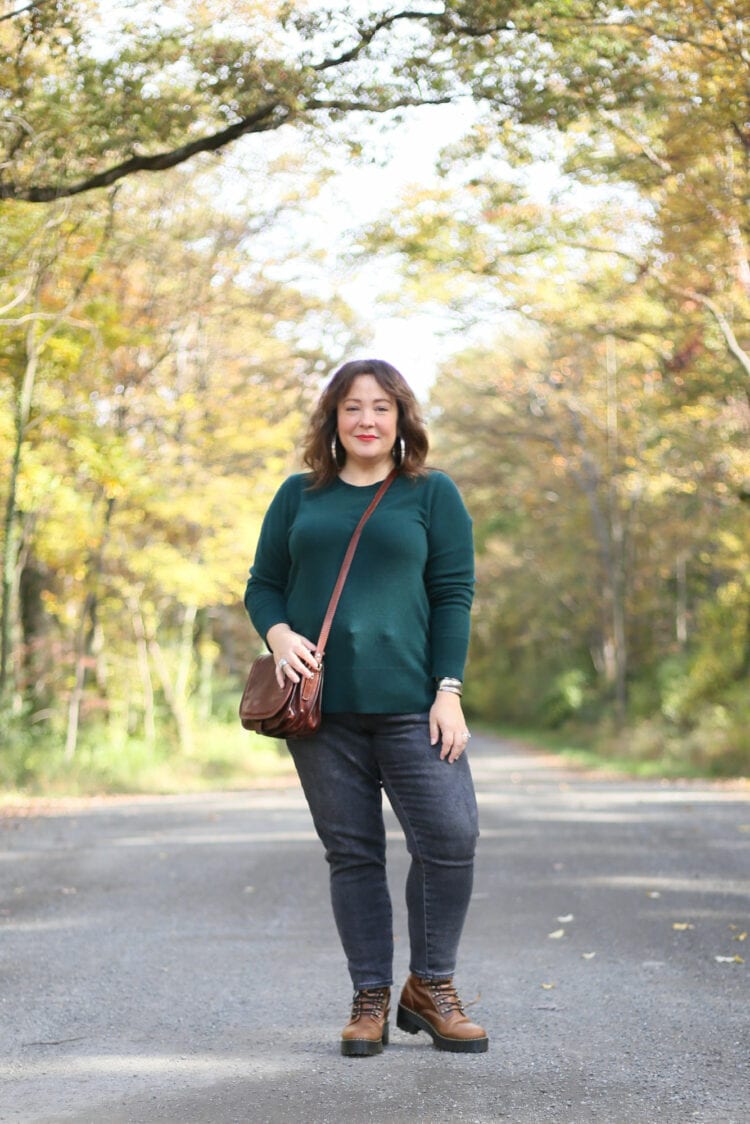 I decided to use this time to not just do a Universal Standard cashmere review, but also show this sweater styled two ways. It's a classic sweater that in my opinion, can dress up and down with ease. Also, I can then show the sweater both tucked in and left untucked, and how it works with two different silhouettes of pants.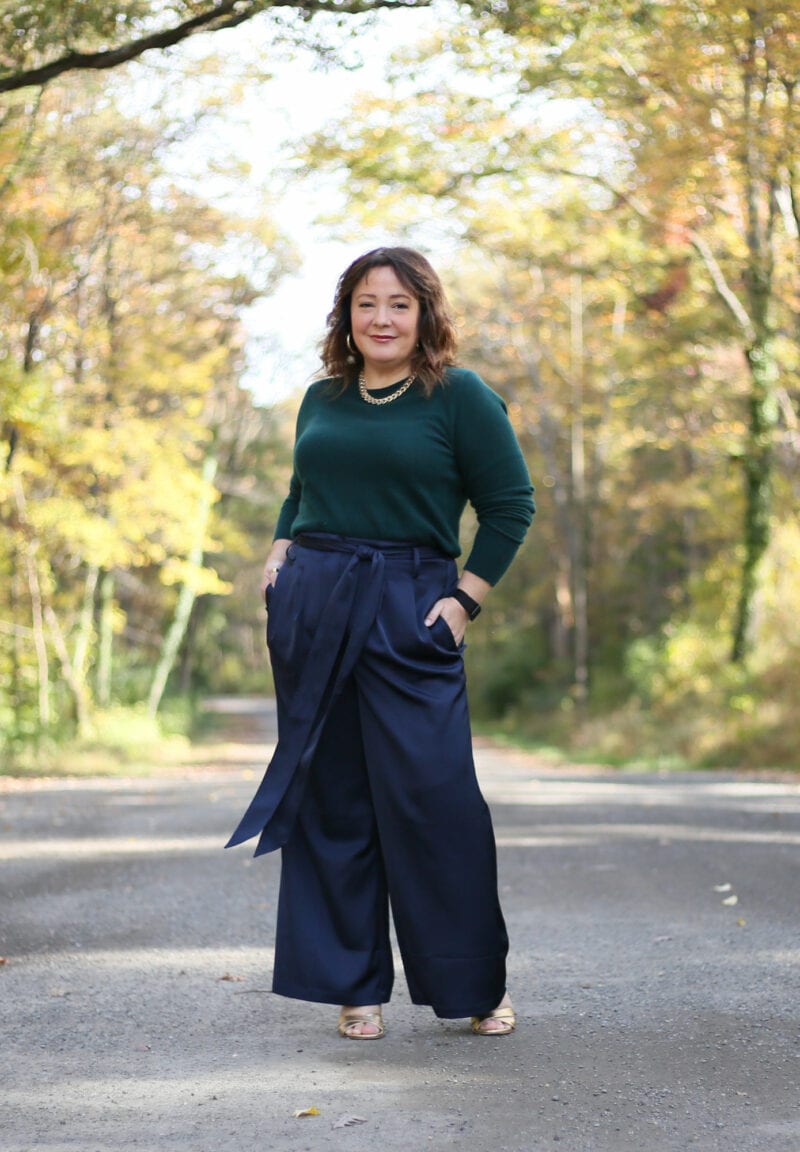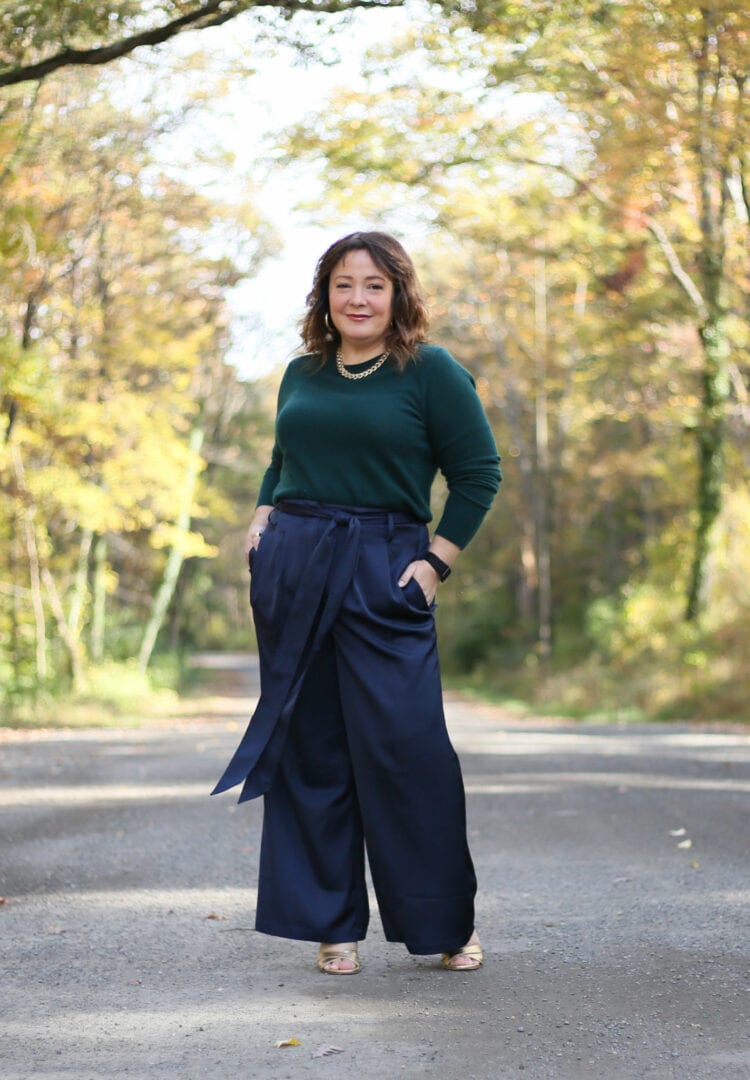 While I received this sweater for free, I am not obligated to write a review, nor am I obligated to write a positive review. My reputation as being a trustworthy reviewer is far more important than any relationship with a brand; I will always be honest with you. That being said, there are affiliate links in this post; if you make a purchase I make make a small commission. But I also lose that commission if you make a return so there's no benefit to me lying to you. And with that, my honest review.
Universal Standard Cashmere Review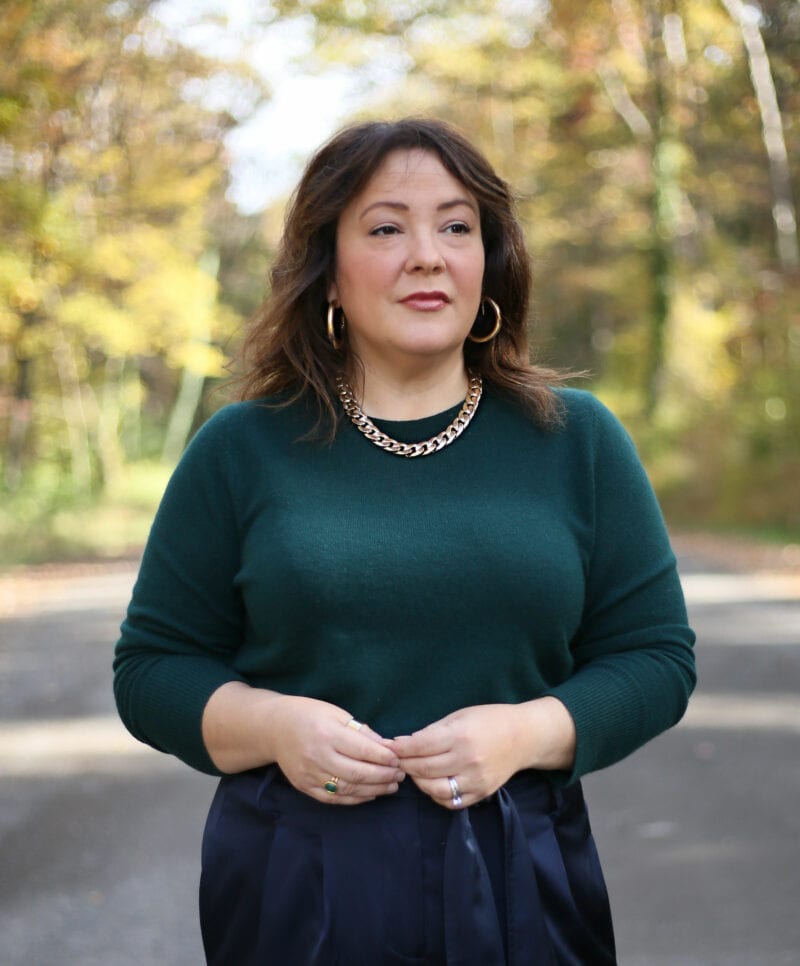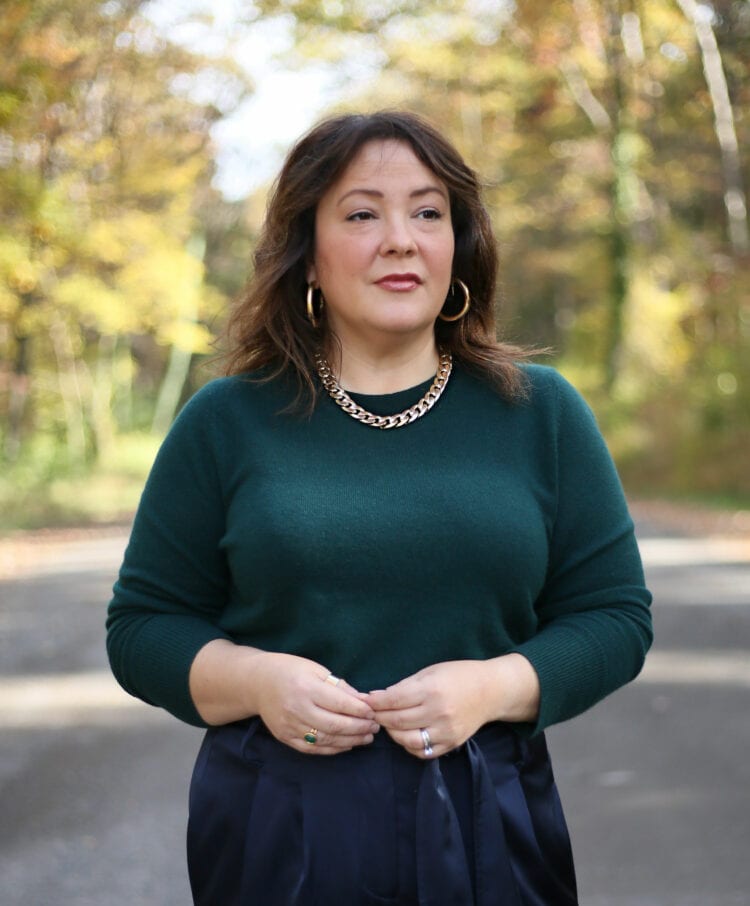 The Universal Standard cashmere collection is 100% cashmere, not blends. There is a crewneck that was sent to me, as well as a v-neck option. I have not seen any of the sweaters in this cashmere collection beyond the one I am wearing, but based upon what is on the website, I can only assume they are all the same weight, cut, and fit.
For those unfamiliar with Universal Standard's sizing system; the brand didn't start with their full size range and focused on larger sizes. With 67% of the US female population wearing plus sizes and the average American woman wearing a size 16/18, Universal Standard made an 18/20 a medium. Then as the brand grew, their size range grew and that's why you have 4XS-4XL or sizes 00-40. But as with any apparel brand, it makes more sense to look at the size chart than assume you're the same size letter or number from brand to brand.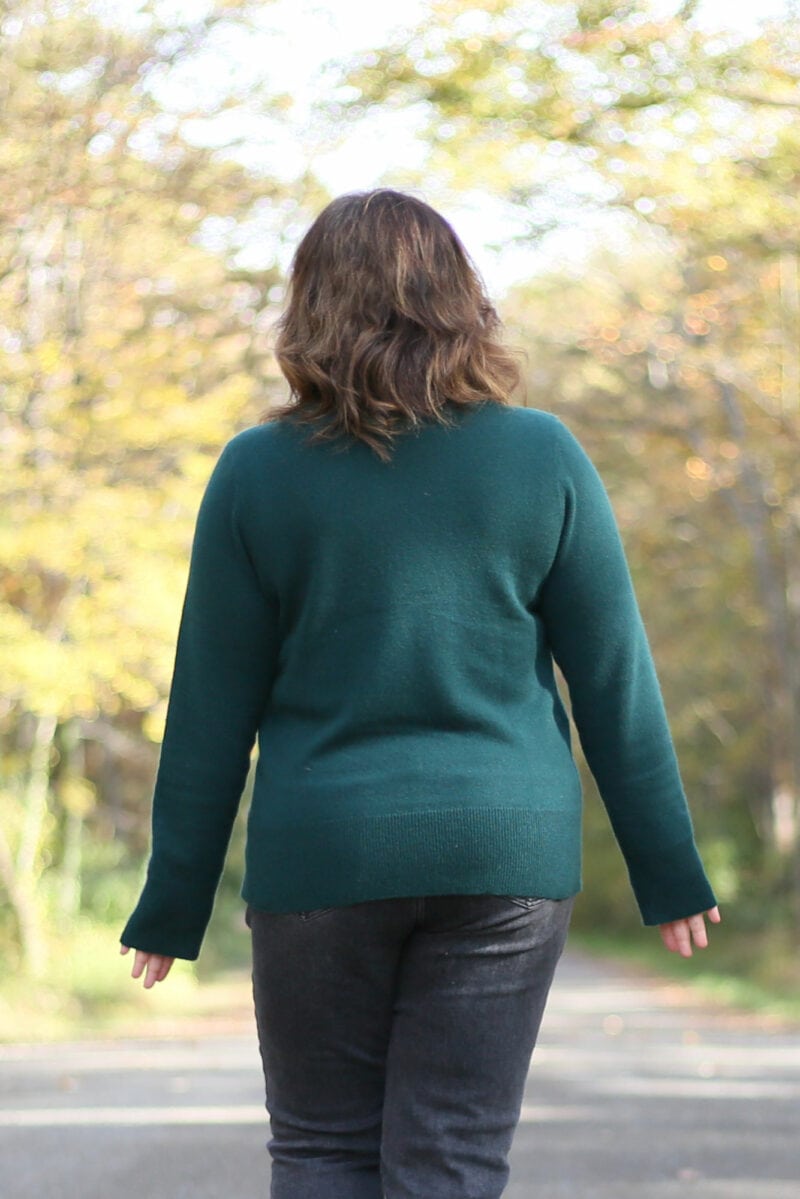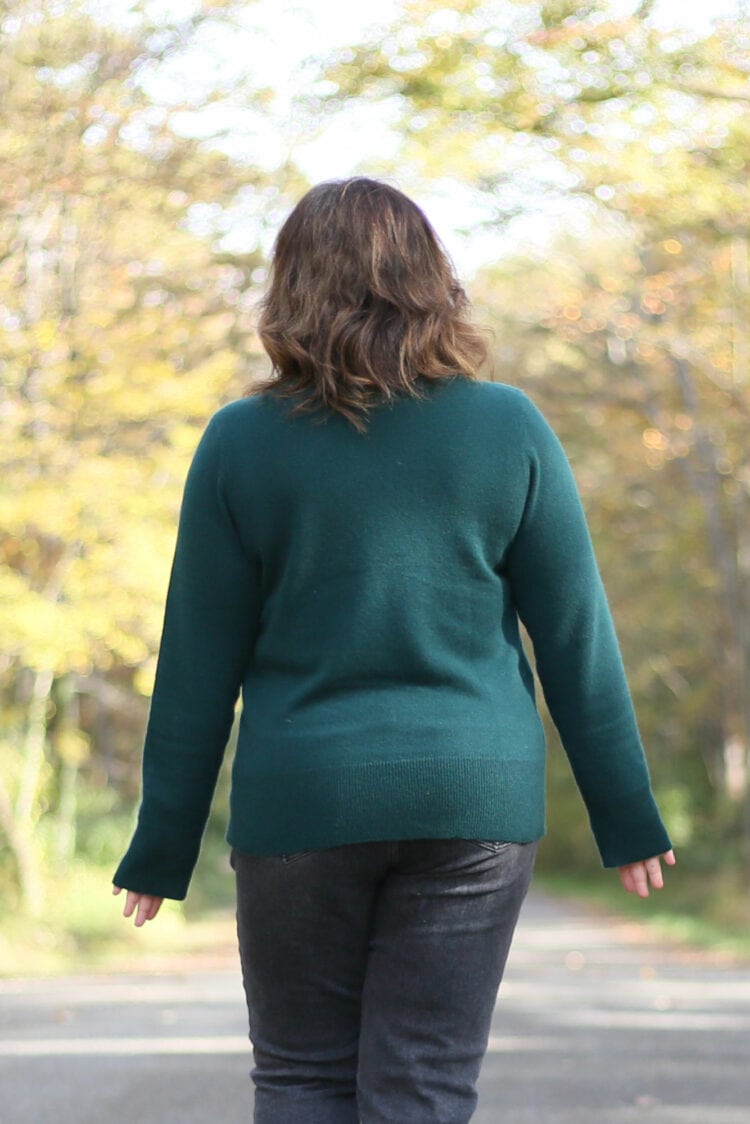 That being said, I am usually a size 14 in brands like Talbots, J. Crew, and Old Navy and when I purchase sweaters I usually choose an XL to accommodate my bust and arms. Universal Standard sent me this sweater in size XS which is 99% of the time my size with this apparel brand. It fits the way I would want a cashmere crewneck sweater to fit me; not baggy but not fitted, comfortable tucked in our left out.
I have bought cashmere from Halogen, J. Crew, Talbots, Nordstrom Collection/Signature, Lands' End, and Eileen Fisher and have received gifted cashmere from some of those sites that sell only cashmere and for low prices. This cashmere is thicker than Halogen and J. Crew (at least 2021 J. Crew) and while not as thick, has a tighter weave than Talbots. This means the sweater doesn't stretch out as quickly if you're like me and push up your sleeves all the time. Universal Standard's cashmere is far superior to Halogen cashmere (which is always part of the Nordstrom Anniversary Sale), and could easily sell for over $100. I find the cut to be more… stylish than Lands' End (not as fitted of a hem or sleeve cuff) and more classic/stylish a fit than a lot of other brands that offer plus sizes.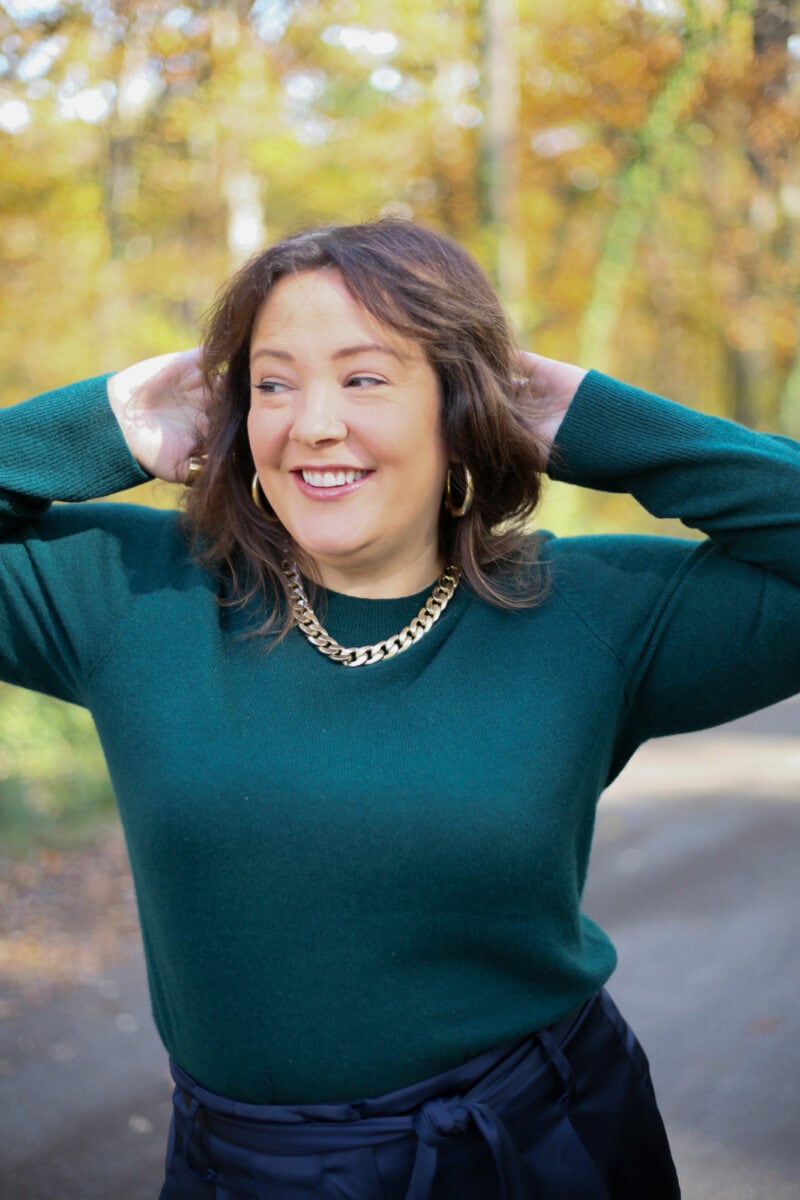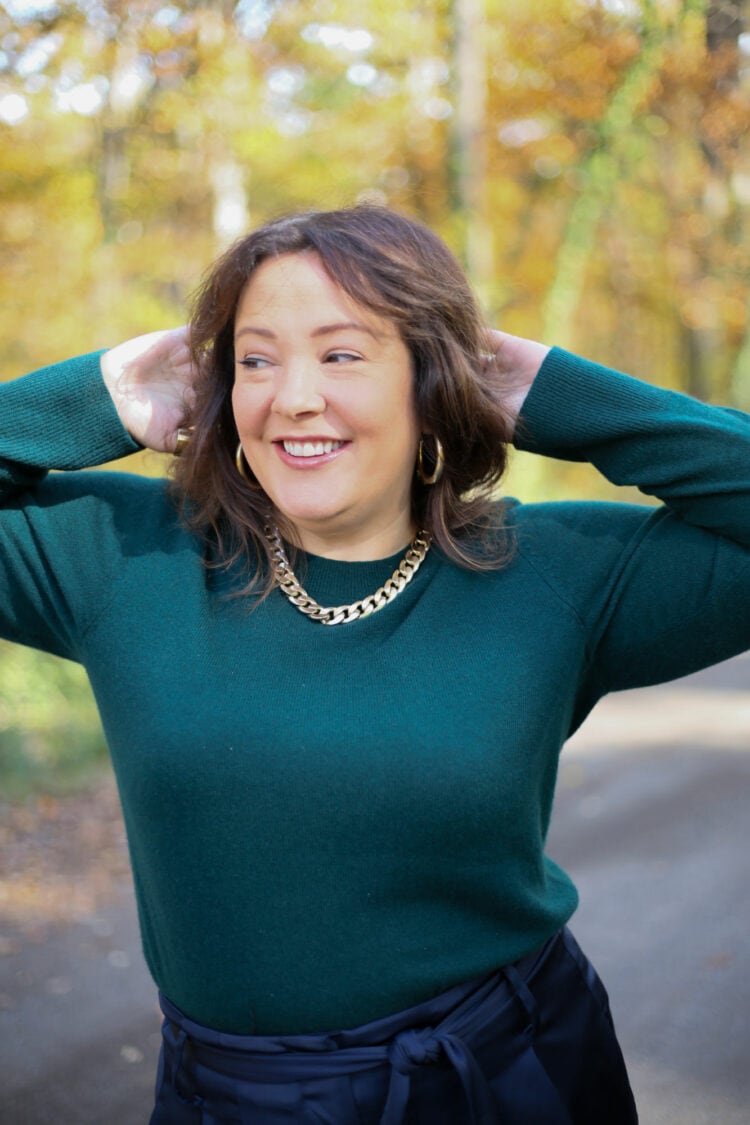 I have now worn this sweater three times for at least three hours each time so I could see how much it pills under the arms and places where the fabric rubs against itself. I must say I am highly impressed. Cashmere pills, it's a given. I recommend a sweater stone or fabric shaver (I personally own both of these and use them often) if you own cashmere because it will keep it looking clean without damaging the sweater. But after three wears I haven't had to use either device to remove pills from this sweater!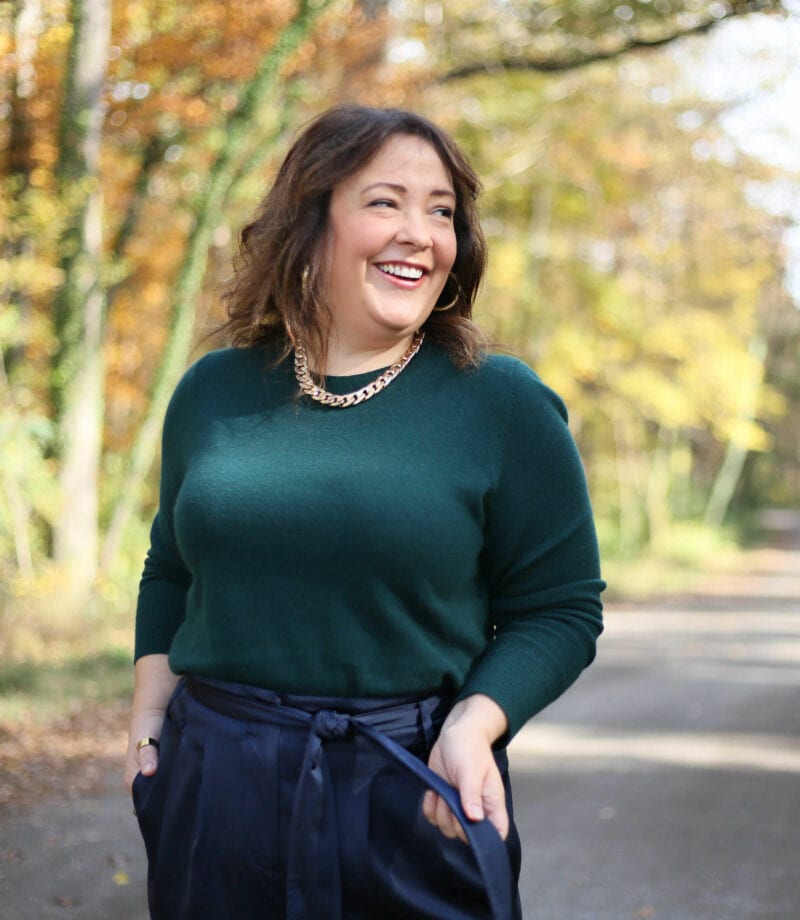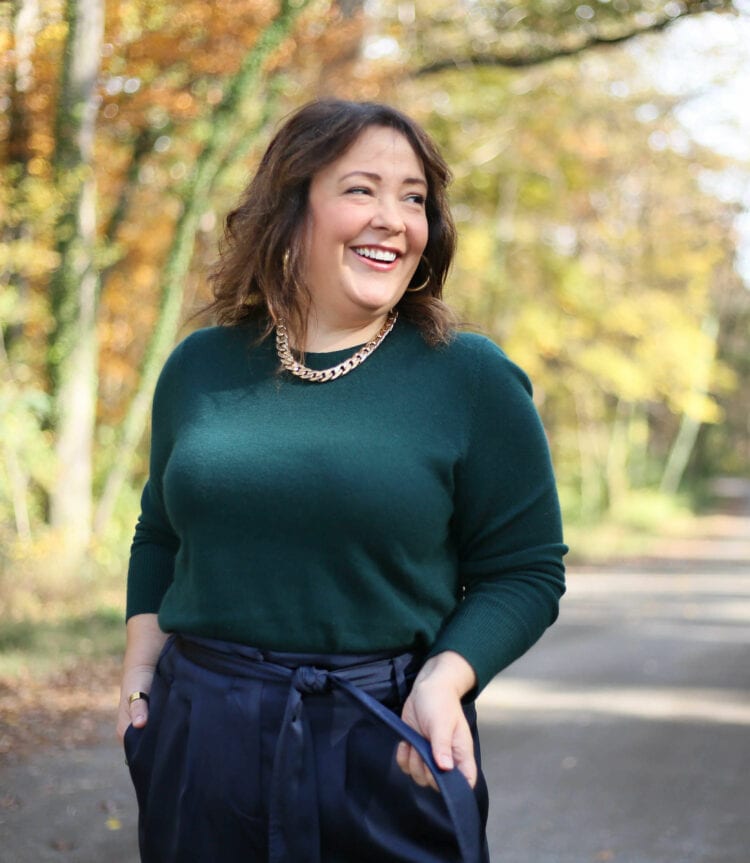 I find Universal Standard's cashmere to have the same itch factor as any other cashmere sweater; if you are allergic to wool this sweater isn't some magical garment that won't irritate you. Universal Standard has plenty of non-wool sweaters to choose from. I don't have a cashmere allergy and find this sweater a nice weight for fall and spring, and a weight that can easily layer when it's colder. I tried it under a boyfriend-style blazer and styled it over a tissue-weight turtleneck and found both comfortable.
Styling the Universal Standard Cashmere Crewneck Two Ways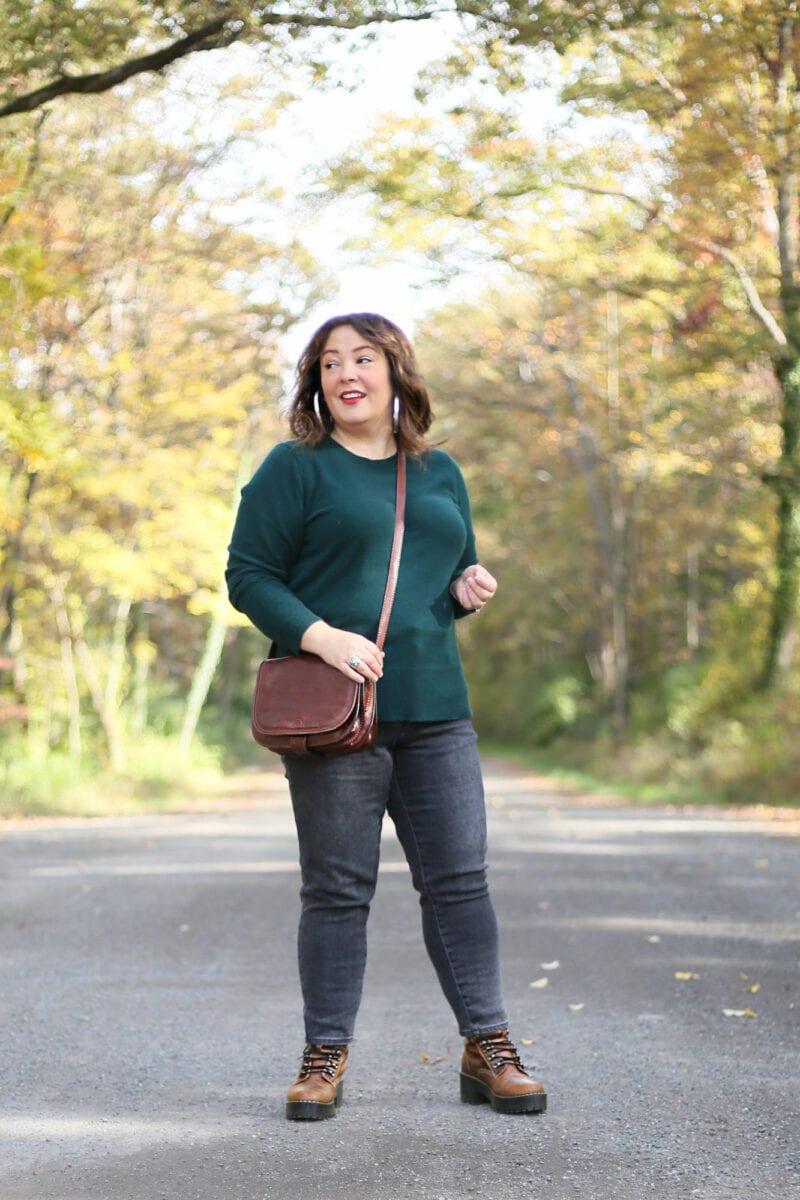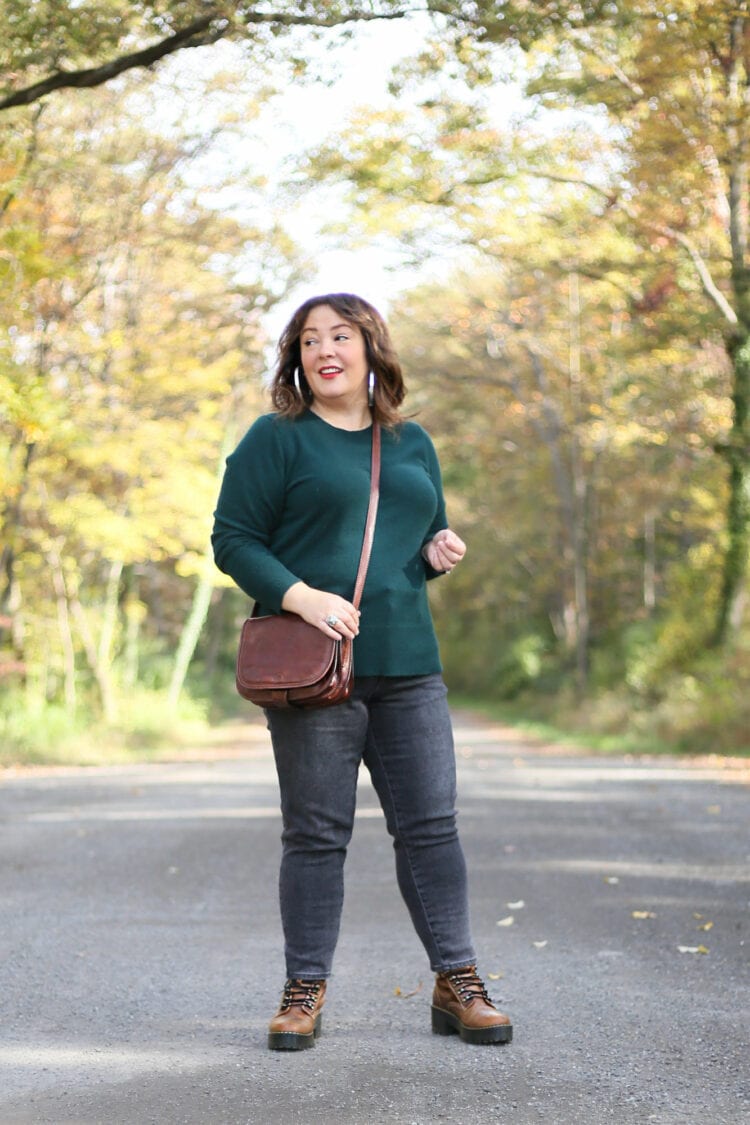 I love cashmere crewnecks because they are like the cold-weather alternative to my Breton tees. More interesting than a knit, but super versatile, cashmere can be thrown on with jeans to head to the grocery store but glam up easily for special occasions.
I have worn a cashmere crewneck like this with ball skirts and dressy skirts, under cocktail pantsuits, and paired with sequins (a previous year's version of this skirt to be specific).
Cashmere was a favorite at work because it looked professional but also because it was warm enough for fall and winter but not so bulky I overheated. It's thin enough to tuck into pants or a skirt, and also drapes nicely when you do a half tuck.
A cashmere sweater paired with my jeans or joggers makes me feel as though I put forth effort in my look, and the fab fabric makes me feel fancy even if I'm hiding my Peloton hair under a beanie and wearing mismatched socks.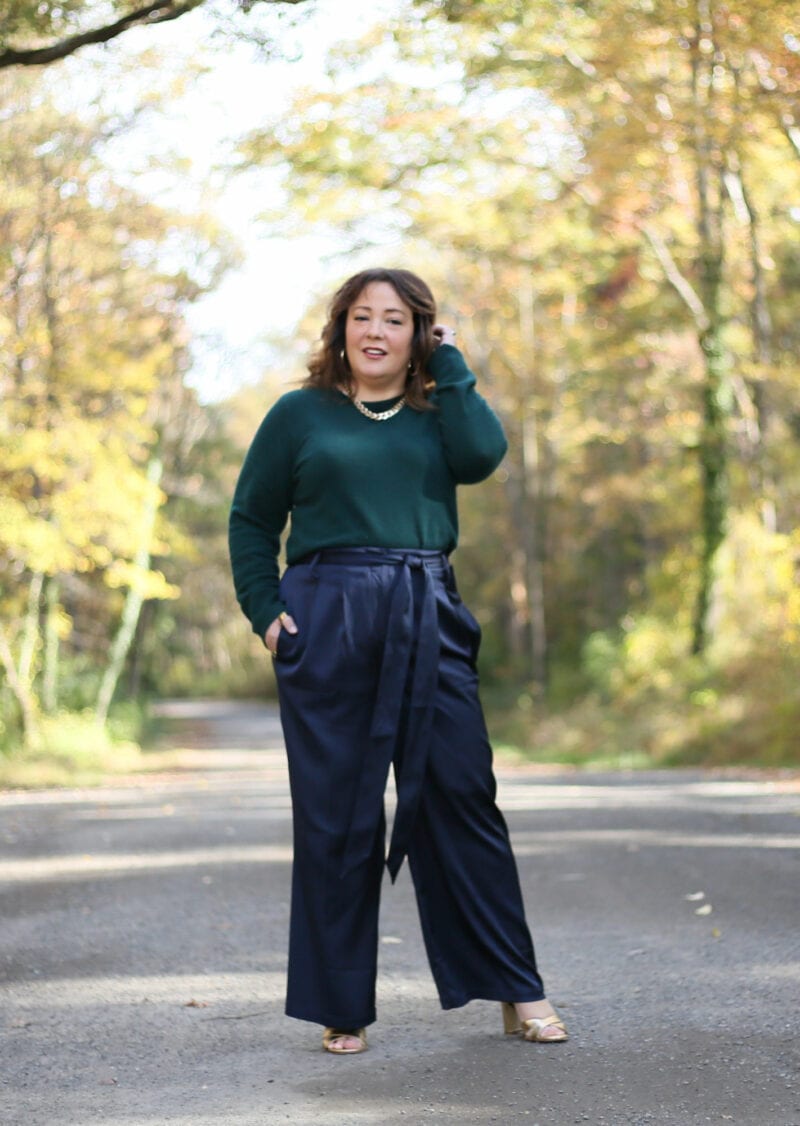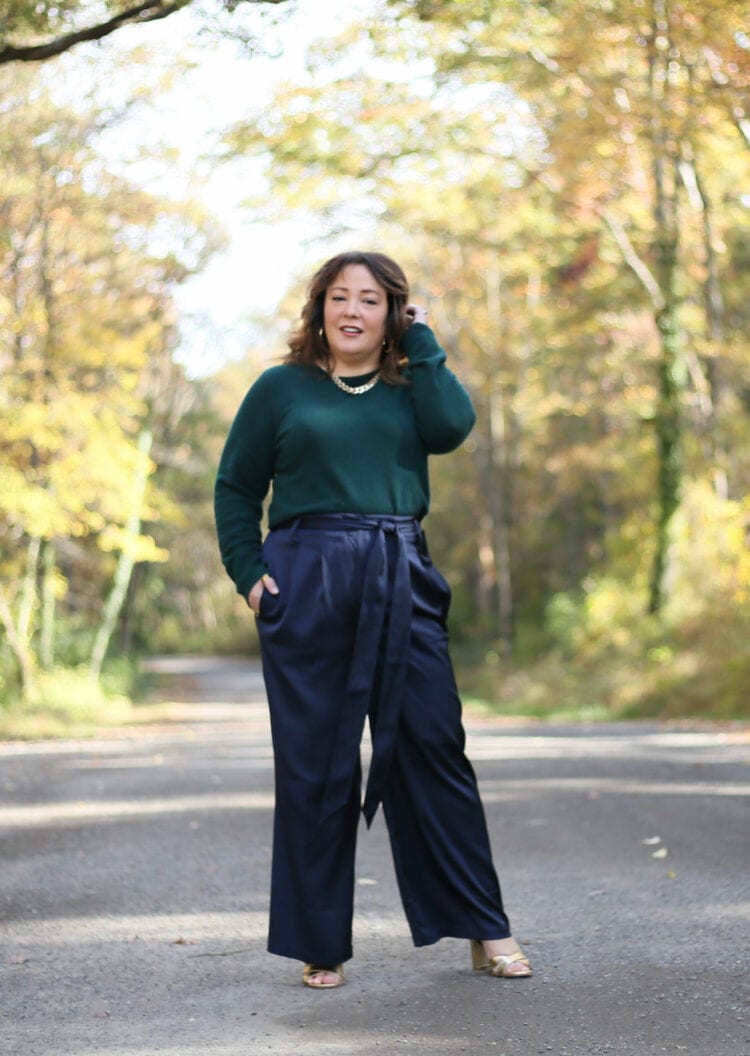 Universal Standard fans will recognize both my navy trousers and my gray jeans as pieces the line used to carry. I chose the navy pants because they are comfy but dressy and I saw this as an outfit that could be worn to Thanksgiving or a holiday party. While I styled it with gold heels (these from Margaux; here's the same with a lower heel), you could easily switch them out for an ankle boot, a flat, or even a pair of sneakers. Elevate the look by switching out the gold jewelry with pieces with some sparkle and add a clutch purse.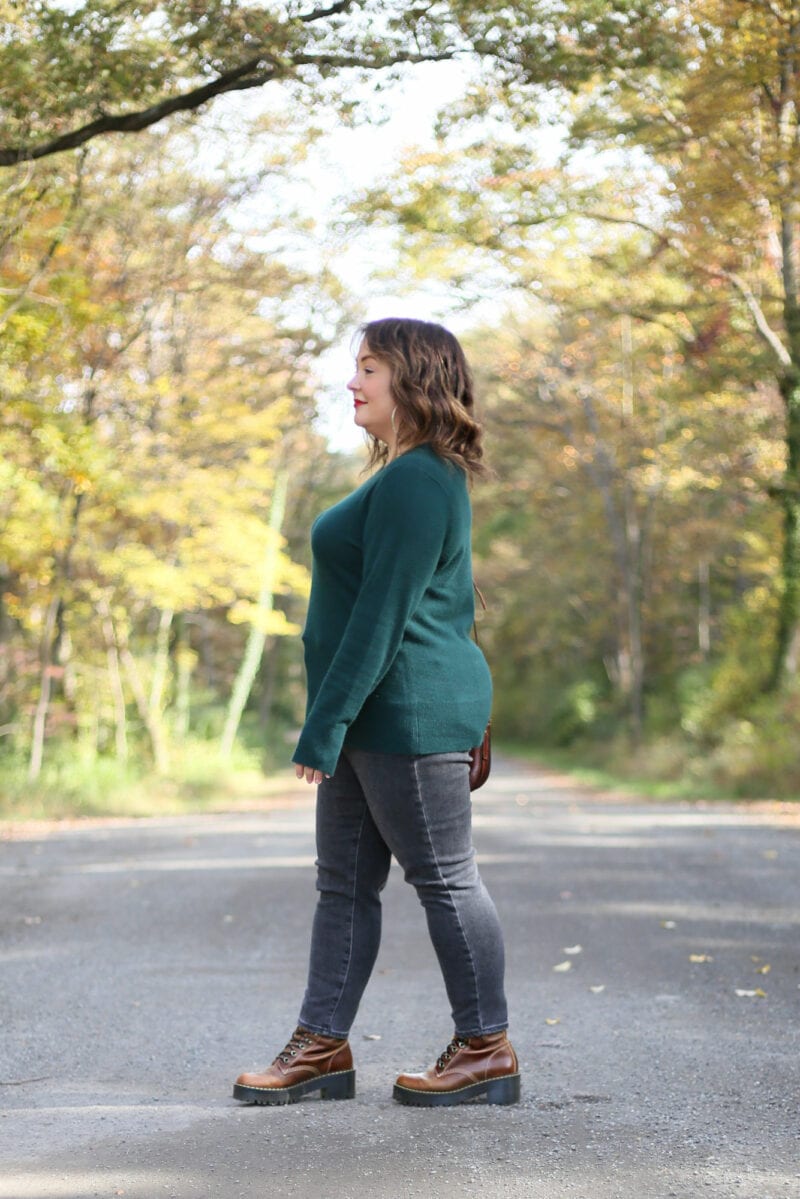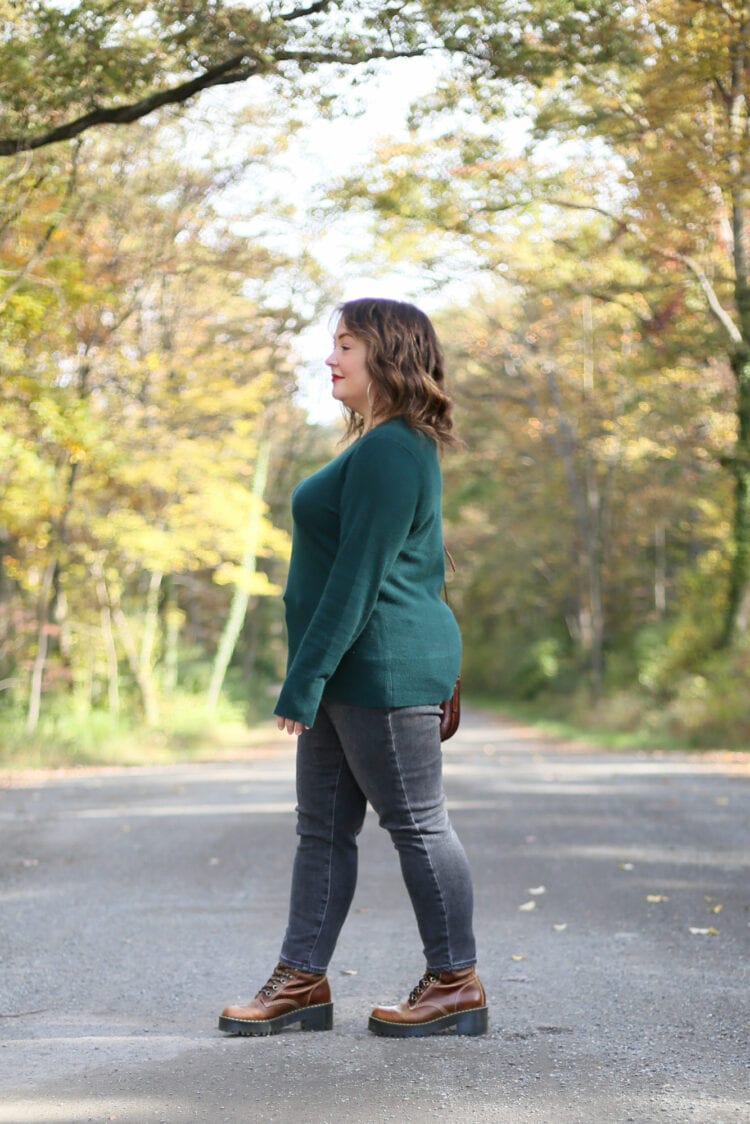 I wanted to show what the sweater looked like untucked so you could envision it multiple ways in your existing wardrobe. I brought down the sleeves and hem so you can see where it hits on my 5'3″ self without any styling.
Size-Inclusive Cashmere Under $100: Colors and Styles Available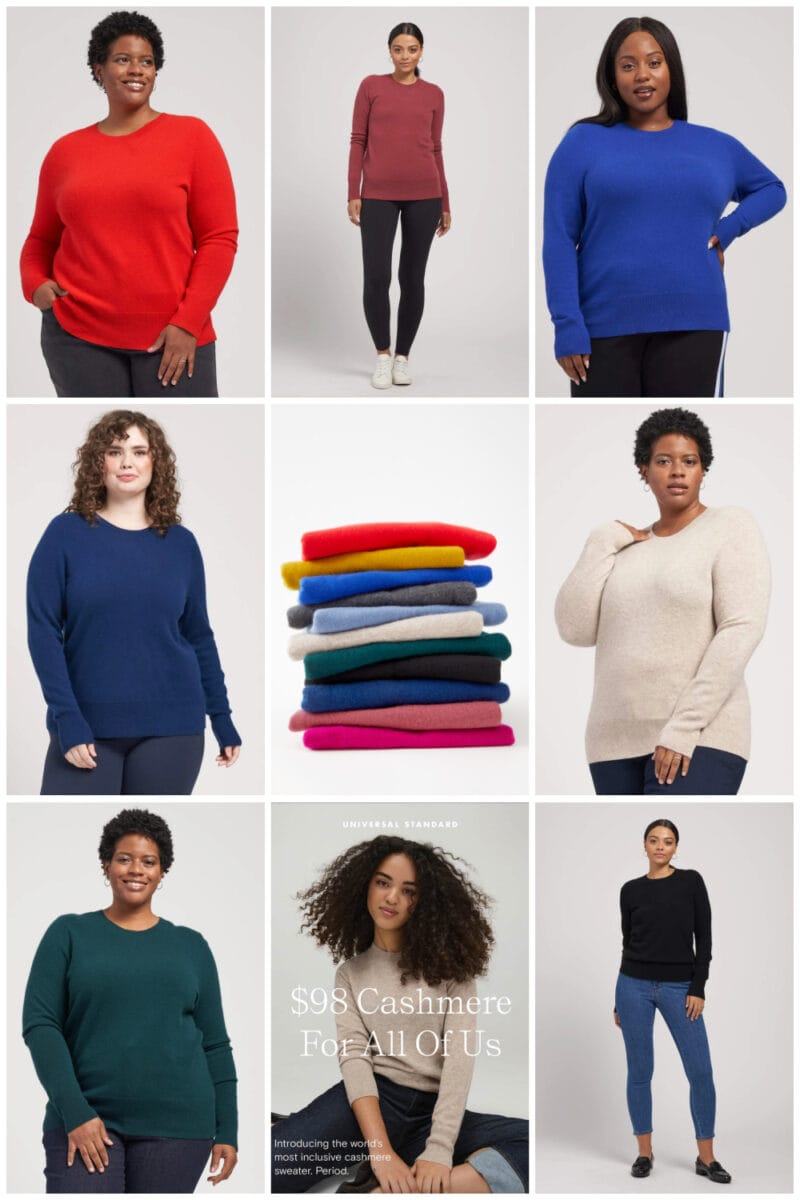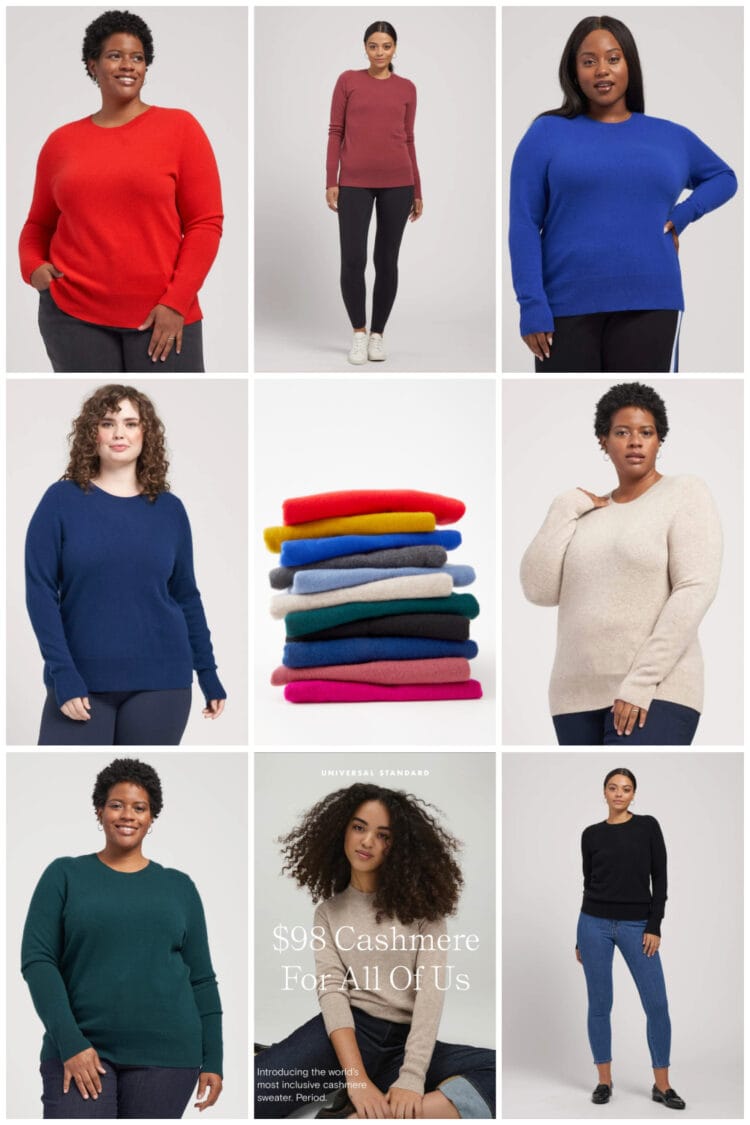 Universal Standard has added the cashmere v-neck and crewneck to their regular offerings with a few classic colors available always (called Essential Colors) and some limited edition colors that are brighter and more statement making. The forest green color I received is one of the essential colors for both the v-neck and the crewneck.
Personally, I find the color selection, in general, to be boring. Sure, let's have black and oatmeal and navy. But if we can have bright red and bright blue, why can't we have some other fun shades? Berry is great, but how about Barbie pink? Light blue is nice, but imagine a Tiffany blue or aquamarine. As well as offering Cinnamon, how about a rich pumpkin or copper color? I really hope they, like Talbots, offer different colors each season so we can get our forest green but also our brilliant emerald or chartreuse.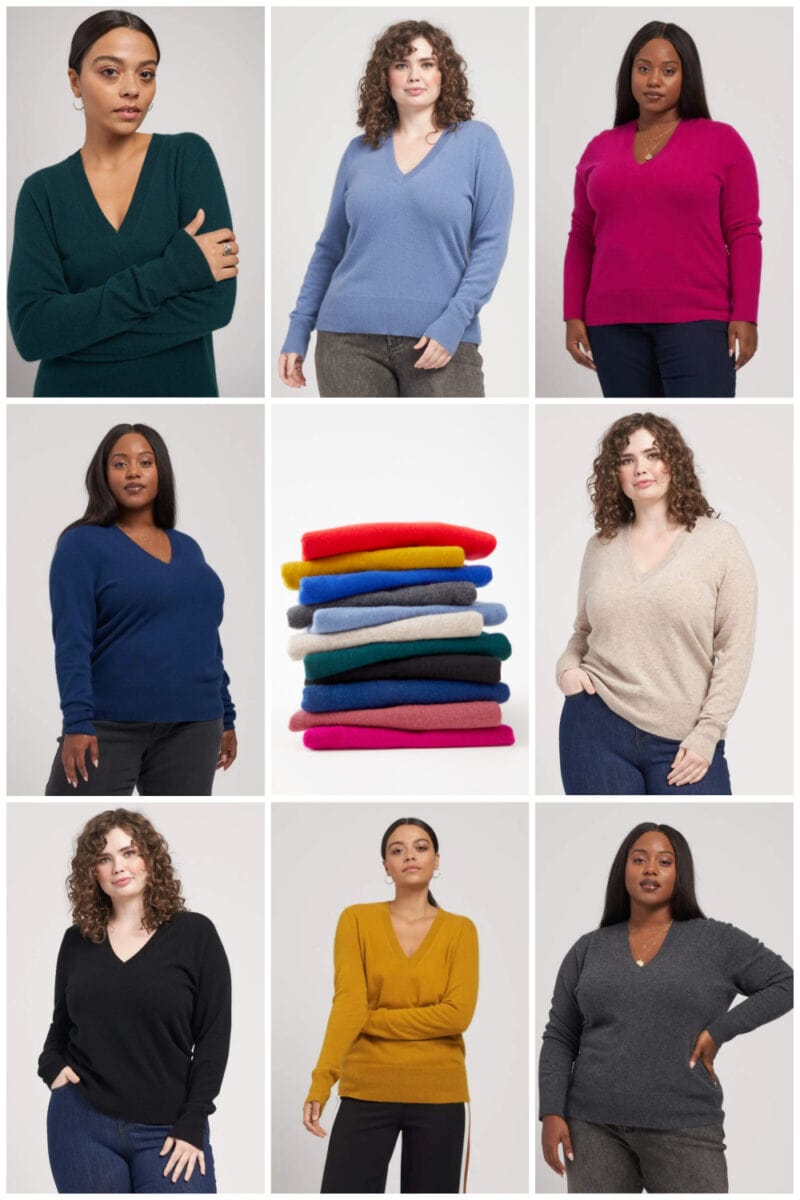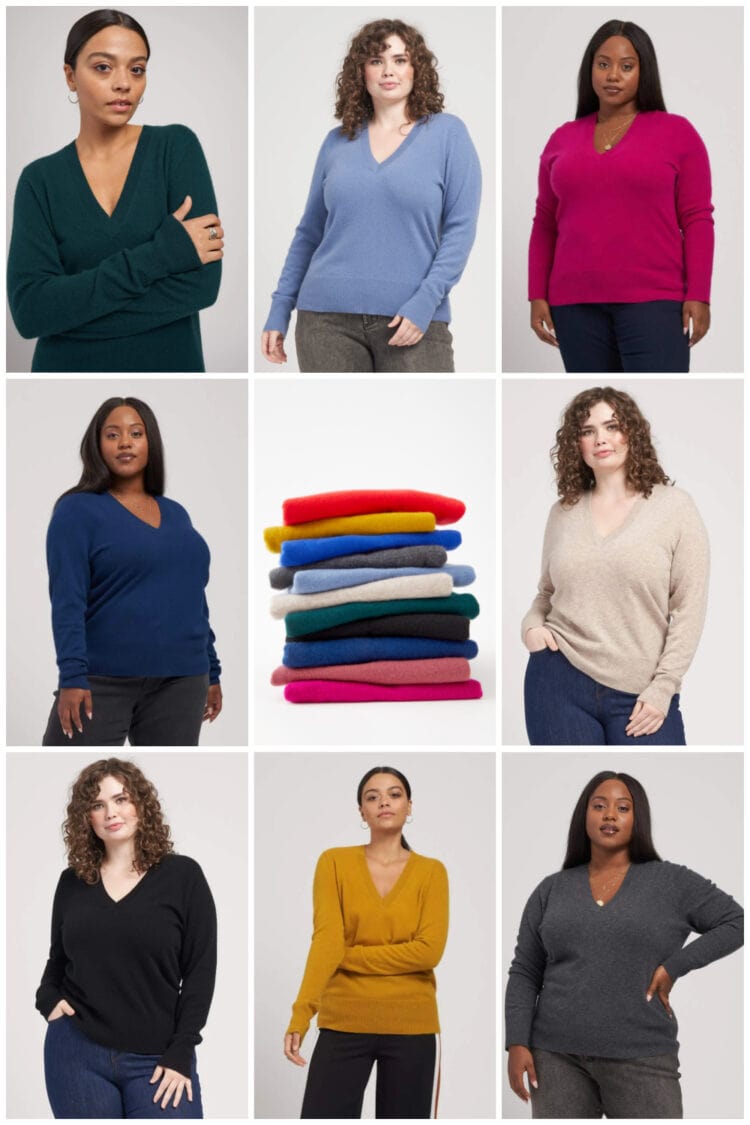 That being said, have this quality of cashmere available at such a reasonable pricepoint and in such an extensive size range… I can't think of any other brand that offers something similar. I think as an influencer, how many cashmere companies have reached out to partner and I have refused because I, a size 14, is at the very top of their size range. I love being able to wear a brand that fits most of you, instead of a select group of you. Even better when it's the quality, style, and color I enjoy!
We all deserve cashmere if we want to wear it, and this is yet another way that Universal Standard is democratizing fashion. This isn't a crappy cheap sweater, it isn't a cashmere blend, it is a classic cut and colors that will transcend trends, achieving what Universal Standard was about at the beginning.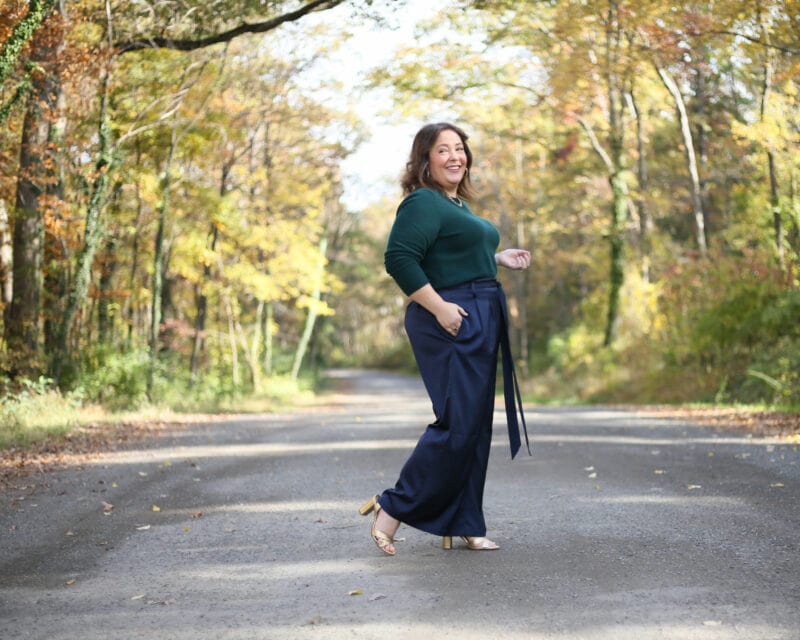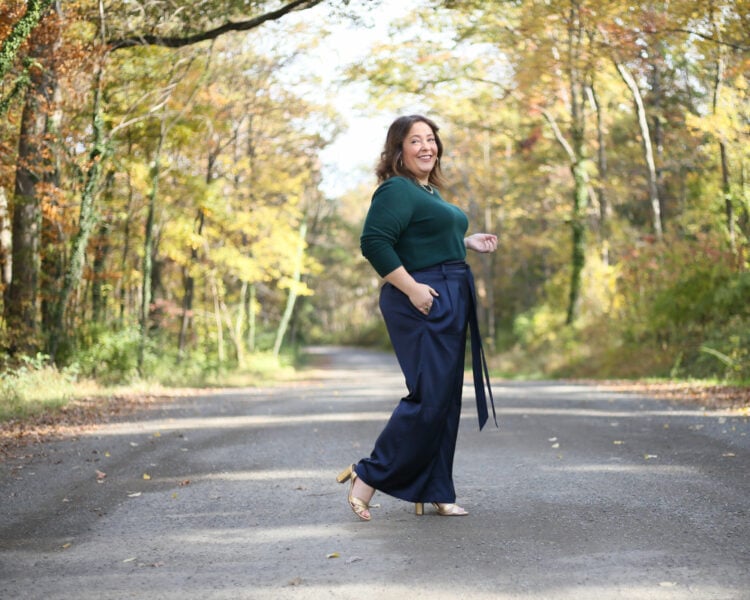 This will not be my only Universal Standard cashmere sweater. I definitely want to try the v-neck, and I'd love to add more colors to my closet. The v-neck in the limited edition color Berry is calling my name, but I also love the classic colors. Clearly I am a fan! If you have any questions about this sweater that wasn't answered in this Universal Standard cashmere review, let me know in the comments!