This article may contain affiliate links; if you click on a shopping link and make a purchase I may receive a commission. As an Amazon Associate, I earn from qualifying purchases.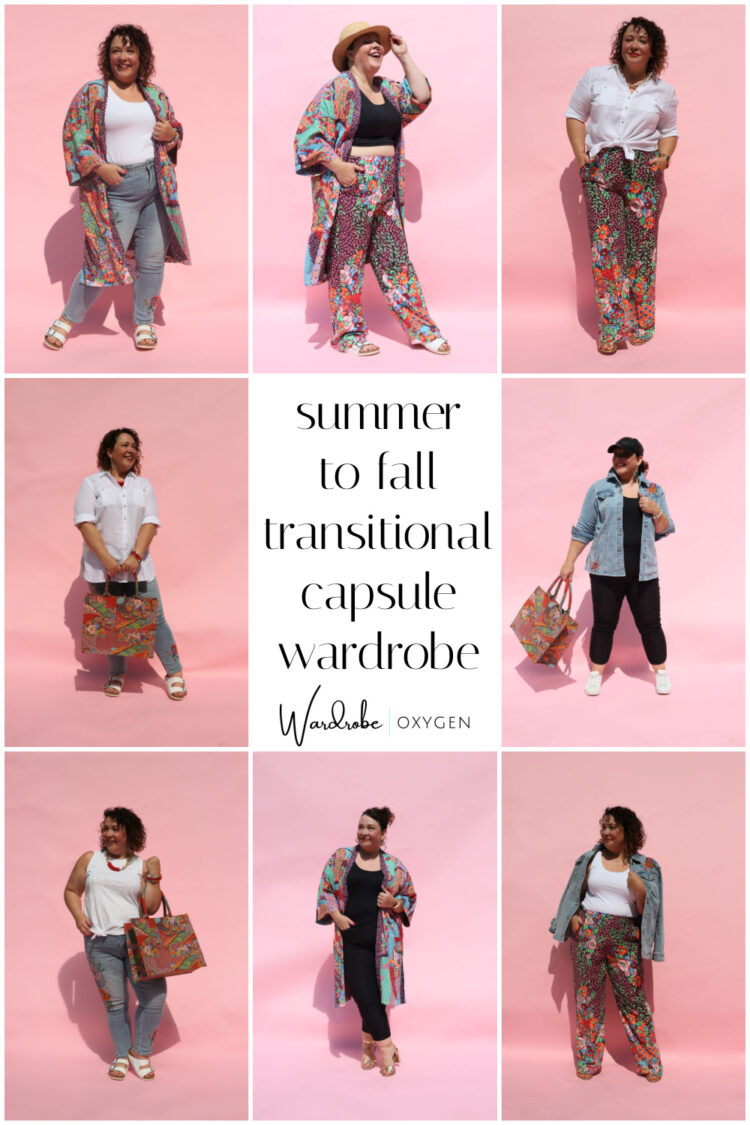 I mentioned on Instagram Stories and in this blog post that I got this duster from Chico's and loved it so much I was inspired to create an entire capsule wardrobe around it. Below I share a summer to fall transitional capsule wardrobe using Chico's New Arrivals. While I call this a capsule wardrobe… it's more like a capsule collection. While items can be mixed and matched, it's not quite as versatile as my usual capsule wardrobes on Wardrobe Oxygen. But I hope it inspires you to see how you can mix fun, colorful, and unique pieces with closet staples for a very versatile and far-reaching wardrobe!
Disclosure: I am a Chico's Ambassador, which means I receive merchandise of my choice to create paid Instagram content each month. I am not compensated in any manner to share this content on Wardrobe Oxygen; I wrote this because I asked for items to make a capsule wardrobe was proud of my result and wanted to share it with you. As with almost every post on Wardrobe Oxygen, affiliate links are used and if you click on them and make a purchase I may make a commission. To learn more about how blogs make money, click this link.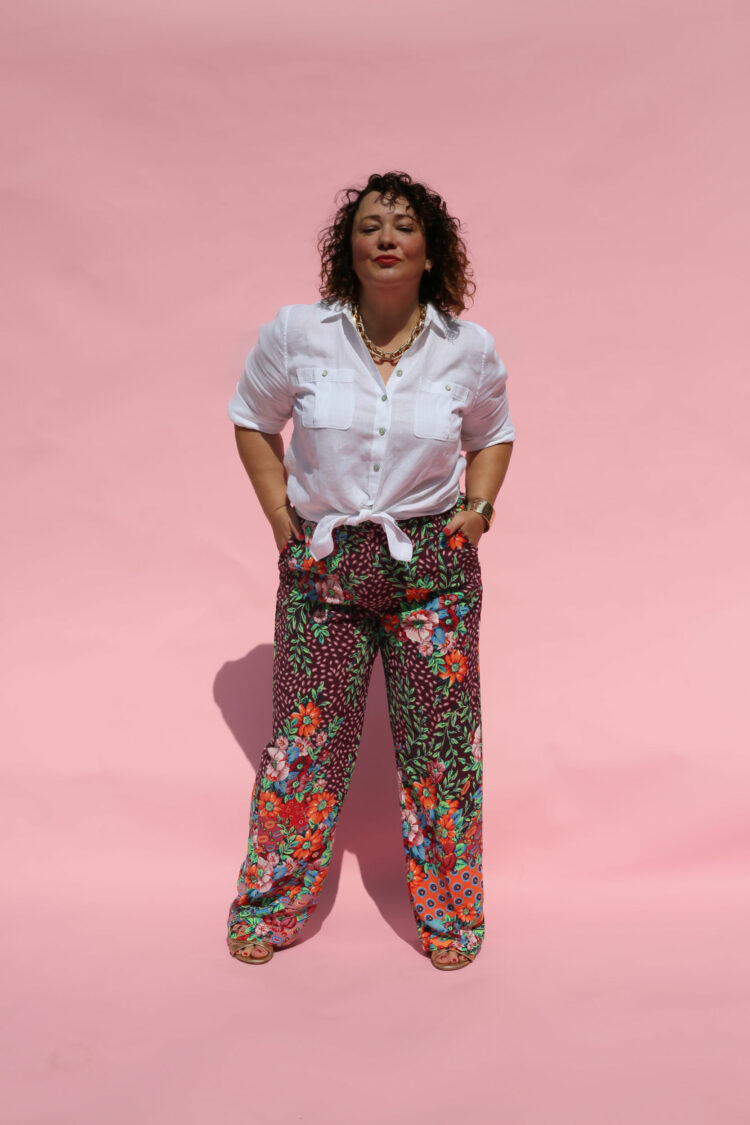 Summer to Fall Transitional Capsule Wardrobe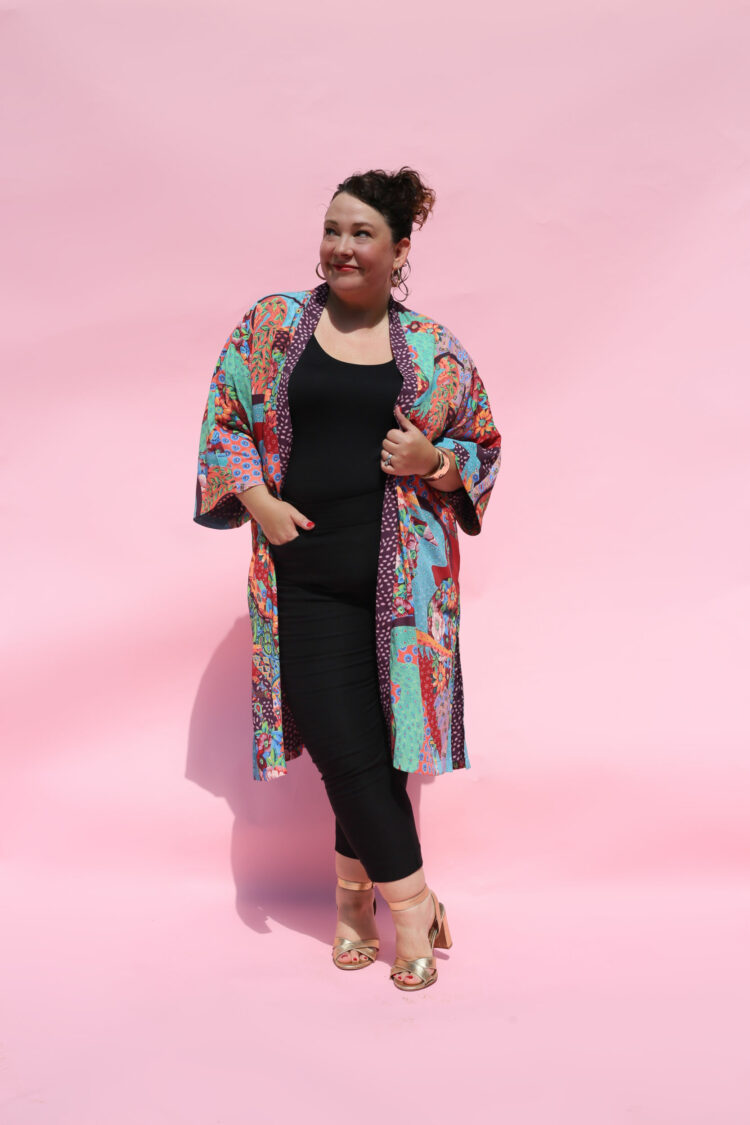 We shot this transitional capsule wardrobe on a day of 96 degrees before considering the humidity of Maryland. Even if I may have had to blow dry the jeans between looks to remove sweat marks, it's important to realize that before we know it, fall will be here. It's smart if you are shopping right now to consider if these items will last more than a few weeks before they feel too summery or are just not enough for dropping temperatures of early fall.
This transitional capsule wardrobe incorporates pieces from Chico's I have enjoyed all summer (and summers prior) along with pieces that could work now, and could work as summer turns to fall. And while I feature a few looks modeled on me, there are so many other looks that could be created from these versatile pieces!
What's In This Capsule Wardrobe: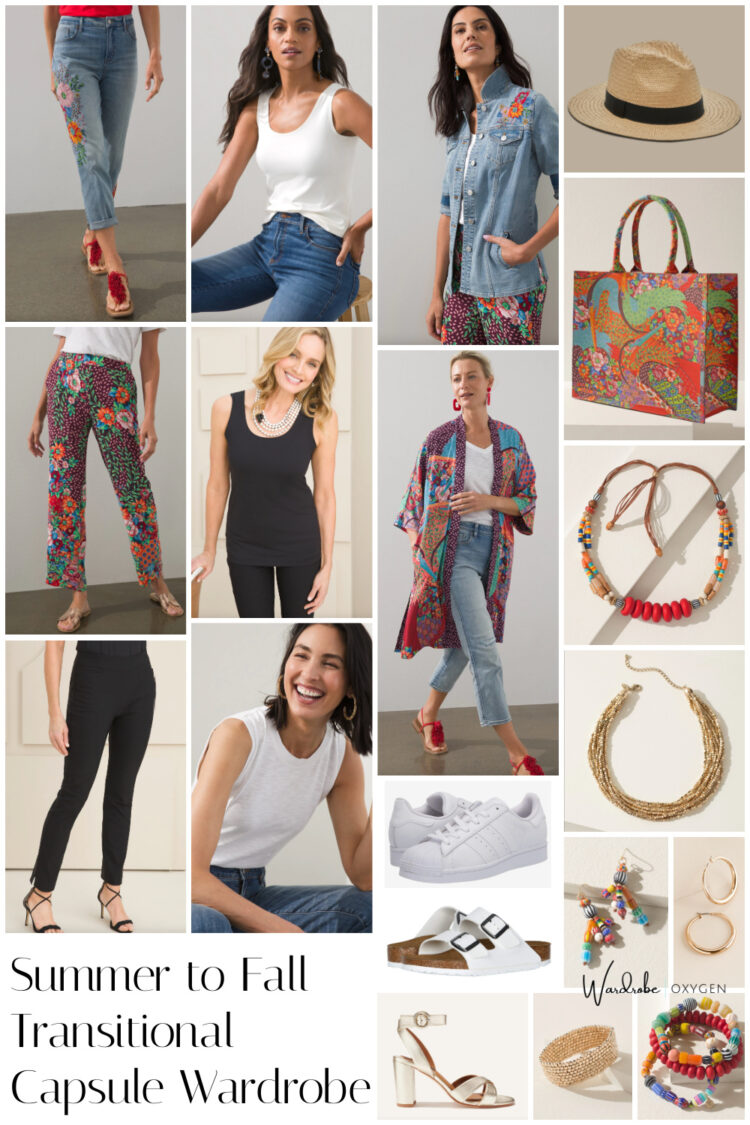 What's in This Capsule Wardrobe:
embroidered jeans | printed pants | black ankle pants (available in petite and tall) | white fitted microfiber tank | black fitted microfiber tank | white slub tunic (with slit to easily tie and change the look) | white linen tunic | embroidered denim shirt jacket | printed duster | white sneakers | white sandals | gold heeled sandals (they come in widths!) | straw fedora (it comes in sizes!) | printed structured tote | adjustable length beaded necklace (you can adjust the length) | gold necklace | beaded earrings | gold hoops | gold bracelet | beaded bracelets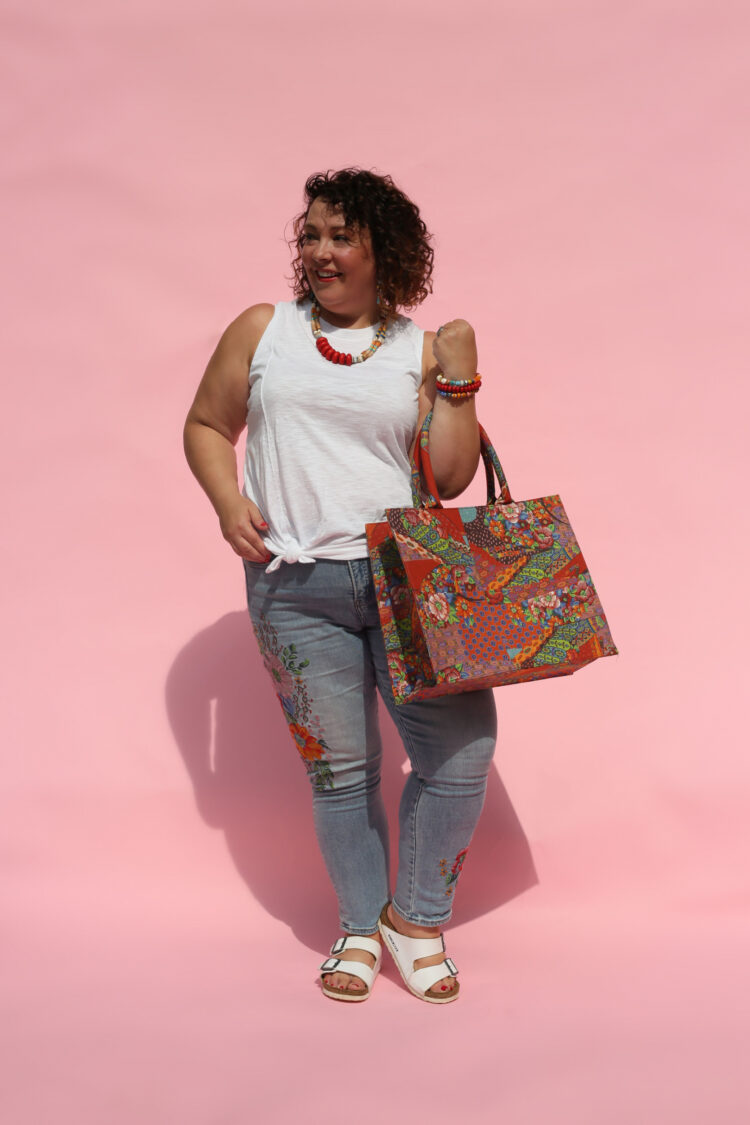 You've seen a lot of these pieces before. I think it's important to have some wardrobe staples like elevated tanks in black and white, a pair of well-fitting black pants, some comfortable yet stylish sneakers in your arsenal. You likely have similar already in your closet that will work just fine with this capsule wardrobe.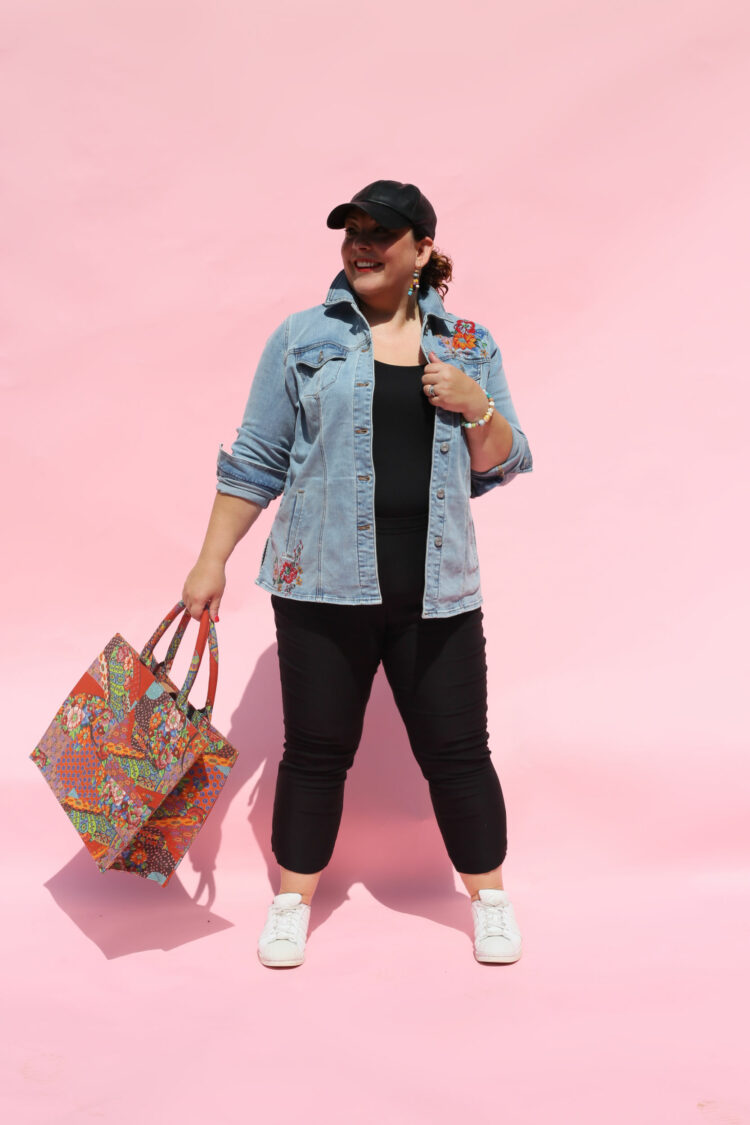 Some of the more unique pieces are also easy to replace with what you own or similar. The denim jacket and jeans are embroidered, but could easily be switched out for simpler pieces from your favorite retailer or in your favorite silhouette. The duster and printed pants can easily be replaced with similar items in solid colors or a different print, linen or gauze instead of a synthetic.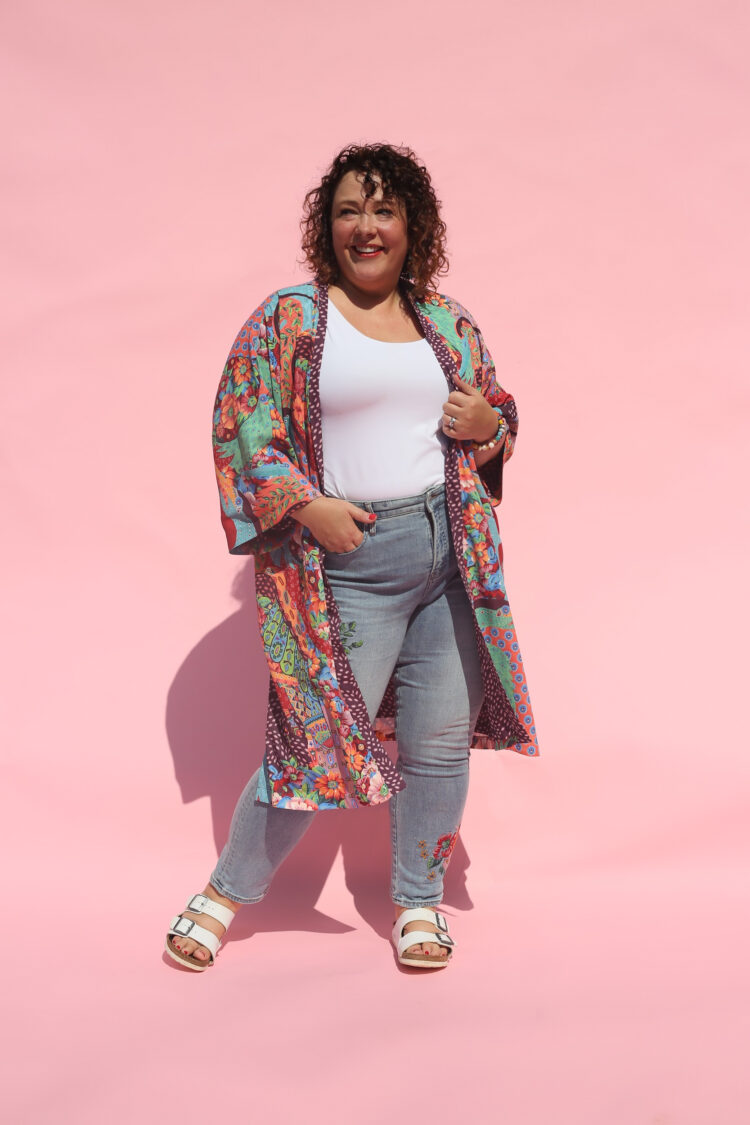 This capsule wardrobe shows how fun and colorful pieces can actually be quite versatile. You don't have to stick to solid colors and classic accessories to get a lot of mileage with your closet.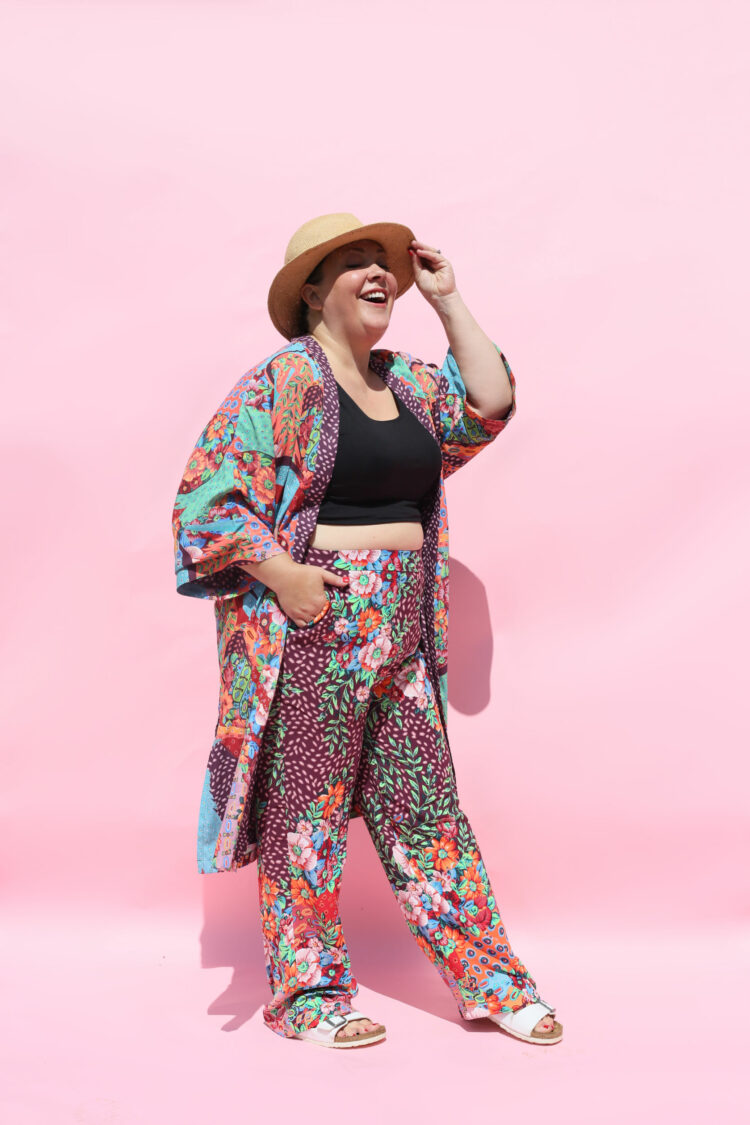 While I only modeled a few looks here, there are several more that could be created. Consider wearing the duster over a dress the same length or longer. As I did in this capsule wardrobe, consider belting the duster for a different effect (I tried this and found a wider stretch belt played better with the fabric of this specific duster). The denim shirtjacket is soft and stretchy enough that it could be tucked into a full skirt; add that wide stretchy belt to keep it in place.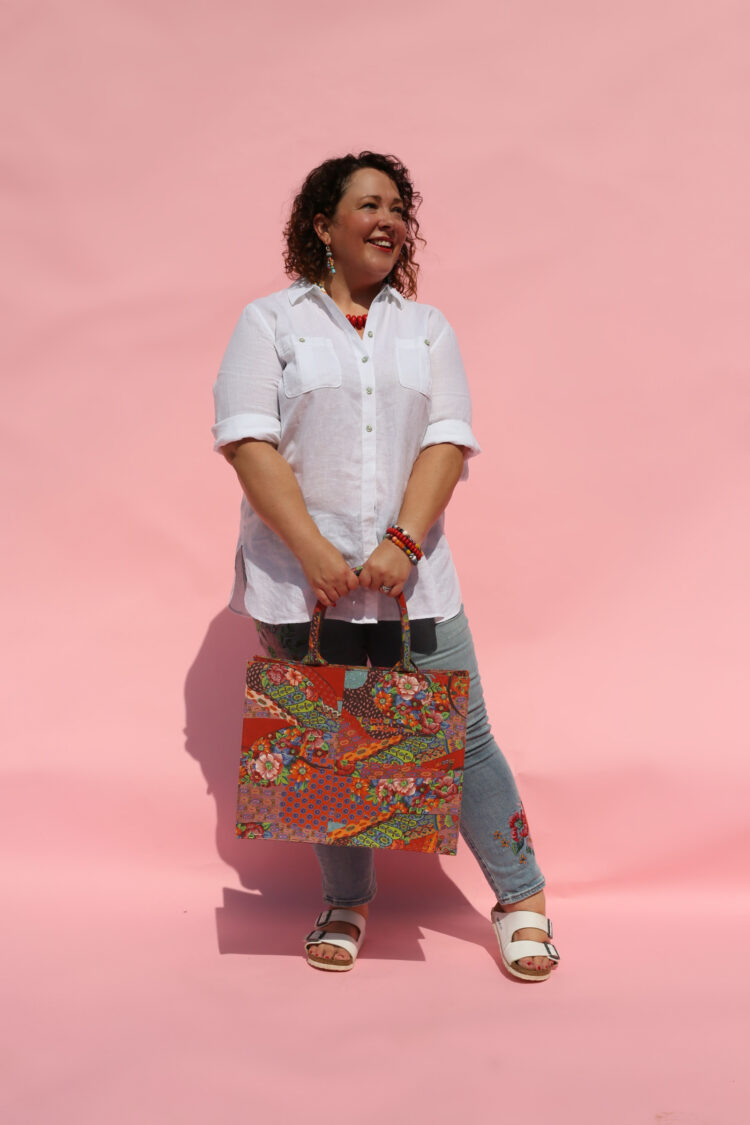 Sizing Information
I am 5'3″ tall. I usually wear a size 14 in popular brands, occasionally choosing petite options. With this capsule wardrobe I am wearing a Chico's size 2 in the knit tops and jeans, a 2.5 in the linen tunic and denim shirtjacket, and a L/XL in the duster. The black pants are size 2 petite (and FYI they were several months old, been through the dryer, but you'd never know by how crisp they look. Another reason why I love Chico's!).
The Purpose Behind my Capsule Wardrobes
As always, my capsule wardrobes are an opportunity for you to see your closet in a fresh light, mixing pieces in a way you may not have considered. I hope you like this summer to fall transitional capsule wardrobe; let me know your thoughts in the comments below!
Shop the Capsule Wardrobe: