This article may contain affiliate links; if you click on a shopping link and make a purchase I may receive a commission. As an Amazon Associate, I earn from qualifying purchases.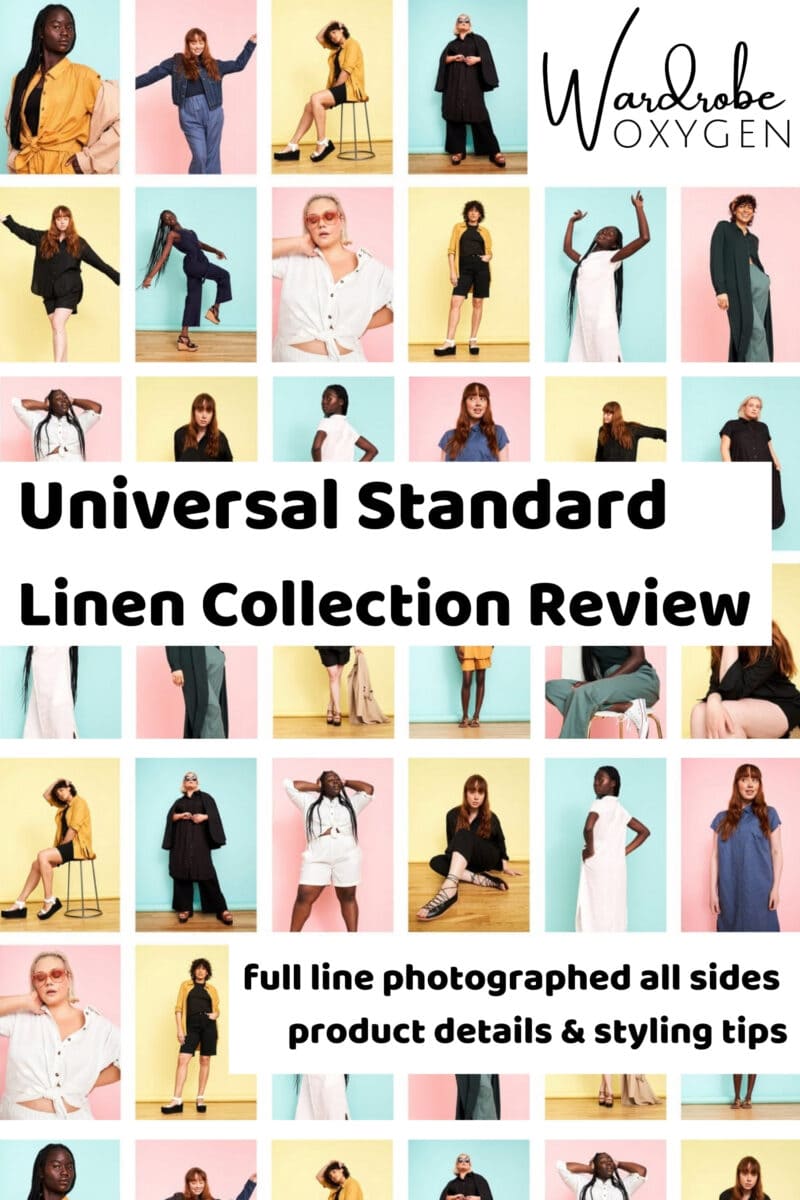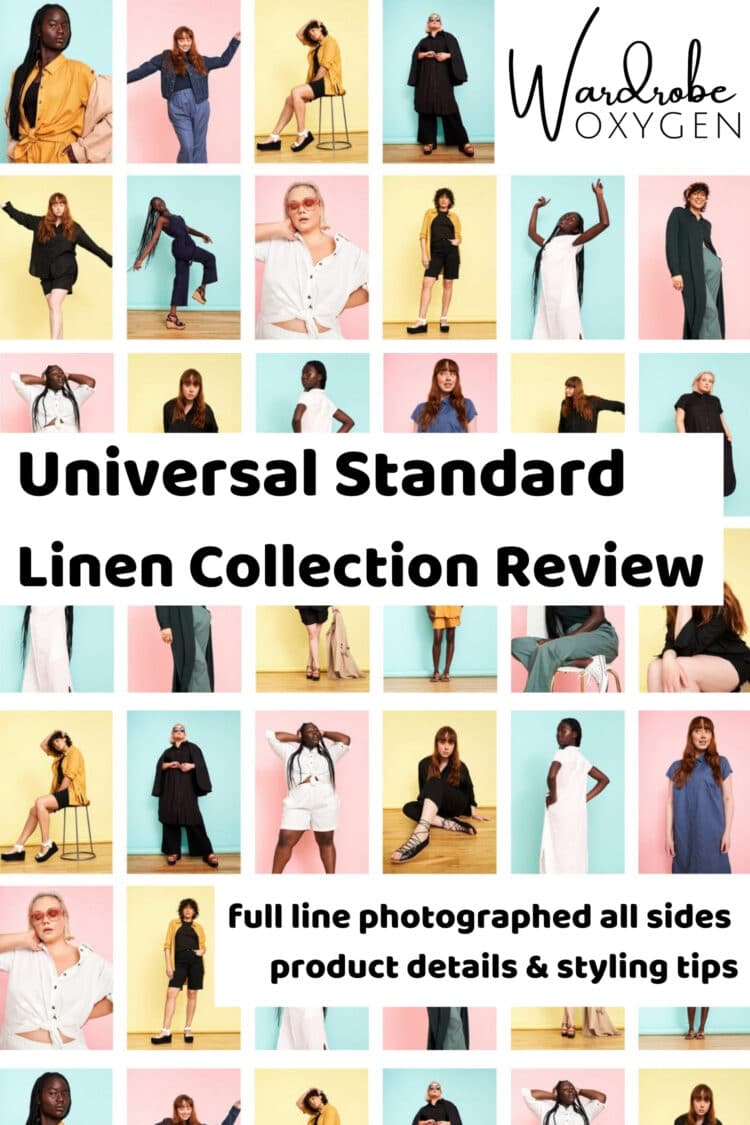 I don't know about where you live, but the Farmer's Almanac is saying Maryland is going to have a "stormy and sizzling" summer. Ugh, not like the DMV (DC, Maryland, and Virginia) isn't already hot, humid, and swampy from June to October. Sounds like linen weather.
Having a Love/Hate Relationship with Linen
Linen… I think many of us have a love/hate relationship with this fabric. It's so cool and breezy, it wrinkles too easily, it needs to be air dried, it stretches out, it doesn't stretch enough, it's transparent, but gosh it's so comfortable in the summer!
I avoided linen for many years because I am already a klutzy person who spills coffee down her front, I don't need to add accordion creases across my midsection and a saggy bum. But living in Maryland with it's high dew point, I've learned to embrace linen to survive our muggy summers.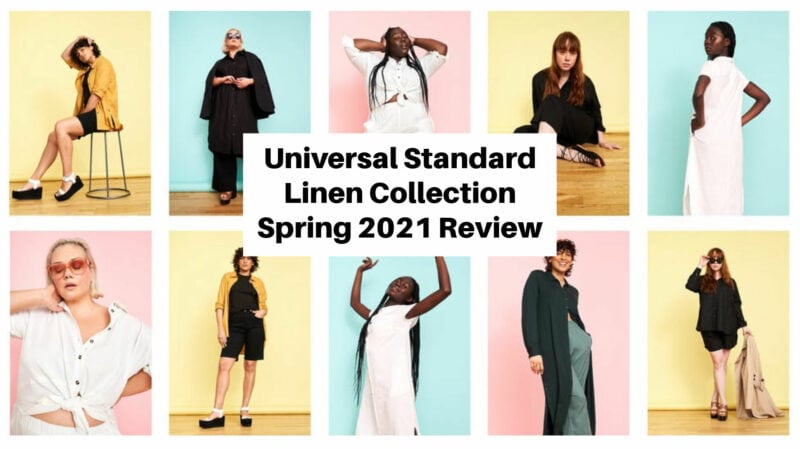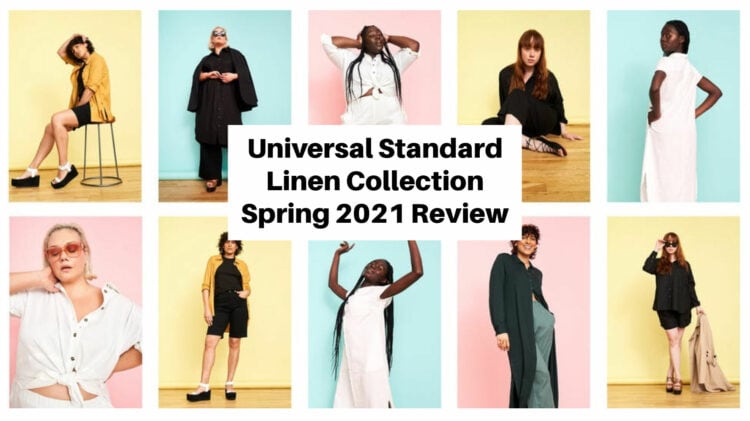 Good news: Just in time for summer, Universal Standard released a limited edition, light-as-air stretch linen collection of five essential pieces. Made from innovative stretchy linen that has all the texture, plus the freedom of movement, this collection is available in Universal Standard's 00-40 size range.
Bad news: Universal Standard only made 500 pieces so once they're sold they're gone. Also this is a pre-sale; the pieces won't ship until May. This means the "try before you buy" program is not available for Universal Standard linen purchases.
Universal Standard sent me the five pieces from the collection to review and share with you, knowing I will be honest with my thoughts. I am not being paid for this review, I am only writing it as a PSA and so you can see the products beyond the stills on the Universal Standard website. That being said, if you click on a link in this article and make a purchase, I may make a commission. For more information on how blogs make money, please click this link.
Universal Standard Linen Review
If you have experienced Universal Standard linen before… this is not the same fabric. I had. a piece from the past that I found too stiff and scratchy for my tastes. The new Universal Standard linen collection is niiiiice. It feels soft, almost silky, and the stretch not only helps with fit but with preventing wrinkles.
I steamed all the pieces before this shoot. The dress reviewed below, I wore while I answered some emails and as I sat at my dressing table to do my makeup for the shoot. I did not steam it again, so you could get a feel for how the fabric will crease with wear.
The Universal Standard linen collection is 55% linen, 42% rayon, and 3% elastane which explains why it feels so good to the touch and doesn't wrinkle like traditional linen while still being cool and breezy.
For those wondering about the laundry instructions, the pieces are machine wash, dry flat. I personally don't dry anything flat except the most precious and delicate of things so I'll be hanging to dry, knowing I'll have to hit it with a steamer or iron before wearing again.
I received all pieces in size XS, which is my standard size with Universal Standard. For reference, in other brands I am usually a 14 or 14 petite.
While Universal Standard has several people of different sizes modeling the linen collection, I chose to keep photos of the same model, even if the colors aren't what I have, to make it a clearer example of how the pieces fit on her body versus my body.
Dawn Linen Hi-Low Tunic Review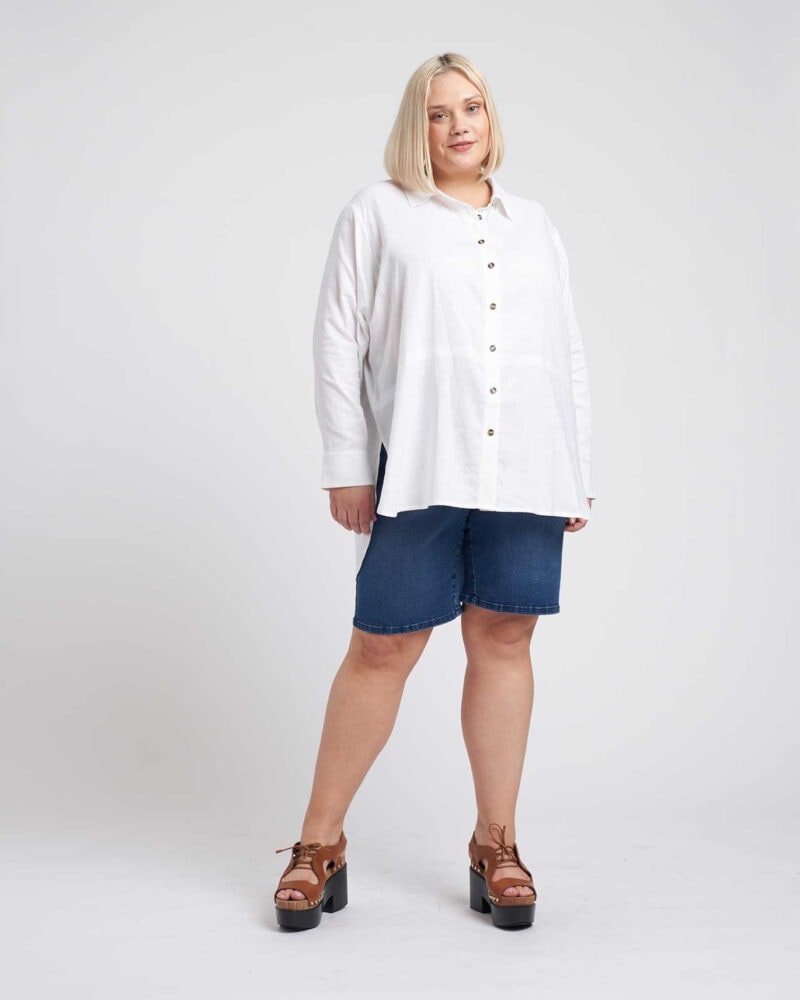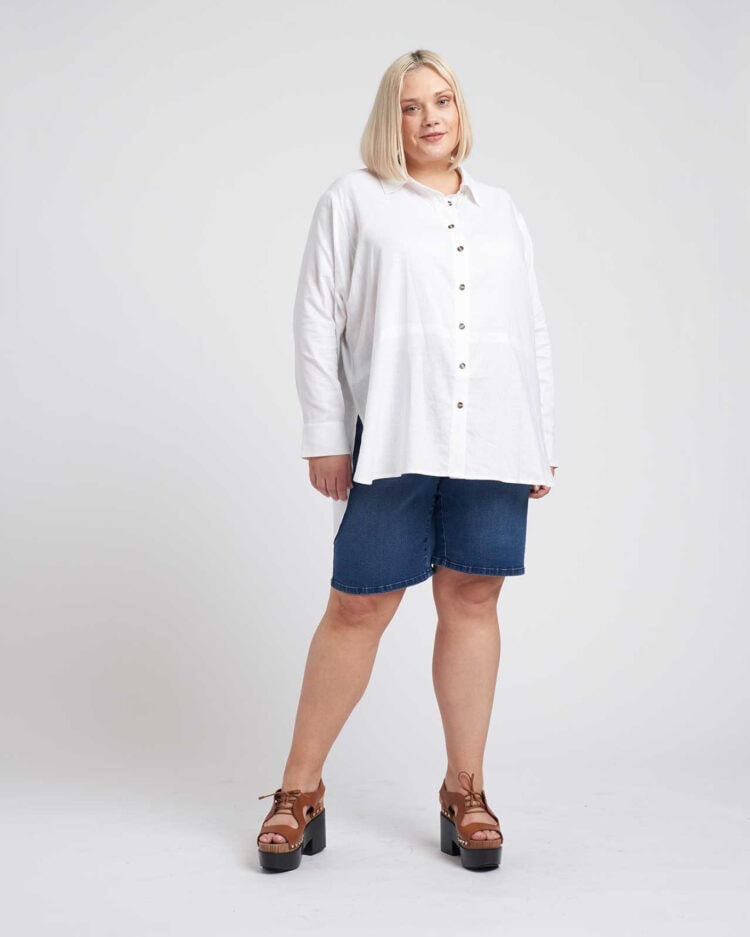 The Dawn Tunic's hi-low hem means you can wear it untucked and still access your pockets without causing creases. It also means you can knot the front and leave the back hanging, or do a pretty nice French tuck of just the front half of the shirt.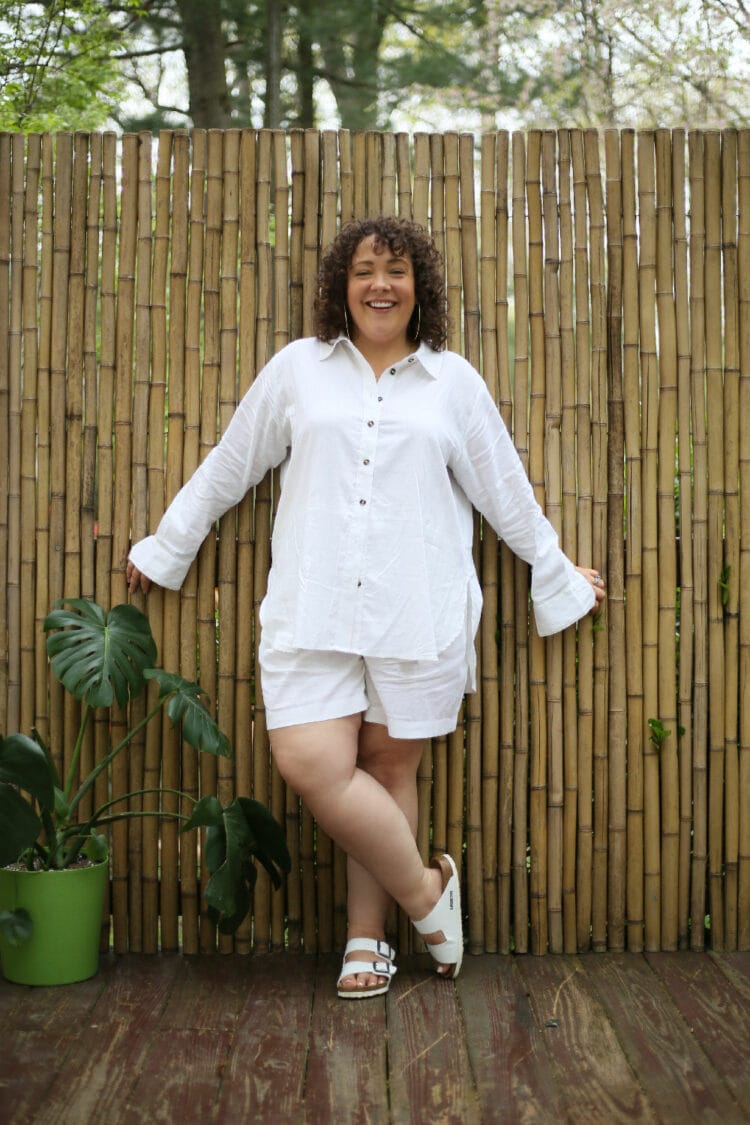 Opening the package, I didn't love the seam at waist-height, but on I got it. That seam is that little bit of weight needed to keep the shirt from tenting out at the bust or the belly. It adds a beautiful drape and very subtle design detail that makes the tunic look more elevated.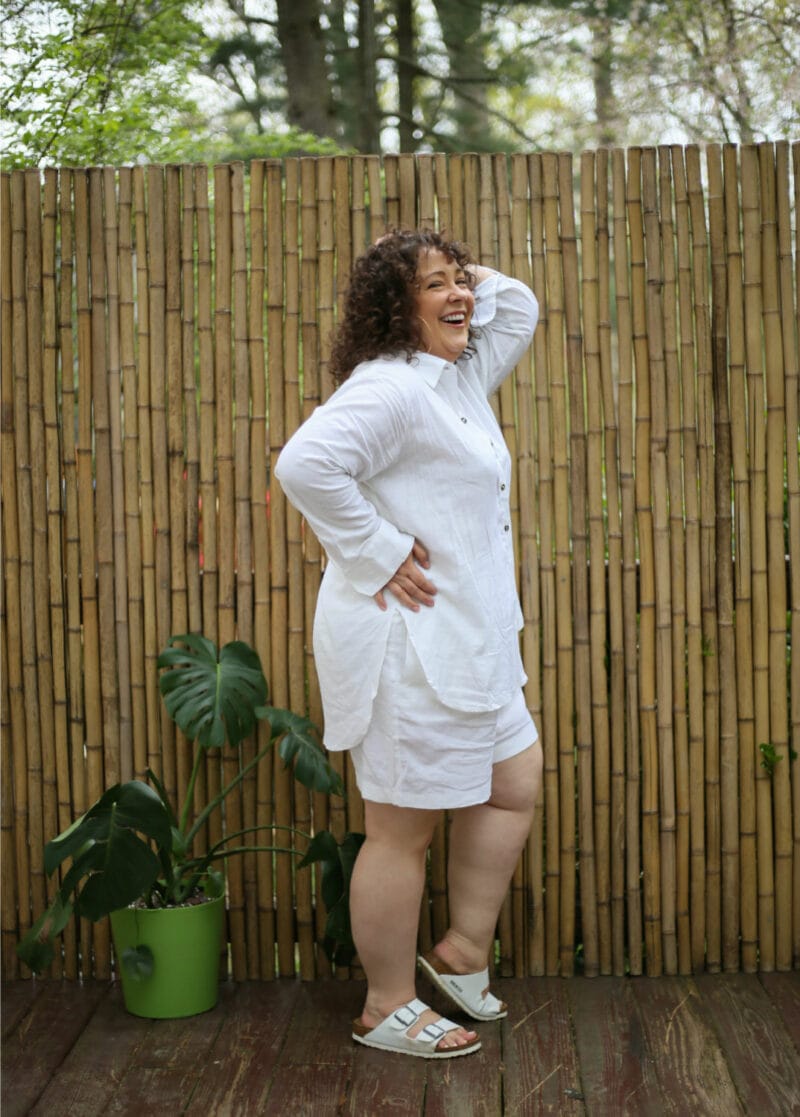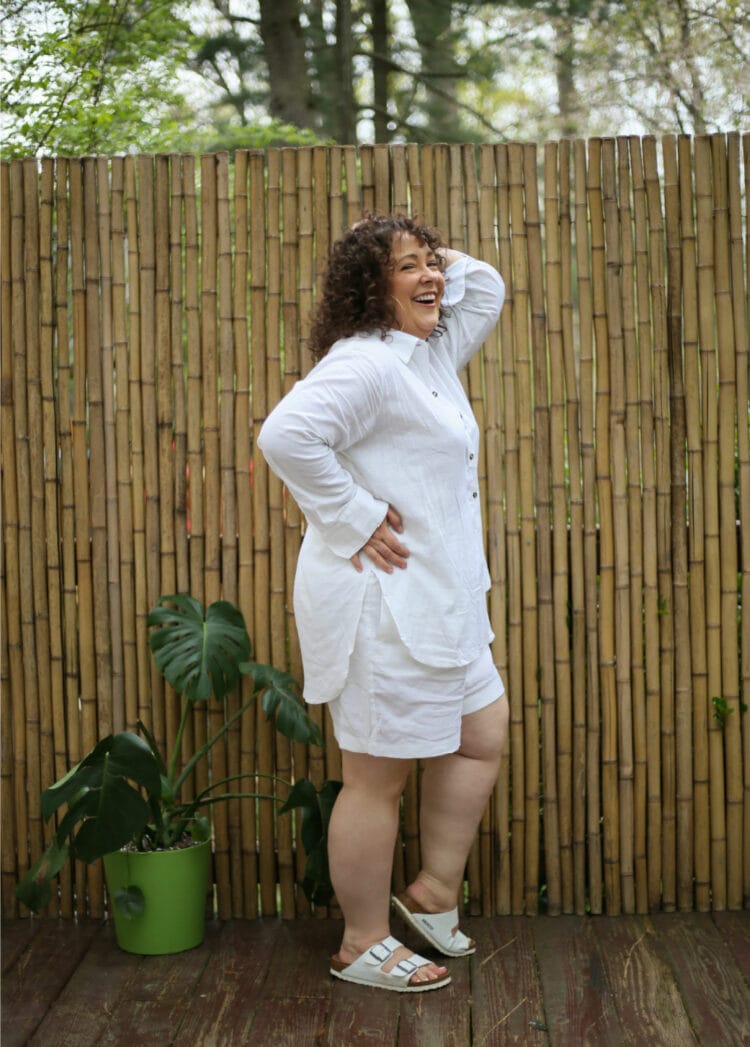 It may be hard to gauge how the shirt will fit on you as I am 5'3″ with a 36F chest; looking at my size XS shirt, it is 34″ from the back of the collar right where it meets the body of the shirt to the hem of the shirt.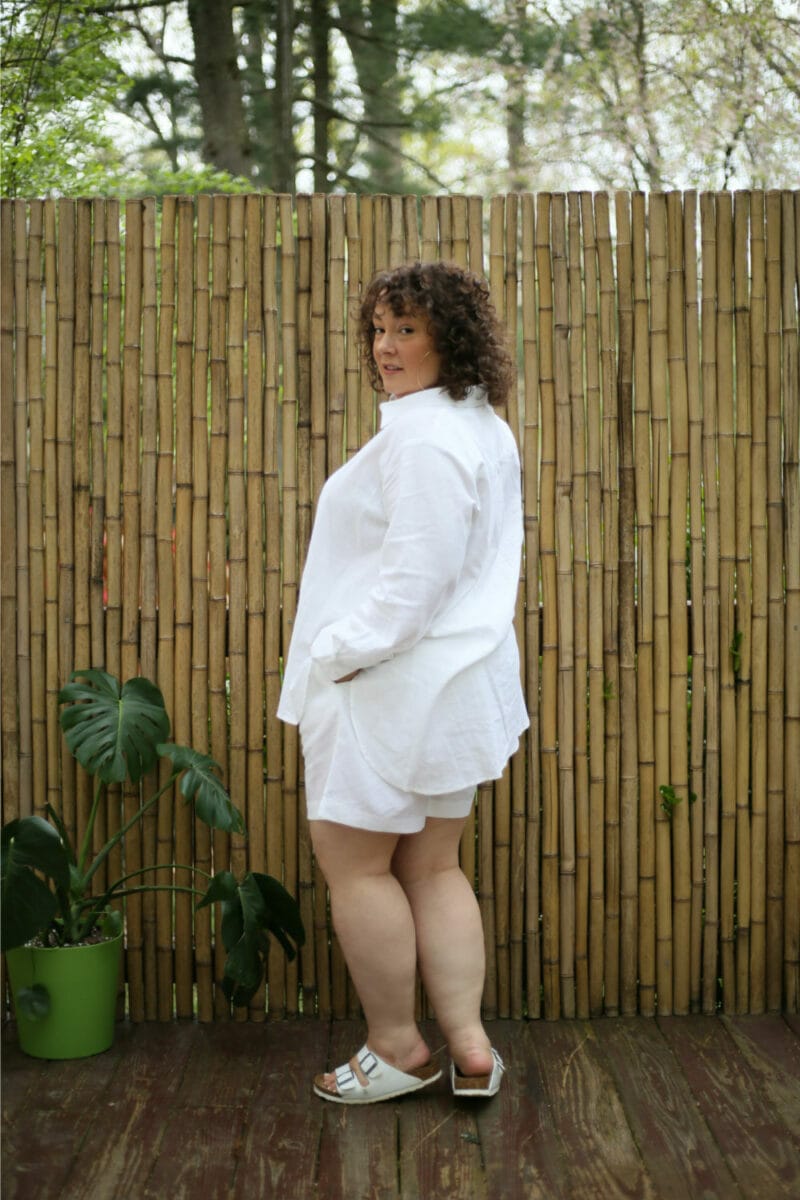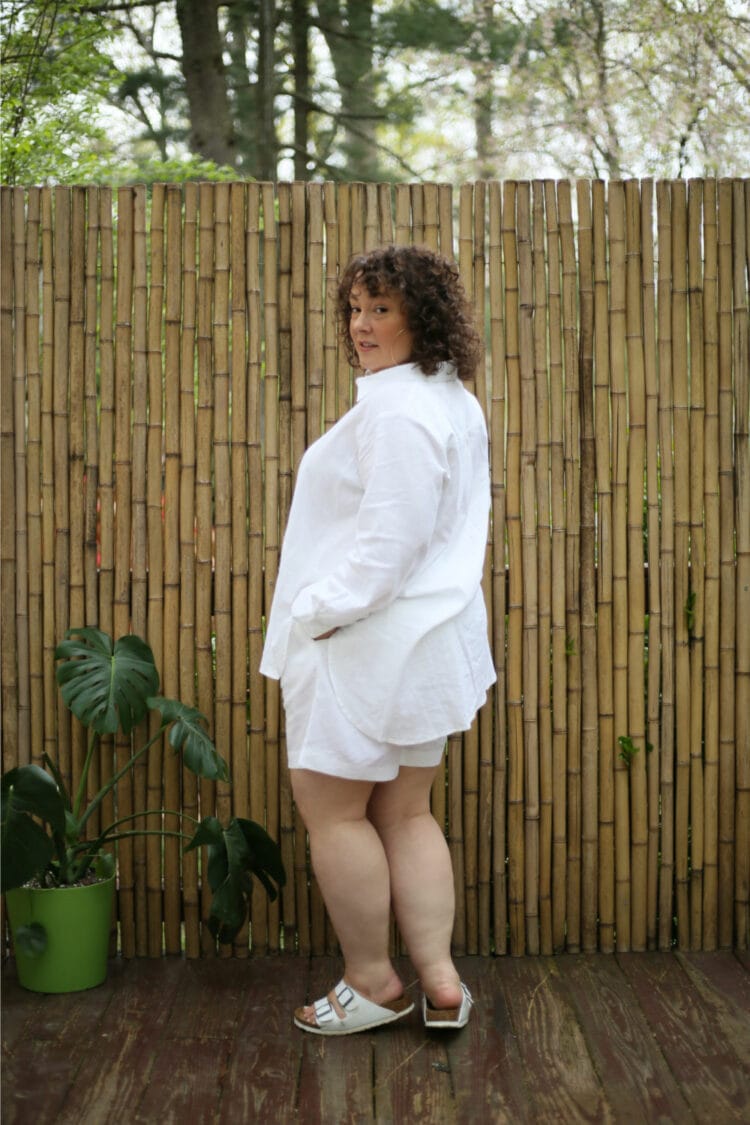 The Dawn Tunic has horn buttons; for some, this may be a dealbreaker. I personally, don't love contrast buttons. However, on the white linen, it looks chic, very resort, and I think more elegant than white pearlized buttons. Unlike the jumpsuit I reviewed last week, the sleeves have a button at the cuff and a second one to keep the opening closed. The sleeves look nice down or cuffed three times.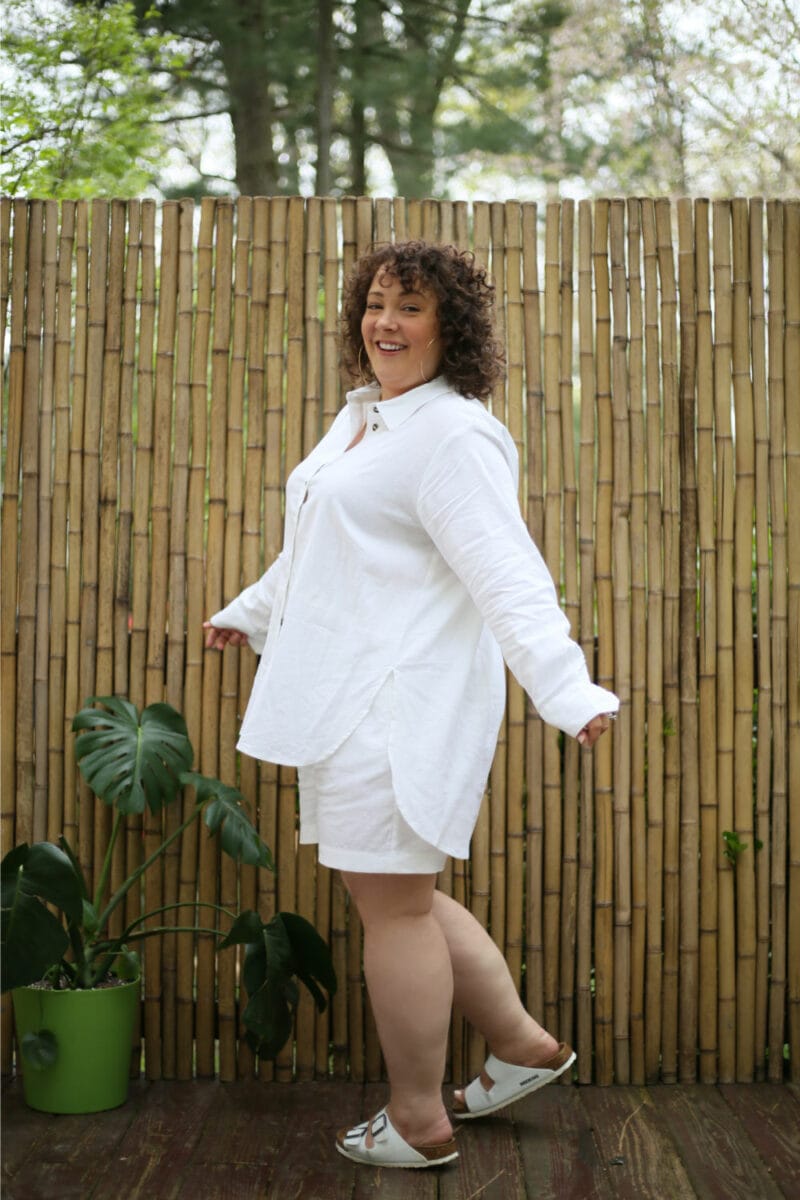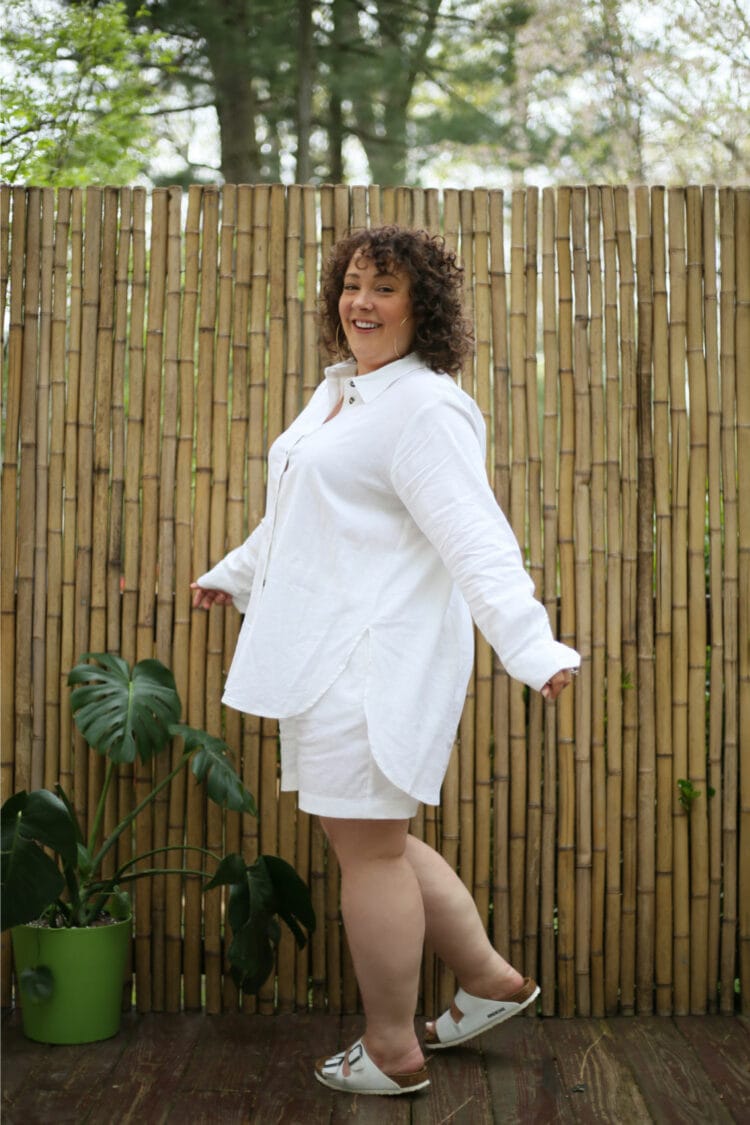 I'll be honest, this is not a shirt I would buy based on the photos on the site, or even my first impression pulling it out of the shipping box. But on? I know I'll be rocking this shirt all swampy summer long.
The Dawn Tunic is available in four colors, sizes 4XS-4XL, and retails for $94.
Juniper Linen Easy Pull-On Shorts Review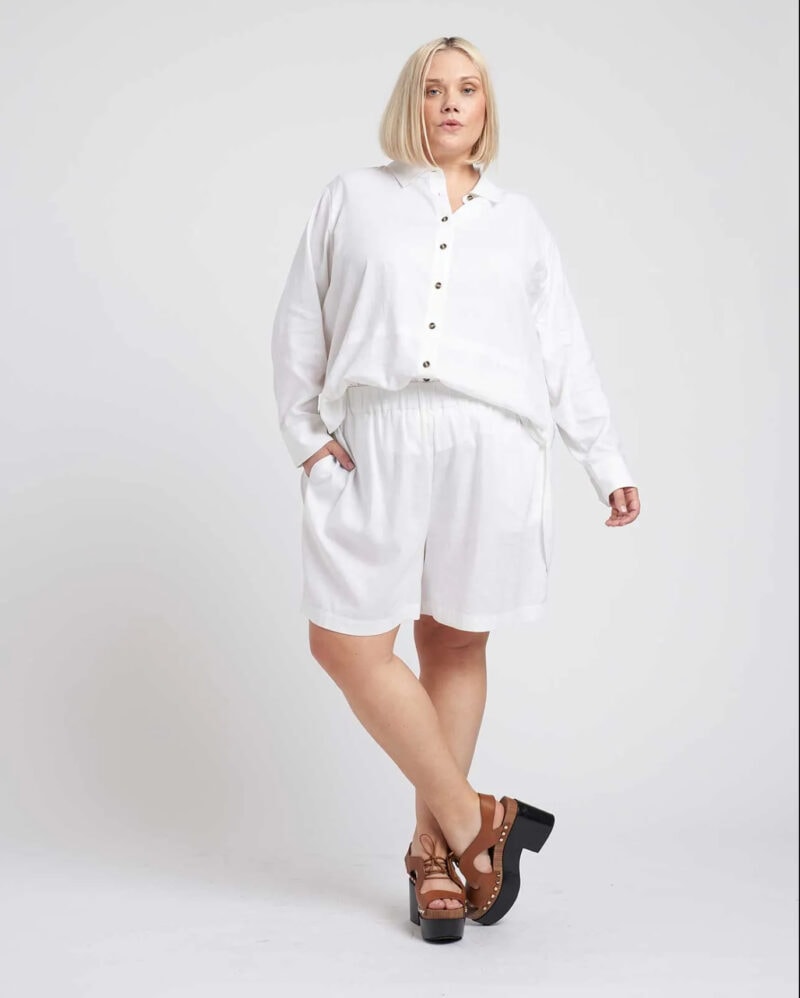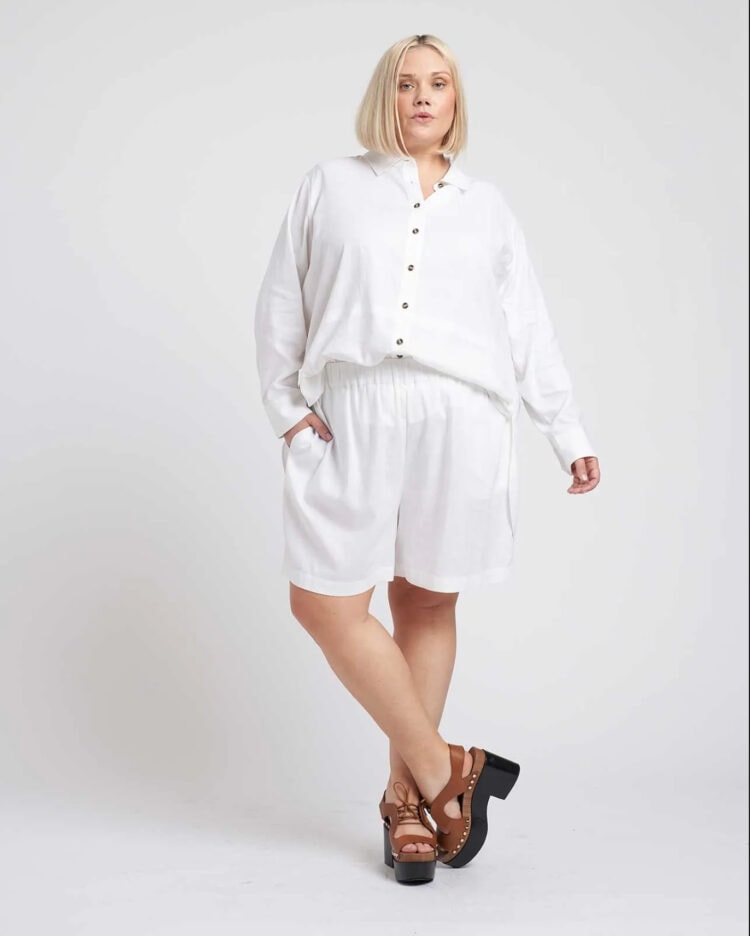 So… these shorts are both great and awful. The fabric is super nice, the length means no chance for chub rub, they have pockets, they're comfy, they look casual cool with the Dawn Tunic…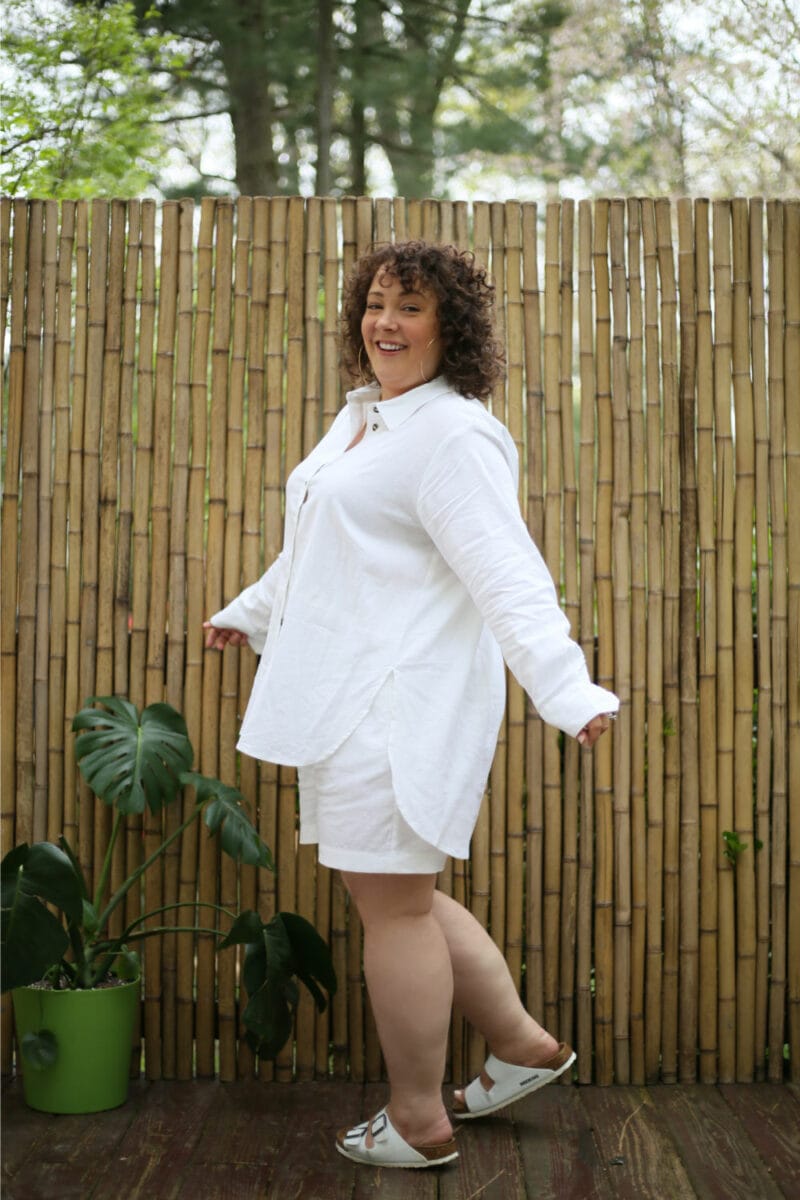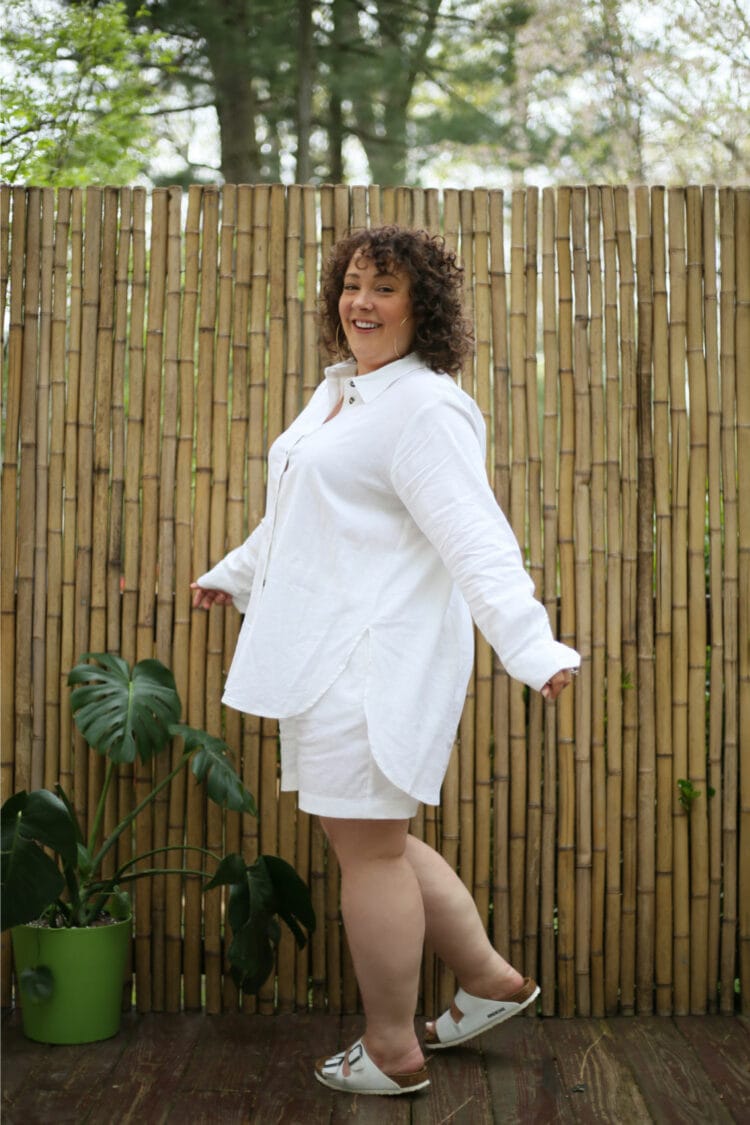 But they're not cute on me. But then, for you Universal Standard fans… few pants and shorts from the brand look cute on me. I find there is often too much fabric in the crotch/hip area. It may be because of my height for I do have a lower belly that is often too much for other brands.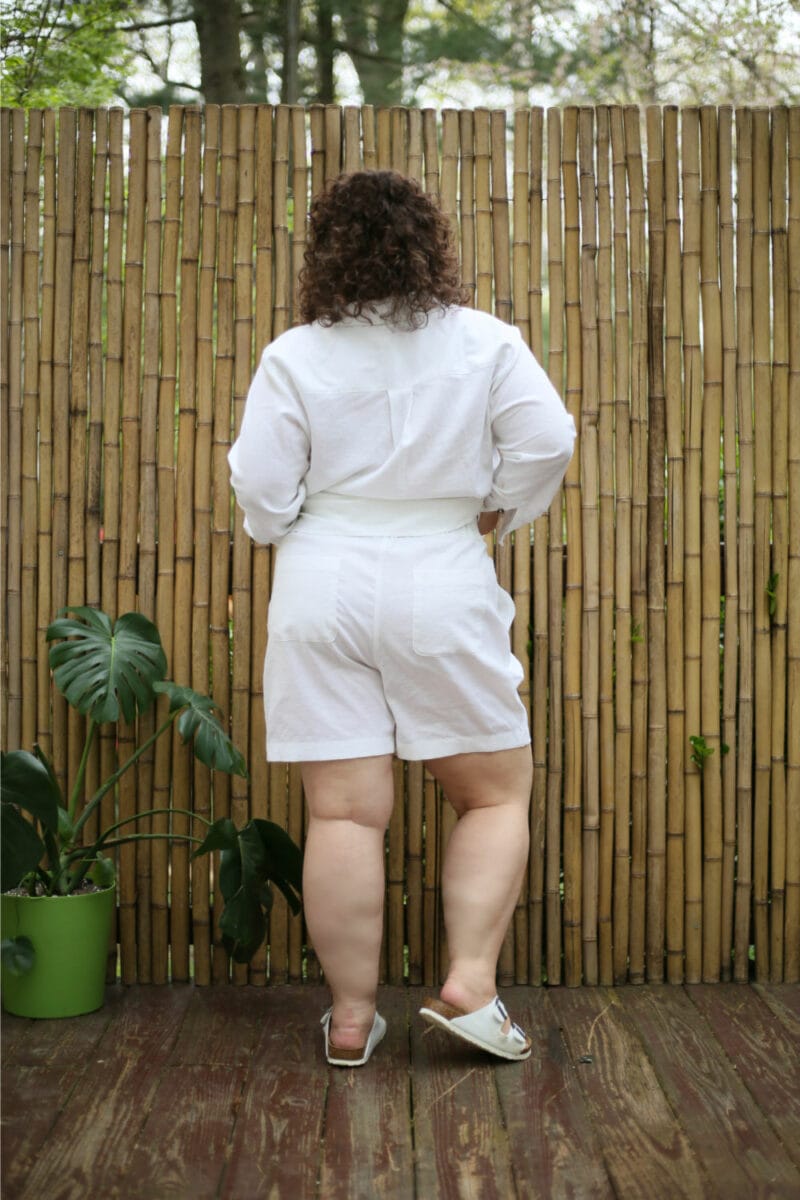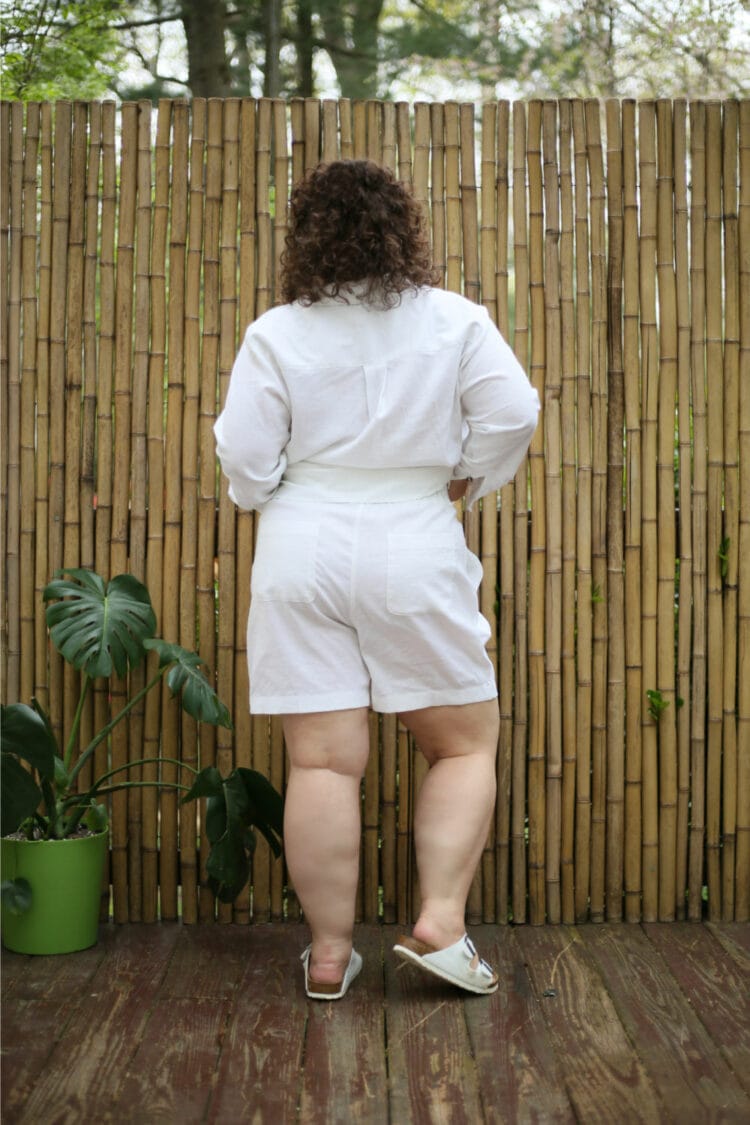 These shorts are loose. I wonder if I could have sized down to an XXS (never bought anything at US that size except for their Seine jeans) but fear it will be too snug in the rear. That being said, they are so comfy, they're not clinging, and they feel breezy and cool.
I appreciate the wide, encased elastic waistband on the Juniper shorts. No rolling or folding over, you will have a nice seamless, clean line under clothes and it will look polished enough to wear it with something tucked in. My size XS shorts have a 6″ inseam.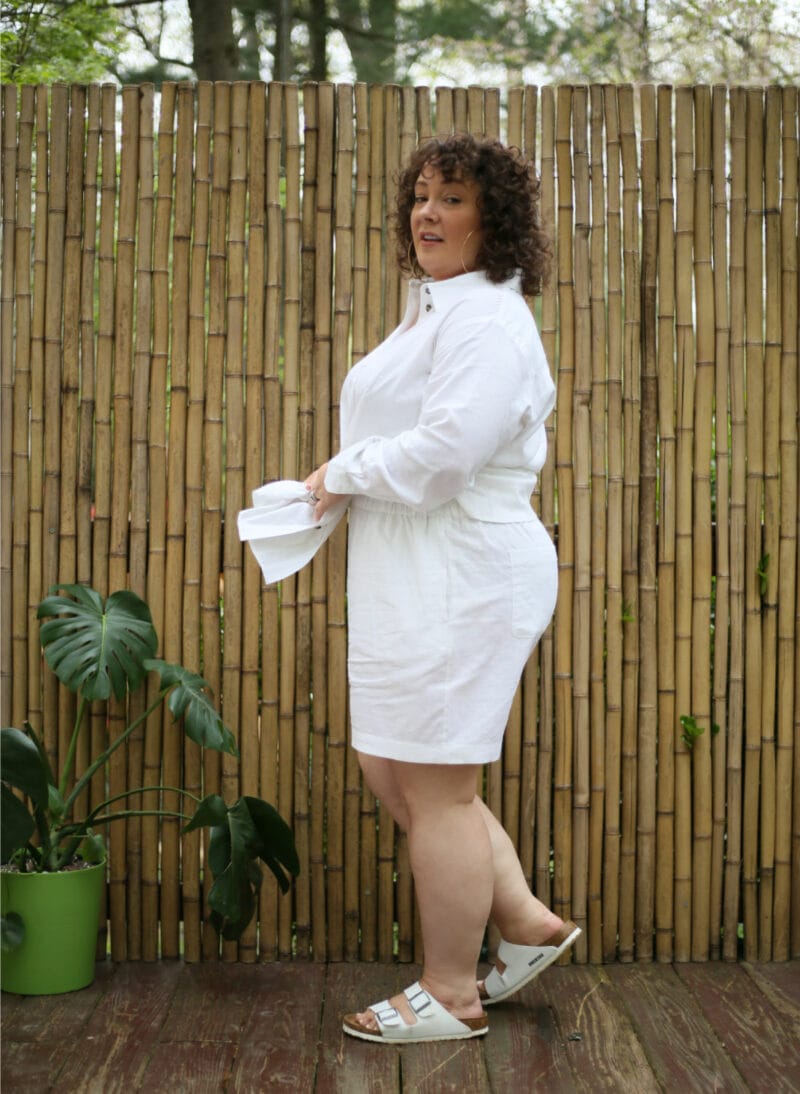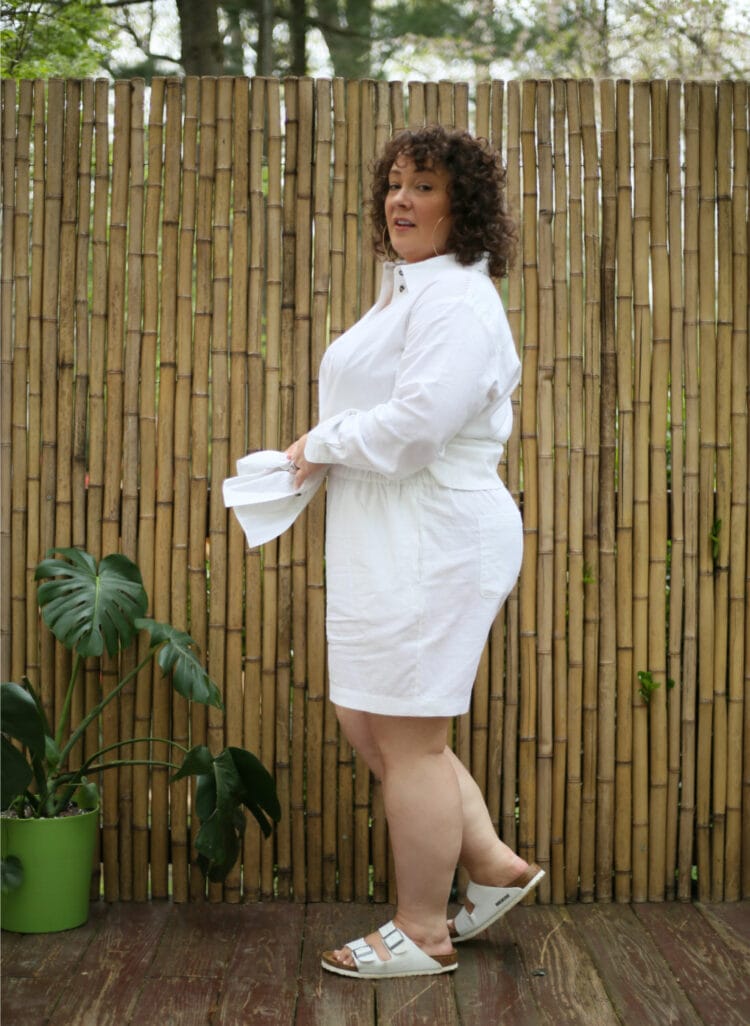 This combo of the tunic and shorts… with some metallic Birkenstocks and my gold hoops and a bit of bronzer… I'll be feeling and looking cool all summer. Sometimes comfort is more stylish than a perfectly fitting pair of shorts.
The Juniper Shorts are available in four colors, sizes 4XS-4XL, and retail for $74. If you like both the Dawn Tunic and the Juniper Shorts, there is a link to buy the combo, though there is no discount for buying together.
Iris Linen Easy Pull-On Pants Review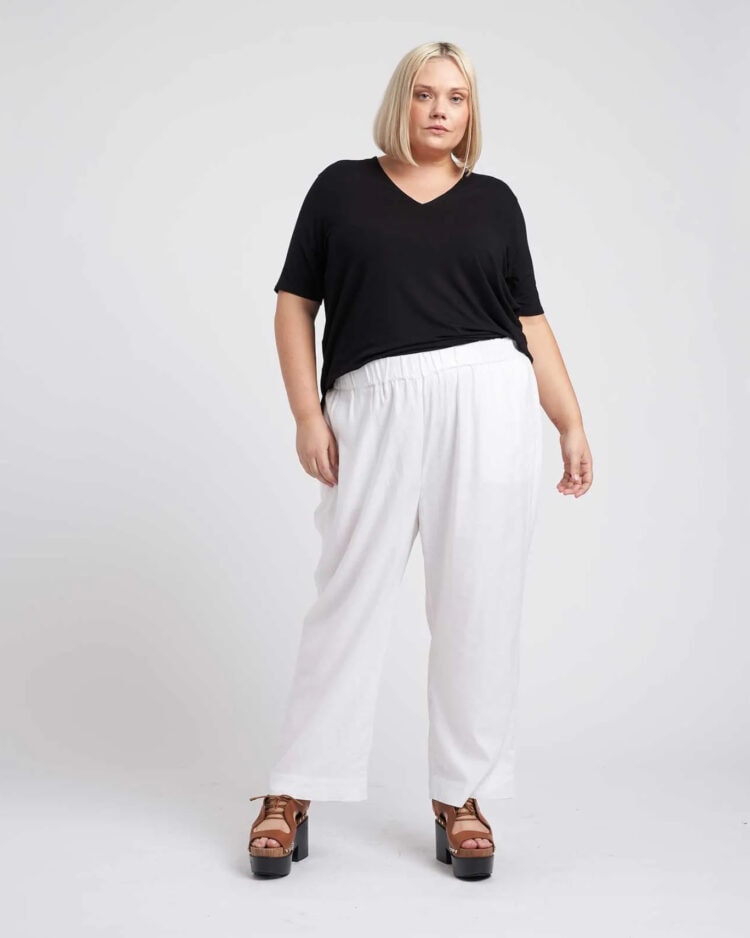 The Iris Linen Easy Pull-On Pants are essentially the shorts with a longer inseam, 27″ to be exact on my size XS pants. Same waistband, same pockets, just longer.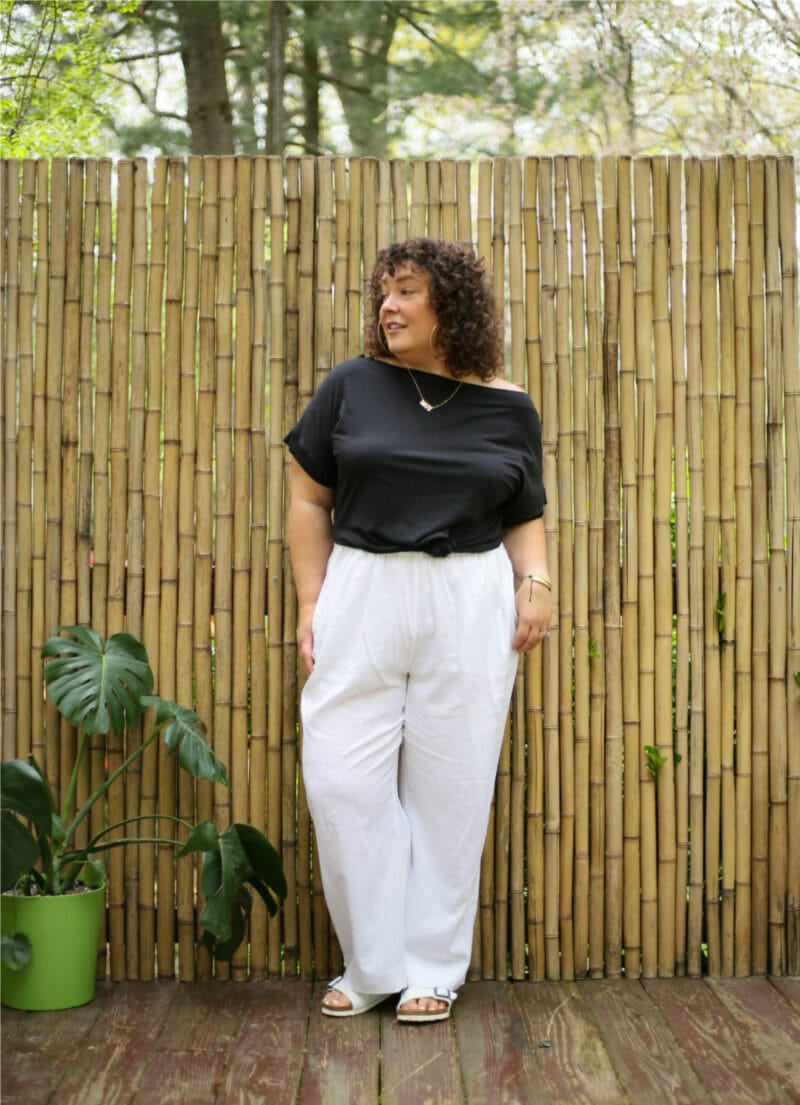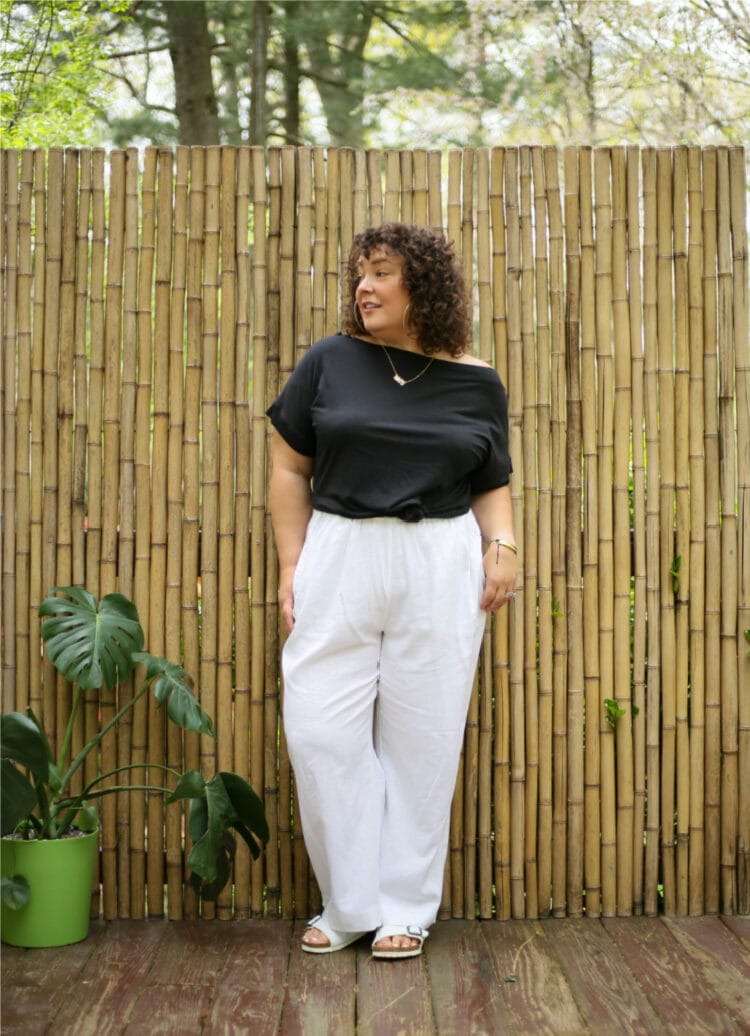 These pants have a straight, loose fit, and at 27″ in length, is a standard inseam for a cropped trouser. For reference, the shoes I've worn in the last three outfits are these from Birkenstock.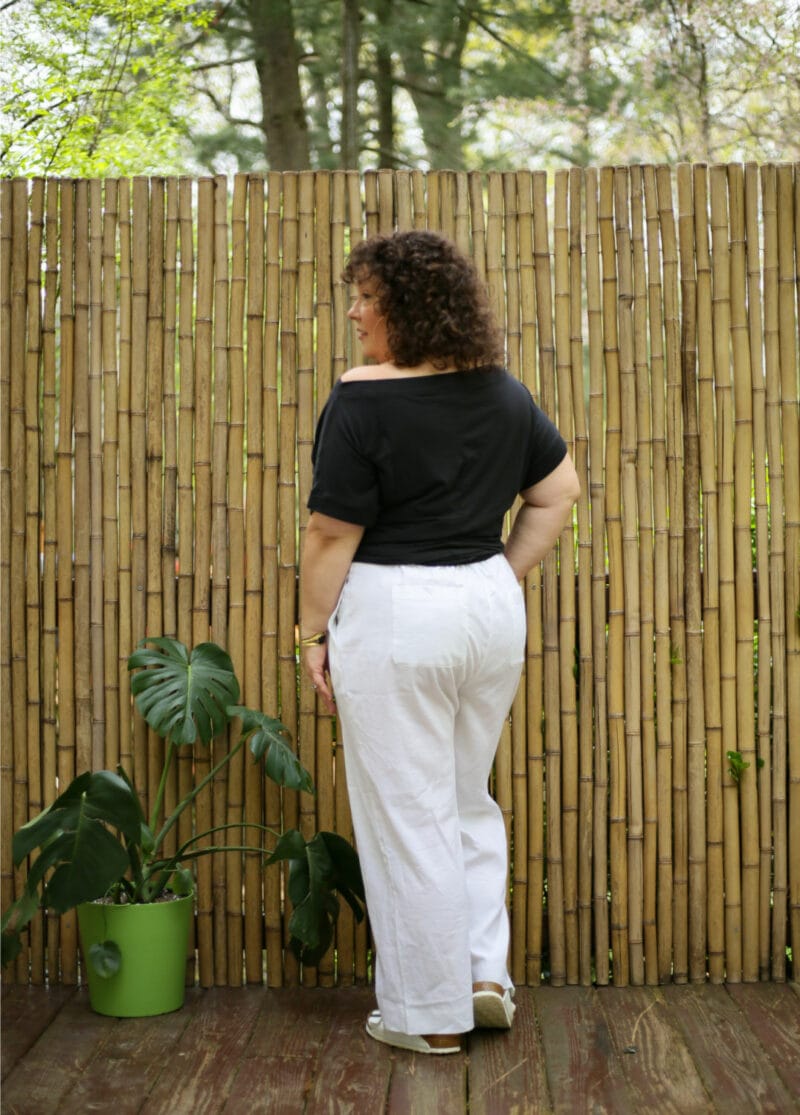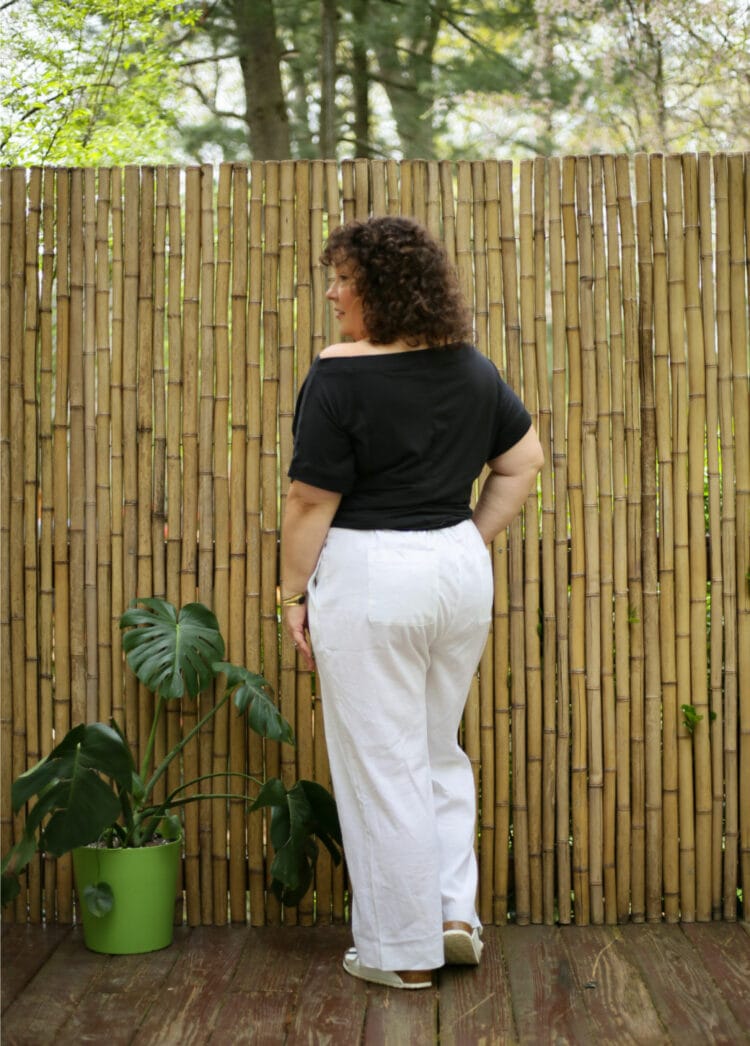 Like the shorts, these pants are too full in the crotch/belly area for me and maybe I'd do better sizing down to an XXS. But then again, I think they may be too snug in the rear.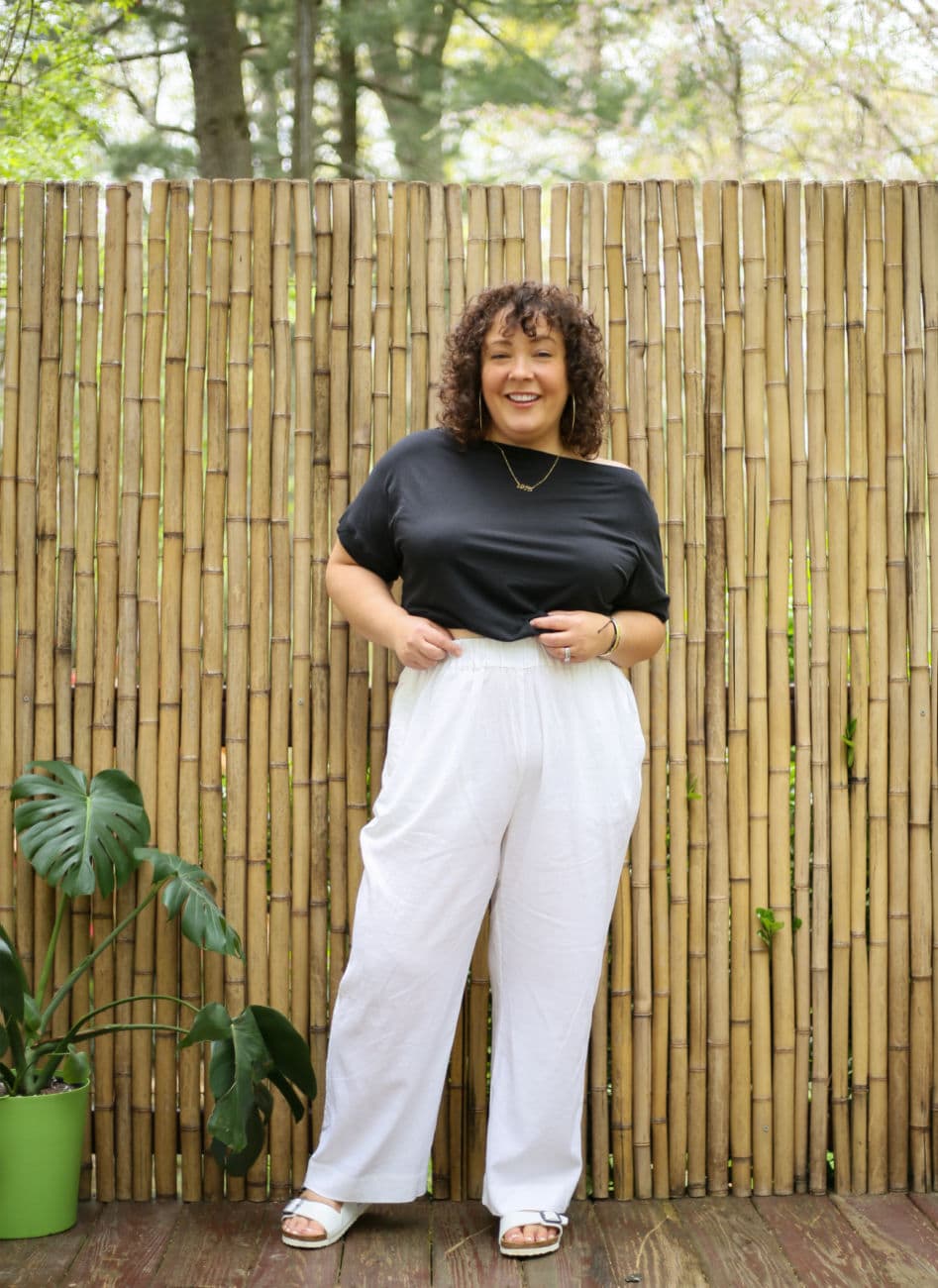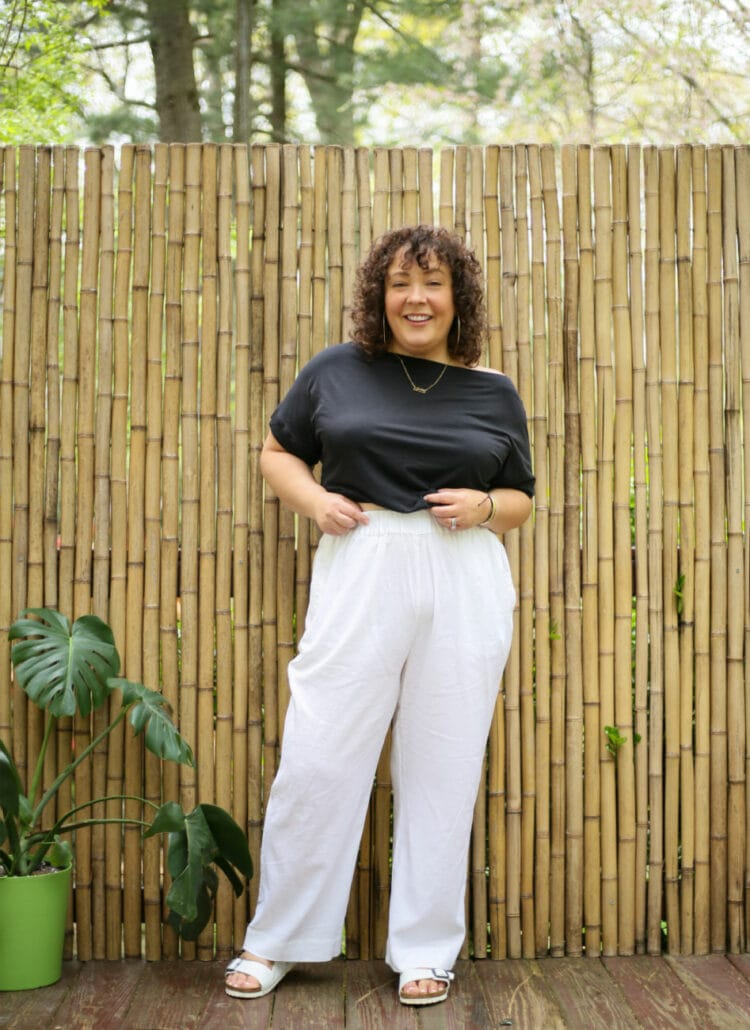 One thing I have to say, is that while this linen isn't opaque it's not as transparent as other linen I've owned. I am wearing nude-to-me seamless underwear (these to be specific), but you can't see anything even up close.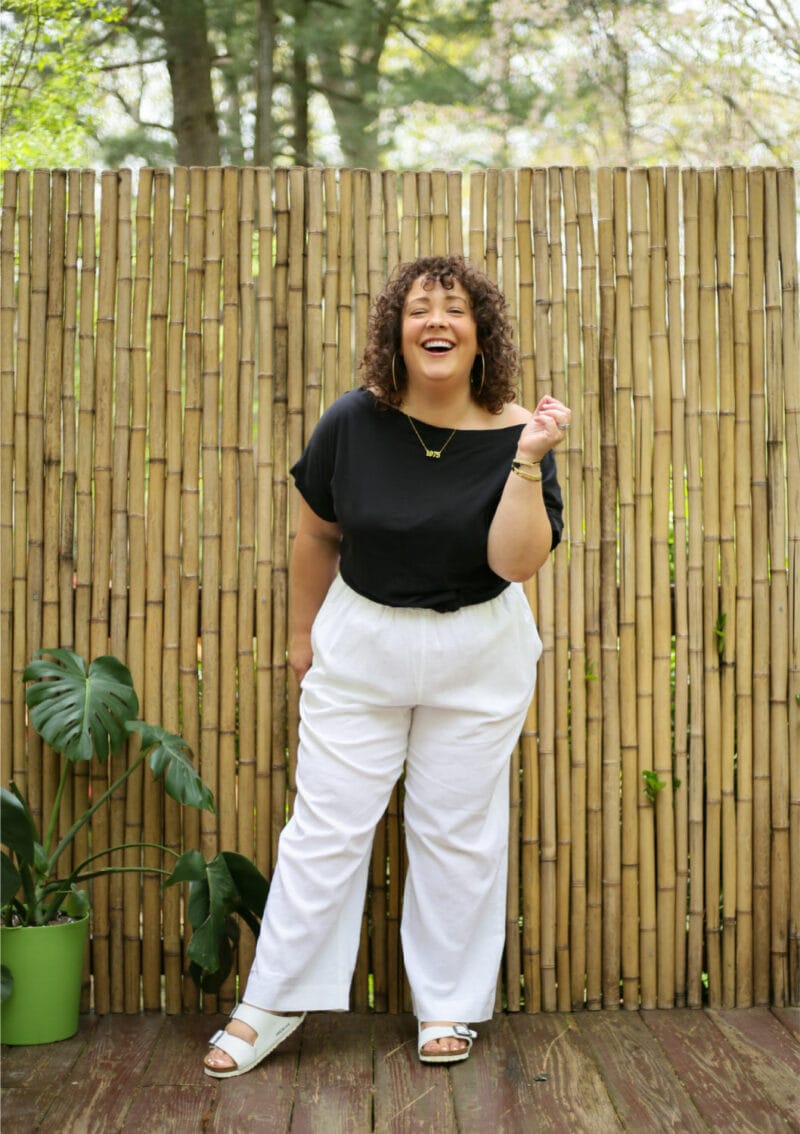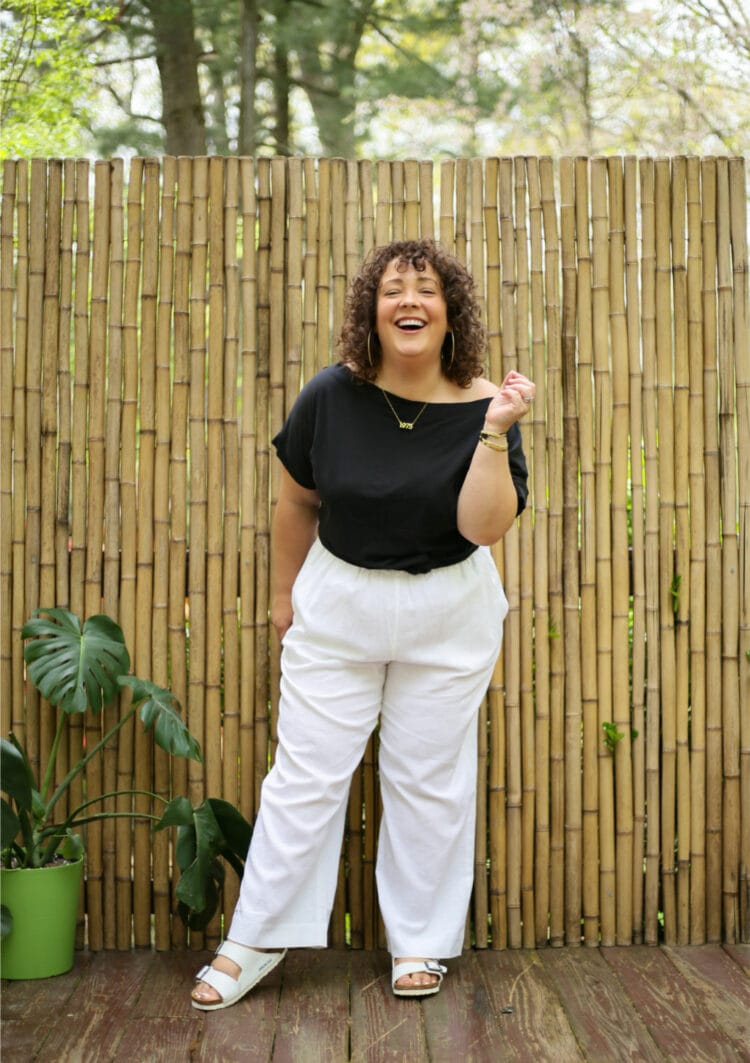 The Iris Linen Easy Pull-On Pants are available in four colors, sizes 4XS-4XL, and retail for $98. With the pants, I am wearing the Universal Standard Dolci Top in XS.
Dune Linen Dress Review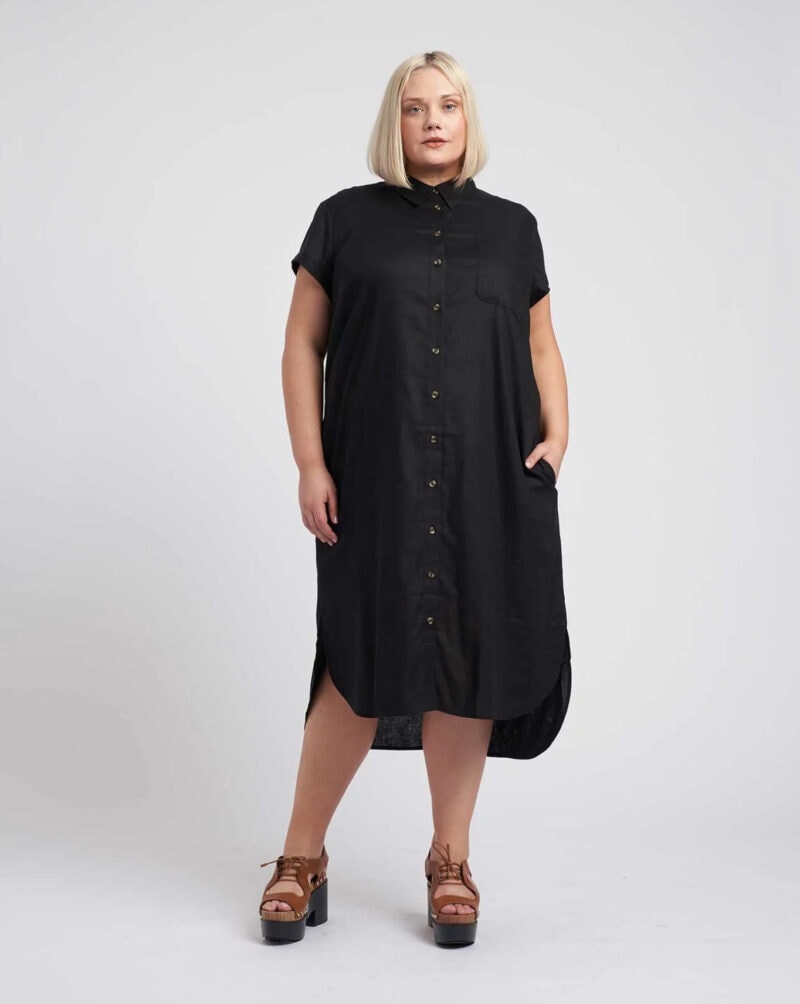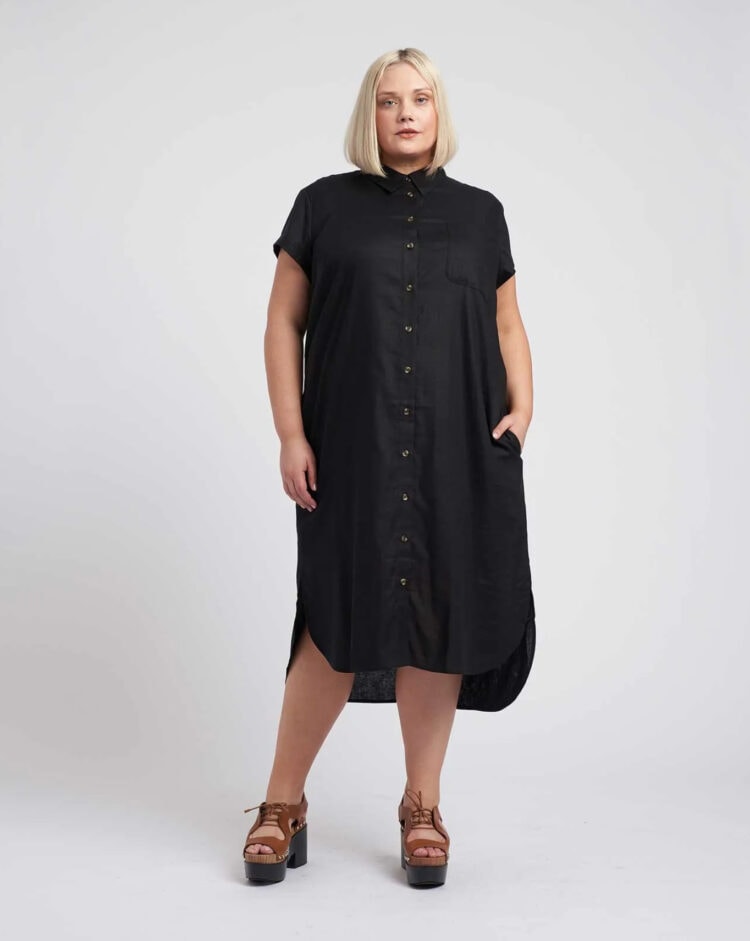 This dress is not a silhouette I'd usually wear, especially in this color. As soon as I put it on I went to my closet to pull out belts and scarves to try to alter the silhouette. Thing is, with the shape and pockets, at least on my curvy self, it was best left alone.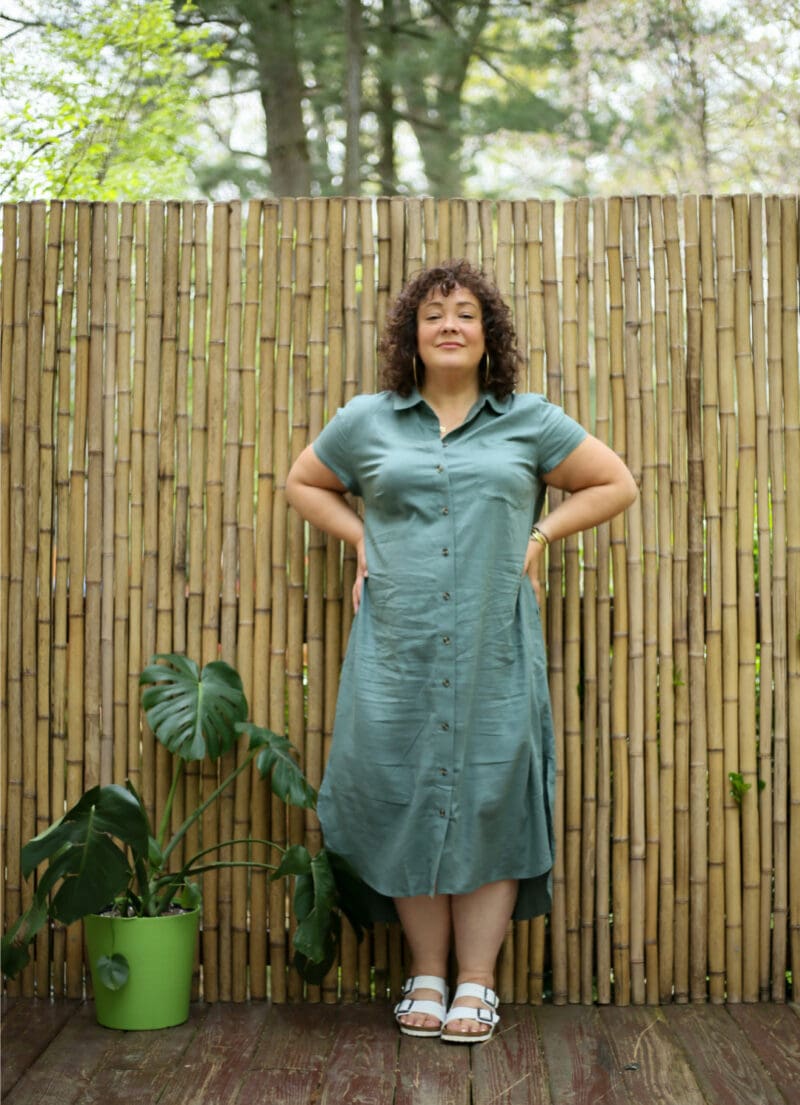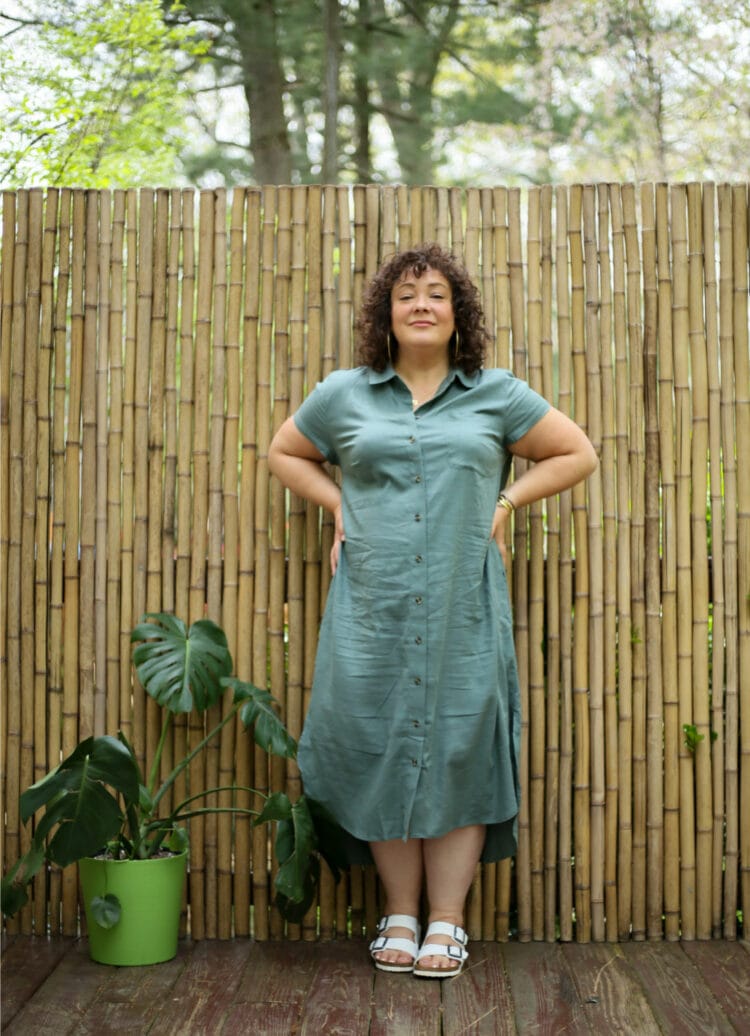 And when I turned to look at my profile, I saw how this dress is quite great. See, I have big boobs and full upper arms. Take those two in a cap-sleeve shirtdress and I will look like I'm wearing a tent.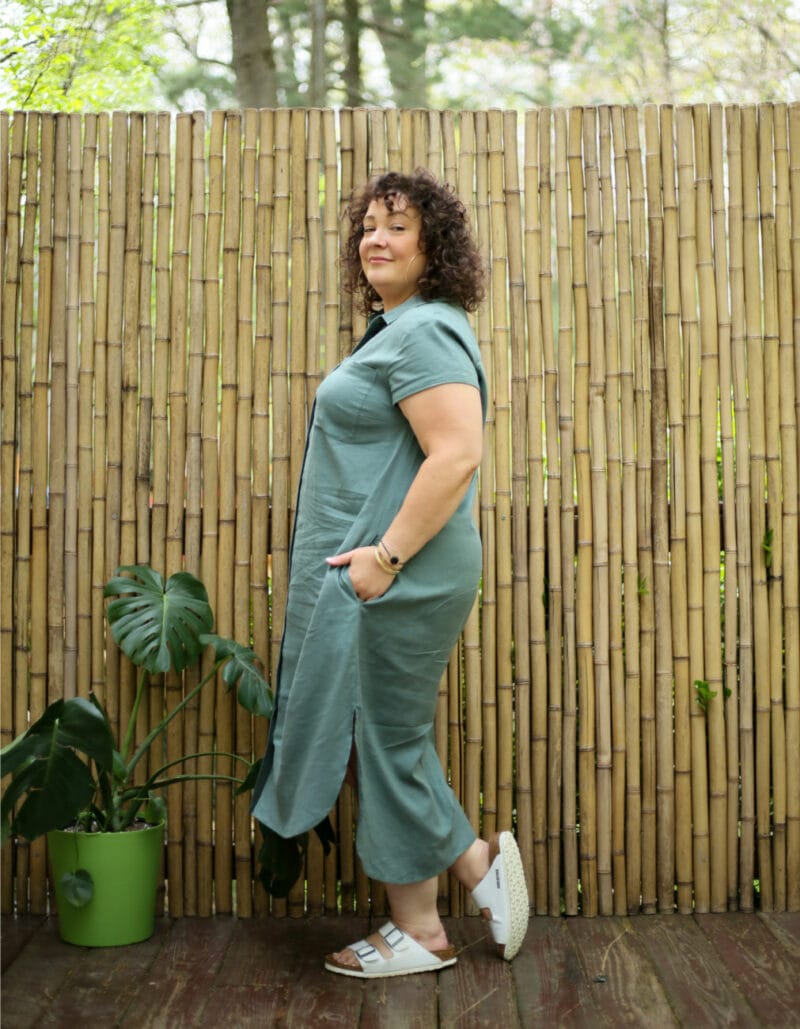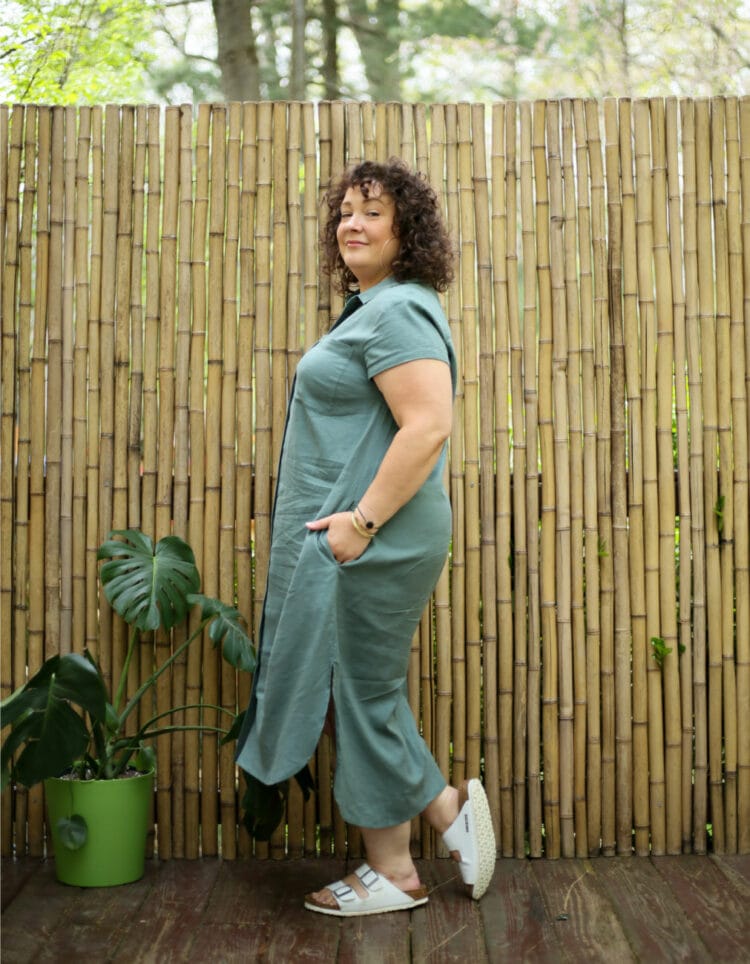 But the Dune Linen Dress has details like a back seam, a slim cuff on the sleeves, and a hi-low hemline that makes it fit and hang nicely and look polished. There are snaps between the buttons to keep the placket closed over curves.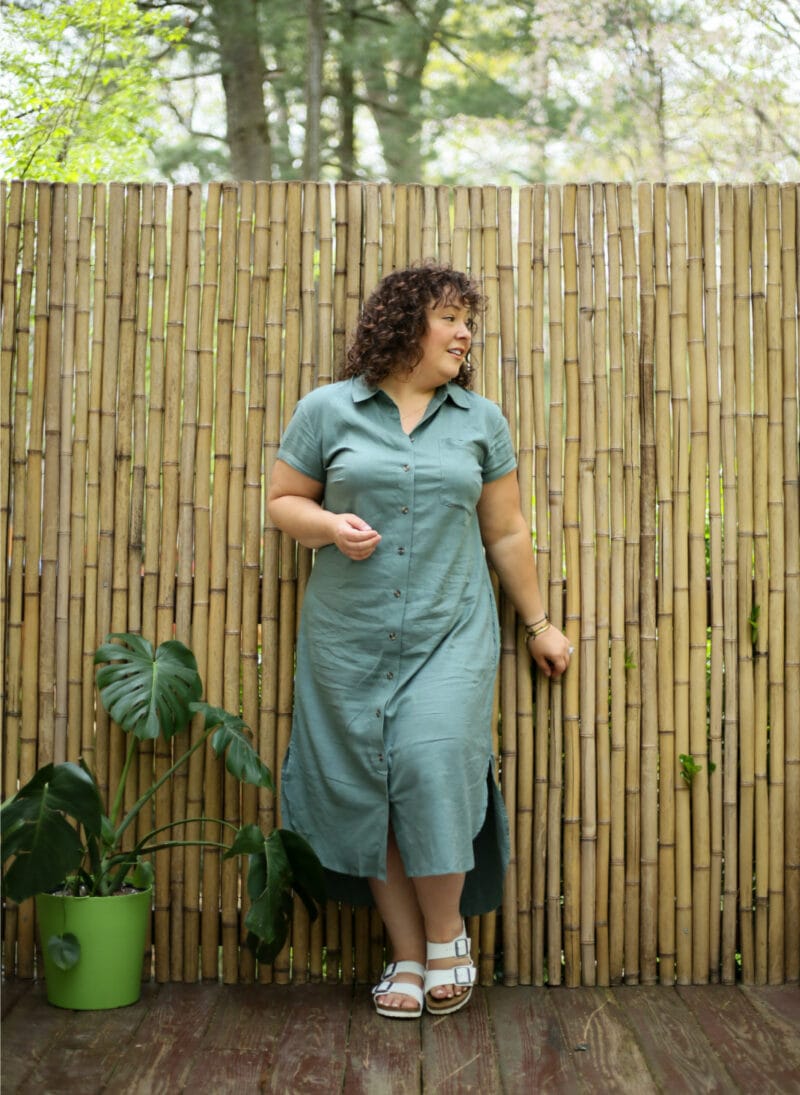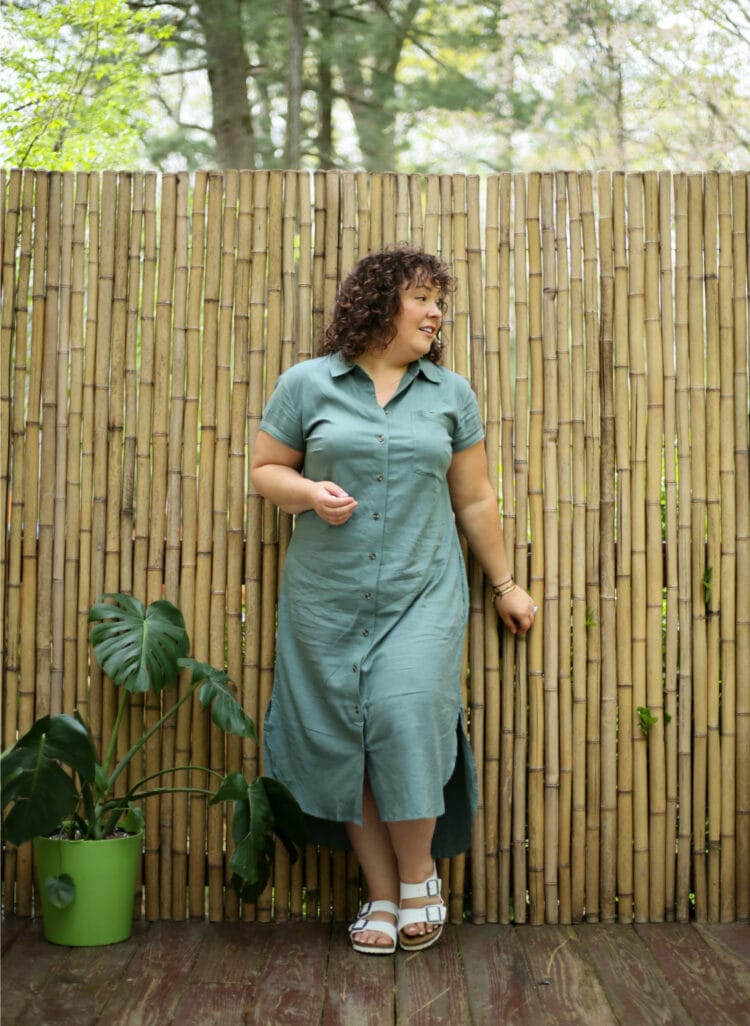 I know, I just called linen polished! The dress also has snaps between the buttons to keep yourself covered, but it's a full-button dress so you could wear it open like a duster, open it a bit on the bottom for a slit, or open it more on top and expose a bit of a camisole.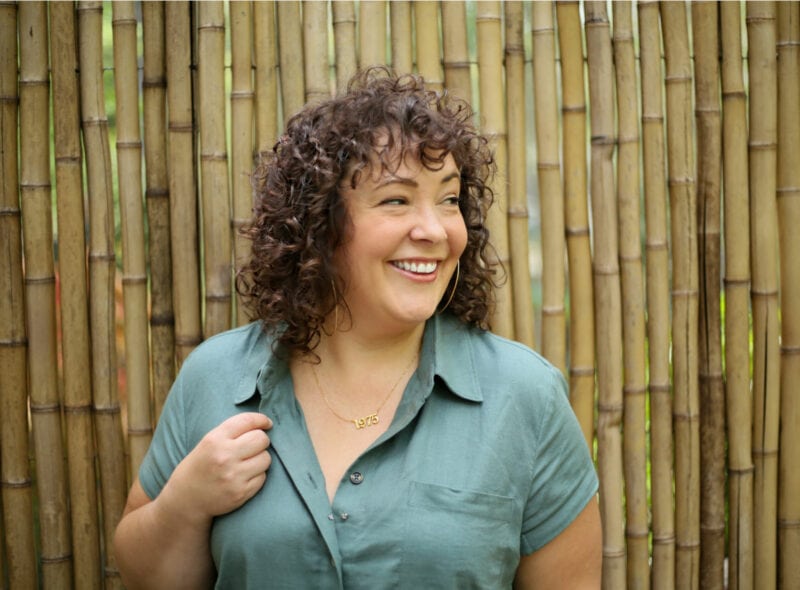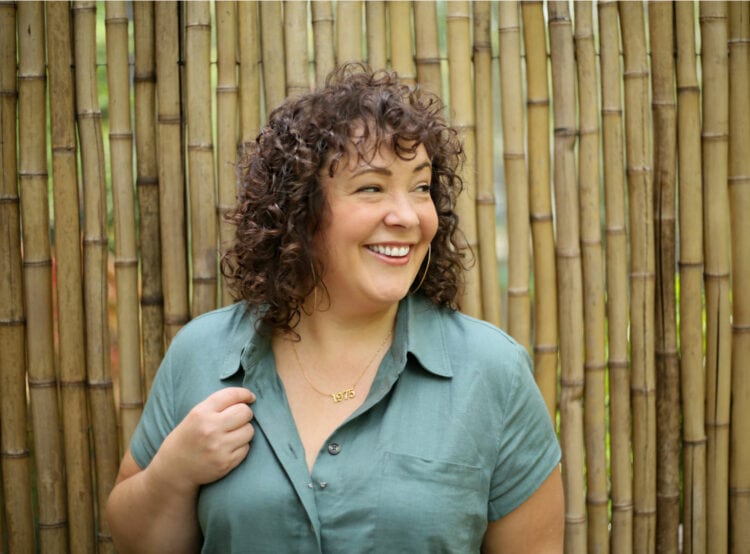 While this color isn't my jam (I would be more likely to choose the black, or possibly even the white since I know the opacity based on the pants), I think this green is beautiful with brown leather and gold. And even though the color isn't my jam, I can see myself reaching for it more than I would expect, especially as it gets into late summer.
In case you're curious about the necklace, it is this one I found on Etsy (her whole shop has great pieces and you can choose the length of your necklace – mine is 19″ and she has rings up to size 13. My hoops are from Jenny Bird (no longer available but these are the same size and width, just a slightly different detail at the ear).
I think I like this so much even though it's not at all what I would usually gravitate to because it's so comfortable. The pockets are deep (I wish I was more careful with steaming to have them lay flatter), the dress stretches even if I don't adjust it just so before sitting, the buttons stay closed.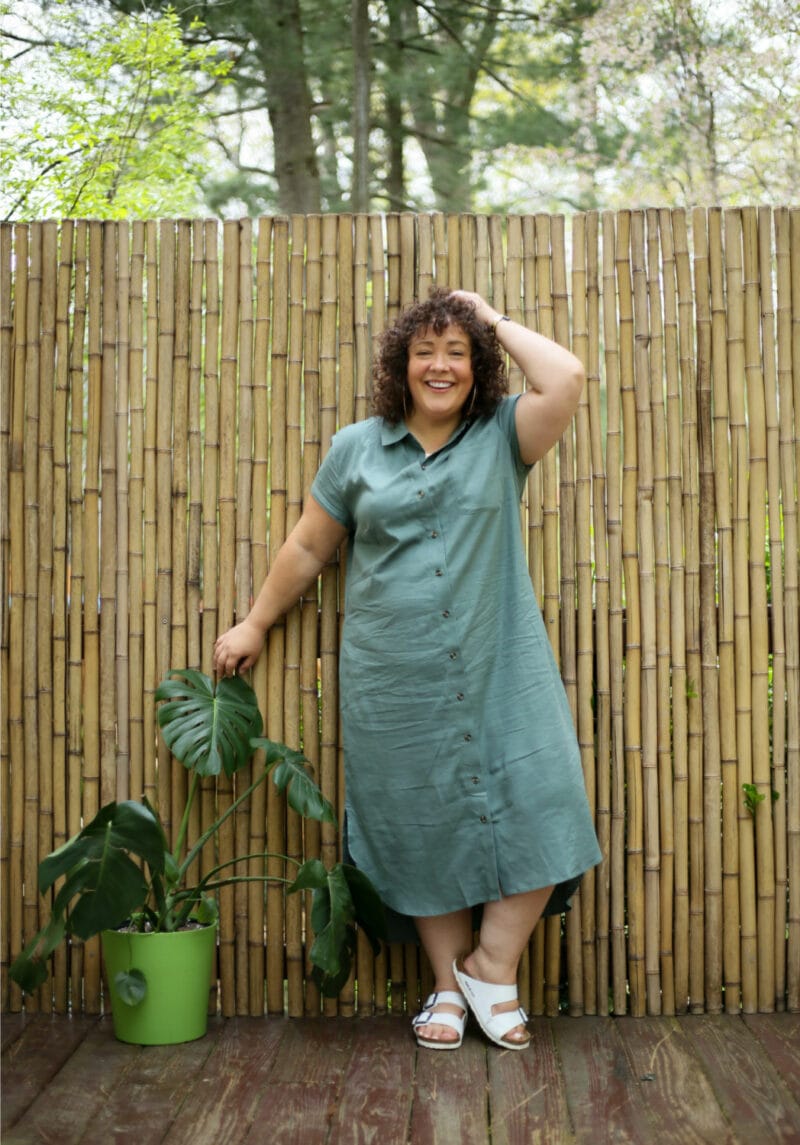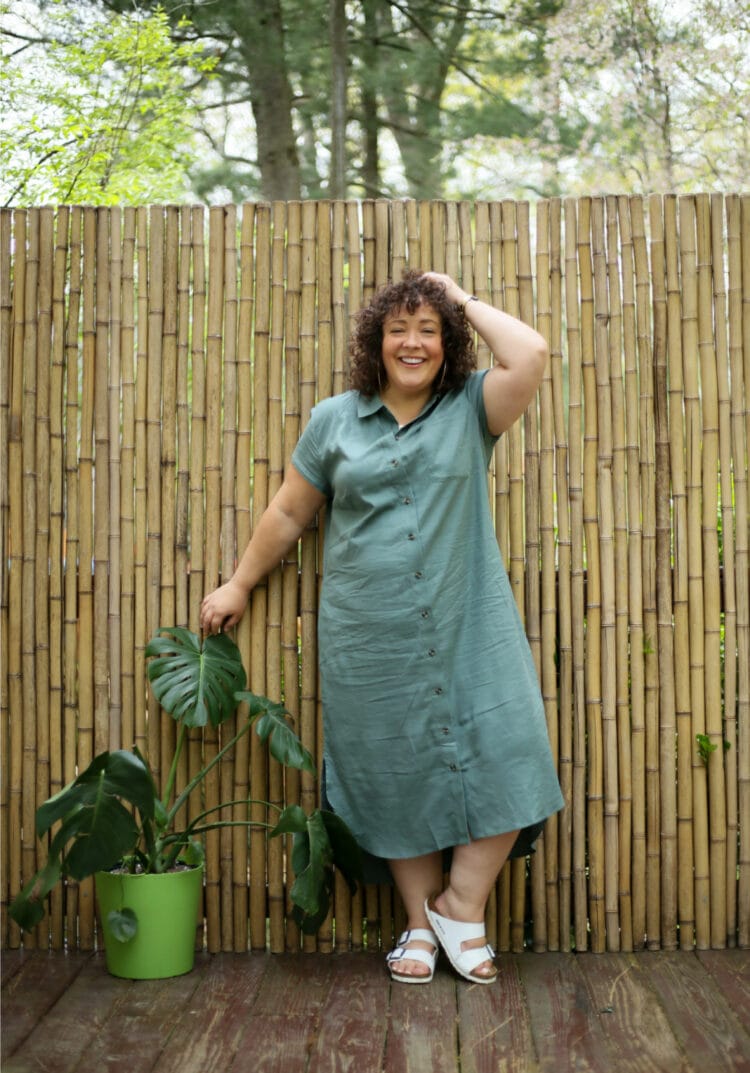 It's a practical dress that isn't boring. It's minimalistic, not utilitarian, if that makes sense. I know I am often toying the balance between the two, but I think this doesn't head into outdoor store apparel department because it can be worn with dressier shoes.
This dress would also be a lovely piece for travel to throw over a swimsuit, wear over sun- and wind-burned skin at the end of the day, wear with some slipshorts for sight-seeing and metallic sandals for the evening. Spot clean in the sink, hang dry, and use the hotel iron (or a very steamy shower) to have it ready for the next day!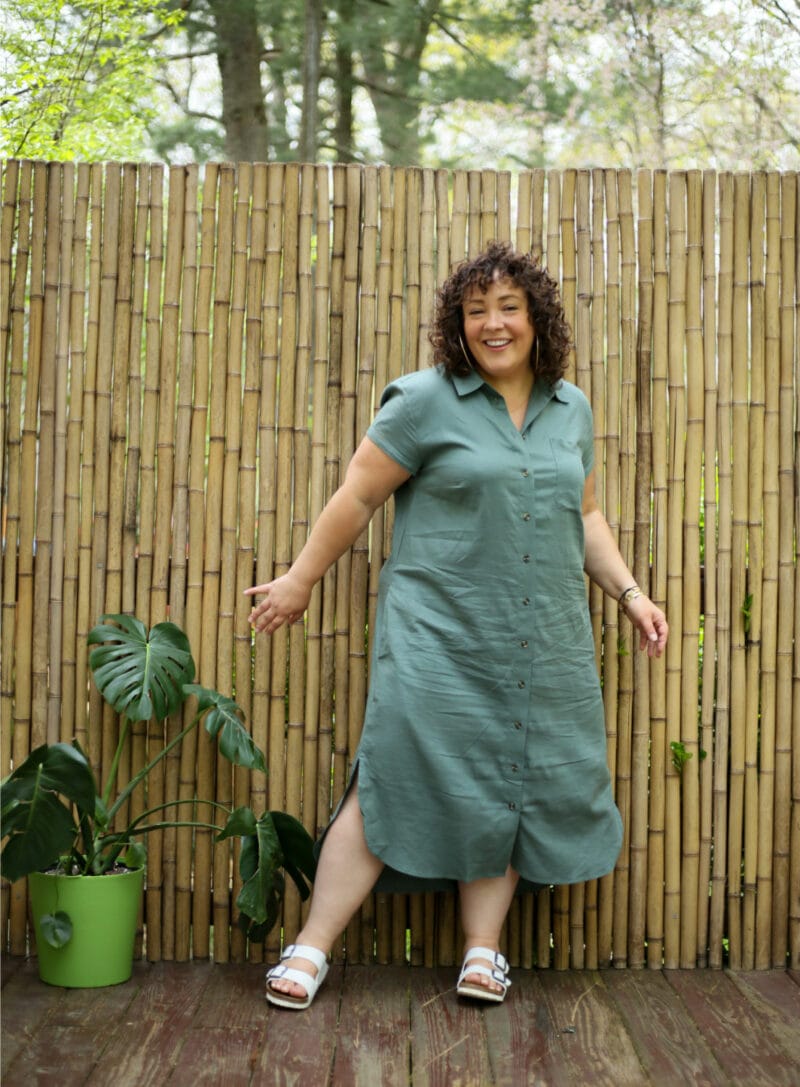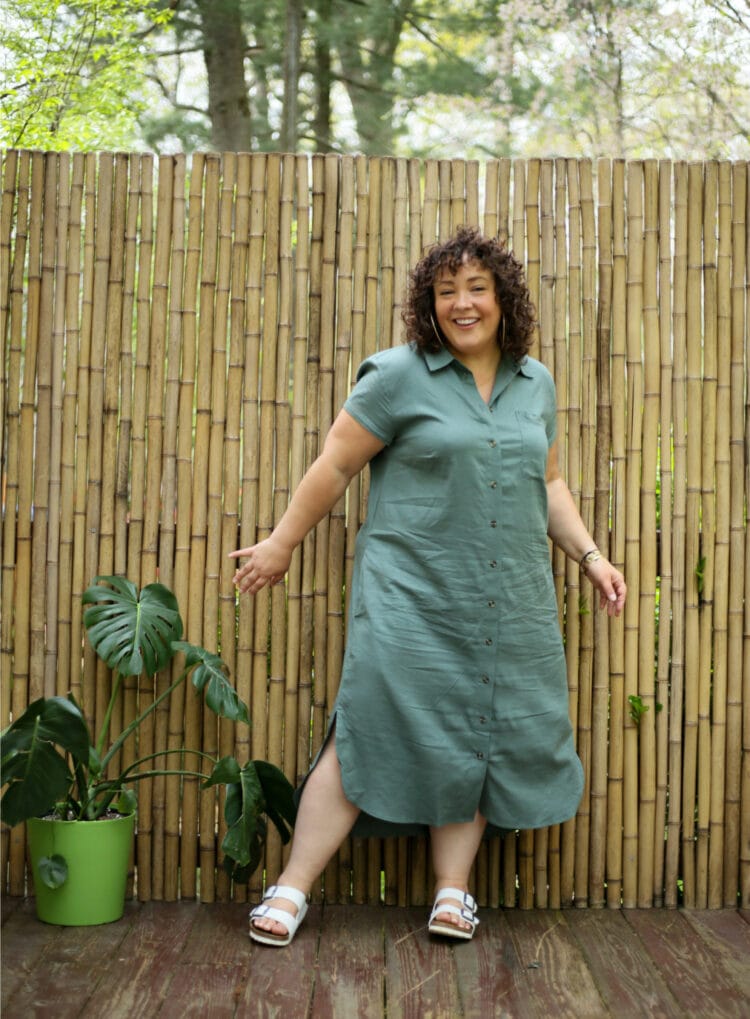 The Dune Linen Dress is available in sizes 4XS-4XL, four colors, and retails for $118.
Luna Linen Sleeveless Jumpsuit Review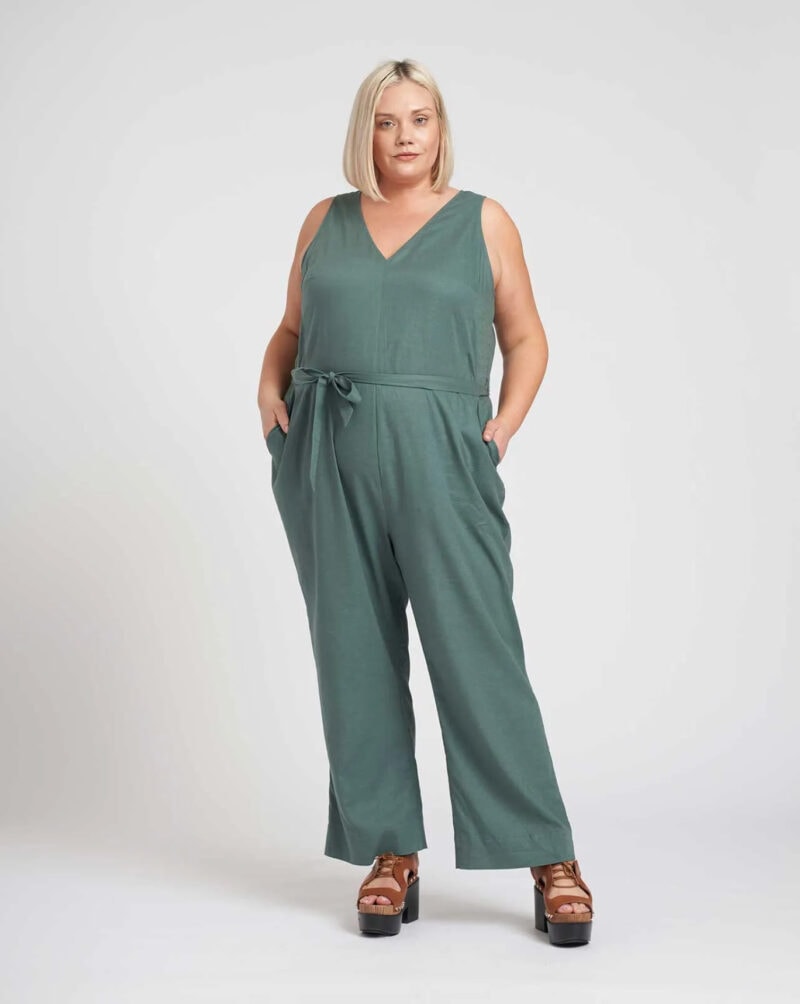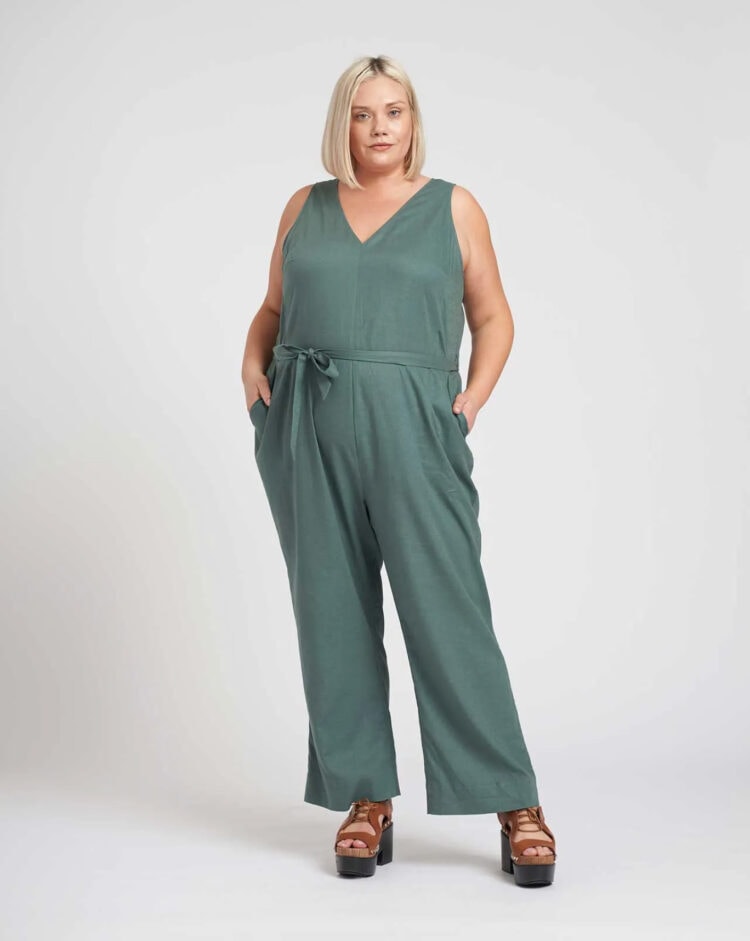 Y'all know I LOVE a jumpsuit, so I was super psyched to receive this one. I also was psyched to get it in navy (it's available in two other colors).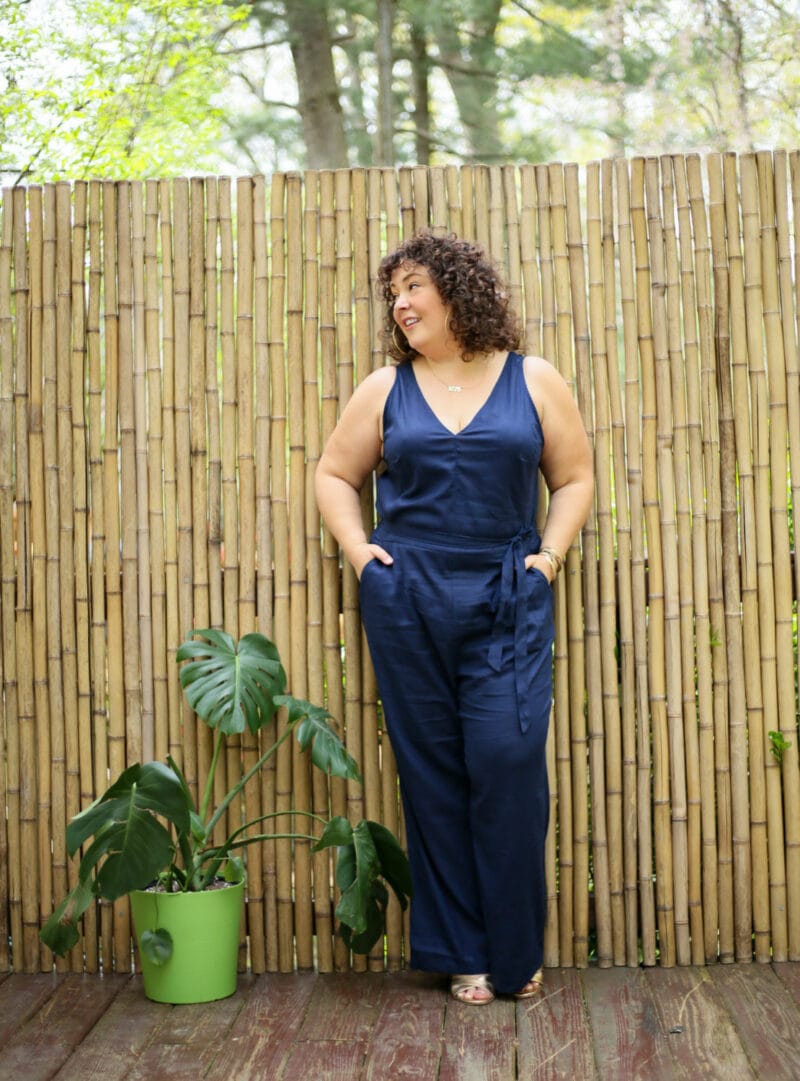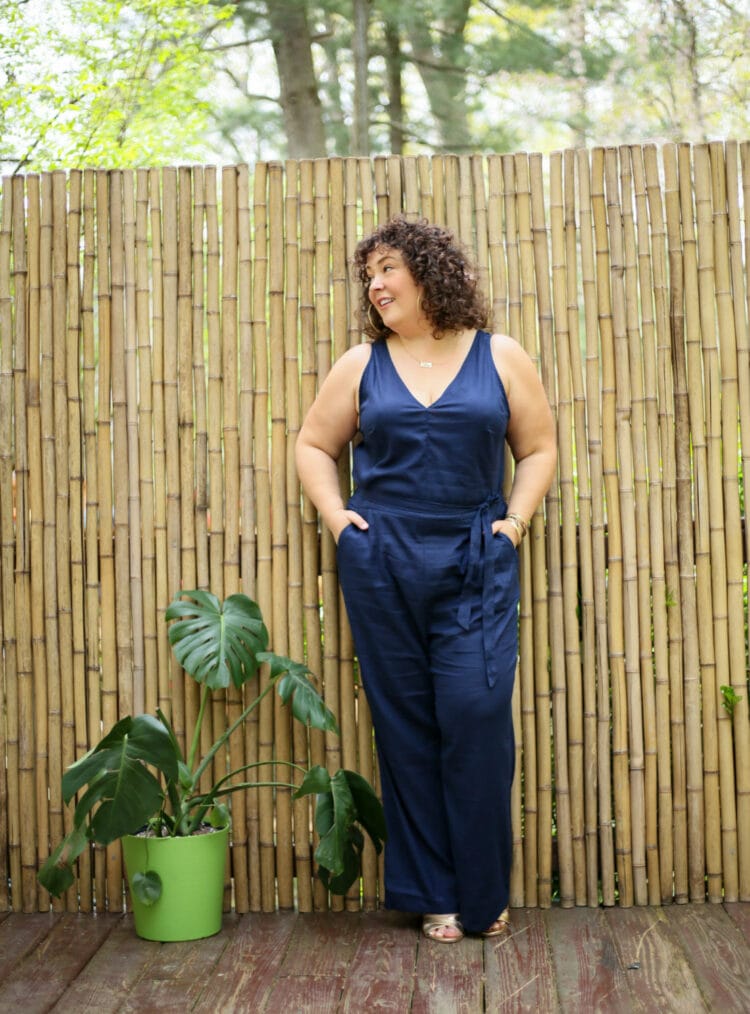 This jumpsuit is nice, it's very elegant looking for linen. My tailor could shorten up at the shoulders for a better fit, but that's a given for my short self. As an FYI, this jumpsuit in size XS also has a 27″ inseam.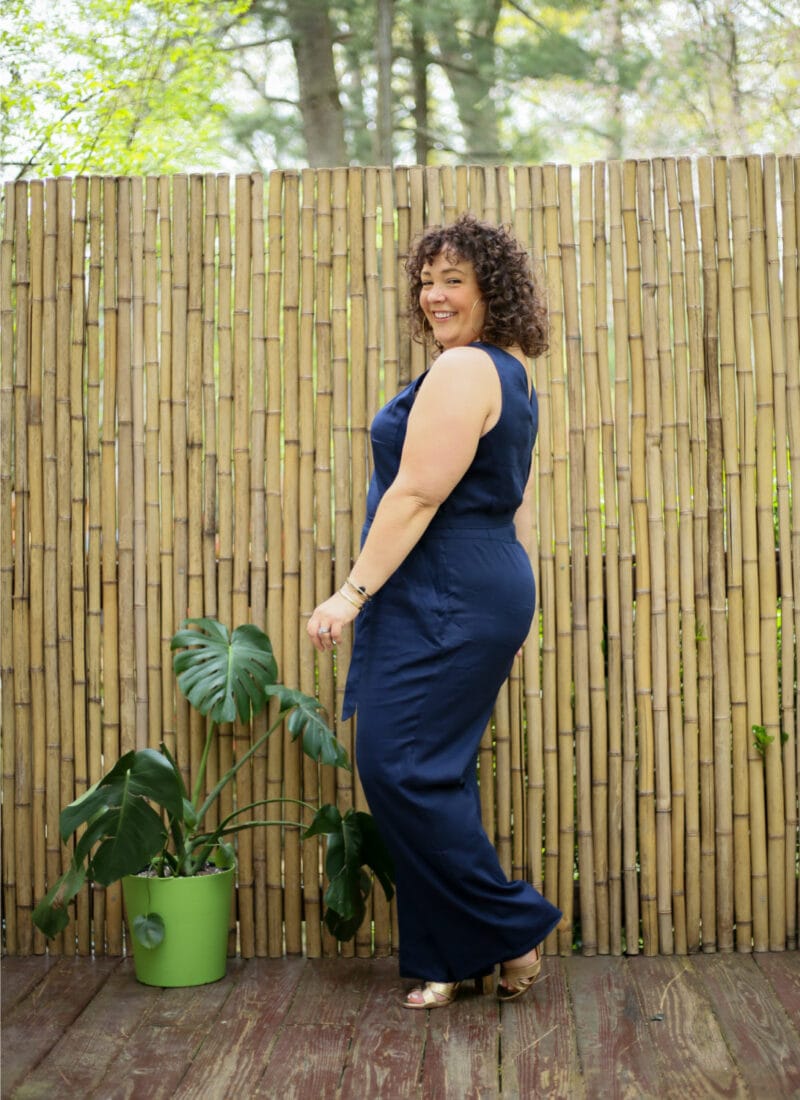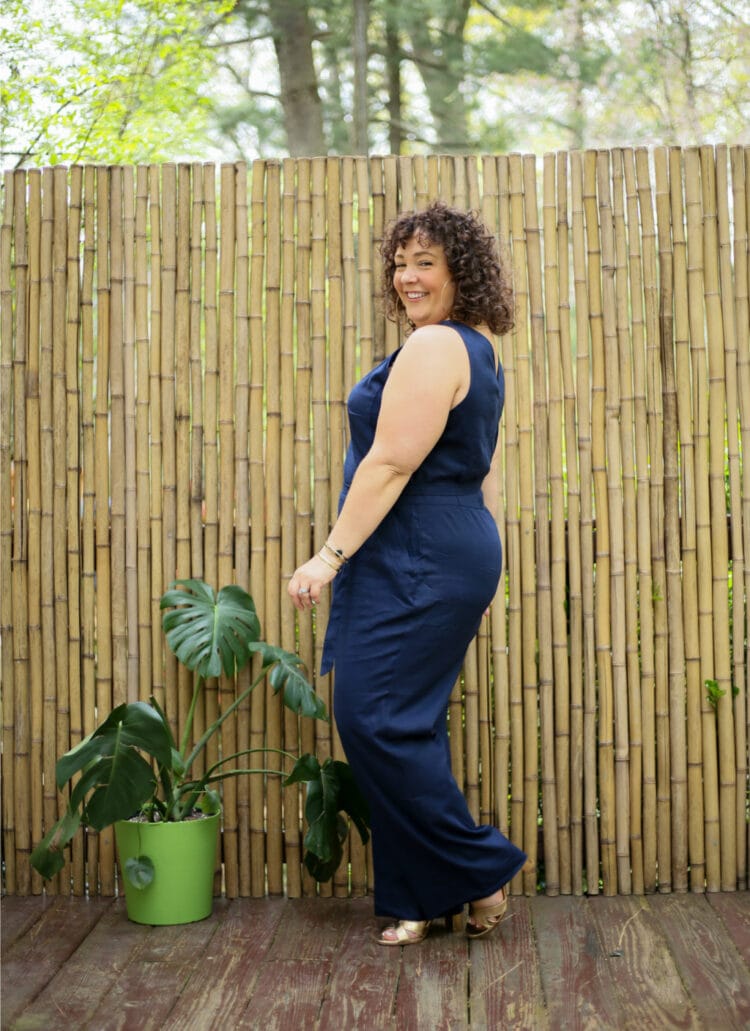 The jumpsuit has a self-belt that is easy to switch out if you want to use a belt, cord, or scarf to switch up the look (no actual belt loops, just those little string loops). I do wish the self-belt was a bit wider or at least had better interfacing. I think it would have looked more finished and balanced.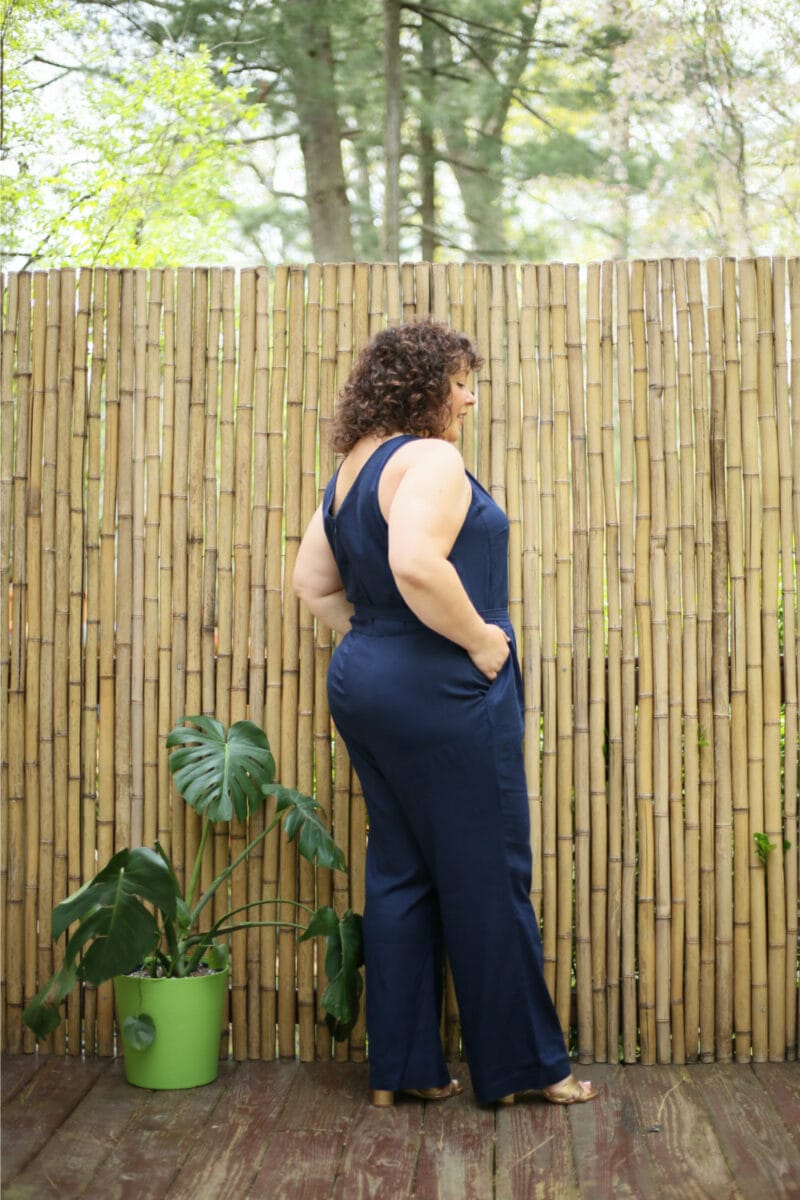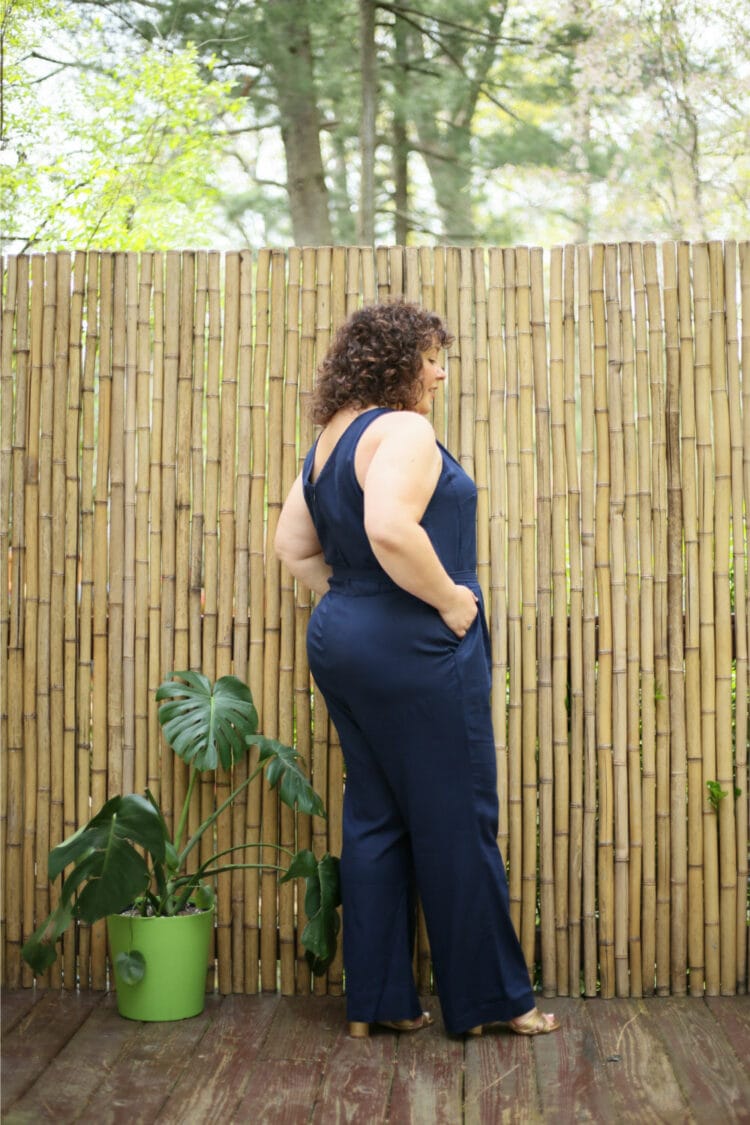 There is a zipper in back with a hook and eye closure, but even after a tough upper body workout, I was still able to zip and unzip it by myself without any issue. The hook and eye was another thing, but my family didn't even notice I didn't connect it.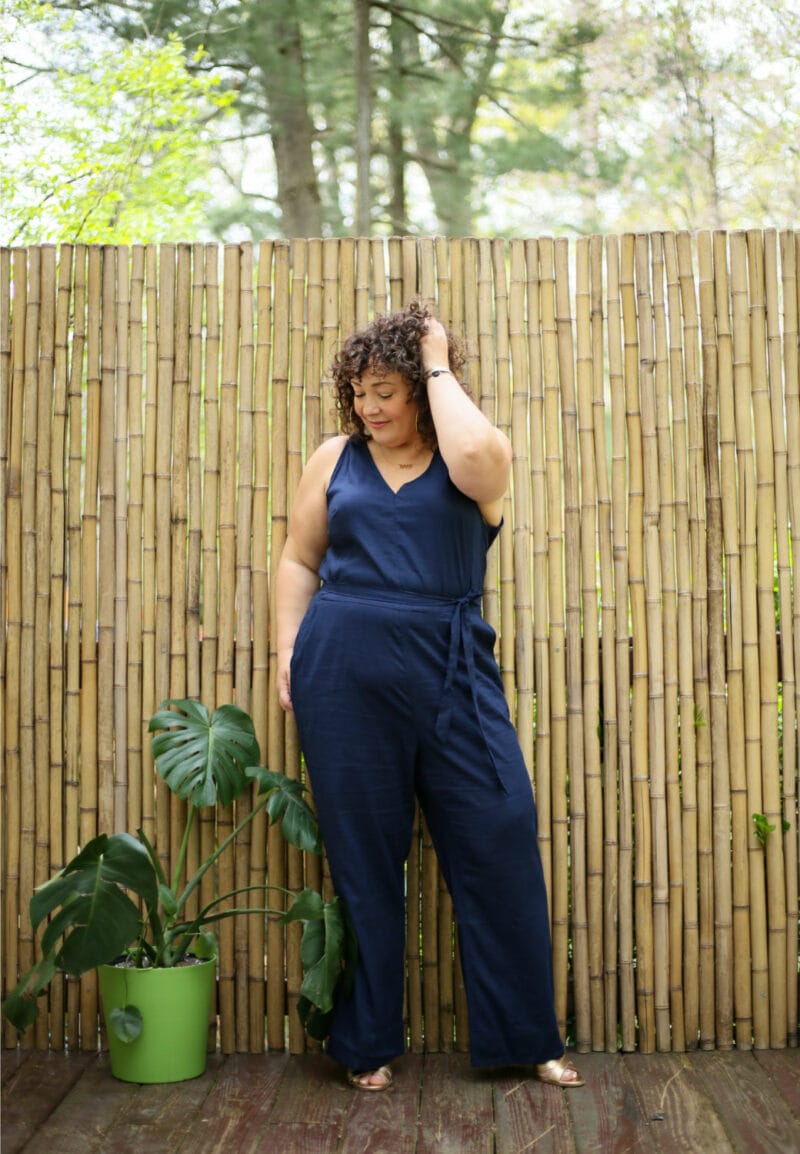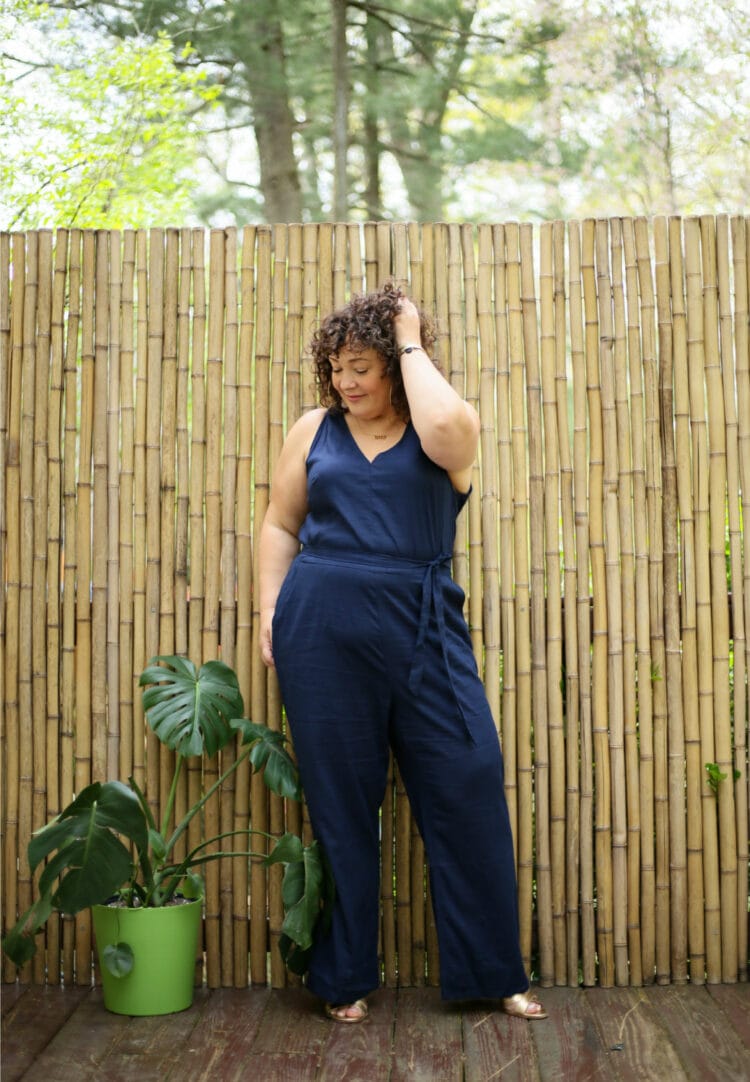 This is the kind of piece I could see myself wearing a lot this summer once my fam and I are fully vaxxed. I'd wear it with a straw hat and sandals to the farmer's market, with gold hoops and sandals for dinner out, with Birks and an interesting necklace for the weekend.
For reference, I am wearing the jumpsuit with these sandals from Margaux. They are the only heels I still want to wear after a year at home. Here, you can read my Margaux shoes review (FYI, they're great for wide feet).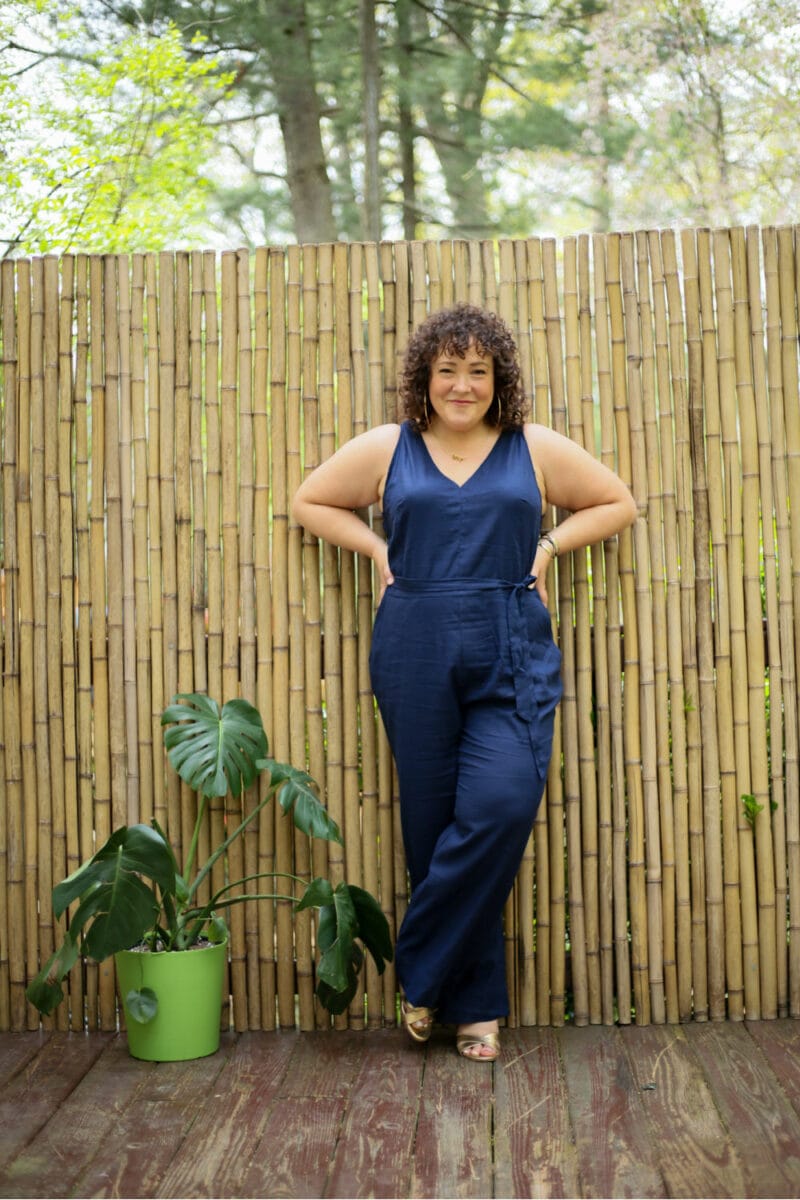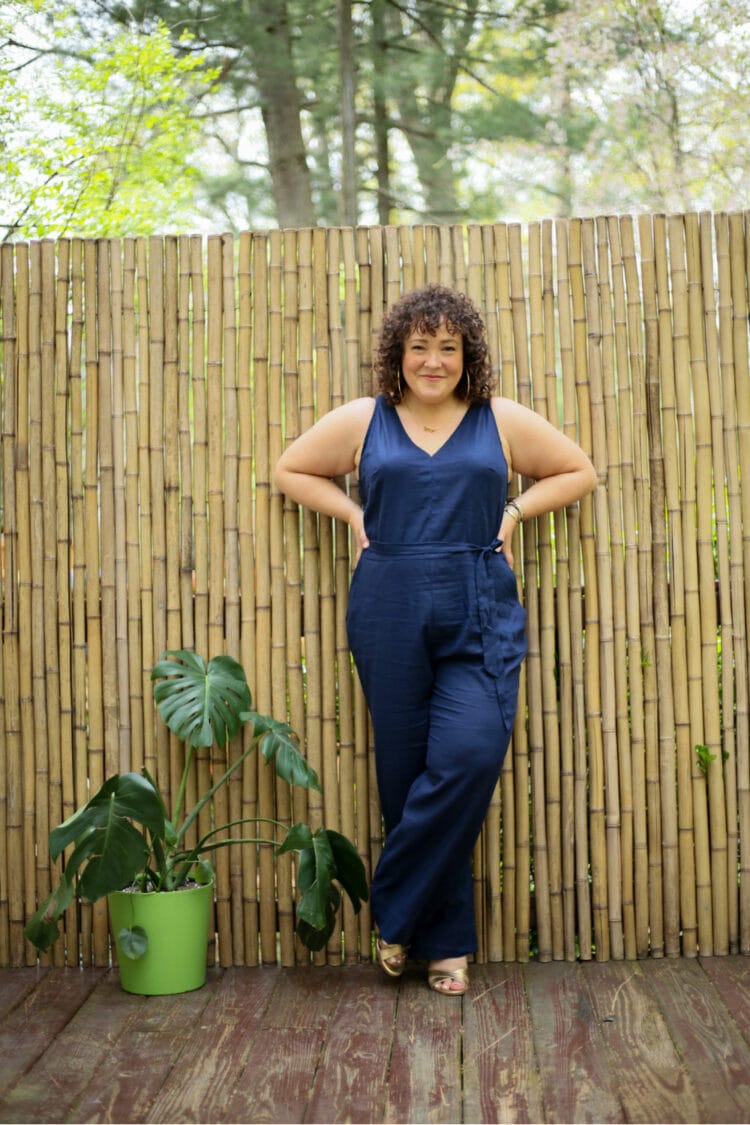 I am glad it is navy; it both covers my underpinnings as well as any sweat (because we all know in the summer, sweat doesn't just come from our underarms).
The Luna Sleeveless Linen Jumpsuit is available in three colors, sizes 4XS-4XL, and retails for $128.
Universal Standard Promo Code
Universal Standard is offering the Wardrobe Oxygen community 10% off your order with promo code wardrobe_oxygen10. However, due to the limited nature of this collection, the code is NOT valid for the linen, but will work for anything else that you purchase.
This is a temporary code and I cannot guarantee that it will work beyond this week. As many of you know, this code turns on and off depending on the promotions taking place; I recommend trying it before making any purchase but know it may not always work.
Shop the Post:

How to Keep Linen Not Looking a Mess
So… back to me being a klutz with a coffee stain on my shirt. How have I come to terms with linen and how do I wear it without looking even MORE like a mess?
Accessorize. Yeah, this doesn't change the fact that linen wrinkles, but accessories make every outfit look more purposeful. I find shiny accessories, especially in gold, seem to elevate linen and make the wrinkled linen look more breezy cool than wrinkled sad.
Wash on the Gentle Cycle. And leave a lot of room in the washer. With less twisting and wringing during the cycle, the linen clothes will be less likely to form such strong creases (I know I've had a linen shirt come out of the wash with one arm crinkled to half its width and possibly twice its length due to the spin cycle). Having less garments in the load will also reduce the chance of the linen clothes getting cramped or creased.
Iron or Steam Before Wearing. I mean, this is a "no duh" statement, but ironing while still damp or steaming will help release wrinkles and make them less likely to show up. I recommend that even if your linen clothes look good enough, give them a steam or an iron once-over before heading out because it will hold the wrinkles at bay longer.
Pick a Linen Blend… Especially with Rayon. Hey, good thing the Universal Standard linen collection this spring is a rayon/linen blend! I find this creases and wrinkles far less than my 100% linen pieces while still being breezy and comfortable.
Embrace the Rumple! Linen is classic, linen is chic, and linen is cool. No one expects linen clothes to be crisp. Embrace a bit of a rumple. Roll up the sleeves, unbutton another button so the neckline falls against your collarbone, and own the fact that you're being smart this summer by wearing the chicest fabric for hot and humid days.
Some like to starch their linen; I personally don't like the feel when the starch combines with the sweat on my neck and back. I'd rather be comfortable, and the starch doesn't prevent the wrinkles, it just reduces the chance (and makes it more likely wrinkles turn to creases).
Have you tried the Universal Standard linen collection? If you have, I'd love to read your thoughts on fit, quality, and how you plan to style it!