This article may contain affiliate links; if you click on a shopping link and make a purchase I may receive a commission. As an Amazon Associate, I earn from qualifying purchases.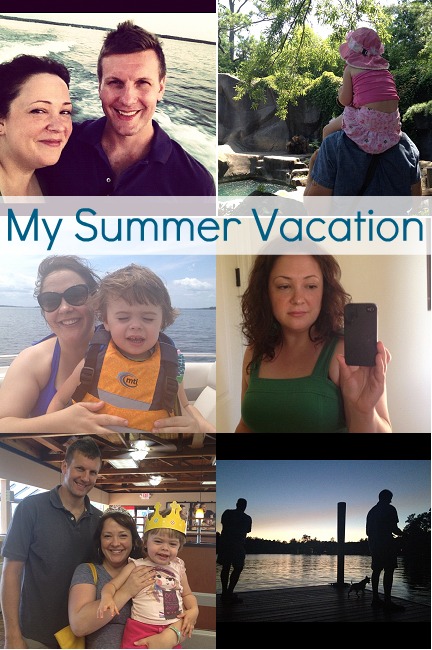 My family and I left for vacation on a Sunday morning and planned on heading home on Thursday, but we actually stayed until Friday. We were staying with relatives in the south, who live on a lake. I knew I would have access to a washer and dryer but didn't plan on using it.
What I Packed:
J. Crew navy cotton voile sundress (seen here)
Old Navy denim cutoffs (seen here)
Old Navy black yoga capris
Lands' End Canvas orange plaid cotton voile shirt
Target chambray shirt (seen here)
Armourlux white/navy stripe tee (seen here)
Two casual tee shirts
Lands's End paisley halter one-piece swimsuit
New Balance sneakers
Three pairs of socks
HOBO tan crossbody small purse
Nordstrom yellow leather tote bag (seen here)
A bunch of different bangle bracelets, these necklaces (only wearing one here but have two), this necklace, and my silver hoops
What I Didn't Use:
Lands' End white linen sundress
Chambray shirt
Lands' End Canvas swimsuit
What I Wish I Brought:
Another pair of workout pants
Water shoes
The car ride was about nine hours; on the trip down, I wore the orange shirt and denim cutoffs and the tan sandals, on the way home I wore the gray tee, white jeans (yep they are that comfortable!), and tan sandals.
We spent the majority of the vacation at their house, where it really didn't matter what I wore. We went to the zoo one day, and for that I wore the Soft Surroundings linen shift with the tan sandals; I used the yellow leather tote since it was my purse, Emerson's bag, and also carried some snacks and water. We went to a nearby bar for beer and wings and I wore the white jeans with the vintage tee (pretty much this same outfit, but with the yellow sandals and the yellow tote). One evening they invited over neighbors for dinner and a sunset cruise on the boat and I wore this outfit. I thought I may use the chambray shirt as a swimsuit coverup, but instead used the J. Crew sundress or just a towel.
The lake shore was rocky and the bottom either rocky or mucky, my flip flops couldn't hang and I really wish I had a pair of proper water shoes. Emerson had a pair from REI and my husband wore his Vibram Five Fingers and they both had a blast while I stuck to the bottom of the lake. I also wish I had brought more workout clothes – I know my cousin and his wife are athletic, but I didn't know I would have free access to a gym every morning and I took advantage of it.
I brought more dresses than necessary. This was a very relaxed environment where a sundress looked quite fancy, even with bare feet and no makeup. I felt most comfortable in my orange shorts and Breton-striped tee, which was casual but true to my personal style. While I could have packed my entire closet for this vacation, I tried to keep the list short so fashion wasn't something I had to think about while away. I wanted simple pieces that could dress up and down with ease and mix and match.
Follow Me | Twitter | Facebook