This article may contain affiliate links; if you click on a shopping link and make a purchase I may receive a commission. As an Amazon Associate, I earn from qualifying purchases. 
Many of you over the years have asked me about a maternity wardrobe. As that I have yet to be pregnant or a mother, I really didn't feel qualified to properly answer this question. Luckily fellow reader Leta Boylan has taken on the task. Thank you so much Leta!
"Dear Allie:
Using your original list, and a few other "just maternity" lists that I found, I have synthesized a list of what pregnant women need to buy, clothes wise. I know that you have no kids, but trust me, as someone who has one and is planning on another, maternity clothes are important and difficult."
For maternity clothes, you will need a smock, a caftan, a muumuu, a half-apron, and some white Keds… okay, bad joke. Just kidding.
Maternity clothes are only worn for a narrow window of time, so it helps to need to decide if you plan on having multiple pregnancies or not. Clearly, if you intend on having eight or nine kids, it makes sense to buy pricier, better made clothes.
Accept the fact that unless you have unlimited shopping time, money, and storage space, you will be making due with a much smaller wardrobe than what you normally have.
If you are buying new maternity clothes, Old Navy and Target's Liz Lange line are inexpensive, and widely available both online and in brick and mortar stores. Ann Taylor Loft, though much pricier, has a wonderful line of maternity business wear.
Used maternity clothes are easier to find and usually of better, newer quality than normal (non-pregnant) thrift/consignment store stuff, and eBay abounds with wonderful maternity stuff. If you can find a garage sale with maternity stuff in your size, that can be great, but keep in mind that you should not buy maternity clothes just because they fit you. You will be wearing and re-wearing the same small number of pieces for at least a few months, so it's important that they are clothes you like, that are flattering, and are in colors you normally wear.
I am generally in favor of buying maternity clothes, rather than regular clothes that are just too big, because they are cut for a pregnant belly, they will fit you better, you will look better in them, and you will be more comfortable, both physically and emotionally. There are a few exceptions to this, notably underwear and sweats, but be aware that the stretchiness in non-maternity clothes will be shot after enduring a pregnancy, so these items should be replaced once the baby is born.
Supposedly, you need to buy maternity clothes in your normal size. There are two problems with this thinking. One is that your butt, boobs, hips and thighs all grow during pregnancy- not just your belly. (Not to mention your ankles, nose, fingers and feet.) The second is the fact that, more so than regular clothes, maternity clothes tend to be sized XS, S, M, L, XL, and so on, rather than 8, 10, 12, and so on. Coupled with the recent, widespread spate of vanity sizing, making sizing even less consistent and more obtuse, it makes things rough on the expectant mom. If you can't try on clothes prior to purchase, try to take detailed measurements of yourself and get detailed measurements of the clothes. And always, always, always, err on the side of too large rather than too small.
A big consideration in maternity clothes is your due date. Clearly, if you are due in February (in the Northern Hemisphere), you won't need a bunch of maternity shorts, as most people don't move into maternity clothes until the beginning of the second trimester. (If you are pregnant with multiples, however, all bets are off, and you may well wear maternity garb throughout your entire pregnancy.)
The First Three Are Essentials
I know a few lucky women who didn't grow too huge during pregnancy and were able to get by with only these items.
1. A Belly Band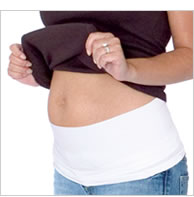 All this is is a wide, smooth piece of strong elastic. It can be worn folded in half, like a sandwich where your waistband is the cheese, or unfolded, covering your entire belly for support.
This little item will keep your normal pants on longer, allow you to look non-awkward in maternity clothes while your bump is still small, and help to keep your midriff covered. While the Bella Band is the most widely known brand, you can find far less expensive but nearly identical items on eBay. You may even be able to find a tan-colored version at a medical supply store.
2. Comfy, stretchy bust support.
In early pregnancy, your boobs hurt. Later, they grow. As a busty woman, I love underwire, but even I couldn't hang during pregnancy, when I renamed them "torturewires". If you have a certain neckline or event that requires a lot of support, then by all means wear a real bra, but for the most part, accept that being pregnant means less boobie-hoisting. You will need a minimum of three comfy, stretchy bust supporting garments.
Conventional wisdom dictates that you should go ahead and buy nursing bras, as these will be comfy during pregnancy and useful afterward. I have a hard time with this, because nursing bras are horribly overpriced, and I have not yet found one of even decent quality, much less one that lived up to it's inflated price. I'm sure this has to do with being a 34F, but nursing bras were nearly useless for me. Also (and this complaint is not size related), nursing bras tend to require either special nursing tops, or limit your selection of normal shirts, which is why I would rather use tank tops and layer, as I discuss below.
A more frugal and practical alternative to nursing bras is to buy slightly bigger than normal sports bras. This won't break the bank, so if you need to size up a couple more times during pregnancy, that's okay. Also, a low cut, kinda loose sports bra works fine as a nursing bra. However, sports bras often have weird backs and very wide straps, making them harder to wear discreetly.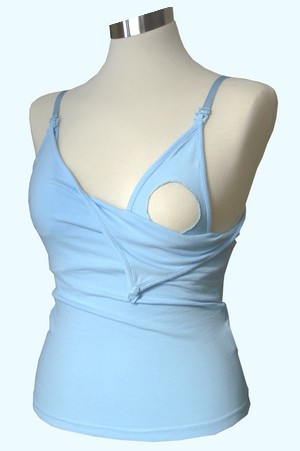 Therefore, my favored choice is nursing tank tops from Mamalama Wear. I started out with three and ended up with one in every color.
These have a built-in bra, and the straps unhook on either side for easy nursing. Besides the fact that these are obviously very useful once your newborn is out in the world, the bra is stretchy to accommodate growing/shrinking breasts, and they are soft and comfortable, with nary a wire to be found. Like all tank tops, these are seasonless, as they are wonderful for layering or wearing alone in hot weather. While a similar, Gillian O'Malley nursing tank top can be found at Target, Mamalama tanks come in a wider variety of colors, as well as coming a long version for those of us with long-torsos. If you carry very high, as you get bigger and bigger, you may find the tanks bunch up between your bust and your belly, making them harder to wear. Therefore, you may have to resort to the bigger sports bra or too-expensive nursing bra. However, many of us pregnant ladies will be able to sport nursing tanks the entire nine months and beyond with the help of the next garment.
3. Topless Undershirts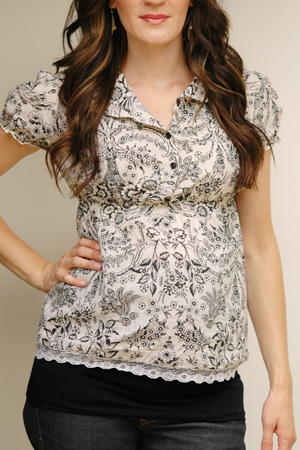 The only brand name that I know of for these is Blush, though I don't doubt that knock-offs will soon appear on eBay. These are stretchy, though not made of heavy-duty elastic the way a belly band is. These allow you to stay in your normal shirts a lot longer, essentially by adding a lengthening layer. This is especially nice during in the second trimester, which tends to be the sticky wicket of maternity dressing, as most maternity shirts are still way too big. These are great with a cropped cardigan (or blazer, or jacket) and one of those nursing tanks. Isn't this a cool look?
These are nice for post-partum modesty, too, because even if you're thin enough to fit into your low riders again, it make take a while to get your tummy taught enough to want it to peek out. These are also nice if you are using a nursing bra and need to lift your shirt- the topless undershirt keeps your tummy covered, and the shirt covers your breast.
Again, get a least three, but buy one in every color if you want.
Everything Else
4. & 5. Two pairs of maternity jeans, the same sorts as Allie's recommended jeans: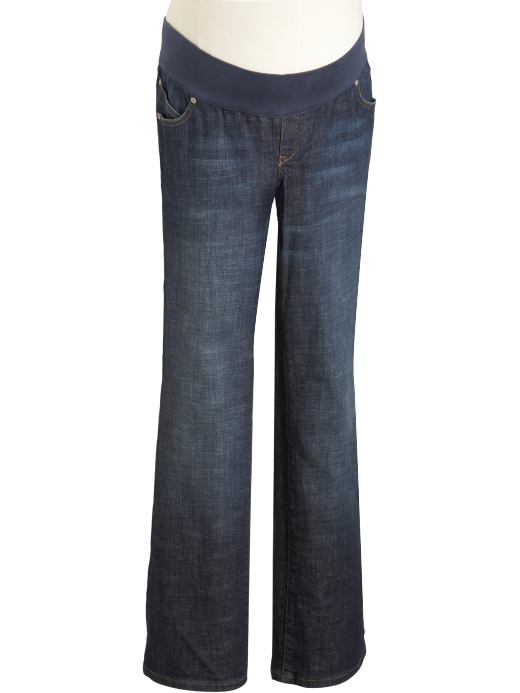 Get a casual flattering pair, and a dressier, darker pair. As a fan of low waists, I had a really hard time with belly panels, especially on denim. I much prefer the low rise, elastic band version, as it is more versatile during early pregnancy and post-partum.
6. Cardigans
These are the pregnant ladies' friends. Get at least two in a regular length, one in black or gray and one in your signature color. Go ahead and buy some more if you want to try the sassy cropped look from above. Cardigans are great for layering and if you have your essential items from the list above, you need not worry about leaving those buttons undone and letting your belly poke out. You can get cardigans in virtually any weight, so no matter what seasons you're pregnant in, you can find some that will work. This is one of the rare non-maternity items that will work well for a pregnant woman. These are also nice post-partum, as the front panel of a cardigan works well as drape for modest breastfeeding.
7. Seasonal Items
Thinking of the due date….
If you are due in winter, you will probably need a coat that fits and comfortable, solid footwear in a half to full size larger than what you normally wear.
If you are due in summer, you will need a bathing suit, 2-4 pairs of shorts and/or capris, and at least one flowy sundress or skirt. (As hard to believe as it is, when you are huge and it's hot, you really are more comfortable in a skirt.)
8. Black Maternity Pants
Okay, this is a no-brainer. Even if you do not work outside the home, or work in a very casual environment, these are a pretty key item, for all the same reasons that Allie discusses on her list. Yes, these are dressy, not sweats or yoga pants.
9. A Black Jersey Dress, A Black Knit Dress, Or Both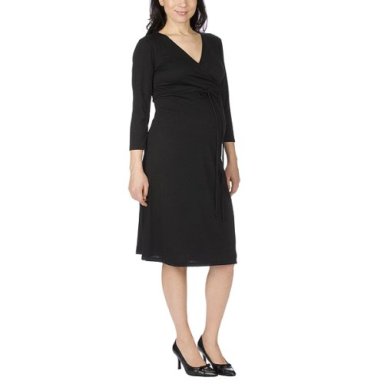 This is the preggo-version of Allie's Not-So-Little Black Dress. The hem on these should be just above the knee. I know it's hard to believe, but the bigger you get, the more you will like dresses. They tend to be less constricting the most vital, burgeoning areas, and, unlike pants and skirts, have no waistband to do battle with.
I know some people will groan at more black (and there's even more to come!), but we are shooting for versatility here, and like it or not, black is the most versatile clothing color there is. If you detest black, by all means, buy gray or another neutral, but be aware that you will get neither as much wear, nor as much use out of a dress of another color.
It should be easy to find both black knit and black jersey maternity dresses. These fabrics have a lot of give, but are still body skimming, making them perfect for expectant mamas. Clearly, if you are cold-weather pregnant, you will want knit, and if you are hot weather pregnant, you will want jersey, but both are seasonless enough to justify purchasing one of each, especially if you are in need of a professional maternity wardrobe.
10. Suiting
I am generally not fond of what some catalogs refer to as "wardrobers"- a blazer, skirt, and pants, all in the some color and material- because I feel that some of the pieces get more wear than others, and end up looking weird together.
However, if ever there was a time when such a thing was needed, that time would be during the pregnancy of a professional woman. Because you will be wearing them for such a short period of time, wear is not really an issue.
I would get two 3-piece wardrobers, one in black, and one in another neutral, navy or perhaps some shade of khaki. This will give you four suits, as well as four business appropriate bottoms. If you buy four shell tops to wear under your blazers, and eight other tops to go with your four bottom pieces, you will have three full workweeks worth of clothes. If you also pair the blazers with jeans on casual Fridays, you may never have to wear the same outfit to work twice.
11. Maternity Tops
This is the one you've all been waiting for, I'm sure. This is both where maternity fashion gets fun, and where the room for error grows enormous. If you are lucky enough to make it through pregnancy in your normal shirts with the aid of some topless undershirts, great. If not, here are a few rules of thumb:
-Don't go through pregnancy swimming in your husband's tees and oxfords. No matter what the magazines say, this is not cute. It looks goofy, or sloppy, or both.
-As in all clothing, avoid any sort of graphics or silly slogans.
-It will probably be worth it to buy one fancy evening top to go with your black pants.
-Maternity tops tend to be the least expensive maternity item, as well as being the maternity item with the most variety, so buy as many as you want/can afford/have room for.
-These are the wardrobe pieces that will reflect your personality more than any other, so have fun. This is where you get into color, and buy stuff with interesting details, or flattering necklines, or unusual sleeves. However, try to avoid button-downs. Most maternity versions end up looking like your husband's oxford.
-As with all maternity clothes, keep the season of your due date in mind.
12. Shoes
Shoes are tough. Your feet and ankles will probably swell, and it's a drag. If you must buy new shoes, buy cheap microfiber ones, not just because they won't be worn long, but also because they will stretch. This is important, because pregnant feet are pretty normal in the morning, but swell to balloon-like proportions by mid-afternoon. Buy insoles and try to stay comfortable. And yes, after your baby's birth, your feet will, in all likelihood, go back to normal.
Clearly, few people will need everything on this list. In trying to be comprehensive, I hit some things twice- I know that a professional woman who buys suiting will have no need for an extra pair of black maternity pants, and a woman who dresses casually almost all the time and is pregnant in warm weather will have no need for new shoes when she can live in flip flops. But I found so difficult to find even the most rudimentary maternity wardrobe lists that in compiling this, I wanted to be thorough yet flexible.
As a final note, don't be conned into thinking you need a breastfeeding drape- these tend to be in the most awful patterns imaginable. If you can't use your shirt, use a pashmina and remain chic.
I would love to hear any other suggestions; place them in the Comments so we can all reap the rewards!