This article may contain affiliate links; if you click on a shopping link and make a purchase I may receive a commission. As an Amazon Associate, I earn from qualifying purchases. 
Allie:
Do you have any suggestions about working in a freezing office and looking professional? Right now I'm wearing a heavy hoodie on top of a cardigan…and unless I have to go to a meeting, that's how it will be all day. I was thinking about a long sweater, but they vary widely…are they ever ok?
Before I got pregnant and now LIKE having the office as an ice box, I was so feeling your pain. Offices seem to always be too cold or too warm and you always need to have some layers handy so you don't get hypothermia while sitting in front of your computer.
I have a pashmina at the office just for this purpose. I love it because it is lightweight, but since it is cashmere it keeps me just as warm as a heavier item. Being a shawl I can adjust where I need it – around the neck if I am wearing a v-neck top, over the shoulders, or even over the lap and legs when wearing a skirt. It also is small enough to tuck into my laptop bag if I am going to a client site that may be just as frigid.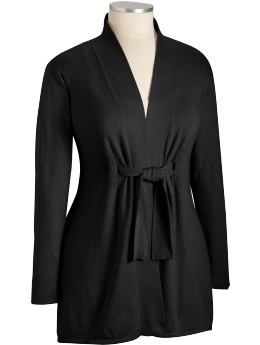 Sweater coats can be quite nice and professional looking. I have one I bought years ago at The Limited that is calf-length, a sturdy black cotton knit, mandarin collar and buttons just to the waistband. My old job used to call me Trinity when I wore it for it had a bit of a "Matrix" look to it. It is a thick enough knit to look smooth over lightweight knits and sweaters, and the refined knit and modern silhouette makes it even appropriate when I leave my office and venture down a hall to greet a client.
The key to sweater coats is the weight (not super thin and not a chunky lumpy cable), and the silhouette (more like a jacket than a bathrobe).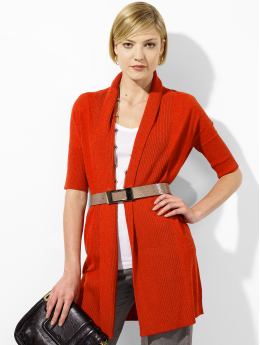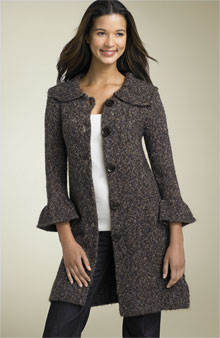 A lightweight sweater will look lumpy and strained over your other layers, a heavy cable or textured weave will look more like grandpa's favorite than a stylish and professional garment. Wrap styles with a self-belt seem the easiest, but often times are the least flattering to a woman's frame. They add the majority of bulk at the torso and hide the curves of a feminine frame. Many wrap styles also hit near the bottom of the rear end, making the back view look bigger than it really is. Your best bet is to find a cardigan that hits at the hips, or mid-thigh so it is long enough to show your shape.
Black front-tie cardigan from Old Navy, maroon high-collar sweater coat from Lands End, red ribbed shawl cardigan from Banana Republic, charcoal marled cardigan from Calvin Klein Jeans.