This article may contain affiliate links; if you click on a shopping link and make a purchase I may receive a commission. As an Amazon Associate, I earn from qualifying purchases.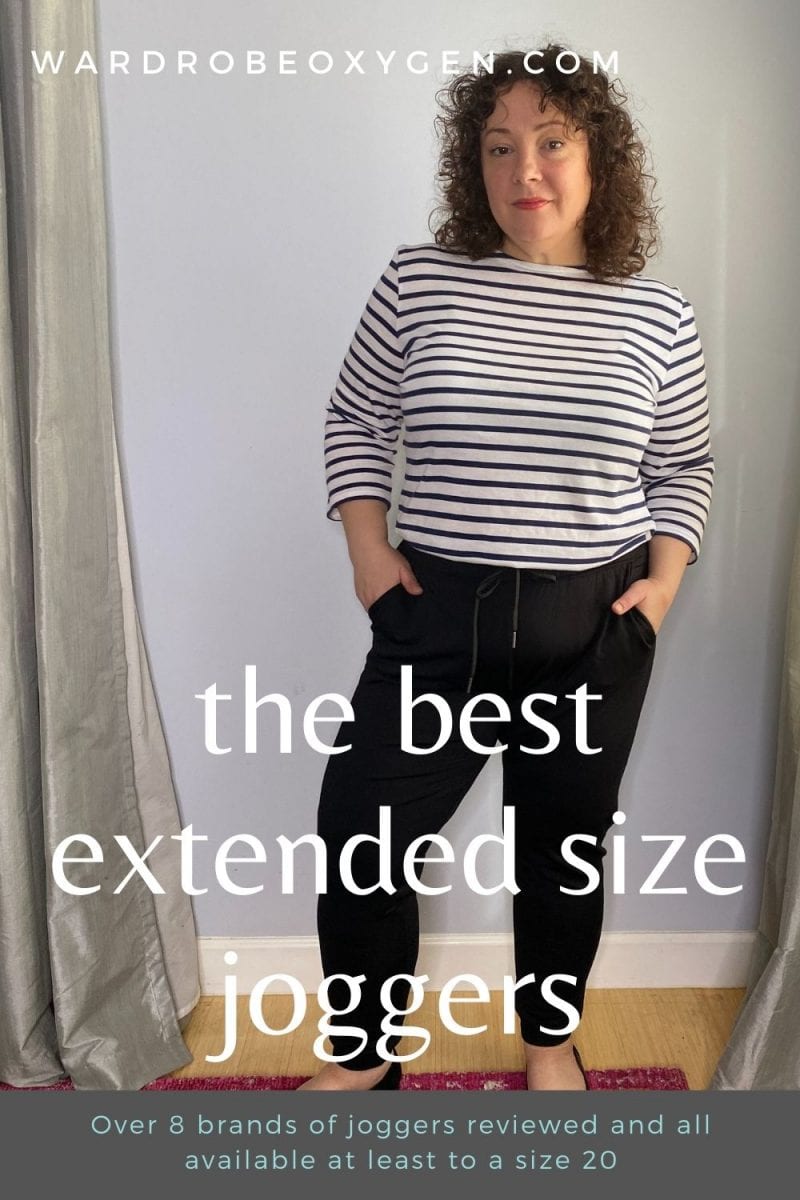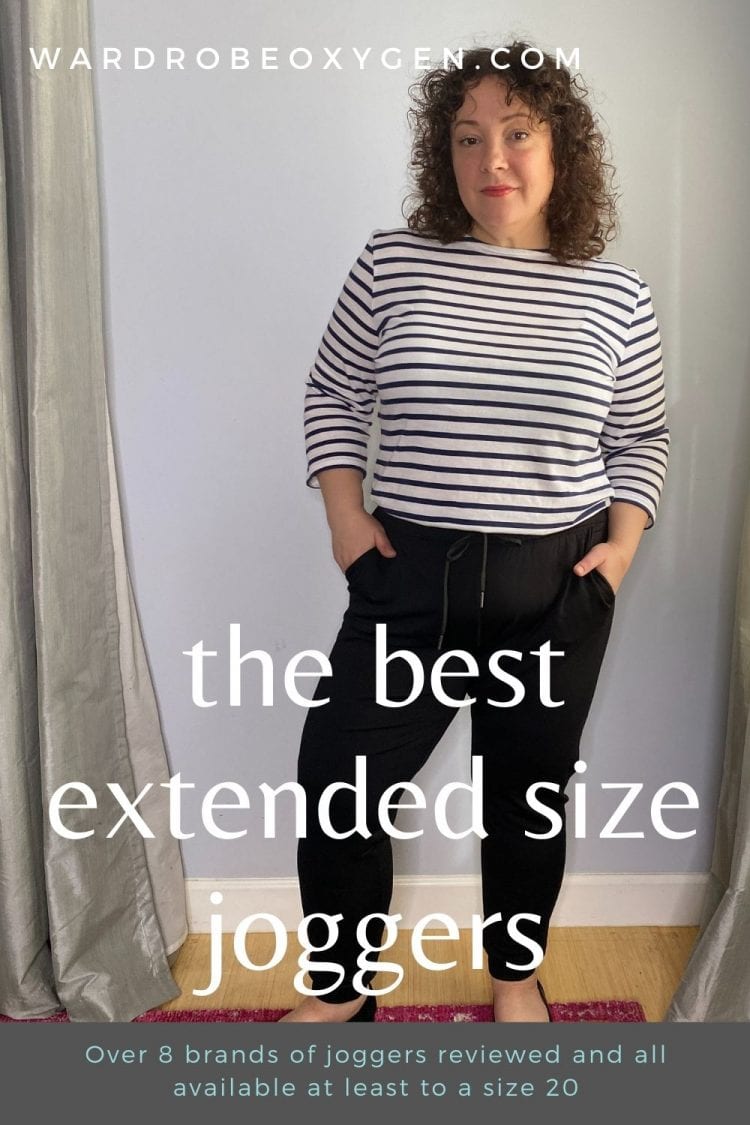 I believe any woman, of any age, can wear whatever makes her happy. That being said, as a woman in her 40s I know that some silhouettes and fabrics that made me happy in the 20s don't make me as happy now. Lifestyle changes, body changes, and changing priorities for what I choose to add to my wardrobe have affected my purchases over. the years. While searching for the best extended-size joggers (see my original post on this topic), I found that online reviews that spoke to me were based less on a person's clothing size and more on a person's age.
What are the Best Extended-Size Joggers for Grown-Ass Women?
So this search is for the best extended-size joggers for grown-ass women. Though I have found that styles for grown-ass women work usually well for younger women because they can be styled in a variety of ways. Below is my criteria for what makes a great jogger for me, a grown-ass woman:
Available at a minimum in sizes 0-20. Would prefer a broader size range and extra points for any style that comes in lengths or tall/petite sizing.
Has pockets. At least real front pockets, but wouldn't be mad at back besom pockets, whether they are real or faux.
Wide waistband that doesn't fold over
Thick enough that it doesn't show VPL for a basic pair of briefs
Available in solid black. No heathering, no sparkle, no contrast stitching, or contrast ties.
No athletic details so they can dress up for streetwear. No logos, reflective trim, or other details that scream activewear.
Doesn't cost a kazillion dollars but will also survive more than one season of going through both the washer and the dryer.
While I have faux leather joggers and cotton cashmere joggers I love, this search is for a traditional jogger made of a knit fabric with banded leg opening and are full length.
The search is for joggers that are comfy enough to wear when lounging at home, but polished enough that I could pair them with a sweater or a blazer and some boots and wear them out of the home. The current pair that I have that fits this bill is no longer available from the brand and after a year of hard wear are starting to look worn.
My Holy Grail Joggers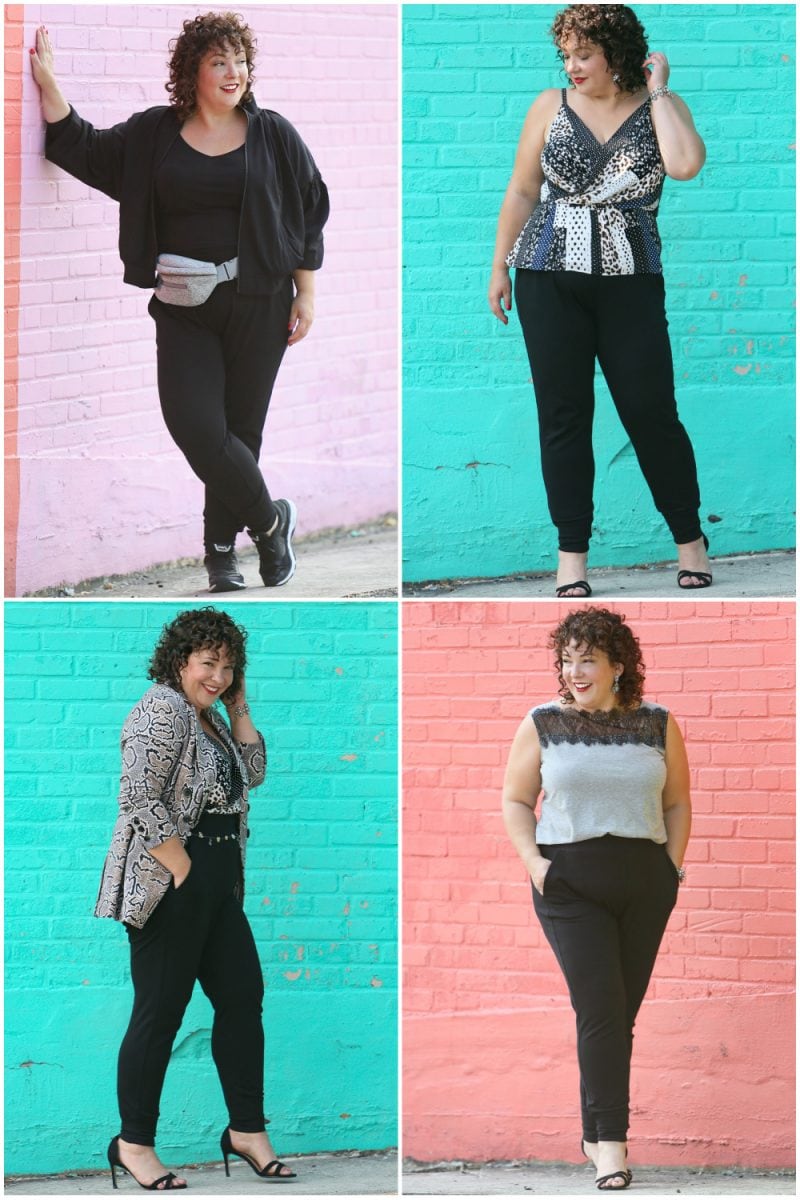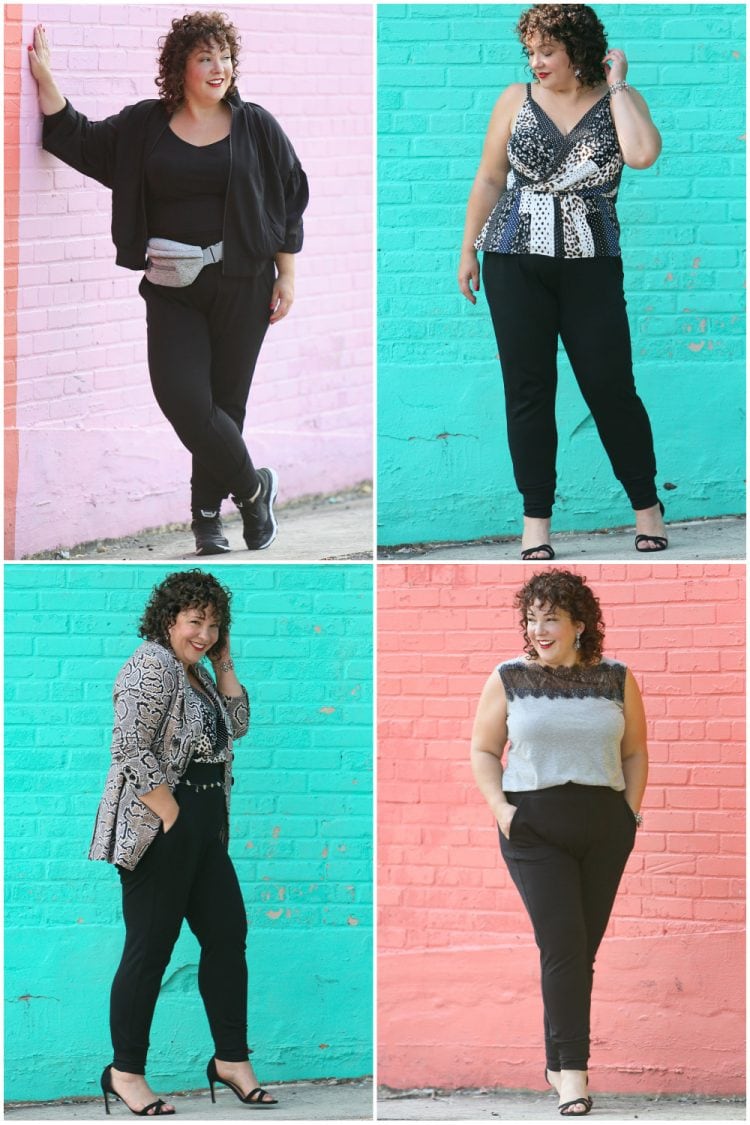 My holy grail joggers are the Pivot Jogger from cabi. However, they haven't had them in black for several seasons. They also only came up to size XL (I wear a Large in them when I am a 12 and when I'm a 14).
The joggers I purchased for this review are based upon your suggestions. Wardrobe Oxygen readers and members of the Facebook Community suggested some brands I had never heard of, some that I knew well but didn't think of going to for joggers, and brands they heard others rave about but wanted an honest review from me before they clicked "buy."
I have other pairs of joggers still en route but delayed with the current issues with USPS so there will likely be a Part Two of this jogger review if any of them are worthy of a photoshoot. If not, I'll do a quick mention in my Friday Shop posts and link back to it here in this original post trying to find the best extended-size joggers.
What are the Best Extended-Size Joggers? Eight Pairs Reviewed
I had never heard of Woolx before until a Wardrobe Oxygen reader suggested the brand. Woolx offers Woolmark® Certified ethically-sourced non-mulesed merino clothing for men and women. Offering base layers, underwear and socks, as well as sweaters, shirts, leggings, and other pieces of apparel, Woolx offers their women's clothing up to size 3X/24-26.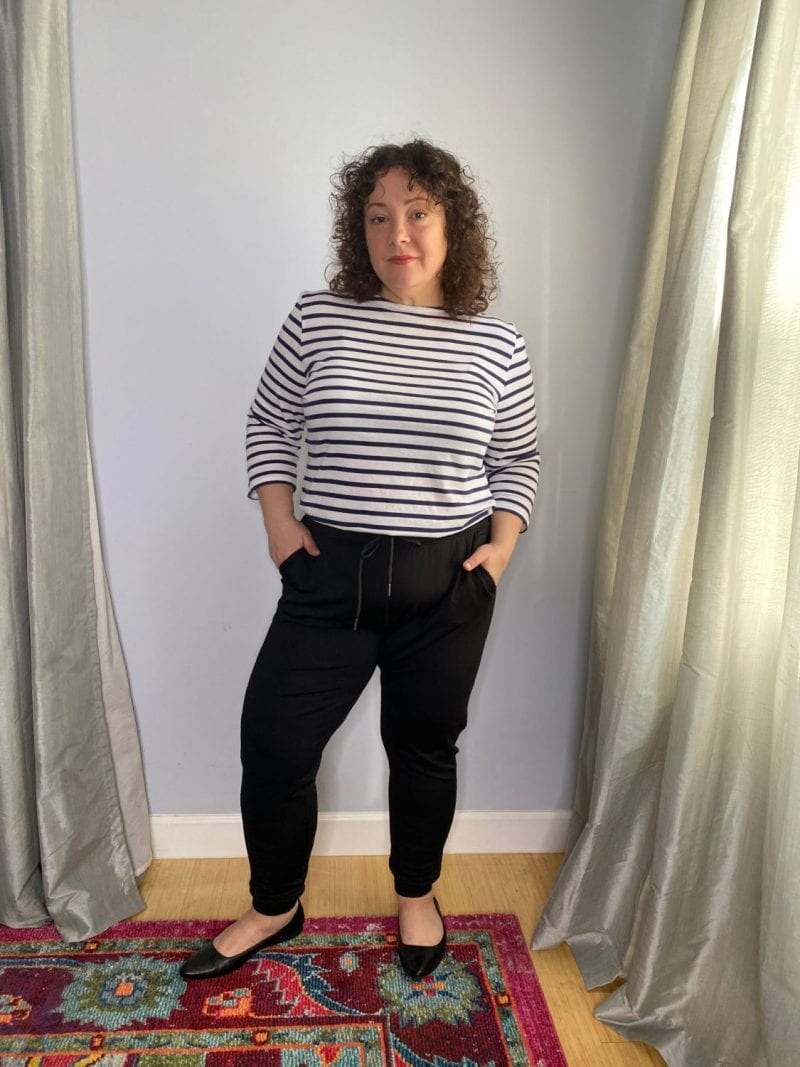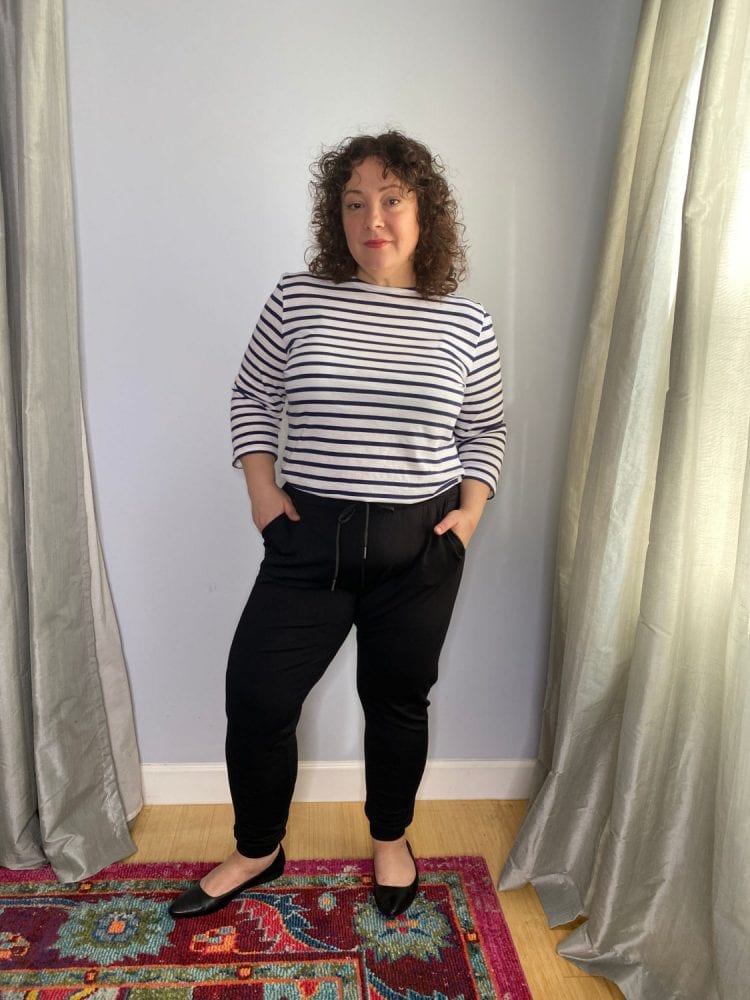 The Woolx Lola Jogger is available up to 1X which is a 16-18. This jogger is made from 100% merino wool on the inside and recycled polyester on the exterior. The wool is 250g for a midweight warmth. Due to the fabric, these are moisture-wicking, anti-microbial, and breathable.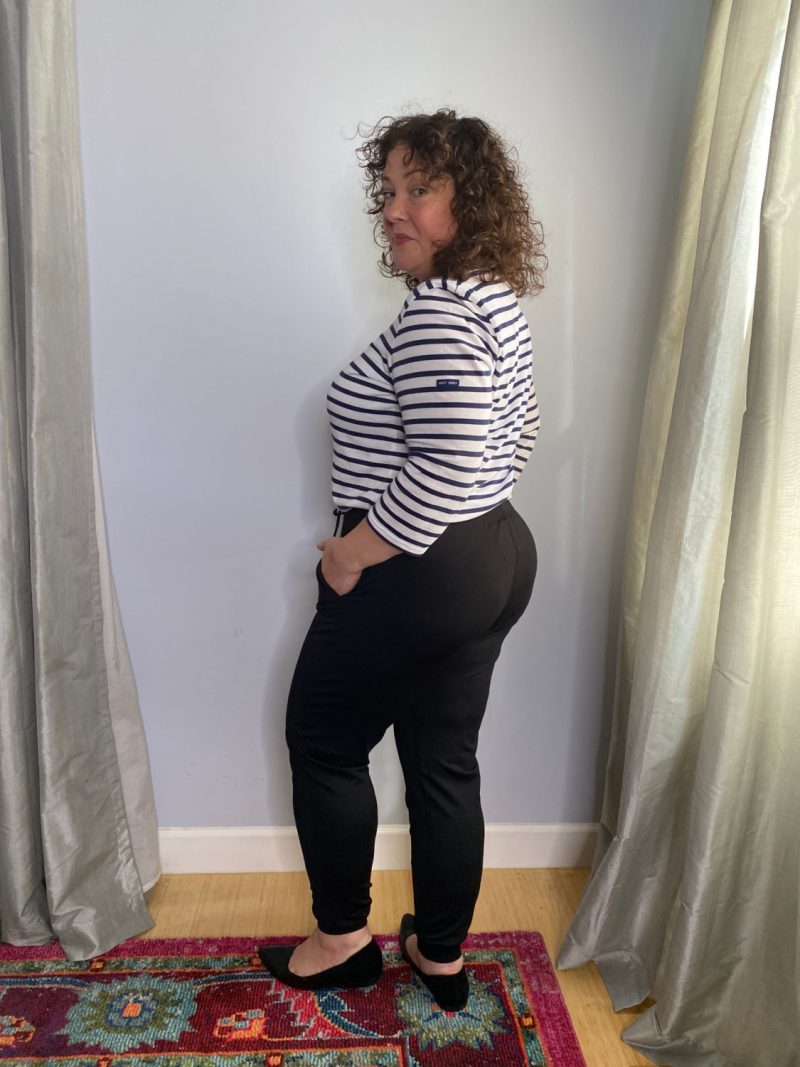 Woolx states these joggers are an athletic (read: trim) cut and to size up if you want a more relaxed and loose fit. I went with a Large to see how trim their athletic fit is. I think I would have been happier with an XL as these were snug over my curves, though the waist wasn't tight.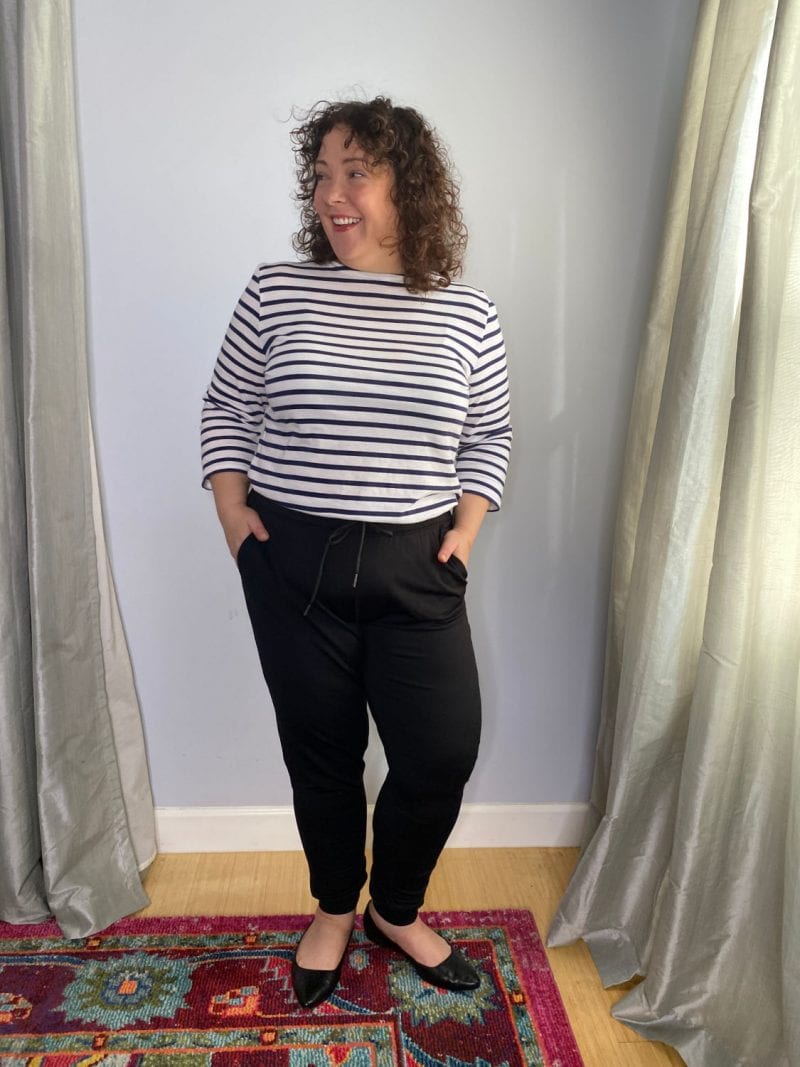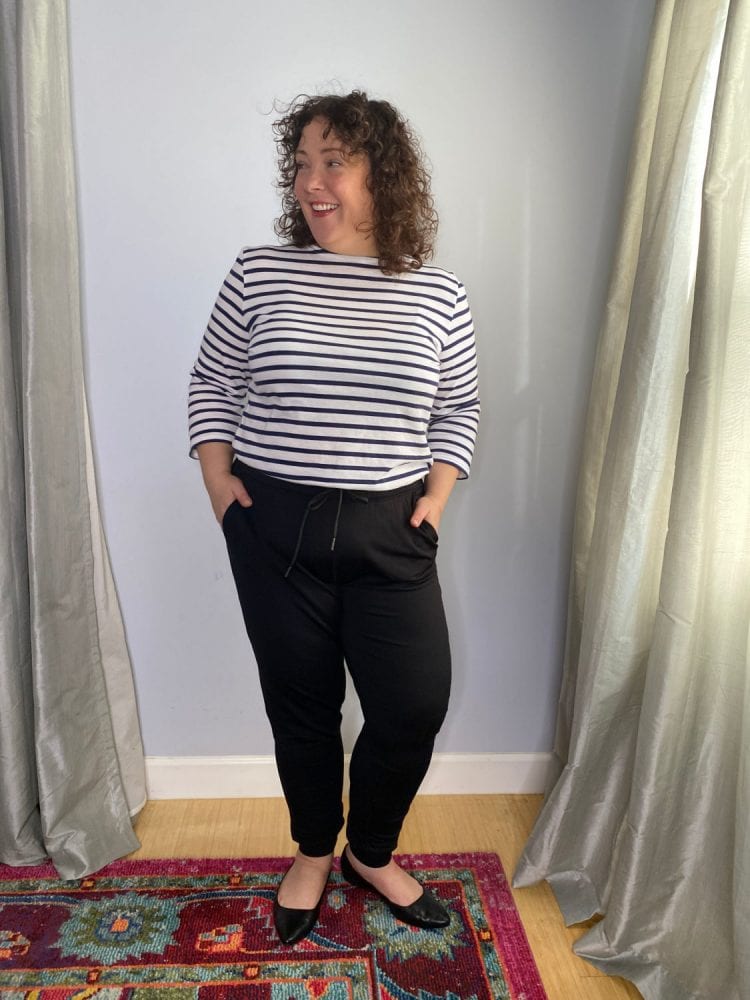 The recycled polyester has quite a sheen, similar to my Adidas track suit or even a swimsuit. The joggers also have athletic details like a drawstring and exposed serged seams. If I was looking for true athleisure or activewear, I'd love these.
I appreciate the fabrication, the ethics of the company, and the quality of manufacturing. I am glad I learned of Woolx and likely will make another purchase in the future, but for now will be returning these joggers.
While I love love love the color and chic yet whimsical style of Boden, I haven't always had success with fit, especially with their pants. I have a booty, a tummy, and solid legs and their pants are often too snug on my curves to make me feel fierce in them. However, many of you recommended Boden's Cuffed Jersey Joggers so I ordered a pair.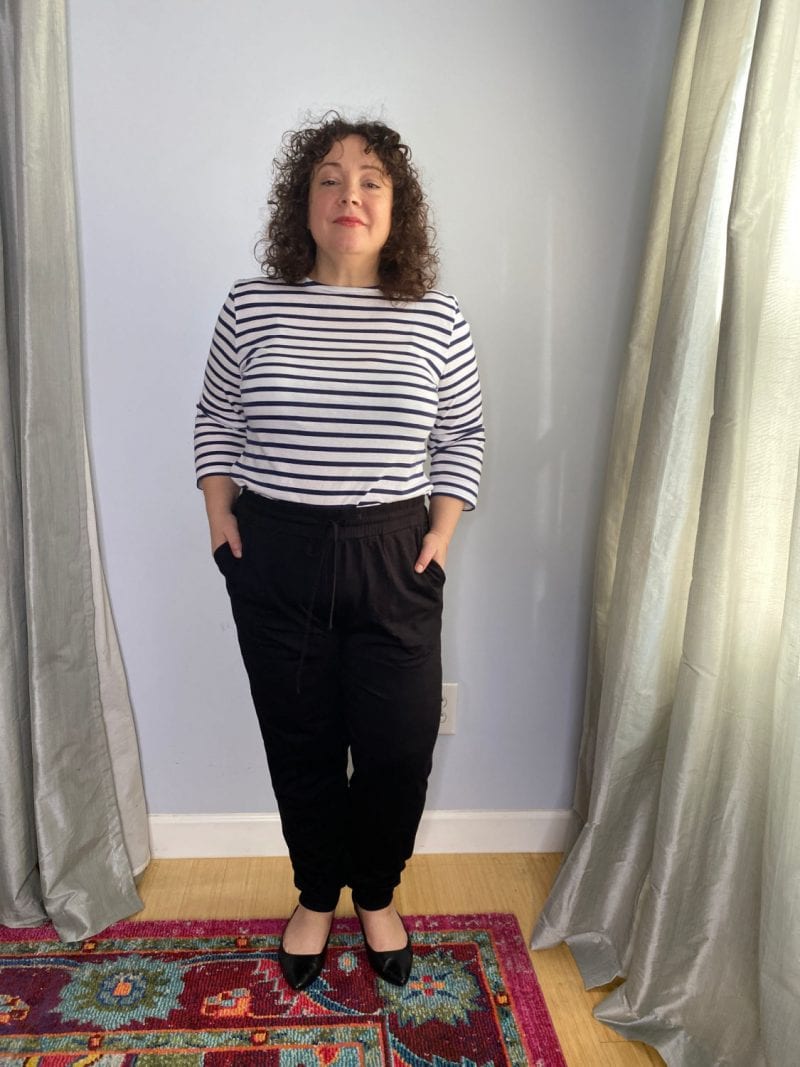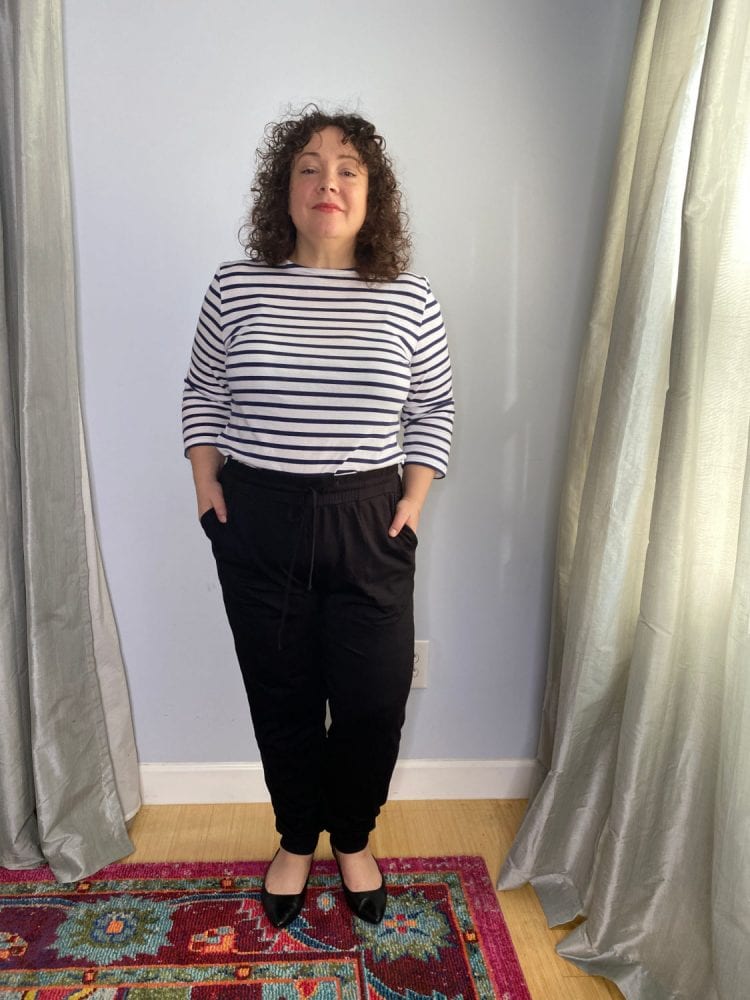 The Boden joggers come in three colors and sizes 0-14 and then 16/18 and 20/22. I ordered a pair in Black in size 14, my usual size in pants and jeans. Note the description says "stripey cuffs," the black version is solid, only the navy and gray marl versions have two bands of color at the bottom of the pants.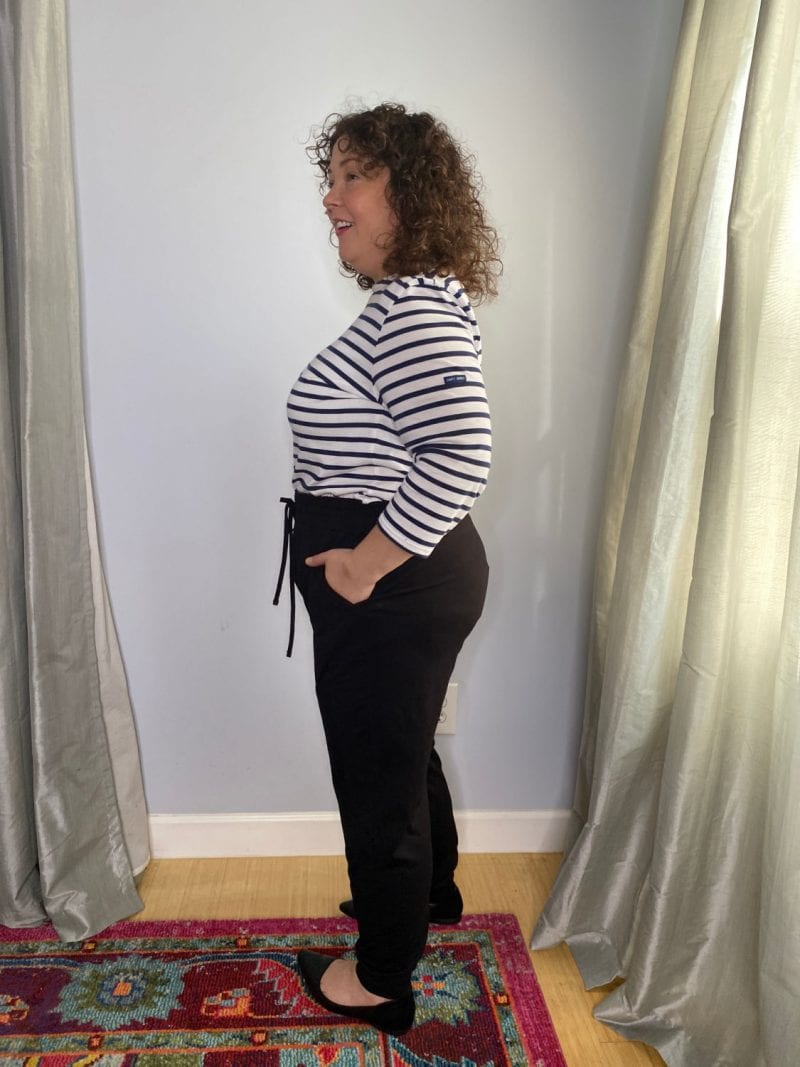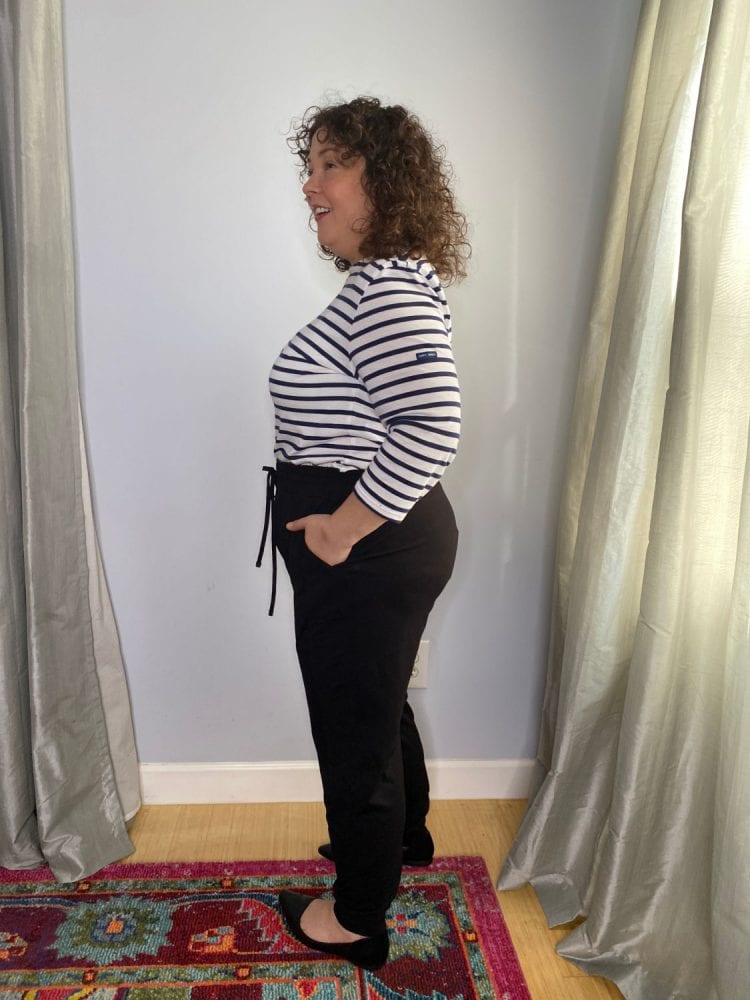 I get why many recommended these joggers. The fabric is a silky knit made from 49% cotton, 47% modal, and 4% elastane. It's a bit thinner than my favorite no-longer-available joggers, but still thick enough that I feel confident in them. However, these are not made for my 5'3″ self.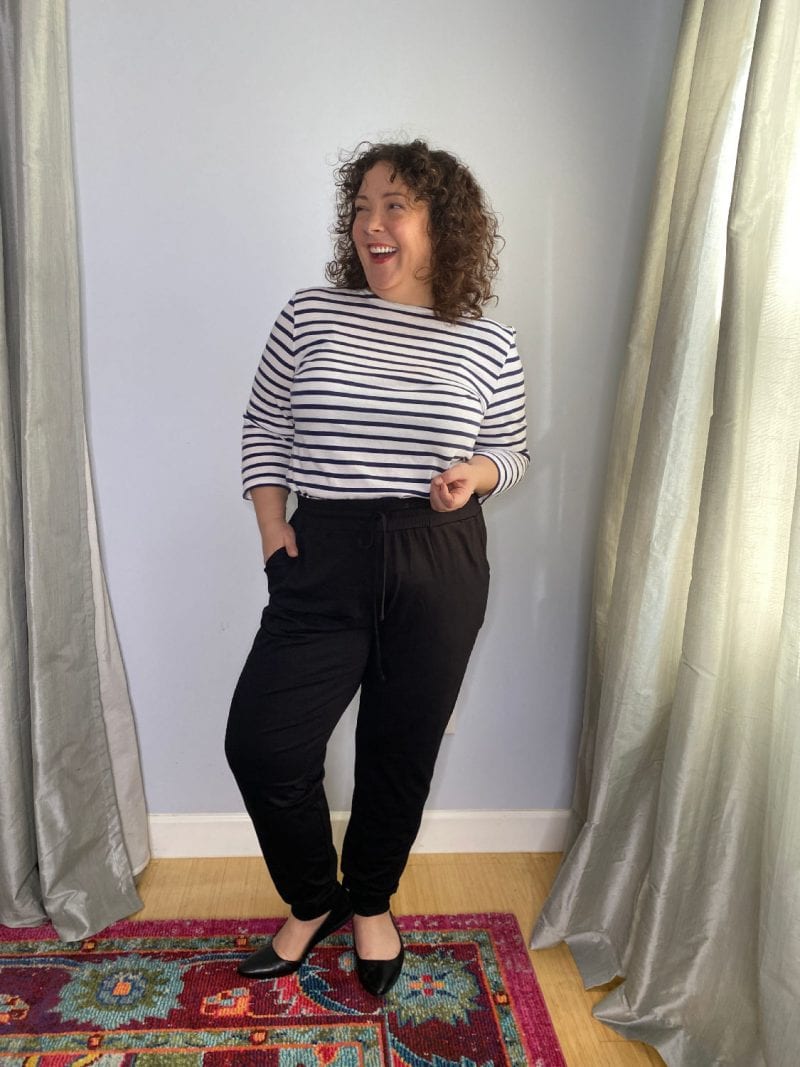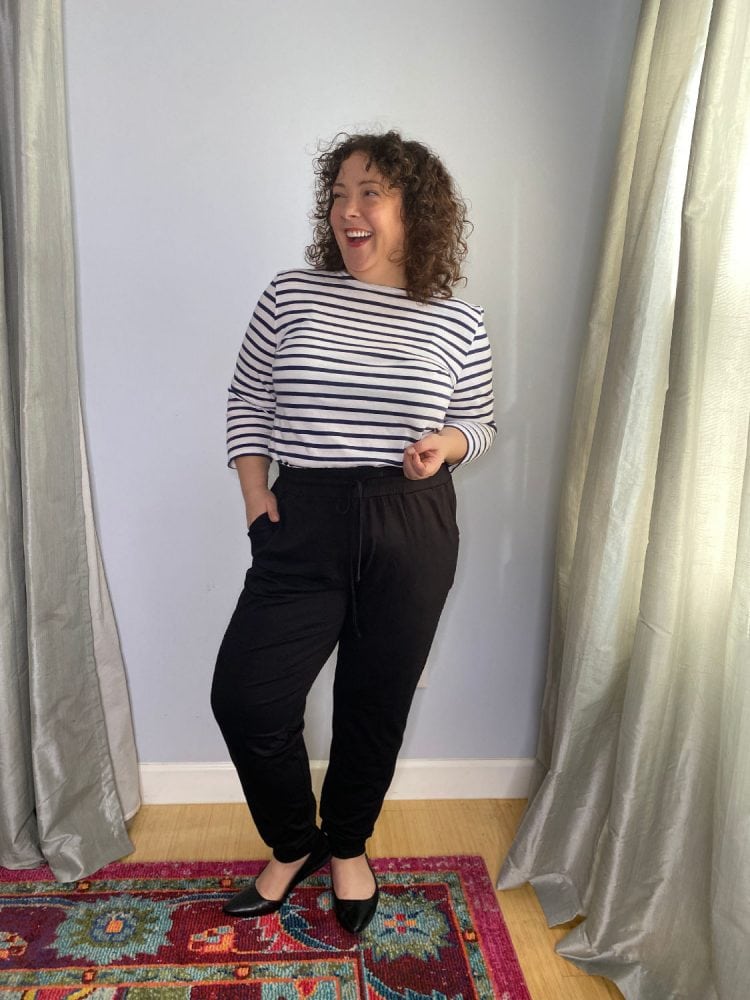 These joggers are far too long for me. Even the drawstring at the waist was so incredibly long I didn't even cinch it and the tails were hanging past my crotch. Reviews say these run large, I prefer a jogger that fits closer to a sweatpant than a legging so I liked the width, but the length in the rise, as well as inseam, was just too much. I think these would be better for a person 5'6″ or taller.
I love Universal Standard and have for years. Go through my closet at home or my Universal Standard archives at Wardrobe Oxygen and you're going to see a hella lot of Universal Standard. So when they came out with knit joggers I was all about trying them. Unfortunately, each time I went shopping for a pair, they were sold out in my size. Like, get a notification email that morning, head over when I get a break around 10 am to shop, and already sold out.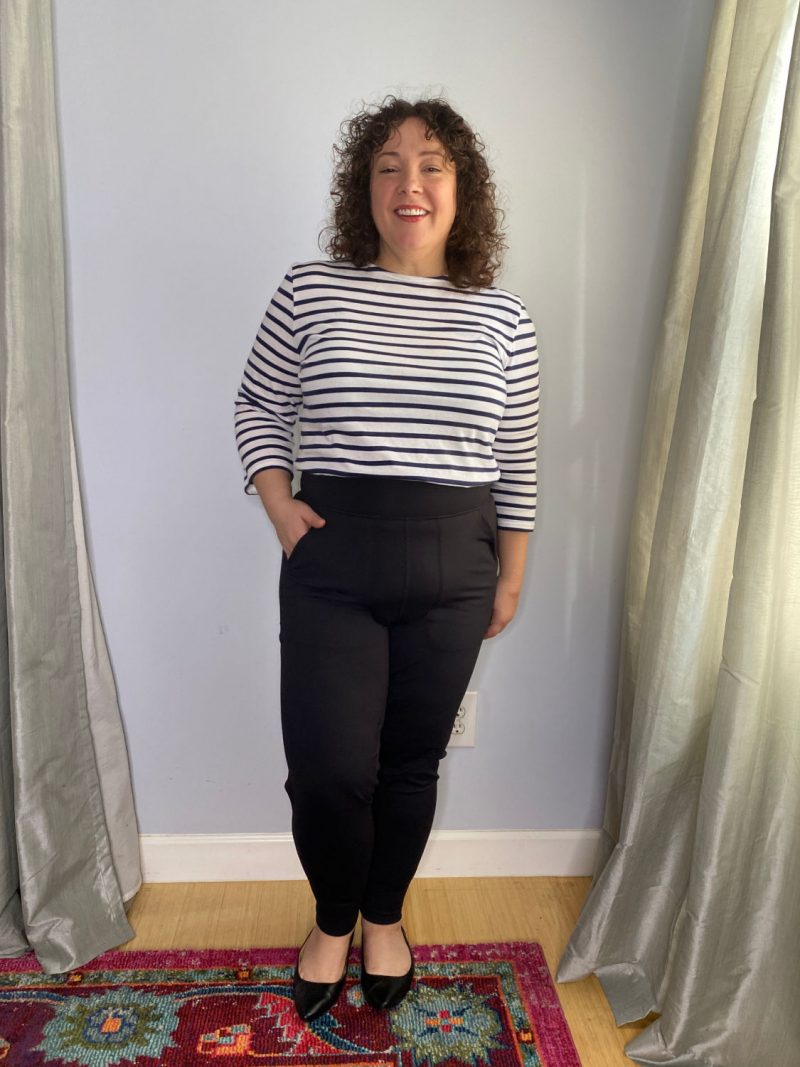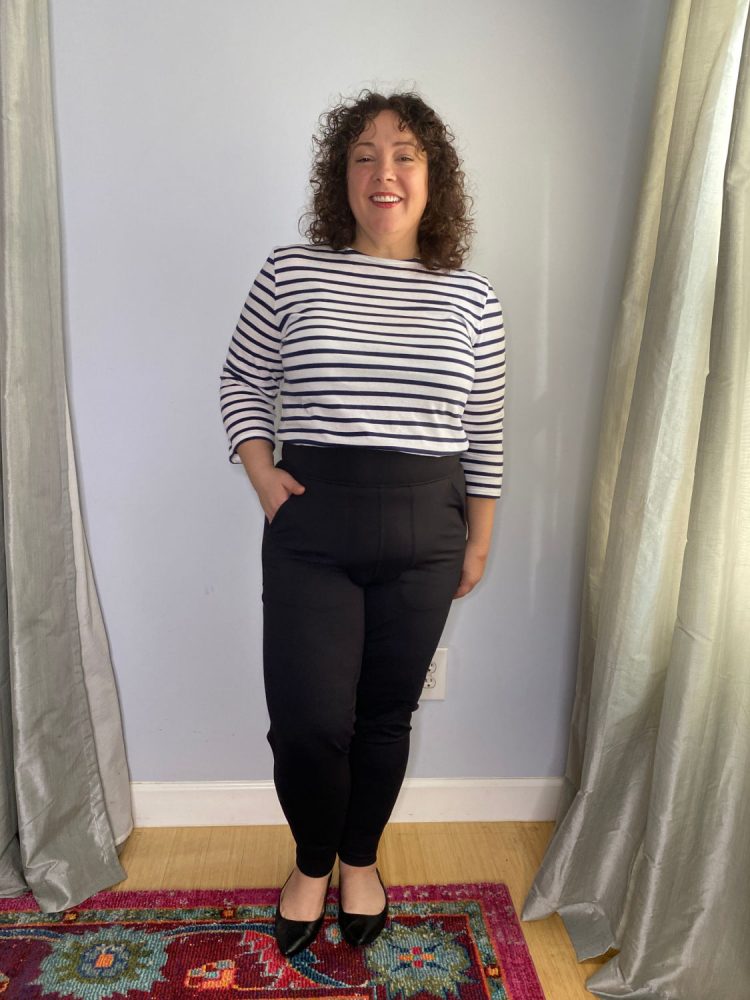 I finally scored a pair of Universal Standard Hathaway joggers. They weren't what I was looking for. Some said I should instead try the Universal Standard Cooper jogger so I ordered a pair.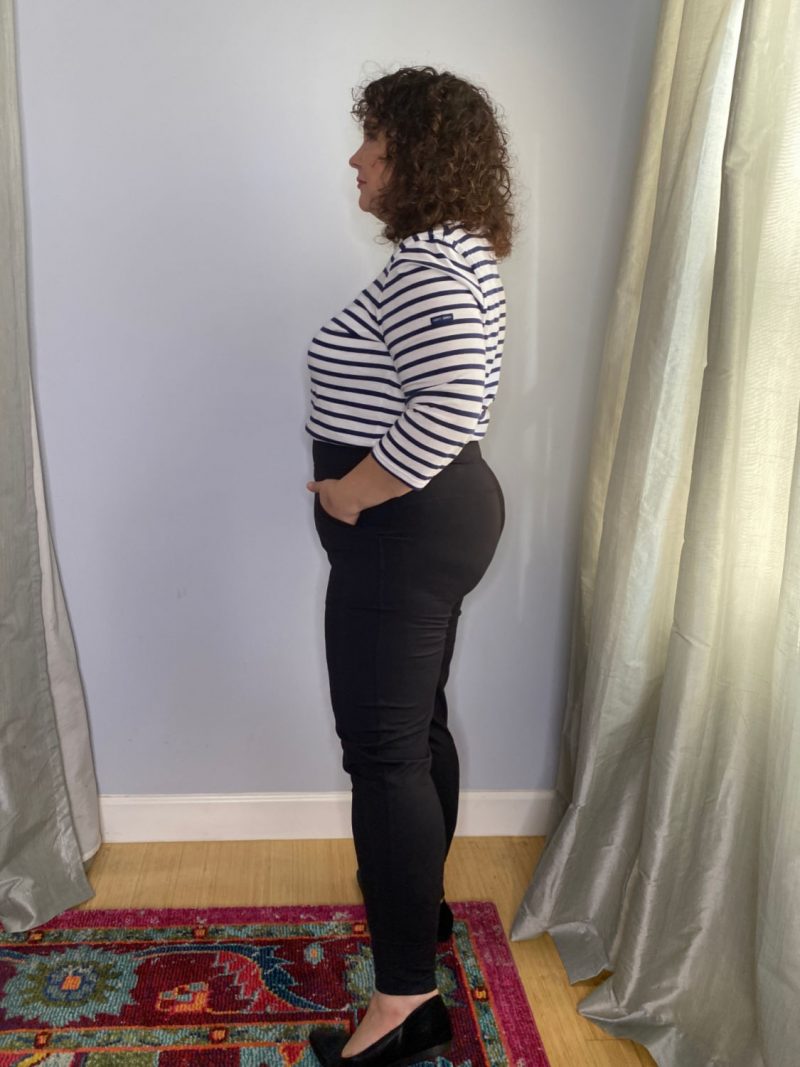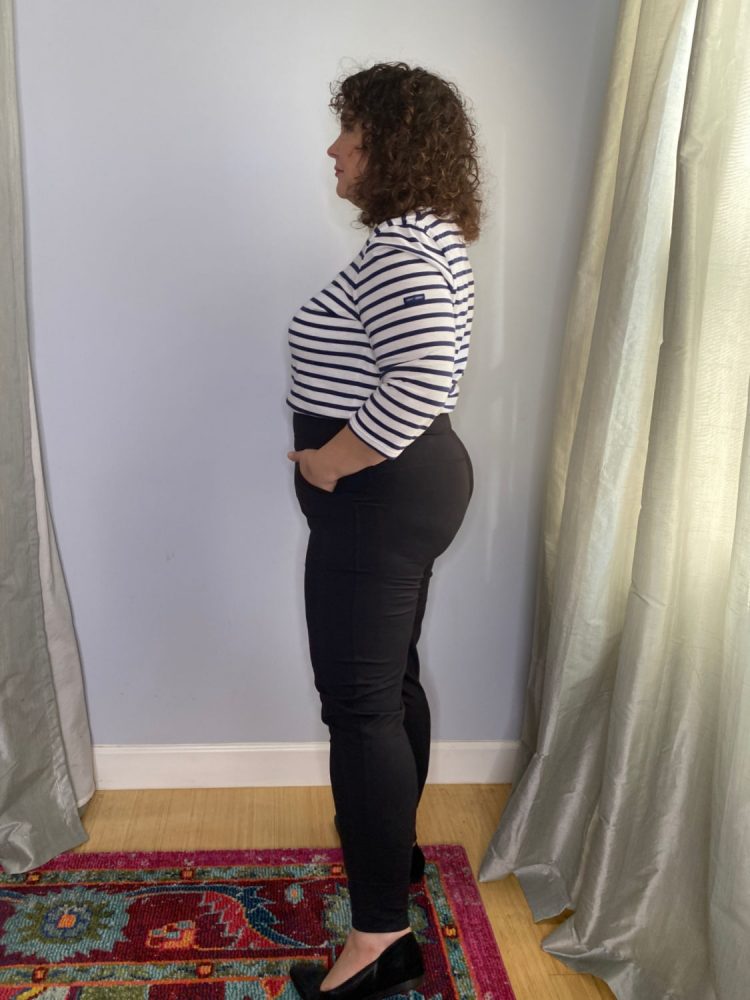 Okay, these are nice joggers too, but they are casual and athletic. The fabric is on the thinner side, it's a combination of buttery jersey and activewear, so they'd feel good lounging on the couch or doing a workout. I like these, but I don't need them; they are not a replacement for my couch to street joggers.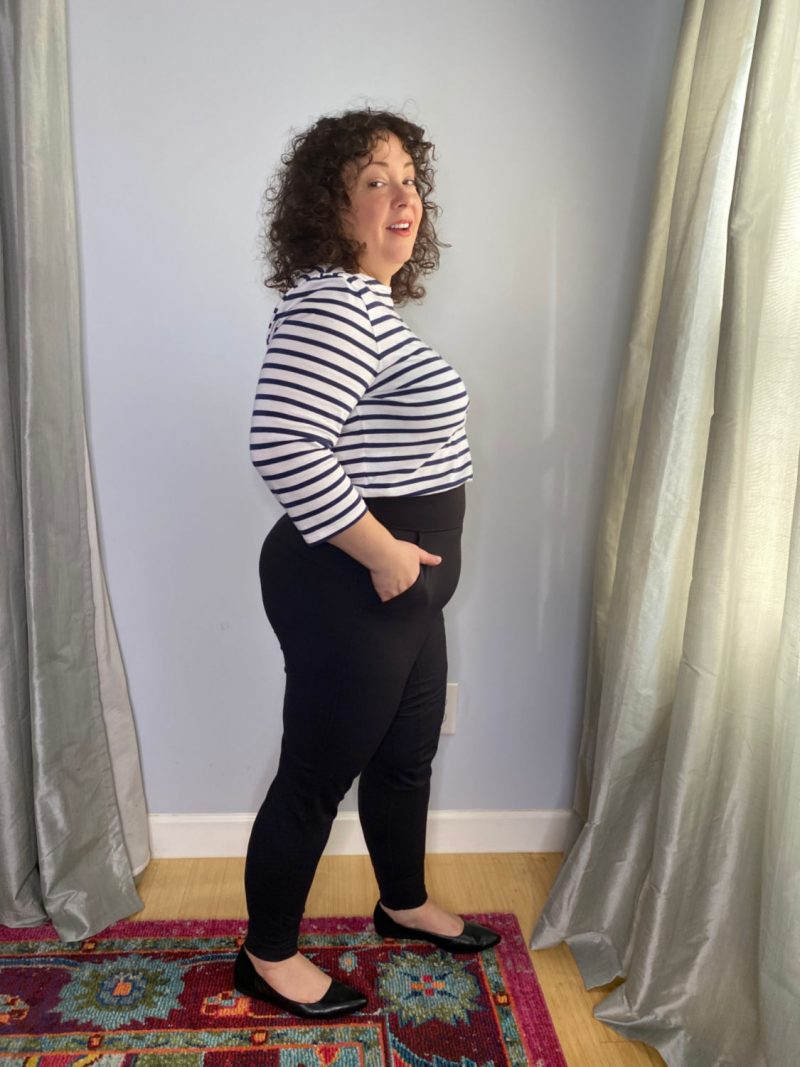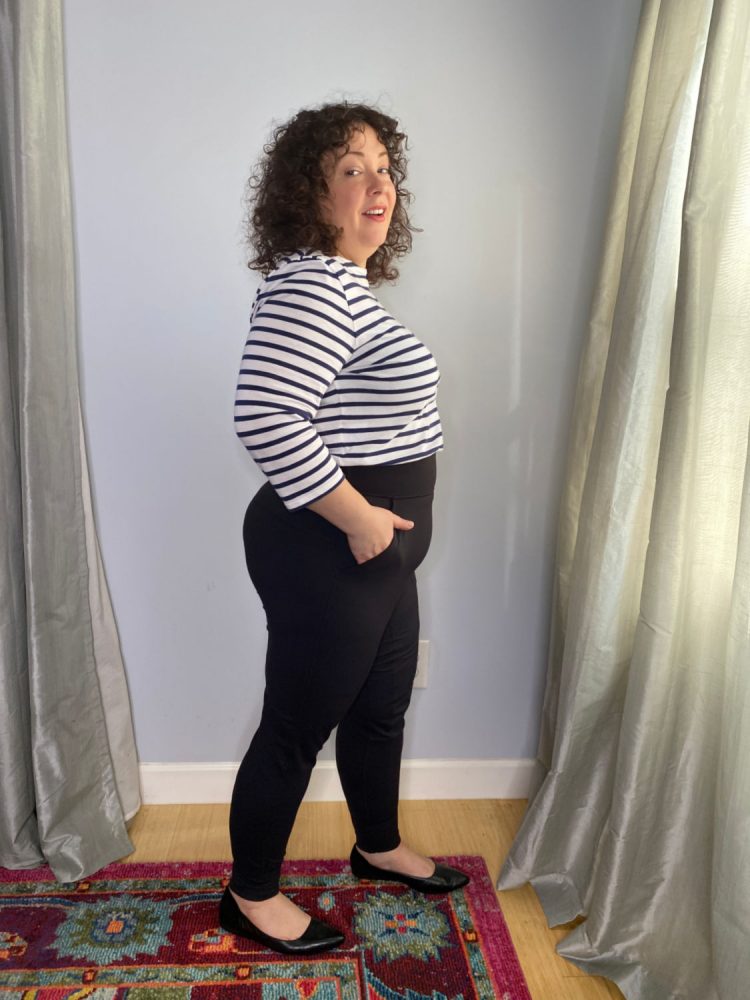 To be honest, I didn't check the size chart since I am 99% of the time an XS with Universal Standard; well these joggers are that 1% where I would have been better with an S. If I needed a pair of joggers like this, I would reorder them for sure, but would definitely size up.
The second half of 2020 was, if you are either in my industry or follow several Instagrammers, all about the Always Pan, Tula skincare, and Vuori joggers. The thing is, all the folks telling me to swipe up on these omigod so cute totally obsessed buttery must have don't want to take them off joggers was under a size 10 and under the age of 35.
While I was informed in these Instagram Stories and blog posts how Vuori joggers felt and how to style them, I was surprised to find out Vuori has sustainable and ethical business practices. Like, I did not know that until I ordered my own pair and perused the Vuori website, it's not even in their Instagram bio. If I had known, I likely would have ordered a pair sooner.
I don't think it's just me that finds it a selling point that Vuori has ethical manufacturing of their merchandise and that 50% of their current merchandise is made from sustainable materials and by 2022 they plan to have 80% of their collection sustainable. I don't get why it's not promoted more. Anyway, I went to order assuming I'd hate them, and by the time I clicked "buy" I was hoping I'd like them.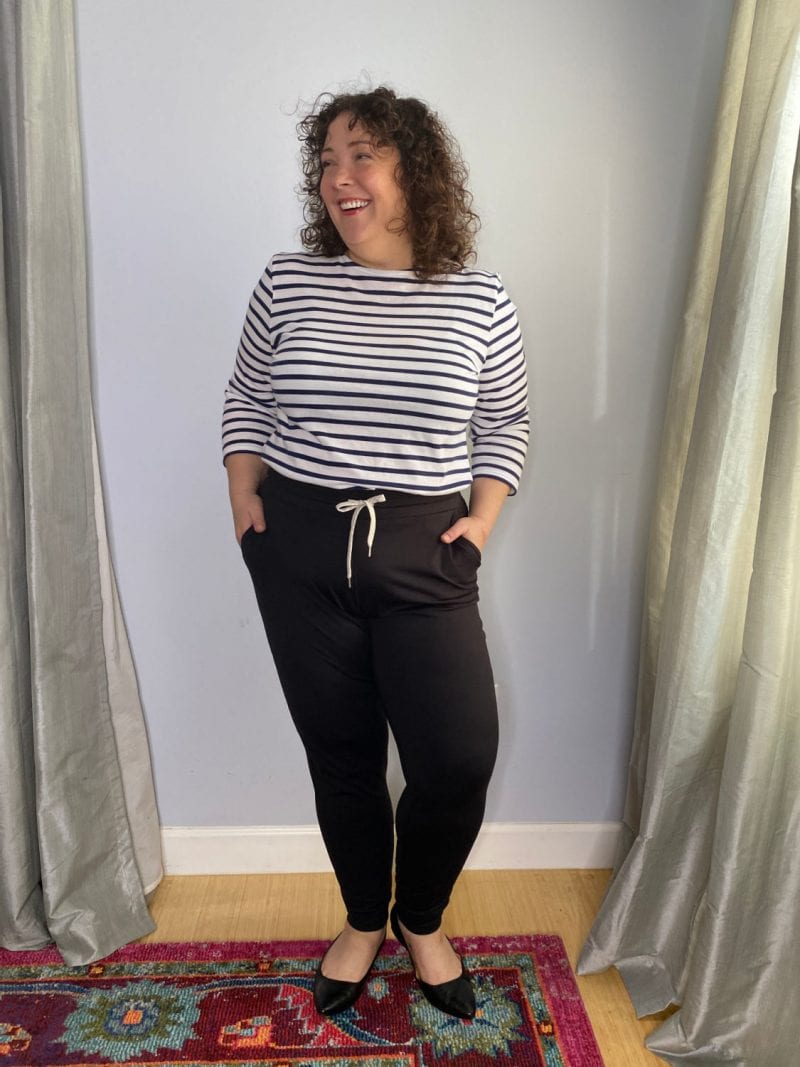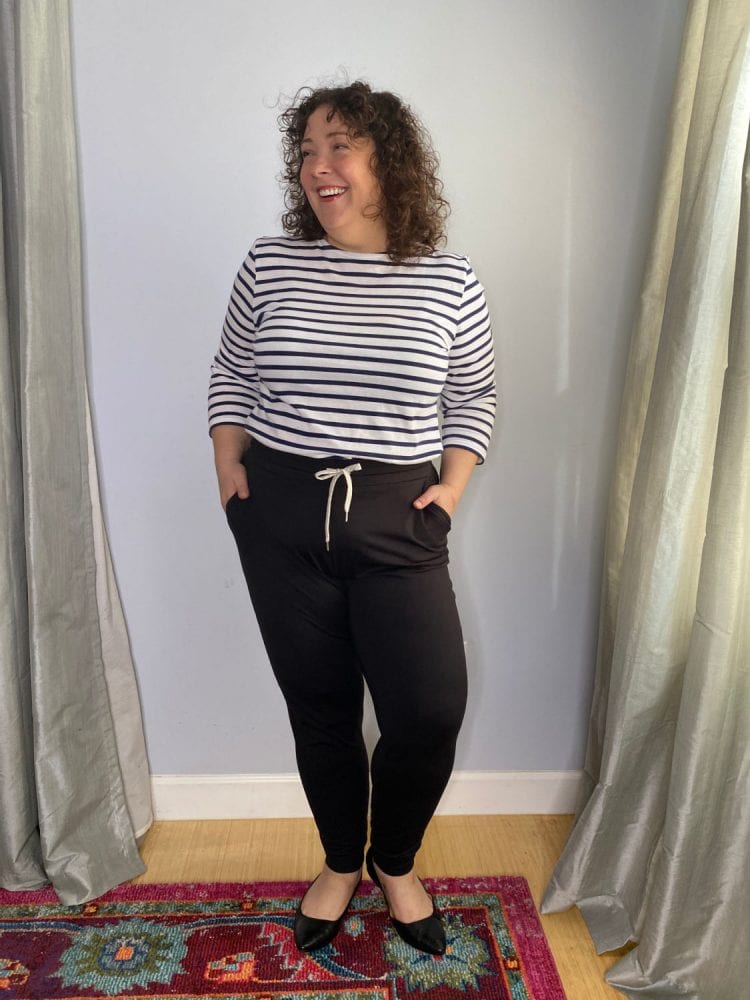 Nordstrom and other online department stores and boutiques that sell Vuori usually go up to XL, however, the Vuori website offers up to XXL which is an 18-20. Also, the Vuori site has the joggers in eight colors while elsewhere I only saw them available in four. I ordered a pair in black, size XL, thinking of those under-30 size 4 girls saying they fit TTS and thinking for my 46-year-old self, that meant they didn't have the vanity/mall sizing of many of the places I shop.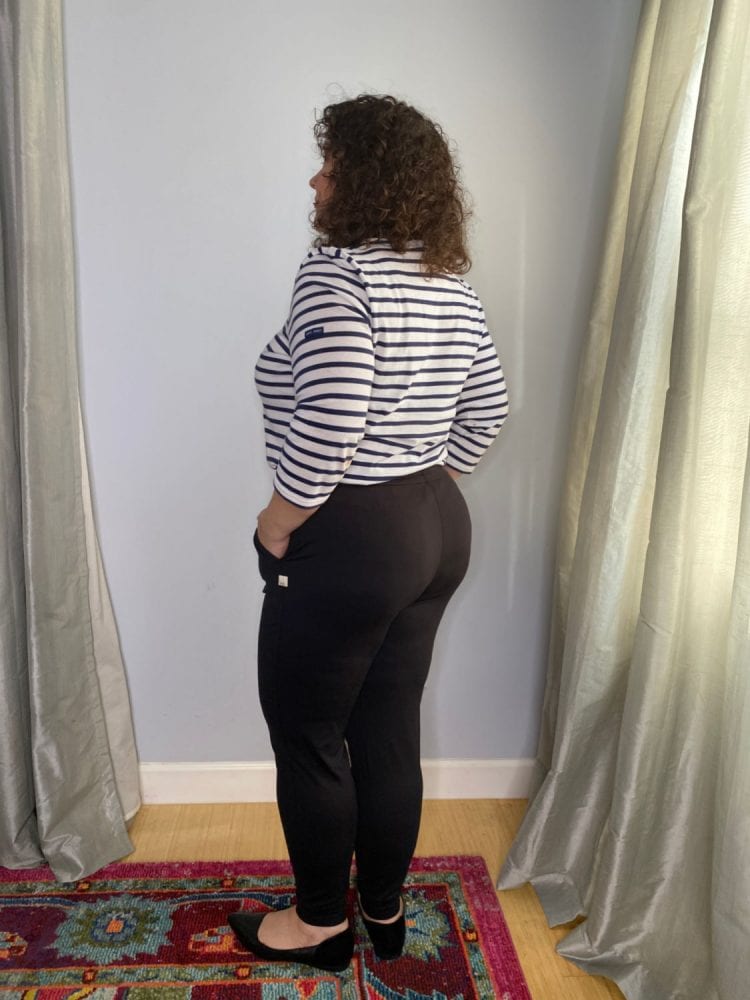 I get the hype over the fabric. Feeling these Vuori joggers, I can see why people resort to the term "buttery" for the fabric. This fabric is soft and stretchy but silky and a bit… spongey but not heavy. It's good.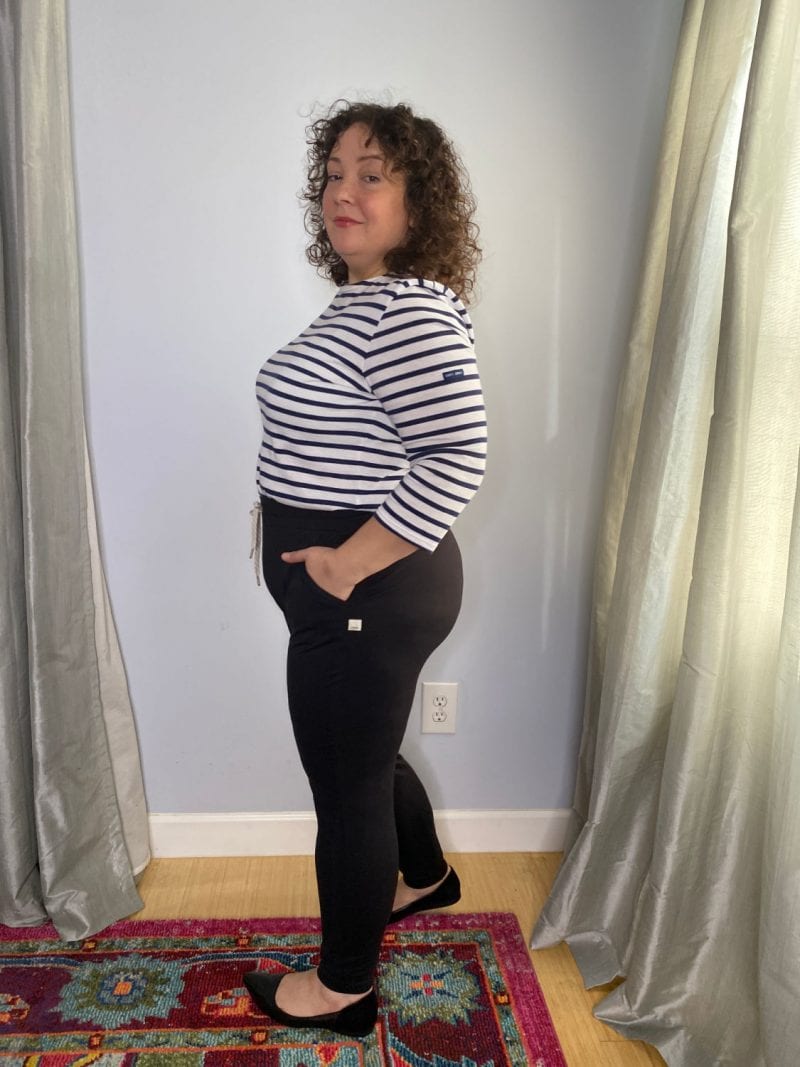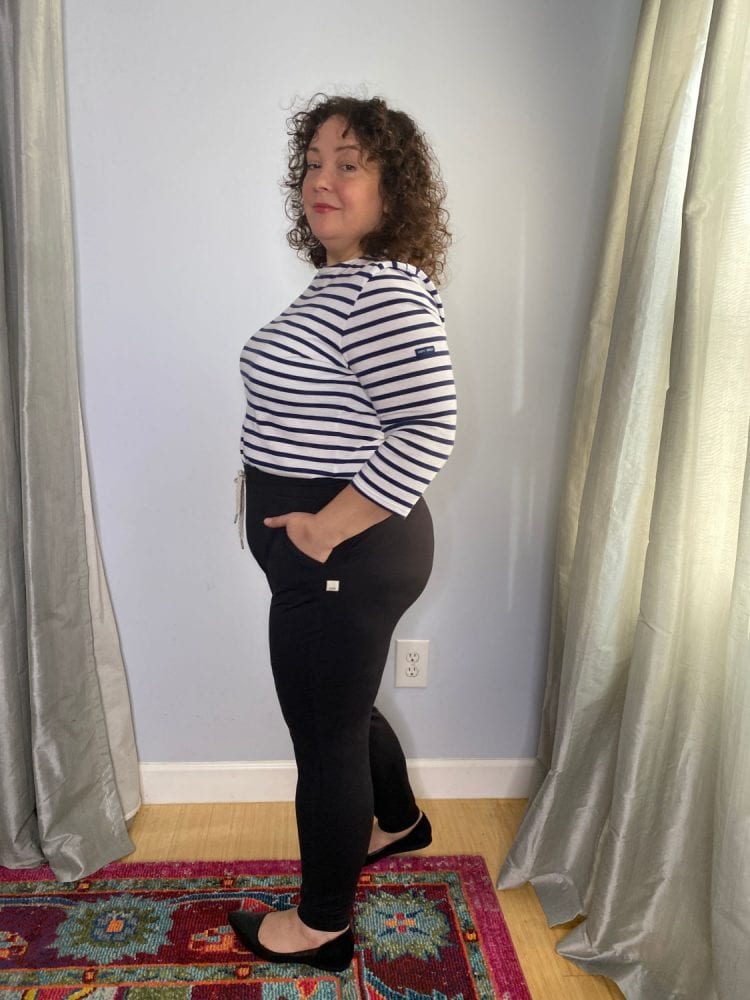 The thing is, these are really clingy and fitted on me and I don't think a larger size would fix this. These are joggers I would rock with a bralette and oversized cardigan if I was still the woman who rocked just a bralette with her oversized cardigan. These are not what I'd wear out of the house and are not what I need.
On top of this, the Vuori joggers have a contrast drawstring and a visible logo which are two other things I do not want in holy grail replacement pants. So yeah, these are a no for me, but that doesn't mean they aren't great joggers for the right person.
I am not built like a Kardashian. These pants are designed for those who are. The end.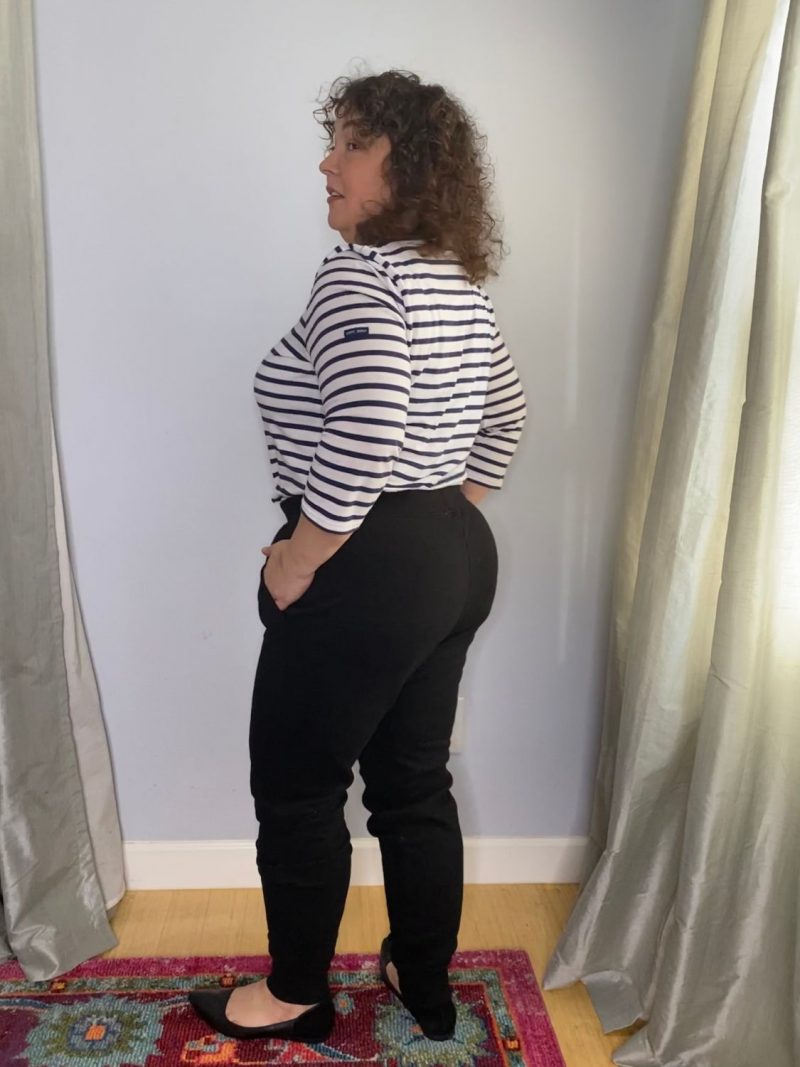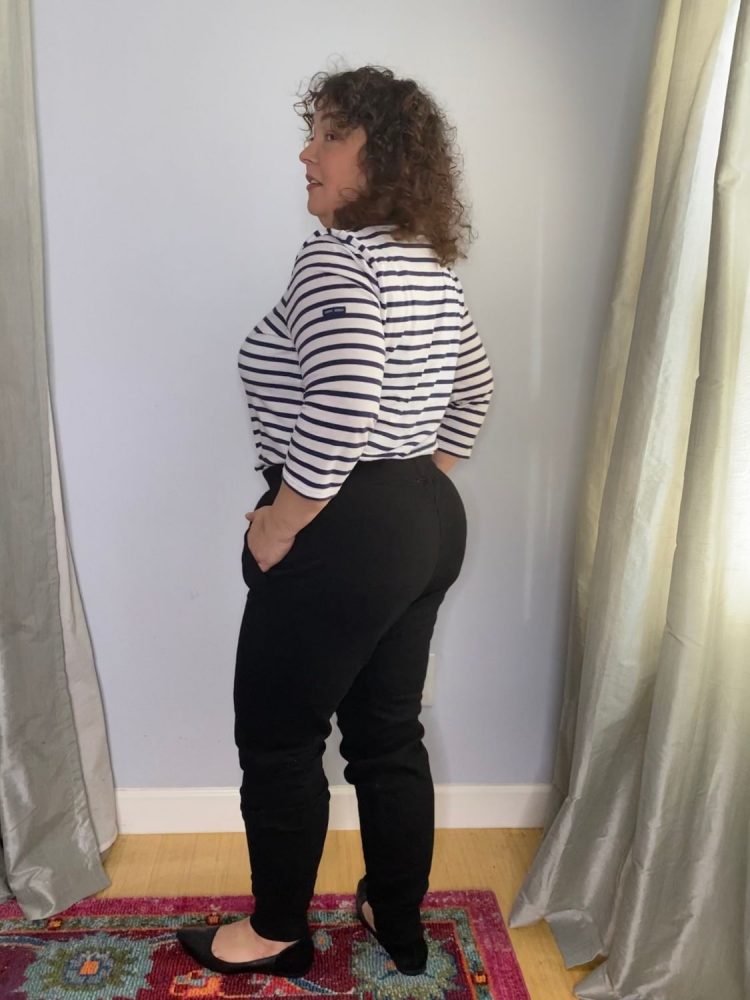 Okay, I'll write more. These joggers are both low-rise and long in the crotch. They are made of sweatpant material, but the sweatpant material that isn't very soft and stretchy so while they're designed for a Kardashian, they still slide down when you sit. They're also made for a person at least 2″ taller.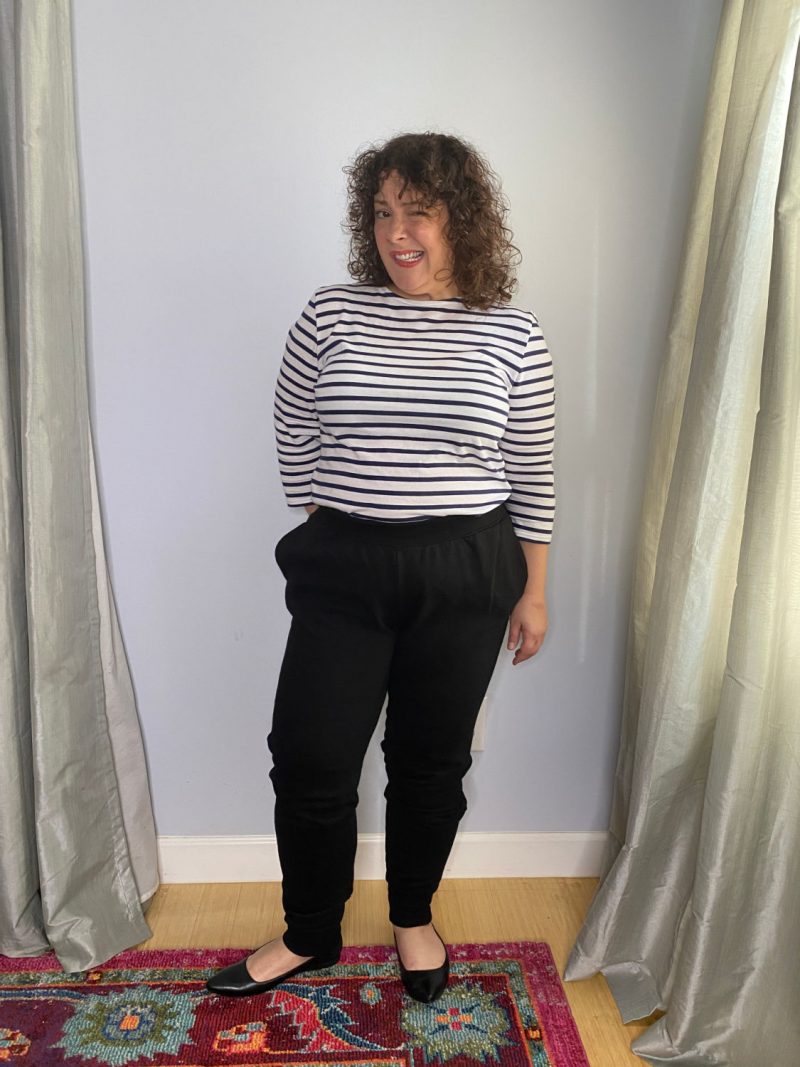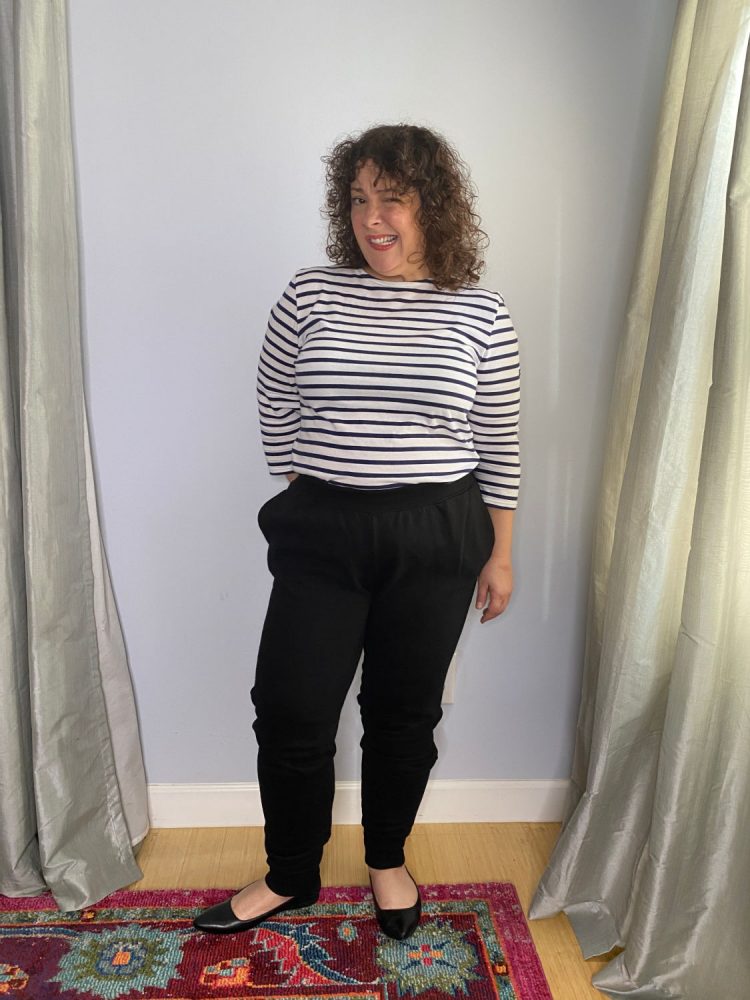 I am not ragging on these joggers just because they are a Kardashian brand. I have worn items from Good American before that I have found to fit amazingly well and be well crafted too (here I am in a Good American denim jumpsuit). These joggers are not good, especially not good for $75.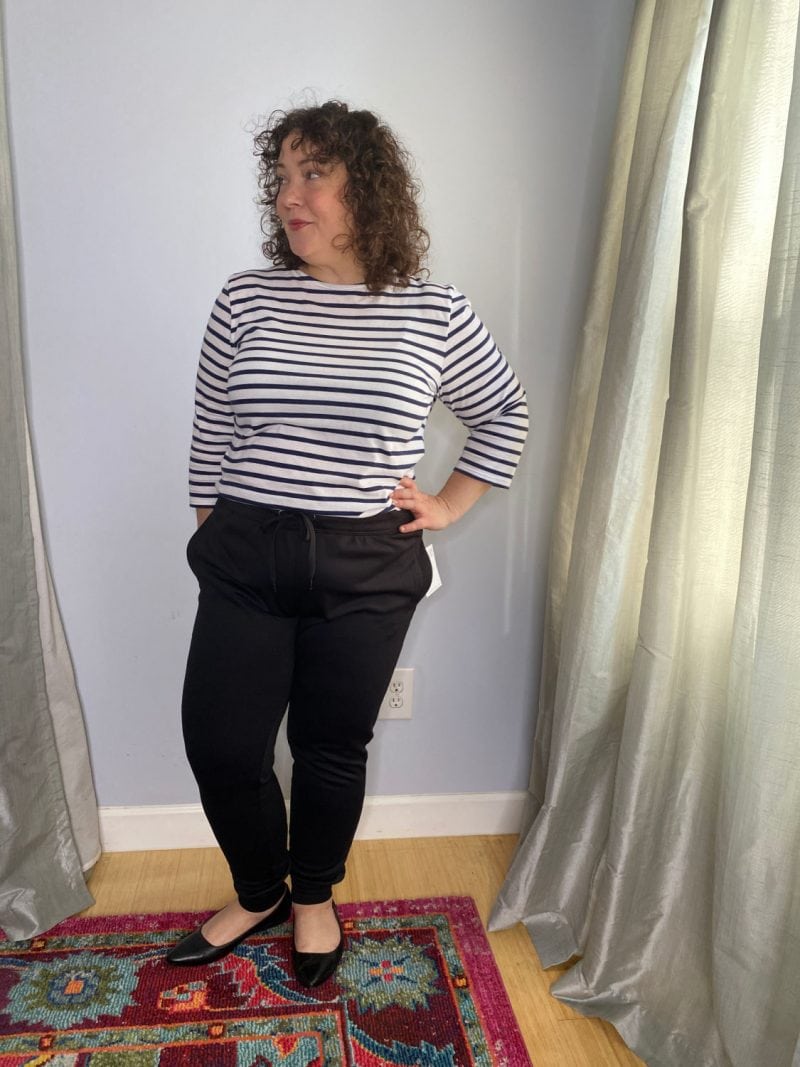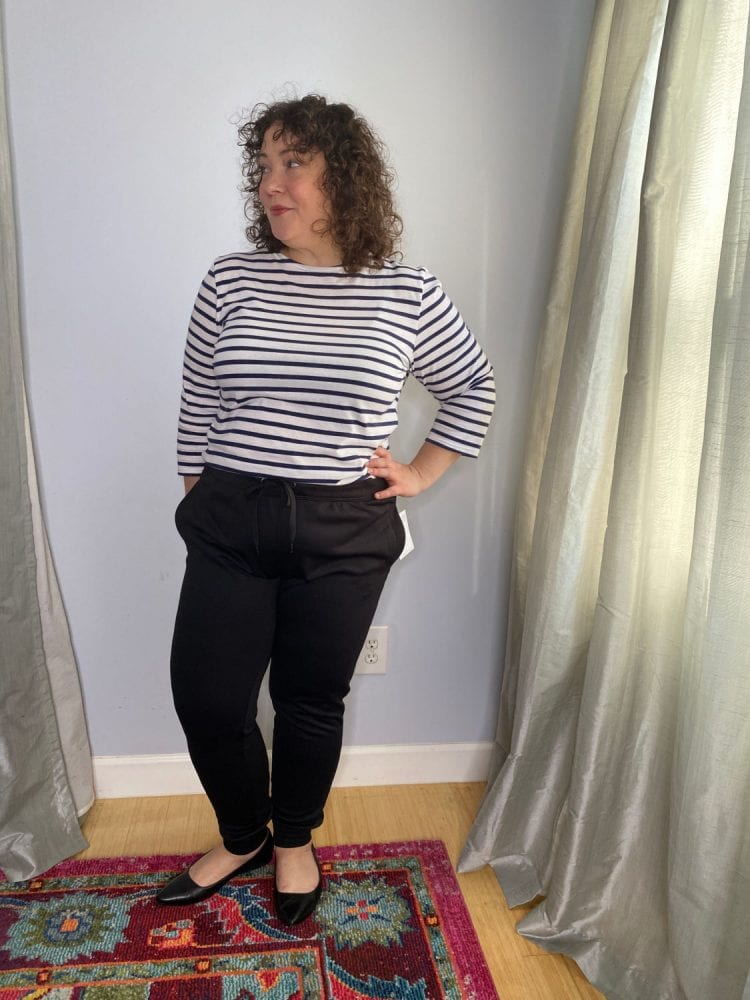 There are some categories of clothing where you can find quality at lower-priced brands. Knit staples like t-shirts and elastic-waist pants can often be found for much less and rival a department store brand for fabric quality and sometimes, you find good style too. These joggers from Hanes Sport looked promising.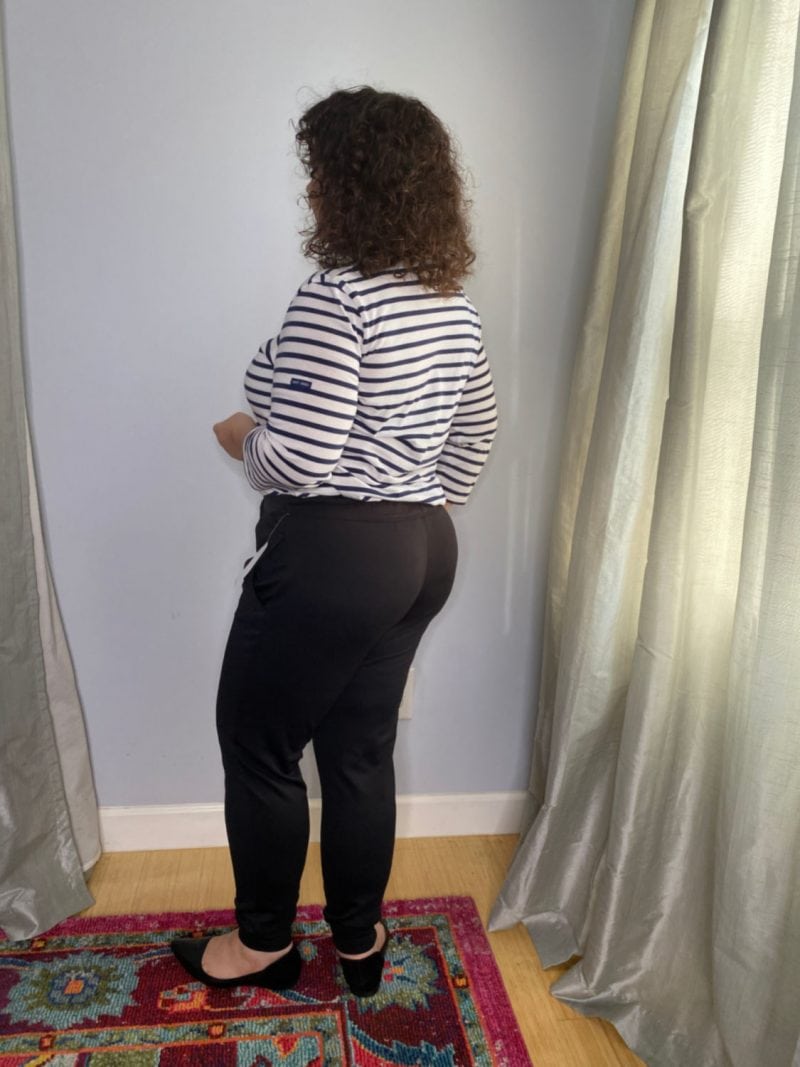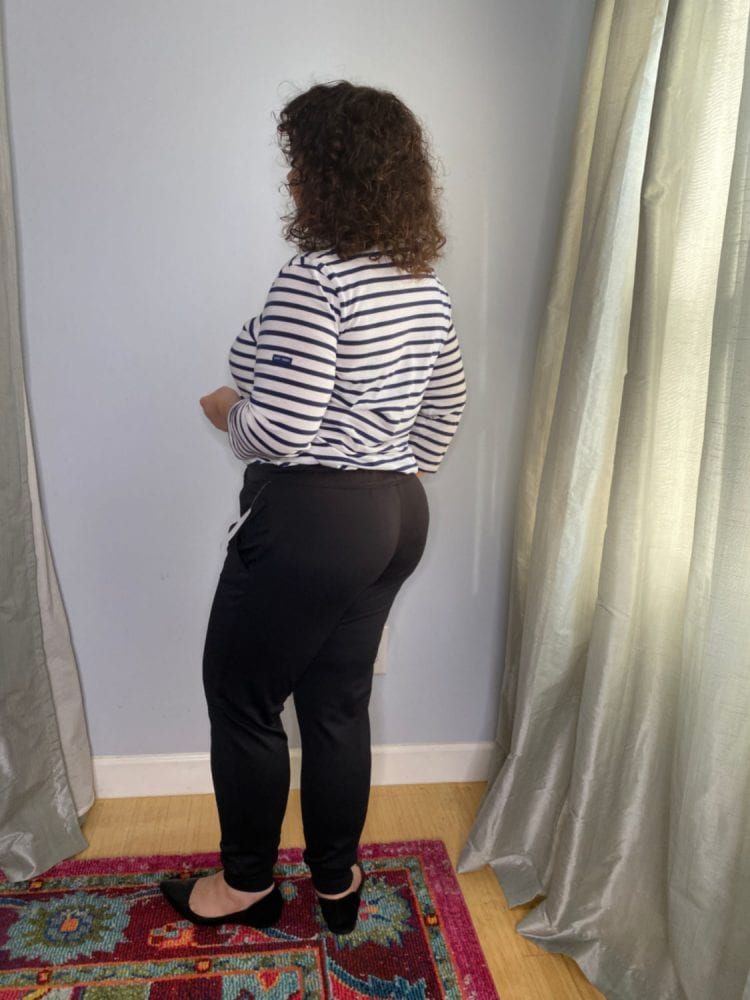 These joggers… these are also made for a Kardashian, but they are far better fabric and fit. They're made of thicker fabric, sort of like an activewear ponte knit which is cozy and also looks more refined. These pants are available up to XXL.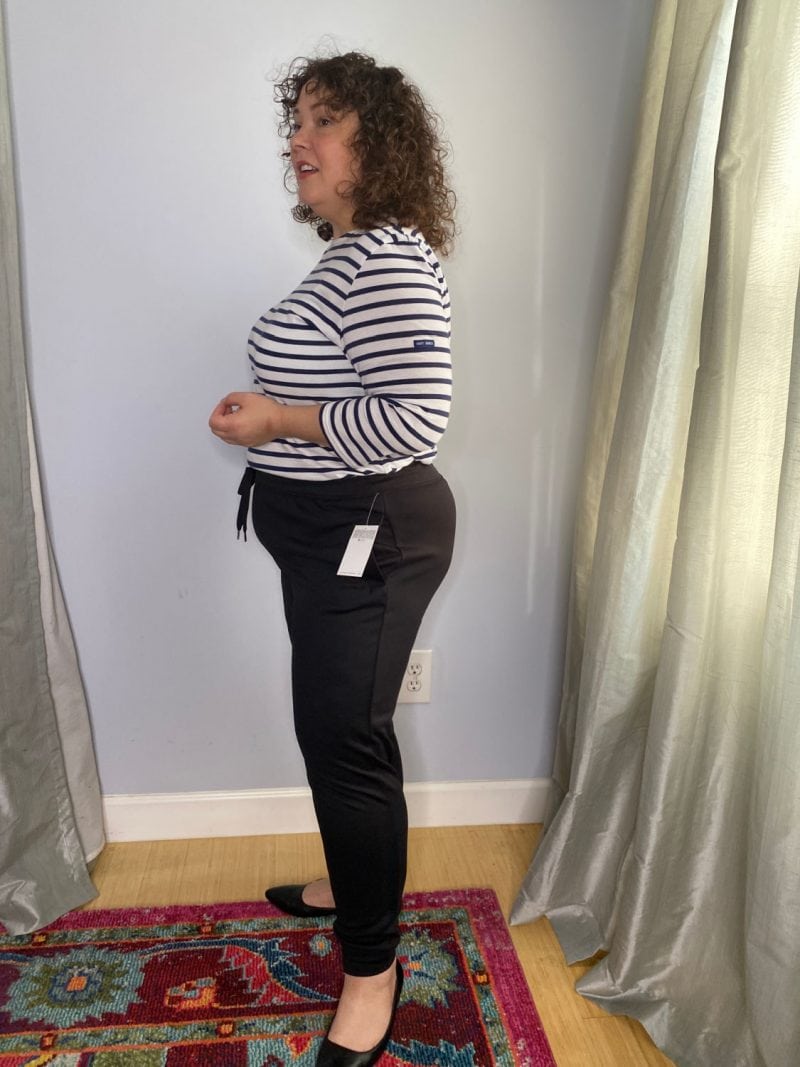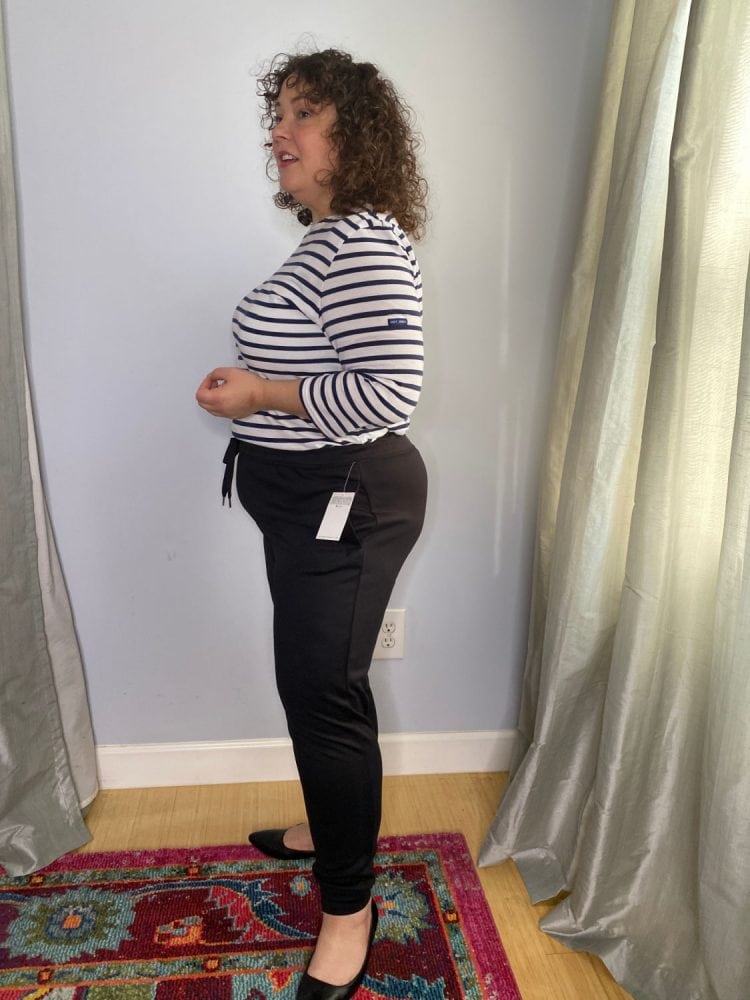 I ordered a Large in these joggers; I wonder if I went up a size I would found them to fit better. They didn't feel snug, but they also didn't look good on. I found these joggers low rise and made for a body that would better fill out the hips. If this is you, these may be worth a look; at the time of writing this, they were $16.92.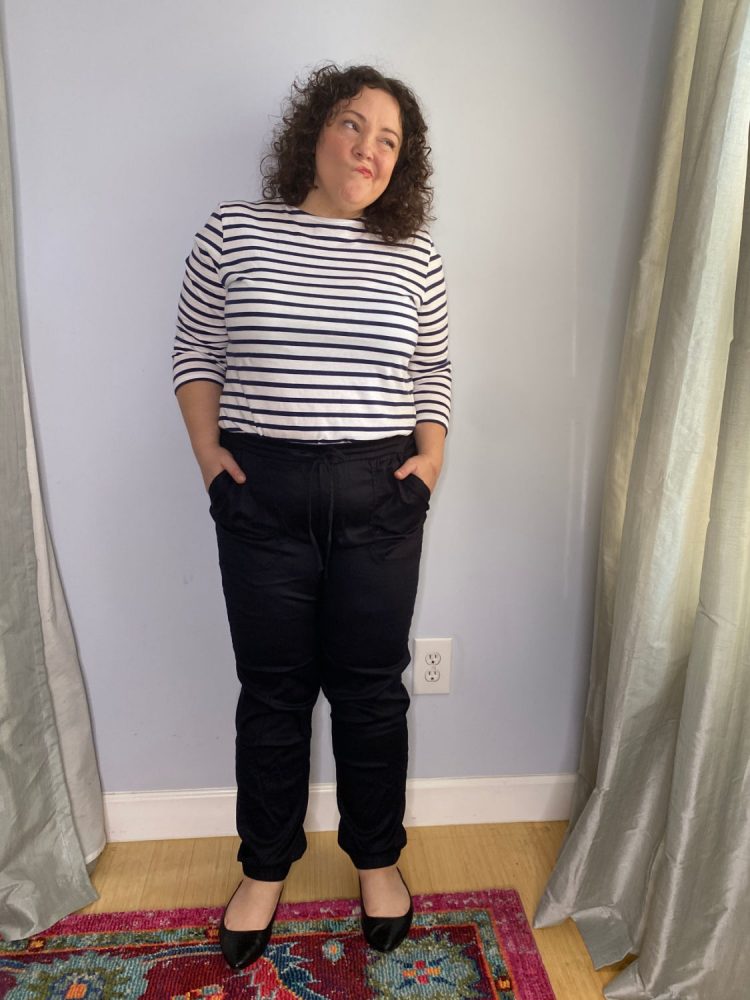 I used Amazon Prime Wardrobe to try out a few pairs of joggers but dang, it was hard to find pairs in black in my size that wasn't from some weird fly by night brand where I'd have to order either a 4X or an M to get it to fit me correctly. I've tried Daily Ritual in the past and found the sizing pretty consistent so I added these joggers to the order, even though they're not knit. These are available up to XXL; I ordered Large.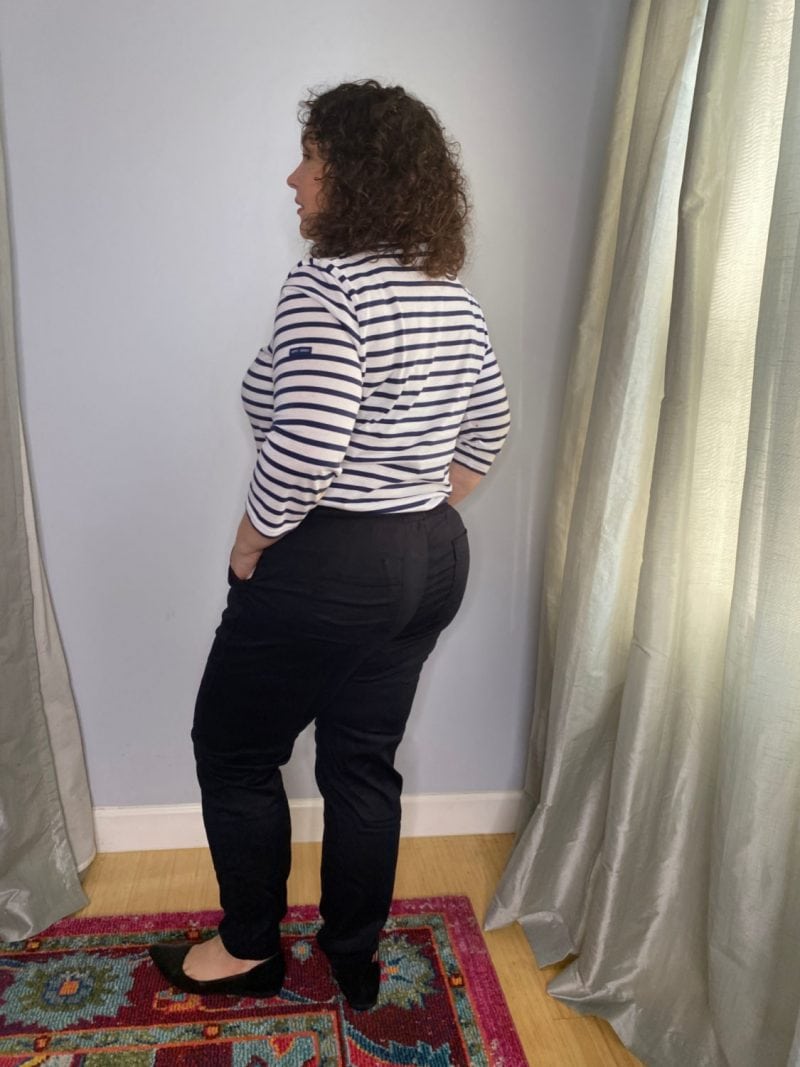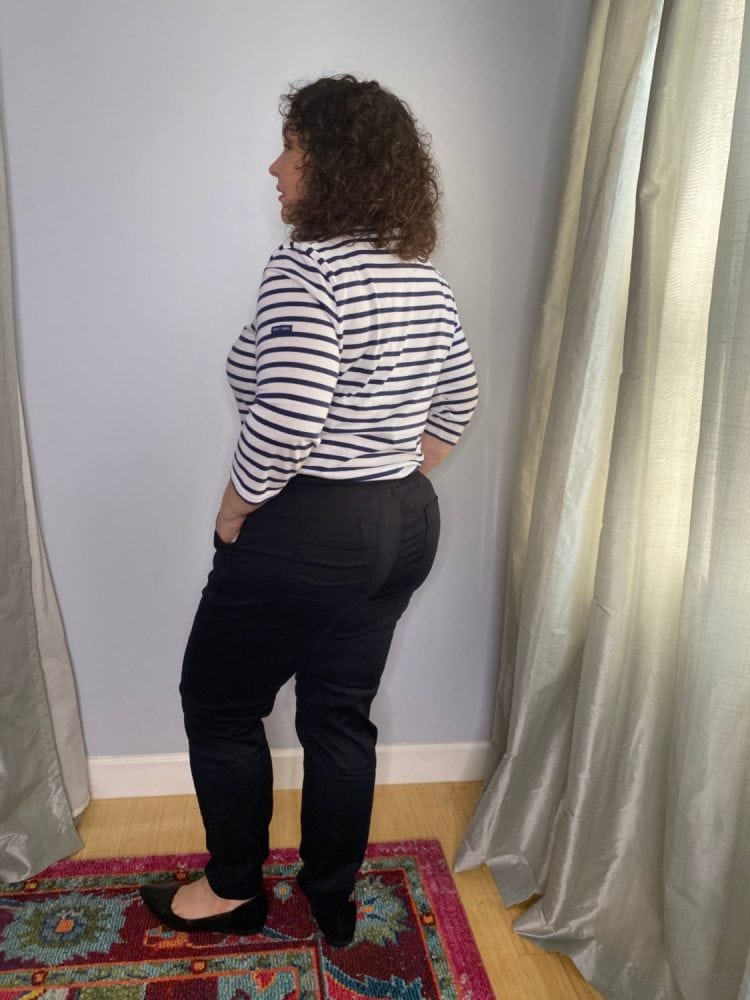 Have you ever gone to a music festival and you're feeling really good on whatever you consumed and between sets you wander into this retail tent and the temperature seems to drop 10 degrees? It smells like incense and there this really friendly chill person working the tent who smiles at you and you find these pants all by themselves in the middle of a rolling rack. You pick them up and hold them up to yourself as you stand in front of that tiny warbly mirror and you're envisioning them with a denim jacket and some Stan Smiths once you're back to Real Life and next thing you're handing over your credit card. And then you get home, three states away, and realize while the pants technically fit, they don't make you feel nearly as cute as you felt in that tent.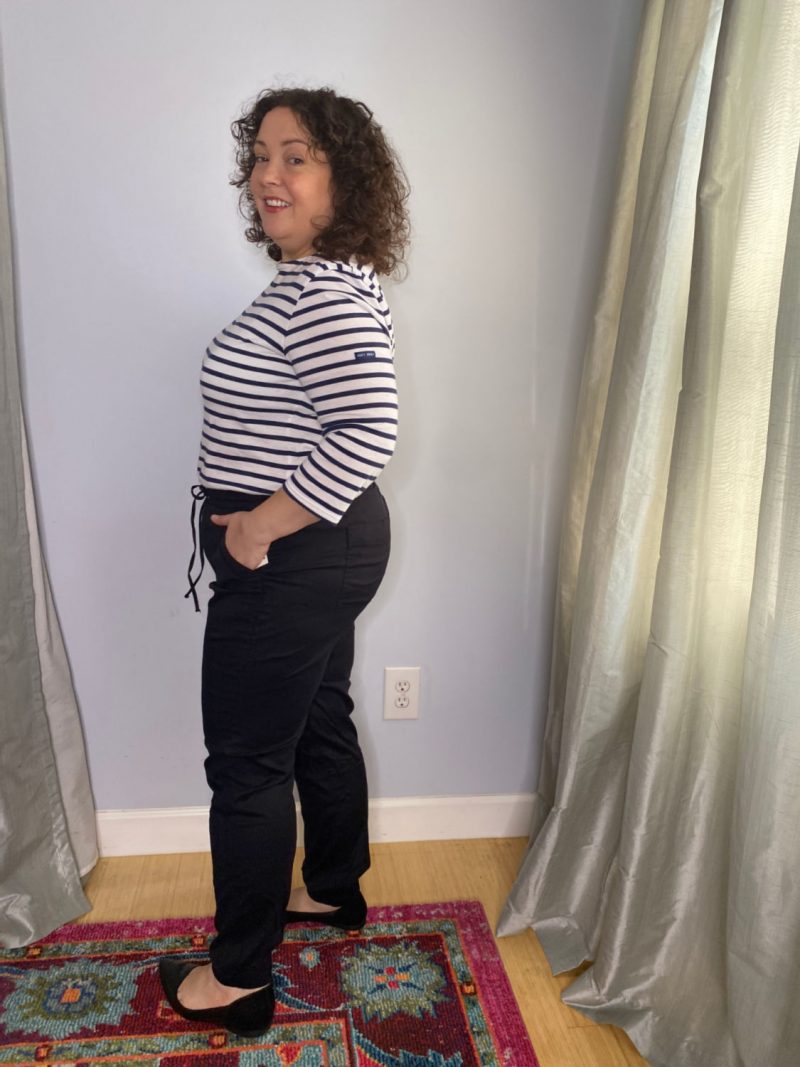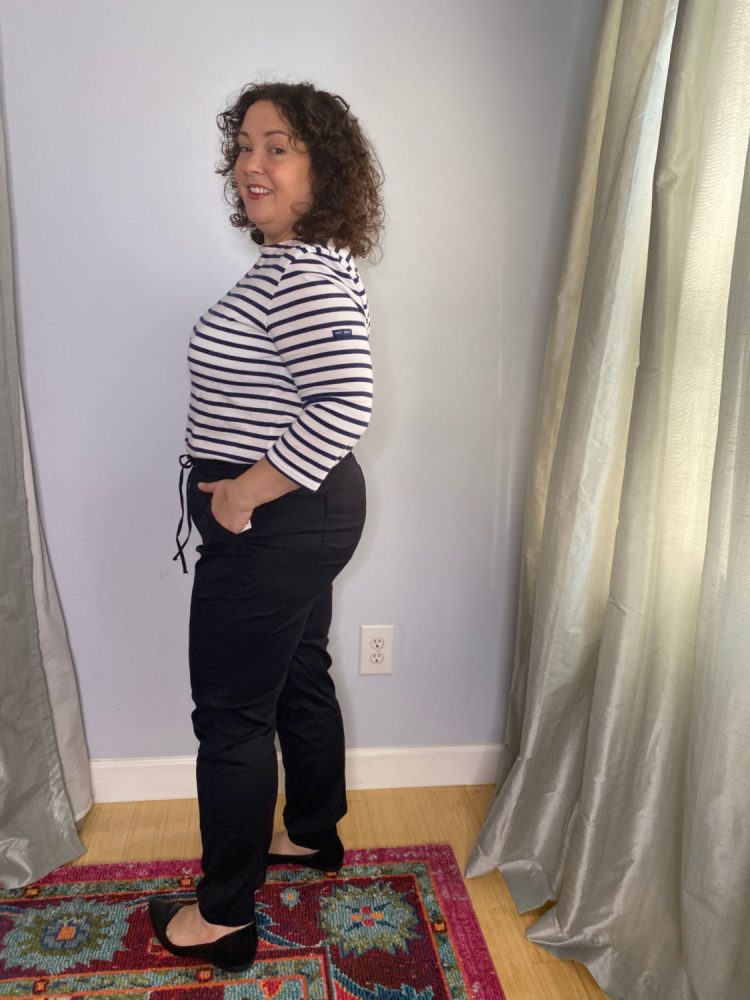 These are those pants, though replace the cool purple and teal print with threads of gold with plain black. So if you've bought such pants at a festival or a beachside boutique and actually do wear them with a denim jacket and Stan Smiths, these pants will look effortlessly cool on you. But for me… they're a no.
Another thing that has been all over 2020 in the influencer world is Amazon The Drop collections. It's an interesting concept: the influencer designs a capsule of pieces, they're sold on Amazon and the influencer gets a percentage of the sales while also getting a chance to create clothes for their audience or based on their personal style aesthetic.
Thing is, everything I have seen come from these The Drop collabs looks like fast fashion, or else the kind of fashion that does not fit my grown-ass life. But one of y'all DMed me on Instagram with a link to these pants and said they're awesome so I took a chance.
The Drop has pieces designed by influencers, but also staples they mix in. I think these joggers are one of those staples. These joggers are available up to size 3XL in 11 different colors and retail for $39.90. I ordered size Large, expecting them to be fast fashion crap.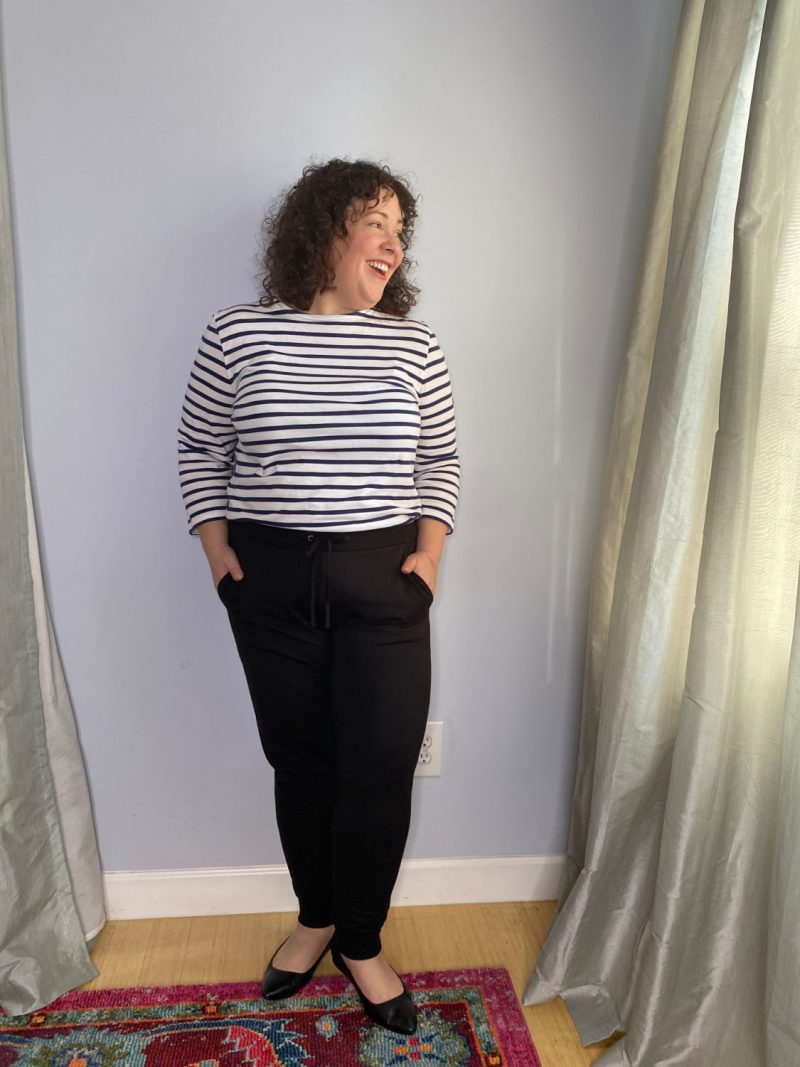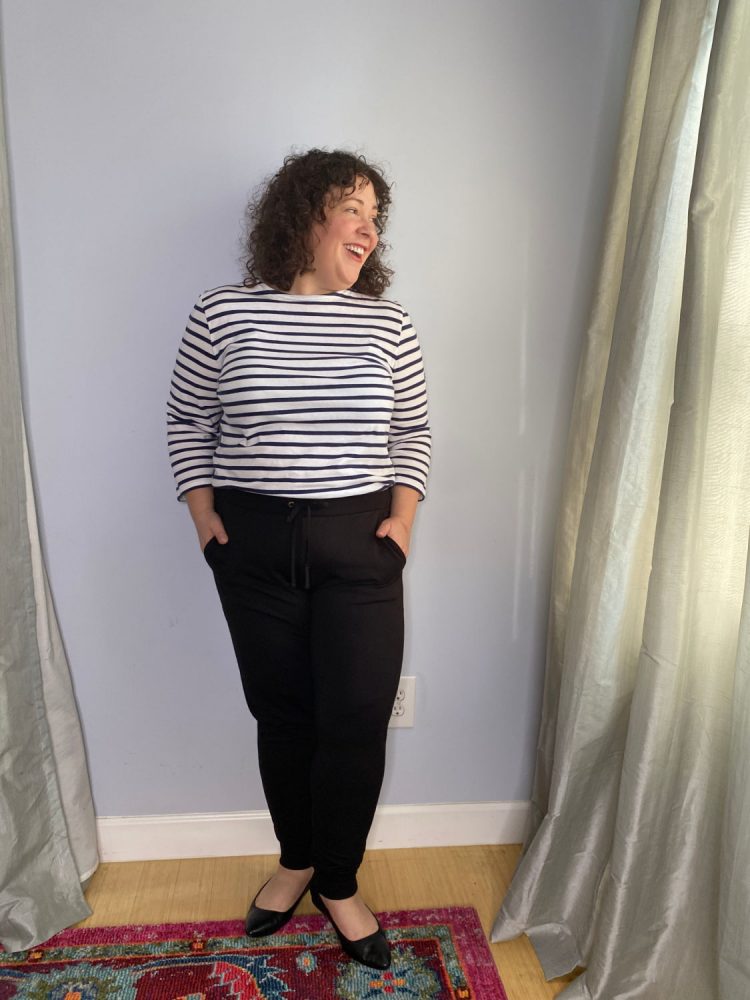 I really like these joggers. They aren't quite as thick as my holy grail joggers, the fabric not as refined with a silky, tightly woven finish, but they're not bad. I think if my holy grail discontinued cabi was an A, the Boden pair I reviewed above would be an A- and these pants would be B+.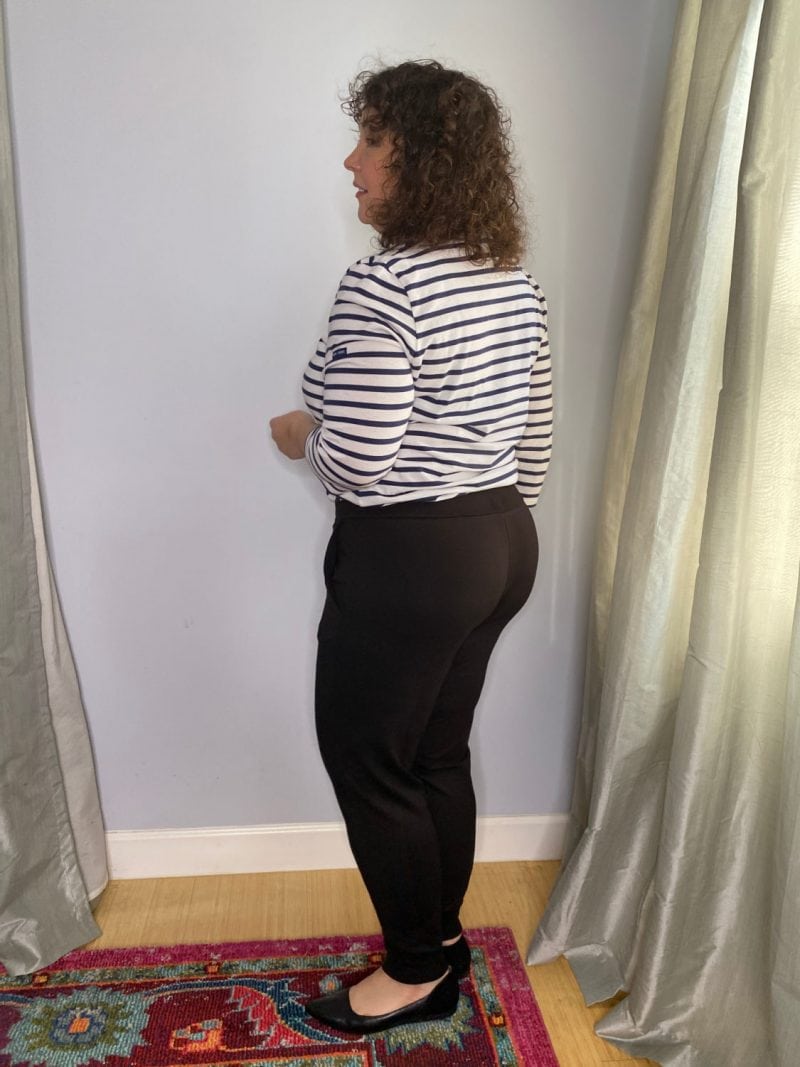 The pockets are a bit low on the sides for my short self, but nothing too extreme and I think that helps prevent them from bowing out. I don't love a drawstring, but at least the drawstring on these joggers is black and there isn't any metal hardware.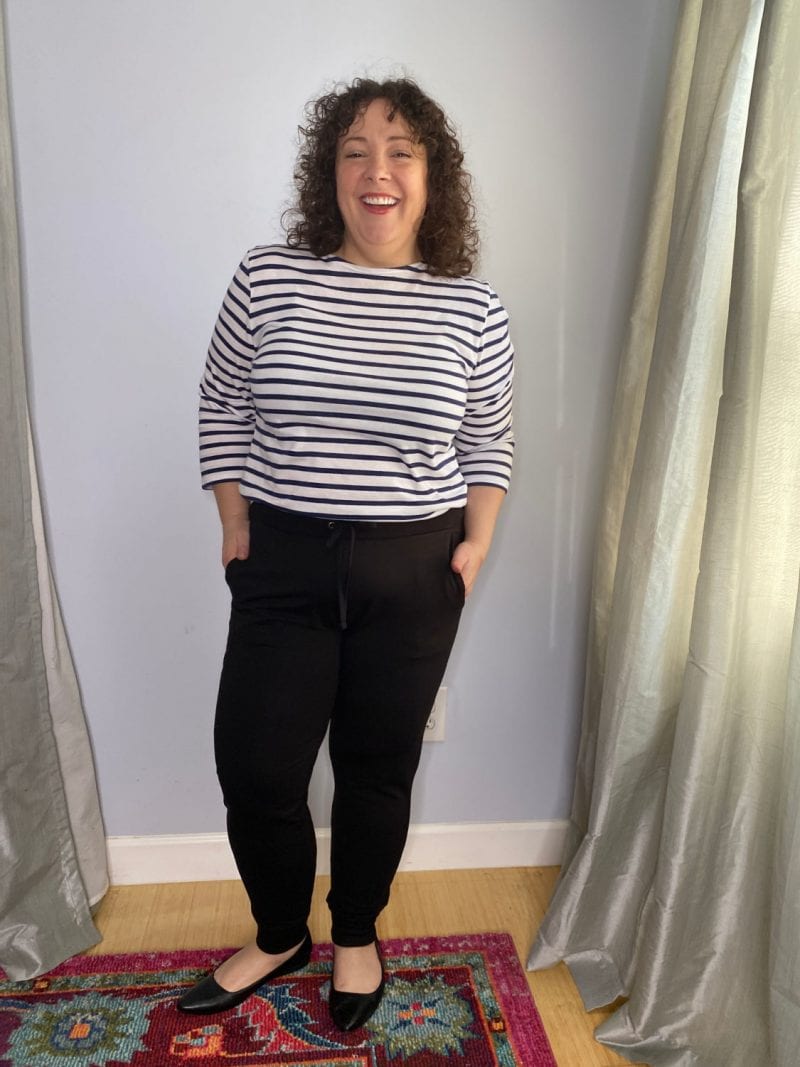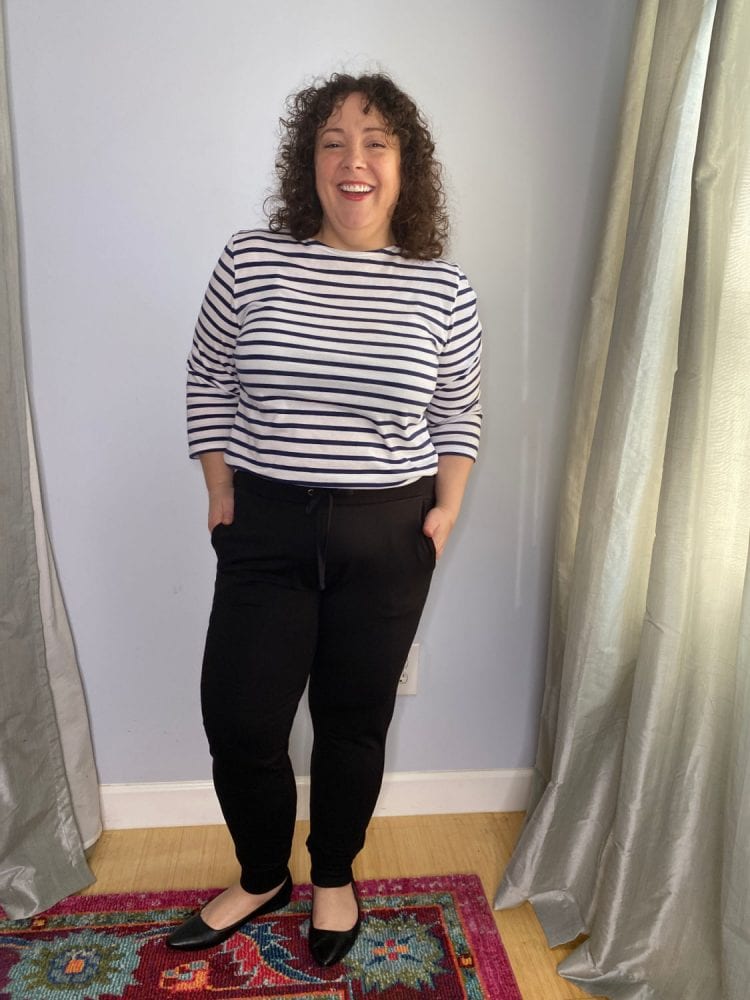 These are the only joggers I kept. I haven't washed them yet, and will share how they did once I have. I will be styling these in the future so you can see more pictures outside with good lighting to see why these stood out from the rest.
In Summary…
One pair of the joggers worked, but other pairs are en route. So stay tuned for tips on how to style joggers beyond your college sweatshirt and fuzzy socks as well as additional reviews and whether they're better than these joggers from The Drop. And if you have a suggestion of where to get extended-size joggers that isn't mentioned here, do share in the comments!
Shop The Post: