This article may contain affiliate links; if you click on a shopping link and make a purchase I may receive a commission. As an Amazon Associate, I earn from qualifying purchases.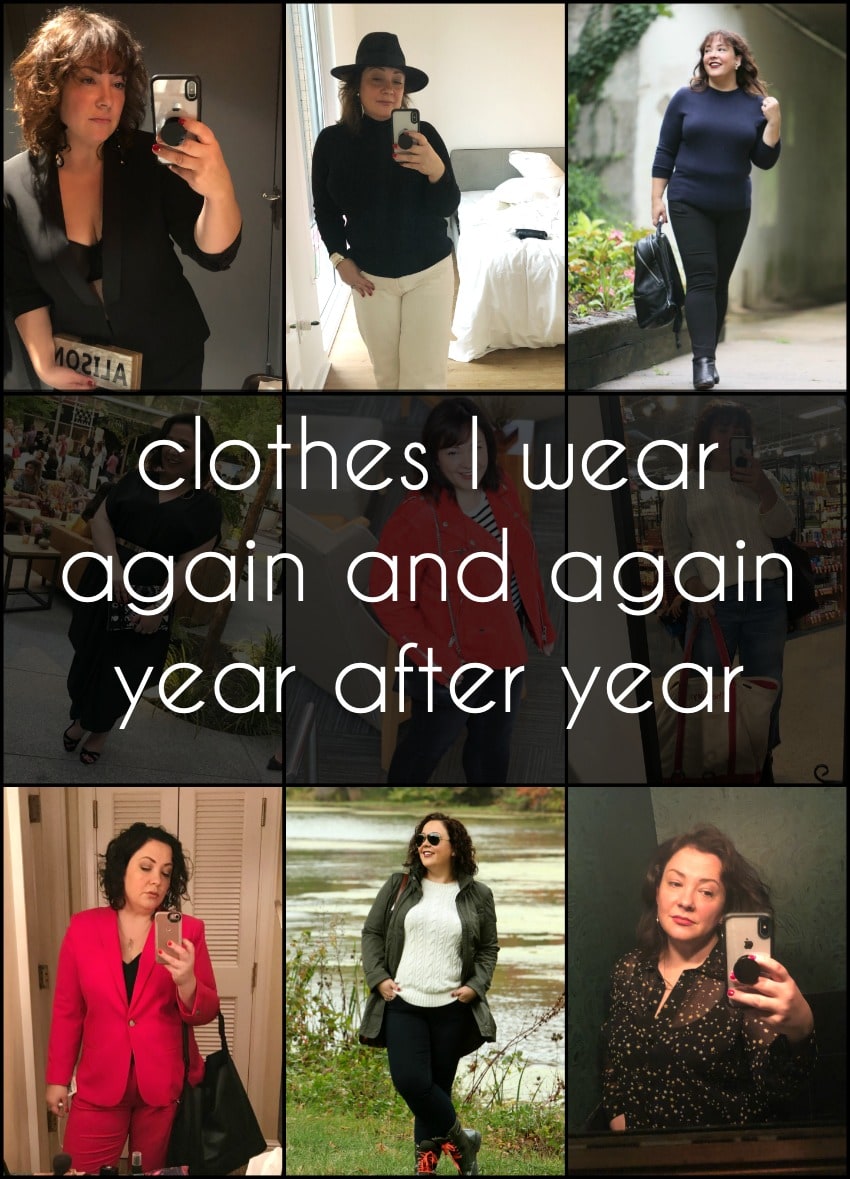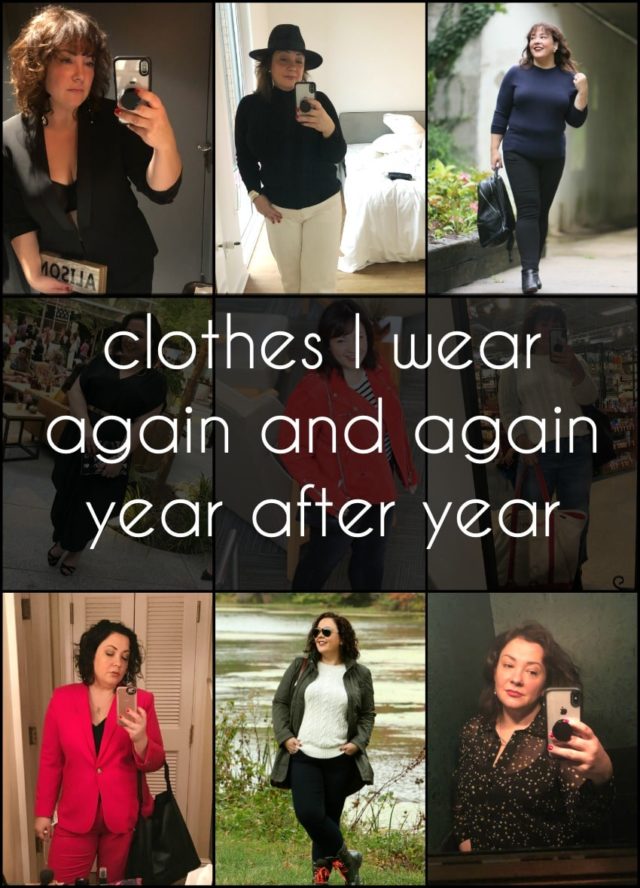 Like many of you, I have a closet full of clothes but usually end up wearing the same things over and over. This isn't a bad thing; style doesn't come from how much you own but how you own what you wear.
The key is to note why you don't wear certain things, why you continue to hold on to them, and how they may be holding you back from truly achieving personal style. I will be taking this journey with you this year. This year, I'm changing up my outfit posts to feature pieces that I do love in my closet, that get worn over and over. I'll share why they have made the cut, what makes them so versatile, so fun to wear, so flattering, and worthy of the minimal real estate in my closet. Today I am showcasing some of the hardest working pieces in my wardrobe and why they are so awesome. Some of the cooresponding photos go way back into my archives!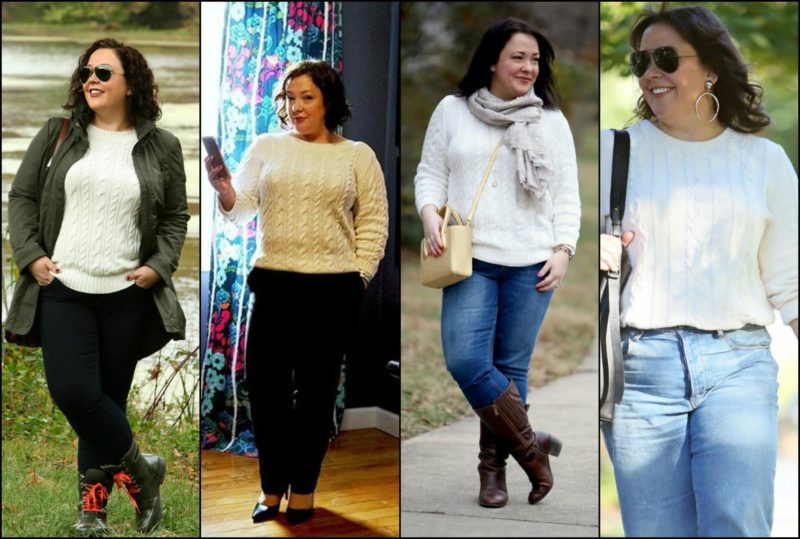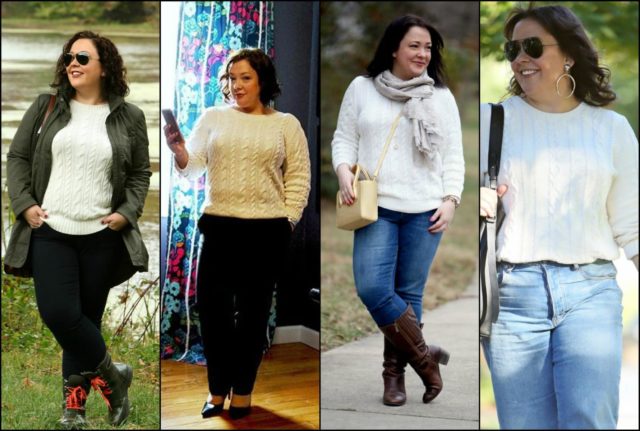 Ivory Cotton Cableknit Sweaters
I own two. One is the Drifter Sweater from Lands' End, one is the L.L. Bean Double L Cable. Both are worn equal amounts of time, both have been bleached, thrown in the dryer, had seams stitched back together, and are several years old. They are classics, they look good if I'm a size 16 or I'm a size 12. Because they're ivory, they can look luxe or casual and they transcend trends. I wear them with ivory jeans, with overalls, with black ankle pants and pumps, with jeans and sneakers.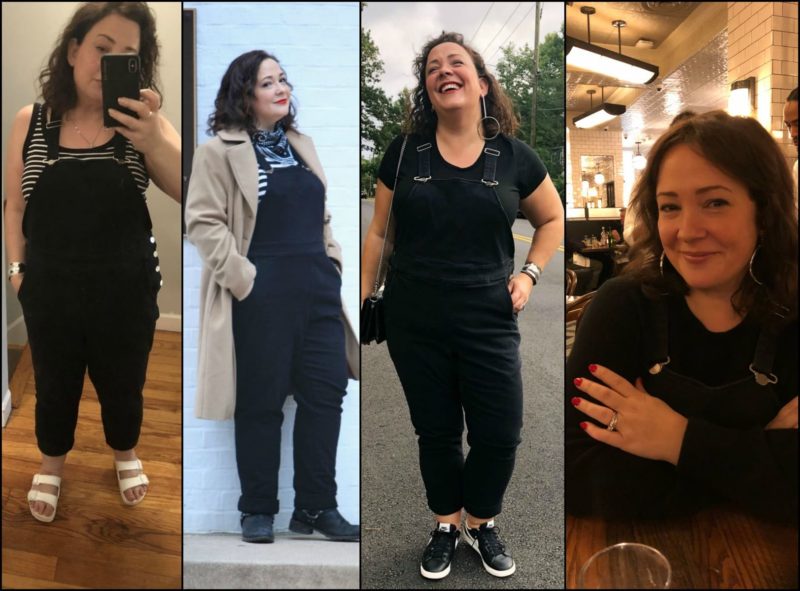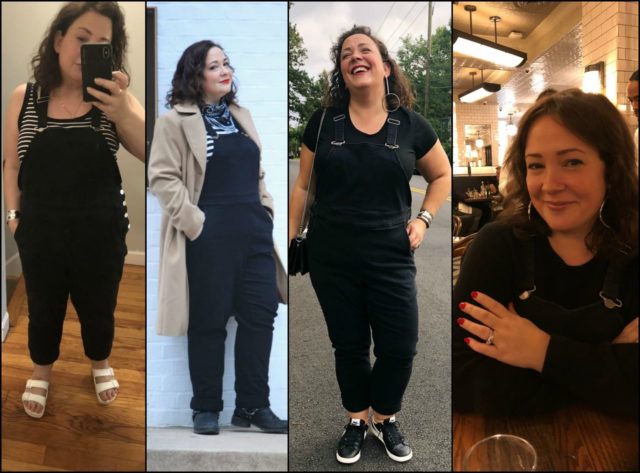 Black Universal Standard Overalls
You've seen these overalls on the blog at least twice, and if you follow me on Instagram Stories you know I wear these weekly. Unlike many overalls which are stiff, have a lot of pockets, and are oversized, these have a hint of stretch, minimal pockets (for minimal bulk), and are tailored for a sleeker look. Minimal hardware as well, silver toned and modern. I throw them in the washer and dryer and they are JUST getting to the point of looking a hint faded. Since it's cold right now, you're most likely going to find me wearing them with a black cashmere crewneck, a black turtleneck sweater, or one of my cream cable-knit sweaters. However, I sometimes wear it with my ivory and black striped sweater tee, plain black t-shirt, and come warmer weather, with a white ribbed tank and white Birkenstocks.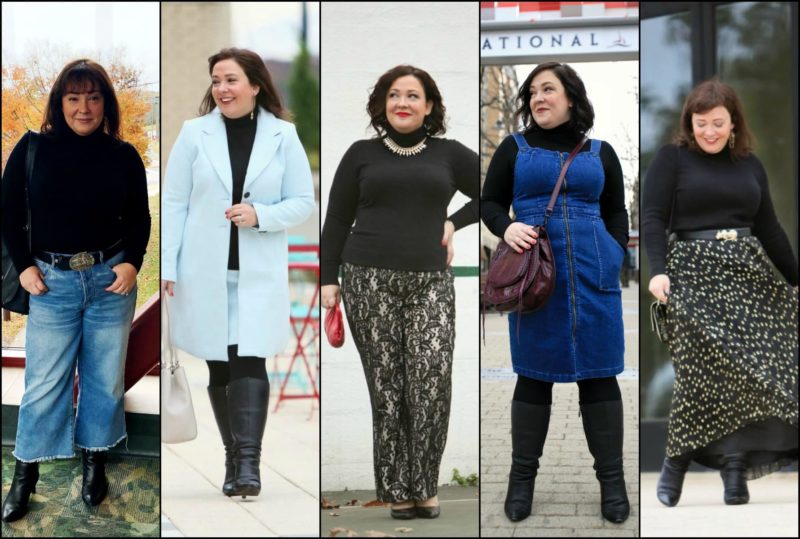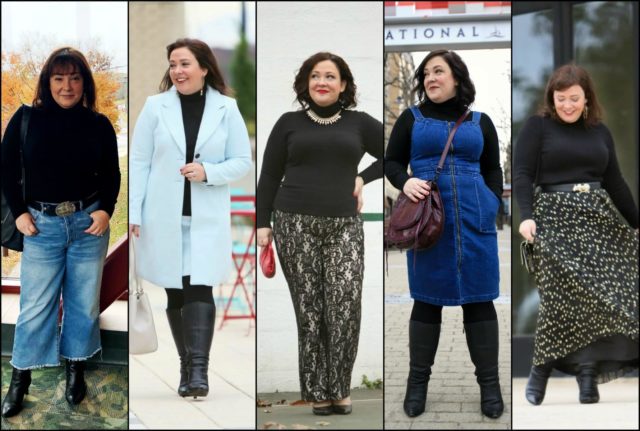 Black Turtleneck Sweaters
This is the kind of thing I had in my closet because they seemed practical but I never wore because I felt fat and sweaty in turtlenecks. And then something changed last winter and I loved turtlenecks. I currently have two in regular rotation; one is black cashmere that I purchased four years ago during a Nordstrom sale, and one is the Coolmax turtleneck from Chico's. Neither are too tight but they skim the body. Not too thick, they can be tucked in but are still completely opaque.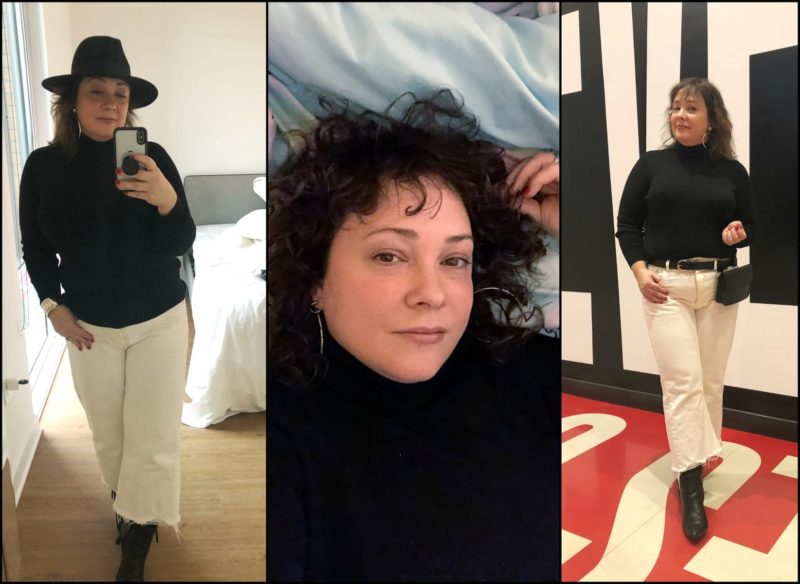 I wear them tucked into maxi skirts, untucked with skinny jeans and boots or slim pants and pumps, with my overalls, untucked with ponte leggings and my black Nike sneakers, and even with dressy pants or my sequin pencil skirt. I get full mom-mode with these and pair it with jeans, boots, and a puffer vest.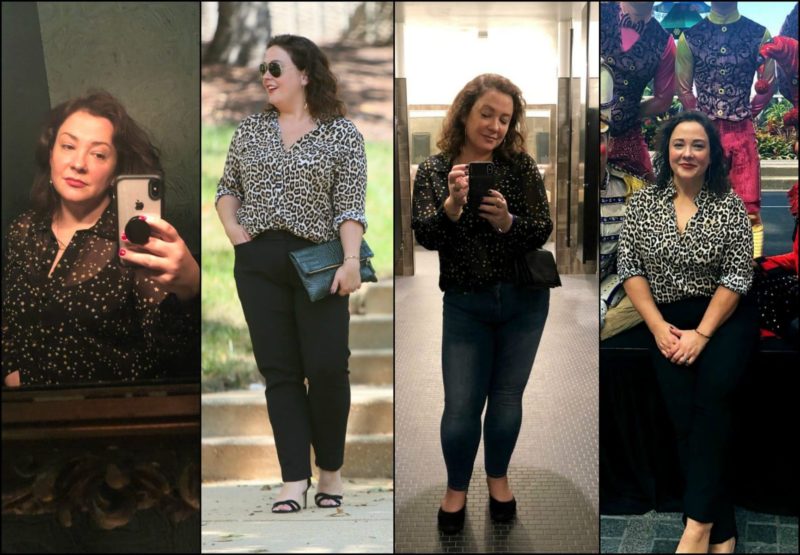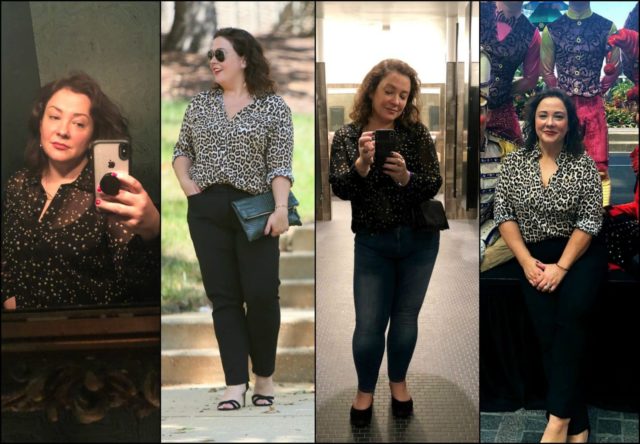 Drapey Button-Front Shirts
This fall and winter, I've worn such tops more than I ever have before, both printed and solid. For prints, there are two that are in regular rotation – the cabi Galaxy Blouse and the Chico's Leopard Print Soft Shirt. Both are a classic long-sleeved button-front shirt but both have amazing drape. The cabi top is sheer and requires a camisole, the Chico's top I often roll the sleeves. Besides these differences, they're worn in the same manner with the same kinds of looks. They're perfect when a Breton top seems too casual but you don't want to look too dressy or try-hard. They're often worn when going out to dinner or to a bar or if I have one of those very long days. I like them tucked into slim pants with heeled booties, untucked with skinny jeans and flats, tucked into high-waist jeans under a blazer, paired with ivory trousers and heels.
When the latest collab between Draper James and ELOQUII happened, ELOQUII mailed me a few pieces. They knew I was no longer a 14W but this collection came in 12. And while most of the pieces were not my aesthetic (though super cute), this blouse appealed to me. I liked how it was simple, but had navy buttons and a navy scalloped trim. I also liked how it fit. And while most blouses I wear with two or even three buttons unbuttoned I like this one best buttoned up. I wear with skinny jeans and flats, tucked into high-waist jeans with ankle boots, tucked into ankle pants with pumps, and also paired with ivory trousers and heels.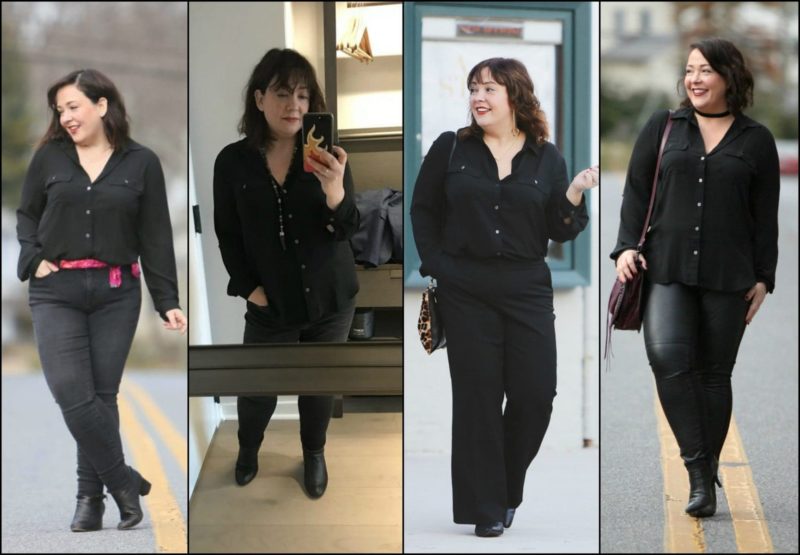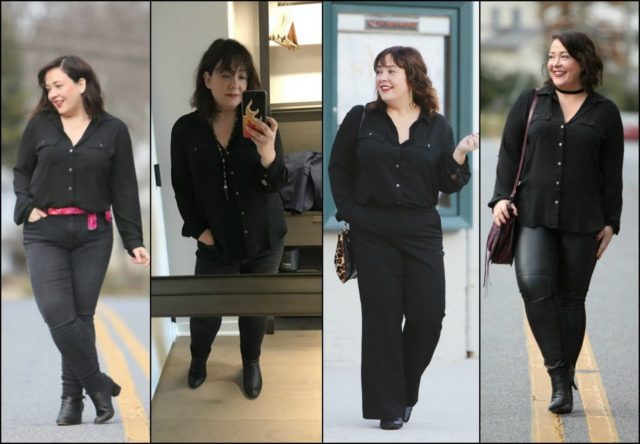 I also have a black crepey camp shirt that I got at Ann Taylor a few years ago. It's now too big but I haven't found a proper replacement. I like that it's machine washable, it's opaque, no accent buttons or funky details, it looks nice with the sleeves down or cuffed, and it's slouchy and drapey, cute untucked with leggings or tucked into trousers. While it's not perfect, it's still on regular rotation.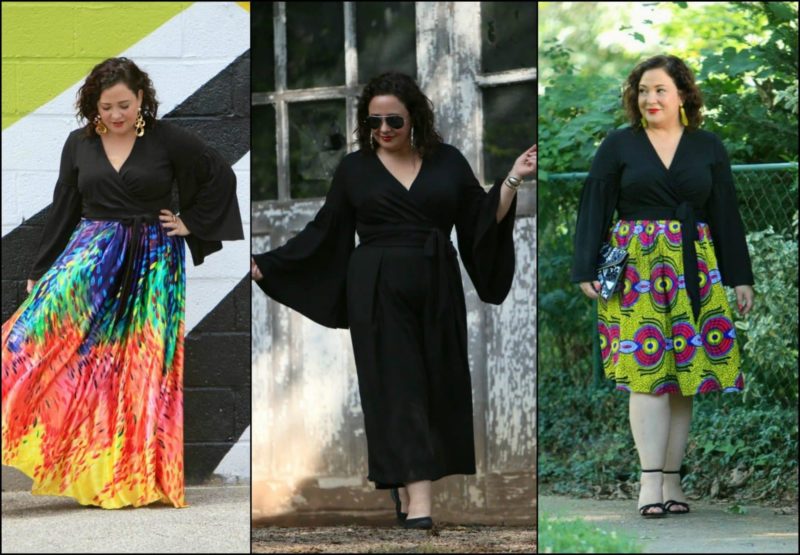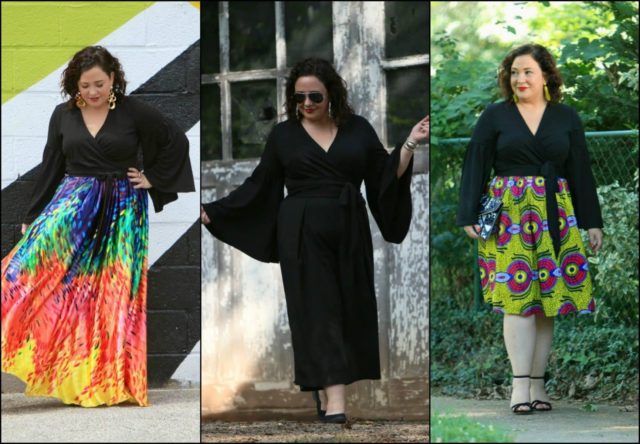 ELOQUII Black Ponte Wrap Top with Bell Sleeves
I asked ELOQUII for this top a year or two ago, figuring it was cropped on the model so it would be waist-length on me. I was correct, and I was surprised by how often I found a way to wear it. I first wore it on the blog with an Ankara skirt, a second time with a colorful maxi skirt, a third time with cropped pants, but have worn it many times in real life beyond that look. And though I am no longer plus sized, this top continues to fit my body and my wardrobe.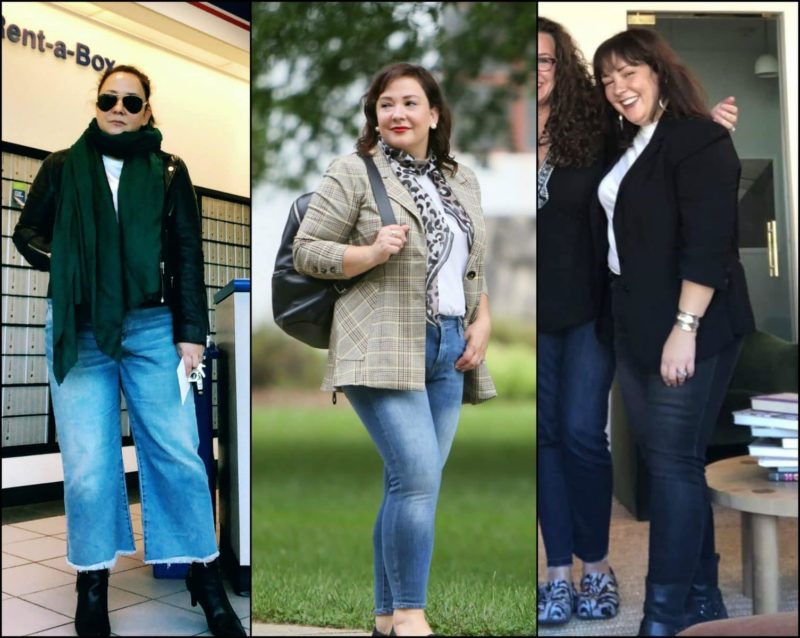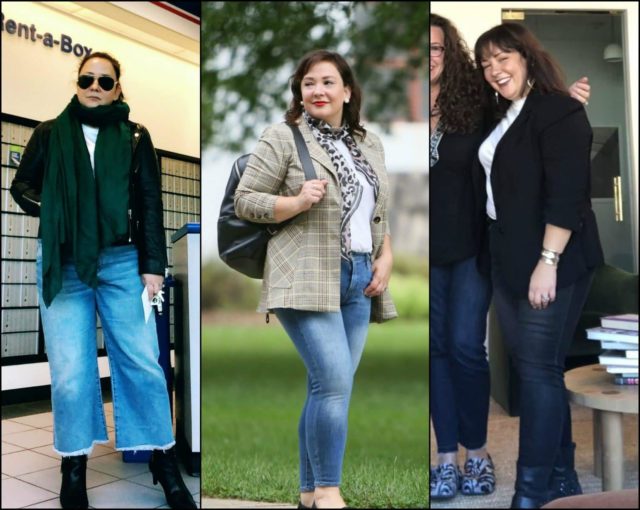 White Universal Standard T-Rex
Not all t-shirts are created equal, and this one is a perfect example. I had a few of US's t-shirts in petite fit and they were fine. I even used one in my real life capsule wardrobe. But I asked the brand for their white t-shirt not in petite thinking I coud knot it and wear it with skirts this summer. I didn't like it knotted, but I LOVED it tucked in. The knit is silky and opaque and it drapes in such a beautiful way. The sleeves are a flattering length and it washes up great. I can wear it with ivory cropped wide-leg jeans and Birkenstocks and feel like the hipster mamas on Instagram, or under a blazer and not look like a linebacker.
Black Universal Standard Blazer
I requested this blazer from the brand, got it, and didn't like it. It was too boxy and had drape and didn't fit what I felt was my style aesthetic. But the thing is I am no longer in Corporate America and my previous tailored blazers usually feel too severe for my current life. One day I tried the blazer on with my crewneck t-shirt from the gym and I couldn't believe it, I liked it! I found the blazer fits my relaxed current lifestyle, and looks best with tops that have a higher neck. I never would have thought I would like this look but one's style is constantly evolving as the woman who wears the clothes changes. One of my go-to looks is this blazer with my white Universal Standard T-Rex, higher-waisted skinny jeans, and boots. I sometimes switch out the t-shirt for my cabi Galaxy blouse, and often wear this blazer with ponte leggings and a t-shirt and my black Nike sneakers. I don't have any photos except the one of it above to the right with the T-Rex shirt.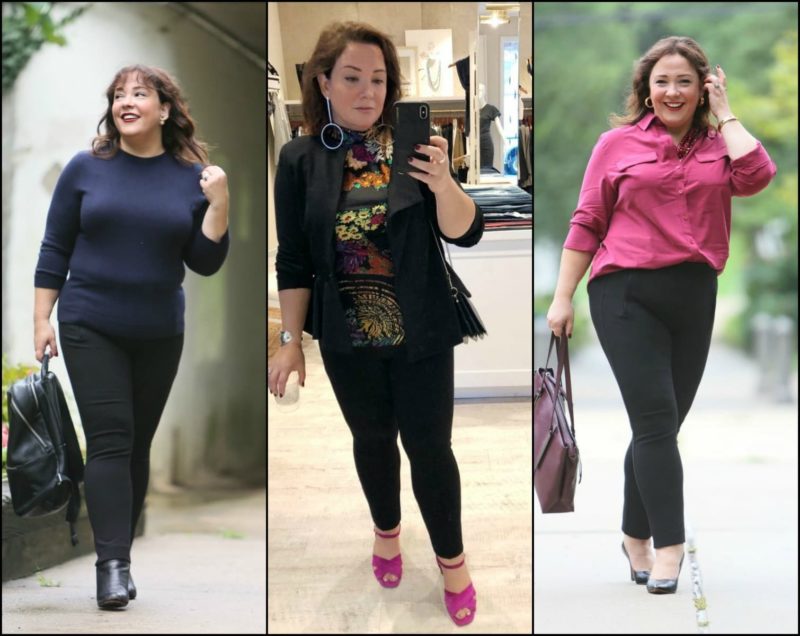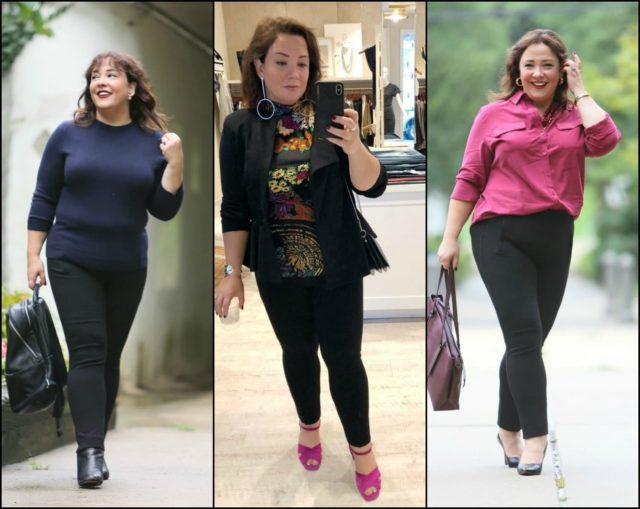 Black Chico's Juliet Ankle Pants
These pants were part of a sponsored Instagram post; I was to pick out the style and color of my choice and pieces to wear with it for the photo. I liked the pants so much I made a blog post. And I wore them again in a second blog post. And I continue to wear these pants because they are almost perfect. The only thing holding them back from perfection is a lack of pockets; it has fake pockets on the front that are so frustrating I am tempted to take them to the tailor and have them made into actual pockets. But besides that, these pants are thick enough that part of my rear can show without looking naked, thick enough that they give a smooth effect, not so tight they look painted on, and they've been in the washer and dryer more times than I can count and still look great.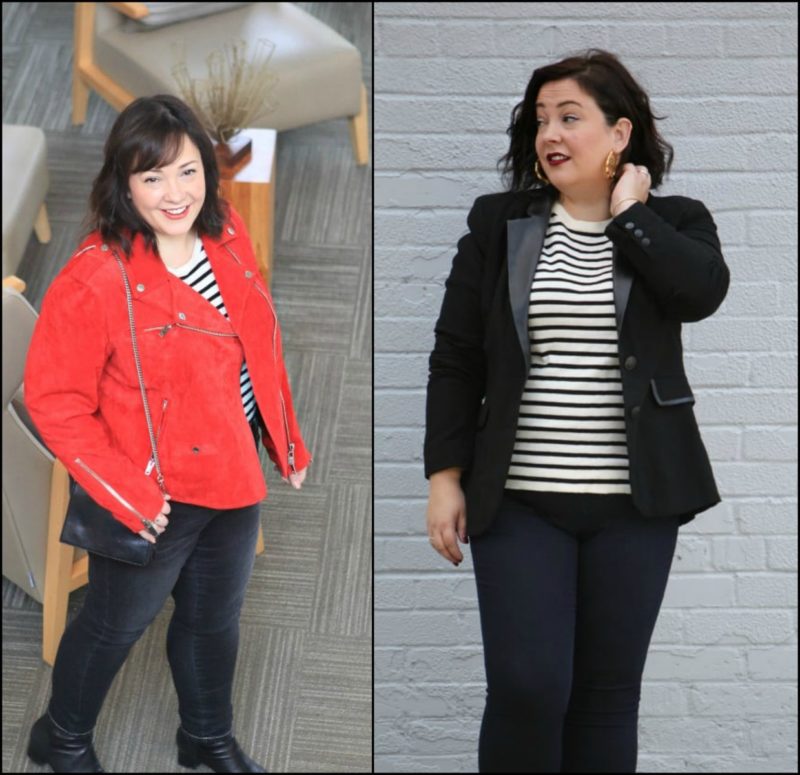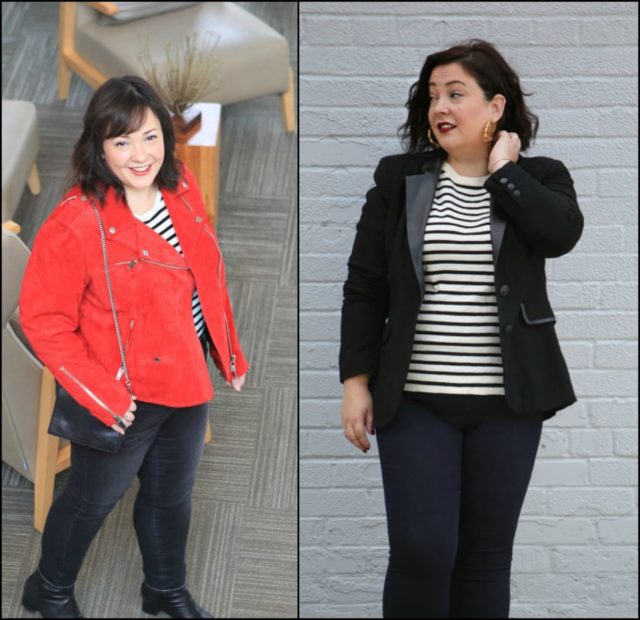 J. Crew Striped Sweater Tee
This sweater is older than Emerson and kind of looks it. It's cream with black stripes and the collar has a few places where the threads have broken. But it's a perfect weight, balance of stripes, and sleeve length that it looks cool and refined, not like I am a toddler. It's funny, I've had it all these years and hardly wore it but now that I work from home I wear it weekly. I wish I could find a worthy replacement.
Black Merino Fit and Flare Sweater Dress
I got this dress on clearance from Lands' End a few years ago and it's simple perfection. Merino, so it's tightly woven and doesn't get baggy or pill with wear. It's a crew neck, long sleeved, fit and flare that ends right at the top of my knees. It's the thing I can throw on last minute and it looks polished and classic and flattering. I've worn it to funerals, to birthday parties, to family get-togethers, to dinner, and to work. I always wear it the same way, with black tights and black heeled ankle booties. Sometimes the tights are fleece, sometimes they're normal. For accessories, I usually wear a gold or silver statement earring, but I have been known to also wear it with a scarf at the throat (usually my black silk bandana). Unfortunately I have no picutres of this dress… yet!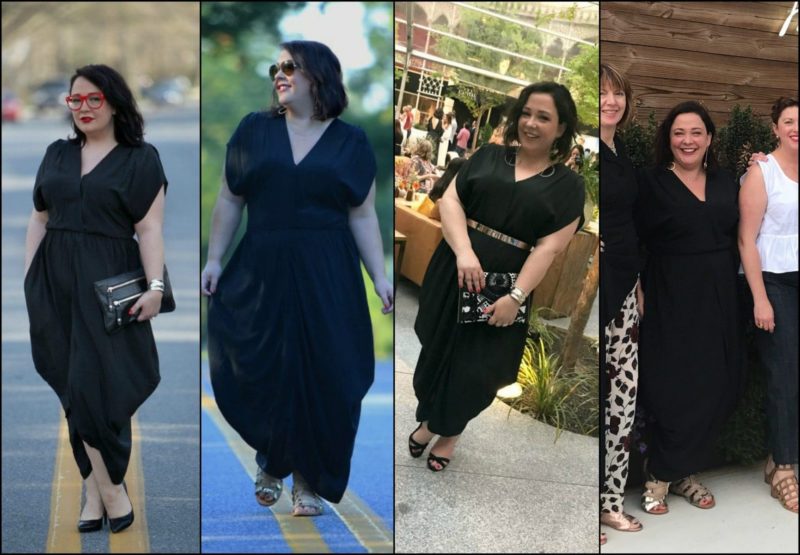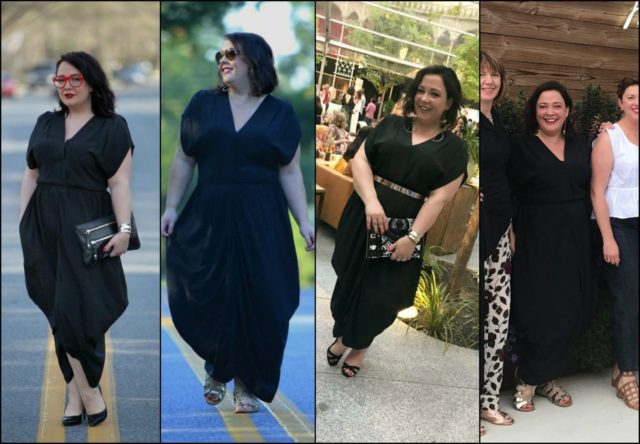 Black MYNE Silk Dress
This is the most expensive dress I have ever purchased, besides my wedding gown. But it has totally been worth it if you consider cost per wear. I wore it on the blog for the first time in this post, I wore it to my blog's 10th anniversary party, I wore it again on the blog in this post, I wore it to a cocktail party at the rewardStyle conference, I wore it for a cocktail party on the beach at the Chico's 35th anniversary event. It's the kind of dress that works when I'm a 16 and when I'm a 12 and likely would still fit if I were a smaller size.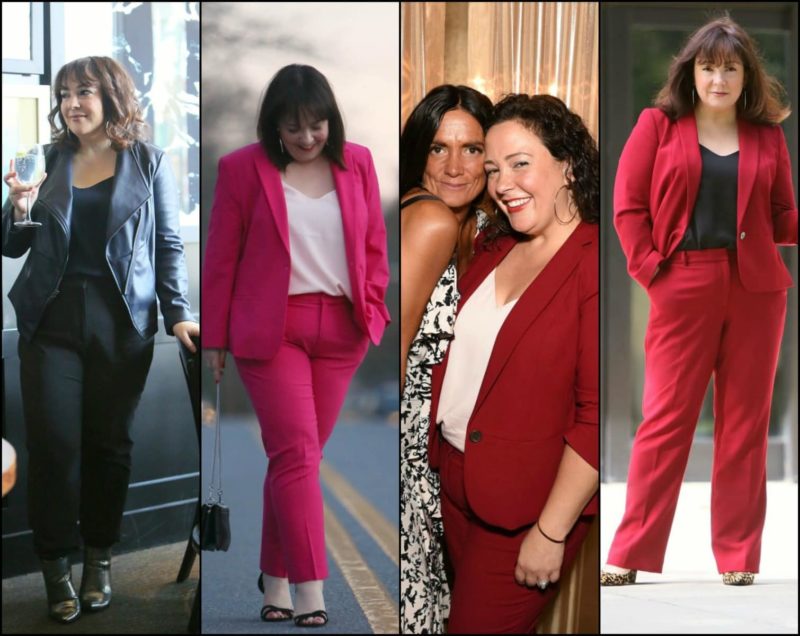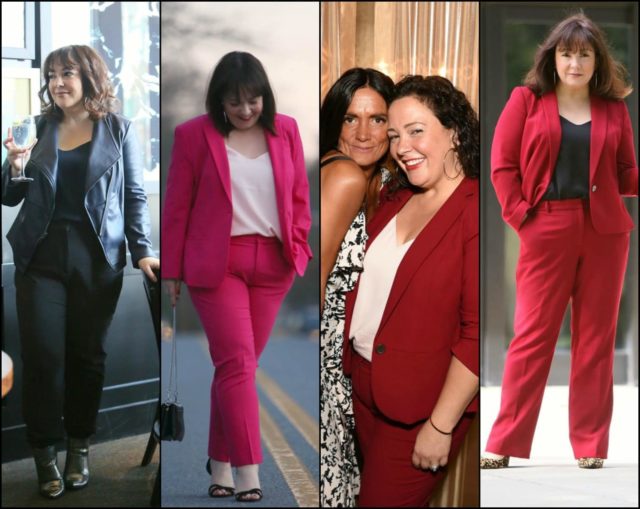 J. Crew V-Neck Camisoles
I have three of this camisole: one in navy (though I've lost it and it's been missing a couple months), one in blush pink, and one in black. They're not too shiny, not too tight, and have adjustable straps. Oh, and they're machine washable. They're the perfect base layer under suits and if I get hot, I don't feel half naked if I take my jacket off. They're the kind of piece I am so tempted to get more colors when it goes on sale but I've gone all this time with these three colors (and honestly, I don't really miss the blue one) that I don't truly need any others.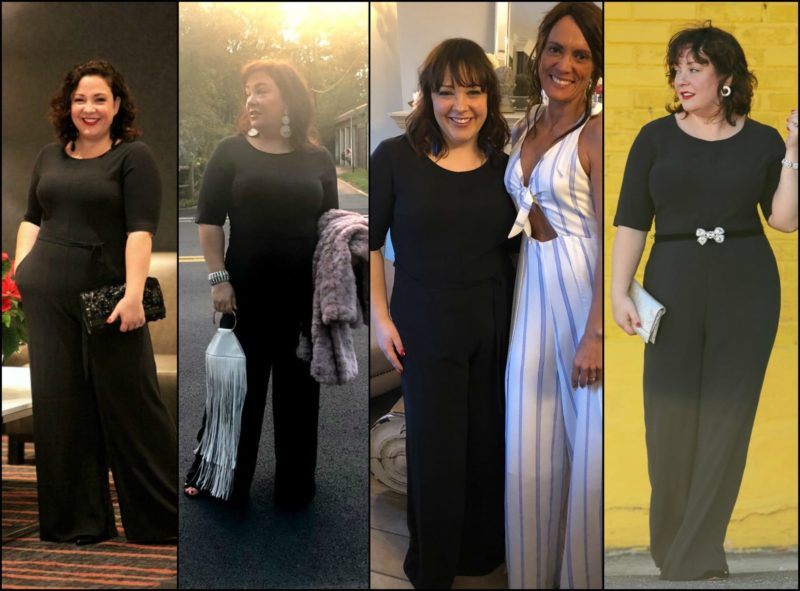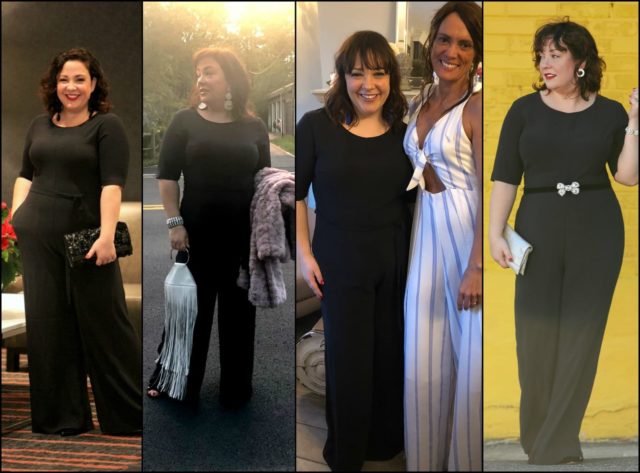 Simply Vera Vera Wang Black Jumpsuit
This is black crepe with a removable self-belt, short sleeves, jewel neckline, pockets, and wide legs. It's unlined and free of any adornments. I had a campaign with Kohl's and was provided a gift certificate to pick out any clothes of my choice. I ordered this jumpsuit and it was a hair too tight. I slapped on my tightest Spanx and sucked in my gut and increased the shadow and contrast on the photos to hide the visible Spanx seams in the photos. I swore I'd sell the jumpsuit but I never got around to it. A couple months later I tried it on… and it fit! Now it's a favorite piece in my wardrobe. Since I've lost weight the legs are now too long so I need to take it to the tailor, but otherwise it fits great and is so darn versatile.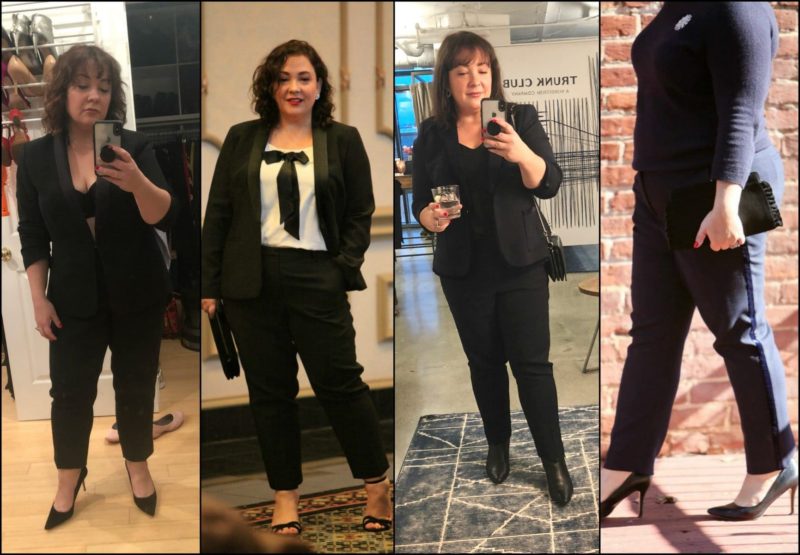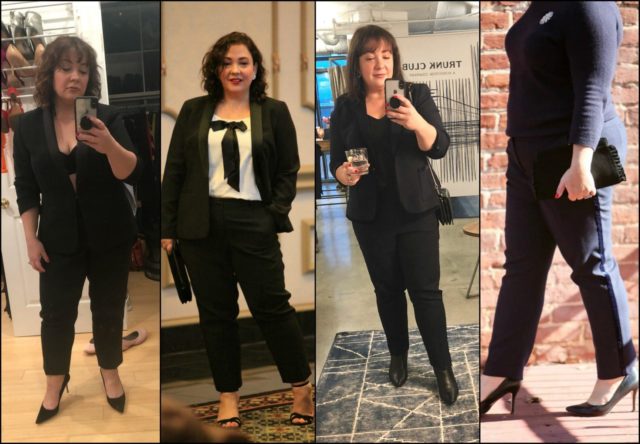 Lady Tuxes (Cocktail Pantsuits)
Last holiday season, again I was invited to pick a look of my choice from Talbots to style for the blog. I chose a black cocktail pantsuit, AKA a lady tux or Le Smoking. I wore it on the blog with a cream silk shell that had a black bow. Off the blog I wore it with my J. Crew camisole. I've worn the pants alone with a cashmere sweater, worn the blazer over my jumpsuit. Recently I wore this suit with just a black bra and pumps. The suit is currently at the tailor as my body has changed shape and this suit is just so good it deserves to be altered to fit the current me. As an FYI, Talbots currently has an almost exact match for the suit I have, the only difference is the button on the jacket. Here's the link for the jacket, the link for the pants.
This year perusing Talbots' RSVP collection, I saw a cocktail suit of navy wool crepe with velvet tux stripes and jacket details and asked the brand if I could have it. And I have worn it so many darn times yet it hasn't made many appearances on the blog or social media. It was featured in my holiday capsule wardrobe, but pieces of that capsule sold out before I could take pictures of the looks I made from it. I did show the pants with a cashmere sweater in this post. But with my new outfit post goal for this blog, expect to see it in the future. Here is the link for the jacket, and the link for the pants.
Lady tuxes are great because who wants bare legs and shoulders during the coldest season of the year? They can be sexy with a cami or professional with a buttoned-up shirt. They also look great with a sparkly turtleneck, and can often look artsy fun with a logoed t-shirt. While I like mine with pumps or strappy heels, this is a look that can work with brogues or loafers.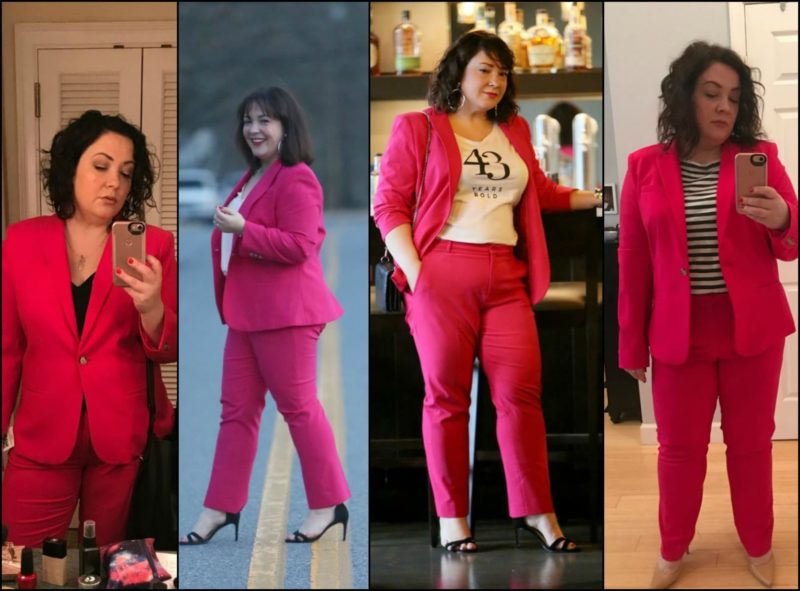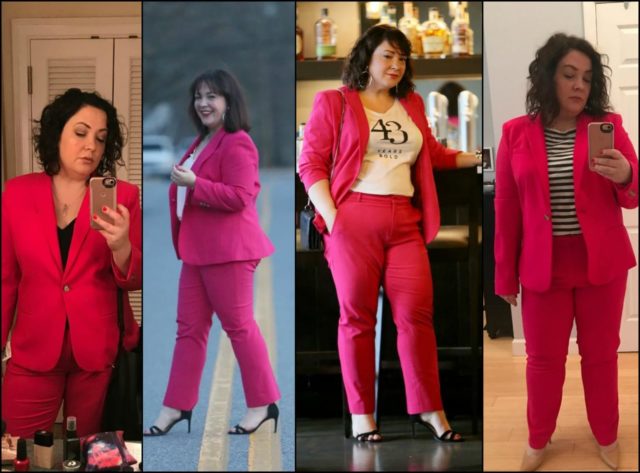 Hot Pink Banana Republic Pantsuit
This suit from Banana Republic is a few years old but is still super chic. However, I need to take it to the tailor to fit my current shape. But there's something so great about a statement pantsuit. This is tropical wool, single button, ankle length pants. It can dress up or down, and you've seen it on the blog many many times. One of my best purchases!
Shop Exact Items In My Closet: