This article may contain affiliate links; if you click on a shopping link and make a purchase I may receive a commission. As an Amazon Associate, I earn from qualifying purchases.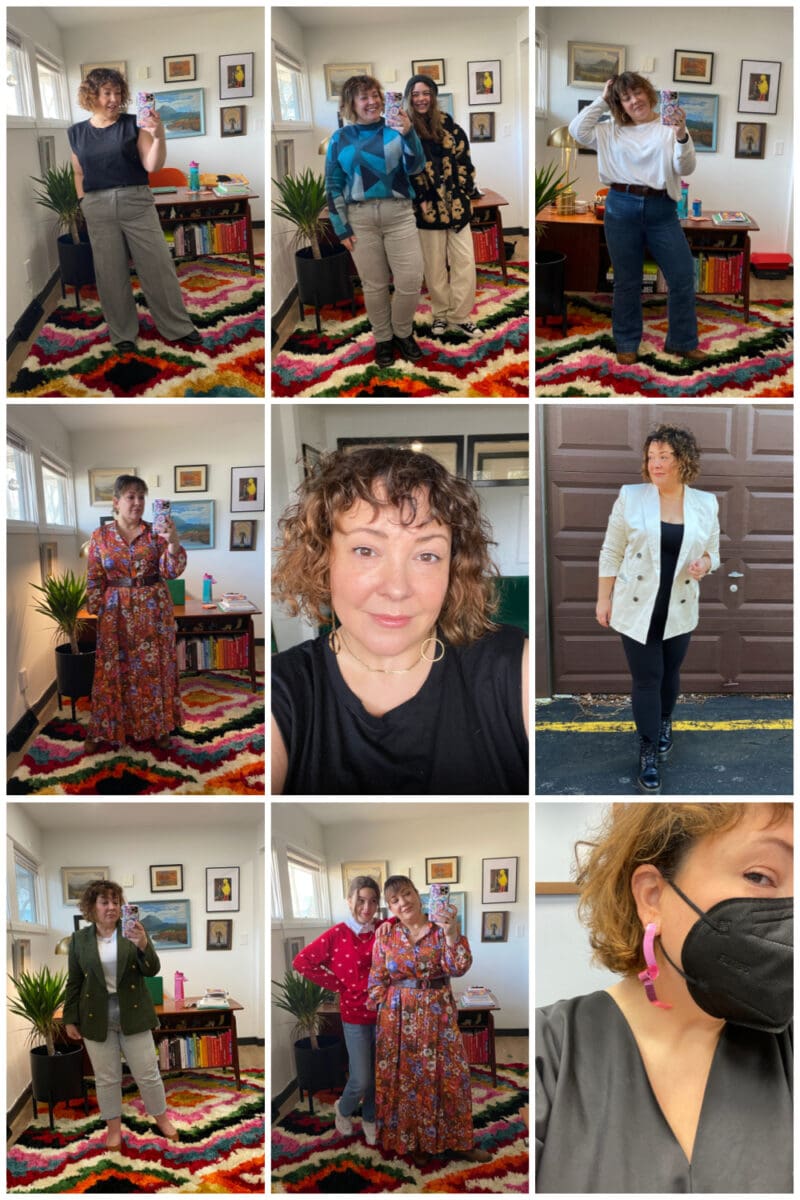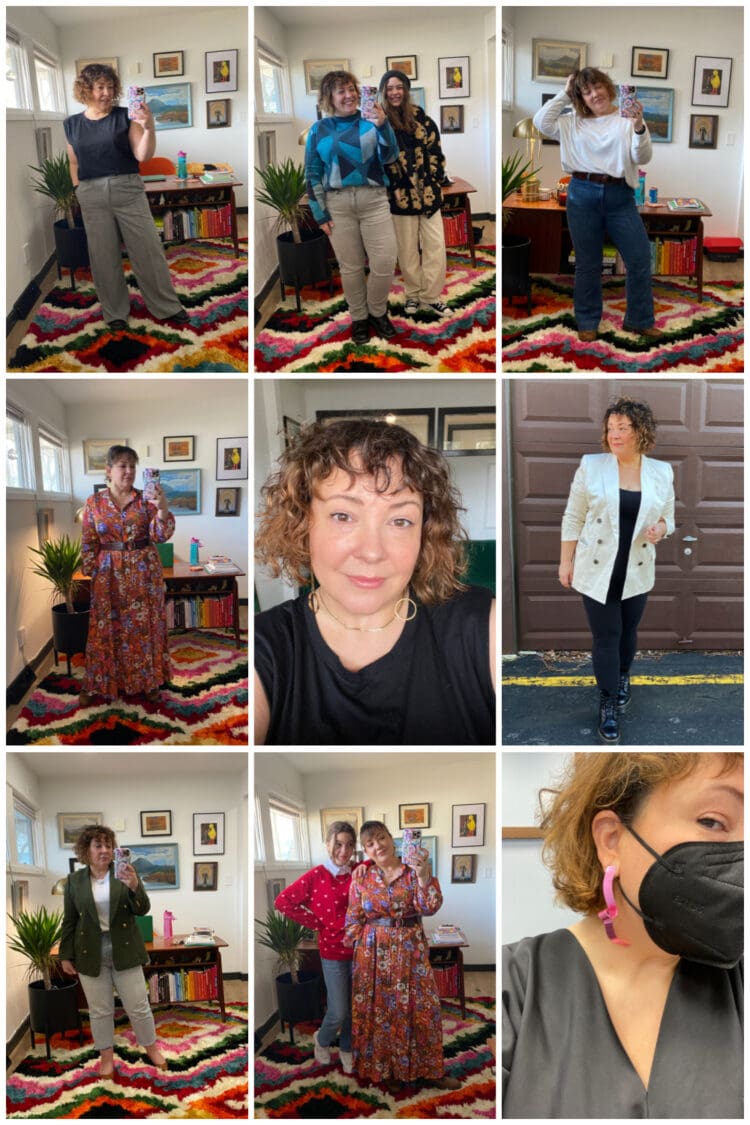 I haven't shared what I wore recently in a while. It has been a tough few weeks. I had a major video project for a popular streaming service that finished up at the end of February. We're in the last days of the Girl Scout cookie season and as Troop Cookie Manager for a troop of 14 wanting to fundraise for a trip to Savannah this summer it has been… a lot. I got a new haircut and color that has taken some getting used to and on the days I hadn't figured it out I didn't really feel like photographing myself. And the world has been heavy lately so all together… what I wear hasn't been my top priority. But here are some looks I've worn since I've last shared…
Looks Like an Outfit, Feels Like Pajamas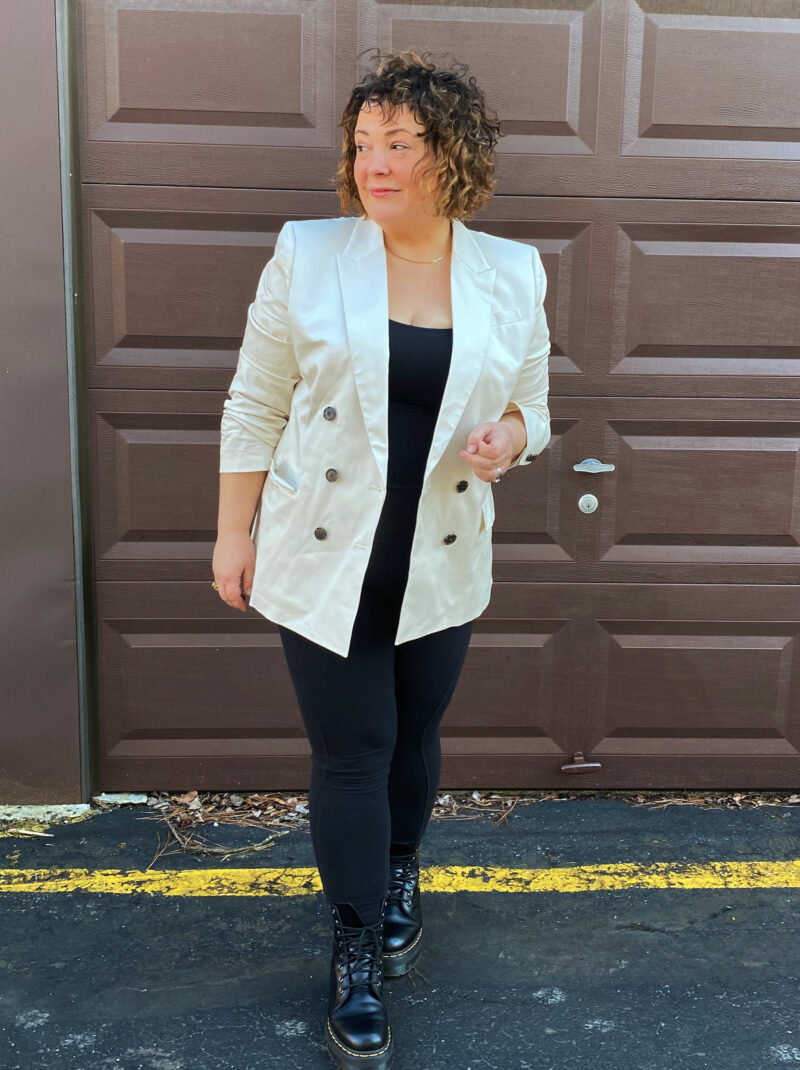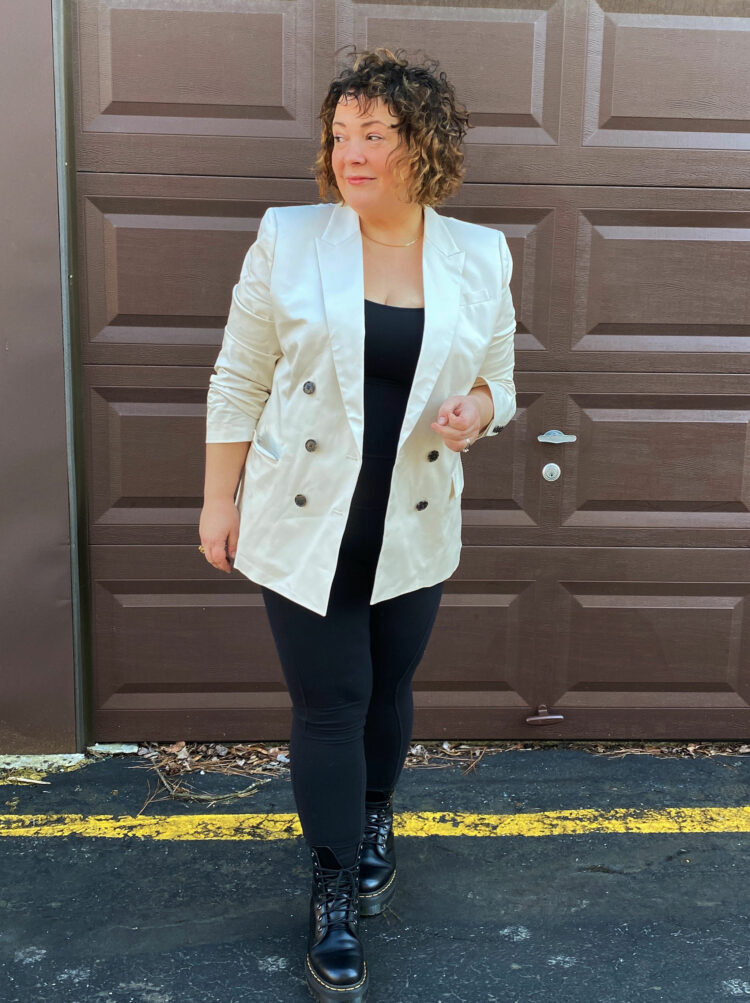 I think we all have days where we want to look good but we don't want a single restricting or stiff or uncomfortable piece on our body. For days like that I often reach for one of my Universal Standard Next to Nothing Bodysuits (read my Universal Standard NTN review). Worn with a long cardigan, a shacket, or a blazer and I am comfy, covered, and it looks like I made a bit of effort.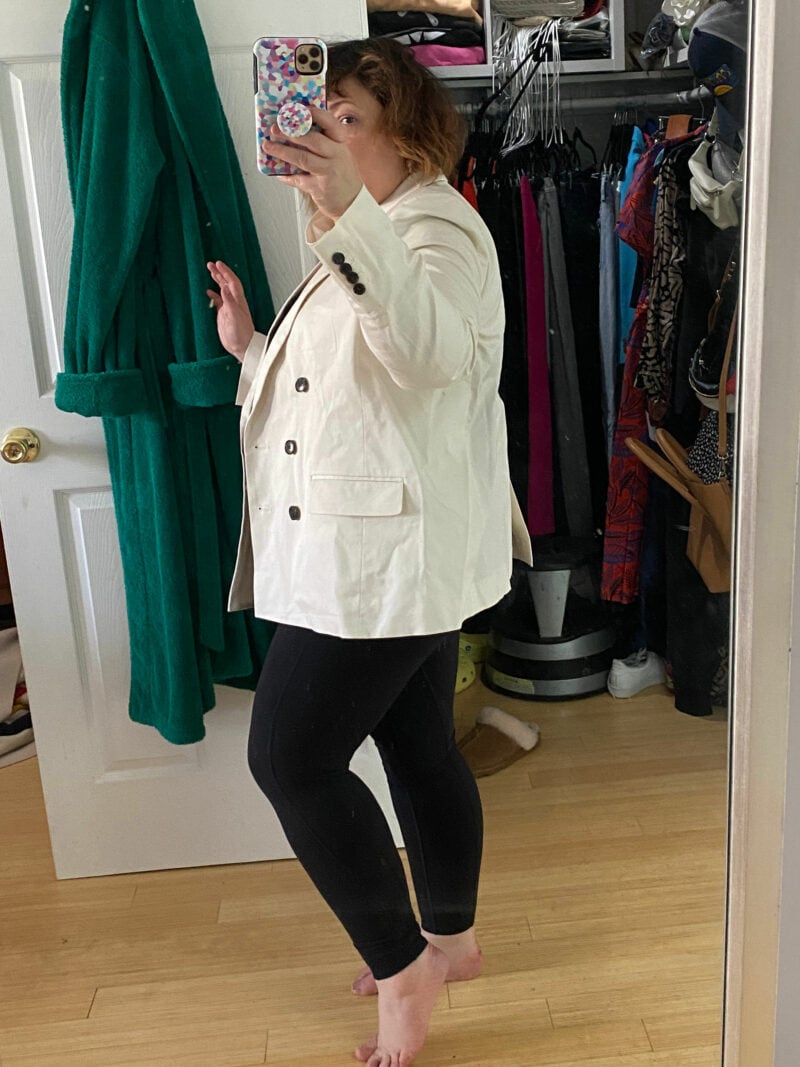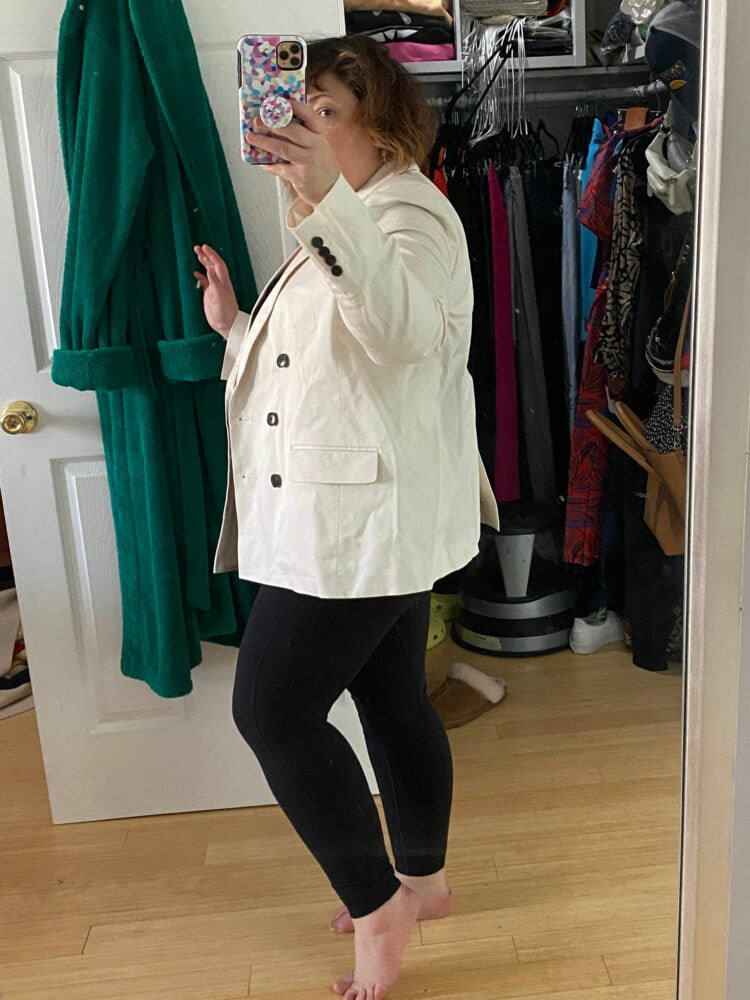 Here, I'm wearing the NTN Bodysuit with this blazer from J. Crew. I am wearing the bodysuit in XS, the blazer is 16. The shoes are these from Dr. Martens. I'm wearing this chain from Rellery (gift from the brand two years ago) and not visible but I am wearing these hoops from Baublebar (one of my best purchases).
A Pop of Pink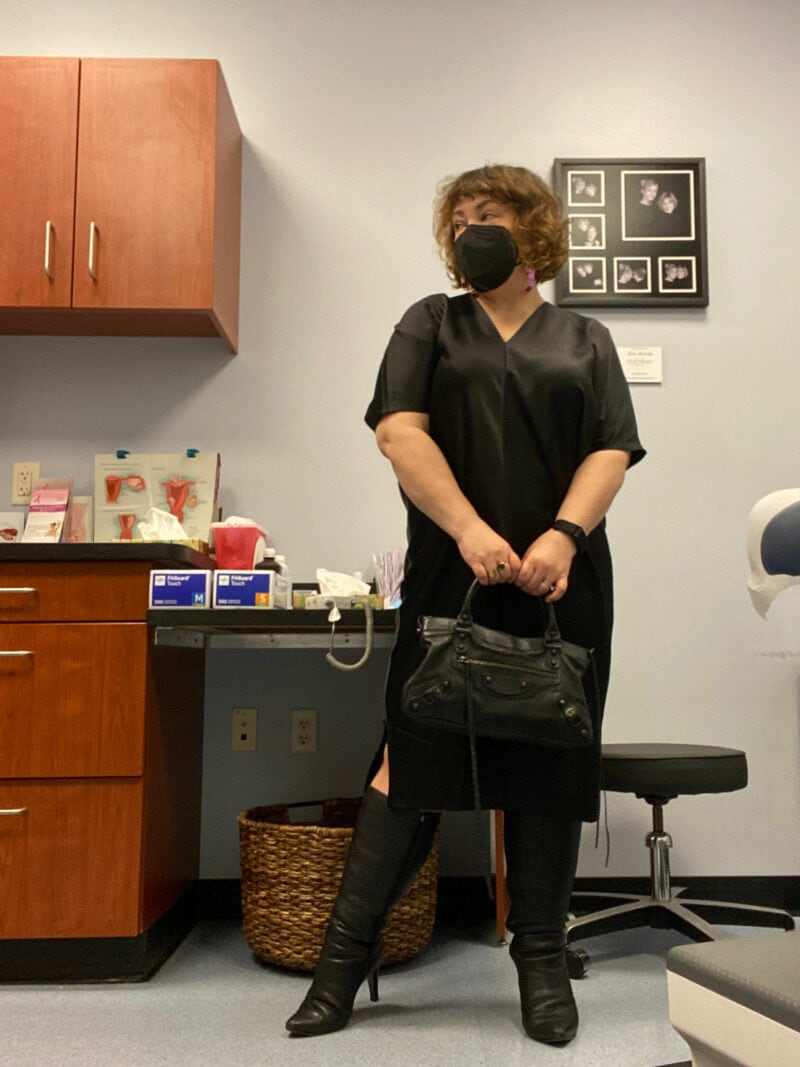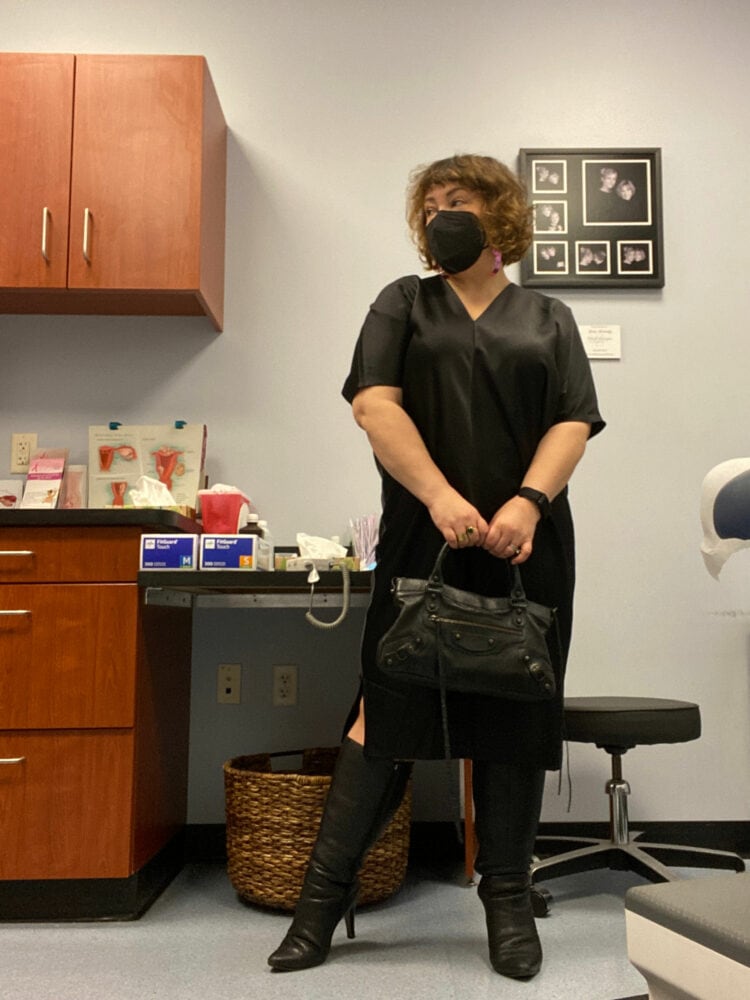 Since lockdown, I've learned to take any occasion as one to get gussied up. And taking my mom to the doctor works for me! I've had this black satin caftan from Universal Standard for a while (see it previously in this post) and I really like it with my black heeled knee-high boots so decided to rock the combo again. The caftan is no longer available, but check resale sites as it occasionally pops up. It's called the Levana, I am wearing size XS.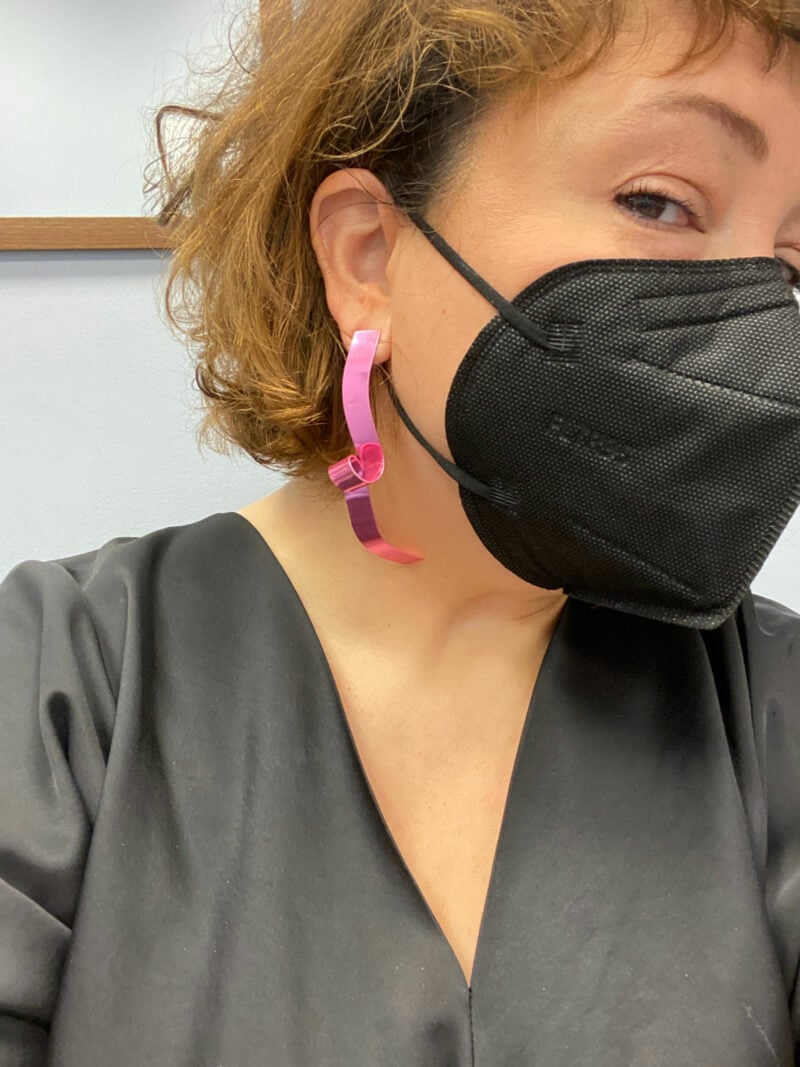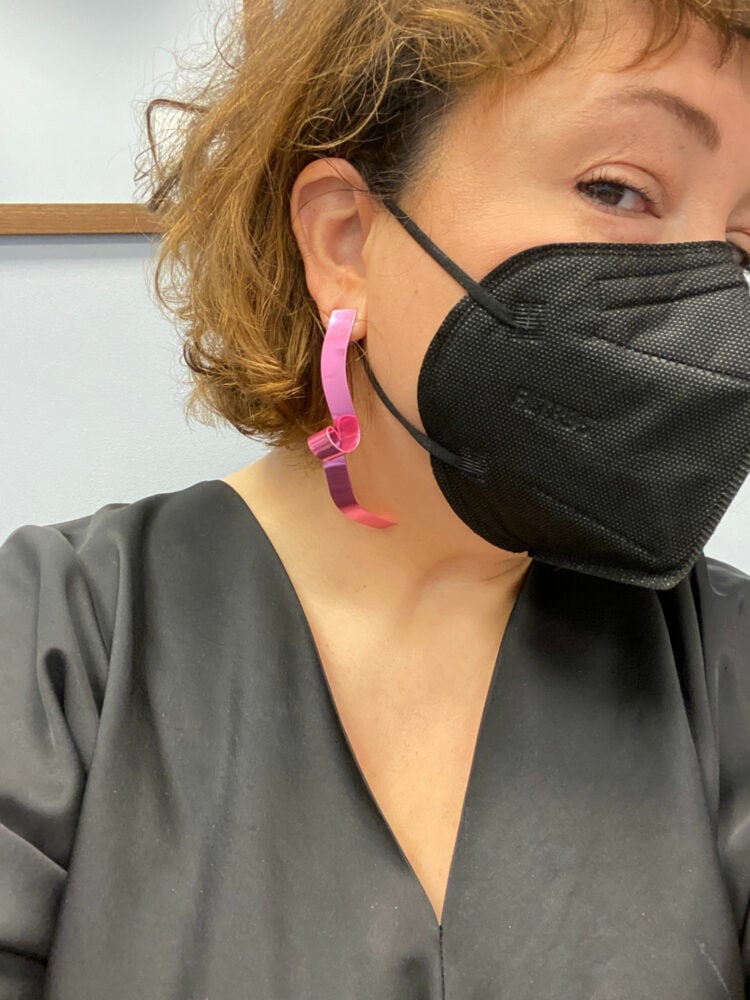 The earrings are from Open Edit, a budget-friendly Nordstrom house brand that seems geared towards Juniors more than my age. But these earrings looked super cool and I found they looked just as cool in person. The pink is no longer available, but they have gold and silver in stock and on sale for less than $20. I liked this subtle pop of color and how it kept the look from being too serious.
The bag is my Balenciaga City Bag that I got for my birthday; read about how I bought a used designer bag online for the first time.
You May Have Seen This Before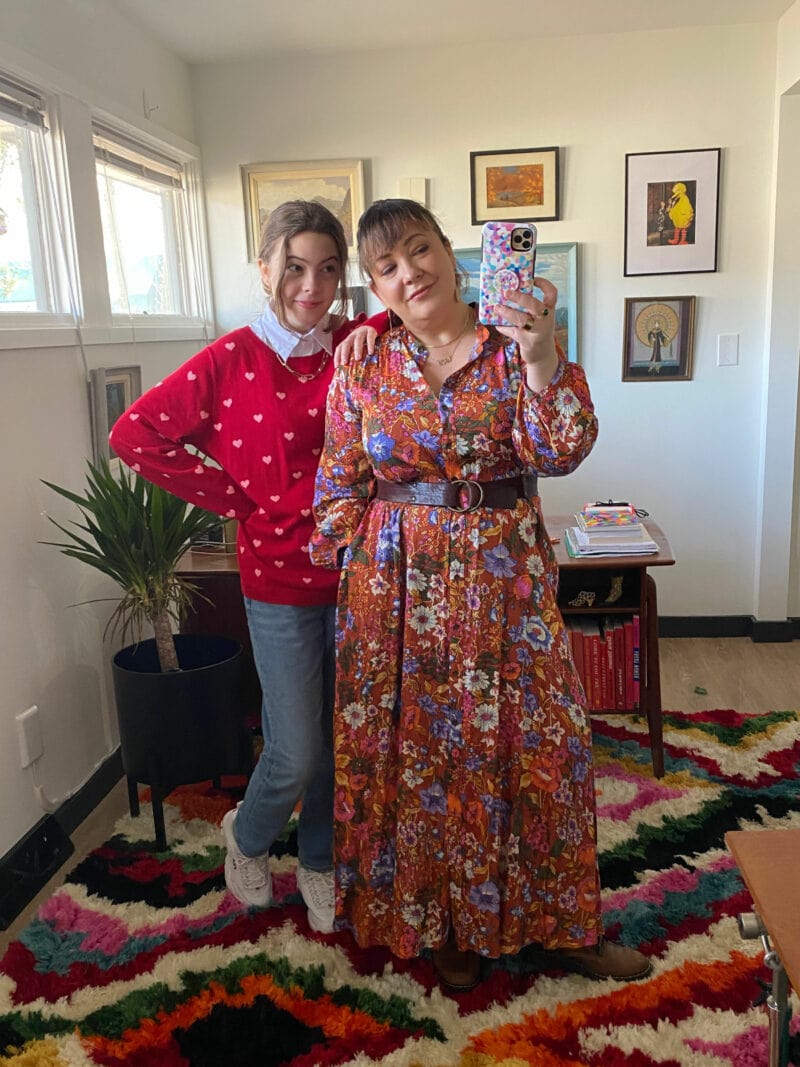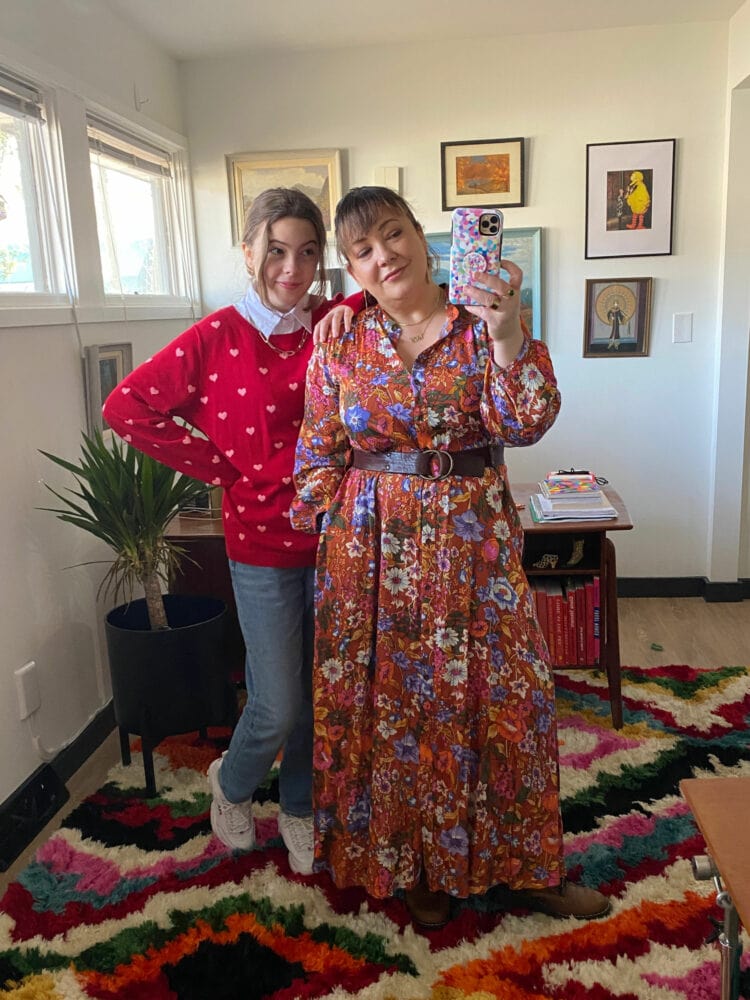 I got this dark orange floral maxi dress from Anthropologie in 2020 and while on the surface it has little that I would like (jacquard fabric, banded collar, the color, florals), it's a dress I reach for so often, I wear it at least once a month from September to April. It's really comfortable but like wearing the NTN with a blazer, it looks polished. It has a self belt, but on this day I decided to switch it out for a vintage brown leather one I've had since high school (and originally belonged to my mom).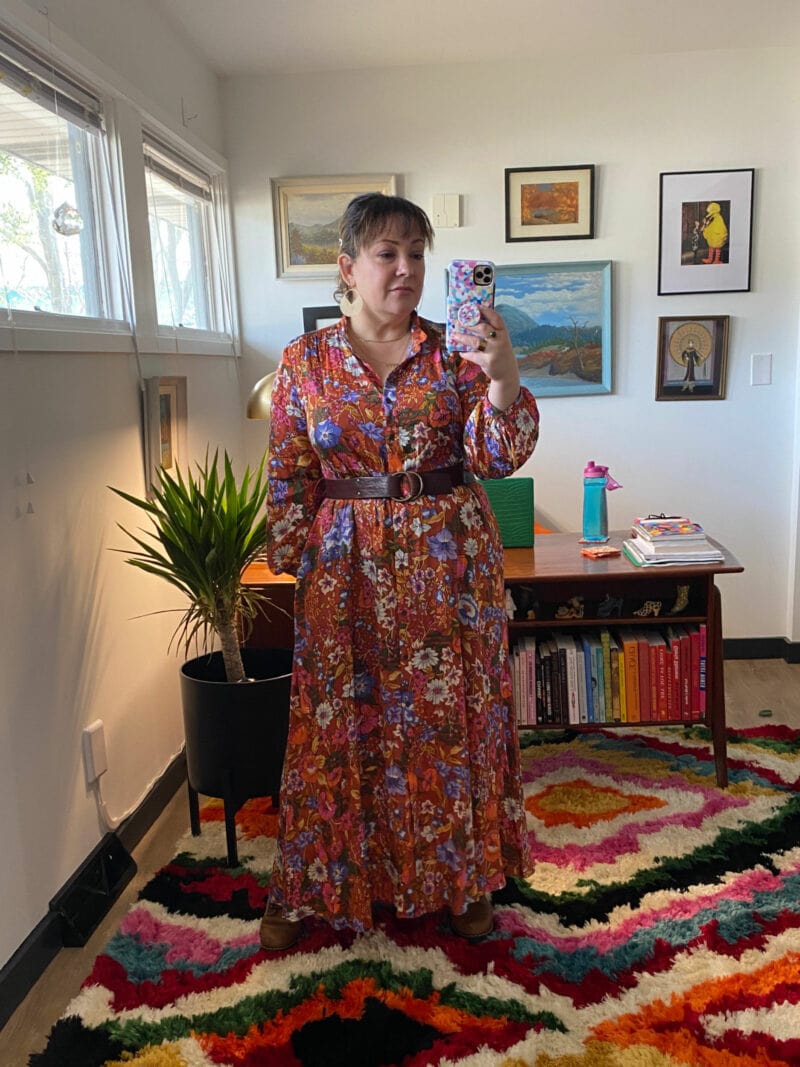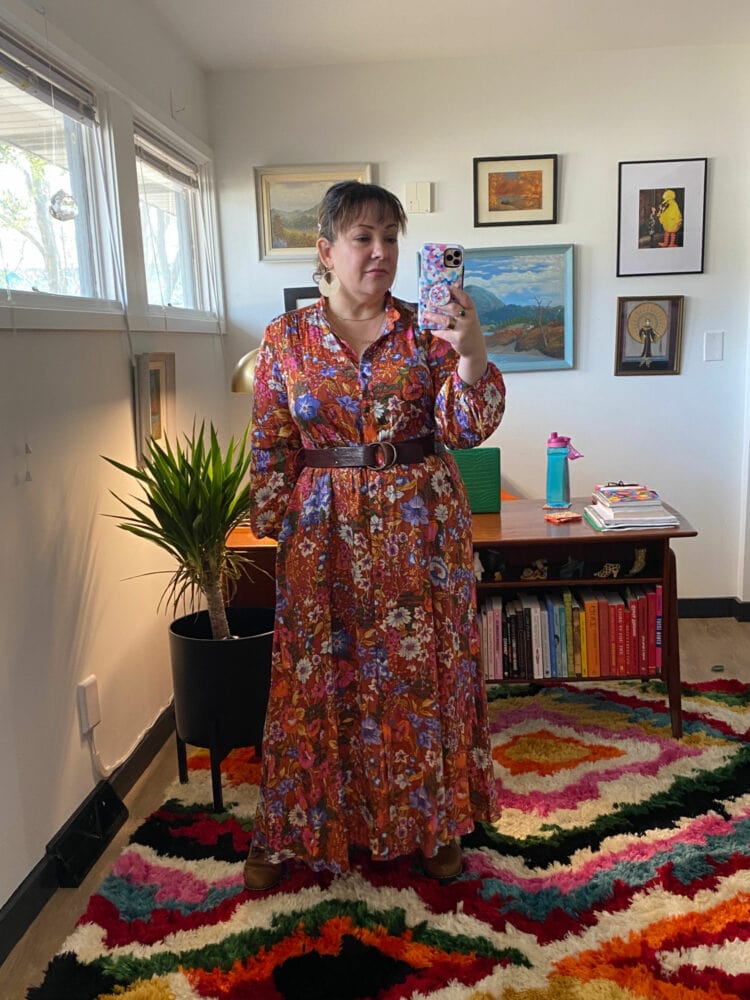 The shoes are these boots from Dr. Martens. I'm wearing an old pair of earrings from Chico's and my hair is back because I was just not having a good hair day. If all else fails, pin it up!
Those Darn Plaid Pants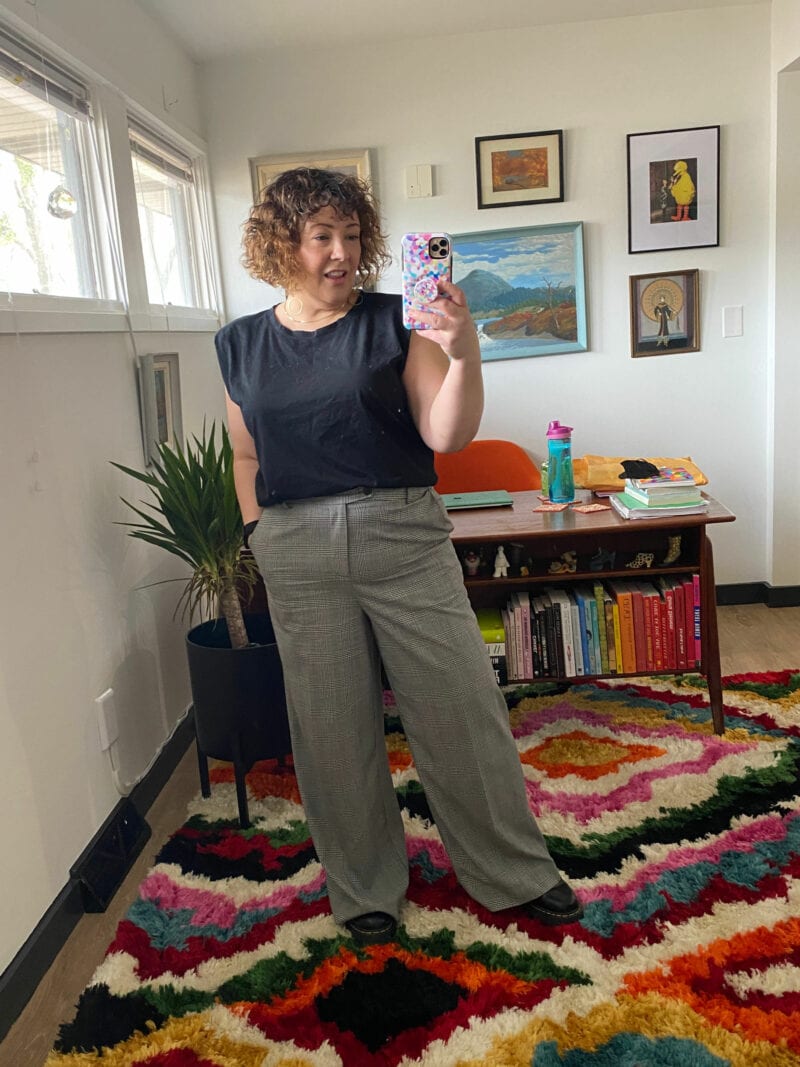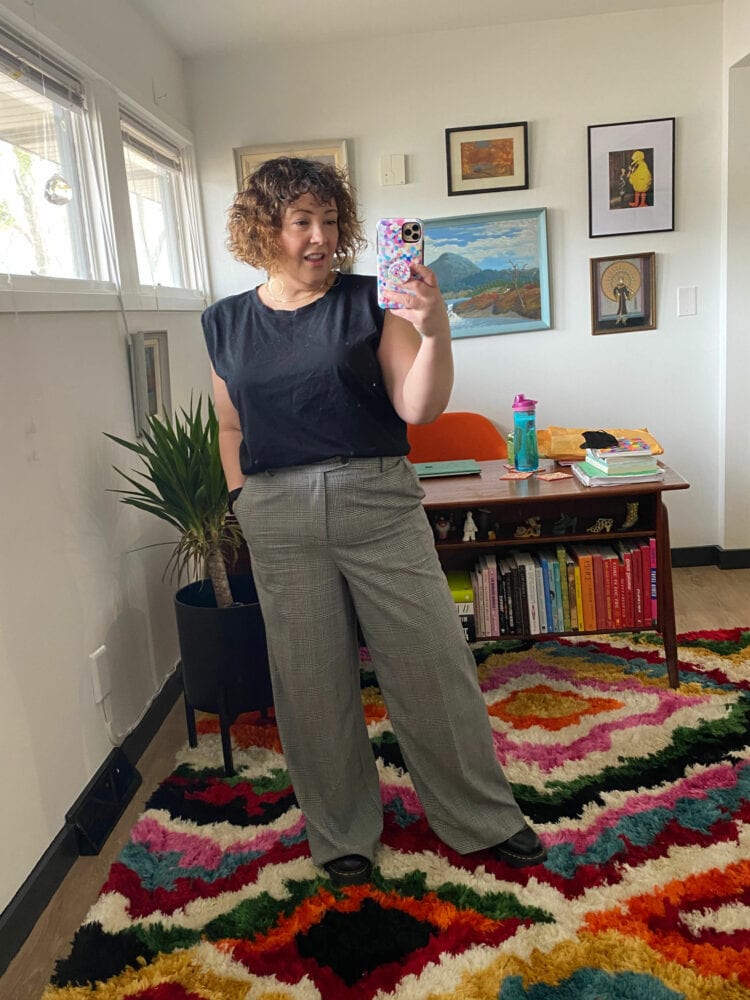 I wear these plaid pants from Universal Standard weekly. Like many, after the holidays and these dark short days of winter and just life these days, my body has changed and these pants remain comfortable and non-restrictive. They seem to work no matter what shape my body chooses to take, sometimes slouchy and sometimes more tailored.
Each time I wear these I whine how US stopped making these pants. I don't know why they have gone the loungewear/sweats/casual ordinary basics route but I think if they brought these pants back they'd do extremely well. Sometimes I think brands give up too quickly on size-inclusive elevated pieces. Yes, folks will quickly buy a sweatshirt or a pair of leggings but when a retailer becomes a workwear destination, you get lifelong customers who rely on you for such clothing, even if it's not cheap and a quick retail dopamine fix. I think right now is a prime time for brands like US to offer pieces like this that can be worn with a blazer for a polished suit, or with sneakers and a t-shirt for a cool weekend look.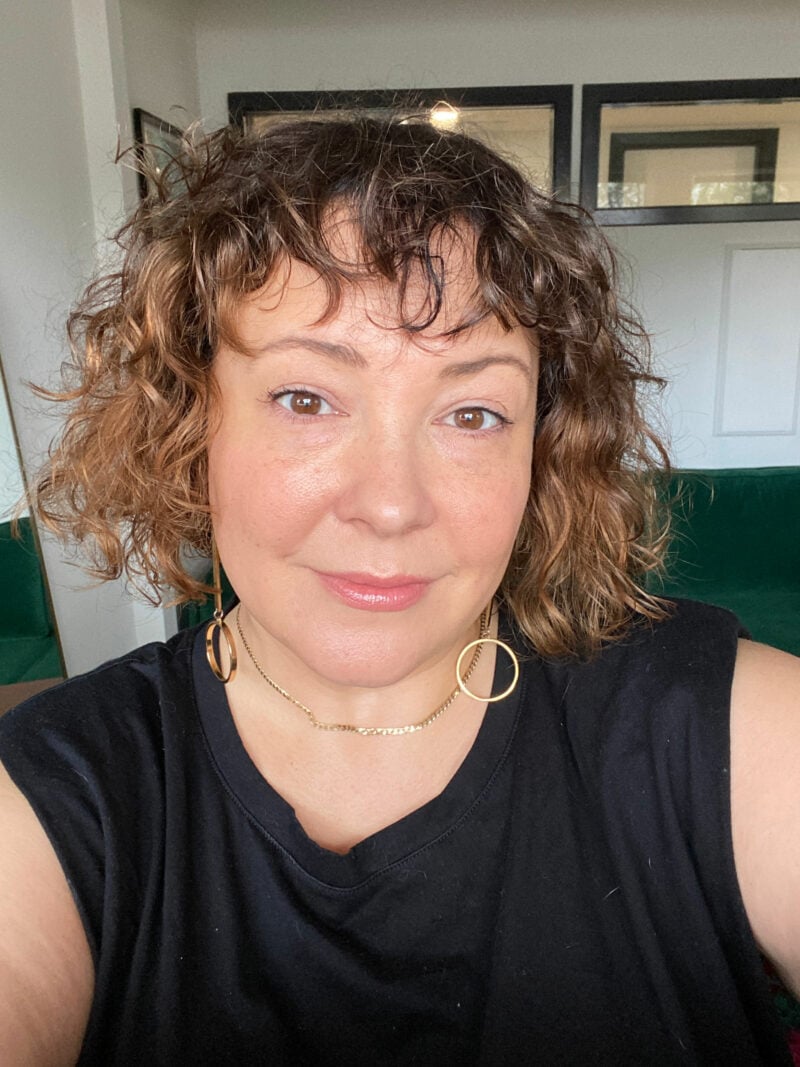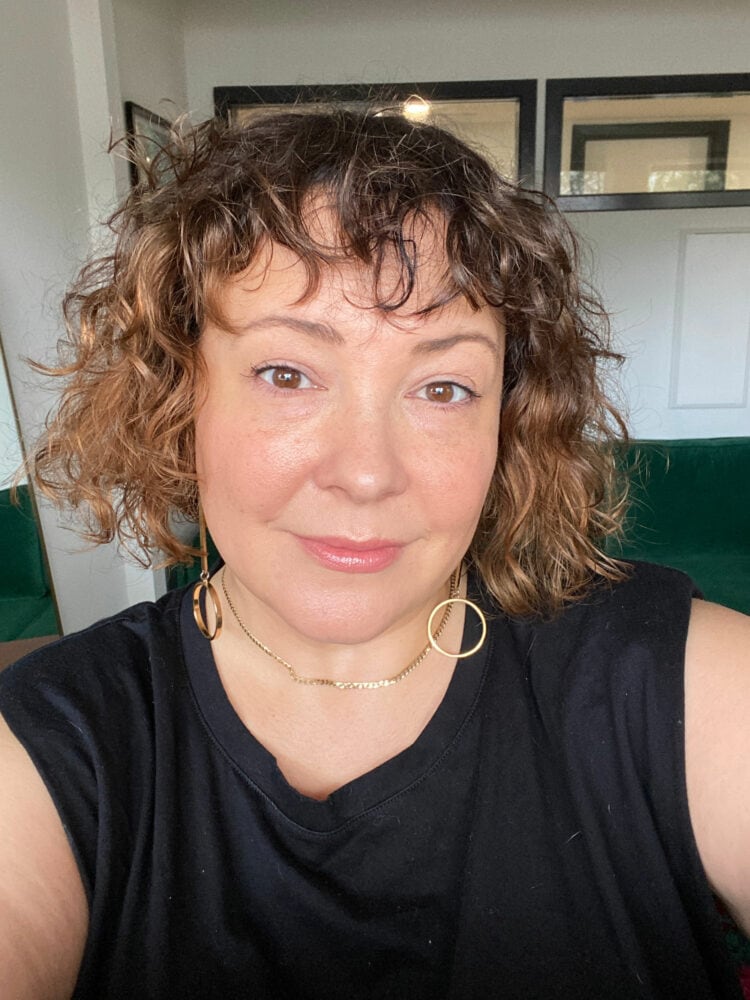 This day I wore them with a padded shoulder tee from Banana Republic that I got this past summer. They still have it in black and also in white. I am wearing a Large. And then I chose these Docs to finish the look. It would have been easy to switch to a dressier boot or make it more casual with a pair of chunky white sneakers.
Seasalt Cornwall Sweater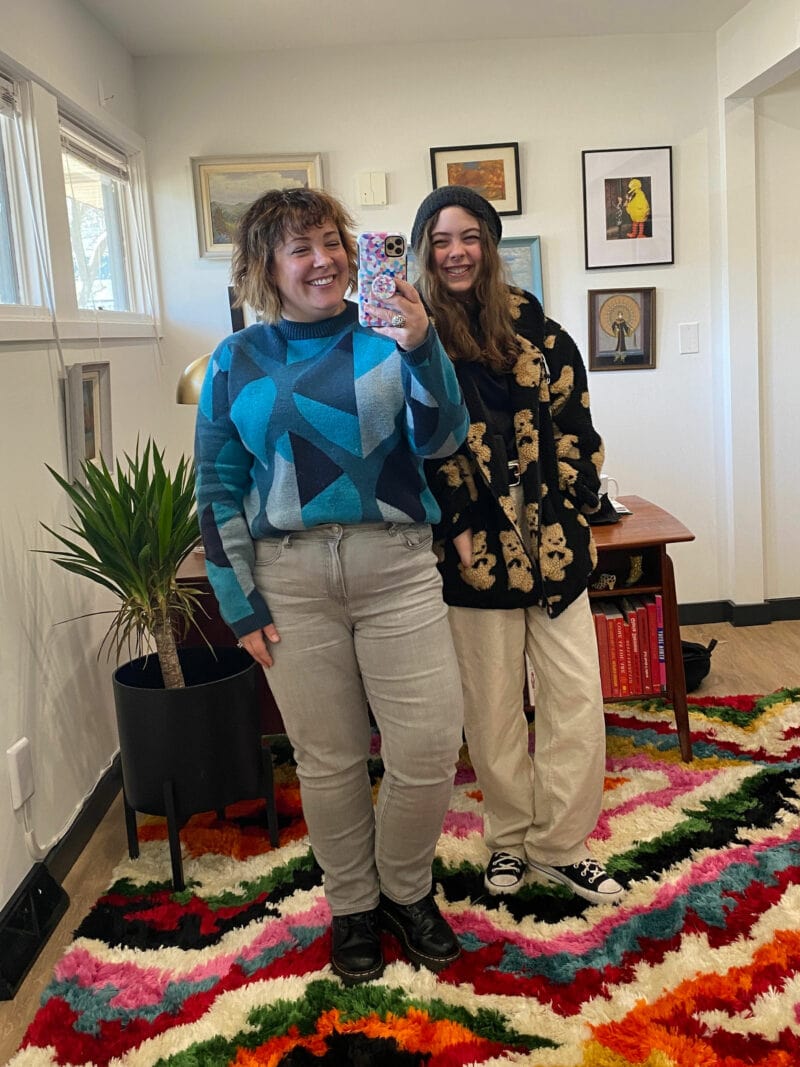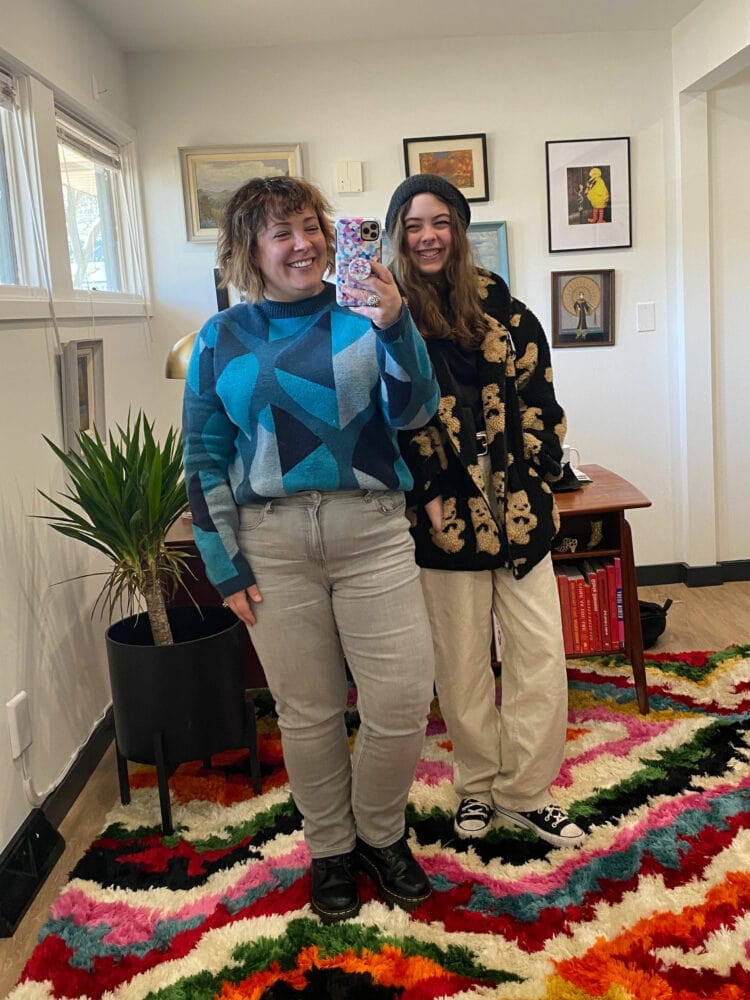 I mentioned before that Seasalt Cornwall offered to send me a couple of pieces, no strings attached, to try their brand. I tried their black cropped cords (seen in this post) and love them and wear them often. This is the sweater I picked and it's really nice… but it's not exactly my style. This is the first time I've worn it.
I have it paired with the gray Chico's DefineMe Denim ankle jeans I reviewed in this post. These are the jeans on Day 3 (I make sure to do a thorough wearing before reviewing). These two pieces with my Docs and I really felt like this is something I would have worn in high school (just switch out the jeans for a pair from Guess or some Levi's 501s). Not bad, but not me.
That being said, the sweater is really great quality, the colors are pretty, the knit is flat and tight, it's not itchy, and it kept its shape even with me pushing the sleeves up on my forearms. I'm wearing a size 14.
Playing with Proportion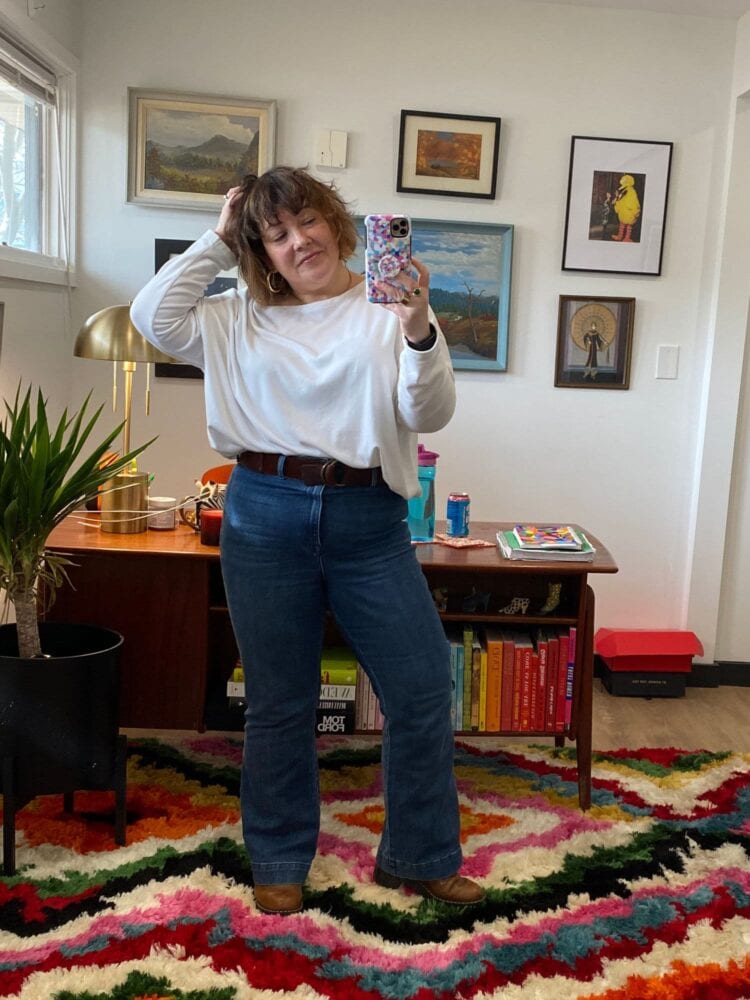 I've worn this look several times, but think this is the first time on the blog. This is this top from ALLSAINTS in size Medium; I first wore it in the blog in this post from the early fall. This is a really nice top, great weight, has held up to multiple washings. The jeans are old from Talbots and no longer available (I think this is the first time I had them on the blog). The belt is the same brown one I wore above with the maxi dress, and same boots too.
We All Have Bad Days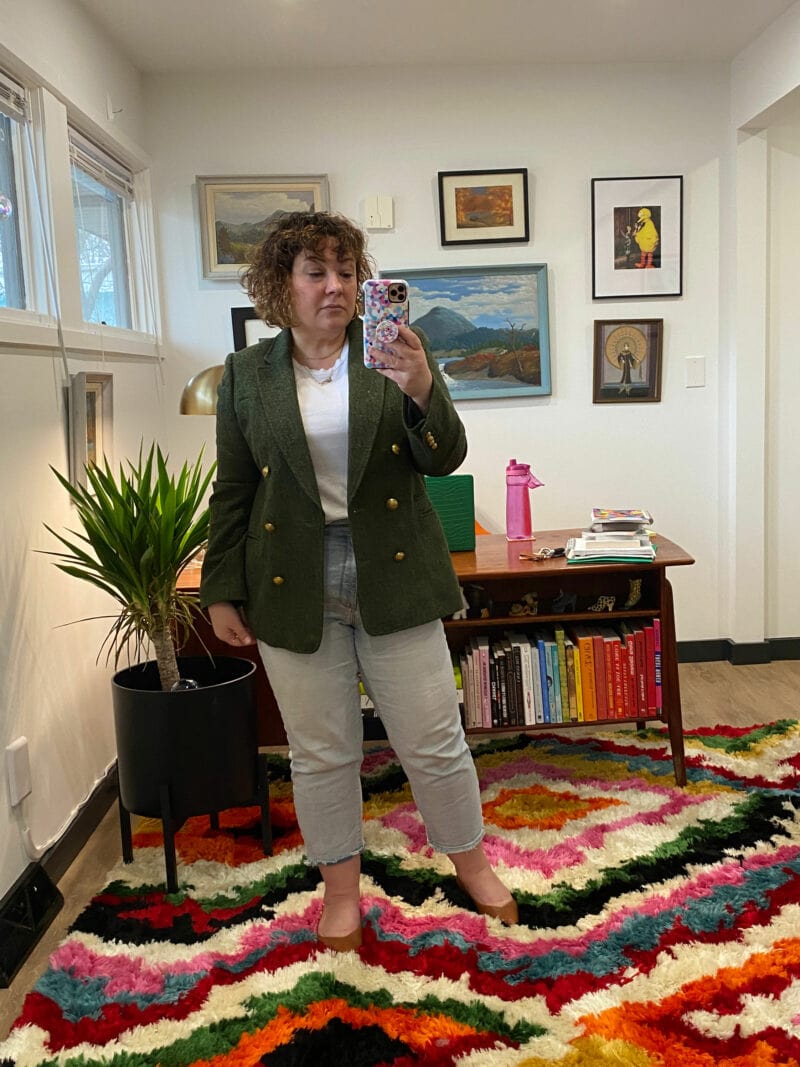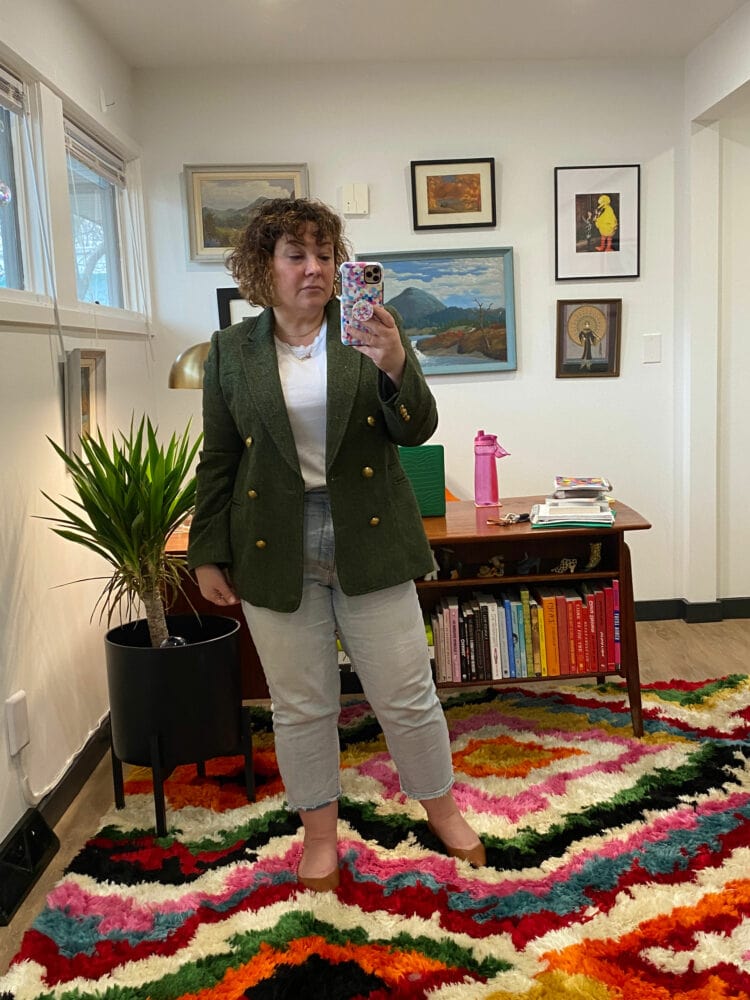 I just look at this photo and recall how that day was one of those no good very bad days where you really feel like you woke up on the wrong side of the bed. It was like everything that could be wrong was wrong and I was just glad to be wearing two matching shoes when I left the house.
But I am glad I have some wardrobe staples in my closet to make a really yuck day not look quite so yuck. These Athleta jeans are several years old and not the best for this outfit but they're comfy (see them here). The t-shirt is the Universal Standard T-Rex, size XS. Best white tee IMO, perfect drape, silkiness, opacity, durability, it stays white, looks nice tucked in or out and I appreciate the slightly longer short sleeve which looks really nice on my upper arm.
The blazer is J. Crew and a couple of years old (you can see it in more detail in this 2020 blog post). The flats are from Ally NYC; this is my Ally flats review. I continue to love these flats for how well designed and comfortable yet stylish they are.
Shop the Post: