This article may contain affiliate links; if you click on a shopping link and make a purchase I may receive a commission. As an Amazon Associate, I earn from qualifying purchases.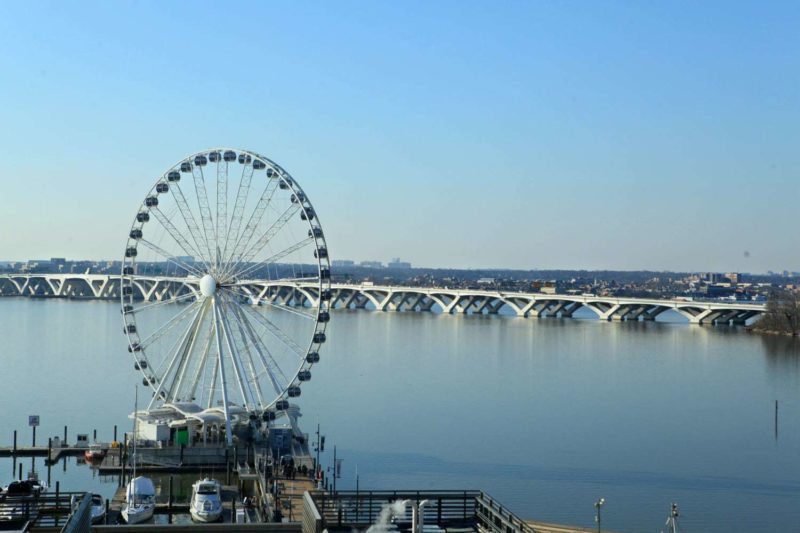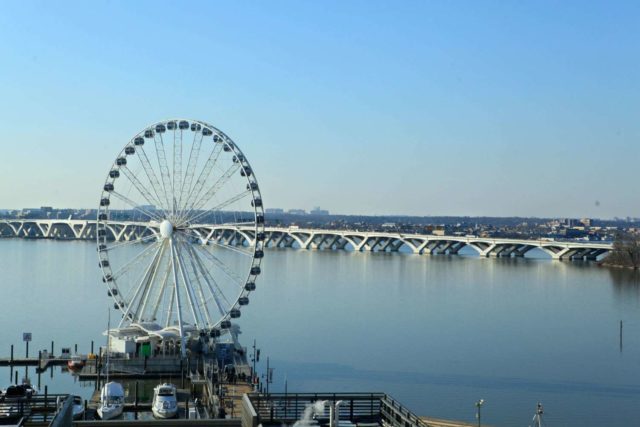 I have lived in Prince George's County, Maryland almost all my life. My parents moved here from DC when I was a toddler. I even went to the University of Maryland College Park which is in PG County. After college I lived in Annapolis for a stint, but when Karl and I moved in together in 2000, we came back to where the two of us grew up. PG County is a great community right outside of Washington DC that is full of beauty, culture, history, and attractions. And one of those attractions is National Harbor.
Visiting National Harbor for Restaurant Week
Many think National Harbor is in DC, but actually it's in Prince George's County. However it's super close to DC and right across the Potomac River from Northern Virginia. It's a fantastic destination for dining, shopping, and nightlife. National Harbor hosted me and my husband for a quick getaway during Restaurant Week. During Restaurant Week, many of the National Harbor restaurants have special menus that offer the best of their dishes at a reduced price. It's a fantastic way to try a restaurant that is usually outside your budget or to try out a new dining spot. We stayed Thursday night through Saturday afternoon.
The AC Hotel National Harbor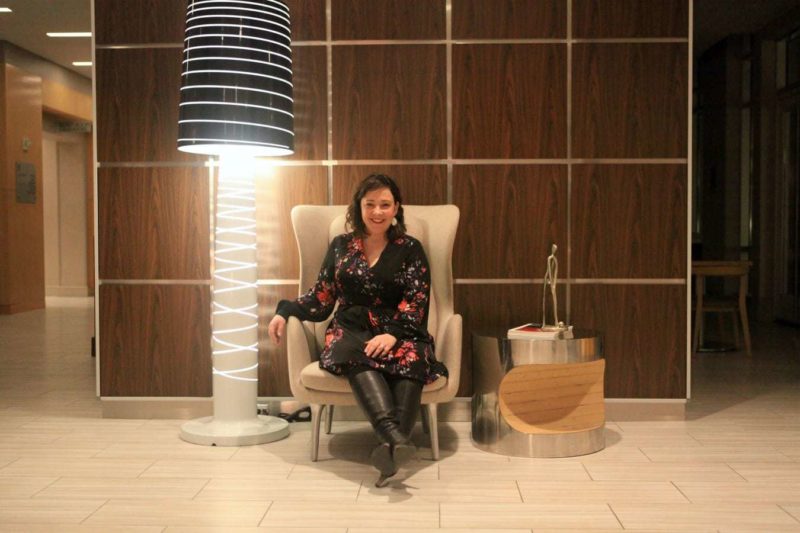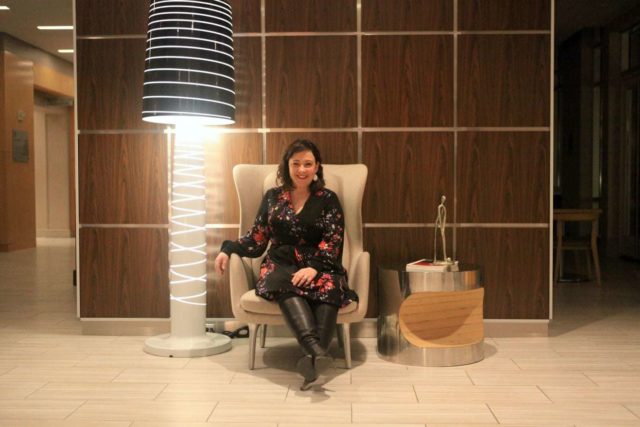 This is the second time we've visited National Harbor, and yet again we stayed at the gorgeous AC Hotel. Located on the main drag in National Harbor, the AC Hotel is positively stunning. The lobby is so chic with a fireplace, covetable books and art, a terrace overlooking the hottest National Harbor attractions, and a bar that serves craft cocktails and tapas. This hotel is a popular destination not just for guests but others looking for a chill place for cocktails.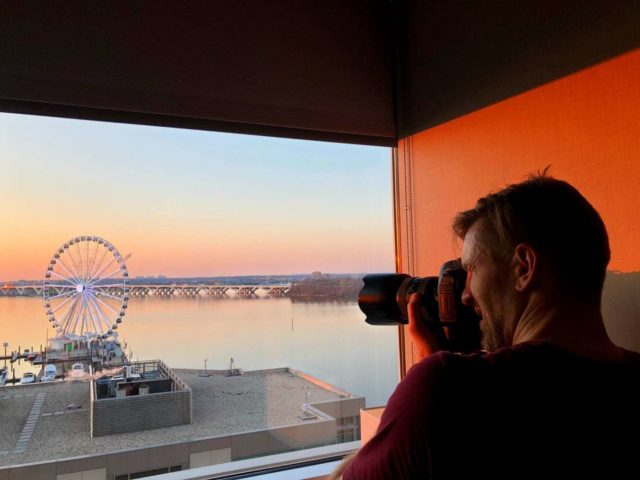 The rooms at the AC Hotel are modern, sleek, and luxurious. We had a plush king-sized bed with luxe linens where from our pillows we could see the iconic Capital Wheel and the sunset. There's a mini fridge they keep stocked with chilled water and glasses. The huge 42″ LCD TV lets you connect to your streaming accounts to watch Netflix, Hulu, and more on the big screen. National Harbor provided a welcome gift including items from Wolfgang Puck, Capital Teas, tickets to the Capital Wheel, and some awesome branded merchandise (can't wait to add the Capital Wheel gondola ornament to our Christmas tree next year!).
Dinner at Bond 45 National Harbor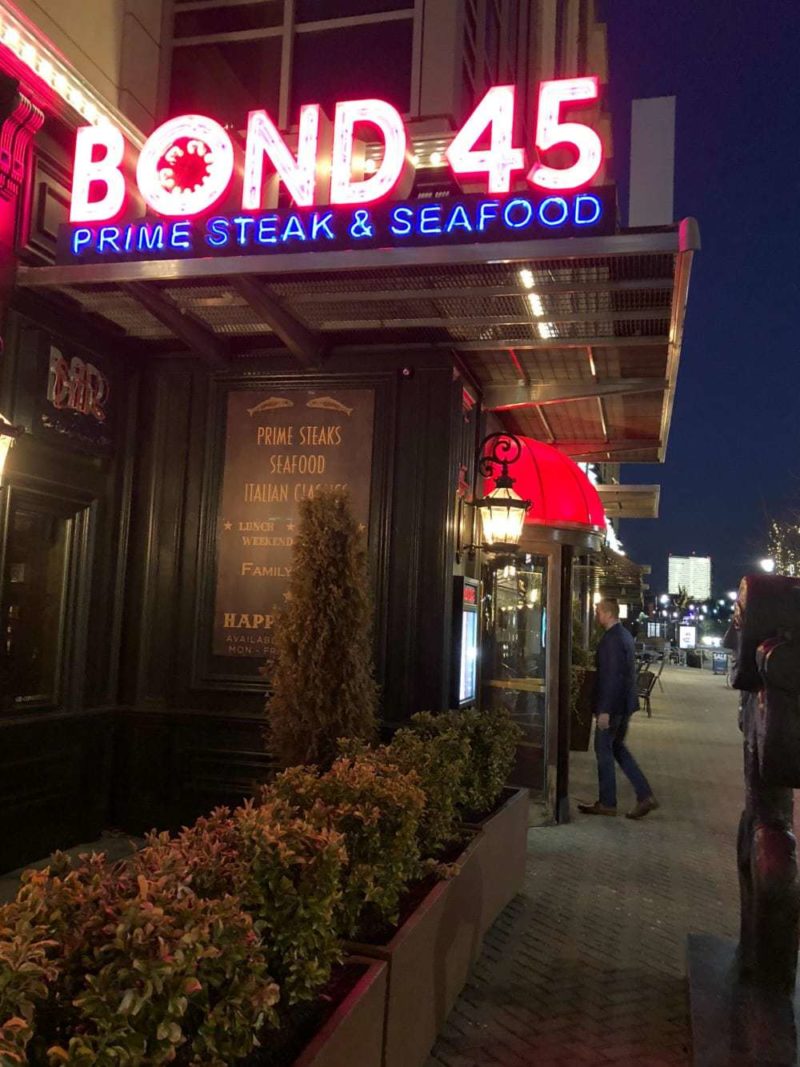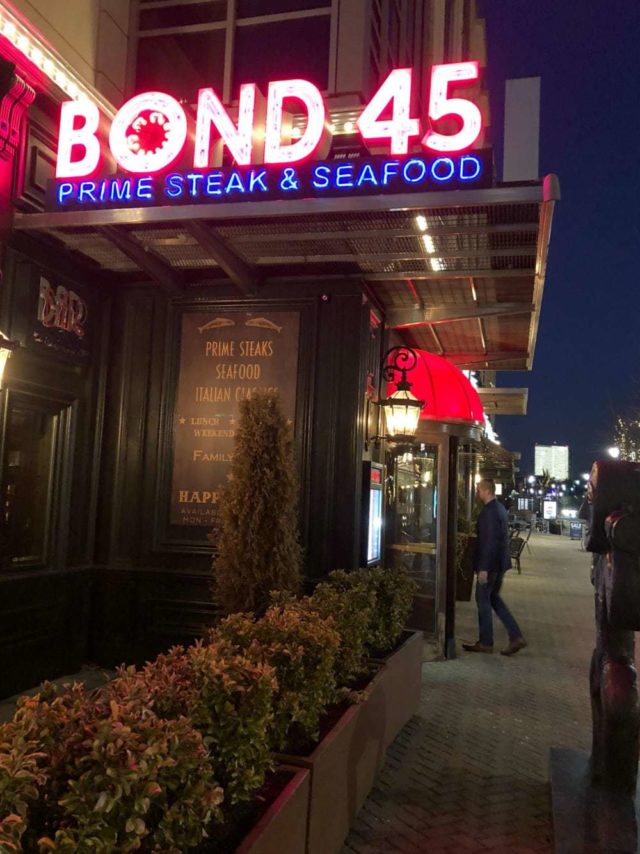 After getting checked in and unpacked, we were ready for dinner. National Harbor made reservations for us at Bond 45. A legend in New York's theater district, Bond 45 opened their second location in National Harbor. And walking in feels like walking into old New York. A stunning restaurant, we were guided through the kitchen to one of their conservatory rooms. All glass and green paint, we had a view of the docks and the setting sun. The service was impeccable, as was the food. We both started with their chopped salad which was unique, fresh and delicious. I ordered one of their famous aged steaks and it was divine. It said it came with parmesan mashed potatoes, I asked if I could switch for a vegetable and they suggested their rosemary potatoes which were crispy on the outside, soft on the inside, and totally delicious (we couldn't finish them and took them and half my steak back to the hotel in a doggy bag).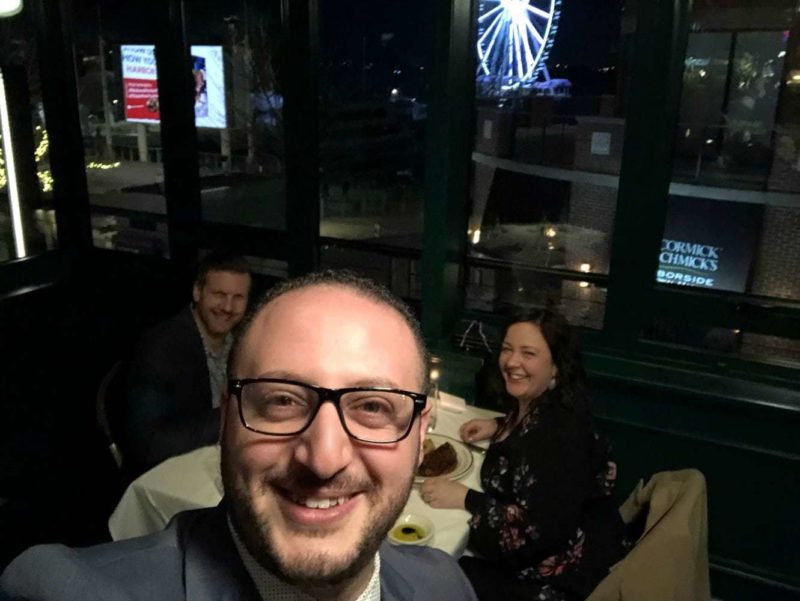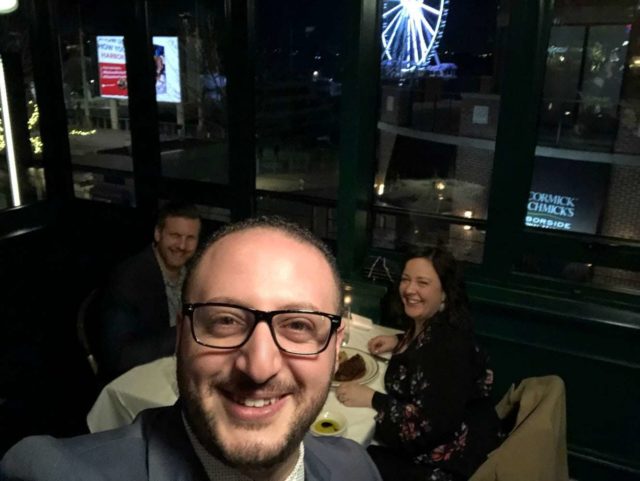 The manager stopped by our table (and every table) to see how things were and even took a photo of us (and a selfie with him in it too which was too funny). After dinner, he came by with a tray of freshly baked chocolate chip cookies. I looked around and each table was treated with the same care and attention we received.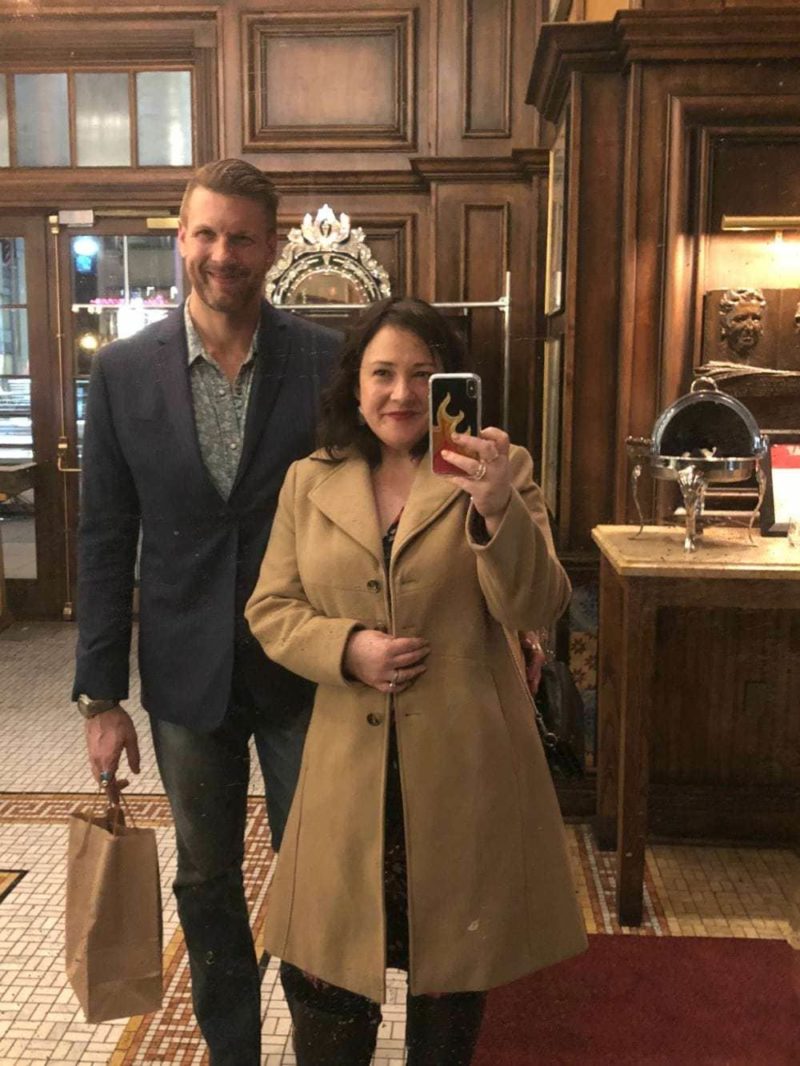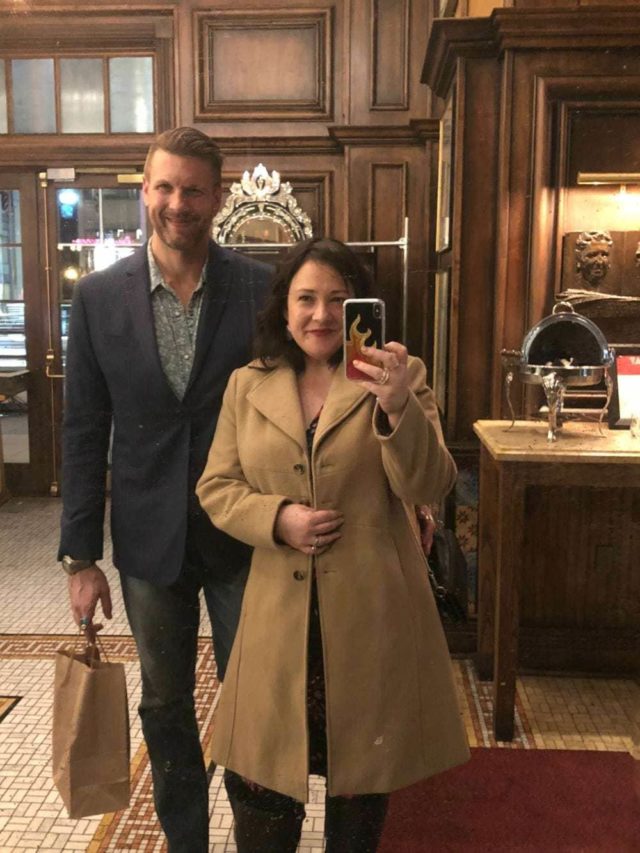 This would be a fantastic restaurant for a romantic evening or to celebrate a special occasion. The conservatory rooms would be amazing for a small party; I can't imagine how gorgeous they must be on a sunny day! We will definitely be returning to Bond 45, it was a highlight of the trip.
Day Two of our Getaway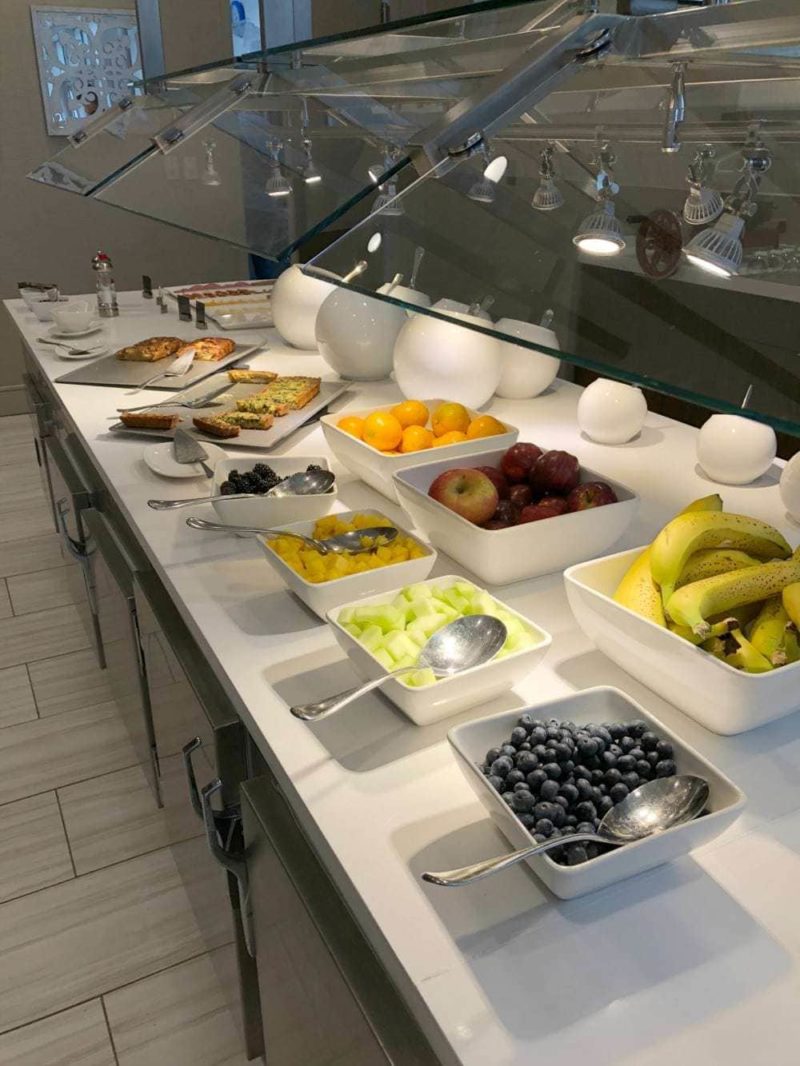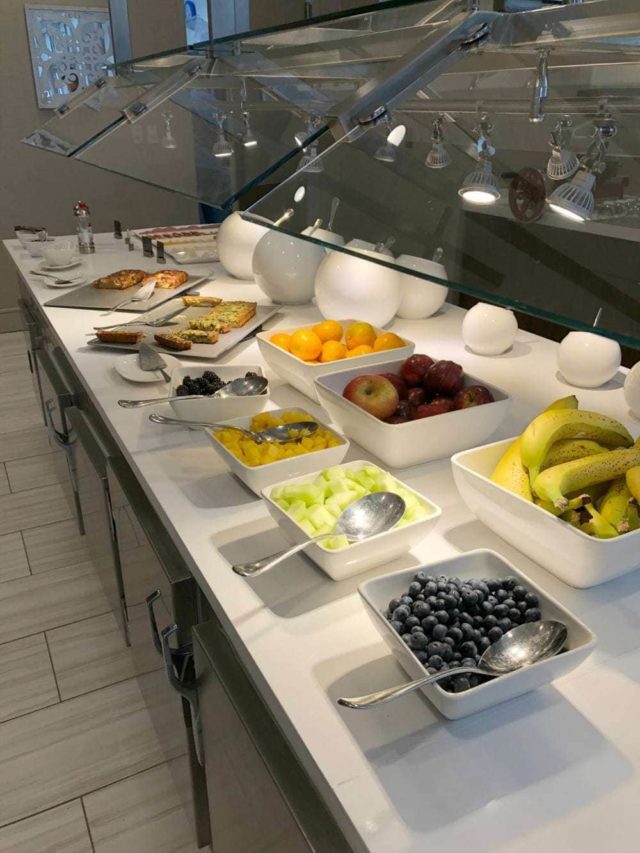 The next morning, we had breakfast in the AC Hotel lobby. The hotel offers European-style breakfast buffet with meats, cheeses, berries, granola, pastries, yogurt, juices, coffee, and more. The seating is in a sunny part of the lobby and in nicer weather, there's a courtyard off the dining room with couches and tables for dining and relaxing.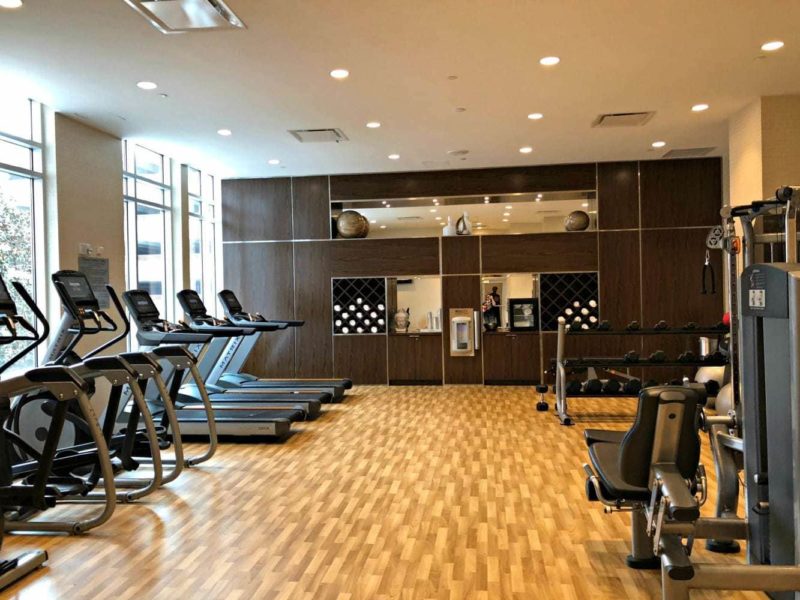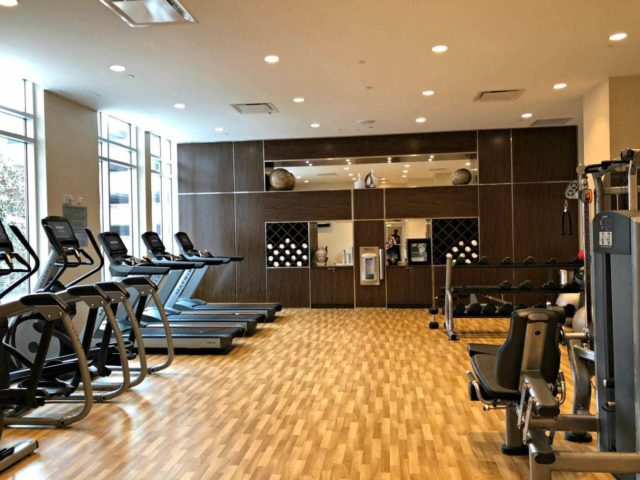 We decided to hit up the hotel gym. With several treadmills, ellipticals, and plenty of new weight equipment, it's a great space. While there we also refilled our reusable water bottles from the filtered water machine.
Lunch at Grace's Mandarin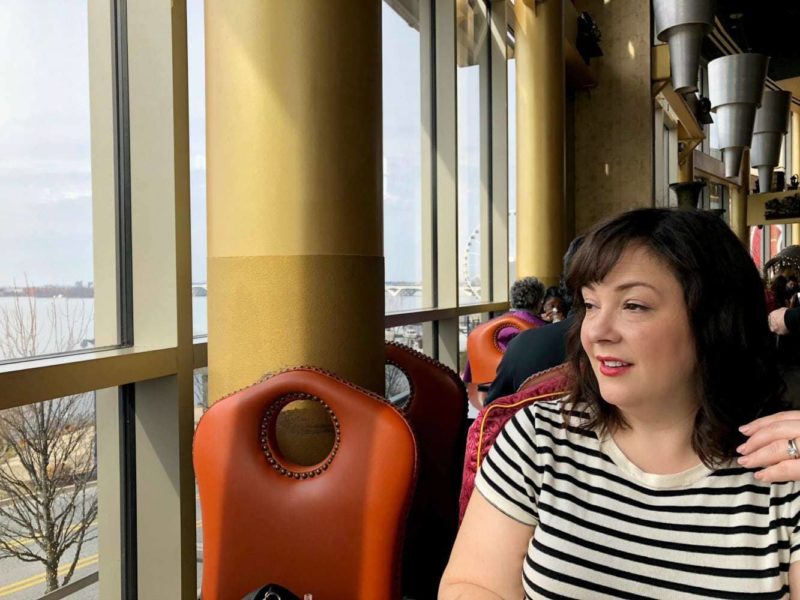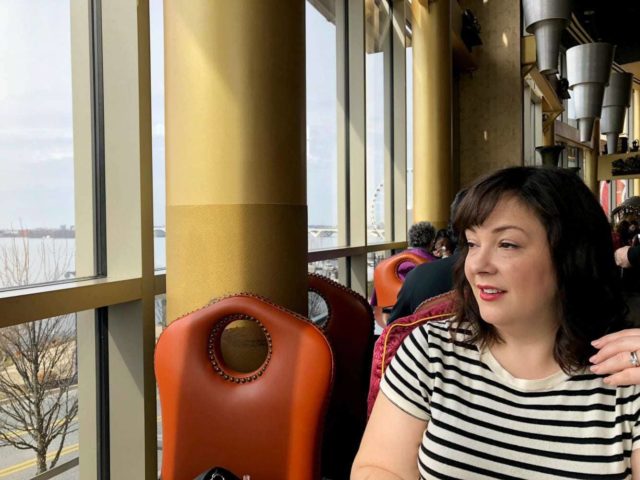 National Harbor set us up for lunch at Grace's Mandarin. Grace's Mandarin is the third restaurant in Prince's George's County by Grace Tang. The first, Grace's Fortune, opened in 1990 a few miles from where Karl and I grew up. One of our first dates when we were still in high school was at Grace's Fortune so it was fun to visit Grace's Mandarin for the first time. The place is amazing, with a two-story gold Buddha statue, ornate stairs, stunning décor, and a wall of windows facing the water. We were seated on the second floor next to the windows with a great view of the water, the Gaylord resort, and the dining room.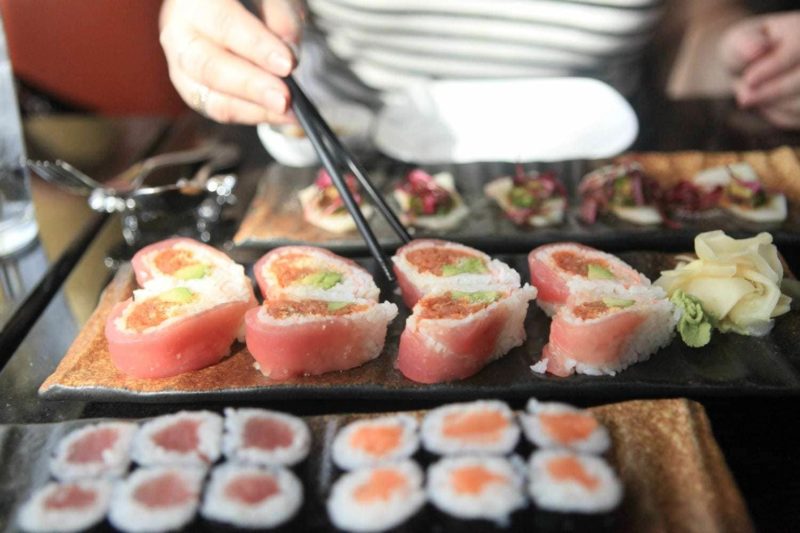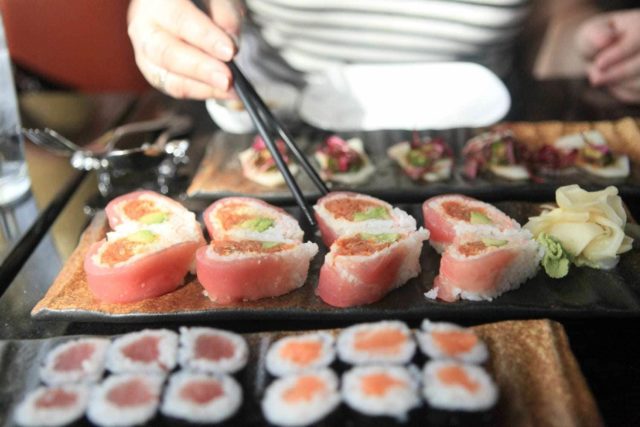 Karl ordered mushroom lettuce wraps and I decided to try out the Restaurant Week menu with a yellowtail appetizer and lamp chops for the entrée. We ordered the sushi roll, "Heart of National Harbor" to share. I think this was the best sushi I have ever tried. The lamp chops were also delicious. Service was amazing, the restaurant is extremely clean, and it's a fun experience day or night.
Visiting MGM National Harbor
We spent the afternoon doing photo shoots, which is clear from this week's previous posts! For dinner we weren't scheduled so we decided to check out the MGM National Harbor and eat at one of its restaurants. Friends of ours raved about Fish by José Andrés. I am a fan of Andrés and his DC-based restaurants and made a reservation the day prior. A reservation is a must at this establishment; 24 hours prior I could only get a table at 5:45 or 10pm. We were happy with the earlier dining time and decided to get there a bit earlier to check out the MGM.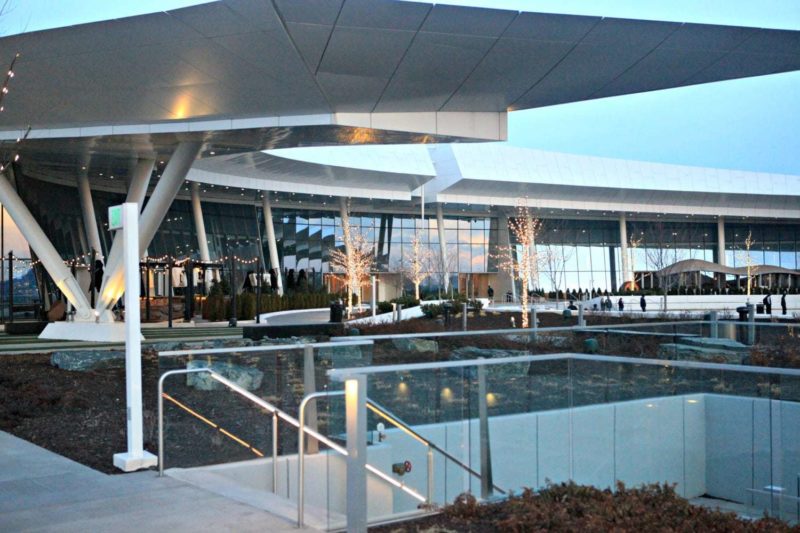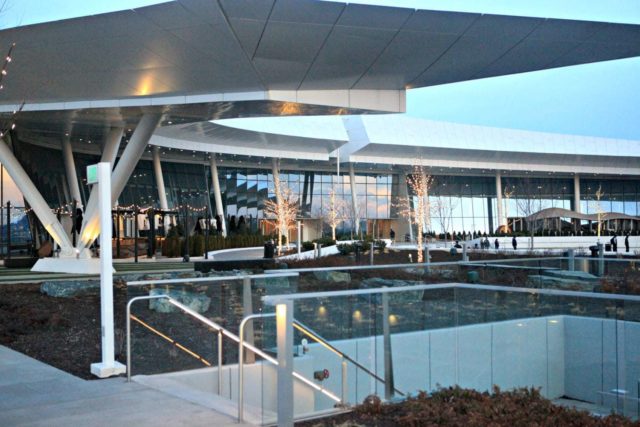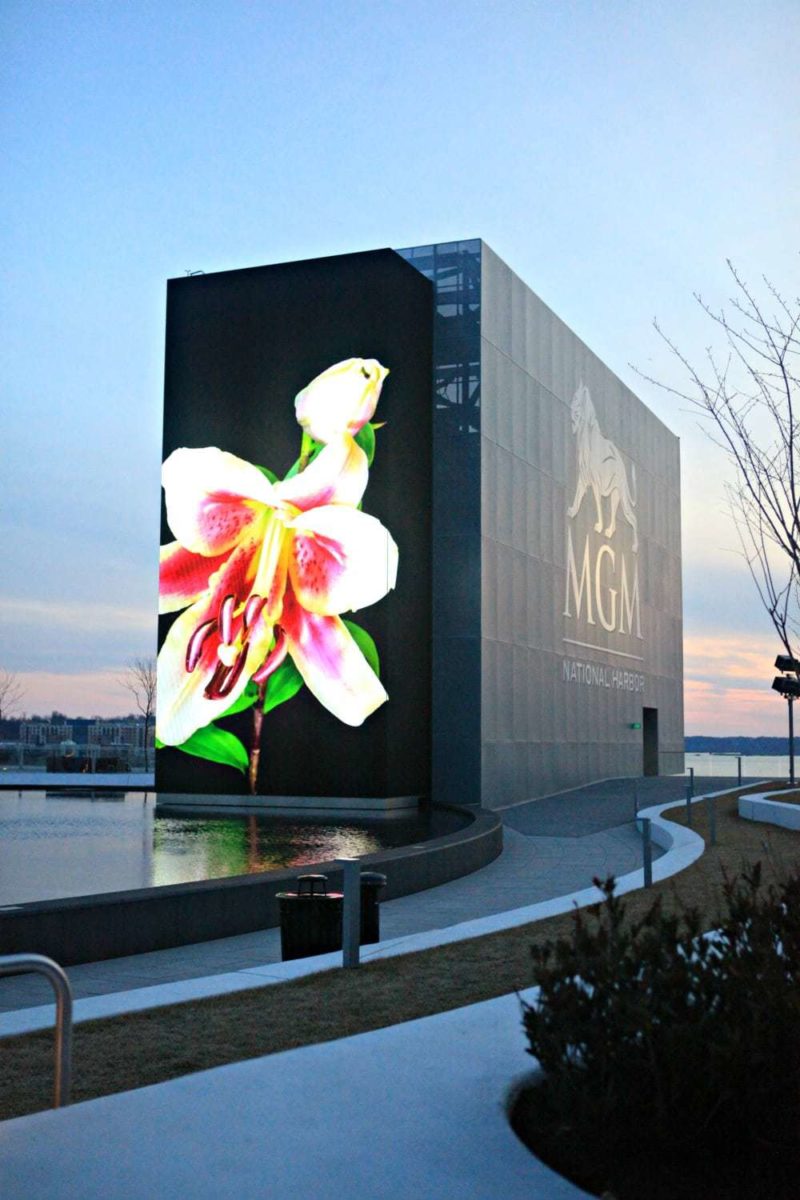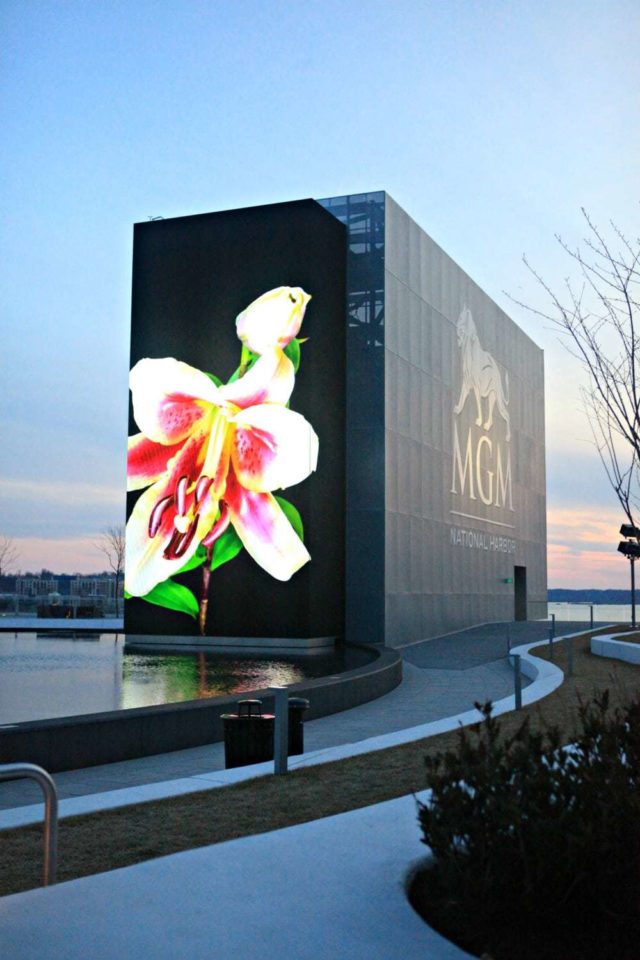 There is a shuttle that goes from downtown National Harbor to the MGM, but it's two blocks from our hotel, I was wearing heels, and it was cold. We decided to drive there, which is less than two miles. There's a ginormous parking garage at MGM, and the night we went parking was free. The elevator closest to our car ended up being right at Fish, and right at a door that went outside. There was a humongous screen outside showcasing photos of Washington landmarks, videos of flowers blooming, and other scenes. A large fountain was above it. There were outdoor areas for the restaurants, and an amazing view of National Harbor.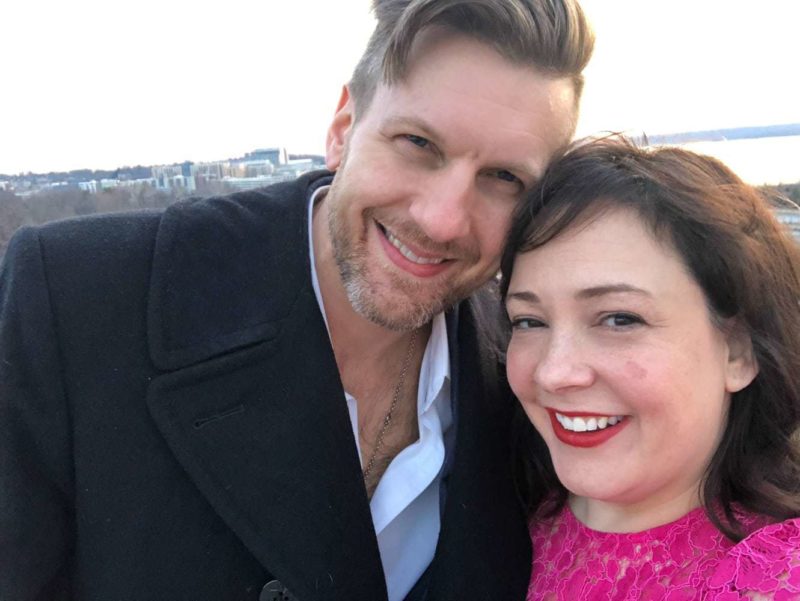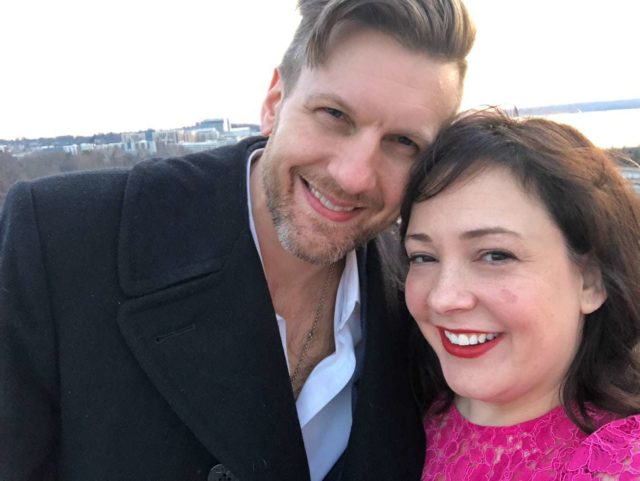 The whole thing was very surreal, I felt as though I was in The Capitol in the Hunger Games. You can see some photos from this outdoor area in my ELOQUII post (the colorful wall I'm in front of is actually the reflection of the jumbo screen on the windows of the MGM).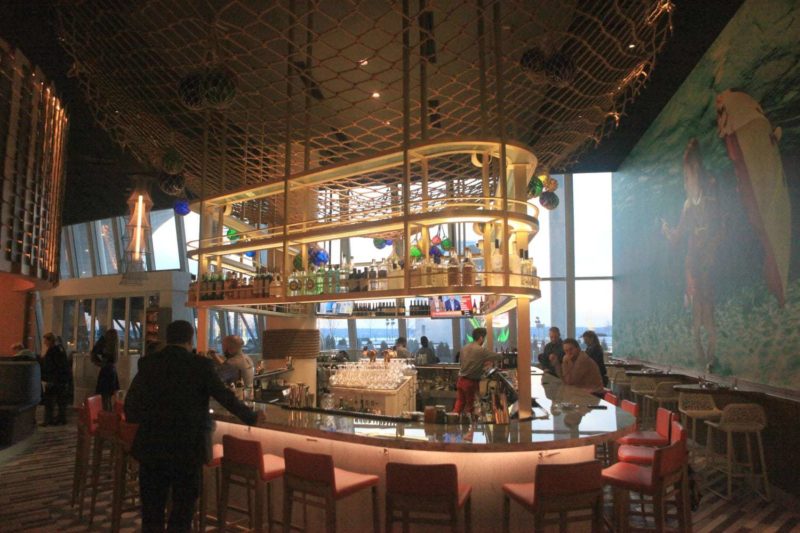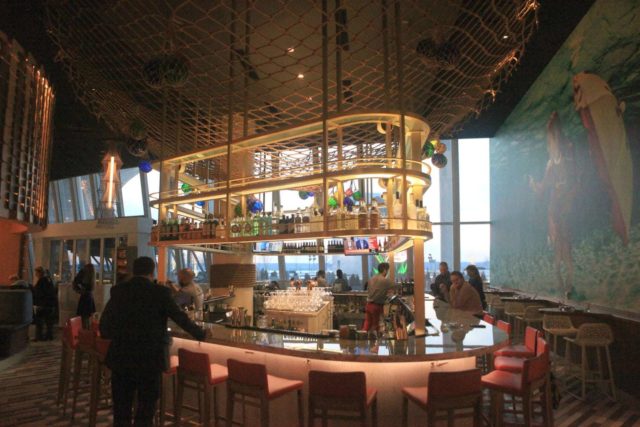 Fish by José Andrés is, as the name states, a seafood restaurant. Celebrating the seafood of the Chesapeake Bay, this restaurant prides itself on fresh fish cooked in time-honored traditions. It seems there was a staffing issue while we were there; while we were immediately seated and offered drinks, after 20 minutes we had to flag someone down to ask if we had a waiter. Our waitress seemed flustered, she raced through our order, our oysters were provided without explaining which ones were which, and again we had to flag someone down to get our check at the end. However, the food was quite delicious and the place is clean and attractive. I bet it's gorgeous in nicer weather when the doors are opened and there's outdoor seating available.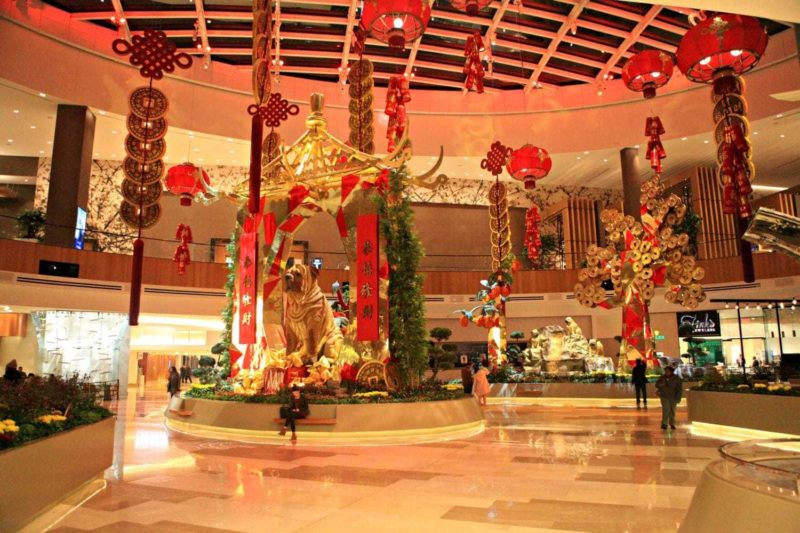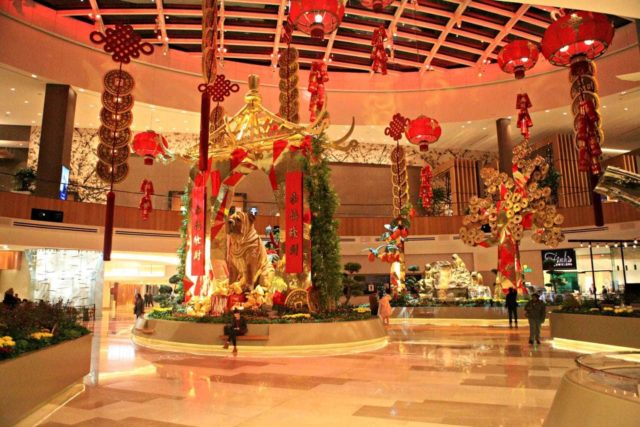 We decided to walk around MGM and check out the shops. Sarah Jessica Parker opened her first shoe store in MGM so of course I had to check it out. Staff pretty much ignored us, and it just seemed like the same pump over and over with spotlights perfectly angled to capture the glitter or shine. We walked through an atrium that was decorated for the Chinese New Year. There were all these ginormous dog figurines, decorations from the ceiling, and everyone who entered was filming the spectacle. We stopped by Starbucks where I ordered a chai for dessert and I could see into the casino (the Starbucks has two counters, one inside the casino and one in the mall area). That's the closest I got to the casino.
An Evening at Bobby McKey's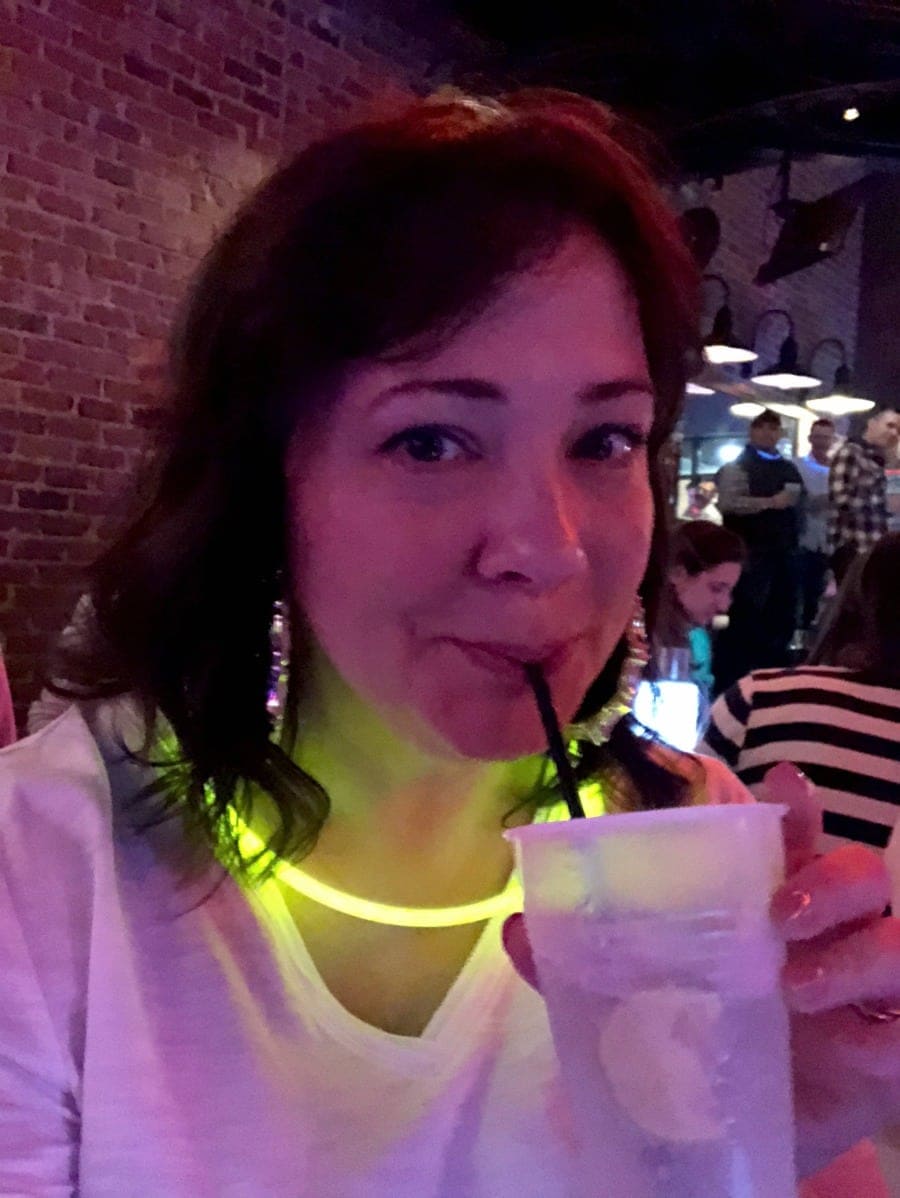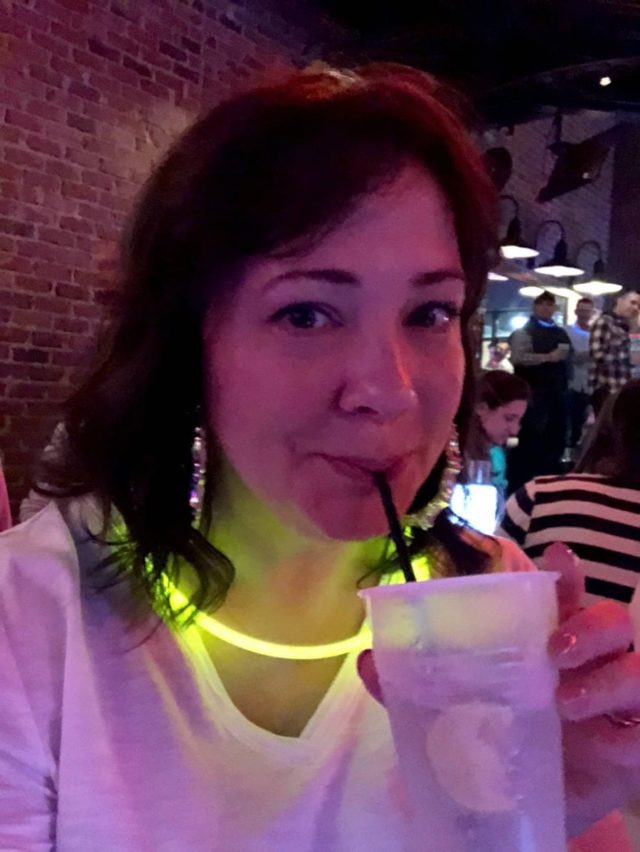 We came back to the hotel, got into warmer clothes and headed out for some nightlife. National Harbor invited us to visit Bobby McKey's, a dueling piano bar only a couple blocks from the AC Hotel. This is a fun spot for groups, and there we saw bachelorette parties, birthdays, engagement parties, and after parties from weddings and high school reunions. You sit at long tables so a whole group can be together or you may be seated with strangers.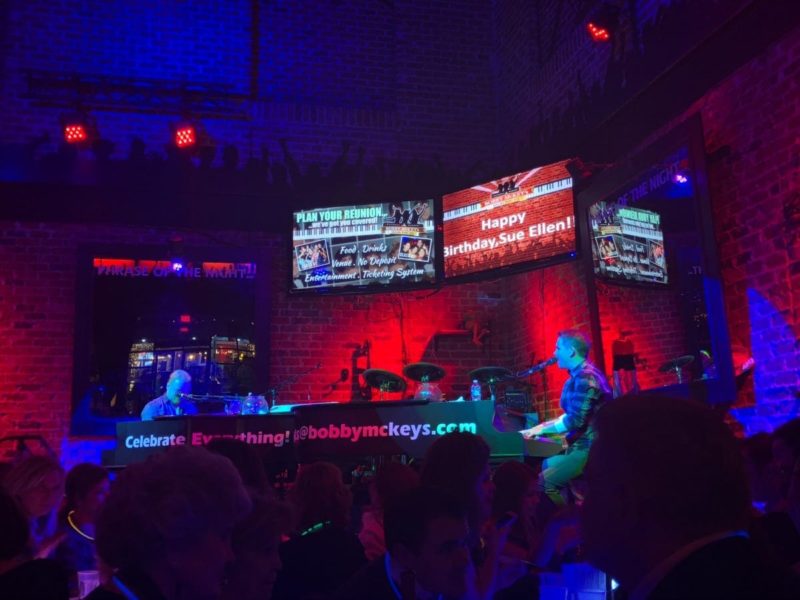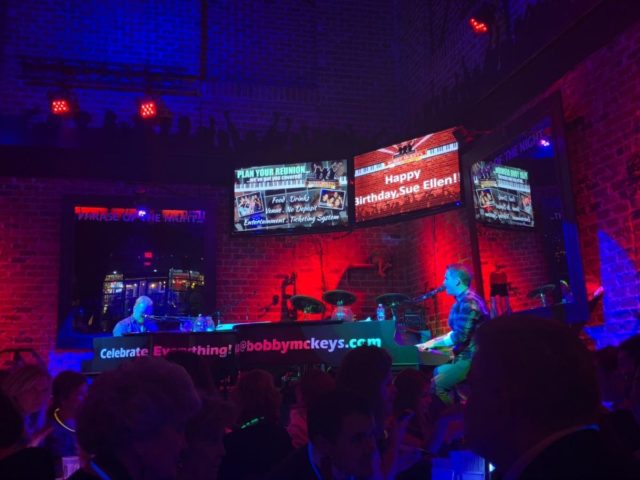 But at Bobby McKey's with the singalong music and flowing libations everyone quickly becomes friends. The variety of people and their ages was refreshing, this is a place that can be enjoyed by a 21 year old or a 71 year old, as long as you know pop tunes from the past 3-4 decades.
Day 3 of our Getaway
The Pinkwell National Harbor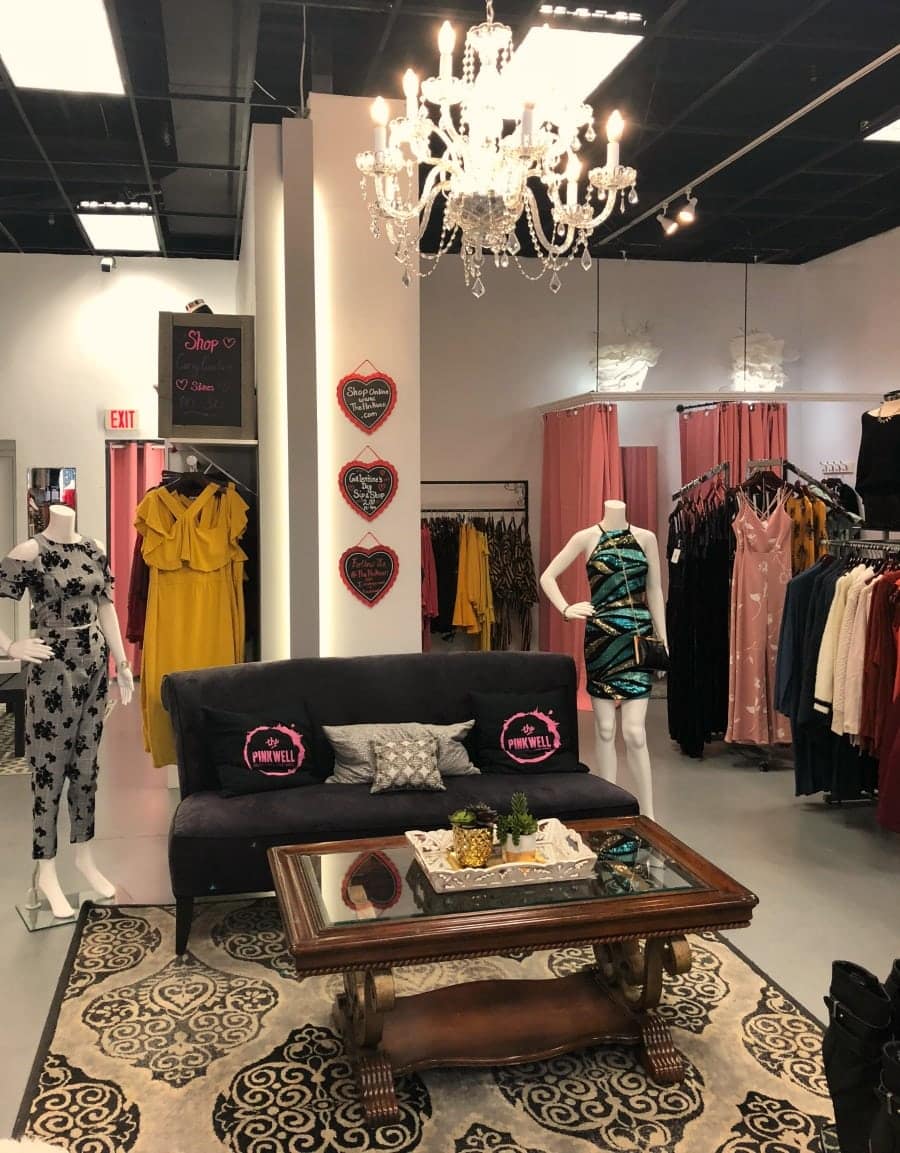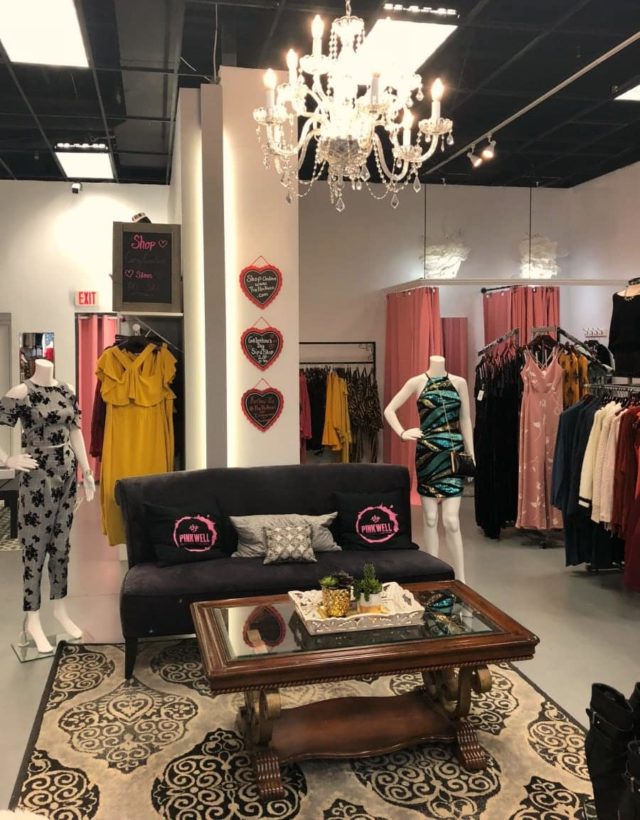 Sunday morning, we woke to grey skies that soon turned into rain. After breakfast, we headed to The Pinkwell, a boutique in National Harbor that offers cute fashion in regular and plus sizes. Such a rarity, most boutiques in the DMV stop around a size 12. The fashion is budget-friendly but full of fun. If you follow me on InstaStories you've seen me wear this dress a couple times. It's a navy, ivory, and brick red stripe with an asymmetrical hem. I tie the belt in a knot on the long side of the skirt and have paired it with black knee-high heeled boots and when the hair or weather is bad, a beret. In nicer weather I think this dress would be super cute with a pair of sneakers or pointy-toe flats. It's breezy, cute, and gets compliments every time I wear it. I also got a top (not on the site) and a few accessories and plan to visit again in the future.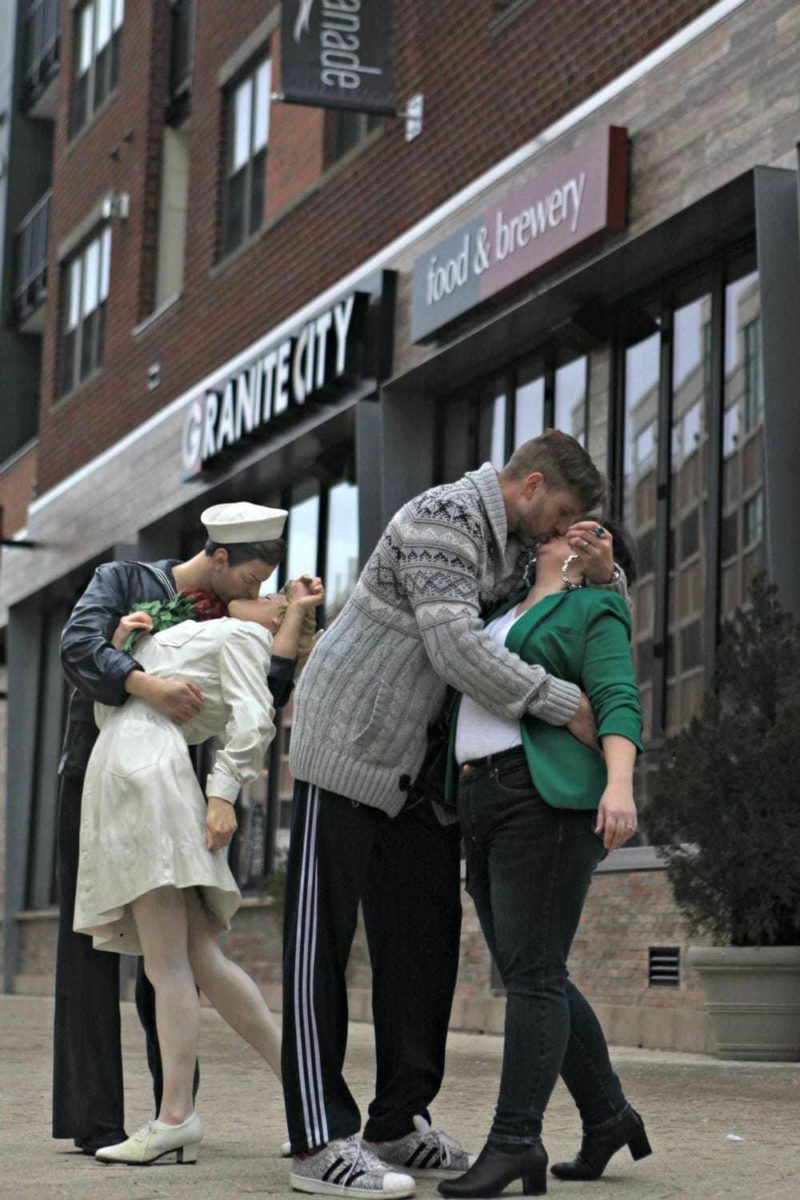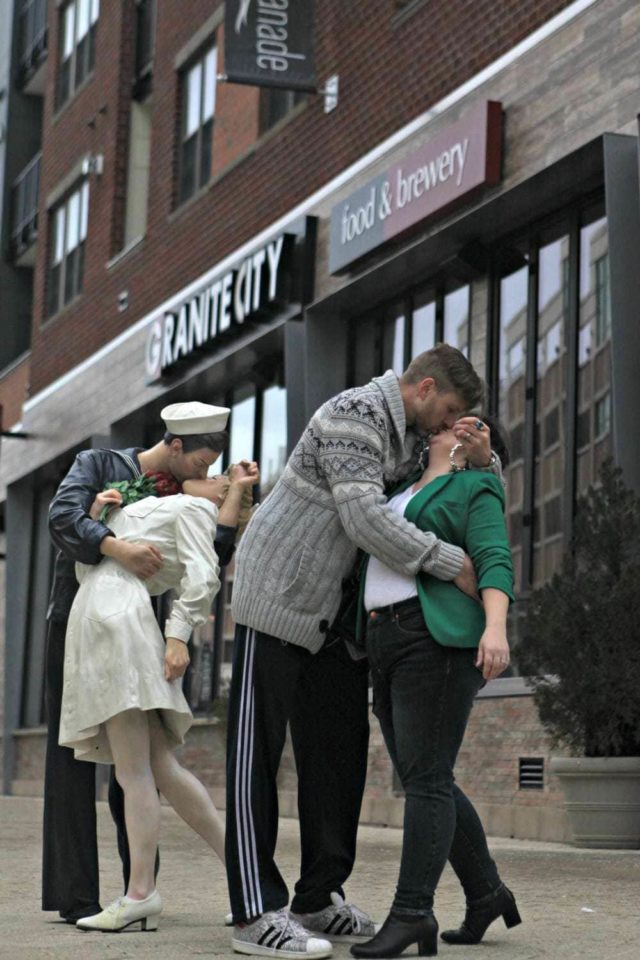 We walked around and checked out the other shopping in National Harbor. Karl got a quick haircut, and admired the statues throughout American Way.
The Capital Wheel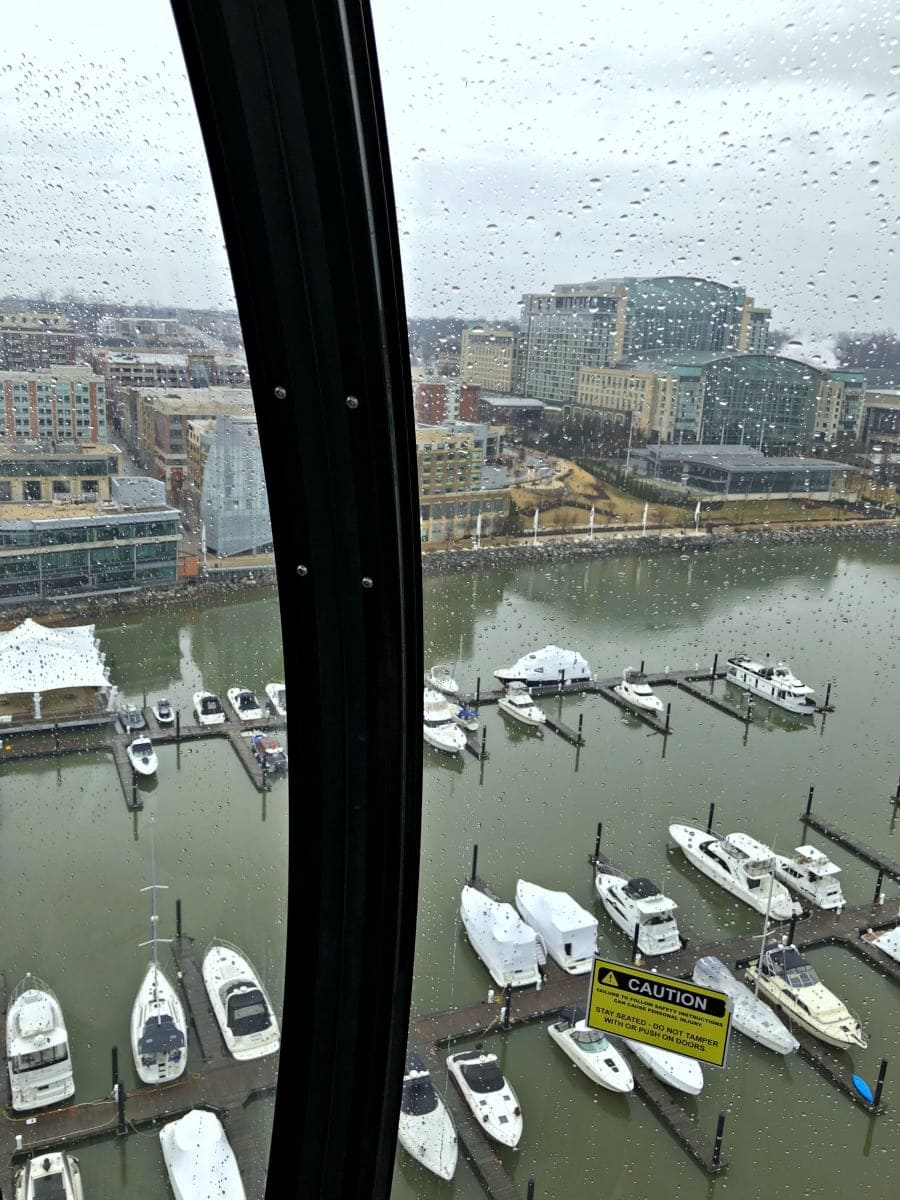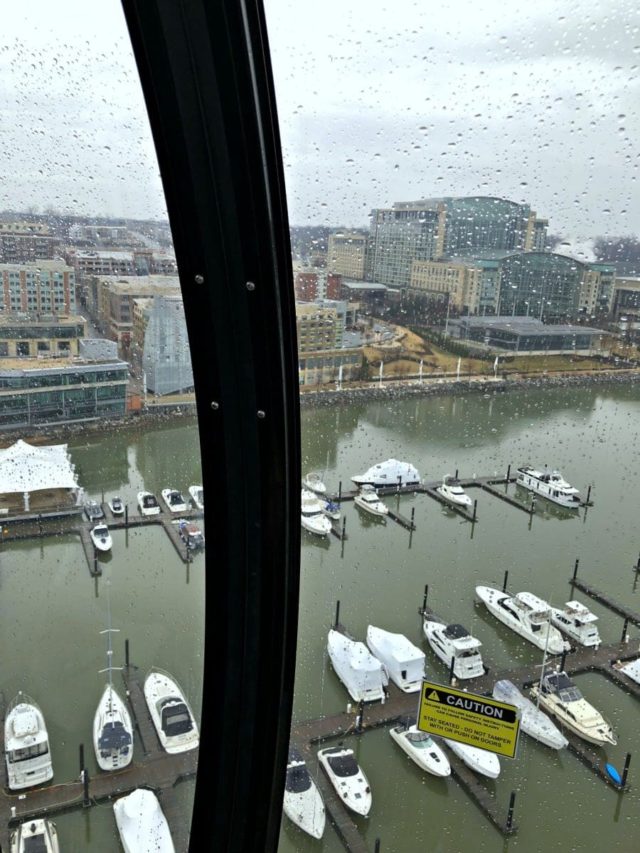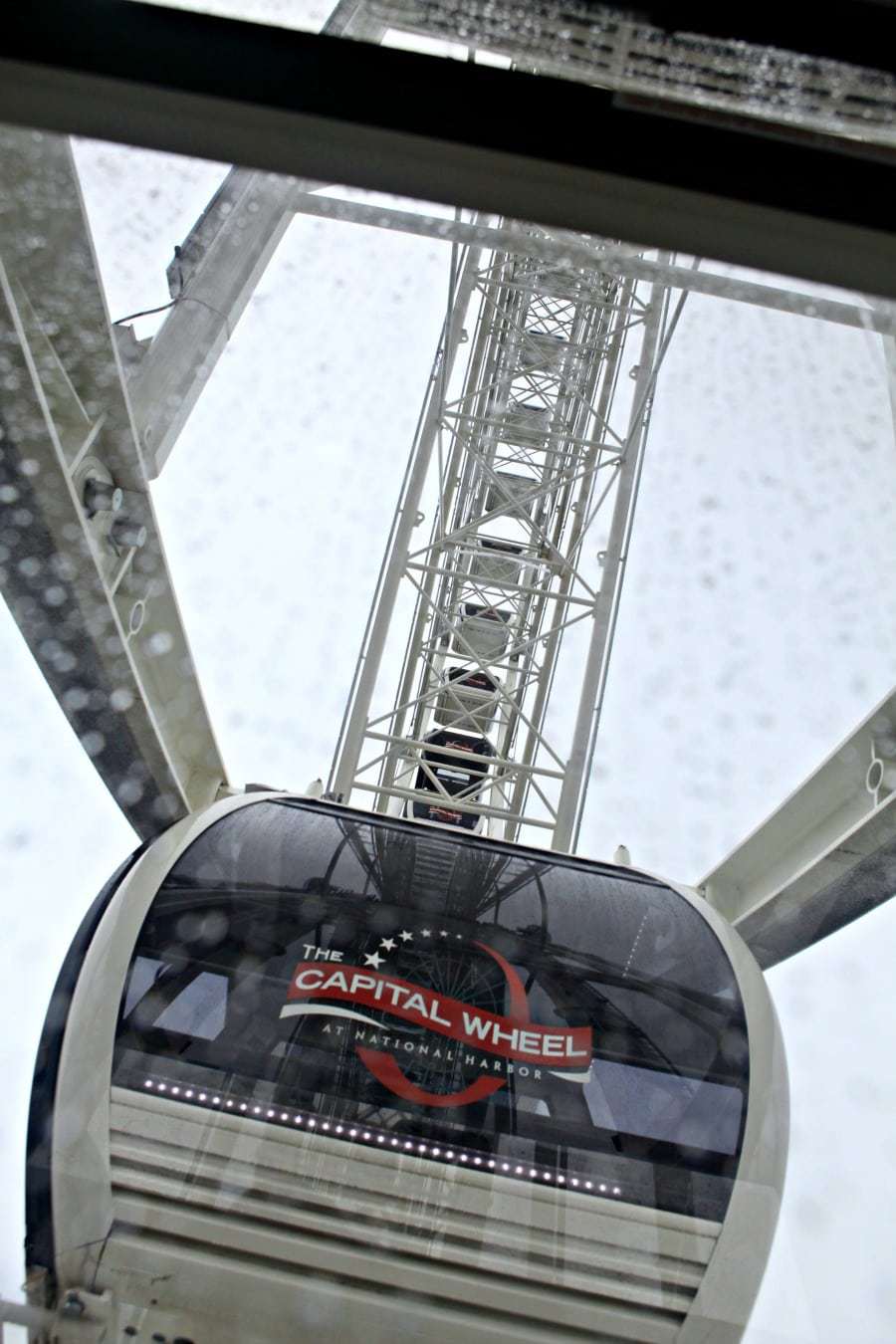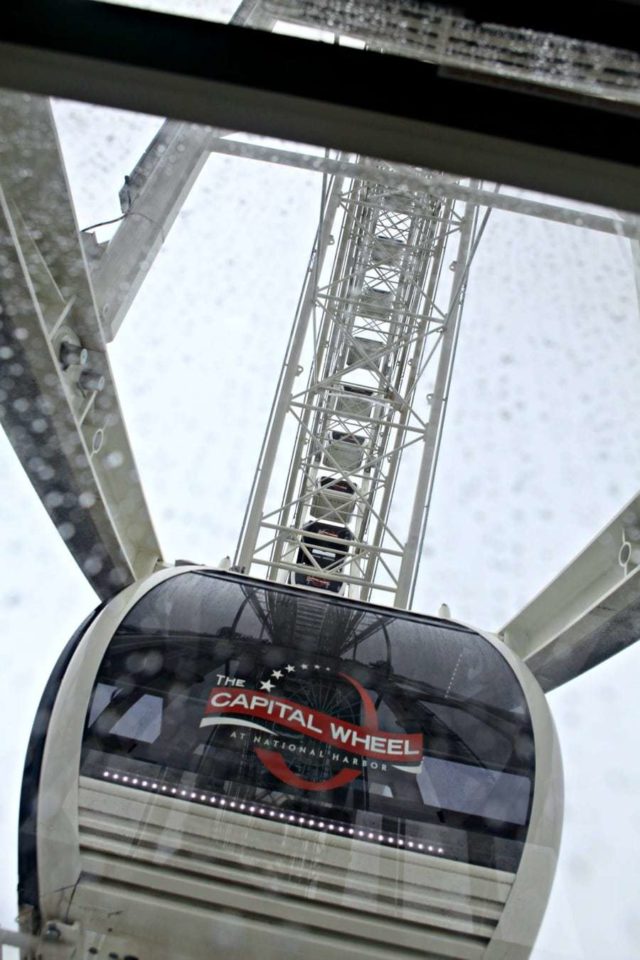 After shopping we took a trip on The Capital Wheel. This 180′ tall wheel has become a DC-area landmark, and from the top of it you can see several other area landmarks such as the Washington Monument and National Cathedral. The gondolas are climate-controlled, pipe in soothing soft rock and R&B, and provide a very smooth ride. The huge windows let you have a panoramic view of DC, Maryland, and Virginia.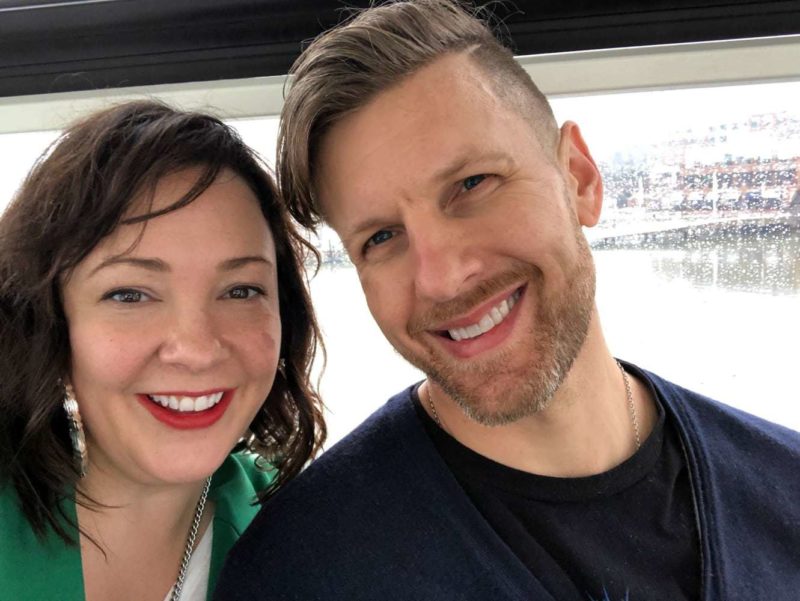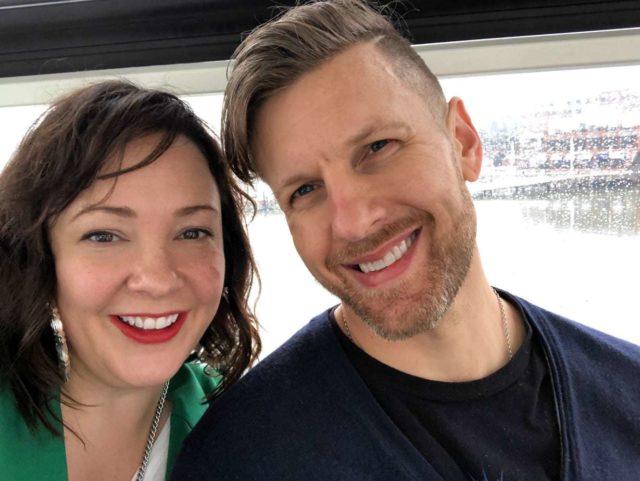 Since it was February and a rainy one at that, we had a gondola to ourselves. It was an awesome experience and I hope to come back again this summer to see everything green and blooming!
Sadly, our getaway to National Harbor had to come to an end. However, what's nice is that National Harbor is just a quick drive from where we live so we were back home in a jiffy. We look forward to our next National Harbor visit, each time we find new great places to dine, visit, and explore. To see more from our trip to National Harbor, visit my Instagram profile on the app and click on the black circle that says "National Harbor." Thank you National Harbor for hosting us!