This article may contain affiliate links; if you click on a shopping link and make a purchase I may receive a commission. As an Amazon Associate, I earn from qualifying purchases.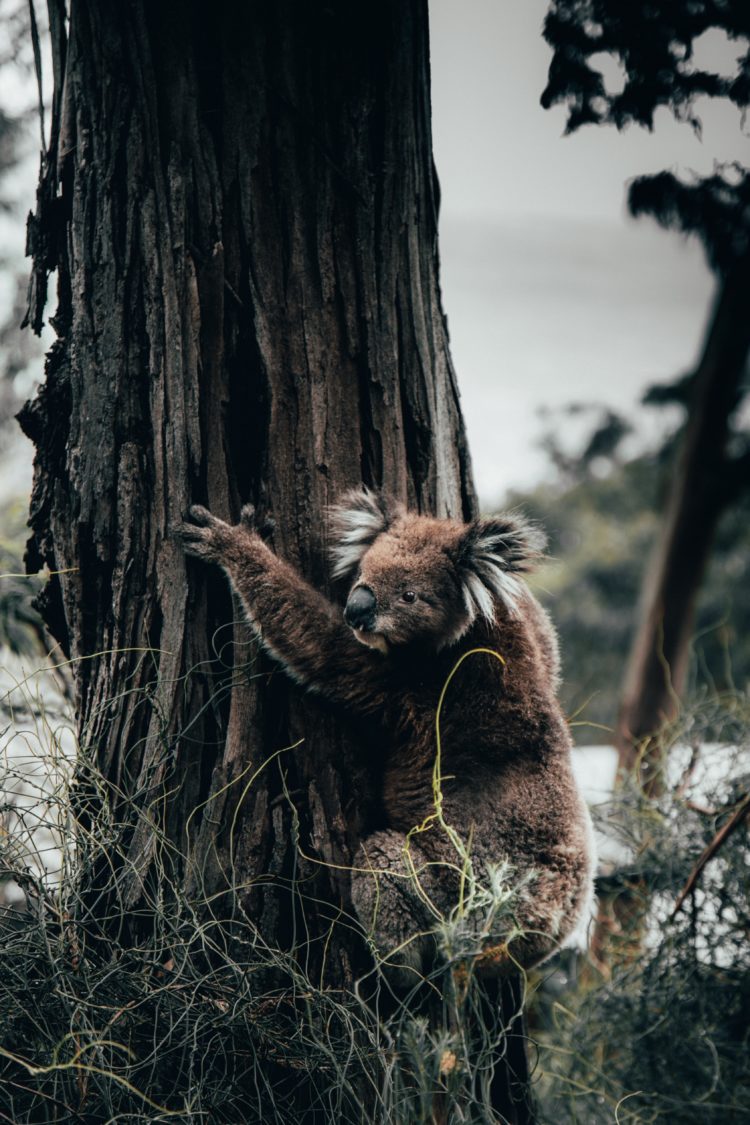 Since the Australian bushfires fires started in September, over 14 million acres of land have burned. That's more than the Amazon and California fires combined. It's been estimated that half a billion animals have been killed just in New South Wales, and many thousands more are injured and homeless. Thousands of people have been evacuated; at least 20 have died with at least 17 more reported missing. If you are in the United States you may have wanted to help but were unsure how. I know I have gone to a few sites recommended by major publications to find that I couldn't donate because I didn't have an Australian address. I didn't do a month-end recap post for December because it was such a wonky month with the holidays, but I still wanted to do my monthly donation and I wanted the donation to help Australia. Below are the reputable places where I made donations from December's profits that are easy to donate to from the United States if you too would like to help:
Fundraiser for The Trustee for NSW Rural Fire Service & Brigades Donations Fund by Celeste Barber. If you don't know who Celeste Barber is, you're missing out on one of the funniest women on Instagram. This funny woman from Australia also has a big heart. She set up a fundraiser through Facebook which is part of the PayPal Giving Fund. The PayPal Giving Fund is a registered charity that operates in Australia, Canada, and the UK. PayPal Giving Fund raises funds for charity and distributes money to eligible charitable organizations in those countries. Charities like The Trustee for NSW Rural Fire Service & Brigades Donations Fund which are enrolled with PayPal Giving Fund will receive money raised within 45 days of the original donation on Facebook and Celeste shared on her Instagram Stories that she's working with Facebook to have the payouts even faster. When you donate on Facebook in support of a charitable organization, Facebook covers all processing fees so that 100% of your donation goes to charity. To donate privately, select "Only me" from the privacy menu in the donation form. Click here to read more and donate to this fundraiser.
Australia Red Cross' Disaster Relief and Recovery Fund. The Australian Red Cross is offering emergency grants to those who have lost their homes to meet immediate needs. They are providing food and water services at 35 evacuation and recovery centers, offering psychological first aid, registration services and telephone wellbeing checks, and delivering water food, pet supplies, satellite phones, and more to those affected by the fires. Click here to donate to the Australia Red Cross.
WIRES. WIRES (NSW Wildlife Information, Rescue and Education Service Inc.) has rescued and cared for native Australian animals for over 30 years. Large areas of New South Wales and South East Queensland have been experiencing severe flying-fox starvation and dehydration events linked to the drought, this combined with heat stress emergency events over recent weeks, has already led to the loss of thousands of flying-foxes. With species such as Koalas and Grey-headed Flying-foxes already listed as vulnerable to extinction, the additional loss of life caused by emergencies like the fires and drought is even more devastating. I had trouble using the form on the donation page to pay by credit card; while the pull-down menu allows addresses from most any country, I kept receiving an error when I hit submit. However, when I clicked the "Donate by PayPal" button at the top of the screen, I encountered no issue with making a donation. Click here for the full donation page and to choose your method of payment.
RSPCA. The Royal Society for the Prevention of Cruelty to Animals; New South Wales (RSPCA NSW) is a nonprofit that cares for, treats, protects and rehomes animals across the state. RSPCA inspectors and staff are assisting at evacuation centers in northern NSW and beyond, helping members of the public keep their pets and livestock safe from the fires. RSPCA NSW has also taken part in evacuations, gathering animals and taking them to safety. RSPCA was the easiest to donate to, with a quick and simple website that offered the ability to donate by credit card or PayPal. I donated by credit card with no issue whatsoever. Click here to learn more and donate.
Weekend Reads
At my old job, one of my company's divisions focused on end-of-life and palliative care, focusing on dignity and quality, not quantity of life. It made a major impact on me and made me more aware of how screwed up our country is in regard to caring for our elderly and their caregivers. This piece shares a clear example of what is wrong with our healthcare not just for those near the end of their life, but anyone who can't be automatically diagnosed and treated with a test and a prescription. (The Atlantic)
"Why should ordinary girls be singled out as hopelessly shallow when we all live in a culture that's obsessed with aesthetics — not just around the human body but in all spaces, across all landscapes, everywhere? As allergic as I was to such illusory self-portraits before, these days they feel like a way of refusing to shrink into the shadows at the behest of a patriarchal culture that treats older women as worse than even children, better to be unseen and unheard. "You're entering the most luscious part of your life," an older friend recently told me. "You need to enjoy it." Why shouldn't we all experiment with new ways of seeing our lives and ourselves as luscious?" On parenting as well as being over 40 in the age of Instagram. (The Cut)
In honor of Zora Neale Hurston's birthday which was January 7th, a list of the 100 greatest books written by African American women. (ZORA by Medium)
When looking for this week's For Your Entertainment video I came across this video of Maggie Rogers at a Masterclass with Pharell, the moment that made her career. Pharell gives such good advice to her and to any creative. It took me down a Maggie Rogers-themed internet rabbit hole. I know and love this artist, but came to her later than many. This article just shares why she is so remarkable and a great read for anyone who is even slightly in the public eye. (New York Times)
Sonos, the maker of home speakers said Google and Amazon stole its technology and abused their power, but it could only risk suing one. This article just shows how the big businesses get bigger and get away with so much. (New York Times)
"…just like that, Lingua Franca became the official cashmere of the resistance." Have you seen women wearing cashmere sweaters that say things like, "I Miss Barack"? That's Lingua Franca. A piece sharing the history of the brand and how being a business owner is the new role of many socialites. (The Cut)
The year everything changed, including my face. A piece on turning 50, parenting, and how our face ages and changes. (Refinery29)
A great reminder from Angie at YouLookFab. (YLF)
I don't go to a gym with a shower. Even when I go to Planet Fitness I come home to shower after a workout. This means I sit in my car in sweaty clothes, getting my sweat all over my carseats. We recently got a new car, and I don't want to ruin the seats or have them permeated with my sweaty funk. I just got one of these this week to protect the driver's seat. I like that there aren't any straps or strings, it's easy to slip on and off, easy to wash, and will keep my car Allie Funk-free. Reviews say it's also great for those who like adventure sports where they get muddy or wet and to protect car seats from pets.
The 1990s were the golden age for actresses of a certain age who portrayed women much like themselves: menopausal, world-weary, and invisible to men. And they were successful—until they got canceled. (Dame)
"CPR holds an almost sacred space in medicine. Most doctors won't refuse to perform it, even if they think it will be harmful or useless." As someone who has taken CPR certification a dozen times over the years as a babysitter, lifeguard, parent, and volunteer, I found this graphic (as in drawings, not graphic descriptions) telling of CPR eye-opening and interested in the slow shift on the concept. (Topic Magazine)
Bad news fellow Gen X-ers, we get less sleep than any other generation. We're also more stressed than previous generations. Discussing what's keeping us up at night and what we're trying to fix it. (Time)
From the archives: when writing new content for Wardrobe Oxygen I like to link to old pieces. Going through my archives I came across this 2017 interview with Joan Juliet Buck. This was still one of my top ten highlights from being a blogger!
There's no better gift you can give a blogger, influencer, or small business owner than a testimonial. I'd be honored if you'd share a very brief one for me at this link.
See, Hear, Read
Kim France of Sassy and Lucky fame, as well as the woman behind Girls of a Certain Age, partnered with documentary filmmaker Tally Abecassis to create Everything is Fine, a podcast for women over 40. A chat-show with themed episodes and interview guests from the media and entertainment worlds, the first episode dropped this week and has me excited for future episodes.
Sale Alert
Gap has up to 75% off sitewide, plus an additional 60% off markdowns with promo code MORE. Focusing solely on items on sale, I found some true gems. This is being written prior to Saturday morning so I apologize in advance if items I recommend are sold out.
Athleta has their Semi-Annual Sale going on with up to 60% off. This is awesome as Athleta is not a retailer that regularly has sales. You can find all the items on sale at this link. For those not super familiar with Athleta, the retailer isn't just activewear, it carries some great weekend and athleisure looks and great outerwear.
For Your Entertainment
How had I not heard of Yola until this week? I'd like to thank the 9:30 Club (best music venue in DC and one of the best in the world) newsletter for introducing me to her. She played their club last night. I couldn't attend, but their newsletter stating it would be wise to catch the show as this Grammy Award-nominated artist likely will be too big for their small venue next time she's in town. Growing up in Brisol, UK, Lola grew up listening to her mom's Dolly Parton and Emmylou Harris albums. She didn't realize this was unusual for a black British girl in the late '80s until she began performing such music and was seen as "weird." Her career began writing and arranging music for others, singing backing vocals. In 2007 Yola lost her voice for a year and ended up homeless. Doctors didn't know how to help her voice, she studied anatomy and healed herself and was invited to speak at medical conferences about her methods. She came back, was briefly in groups like Massive Attack and Phantom Limb but desired a solo career. In 2016 she self-produced a solo EP and joined the music festival circuit, where she caught the attention of Dan Auerbach from The Black Keys. He brought Yola to his Nashville studio to write and produce her 2019 album, Walk Through Fire. Yola is nominated for four 2020 Grammy awards: Walk Through Fire is nominated for Best Americana Album, the track "Faraway Look" is nominated for both Best American Roots Song and Best American Roots Performance. Additionally, Yola is also nominated for Best New Artist. So yeah, there's a good chance when Yola comes back to DC she will be too famous for a show at the 9:30 Club! Below, her Grammy-nominated song, "Faraway Look."