This article may contain affiliate links; if you click on a shopping link and make a purchase I may receive a commission. As an Amazon Associate, I earn from qualifying purchases.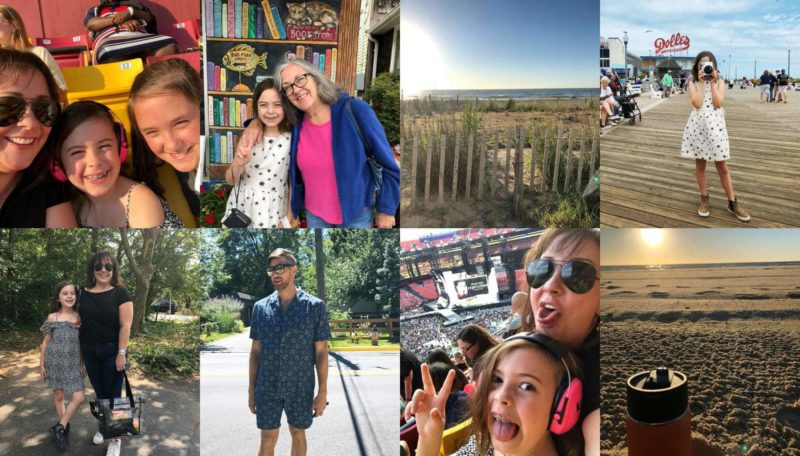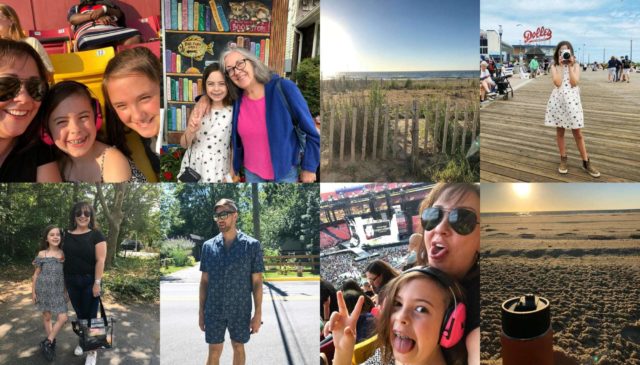 Last weekend I was in Rehoboth Beach and got a rash on my neck. I thought it was the hotel's feather pillow and got a non-feather one but it didn't go away. In fact, it got worse and today (Friday) It's from my bust up to my chin, on my cheeks, around my ears, and a bit on my scalp. My doc thinks it's an allergic reaction to my skincare so I'm on an "elimination diet" to find the culprit. In the meantime I'm itchy and miserable. Karl jokes how Mother Nature is giving me hints that I shouldn't mess with my face. Botox caused a ptosis, now my skincare is causing a rash…
On more positive things, Wednesday night Emerson and I went with her best friend and mom to see Taylor Swift in concert. I've been to many concerts and music festivals but nothing prepared me for the over the top spectacle that is a Taylor Swift stadium tour. Whether or not you like her music, you gotta give it to her that she is a true performer and strives to constantly improve her fans' experience at a show. She sang, she danced, she played the guitar and piano, she performed on three stages, and ran through the crowds trying to touch the hands of as many attenees as possible. Dancers, giant snakes, pyrotechnics, and fireworks oh my. Emerson had a blast though it was a very late night. And props to Charlie XCX one of Swift's opening acts. I already liked her but her performance was so strong even with a half-empty stadium it made me a fan.
Did you hear? Universal Standard has a collection with J. Crew. I ordered a few pieces and will be reviewing it, you can check out the whole collection at this link. J. Crew is expanding to size 24 and by the end of the month 50% of their selection will have the full size offering. I'm thrilled; J. Crew is a brand I like wearing but don't feature often because of their limited sizes and because it's hard to find similar out there in plus sizes. What do you think of this collaboration?
FYI, I ordered this dress, these pants, and this top from the Universal Standard x J. Crew collection. Wish they had larger models to showcase this size-inclusive collection but otherwise I'm psyched.
I found this faux boxwood hedge wall genius and relatively easy to replicate. Totally bookmarking this for the future as it would make a nice alternative to a wood or metal fence outside.
I must say this was a stressful game, but so must be the job of managing shopping malls in 2018.
Animals are becoming nocturnal to avoid us humans. Can you blame them?
I love learning about fashion history, it helps to understand current trends and has made me a more savvy shopper. Business of Fashion often delves into fashion history, like this quick read on David Bowie and androgyny. If you wish to learn even more, BoF offers an online course on fashion history that sounds awesome.
Long live the independent bookstore!
Have you heard of Undone Beauty, a vegan cruelty-free makeup brand on Amazon? I didn't until my friend Sarah wrote about it on her blog.  They used her gorgeous self as one of their un-retouched models and I have to say the products (and the price point!) look pretty fantastic (as does Sarah!).
"Can there be fashion diplomacy after detonating the nuclear option? After the crude fashion equivalent of throwing up the middle finger?" Robin Givhan does it again, a pretty powerful piece on Melania's wardrobe.
Hey you minimalists, think you could get down to 100 items?  I don't mean in your closet, I mean in your life.
Way to go Aerie. I have never shopped there (feel a bit too old for the brand) but I support their latest campaign and all they have done for normalizing bodies.
Missed a few goodies in my Nordstrom Anniversary Sale post.  Some great bags like this leather bucket bag from Madewell (both colors are fantastic), and this tote from ALLSAINTS (a nicely priced alternative to my beloved Paradise North/South tote). I splurged on this cashmere wrap which will be so great now that I work from home and travel so much. Nordstrom is great for home goods, we've been wanting to replace our dining room rug as it was our dog's favorite place to sleep and she died on it. Wanting some happy energy, we ordered this one and I think it will look great in the space.