This article may contain affiliate links; if you click on a shopping link and make a purchase I may receive a commission. As an Amazon Associate, I earn from qualifying purchases.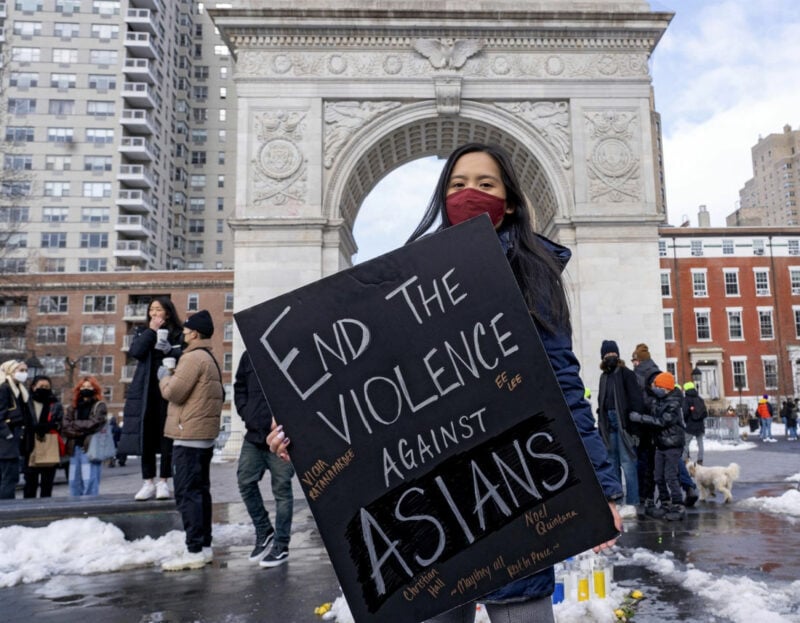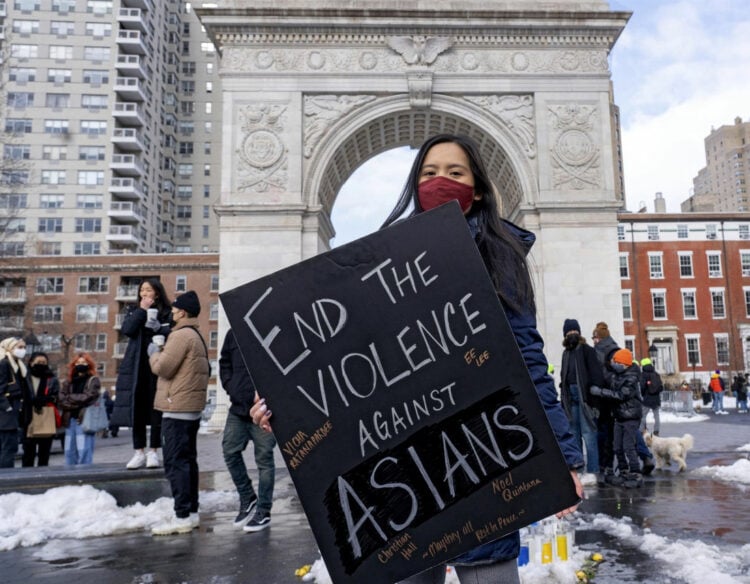 Over the past year, nearly 3,800 incidents have been reported to Stop AAPI Hate. Incidents happened to women more than twice as much as men, and over 42% of the incidents happened to Chinese Americans. It's clear they're spurred in part by racism linked to the 'demic which was fueled by our past president.
But COVID didn't start Asian American and Pacific Islander (AAPI) discrimination in America; it has been here for years. In 1854, the Supreme Court ruled that the Chinese were, "a race of people whom nature has marked as inferior." In 1905, the San Francisco School Board established a segregated Chinese Primary School because, "our children should not be placed in any position where their youthful impressions may be affected by association with pupils of the Mongolian race." In 1942, Roosevelt issued Executive Order 9066, which forced the imprisonment of all Japanese American citizens. Not until 1965 were Asian immigration restrictions lessened.
Though laws may have changed, racism and AAPI-targeted violence and harassment clearly have not. If the stats at the beginning of this article aren't proof enough of the racism in America towards Asians and Pacific Islanders, this week's race-fueled murder of eight individuals makes it crystal clear.
If you want to help but aren't sure where to start, below I share a few ideas but encourage you to share what you are doing, what you have read, what you have seen that helps prevent the spread of hate and hate crimes.
Take Bystander Intervention Training
This week on Twitter I saw someone ask if you were a white person and have ever stood up to a racist act on the street. It reminded me of a time in a bar in my early 20's standing up for a friend who was being harassed for her race. I was shoved to the ground and felt helpless and like part of the problem, not the solution. I realize that experience has caused me to hesitate ever since, truly making me part of the problem.
I signed up for free bystander intervention training offered by Hollaback! which will provide five strategies for intervention: distract, delegate, document, delay, and direct; and how to prioritize my own safety while intervening. To register for this training or to learn more, visit this link. Hollaback! is also offering a second course to go deeper than what is offered in the initial training, as well as a free course for those experiencing anti-Asian harassment.
If you are unable to attend a training, I encourage you to read this article from Learning from Justice on how to respond to Coronavirus racism.
Volunteer in Your Community
In Oakland, California, you can volunteer to be a chaperone through Compassion in Oakland. In NYC there is the Chinatown Block Watch. Check your community Facebook and NextDoor groups to see if there is a similar project in your area or consider starting one.
KIWA started with the goal of addressing worker exploitation amongst Korean and Latino workers in Koreatown, and to struggle in solidarity with other communities for a more just Los Angeles. They are looking for volunteers and interns.
Contact Your Representatives
By this point, you should be familiar with contacting politicians to make positive change in this country. Check out the Asian American Advocacy Fund which has forms to send emails to your representatives to stop anti-voting bills and make communities safer. I recommend adjusting the email text a bit so it doesn't get caught in a spam filter.
Resistbot is also an easy way to contact your representatives; just text RESIST to 50409 and follow the steps.
However, the most effective is calling your representatives directly. Ask them what they are doing to increase resources for survivors and their families, and for intervention- and prevention-based programs such as anti-racism education in schools and in communities. With how things went down this past week, it also is worth it to ask what they plan to do regarding gun reform.
Support AAPI-Owned Businesses
Such businesses have seen a decline in sales and many report their staff have experienced anti-Asian harassment and damage to their property. Choosing to shop and dine at Asian-owned businesses supports the community at the ground level.
How diverse is your social media content? Are you following Asian and Pacific Islander journalists, writers, and influencers? The beauty of social media is the ability to experience the world of another through what they choose to share. From art to Tweets, diversifying your feed can increase knowledge and empathy.
Donate
Give to those who can make the biggest impact, who are on the ground, in the communities, making a difference. There are several articles already written about where to donate (The Strategist has a list of 61 organizations); Wardrobe Oxygen donated this month to the Hate is a Virus Fund at PVF, Asian Americans Advancing Justice, Stop AAPI Hate, and Red Canary Song.
And finally, the best list of anti-Asian violence resources I've found is at this link and it looks to be regularly updated.
Weekend Reads
Actor Elliot Page and the fight for trans equality. (Time)
Deb Haaland makes history, and dresses for it. (New York Times)
Brandon Maxwell (fashion designer, known to the masses for being a judge on Project Runway) has been named the creative director of two in-house fashion brands for Walmart. (MarketWatch)
Dapper Dan on community, COVID-19, and the importance of getting vaccinated. (Vogue)
The plus-size knitters who are solving an inclusivity problem. (The Verge)
Laura Geller on why her models will now exclusively be over 40. (Allure)
Based on my analytics, it seems Wardrobe Oxygen readers are craving overalls! I don't blame you, I have three pairs and come spring love them with turtlenecks and boots on cold days, and tanks or tees and Birkenstocks on the summery days.
What it was like growing up on a commune. (The Nation)
A Van Gogh painting has been unveiled for the first time since it was painted in 1887. (Colossal)
Online harassment of female journalists is real, and it's increasingly hard to endure. (The Washington Post)
California will soon be home to the world's first 3D-printed housing community and it's powered by solar and a Tesla Powerwall. (Business Insider)
The new celebrity gossip is anti-gossip. (Jezebel)
Love bras? Hate bras? Have a newfound respect/disdain for them after this past year? This article is for you. (Vanity Fair)
Sixty-five percent of Americans said the pandemic has provided them with a "wake-up call" to reach out to their communities. (Good News Network)
It looks like Toys R Us will be returning. (CNBC)
When I shared my thoughts on the Punky Brewster reboot, I spent an inordinate amount of time trying to find photos from the show to share Moon Frye's fashion. Some wasn't my thing (the faux leather tube dress for instance) but so much was not only what I liked, but versions of what I own. The red track pants with a band tee, the tie-dye oversized sweatshirt with leggings, the silky printed kimono robe with tie-dye sweatpants. Now I know the person behind it all – Mona May. (WhoWhatWear)
Hear/See/Read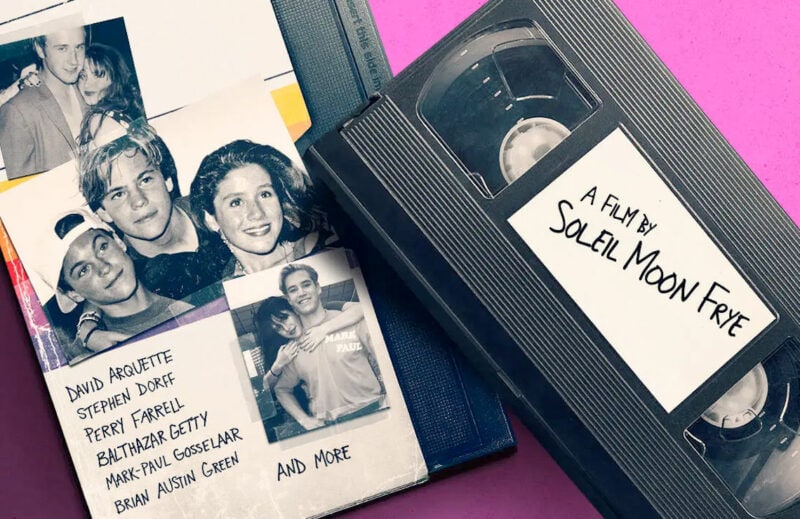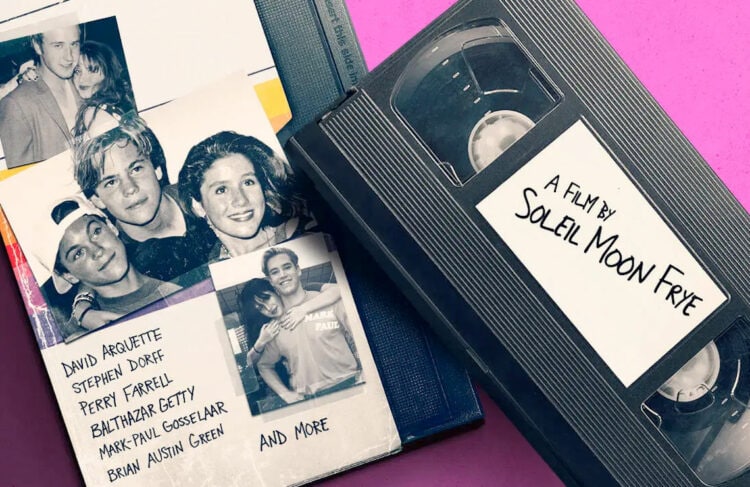 After watching the reboot of Punky Brewster as well as several episodes of the original series, I just HAD to watch Kid 90, a new documentary on Hulu based on Soleil Moon Frye. Even if you didn't watch Punky Brewster, if you're around my age, you'll likely enjoy this.
Moon Frye was one to take a video camera everywhere she went, and was a prolific journaler. She kept everything, including answering machine messages, notes, photos, and plenty of video cassettes and diaries, but hadn't looked at any of it for 20 years until creating this documentary.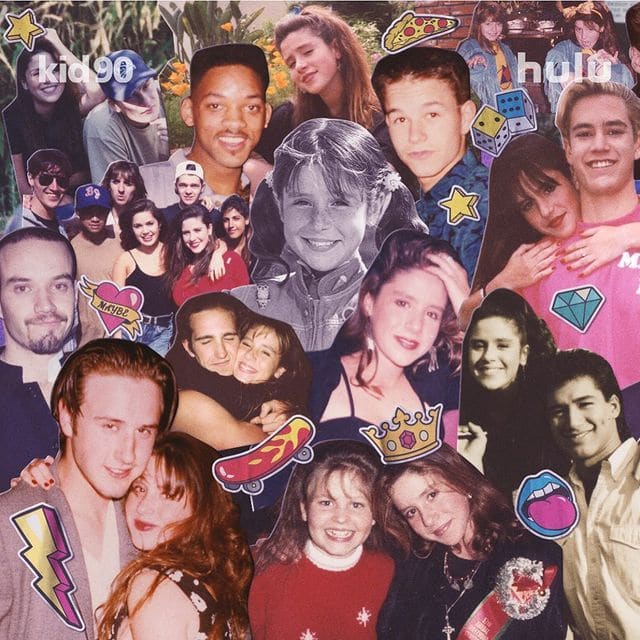 You'll see videos with soooo many teen heartthrobs from the early '90s – Brian Austin Green, Charlie Sheen, Mark-Paul Gosselaar, Leo DiCaprio, David Arquette, Balthazar Getty, Cory Feldman, and more make appearances and several share current-day interviews reminiscing on that time.
There is a lot of death; so many friends of Moon Frye died by suicide it's heart-wrenching and made me think of that age and that time and how many I knew who died or almost died by suicide or drugs. It made me think how the '90s are being idolized by GenZ but it was much darker than portrayed by episodes of Friends and photos of their moms in pegged jeans.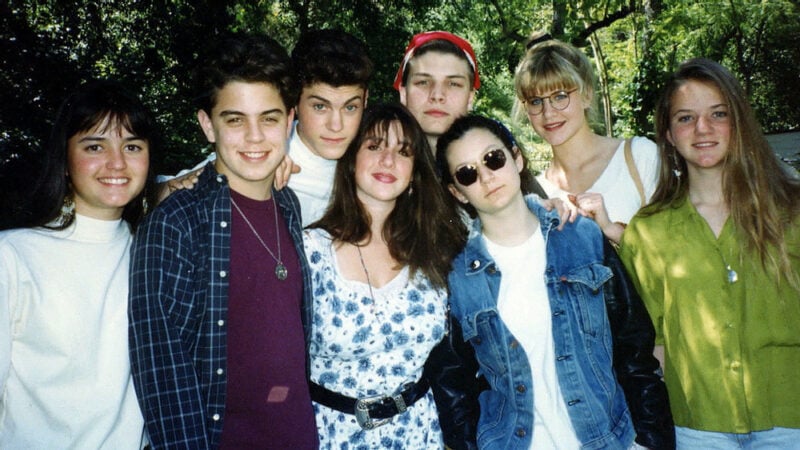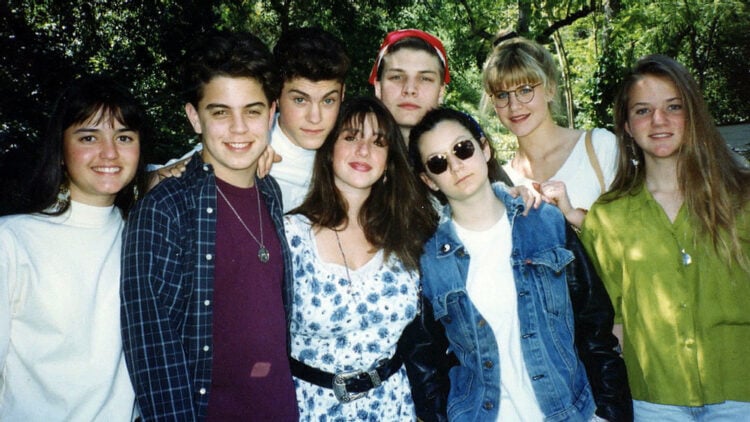 While it is awesome to see these stars acting like normal teens and young adults in blurry VHS, this is essentially a movie about Soleil Moon Frye… and a lot of that part wasn't totally my jam. I think she's an interesting person with a fascinating story, but it also feels as though not only was Moon Frye the "Cool Girl" as a young adult, she prides herself on still being one today.
Others may not have this same issue with Moon Frye (if you don't you may like this interview with her via Bazaar); maybe I do because I too was a "Cool Girl" as a young adult, and used that currency to feel protected, adored, and special while in fact, it often put me in very dangerous situations. Moon Frye shares some of those dangerous situations and while she admits that with one incident time has had her twist the story to be more positive than it was, I don't think she ever saw how problematic it all was. And her guy friends, now graying at the temples, I don't think even now realize how troublesome it all was and how they often were complicit.
Kid 90 has almost two portions – her life in California, and everything else. Once she moved to NYC, she clearly had fewer videos, and there are more interviews with Moon Frye and her now-grown celeb friends. My daughter watched the whole thing with me and got bored once she moved to NYC; my husband showed up for the second half and found it to be like a PR move for Moon Frye to appear cool and relevant again.
Watching it through, and being the same age, I didn't get bored and while I did feel it was a PR move, I was still glad to watch it. It inspired me to dig around and find all my old tapes, because like Moon Frye, I not only wanted to be the "Cool Girl," I often was that teen with a camcorder at the parties.
For Your Entertainment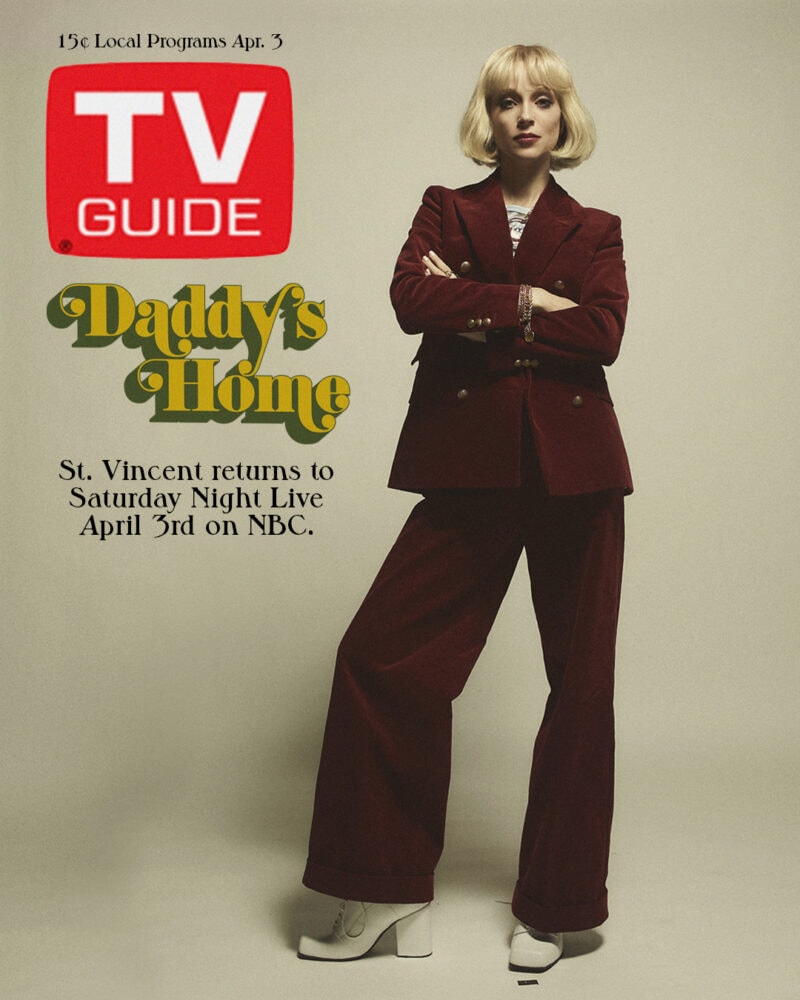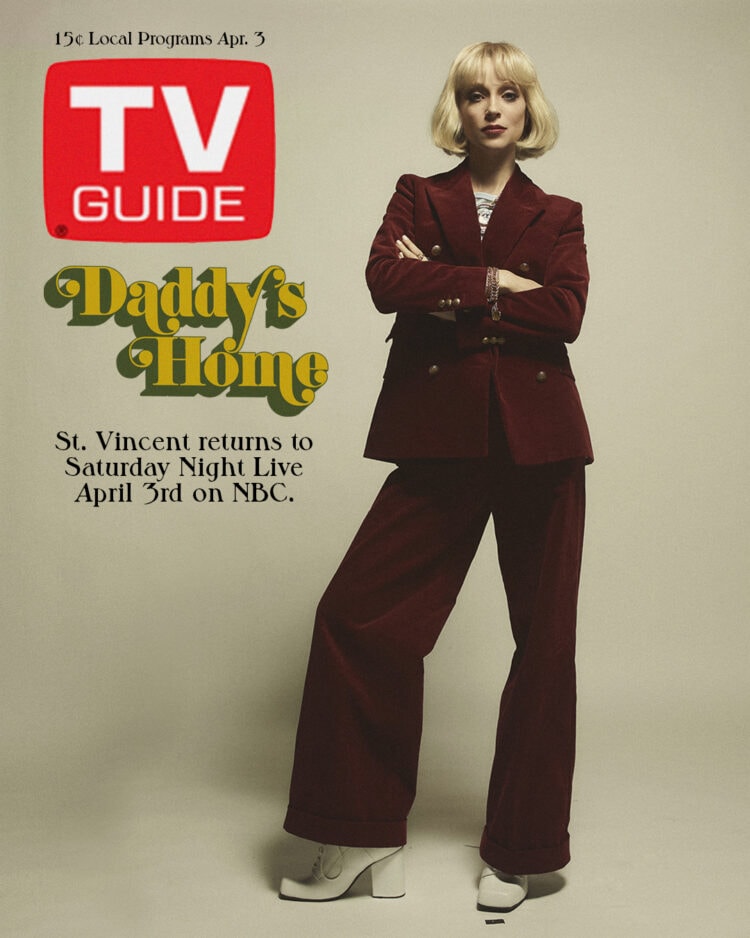 Flipping channels on mute I saw the video below and was mesmerized. Was this a new music video? An old one? I turned on the audio and continued to be mesmerized, but was thinking, "this woman is trying really hard to be St. Vincent." Come to find out it WAS St. Vincent! That's what I get for not staying up on my new music!
Annie Clark, better known as St. Vincent, has been creating music since a kid. She got her first real guitar at age 12 and after high school where she performed in school plays and the jazz band, she headed to Berklee School of Music. She ended up dropping out, but soon after in 2003 joined the group the Polyphonic Spree and went on tour. In 2006, she joined Sufjan Stevens' touring band, and released her first solo album in 2007.
St. Vincent is regarded as one of the best musical acts of the 21st Century, winning many awards including two Grammys. Her seventh solo album, Daddy's Home, released just a few days ago. When pulling together this segment of For Your Entertainment I found this article about Clark from The Guardian that I found interesting and went more into the person behind this latest album.