This article may contain affiliate links; if you click on a shopping link and make a purchase I may receive a commission. As an Amazon Associate, I earn from qualifying purchases.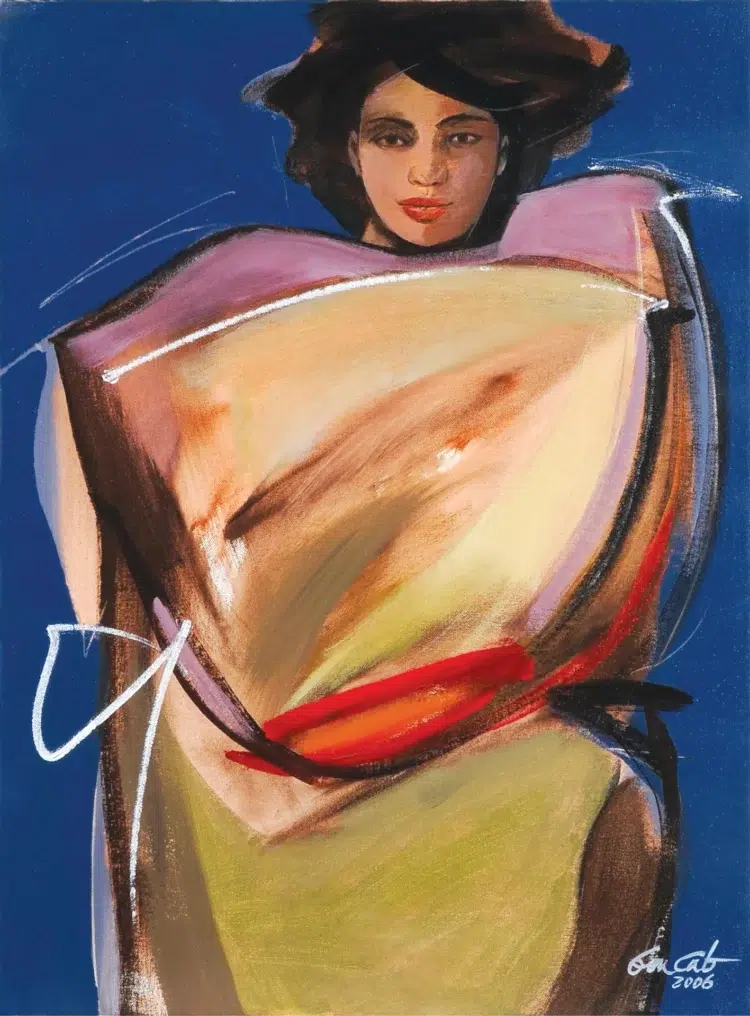 Weekend Reads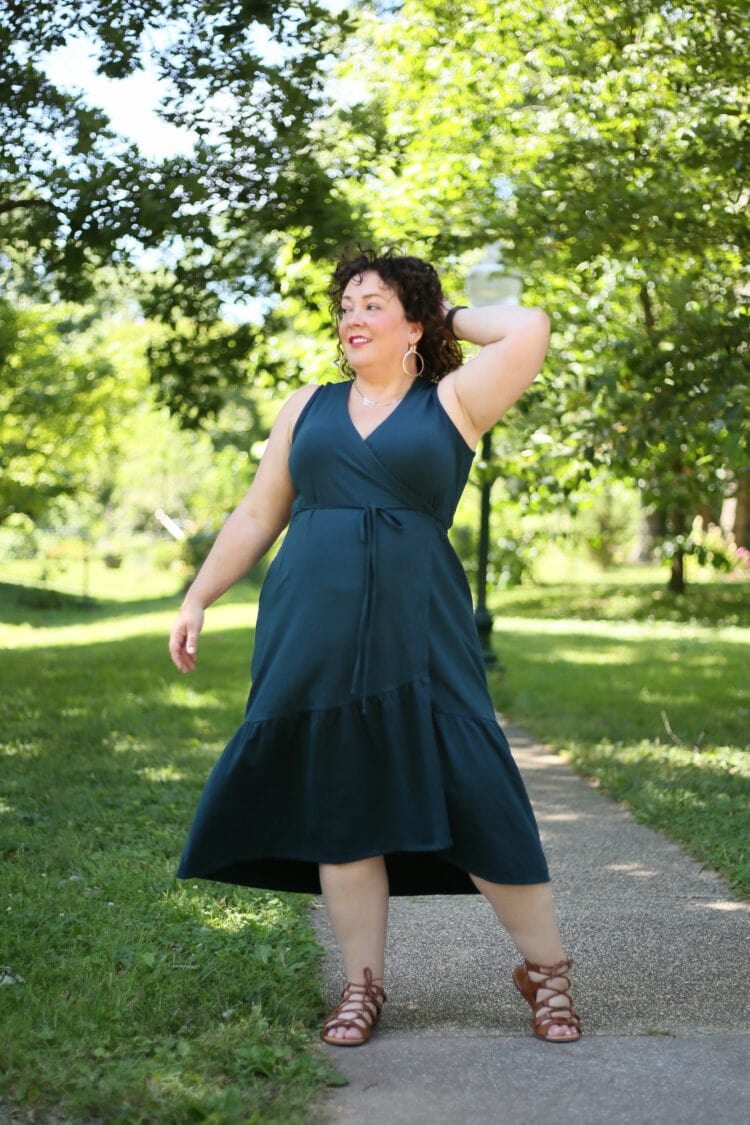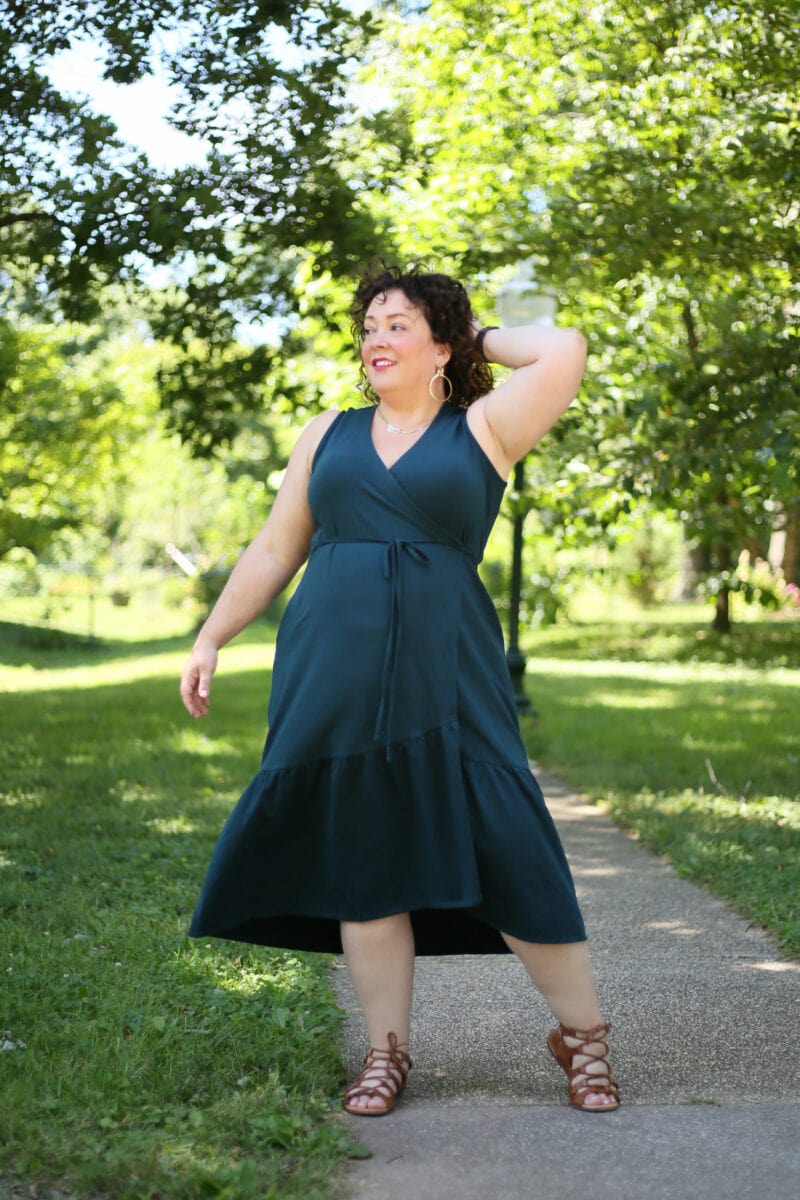 Have you been trying to find that perfect easy dress that will go from summer weekend casual to business casual office in the fall? How about if it's on sale? Do you remember me raving about this wrap dress from Universal Standard? Well, the Tiered Twirl Wrap dress is part of the Universal Standard Sample Sale which ends Monday, August 1st. Originally $148 (and by me wearing it weekly and how I've washed it multiple times I find it worth the price), this fab dress is now on sale for $98. But that's not all!
Universal Standard has provided me with a promo code that will get you an additional 10% off the Tiered Twirl Wrap Dress! Use promo code ALISON10 at checkout and this dress at Universal Standard will be less than $90!
For reference, I am a busty size 14 and the XS in this dress fits me perfectly. I don't even have to pin the bust area, and folks I know who have a smaller bustline and got this dress said it still looks and fits great on top. I am 5'3″, but this style of dress looks great whether it hits below the knees or closer to your ankles. Pockets deep enough for an iPhone Max.
Instagram walks back its changes. (Platformer)
Gen Z activist mocked by Matt Gaetz raises $1M for abortion access in 72 hours. (Washington Post)
4 steps you can take right now to improve your Instagram feed. (NPR)
Veterans can now teach in Florida with no degree. (Ocala StarBanner)
A neuroscience image sleuth finds signs of fabrication in scores of Alzheimer's articles, threatening a reigning theory of the disease. (Science)
If that article is too heavy, here's a shorter on a topic that many of us are sadly familiar with: Two decades of Alzheimer's research may be based on deliberate fraud that has cost millions of lives. (Daily Kos)
Joni Mitchell sings, steals show with surprise Newport Folk Festival concert. (NPR)
Meta Is Making Product Decisions For An Internet That Doesn't Exist Anymore. (Garbage Day)
How did "recipe developer" become a famous job? (Gawker)
Here's what to pack before you head to the airport — literally and figuratively. (Washington Post)
What does it mean to get 'woman'd'? (i-D for Vice)
Hyundai subsidiary has used child labor at Alabama factory. (Reuters)
All of Chico's no-iron linen is on sale! I LOOOOOVE this stuff, it's as cool and breathable as linen but without the creasing. It also holds up well; I have Chico's linen shirts five+ years old that still look great and still wrinkle far less than regular linen.
Wet writhing and eldritch gurgling: a chat with the Stranger Things subtitles team. (Vulture)
How to dismantle systemic ableism, according to disabled people. (Dame Magazine)
That Voice You're Hearing? It Might Be Hers. Julia Whelan is one of the most in-demand audiobook narrators working today. With her novel, "Thank You for Listening," she's telling a story of her own. (New York Times)
How American celebrities are changing Mexico's tequila industry. (Los Angeles Times)
I love having a dress like this in my closet for most everything. Pair with flat sandals for an outdoor concert, with pumps for the office, a strappy heel for a daytime wedding, a closed-toe flat for a funeral. And since it's made from ponte with an adjustable waist, it will travel well and fit well regardless of the time of month.
The quiet glory of aging into athleticism. (Culture Study)
Pat Benatar refuses to sing 'Hit Me With Your Best Shot' after gun violence: 'You have to draw the line'. (USA Today)
The rising costs of being a woman. (Shondaland)
Aubrey Gordon & Michael Hobbes—the hosts of the podcast Maintenance Phase—will make you rethink everything you know about nutrition. (Eating Well – thanks to Michelle for sending this my way!)
Coachella's parent company is donating major cash to an anti-abortion political organization. (Popular Information)
I was tempted to not share this because she's not the creator of the show and it's a show I've never watched but I know some of you watch it so… Vanessa Lachey addresses the lack of body diversity on 'Love Is Blind' and thinks it may have to do with contestants feeling 'insecure'. (Insider)
This company helps small businesses offer abortion travel coverage. (Washington Post)
At its peak, J.Crew might have been the most important menswear retailer in America. Then it went bankrupt and tasked downtown New York designer Brendon Babenzien with bringing it back. In a world that's gone crazy for streetwear and high fashion, can he make oxford shirts and khaki pants cool again? (GQ)
Dancer Lizzy Howell on fame, fatphobia, and being a role model. (Teen Vogue)
For her next trick, Kim Kardashian will be cosplaying as a white woman. (Friday Things)
Lessons in fashion and fatness from 'Absolutely Fabulous'. (Catapault)
My sister sent me this article from The Washington Post about how community is the new "follower count" for creators. And it really fits with what I was thinking about during my two week break from the internet.
A couple of years ago, I went to a creator workshop with Brittany Hennessey, the author of Influencer. She was in DC and the session blew my mind in a good way. One of the things that really stuck out is she classified creators into two categories: Church and School.
Church is an influencer you follow faithfully. That influencer shares aspects of their life to show how well they live, or dress, or exercise, or cook, or whatever (and sometimes it's all of the above). The "Church" influencer is someone you aspire to be like, you look up to, you trust for advice (and links for the best things to buy).
School is an influencer who offers information. That influencer may share aspects of their life, but their purpose is more about creating content that offers some sort of benefit. From capsule wardrobes to political discourse, the "School" influencer doesn't have a brand specifically about them, but about the content they create.
This was when I realized I was a "School" not a "Church." It's hard to stick to "School" when brands want you to "church it up" for paid campaigns and followers are used to following an influencer as a parasocial friend, not as a resource. But when I feel a bit lost, I recite to myself, "School not church, school not church."
During my two-week break I thought a lot about community. We influencers and content creators regularly discuss our community, but rarely is there an opportunity for this so-called community to interact with one another. It's more a group of folks interacting with one individual – the influencer. Comments are close to dead, I decided in 2018 to facilitate community on a platform free to you all – Facebook.
But since 2018, Facebook isn't as free and enjoyable as it used to be and I am trying to figure out the best place to connect with all of you, but also have you all connect with one another.
It's hard AF to make friends as an adult, and even if you do have a circle of pals IRL, they may not be the right folks to discuss what to wear to your ex's wedding, or what brand makes supportive wireless bras for your shape, what mascara won't cause raccoon eyes, how to alter that awesome yet slightly too big dress you found when thrifting, what books one recommends for a beach vacation, what to wear when going to a certain country or a wedding in a certain locale or a funeral in a certain state at a certain time of year and other topics I could see and have seen discussed by Wardrobe Oxygen readers in the blog comments and in the Facebook group.
Unlike the influencers mentioned in this Washington Post article, you are not GenZers who are down for another app on their phone. I know you are wary of new social media and sharing yourself online and rightfully so. So I'd like to know beyond Facebook, where do you find community online? Where do you feel secure?
Do you use Discord? Curious about Geneva? Subscribe to Substack newsletters and chat it up in the subscriber-only open threads? Do you engage on Patreon? Get chatty in the comments on other sites and blogs? Does all of this give you hives and you have no desire to connect with individuals online? Does all of this give you hives but you wish there was a way to connect with like-minded individuals online? Let me know in the comments.
I am not for jumping on the latest bandwagon, especially when it comes to you, who I respect and whose support I treasure. I'd rather go slow and miss the big boom and the virality to ensure what I do for this community is the right fit. Thank you!
Hear/See/Read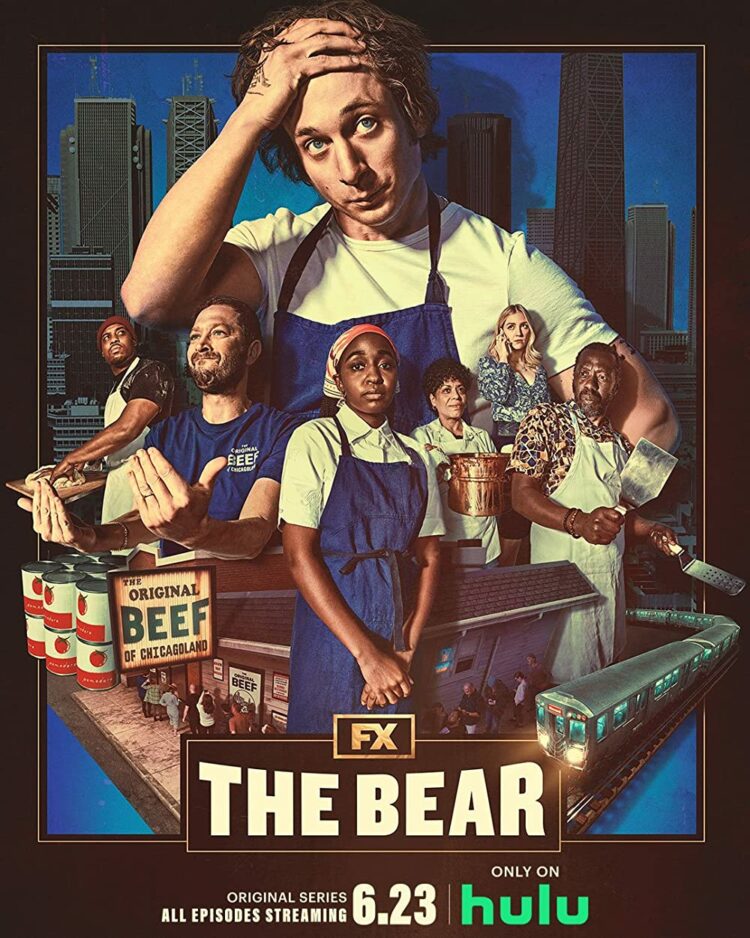 Likely, you've read an article or had a friend or neighbor tell you that you should see "The Bear" on Hulu. I know for months I have been getting this advice from seemingly everywhere. Saturday I went to a very lovely lunch at a Michelin-star restaurant with a dear friend. We were seated where we could watch the kitchen, literally see our dishes being made and brought to us. She said it reminded her of "The Bear" and how she loves that show.
That evening, I told Karl we HAD to start watching the show. We finished the show in just a couple of days and now get why folks are so incredibly passionate about "The Bear".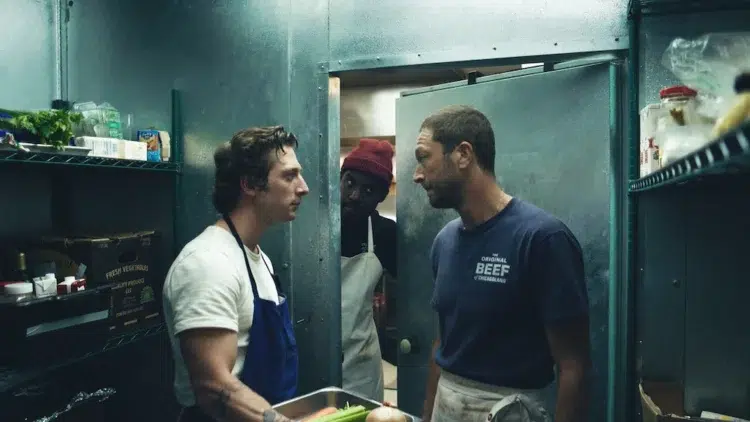 The first episode or two are stressful, can make you feel anxious even if you have never worked in the restaurant business. If you have worked in a restaurant, you may feel triggered. You may wish to punch a certain character because he's so awful. But I encourage you to keep going, watch more because that's not all that "The Bear" is about. Like me, you may find yourself shedding a tear and thinking fondly about the aspects of the hardest, most stressful job you've had in the past.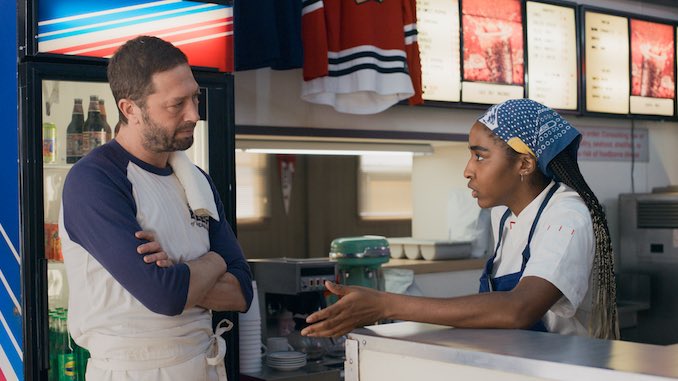 I couldn't help but think back to my retail days. Late nights before a corporate visit or when doing inventory, or when the ceiling in our stock room collapsed during a storm and our biggest sale of the year, soaking our entire leather outerwear stock. How I felt as though I'd explode with anger and frustration and lack of time but my team was equally as angry and frustrated and we used our emotions to make it work together.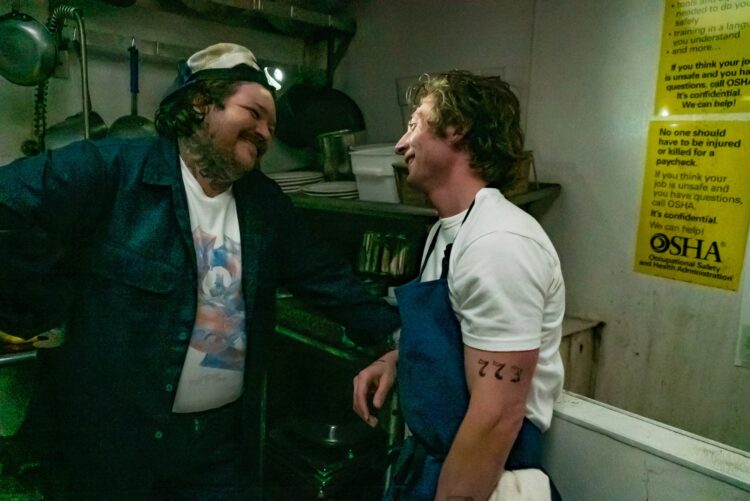 The acting by every single character is phenomenal. The cinematography is perfection for the topic. And if you are from or have visited Chicago, you will feel the city's charm ooze through every scene. This is one of the best shows I have watched in a long time. And now I am yet another voice telling you to watch "The Bear" on Hulu!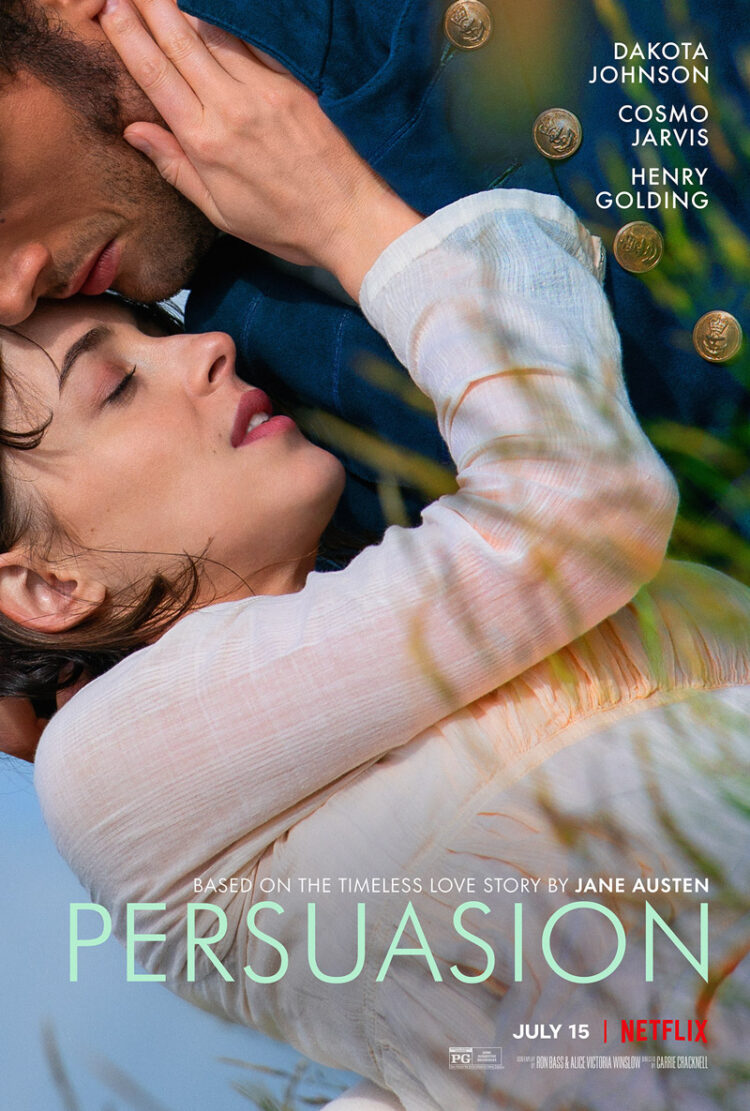 In a drastically different direction, I watched Persuasion, Netflix's latest adaptation of Jane Austen's novel that stars Dakota Johnson. If that sounds unappealing to you, trust your gut. Because this was a whole lot of blech.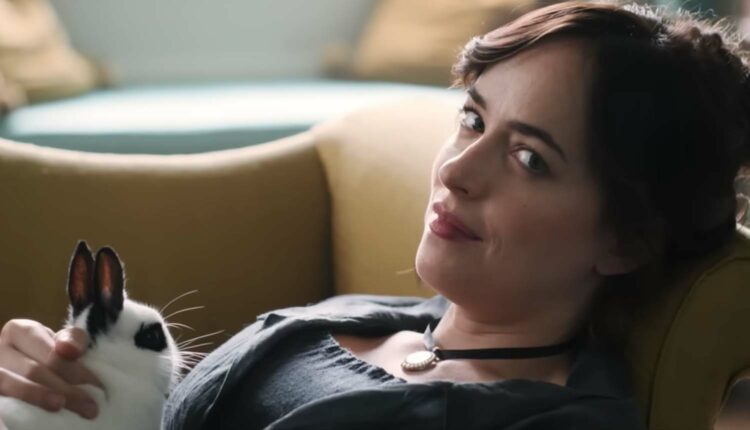 I started watching it with Karl, but he noped out as soon as Wentworth spoke ("That dude has no charisma and marbles in his mouth."). Our daughter entered the room and was intrigued by what she saw on the scene and joined me for the next 85% of the film which neither of us got into. We folded laundry, we made snacks, we got on the floor and stretched, she texted a friend, and we didn't miss a thing.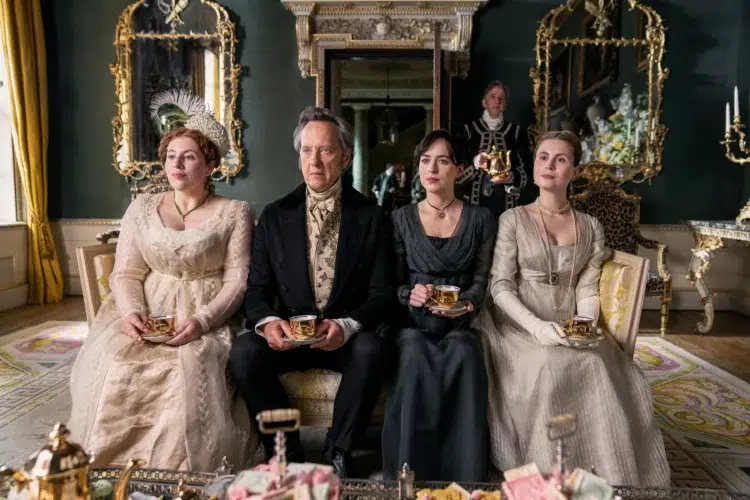 Dakota Johnson, an American 32-year-old plays Anne Elliot, a young Englishwoman of 27 years who thinks she's Phoebe Waller-Bridge in "Fleabag" (a show right up there with "The Bear" in its awesomeness). This age discrepancy and her witticisms directed right to the camera really bugged the hell out of me and made me dislike this film even more.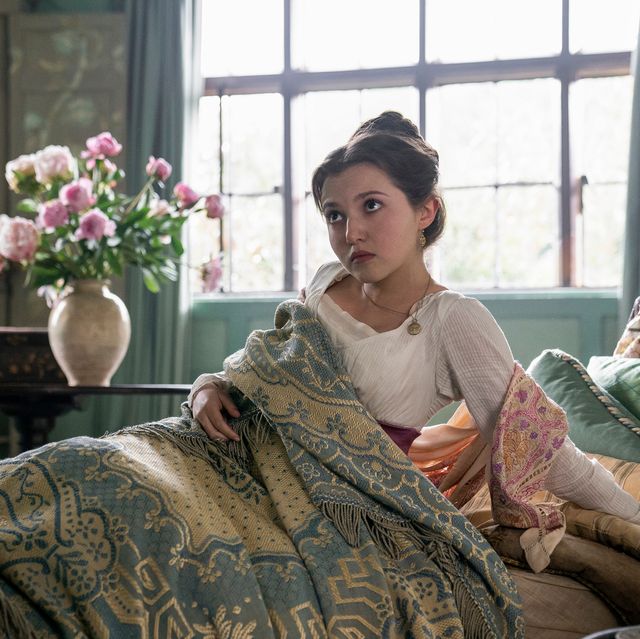 I am not criticizing as a Jane Austen purist. I read Persuasion, but so long ago I only recognized names and subtle bits of the story and I don't believe that affected my review of the film. I am criticizing because this movie tried to be all the things. It tried to be "Bridgerton" and "Dickenson" and "Fleabag" with a touch of a PBS miniseries and a splash of a Hallmark Channel movie.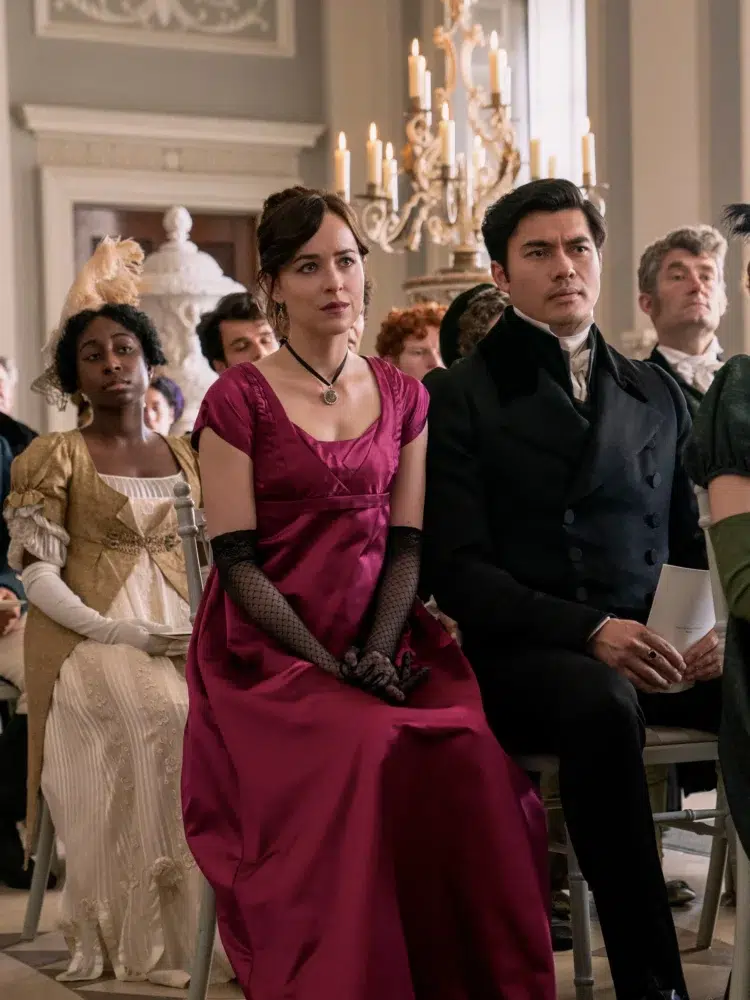 My daughter, who never finished Emma (but has seen Clueless a dozen times) sand that is the current extent of her Jane Austen experience was confused by this film. It wasn't campy enough to blend this Millenial speak with classic language used in Austen's books and time period. The costumes, homes, and scenery weren't beautiful enough to carry the mediocre script. And Johnson, who is utterly gorgeous, was too gorgeous and confident and sexy for this role, even with her drab dresses and perfectly mussed updos.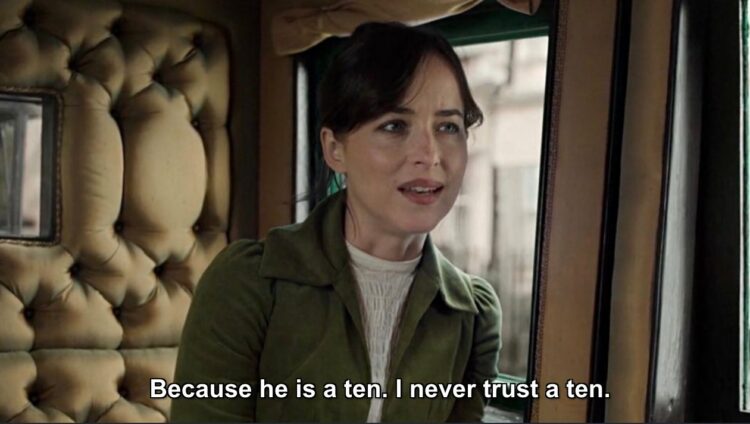 By the end, neither my daughter nor I cared if Anne got with Captain Wentworth or Mr. Elliot or ran off with the debt collector. It was exhausting getting to that point, not in a Jane Austen "ughhh just get to it but don't because this is a lot of fun" way, but in a "DONCURRRRRR Dakota Johnson. Stop talking to the camera and do something" kind of way. I'd like my 1 hour and 47 minutes back.
For Your Entertainment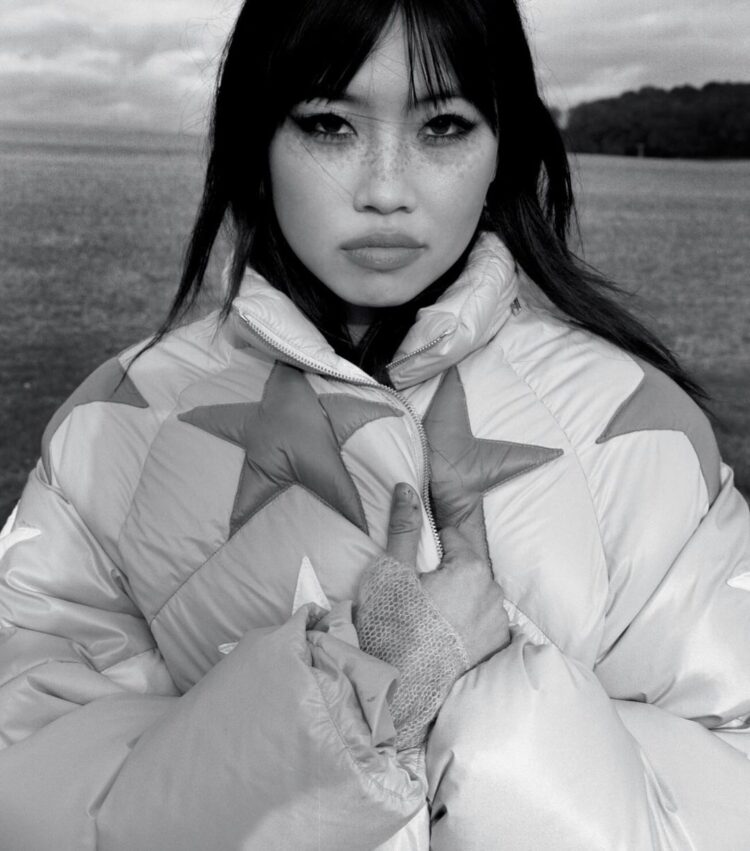 Beabadoobee is the stage name of Beatrice Kristi Lauss (who goes by Bea Kristi), a Filipino singer who grew up in London. Just 22 years old, Beabadoobee has released five EPs since 2018, toured with artists like Halsey and The 1975, performed at this year's Coachella, and received admiration from fellow artists like Taylor Swift, Harry Styles, and Khalid.
I'll be honest, I hadn't heard of Beabadoobee before my daughter played her on a drive home from summer camp. I was impressed with her voice, and could see how my teenage self would have also loved this talented artist. Her latest album, Beatopia, came out earlier this month.