This article may contain affiliate links; if you click on a shopping link and make a purchase I may receive a commission. As an Amazon Associate, I earn from qualifying purchases.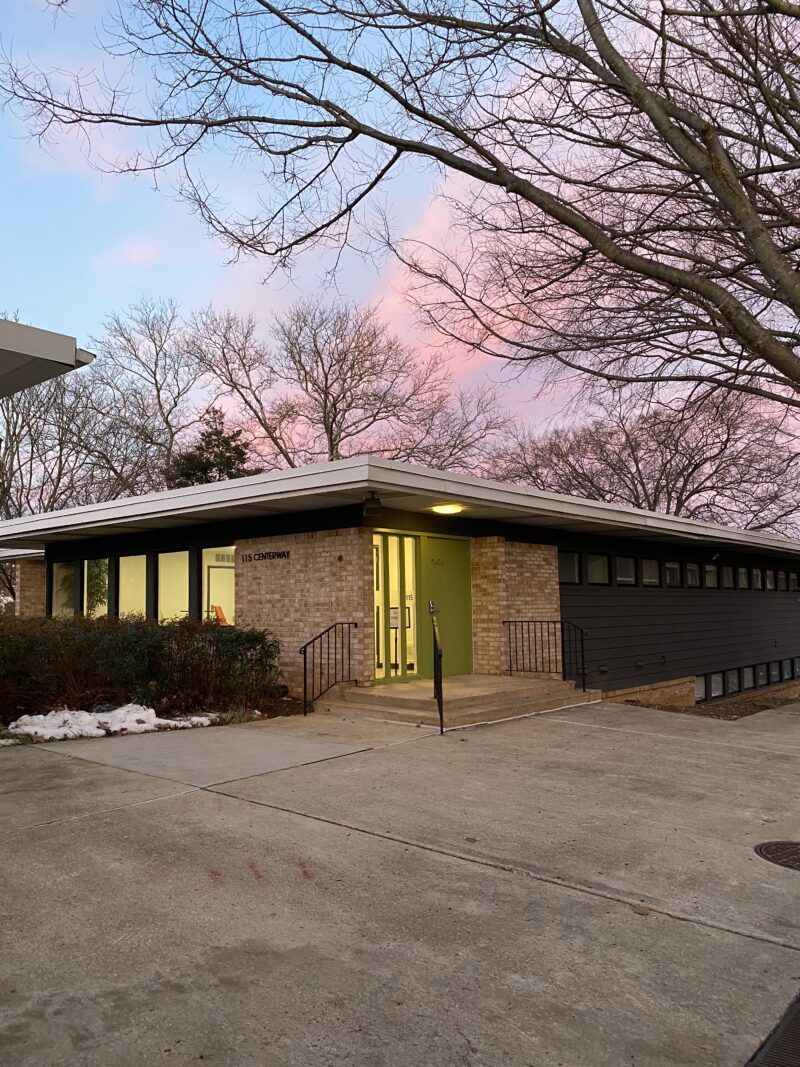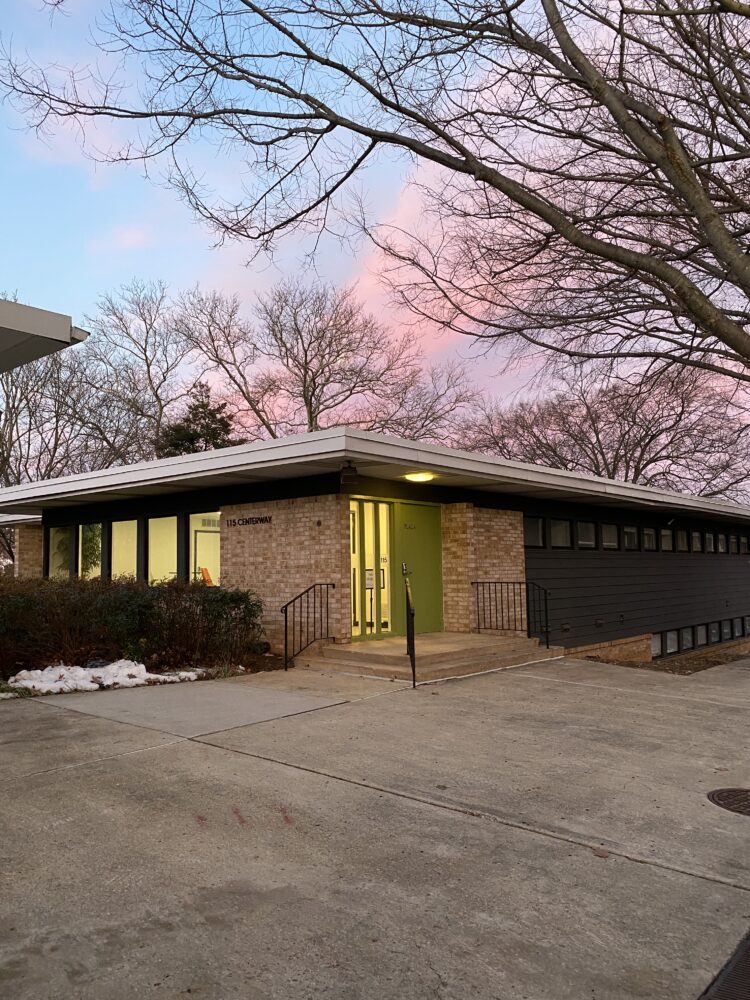 Better late than never! It's a tough month, but I'm making it. Maybe a bit delayed, maybe a bit frazzled, but I think that's how we're all getting through January. And we WILL get through it! Here are some interesting reads to get you through this weekend…
Weekend Reads
6 ways fitness instructors can check their anti-fat bias. (Self)
2022 Secretary of State elections: The most important races? (Political Charge)
'Yellowjackets' star Melanie Lynskey on Shauna, sexism, and more. (Rolling Stone)
New museum exhibit will spotlight Generation X. (USA Today)
Nine top trends from the pre-fall 2022 collections. (Fashionista)
Last year it was all about the feta pasta recipe; this year the viral recipe appears to be this vegan Green Goddess salad. Several friends have made it and say it's fantastic, and a great dip to enjoy with tortilla chips. (Baked by Melissa)
Tracy Oliver on writing Harlem, meeting Whoopi Goldberg, and fighting to tell Black stories. (Elle)
Why do so many TV shows and movies look like they were filmed in a gray wasteland? (Vox)
If you feel you need a bigger or different home, may this one-bedroom apartment inspire you. (New York Magazine's Curbed)
I'm a longtime union organizer. But I had never seen anything like this. (New York Times)
I saw this and HAD to share considering how much flak I get each time I show my living room… Are you bugged when people organize books by color? (Design Mom)
The missed opportunity of 'And Just Like That'. (Gloria)
What will define fashion retail in 2022? (Fashionista)
Christina Ricci knew the spiky roles were coming. (The New Yorker)
In a memo about body image, a middle school offered shapewear for girls. This mom spoke out. (The Lily)
André Leon Talley became an icon by never losing faith in the glory of fashion. (Washington Post)
"They died for your chicken nuggets": The human cost of our food supply. (Men Yell at Me)
What happened to America's quarters? (New York Mag's Intelligencer)
I got sober in the pandemic. It saved my life. (Buzzfeed)
Oral CBD prevented COVID-19 infection in real-world patients, study suggests. (Vice)
And with that… I am someone who has consumed oral CBD almost daily since 2018. It helps me stay asleep, reduces inflammation, and much more. I use Equilibria CBD because it is organic (super important considering hemp is a "cleaning" plant that soaks up whatever is in the soil) and a woman-owned company. Through the end of the month, Equilibria is offering 50% off your first month of subscriptions with promo code WARDROBEOXYGEN50 and 30% off one-time orders with my usual code WARDROBEOXYGEN (my code usually only gives 15% off). I am not a doctor or an expert, I just figure if you are considering adding CBD to your routine for sleep, stress, inflammation, or an extra something on top of vaccines and boosters, this is a company I trust and use myself.
Cool Virtual Event!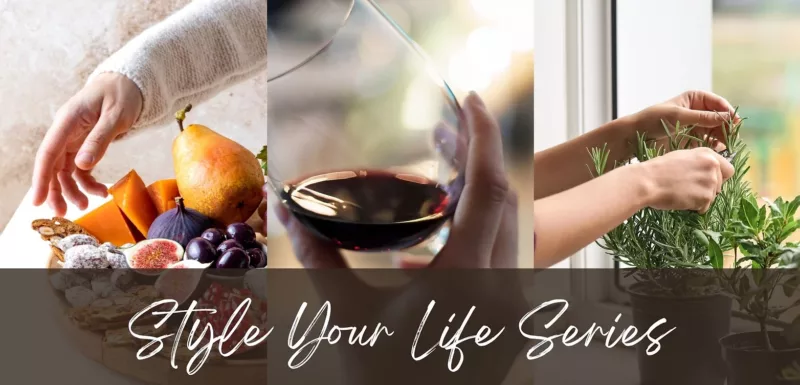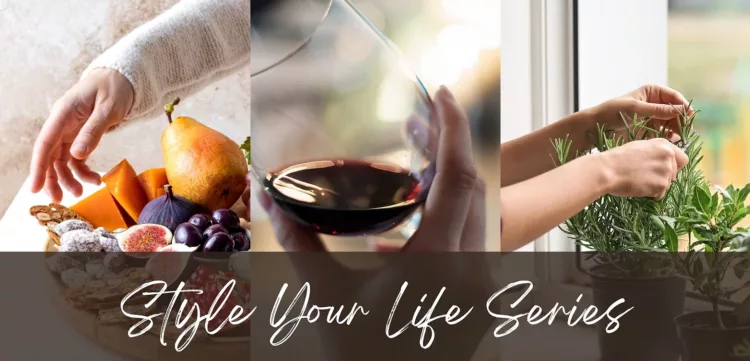 Style Your Life Series: Build a sumptuous charcuterie board, enjoy wine in a whole new way and cultivate a spring herb garden! Treat yourself this winter and in turn, you'll be helping Uncommon Threads style more economically-disadvantaged women. Spend one evening a month with us to learn new skills, ask the experts questions and get creative. It's hands-on or just watch and learn! And if you can't attend a session, recordings will be available to watch at your convenience.
Date and Time: January 26th, February 23rd & March 30th, 7:00 – 8:15 PM ET
January 26: Styling the Ultimate Chartucerie Board with Chef Chelcie Ross. Chef Chels is is currently working at Formaggio, one of the best wine and cheese shops in Boston, as well as working as a private chef. In this class you'll learn the basics of how to build a perfect cheese board as well as the different types of cheeses and a bit about how cheese is made. Chelcie will also give some tips on easy entertaining and wines that would pair nicely with a cheese board. A list of ingredients and tools for this session will be emailed to you after you register. Or you can just watch and learn!
February 23: Mindful Wine Tasting with The Yogi Sommelier. Chiara Shannon, founder of Mindful Wine™ is Head Sommelier of K&L Wine Merchants in California. She is also an RYT-500 certified yoga professional and MBSR-trained mindfulness practitioner. Chiara will mindfully guide you through a flight of three sustainably grown wines, sharing tasting tips and answering questions along the way. You will learn to navigate your sense memory, discover new pathways of appreciation, and emerge with the language of a professional. All you need for this workshop is to pour a glass of your favorite wine and join!
March 30: Create Your Own Herb Garden with Caitie Dwyer-Huppert. Caitie is the Programs and Education Manager at Green City Growers in Boston. Caitie previously taught science for 15 years. She will cover how to start your own herb garden this spring, whether for a windowsill or an outdoor garden. Caitie will also explain how to best harvest and maintain your herbs in the coming seasons, including storage, preservation, and preparation methods. She will lead a hands-on demo of how to plant herbs from seed in a "mini greenhouse" made from a plastic egg carton or any other recycled containers you have on hand. A list of tools and supplies for this workshop will be emailed to you before the event. You will also have the option to purchase a kit from Green City Growers to be mailed to you before the program. Or you can just watch and learn!
Price: Tickets are only $95 and this cost covers all three workshops and proceeds benefit Uncommon Threads, an organization I work with and is close to my heart. The cost for the tickets is tax-deductible and can be purchased at this link.


I donate clothing, money, and time to Uncommon Threads, based in Massachuttes, which focuses on empowering economically-disadvantaged women in that area. Unlike some similar organizations that offer clothing for women to interview for jobs, Uncommon Threads supports all women in all stages of life and needs. This series sounds like a lot of fun and a great way to experience new things and new people from the comfort of your own home!
To learn more about Uncommon Threads click here and to sign up for this series of virtual workshops click this link.
Hear/See/Read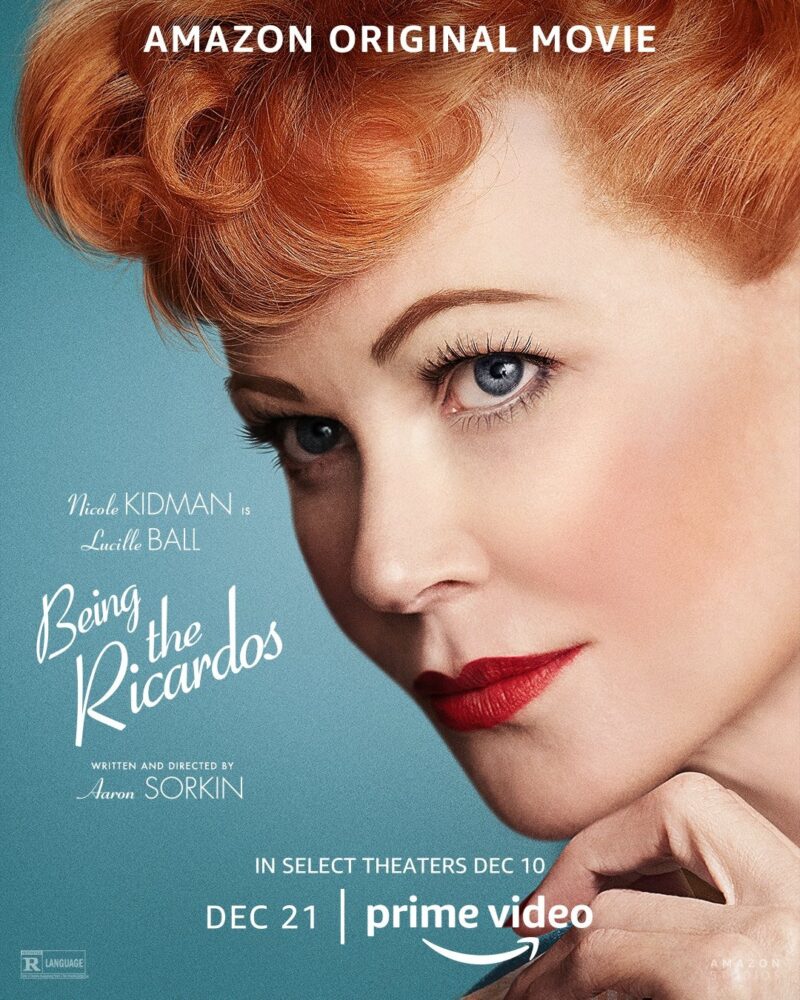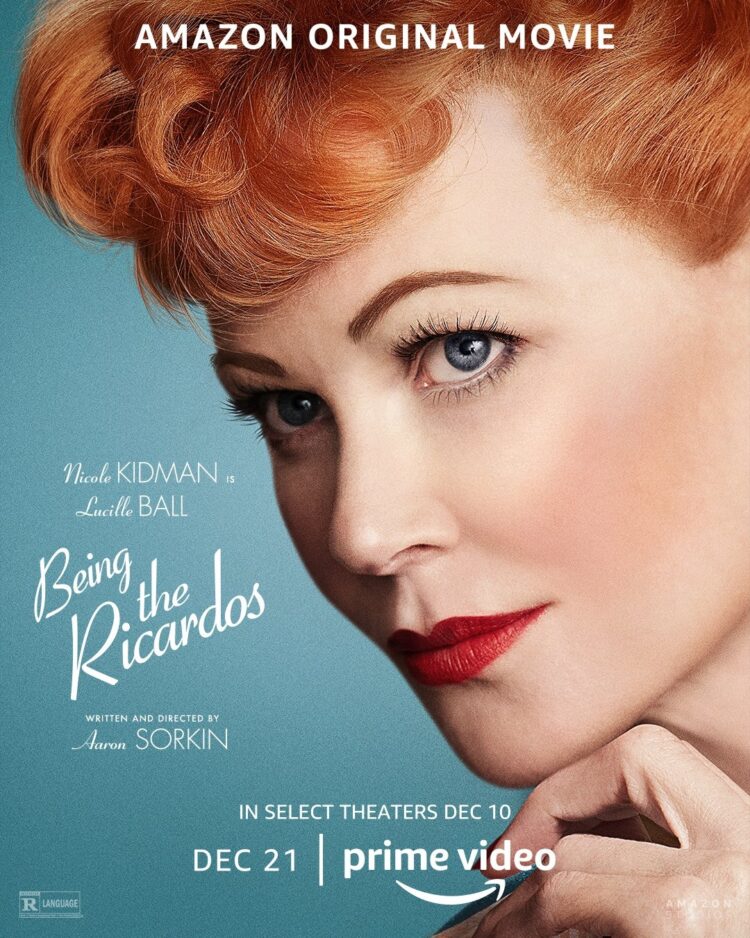 Do you ever find yourself wasting away Movie Night scrolling through streaming service menus and Googling recommendations and reviews? Us too. So the other night we decided we'd pick a movie that was on the first screen of the platform we haven't visited lately and just go with it. We ended up with Being the Ricardos on Amazon Prime. We didn't finish it. We would have been better entertained spending two hours scrolling through the Netflix menu.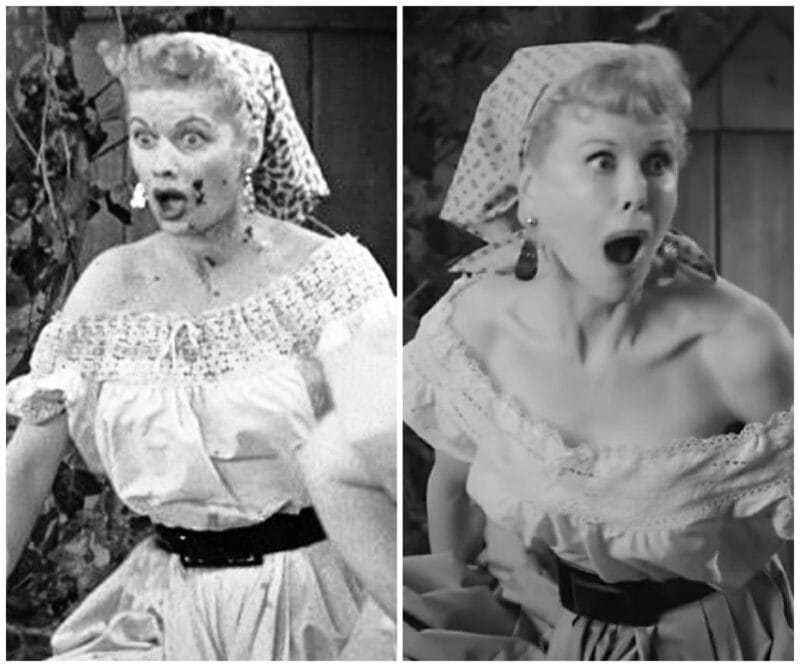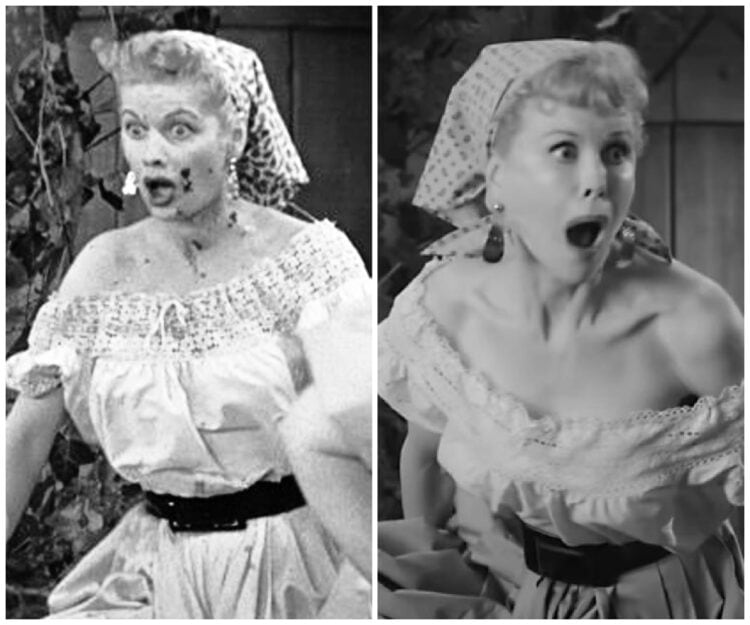 Nicole Kidman has been criticized for having this role because she doesn't look the part (and her frozen forehead doesn't act the part) but honestly, she did okay. However, she is NOT a physical actor and that really was visible the times she had to portray Ball on stage/set. Combine that and a boring yet pretentious script and her portrayal was as convincing as a C-rate actress in a Lifetime movie. Supposedly Cate Blanchett had the role and dropped out; while she too doesn't look too much like Ball at least she can morph and do physical acting better than Kidman.
Javier Bardem was incredibly unconvincing as Desi Arnaz. As someone who watched a LOT of I Love Lucy as a kid and had one of her first crushes on Arnaz, I was confused by the casting. While Bardem is only an inch taller than Arnaz was, his hulking messy primal self which is hella sexy in some situations felt incredibly wrong in this role. And Bardem isn't even Cuban. Do you know who is a talented Cuban actor only an inch shorter than Arnaz? Oscar Isaac. Can't you see him being a better Arnaz?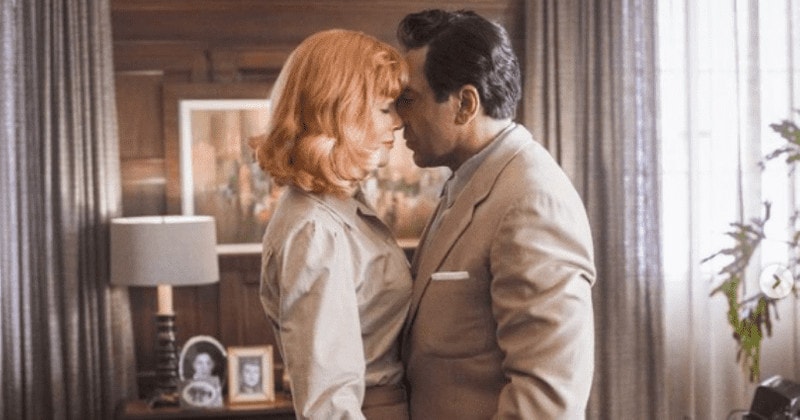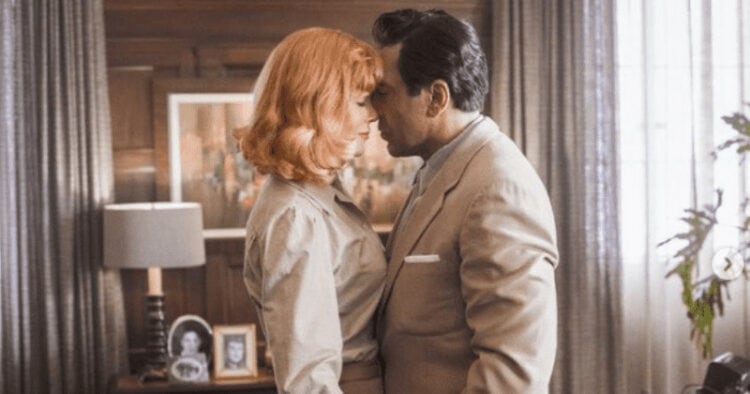 Maybe if Blanchett was with Bardem, maybe if another man played Arnaz, some other combination would have more realistic chemistry than these two folks. It was so unbelievable, which is even more awful as Ball and Arnaz were known for their chemistry. The relationship was dull, the drama was dull, and even the meticulously crafted sets and costumes were dull. Just like the article above about the lack of color in TV and films these days, Being The Ricardos was dark and gloomy. Even the recreated black and white moments were far darker than I remember on my basement television.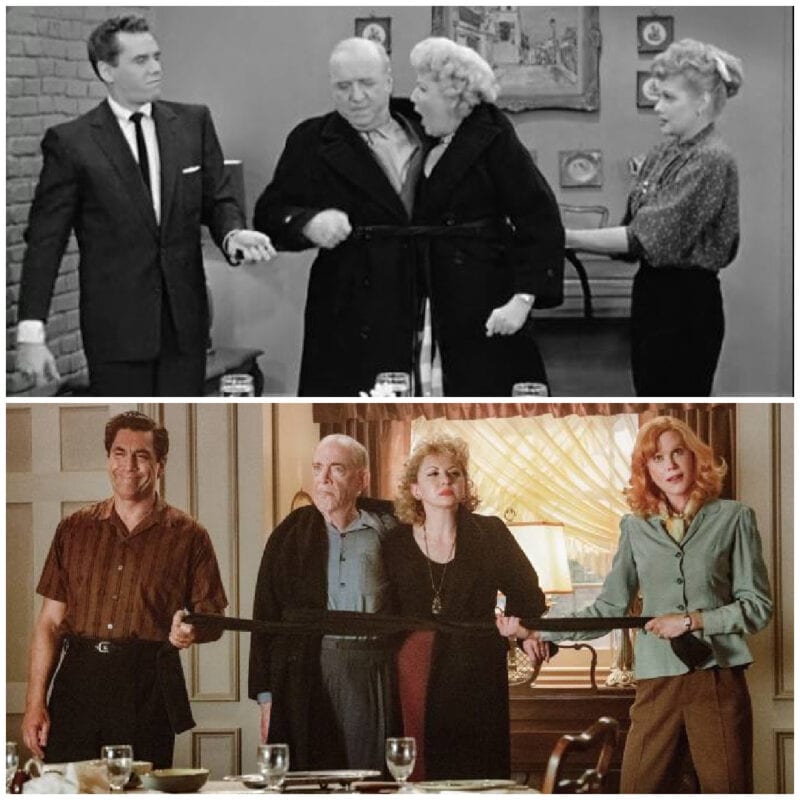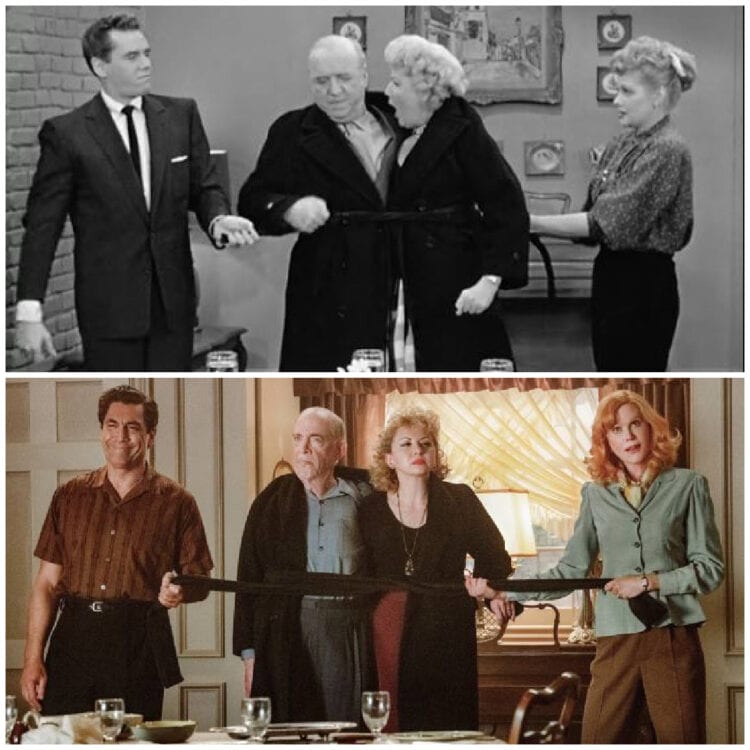 But the biggest reason we gave up is it was hard to give a damn. It all seemed so stressful and important and what are we going to do now and these are the biggest issues EVER when watching it in 2022 so close to the January 6th anniversary, rapid tests taken that morning in our trashcan, local grocery store shelves bare, Epstein, Weinstein, Squid Game, Tiger King, and Trump back out on the road campaigning for 2024. I can't think of any other movie that made me think that way, compare the issues they're facing to what we're facing now. And because movies should be a form of entertainment and escapism or at least education we noped out.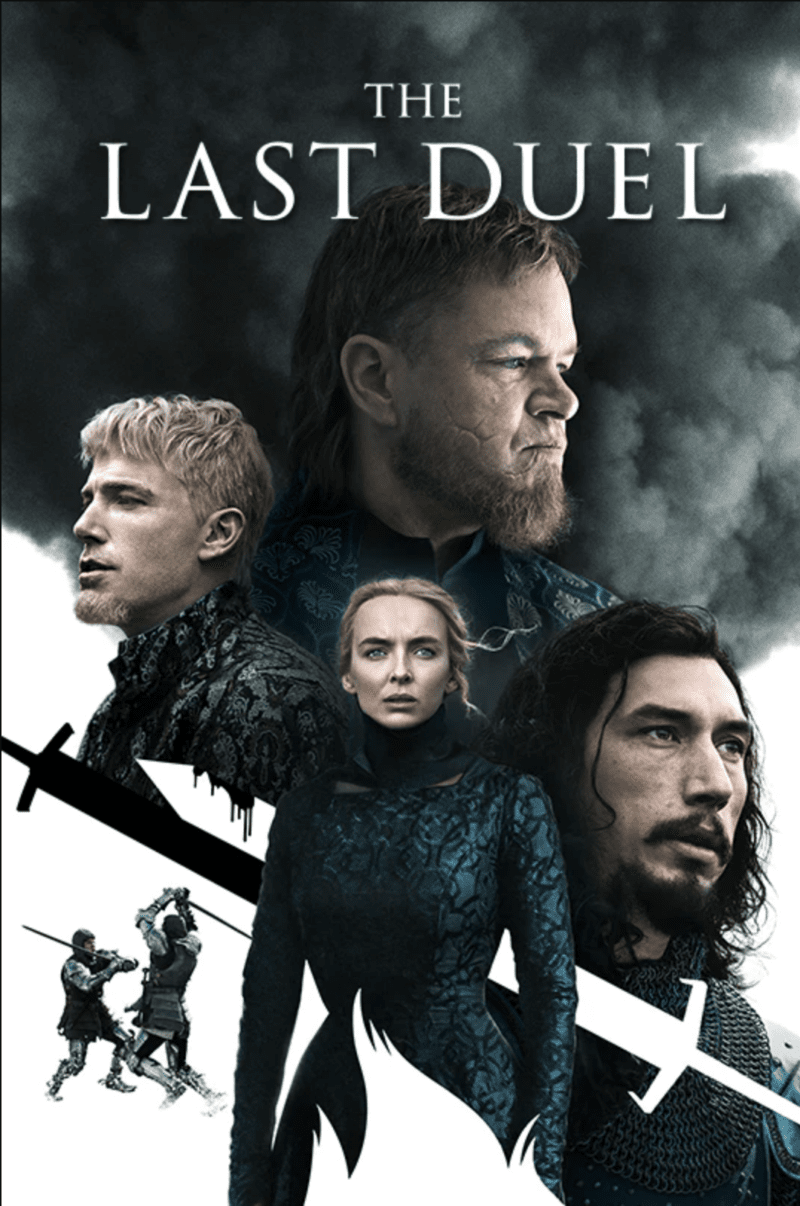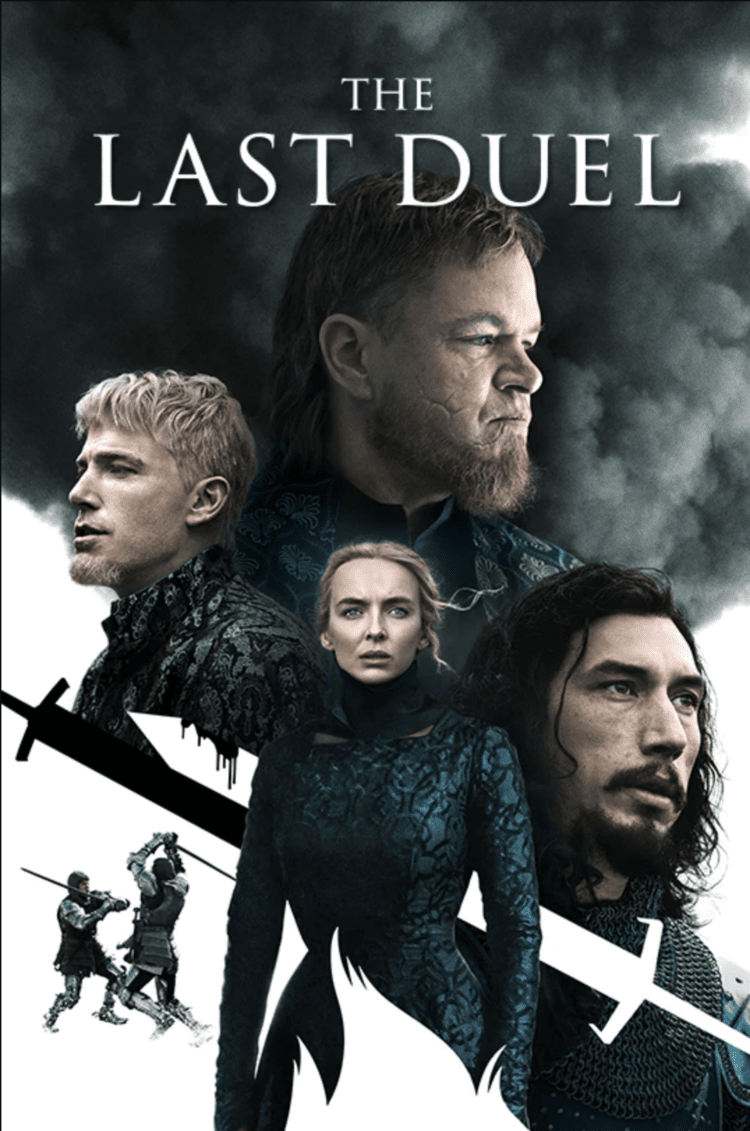 The next night we tried again with a different streaming platform – HBO Max. The first movie recommended on my husband's profile was The Last Duel. This sounded familiar, why hadn't we seen it? It has Villanelle, Darth Vader, Good Will Hunting, and Batman in a movie that looks to take place in Medieval times. We hit play… and we did stick through to the end but this movie has a TON of trigger warnings.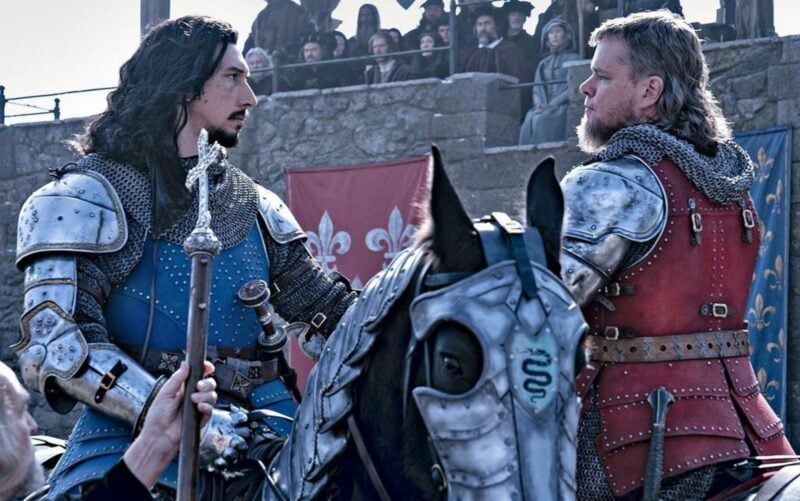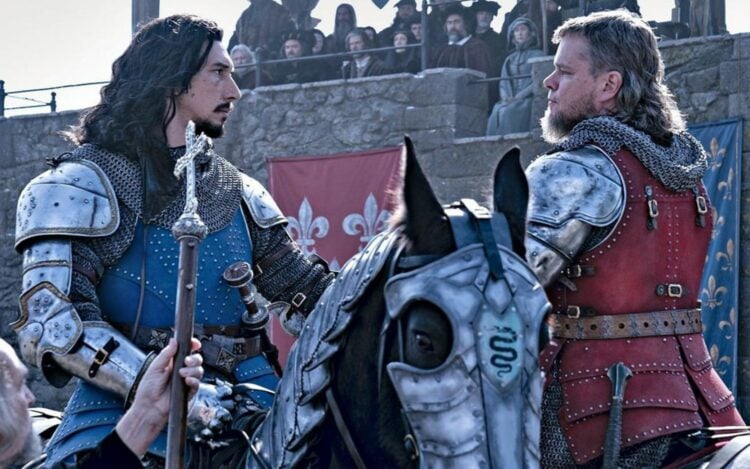 I started listing all the trigger warnings for The Last Duel but I think just listing them would be a trigger to many. This is a movie essentially about a rape that happened in history. It is told from the perspective of three individuals involved – the husband, the alleged rapist, and the woman who says she was raped. The two men's perspectives are based on history and fact, the one of the woman is fiction since back in Medieval France the stories of women weren't often documented.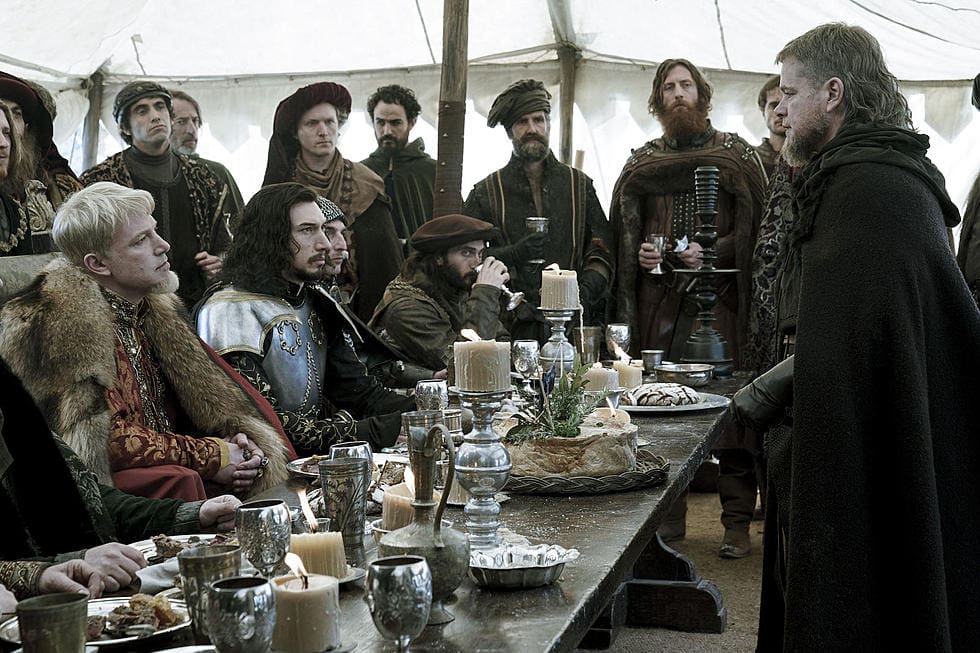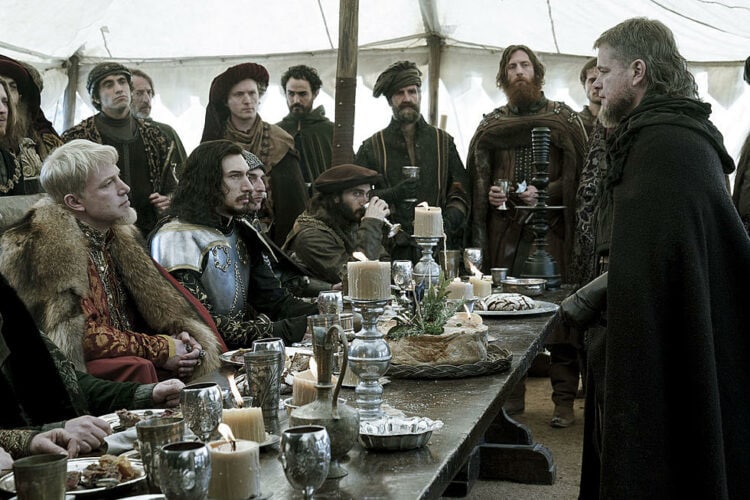 The acting is fantastic. My husband didn't even recognize Ben Affleck. Jodie Comer can tell a whole story with a simple facial expression, she made me cry and cringe and her expressions are imprinted on my mind. Matt Damon rocked as a jealous prideful knight. Harriet Walter played a bitter, nasty older woman who explained how she ended up that way with such nuance. Adam Driver… played Adam Driver. And when researching the true story the movie was based on, I found he was almost two decades younger than the man he was portraying.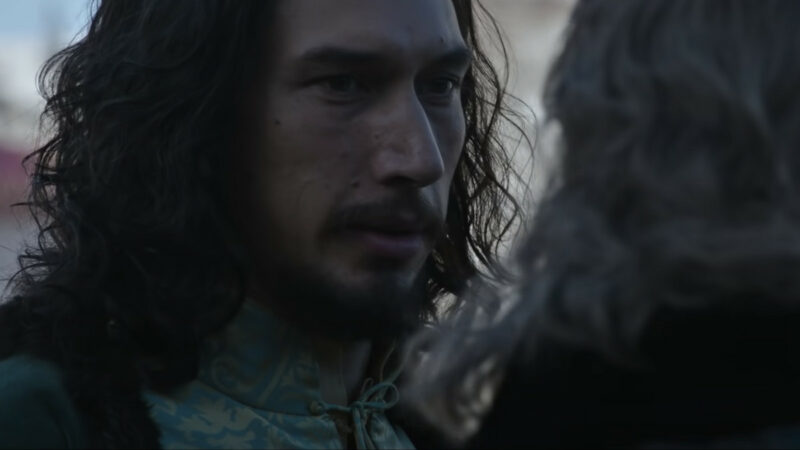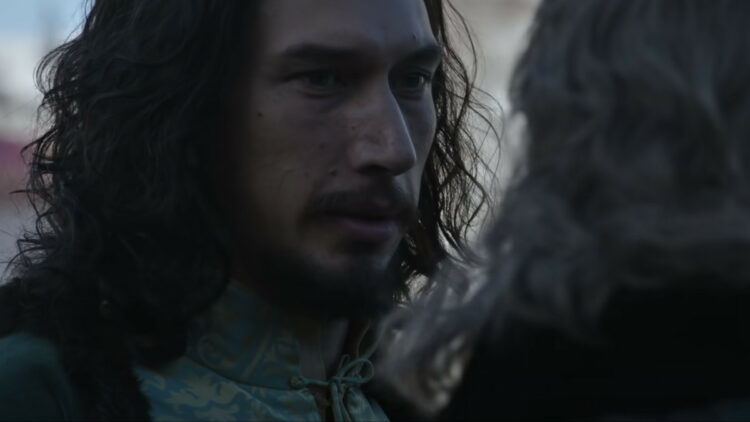 If they had chosen an actor closer to Damon's age (both Jean de Carrouges/Damon's role and Jacques Le Gris/Driver's role were in their 50's when the event took place) I think it would have been clearer that this centuries-long debate as to who was telling the truth was a bunch of patriarchal bullshit. Just as I bitched about with the movie The Dig, playing with the ages of real individuals warps history.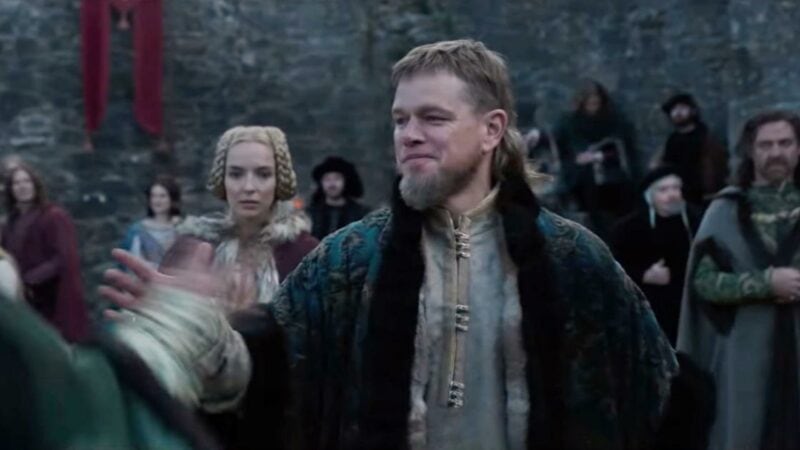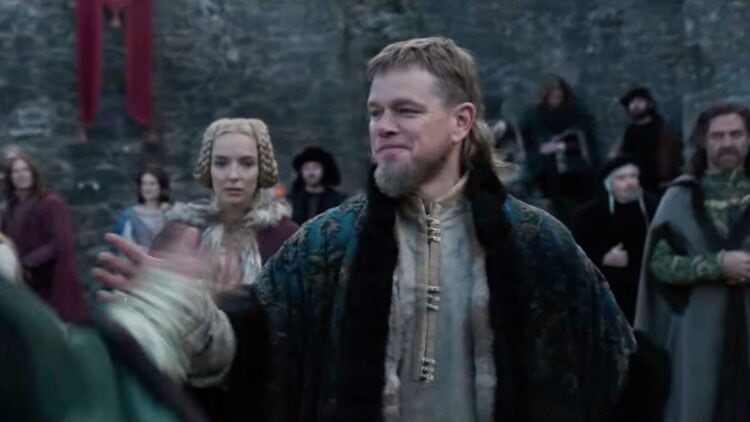 This movie was interesting in how it told the same exact story from three perspectives. It's a prime example of how there are three sides to every story, how men think rape is consensual, how someone can look supportive and loving but those intimately involved know otherwise, and how the only reason women have any rights today is because of women like Marguerite de Carrouges who spoke up even when they knew they were risking everything.
If you're okay with really gory violence and incredibly vivid rape scenes, then go ahead and watch this film. But this film is based upon a book, and there is a lot of research about this case that doesn't require experiencing the worst aspects of the story in full-color HD stereo. For a quick primer, here is an article from The Smithsonian. It's an interesting story to research, but it's totally okay to pass on watching it.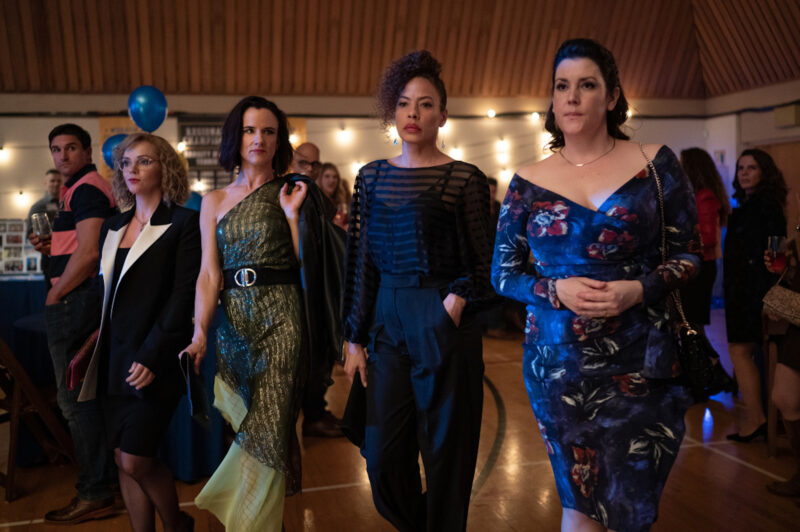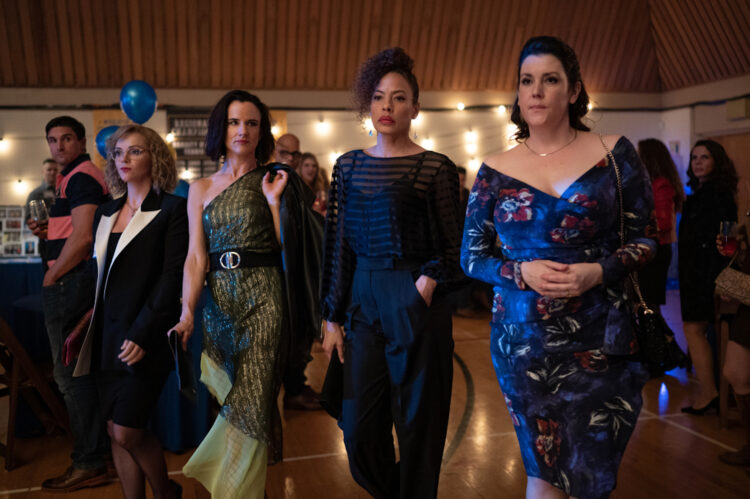 Okay, on a good note, we finished Season 1 of Yellowjackets on Showtime and dang… this show is amazing. You can't even conceive of what happens next, but not in a "this is ridiculous" way but in a "my brain was on this journey but I didn't even see that corridor and now I'm excited to go down it" way.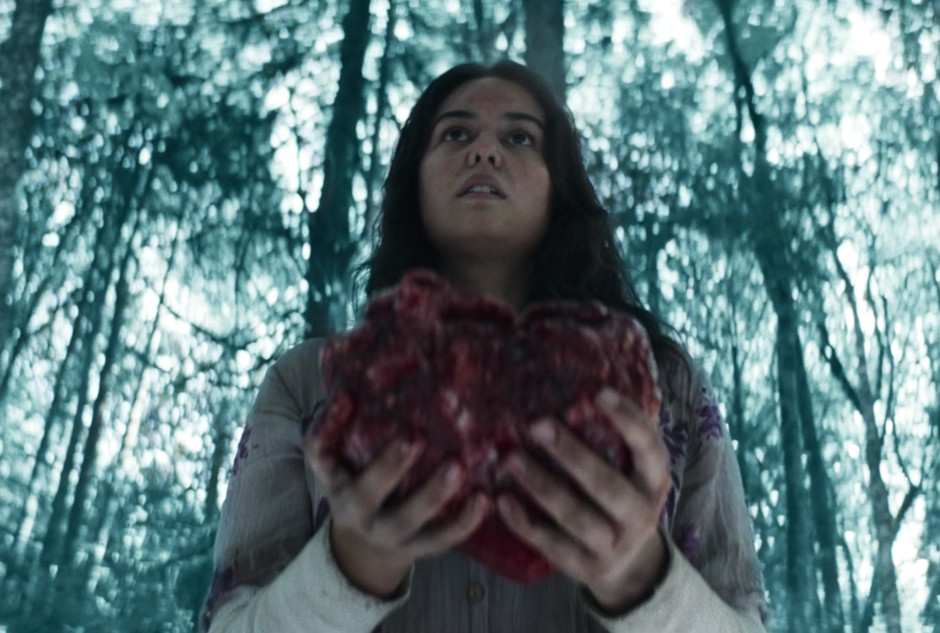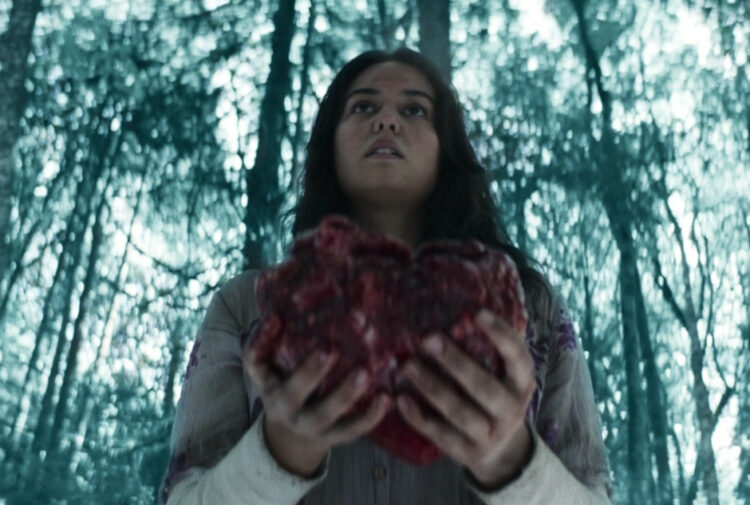 For those who are like oh yeah, big deal I didn't watch Game of Thrones or The Walking Dead or Dexter or Schitt's Creek (why NOT?!?!?!) or whatever trendy show, I'll live if I don't watch Yellowjackets, I feel you. The only one I mentioned above that I have actually watched myself is Schitt's Creek (and have watched twice since the first round was without my kid who obviously had to see it too). But Yellowjackets is especially good if you're around my age.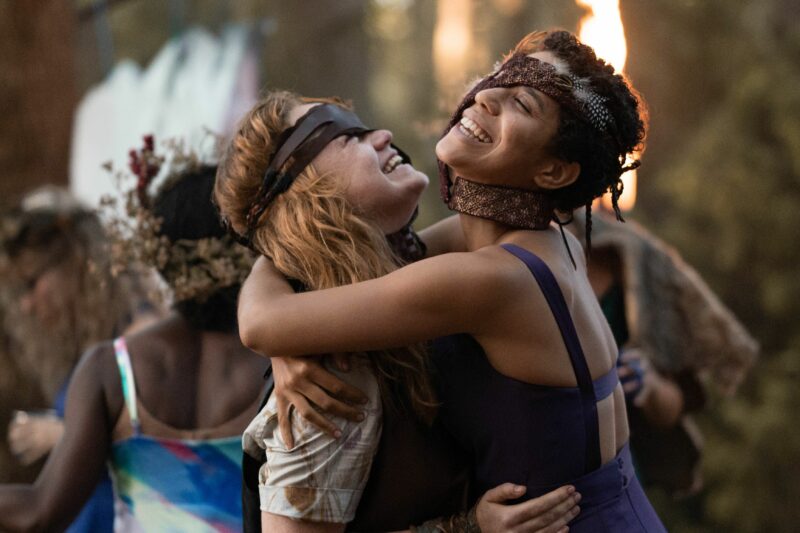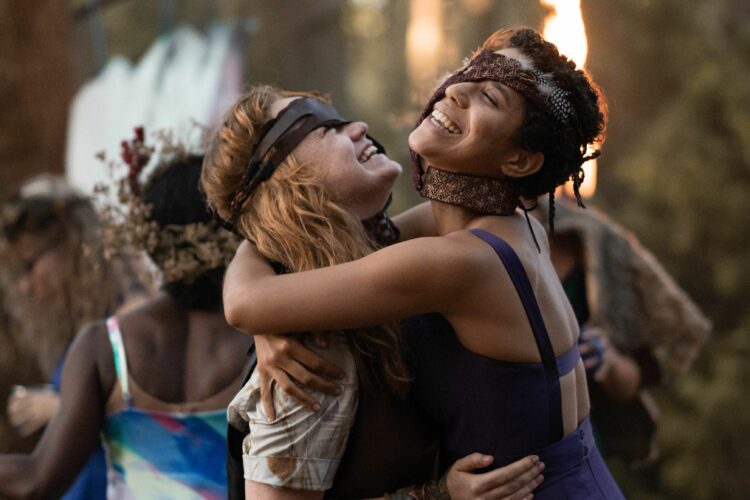 I graduated from high school in 1993, the folks in this show graduated in 1996. The music, the trends, the priorities, and how they grew up and look now and dress now all add to this show. And this show is about strong women. Complicated, confused, emotional, human, but strong women who make mistakes but also make some damn good decisions in difficult situations.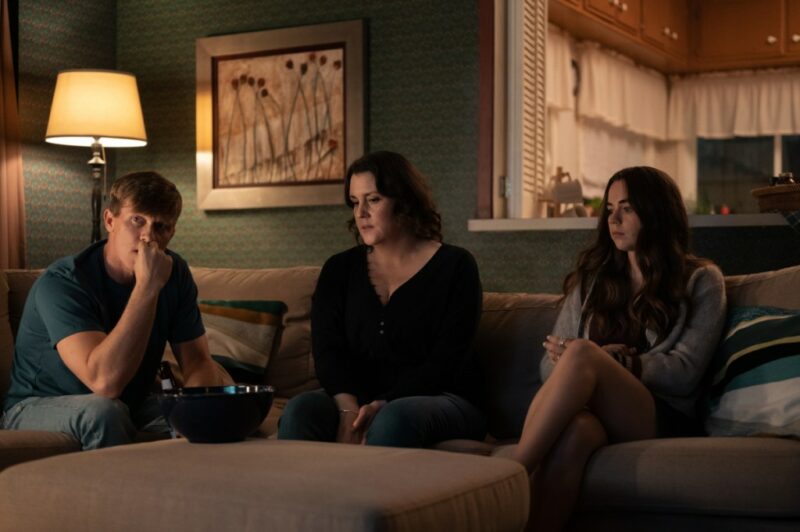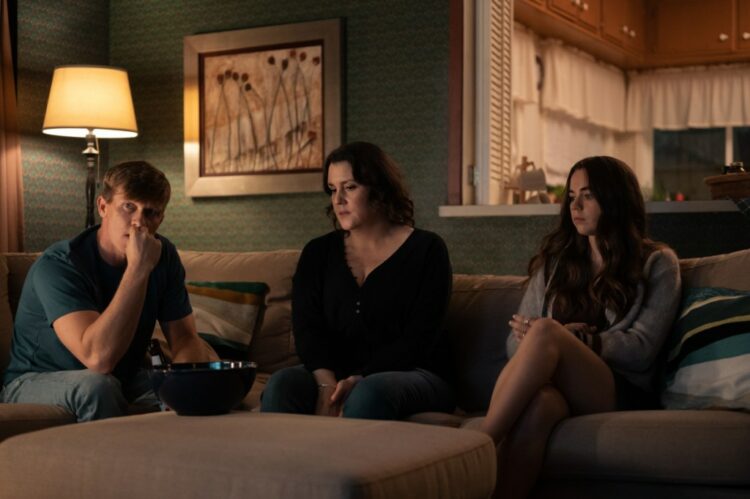 The men aren't all jerks; in fact most of the men as you go through the series you find they are pretty okay. They're also human and make mistakes and are confused, complicated, and have emotion. I appreciate entertainment that can show a strong woman without resorting to belittling men. There are no obvious villains or heroes, young and grown women are seen as cool and smart and strong regardless of sexual orientation, appearance, or economic standing. All that and it's an on the edge of your seat thriller that keeps throwing you for a loop.
For Your Entertainment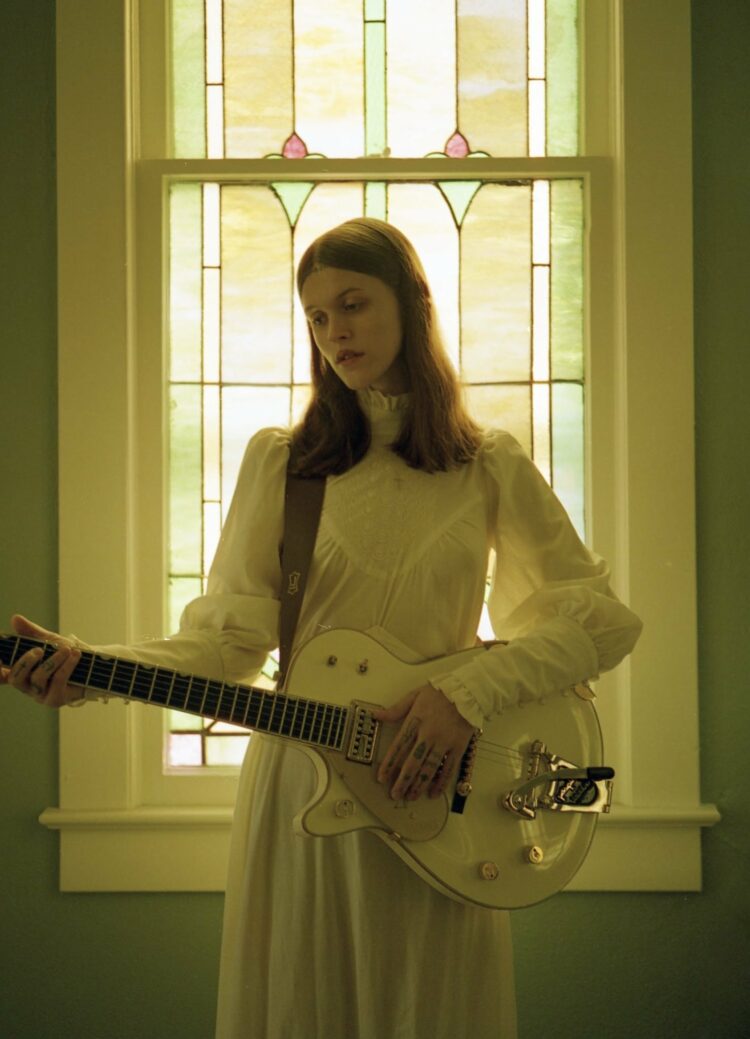 If you want to quickly summarize the music of Ethel Cain it is like Lana Del Rey for the rural south. Dreamy sounding nostalgia but also tackling very difficult and all too real subjects. Born Hayden Silas Anhedönia in 1998, the singer-songwriter with the stage name Ethel Cain was born in Tallahassee, Florida, currently lives in Enterprise, Alabama, and writes about poverty, substance abuse, transgenerational trauma, and living in the South. Raised in a Southern Baptist community, she left the church at age 16 when ostracized for being gay. Anhedönia a few years later came out as a transgender woman and has used music and art to express herself and her past.
As for the stage presence Ethel Cain, Hayden Anhedönia shared this in an interview with Pitchfork: "Ethel is not a separate character as much as a chunk of my life that I cut off to make her own entity, because it was getting to a point where she was taking me over," Anhedönia explains. "But she's also my role model in a way, because she's what I want to be."