This article may contain affiliate links; if you click on a shopping link and make a purchase I may receive a commission. As an Amazon Associate, I earn from qualifying purchases.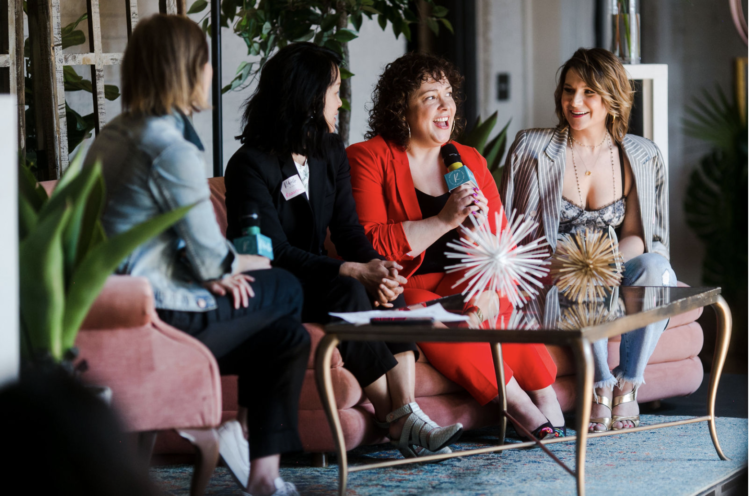 Last April I was invited to speak at the conference Rebelle Con in Richmond, Virginia. Rebelle Con was founded by a pair of women who were sick of the "go hard or go home" messaging that was causing so many of our peers to burn out, get discouraged, or confirm their feeling that they are not enough. As I've shared before on the blog, I believe in working smarter not harder and the mentally of Rebelle spoke to me. Rebelle Con isn't a major conference with thousands of attendees where you feel like an ant running from workshop to breakout session to keynote through a maze of a conference center or hotel. Rebelle is smaller, more intimate and personal, with inspiring speakers from across the country, that showcases women-owned companies, and allows space for attendees to connect with and inspire one another. And while I spoke at Rebelle, I also was an attendee and I did leave inspired. Click here to read my Rebelle Con recap. So I am returning this year, solely as a guest. I bought my ticket, I booked my hotel, and I'd love you to come too!
Shannon Siriano, the founder of Rebelle is offering Wardrobe Oxygen readers $50 off their ticket to the Spring 2020 Rebelle Con with promo code WARDROBEO2. Here you can learn more about this year's agenda and speakers (OMG Ashley Longshore!). Sure, Shannon is a friend, but I reached out to her and asked how I could help her promote this conference because it truly was one of the more lifechanging things I did in 2019 and I wanted to share it with others. I'd love to see you there!
Weekend Reads
For the first time in history, women hold more than 40% of worldwide wealth. One place where that's made huge waves is in charitable giving, a field that, much like technology or politics, has long been dominated by men. But even as women have made their way into philanthropy's old boys club and changed it for the better, most of us are white. And that's a problem. (Seattle Times)
Thursday I shared on Instagram Stories how I was recorded for an upcoming podcast and many asked where I got my bright pink sweater. J. Crew! It's this one in the Neon Flamingo color (I got size Large, it's not a fitted silhouette so no need to size up) and I love it. It's merino, but lightweight enough that it can easily be worn through Spring. I like it so much I've thought about also getting it in Evergreen. And J. Crew is on sale today!
What does a class-action lawsuit over textbooks have to do with designer bags? (The Fashion Law)
Thank you to multiple readers who sent this one my way: NY1 anchor Jamie Stelter wants the 'TV dress' to die. (New York Post)
I've shared before how this stuff from Kiehl's made my sun spot completely disappear after just a few months. My husband has started using it too, after years of thinking he's just fine with bar soap, almond oil, and sunscreen when I push him. He also agrees it's transformative for more even skin, fewer breakouts, and a bit of a glow. I just bought a 2.5 oz bottle to replace my third 1.7 oz bottle. Yeah, you can say I'm a fan.
You may have seen images from Dior's show Paris Fashion Week – feminist-leaning statements in neon lights and models stomping down the runway over what looked like pages from Le Monde. There's a lot to unpack, but also it was so… surface. I wasn't there to experience it, so I encourage you to read the thoughts from Gabrielle Korn at Refinery29 and Robin Givhan at The Washington Post.
Google's black box algorithm controls which political emails land in your main inbox. For 2020 presidential candidates, the differences are stark. (The Markup)
Introducing Naza, a San Francisco-based salon that aims to be a "Drybar" for protective styling. (Vogue)
If you haven't yet seen this video featuring Cynthia Nixon, stop what you're doing, watch it, and share it with everyone you know.
See, Hear, Read
My husband and I have some shows we watch together, there are shows that we watch with our daughter as a family, and some shows that my daughter and I enjoy just the two of us. And then there are the shows we watch separately because no one else cares about that kind of content. I don't watch a ton of TV, but I have some of my shows that I DVR and watch on a Sunday morning or a Friday afternoon when I'm supposed to be finishing this blog post but really want a distraction. And my favorite television distraction is The Bold Type. I didn't learn about this show until the second season had started; after watching two shows I became so obsessed I paid to watch Season 1 on OnDemand. And we're into the fourth season and I just continue to love it more and more. Three friends work at a magazine that is very similar to Cosmo. I like aspects of all the characters, I love that they bring in real-world issues from magazines shuttering to politics to being a woman in America. This show isn't afraid to discuss more sensitive topics like sexuality, egg freezing, masturbation, and more. The fashion is great, the views of NYC are fab, and I feel it keeps me a bit… hip, to watch a younger generation live the post-college life my 17-year-old self dreamed of. Oh and Melora Hardin as Jacqueline Carlyle, the magazine's editor is sublime, her role and the show as a whole is inspired by Joanna Coles' life and career. I want all her character's clothes and jewelry and makeup and and and. The Bold Type is on Freeform but also available on Hulu and Amazon.
Sale Alert
J. Crew has 20% off for Leap Day with promo code FEB29. I just ordered this blazer and these pants in the color Monaco Blue and hope it's as gorgeous in person as it is online. The colors and details in their New Arrivals are pretty fantastic!
Banana Republic has 40% off with a Leap Day Flash Sale, no promo code needed. I'm using that deal to try some jeans, this sweater, and this blouse. This is a great deal if you're looking for suiting, which they have up to size 20.
Lands' End has 40% off with promo code SNOW. There has been a lot of discussion in the WO2 Community about pants: athleisure pants, knit pants, workout pants and in each conversation Lands' End is recommended, especially their Starfish Pants.
Madewell has an extra 30% off sale styles with promo code LIKEALION, you can shop the selection at this link. There are so many good things on sale I got lost scrolling through but first glance these wide-leg pull-on pants are fab – dressy enough for work but comfy like PJs, these extended calf boots are so chic, and these sneakers are fierce.
For Your Entertainment
If you watched Glee you may recognize Alex Newell, who played the role of Unique Adams, one of the first transgender characters on a prime time television show. Since Glee, Newell released an EP, toured with Adam Lambert and performed live at festivals such as Coachella and Governor's Ball, and his Broadway debut playing the role of Asaka in the revival of Once on This Island (the soundtrack from Once on This Island was nominated for a Grammy). Newell is currently in the TV show, Zoey's Extraordinary Playlist where he plays the role of Mo, Zoey's neighbor and friend. All this and Alex keeps releasing singles after singles that are as fire and fabulous as this one, which was released earlier this month.