This article may contain affiliate links; if you click on a shopping link and make a purchase I may receive a commission. As an Amazon Associate, I earn from qualifying purchases.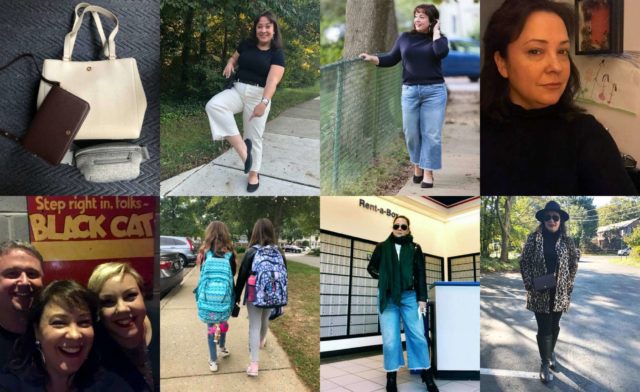 Fall has finally hit in the DC area and it's straight up cold. It was literally 90 degrees one day last week so it's hard to accept we're in the season for coats and boots. We pulled out all of Emerson's winter clothes and also received a Stitch Fix box for her that has some super adorable and super warm pieces. As for me, I haven't pulled out my winter clothes from the attic yet but hope to this weekend if all goes well.
People joke that bloggers don't have real jobs and their Monday isn't like a Monday in Corporate America. I disagree. Any blogger or freelancer strives to maintain a schedule, and to function in society tries to have weekends free like everyone else. And I am so glad the weekend is here. This has been an extremely tough weekend, some of the reasons are stories not mine to share added to tax time (I got an extension), writing a piece for a pubication, progress reports, and about six different campaign deliverables. For the first time in almost a year I have upper back pain and an eye twitch. I'm writing this Friday afternoon, striving to get everything done so my husband and I can enjoy an event this evening and I can have a weekend where I can be a mom, wife, and friend and not chained to the laptop. I hope to fit a nap in too!
Sale Updates
Colleen Rothschild skincare is my favorite, I've been using products from this line for years and they make my skin so happy. Their Friends & Family sale is this weekend, save 25% off the whole site with promo code FAMILY25. If you haven't tried the line, I recommend starting with the Discovery Collection which has minis of the bestsellers, all TSA-friendly size in a super nice cosmetic bag. What's cool is all the containers are refillable; I've been refilling my Discovery Collection for over a year, it's the gift that keeps giving!
Through Sunday, Talbots is offering 30% off all jeans, shoes, and accessories and an additional 30% off already reduced sale items (no promo code needed). I am LOVING Talbots' fall collection and there are so many goodies part of this promotion. I have this bag so can attest to the fact that it's well made, elegant, and a pretty perfect size. I have and love these pumps, they were sold out so I'm psyched they're back in time for this sale. I wear these jeans ALL THE TIME. Okay, I started linking too many things so instead here's a gallery of my picks of items on sale:

Through Tuesday, LOFT is having 40% off your purchase with promo code FRIENDS. I've been impressed with LOFT's latest offerings and love that they have extended their plus size selection and have so many petite offerings. I love the color options and the silhouette of these booties. This is the kind of dress you want in your closet for work, for weekends, for day weddings, for funerals, and most any other occasion. Wear in spring and fall with flats or pumps but it will also look chic with tights and tall boots come winter. Here's the rest of my picks from their New Arrivals:

Ann Taylor had to get in on the action as well and is having 40% off with an additional 10% off promo code REFRESH. Sale through Sunday. This link will take you to the items part of the sale; below are my picks:

Through Tuesday, Lands' End has 40% off full-price styles with promo code CORN and PIN 3026. This code will also give you free shipping for orders over $50. I recently got this flannel shirt and like it so much I may purchase another (here's the link for it in plus sizes). I also had plenty of cute jackets but nothing that fit and was a workhorse for winter activities, shoveling snow, getting life done so I bought their iconic Squall Parka in black (here's the link for plus size which also has petite plus sizes). This is a perfect classic cableknit sweater that will go with everything; here it is in a turtleneck version. I'm going to have to grab a pair of these pants for winter. This cozy pullover makes me actually look forward to colder temps. I'd make a little widget but Lands' End doesn't have it for sale items so just visit and see all the good stuff they have this season!
Weekend Reads
The American Dream has changed as has the American Dream Home. On the future of real estate for multiple generations.
Have you checked out The Cut's series on Women and Power? It's pretty phenomenal. There's several chapters with short interviews with women in a variety of fields, a variety of ages and lifestyles. Chapter One features women such as Stormy Daniels, Lena Waithe, and Gloria Steinem. Chapter Two includes Barbra Streisand, Ilhan Omar, and Binky Urban. In Chapter Three, read what power means to Nicole Kidman, Lilly Ledbetter, Tammy Duckworth, and more. The fourth and final chapter includes Nikki Haley, Roxanne Gay, and Nancy Pelosi as well as many more. This whole series is worth a read.
Messages in Metal is a family-owned company that makes its jewelry in the USA. They reached out about their company and provided me with one of their name necklaces (I got this one with Emerson's name). They're nicely priced and nice quality, a great choice for yourself or for a loved one (the holidays are right around the corner!).
Everlane has pledged to remove all virgin plastic from its business by 2021 by introducing a new material, called ReNew, made from recycled plastic bottles. This is fantastic news; too bad Everlane only goes up to an XL or 16 (which in my experience fits more like a 12/14). Hey world, did you know that women of all sizes like to shop ethically? It's true!
Does drinking coffee affect your period?
Mediavine is the company I use for the ads on this site. Hate them, don't notice them, understand they're necessary in this day and age to cover hosting costs, Mediavine has been amazing to work with. I'm honored they featured me on their blog; read to find out some behind the scenes about this blog, my favorite blogs to read, and more!
Jonathan Adler has an exclusive line of home goods at Amazon! From quirky vases and wall art to rugs and furniture, Now House by Jonathan Adler is a must-see for those who love colors, whimsy, and an MCM-inspired look for their home.
Did you hear? Universal Standard is now carrying sizes 00 through 40. They're starting with their new FOUNDATION collection and I got a sneak preview of these soft layering basics and they're pretty fantastic. Each time Universal Standard drops a new product or line or concept I fall more in love with them!
You've hopefully heard about food deserts, where populations in the United States do not have access to fresh foods and vegetables. But did you know parts of our country are also experiencing a news desert? About 1,300 communities have lost local news coverage.
I swear by customer reviews to help make online purchases, but many sadly are fake. This article helps you recognize a potentially fake review and mentions Fakespot, a great tool to help when searching sites like Yelp and Amazon.
This Week's Reader Question
"I've followed your blog for a couple of years now and watched your transition from a corporate job to working from home while I too have transitioned to working from home full time. I went through the phase of wearing t-shirts and sweats everyday because it's just too easy not to put in the extra effort to pull yourself together just to sit all day in a home office with no face to face interaction. I am slowly trying to pull out of that and put a little more thought in how to transition my wardrobe to be pulled together but comfortable and this blog has been a great example for that.
My question is regarding something as small as tucking in a shirt. I have never been one to tuck in anything but have noticed the difference it can make in the outfit examples you share from your everyday life. My problem is that I feel self conscience in doing so as it makes me feel too "exposed." I have played with the trendy half-tuck but that never feels quite right either. Your thoughts would be appreciated on this topic."
I hate to admit I am replying to this while wearing a pair of Adidas shorts and a Soma lounge top with no bra and a pair of old silver Birkenstocks. While most days I try to make an effort and it makes me feel better (and makes it more likely that I get out of the house for fresh air and mental clarity), some days it just doesn't happen. But your question is about tucking in tops and I AM SO GLAD YOU ASKED THIS!!!
I get the feeling of being exposed. But here's the thing I've learned over the decade plus of putting myself out there and scrolling through hundreds of photos of me in outfits, many I felt looked fab in my mirror but looked different when moving around out and about. Your body is your body no matter what you put on it. Black won't make you look slimmer unless you're in a photo, and leaving your top untucked doesn't hide the fact that you have a tummy, a butt, and your lady parts. In fact, leaving your top untucked when out in the real world and not in front of your bedroom mirror, it often makes you look larger because everything is hidden in one mound of fabric. It also makes you look less polished and less confident.
The key to gaining confidence tucking in tops is having well-fitting pants. We're not talking jeggings or skinny jeans, that is senior-level don't give a eff confidence. Let's start with something like straight-leg jeans, ankle pants, classic trousers. I recommend to size up. We often go tighter figuring it will reduce bulk and make us look slimmer but it actually emphasizes the belly, crotch, and rear area. If need be, get these pants or jeans tailored so they fit well in all places. With pants that aren't straining anywhere, you can feel better about tucking in.
Play with the tucking, not all tucks work for all tops or all bodies. Some tops, half tucking looks ridiculous on me. I find a top with less stretch and a thinner fabric does better for me with half tucking. I also like tops that have shirttails so there's not weird bunching on the sides and the back half untucks cleanly. Other tops, I prefer to tuck in and blouse out so much it's hardly still in the pant. This is usually silky knits with good drape. And then others, I find it's actually more flattering to hardly untuck it at all because blousing out just makes me look like I have a muffin top. I'm also a fan of knotting a part of the hem and either showing it or tucking it under to give a tucked effect but not necessarily as high as your waistband.
Once you try a tuck, it's okay to start small with a layering piece. Tuck in a top and put a cardigan or blazer over it. Once you try it, you'll find that the tucked in look is more polished, you maybe look taller or slimmer or more curvy, the clothes look more expensive, and you appear more confident.
For Your Entertainment
This isn't a brand new song, it came out this spring, but each time I hear it and see the beautiful video I get butterflies. It's one of those songs like "Into the Mystic" that I hear and immediately want to be slow dancing at sunset with my guy. If you're not listening to Leon Bridges you're missing out.