This article may contain affiliate links; if you click on a shopping link and make a purchase I may receive a commission. As an Amazon Associate, I earn from qualifying purchases.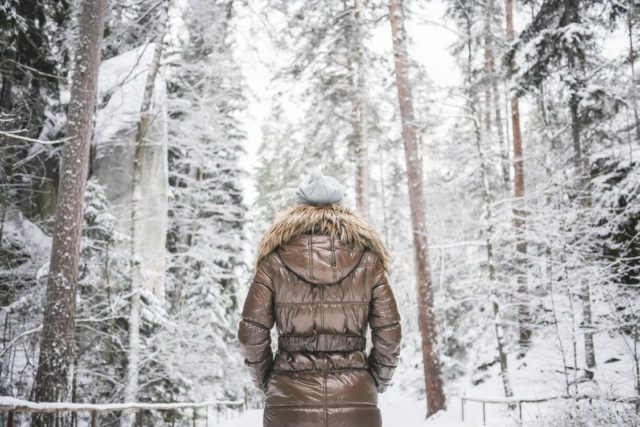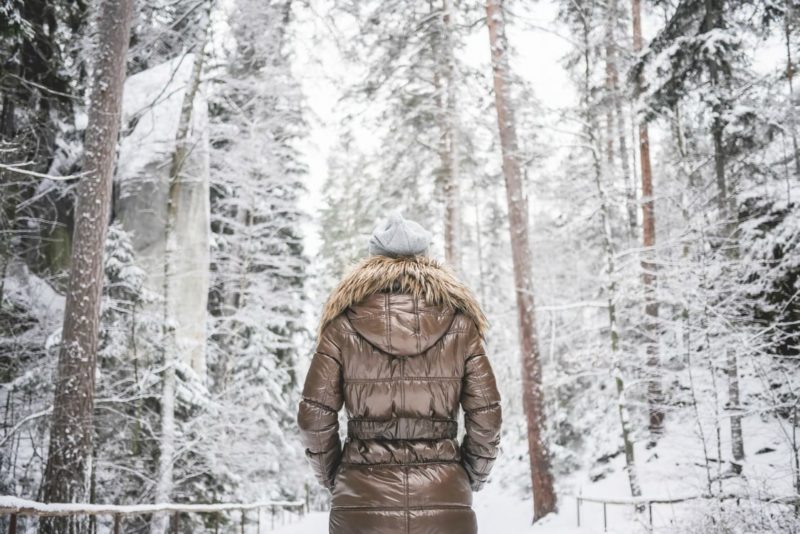 It was nice to have a bit of a break from blogging work. I didn't write, I didn't take outfit photos, I reduced my time on social media, and became a human again. The holiday season is the busiest time in my profession and having my mom's surgery and such at the same time really wiped me out physically and emotionally. I do feel revived and ready to go… however I feel a bit behind. I don't usually take off, and I use the end of December to figure out my goals for Wardrobe Oxygen in the new year. have a strategy, a loosely-designed editorial calendar, some new themes and concepts. And I have several notes in journals but nothing tangible.
My idea to rewear clothes came because I didn't have a post for January 2nd but I did have a few photos from a shoot with my jumpsuit. I was thinking how it was too late for that outfit to be shared on the blog; we're beyond holiday parties and now it's all about fitness and wellness and dry Januaries and skincare and saving money and being better humans. Well, those aren't things I want to monetize or SEO-ize, they're things I want to feel authentic. And that jumpsuit is authentic, I've worn it so many times and I have had people compliment it and ask if it's some fancy designer I can't afford. Nope, it's from Kohl's. So I edited the photos and during the editing an idea came about. But that's not my only idea for Wardrobe Oxygen for 2019.
I really want this site and the community as a whole to be a source of inspiration and affirmation and positivity for smart women. Because you all are very intelligent people, you see right through bullshit, you live real lives full of passion and pain and stress and sweetness and you know life isn't made better with an inspirational quote written in gold glitter or a new sweater. I want to give you what I want to see and read on the internet. So give me some time, I'm going to make these ideas into action and I look forward to your participation, your feedback, and your smart fabulous selves to make this year badass (because it HAS to be better than 2018, right?).
Weekend Reads
WOO HOO! Audible is offering a promo through January 31st: sign up by then and get two audiobooks of your choice for free AND two Audible Originals and a bunch of other free audiobooks that I'm not as psyched about because they are your typical lose weight in the new year kind of books. Audible was my savior when I had a long commute. My recommendation? Get the Outlander series on Audible. That's how I got into the series, it made DC rush hour enjoyable.
Yet again, Robin Givhan knocks it out of the park. A wonderful recap of the symbolic fashion choices of the women sworn into the 116th Congress. (Washington Post)
Researchers at the University of California, San Francisco found that loneliness plays a large role in the decline so often associated with old age. While this article focuses on how you should spend more time with your mom, it really is just a reminder to take time to spend time with older people. Not only do they have more life experiences and therefore more insight, but all parties will also benefit from the experience (Oprah Magazine)
I learned about the app Be My Eyes in my city's Facebook group and immediately downloaded it. This free app connects visually impaired people with sighted volunteers for help with daily tasks. A blind user connects with one of 1.8 million strangers, who speak more than 180 languages, for help with things like setting their thermostat or picking out a certain color of blouse. (The Washington Post)
Shared by my friend and previous Wardrobe Oxygen contributor Jessica, on reclaiming the word 'Jewess'. (Alma)
I enjoyed this interview with Caitriona Balfe, better known to many of you as Claire Fraser from the STARZ series Outlander. (Harper's Bazaar)
I had the pleasure of meeting Cecile Richards and have to say after I wanted to know about her skincare routine. That woman looks amazing, even with so much travel and stress! Now I know. (Into the Gloss)
One of the most powerful things I've read in the past two weeks. (Washington Post)
I have many friends and relatives that have experienced this: if you're over 50 chances are the decision to leave a job won't be yours. (ProPublica)
This wild ride of a NYT longread has me questioning almost every Amazon purchase I have made and will affect what from Amazon I link to on this blog in the future.
Speaking of Amazon… the life of a package delivery contractor for Amazon. Spoiler alert, it's not glamorous and it's not for those who like to stay hydrated. (The Atlantic)
Do you take Benadryl to help you sleep? You may not want to (Huffington Post). And if you take it on a regular basis for anything from allergies to sleep you may wish to find an alternative (Harvard Health Blog). Yeah, Benadryl is now only used in my house for extreme allergy situations. Yikes!
I read this a couple days before we hosted Christmas Day breakfast and gift opening and it made me feel much better… and provide more time and less stress to enjoy the holiday season. (Mother Nature Network)
I believe that a woman knows her body best and has the right to make the decisions that are best for her body, her life, and her future. Having an abortion is never an easy decision, and all kinds of women, mothers included, have them. This piece from the Atlantic shares a woman's story of being a mother but also having abortions. It's worth a read, no matter your current views on this subject.
Since we're on the subject, this is a must-read series or stories from NYT. It floors me that we care about a fetus more than the person carrying it as well as the fetus once it is born and in this world.
So many experts state that fashion is the second most polluting industry in the world. But is it? (New York Times)
When I shared my style challenge for 2019, reader Annie wrote back letting me know she's not buying any new clothes this year. Her blog post on the subject.
Did you know that mothers these days who juggle jobs outside the home spend just as much time tending their children as stay-at-home mothers did in the 1970s? And it's for good reason; for the first time it's as likely as not that American children will be less prosperous than their parents. (New York Times)
"Non-Muslim women can sport modest clothing and be called professional or elegant, yet when Muslim women dress modestly, our taste and style is often overlooked. Or, to put it more bluntly, when you wear a turtleneck, you're elegant; when I wear one I'm oppressed." (Glamour)
There is no wrong way to get older; these Australian women share their thoughts on aging. (The Guardian)
For Your Entertainment
This is the not the first time I've shared Lizzo in this section of Weekend Reads and it won't be the last because she's so freaking awesome. This song and vide3o is no different, I love all the '80s references. And be sure to stop by the website mentioned at the end!