This article may contain affiliate links; if you click on a shopping link and make a purchase I may receive a commission. As an Amazon Associate, I earn from qualifying purchases.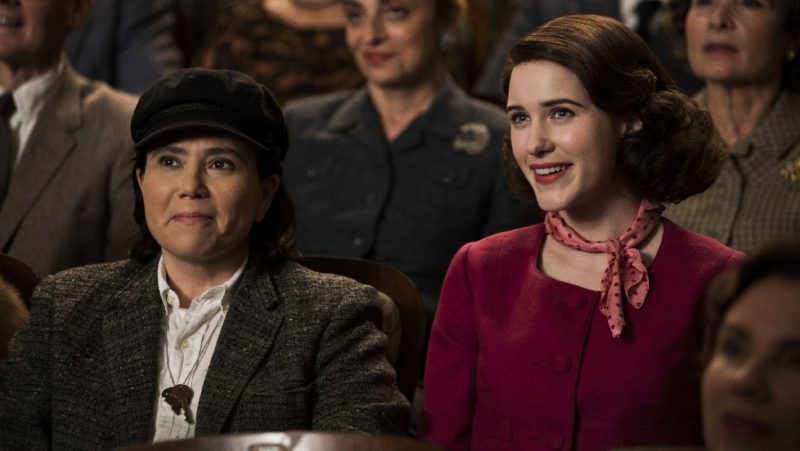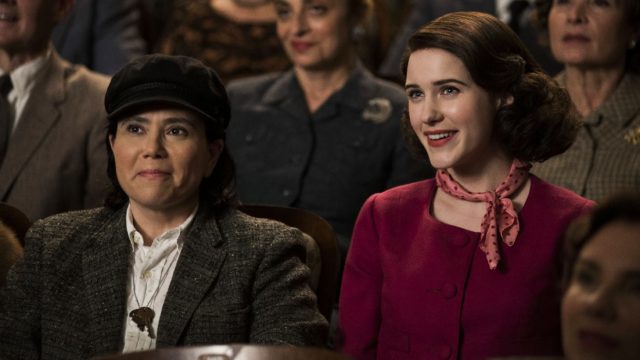 Okay folks, I finally watched The Marvelous Mrs. Maisel. So many of you have recommended it over the past year, and I'll admit you all were right. Karl and I started on the holiday break and fell in love so fast we slowed down, dreading the end of Season 2. And we watched the Season 2 finale this past Monday. If you haven't watched this series on Amazon I can't recommend it enough. It's witty and funny and the fashion is fantastic and it is just so beautiful to watch. It's easy to binge it, but it's so delicious to watch an episode and wait, discussing it, mulling over the content, waking up and being aware of what parts stuck with you. I know I am not the only one who saw bits of herself in Midge, and I even texted a good friend who is my "work wife" as we discuss and inspire one another with our businesses with, "I hope I am the Suzy to your Midge." Some didn't like the second season's focus on the parents but I personally loved it and want Tony Shalhoub to win every award possible for his role. Watch it, you won't regret it.
The show has inspired us to watch stand-up comedy on Netflix. We have a family account, one for Karl, one for me, one for our daughter, and yes… one for my sister and one for my mom (Shhhh don't tell Netflix). It's funny, if I search "Stand Up Comedy" on my Netflix account I get about six offerings, Jim Gaffigan, John Mulaney, and a bunch of women comics I've never heard of that I Google to find they're famous from YouTube. When we search on my husband's account he can scroll and scroll and scroll and get tons of offerings… though they're Louis CK, Jim Jefferies, Dave Chapelle, and various other controversial men (and one or two Iliza Shlesinger at the end of the search).
I don't watch Netflix often. I did go through a period of The Good Place, Glow, and The Unbreakable Kimmy Schmidt but didn't finish any of the series. I do love Queer Eye, and have caught a couple episodes of Marie Kondo's new show. While my mom was recuperating from her surgery this winter, I watched a few horrible Christmas movies on my account, and I did watch Dumplin', Dude, To All the Boys I've Loved Before, and Sierra Burgess is a Loser. I also watched Ali Wong (she's the only reason I continue to DVR American Housewife), Dave Chapelle, and John Mulaney. I think the only series I semi-binged on Netflix was The Crown (a binge for me means more than one episode in a day; it still took me two months to finish). So yeah, if you look at my viewing history I do look like a suburban middle-class white lady between the age of 29-45. But why suggest such limited comedy for me?
My husband, on the other hand, watches far more Netflix. He's all about history, documentaries, space, and art. On his account, we've watched series like Marco Polo, Luke Cage, Jessica Jones, and Iron Fist (which isn't worth watching IMO). We've watched a few action films and dramas, and I know he's watched more on his own time. We've watched a few fashion documentaries and pieces about 20th century icons, tastemakers, and changemakers (do check out the one about Susanne Bartsch!). Likely Netflix can tell he's a suburban middle-class white man over the age of 35, but where in his history does it make it where Netflix thinks he wants to watch Louis CK, especially in January of 2019?
So I am reaching out to you. What comics on Netflix or Amazon do you love and recommend we watch?
Weekend Reads
Speaking of comedy, this week we lost a comedic legend with the passing of Carol Channing. This piece in Variety shares her history and extensive career.
This piece totally blew me away and should be read by any woman or any person raising a young woman. Everything you think you know about Toxic Shock Syndrome is probably wrong. (Lifehacker)
Did you participate in Facebook's Ten-Year Challenge? I kinda sorta did on Instagram (I didn't do ten years because ten years ago I had a baby and all the photos are of her not me). It seemed like some fun… but is that all it was? (Wired)
An Australian hospital is doing a trial of "magic" mushroom therapy for dying patients. I love this idea, and hope it starts a trend more use of natural treatments in place of dangerous and addictive pharmaceuticals as well as a more peaceful transition for those at the end of life. (Vice)
The latest trend in fashion is celebrity collaborations. From bloggers to big-time names it's a way to get a rabid new customer base. Thanks to Forever 21 being the idea-stealing company they are, the validity of these celebrities having true input into their collections is being questioned. Confused? Check out this piece from The Fashion Law.
"We have to hammer on the abusers in every way possible," Sackler wrote in an email in February 2001. "They are the culprits and the problem. They are reckless criminals." I know I am not the only one who has been affected by the Opioid Crisis.  Knowing what Purdue did to "blanket the country with prescriptions for their addictive medications" and then blamed those who ended up addicted is unconscionable and I hope Massachuttes destroys them in court. (STAT News)
Instagram can be repetitive (oh look another woman in bed with fuzzy socks, a cup of coffee, and a book), demoralizing (another woman with a six-pack talking about body positivity), or dangerous (after seeing 20 beautiful women with the same $100 face cream it's really tempting to open up Sephora and blow your budget). But in the past couple of months, I've seen a positive trend… community. Strangers connecting, sharing advice, supporting one another, finding common ground. This piece from the Atlantic delves into this trend.
And to end this weekend's reads, an extremely powerful piece from Tabitha Blankenbiller about having your set plans for life be changed. Discusses miscarriage. (Salon)
Today I am celebrating both life and death; a memorial service for a friend and then my sister's birthday. To those attending The Women's March, I wish you a safe, inspiring experience!
For Your Entertainment
On the one-year anniversary of Dolores O'Riordan's death, The Cranberries released "All Over Now", a new song using vocals that O'Riordan recorded before she died. After her passing, The Cranberries took a break but in 2018 completed the band's final album using demos recorded in late 2017. The album will come out in April, but below is the audio-only video for "All Over Now."