This article may contain affiliate links; if you click on a shopping link and make a purchase I may receive a commission. As an Amazon Associate, I earn from qualifying purchases.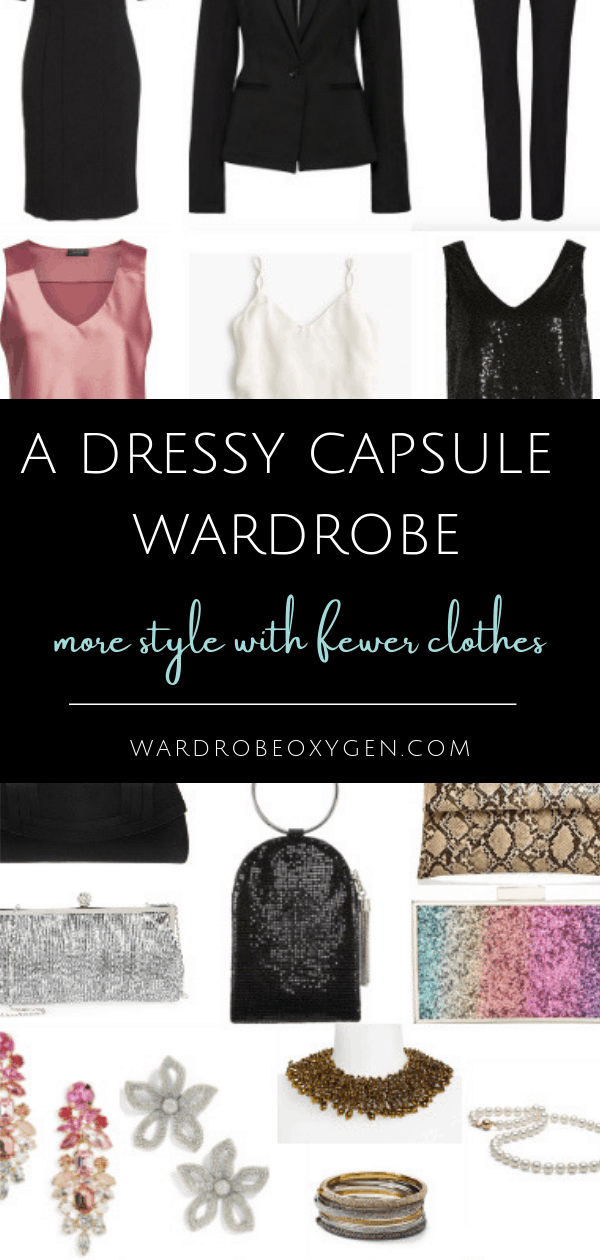 One of the most requested capsule wardrobes from Wardrobe Oxygen readers is a dressy capsule wardrobe. Most of us don't regularly attend dressy events so it's nice to have a core wardrobe of clothing and accessories at the ready if such an occasion arises. A dressy capsule wardrobe will also prevent buyer's regret. Last minute invite, nothing to wear, a race to the mall where you buy something you don't love that costs more than you'd like and you never wear it again. Hopefully, this post will help you build a core wardrobe of dressy pieces that will save your sanity and your pennies when the next dressy event comes your way.
The Basics of a Dress Capsule Wardrobe
Dressy events are so varied, it can seem tough to create a capsule wardrobe. But in essence, it's accessorizing basics. A few simple pieces of clothing lead varied lives with the switch of shoes and jewelry. While everyone's personal style aesthetic, lifestyle, and events are different I've found these items to be the best core items for a dressy capsule wardrobe:
Not-so Little Black Dress. The LBD is iconic, the not-so LBD is a classic. Simple lines, sleeveless to elbow sleeves, hem ends somewhere around the kneecap. Preferably a shift or sheath style as fit and flare and unique silhouettes are both more memorable and harder to dress up. Look for a seasonless fabric (crepe, silk, tropical wool suiting fabrics like triacetate).
Black Pantsuit. One button, straight ankle-length pants, seasonless fabric like tropical weight wool, triacetate, or crepe.
Shop Black Suiting:

Steer clear of super-memorable details and embellishment so the pieces are versatile and timeless. These pieces may work in other aspects of your life like work and luncheons; it's fine to wear them but try not to have one piece of the suit cleaned more than another or they may no longer be a perfect match.
Shop Not-So Little Black Dresses:

The Three Themes of a Dressy Capsule Wardrobe
A dressy capsule wardrobe is less about the clothing and more about the details. Shoes, bags, blouses, and jewelry are what will transform these closet basics into after-five attire. You want to collect pieces in three categories: Subtle, Sparkle, and Statement.
Subtle:
Neutral colors like black, ivory, and gray. Jewelry with less sparkle and more luster (think pearls instead of diamonds). Shoes that blend with the outfit or your skin. Simple bags and shoes that complement instead of stealing the spotlight.
Sparkle:
The easiest way to glam up wardrobe basics. Heeled sandals in a shiny metallic or pumps embellished with rhinestones. A silk tank covered in tonal beading. A sparkly black minauderie clutch. Chandelier earrings that catch the light with every step you take. A rhinestone cuff bracelet or cocktail ring.
Statement:
Pieces that add personality and pizazz. A hot pink satin camisole, leopard print silk heels, a purse dripping in fringe, a pair of rhinestone earrings that graze your shoulders or are in the shape of peacocks.
I recommend having at least one shoe, one bag, one top, and one piece of jewelry in each category. Depending on the event, you'll wear all from one category or you'll mix and match.
Shop Dressy Blouses, Camisoles, and Shells:

A Dressy Capsule Wardrobe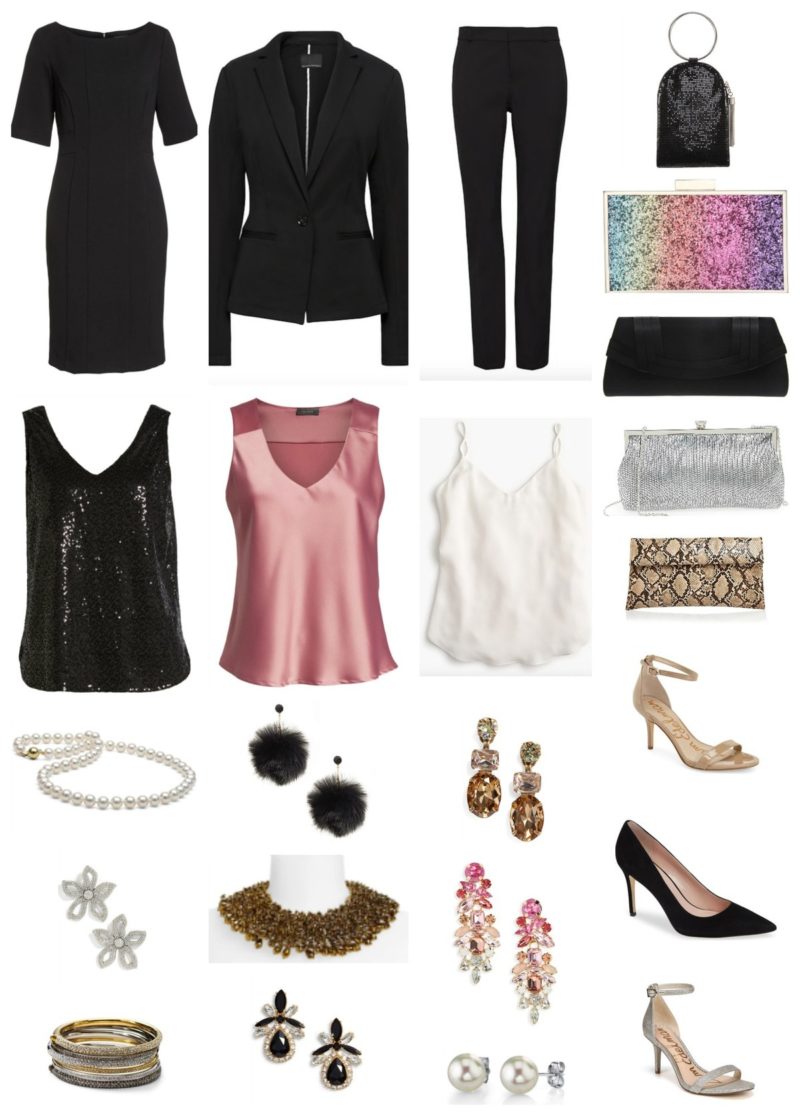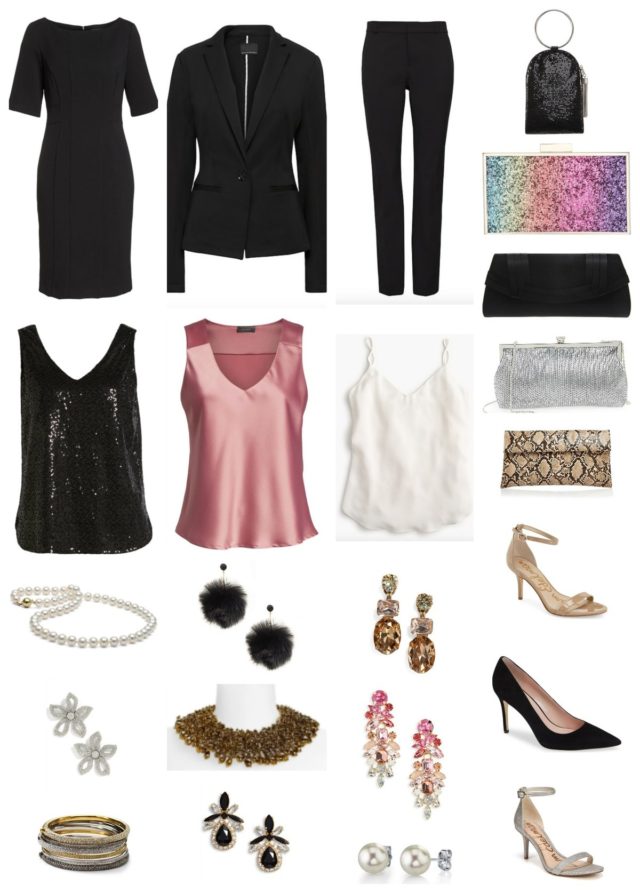 Shop the Capsule Wardrobe:
beaded statement necklace | black pouf earrings | amber sparkly earrings | pave bangles | silver flower earrings | black and crystal earrings | pink statement earrings | snakeskin clutch | black clutch | silver clutch | pink ombre clutch | black sparkle ring bag  | silver shoes | black shoes | nude shoes | pink tank | ivory camisole | black sequined shell

Sample Outfits from the Dressy Capsule Wardrobe
With 8 pieces of clothing and a few accessories, I created over 25 looks for a variety of dressy situations. The outfits include the suit, the dress, the three blouses, but also a pair of dark jeans and a fitted turtleneck. These two pieces are found in most wardrobes and can also be found at most any price point. Click on any thumbnail graphic in the gallery below to see the full-size images. Hover over the images to find arrows to advance and go back within the gallery. Click the X at the top right of an enlarged image to close the gallery and return to this blog post.
When to Spend, When to Save?
The most important pieces of a dressy capsule wardrobe are the core pieces – the dress and the suit.  For these, spend as much as you can to find the best quality and style.  If in doubt, size up.  Whether or not you sized up, take the pieces to a tailor to ensure an impeccable fit and take them back for alterations if you gain or lose weight or change your fitness routine.
Blouses, shells, and camisoles can be found at a variety of price points.  As with the suit and dress, consider having these tailored so they fit well, bras don't show, there's no gaping or bunching.
Jewelry and bags can often be acquired for very little. I've found amazing earrings on the clearance rack at a big box retailer, clutches at Goodwill, and this time of year is perfect for acquiring sparkly and shiny accessories on sale.  These are also pieces you can look for on vacation; it's fun to have pieces with a story and can start an engaging conversation at a dressy function.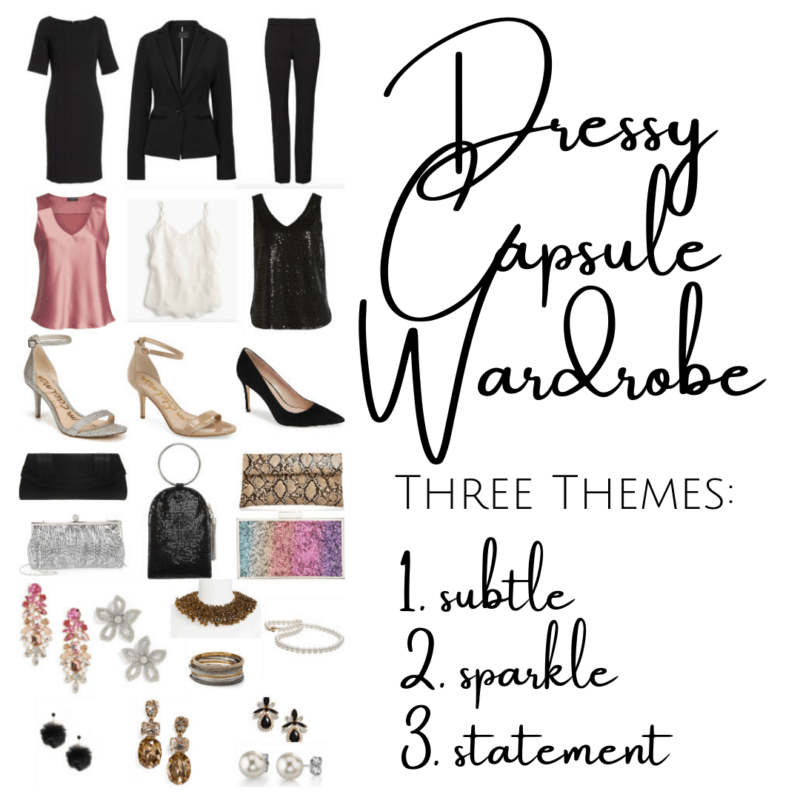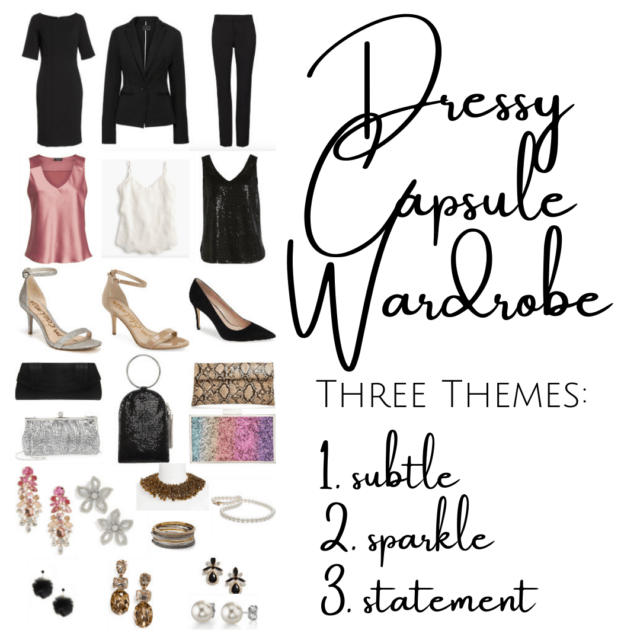 Building Beyond the Basics: Expanding Your Dressy Capsule Wardrobe
Depending on your lifestyle and personal style, you may find the need to expand beyond this basic collection of clothing. You may need more variety, more color, more formality.  Some of my favorite additions to a dressy capsule wardrobe:
Crisp White Shirt: With pearl, white, or sparkly buttons a crisp white shirt can be paired with the suit or styled with a midi- to full-length skirt.  White shirts can sometimes be hard to fit, especially a body with curves.  A tailor can customize it to fit you perfectly. Consider wearing a sparkly brooch at the top button in place of a tie, or use a satin or velvet ribbon and tie it in a bow.
Black Dressy Jumpsuit: I mention the versatility of mine in my core wardrobe post.  In matte jersey, silk, crepe, or another dressy fabric such a piece can often prove as versatile as a not-so-little black dress.
Dressy Skirt: In a dressy fabric with a bit of stiffness, a full midi to full-length skirt can add a festive feel to dressy looks.  Pair with the crisp white shirt, a simple cashmere or Lurex turtleneck, a silk camisole, a beaded t-shirt, and much more.
Another Pantsuit: If you find yourself gravitating towards pantsuits, you may find the benefit of adding another dressy cocktail suit to the mix.  While ivory or winter white is the next dressiest color, you could do another subtle color in a dressy fabric (dove gray, blush pink, taupe, pewter, etc.)
What to Wear When?
It often hard to know what to wear for different occasions, since dress codes are more lenient, fashion trends are constantly changing, and many events don't provide a dress code.
Daytime: Go lighter. If it's a day event, lighten the look with nude-to-you shoes, jewelry with luster instead of sparkle (metal and pearls versus rhinestones), and more subtle of bags (leather and not-shiny fabrics in place of glitter and satin).
Evening: Catch the light. The way to make your suit or dress look appropriate for evening is to choose accessories that catch the light.  Shiny fabrics, sequins, beading, rhinestones, and crystals all do this and add drama and dressiness to a look.
Celebration: Dress the part. What's great about a wedding or holiday is it's a true celebration and you're permitted to dress the part. Wear color, statement earrings, whimsical bags, head-turning shoes. This is when it's appropriate to wear the sparkle or statement pieces.
Networking: Have one memorable detail. When attending a networking or work-related cocktail party I recommend choosing more subtle of details… but have one thing that stands out.  It could be a sparkly brooch, a fabulous pair of earrings, even your glasses.  This way, there's a visual cue to connect your name ("Jane, the one with that amazing beaded necklace").
Dressy Capsule Wardrobe Q&A
I don't like wearing black, is there a different color I can wear?  Black is by far the most versatile because it can dress up nicely, isn't memorable, and works all seasons of the year.  Ivory and winter white can work unless you're attending a wedding.  Dove gray could work if it's in a dressier fabric.  If you're known for wearing a certain color, it could become a signature and chosen for the dress.  However, when choosing a color other than black fabric choice is even more important.  Look for fabrics with a sheen and elegant finish (silk, crepe, taffeta, shantung, etc.).
I didn't think you could wear black to a wedding.  This seems to be based upon religion and region.  While many parts of the country and places across the globe are fine with wearing black, others do not find it appropriate.  Do what is best for your personal situation.
Do dressy shoes have to be heeled?  Nope, wear shoes that are most comfortable for you.  Stick to dressy fabrics (metallics, silk, velvet, crepe, satin) and look for details to have the shoe look more elegant and formal.  Thin straps, pointed and almond toes, slim heels, sparkly accents, etc.
I don't see any wraps or shawls in this capsule. What if I get cold?  While wraps and shawls have been a classic way to ward off a chill at a formal event in the past, these days such a detail looks dated and often comes across as frumpy.  While faux fur capelets, shrugs, and short jackets have come back in style, these are not pieces to leave on when indoors. If you're one to get cold, choose a dress with sleeves or go with a pantsuit.
I don't have pierced ears.  Many brands are now coming out with clip-on earrings, especially in sparkly and fun styles.  However, if you're not interested in wearing earrings at all that's okay.  Consider looking into necklaces, which can also bring necessary sparkle and elegance to a look.
Shop the Accessories in the Capsule Wardrobe: